1963 Quarter Value
$3.15 is the minimum 1963 quarter value. It is the underlining silver price raising the value of your coin to this level.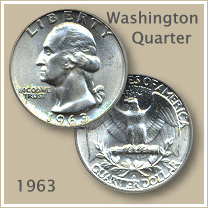 Other elements do contribute to raising the value higher, particularly the condition of your coin and finding the "D" mintmark.
Beginning with the mintmark. Two mints produced Washington quarters in 1963, Philadelphia and Denver. Those minted in Philadelphia are worth a small premium today because of lower mintage totals.
The next challenge is determining the condition of your old quarter. Commonly found with slight wear, check if your coin is in a higher more collectible condition. The adjacent picture is of a nice "Uncirculated" 1963-D quarter and because of the condition sought by collectors. Compare your quarter to the "Grading" images below.
A popular series with collectors and elusive in the higher grades, your 1963 quarter is worth a close examination.
1963 Quarter Value

Condition of Coin
Date
Good - G
Fine - F
Extremely Fine
XF
Uncirculated
1963
$3.15
$3.15
$3.15
$3.41
1963 D
$3.15
$3.15
$3.15
$3.41
1963 Quarter Value Updated
1/16/2017
"1963-D" on the coin value chart is a Washington quarter minted in 1963 at the Denver Mint.

The adjacent image is of the reverse, indicating the mintmark location. Judging condition and "Grade" is covered next.
1963 Quarter Value is Conditional
From brand new condition to very worn condition, is reflected in the examples. Line your quarters in a row, judge their state of preservation and assign each a "Grade."
As you proceed handle each coin carefully, keeping in mind, 1963 quarter value is highest for "Uncirculated" coins.

Uncirculated: Untouched since being minted and no wear on its surfaces, a quarter in this condition is avidly sought by collectors and dealers. Admittedly few survive this nice.

Extremely Fine: The lightest of wear and abrasion begins to show in the hair and curls over Washington's ear. Minute details have disappeared and mint luster is absent from the neck and cheek. This quarter is worn, but very lightly.

Fine: Wear has begun to take its toll on this quarter. Flattened areas of wear cover Washington's hair and curls. Although the hair line along the forehead is visible.

Good: All the important details show but very flattened by wear. The tops of the letters have begun to merge into the rim. Your 1963 quarter value in this condition is worth the underlying silver bullion value.
Auction Results for Rare 1963 Quarter
Destined for an outstanding collection a near perfect 1963 Washington quarter crossed the auction block for $598.
DLRC Auctions sold the coin to a buyer of quality Washington quarters.
It is the vibrant blue and gold toning setting on mark free surfaces that puts this particular coin in a value class virtually by itself.
Value of 1963 quarters reached a new high. Examine your old coins and discover how much your 1963 quarter is worth.
The Challenge of Selling Your Coins
Selling your coins is always a challenge. However you have taken big steps towards understanding what is involved to accurately determine value and getting your best deal.
From the denomination of the coin, to locating mintmarks, to examining and judging its condition and deciding a Grade. Also covered here are special varieties, and highlighted when they have an impact on the price of the coin.
This understanding of how to value old coins yourself helps greatly when dealing with any future buyers of your coins.
Look through your box of old coins, discover any treasure hiding inside. Research them, not only on this site, but others. Coin dealer listings and Rare Coin Auctions are full of descriptions pointing to what gives coins such high value. Now you can decide if and when to sell your coins.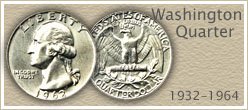 Check your coins with the values chart. Most of the silver Washington quarters value is tied closely to the price of silver. However, a few rare dates and mintmarks are very valuable.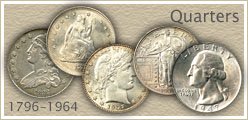 Including more relating to your 1963 quarter value. Easily find how much your old coins are worth.
From Bust Quarters to Seated Liberty, Barber, Standing Liberty and Washington quarters. All series include Grading Images to judge the condition of your coins and coin value charts.
Do you have other coin denominations?
Coin Values Discovery... finds the 1963 quarter value and...
All old US coin values. It is an excellent index with images and text links to all coin series, from Cents to Gold. Essential grading images alongside coin value charts uncover how much your box of old coins are worth.
Top of Page