Grading Old Nickels and Value
Accurate value depends on accurate judgment of condition. The art of grading old nickels by evaluating their condition eliminates the possibility of undervaluing of your coin.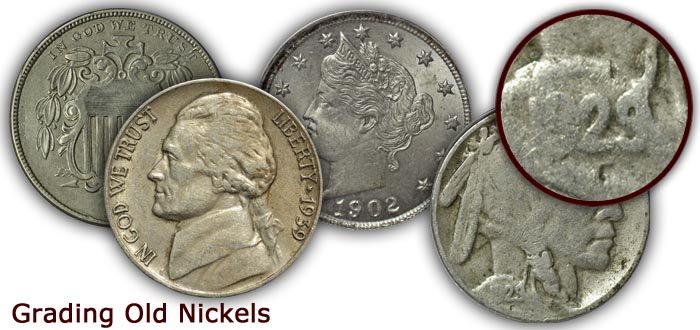 Collectors and dealers always evaluate the condition of every old nickel, assign a "grade," and then place a value. You can do the same.
Notice the date on the Buffalo nickel, any improvement in clarity and boldness; result - value of the coin immediately doubles or more.
How To | Video Series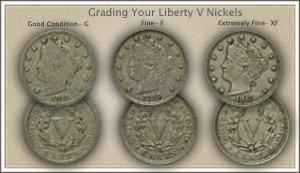 Video | Grading Liberty Nickels

Liberty Nickel: A popular series with a bold design of Liberty. After the date and mintmark is determined turn your attention to the crown in Liberty's hair. If the lettering "Liberty" is visible it is a better than average coin. Slightly more detail visible and the coin becomes a solid collectable grade. Nice even color without dark areas enhances desirability.
Video | Grading Buffalo Nickels

Buffalo Nickel: Here is one of the iconic designs of all US coin series. More collectors are assembling sets of Buffalo nickels than any other nickel series. With the high relief design and maintaining a stunning look even when worn; values are stable. Follow along with the video, then compare your coins to the images, become confident judging the condition of Buffalo nickels.
Video | Grading Jefferson Nickels

Jefferson Nickel: Judging the difference between circulated and Mint State Jefferson nickels is a necessity. It is where the value difference accrues. Attention is given to the steps necessary determining the Uncirculated (Mint State) grade. A magnifying glass 5x power is helpful.
Now You Can Grade | Discover Old Nickel Values
Liberty Nickels:
Subtle are the differences from the Fine grade to the nicer Extremely Fine grade, however the value differences are very wide. Small details on Shield nickels and were to look are important.
Buffalo Nickels:
Many Buffalo nickels are found in very worn condition, they served a long time. Video and descriptions identify the noticeable features separating a $1 coin from a $10 nickel.
Jefferson Nickels:
Key to value is separating the Mint State examples from the worn, circulated coins. First evidence - lost luster across Jefferson's hair. The video has a close-up view highlighting the points to evaluate.
Grading Old Coins || Video Index

Visit the master index of grading videos. Improve the skills needed to judge condition and determine the value of your old coins. It is not always the combination of date and mintmark raising your old coins to the scarce and valuable level. Often condition or "grade" is the deciding factor in collector appeal.
Old Nickel Values | Stable to Rising

Once condition is judged accurately consult the values chart and discover how much old nickels are worth.
Coin Values Discovery Highlights... Grading Old Nickels and...

Value charts of US coin series reflect the difference in a coin's grade.
Denomination | Date | Mintmark | Condition
Combining all of the factors when judged accurately determines desirability and ultimately value.