Seated Liberty Quarter Values
Seated Liberty quarter values begin at $17 to $20 each. These values are for the common date coins in extremely worn condition, known as "Good" condition by collectors and dealers.
However, the chances are good your coin is better persevered and possibly a better, rarer date.
Minted for over 50 years, many of the dates and mint marks of the series are rare and highly valuable. Here are just five dates all worth at least $200... 1866, 1867, 1884, 1887 and 1888.
Should any of your quarters have the pulse quickening "CC" mintmark, dealers and collectors are immediately interested.
Also, don't overlook the condition of your coin. The Uncirculated Seated Liberty quarter pictured, because of its condition, is worth over $545. See the section about "Grading" the condition of your coins below.
Seated Liberty Quarter Values and What Dealers Pay
The following chart shows clearly the wide range of coin values from one date, grade and mintmark. Examine your coins closely, take your time and assess condition carefully to arrive at an accurate value.
Seated Liberty Quarter Values
1831-1891

Condition of Coin
Date
Good - G
Fine - F
Extremely Fine
XF
Uncirculated
No Motto Variety 1838-1865
Typical Value
$17
$31
$67
$319
With Motto Variety 1866-1891
Typical Value
$21
$26
$60
$272
The Following are a Few Selected Dates
1843
$21
$25
$98
$459
1844
$16
$27
$76
$741
1845
$16
$39
$101
$454
1847
$16
$33
$106
$521
1849
$16
$33
$119
$758
1853
$19
$25
$117
$830
1854
$18
$24
$57
$384
1854 O
$21
$36
$112
$1,538
1855
$16
$29
$70
$528
1856
$16
$22
$52
$309
1856 O
$18
$37
$210
$898
1857
$16
$24
$59
$313
1857 O
$17
$41
$117
$861
1858
$16
$25
$55
$296
1858 O
$19
$42
$137
$2,375
1859
$16
$28
$65
$369
1859 O
$20
$38
$213
$1,350
1860
$17
$28
$62
$450
1861
$17
$31
$60
$313
1862
$18
$33
$68
$388
1873
$17
$29
$155
$775
1874
$18
$29
$176
$713
1874 S
$29
$68
$200
$975
1875
$18
$26
$55
$249
1876
$19
$23
$52
$275
1876 CC
$34
$51
$130
$386
1876 S
$18
$27
$58
$288
1877
$16
$26
$52
$259
1877 CC
$34
$51
$128
$413
1877 S
$18
$24
$66
$265
1878
$19
$24
$62
$291
1888 S
$21
$31
$88
$306
1891
$18
$25
$52
$270
1891 S
$18
$28
$67
$274
Seated Liberty Quarter Values Updated
2014
The above are wholesale coin values. Computed from dealer's price lists with various mark-up factors figured in. They reflect closely the value you would expect to receive when selling. Variations in value do occur subject to subtle grading points, collector demands and dealer needs.
If your coin is not listed above, it is seldom encountered. For additional reference... NumisMedia publishes an extensive fair market value price guide, covering retail Seated Liberty Quarter Values in detail.
Printable Coin Values Worksheet
Print the handy Coin Values Worksheet to list your coins and record their values. Should you decide to sell... use the worksheet as an invoice and packing slip when sending coins through the mail to dealers. It indicates you have done your coin values homework.
Seated Liberty Quarter Values are Conditional
A lot of the value of a coin is tied to its state of preservation. Seated Liberty quarter values for rare dates and valuable mint marks are one thing, however...
Many of these older quarters are common in the heavily worn "Good" condition. But, the same coin in the more eye pleasing "Extremely Fine" condition is often very rare and valuable. Here is just one example. Find an 1857-O in "Good" condition and it is a $17 coin, if your 1857-O is in "XF" condition the values rises to $115.
Dealers and collectors interested in old quarters treasure nice condition Seated Liberty quarters. And, pay accordingly.
Study your coins and compare them to the grading images below. Examine the gown of Liberty, look for some detail showing and all letters of "Liberty" on the shield. This separates the "Fine" condition coin from the lesser "Good" condition quarter. If all the details on the obverse and reverse are sharp and crisp the coin is in "Extremely Fine" condition, denoted as "XF".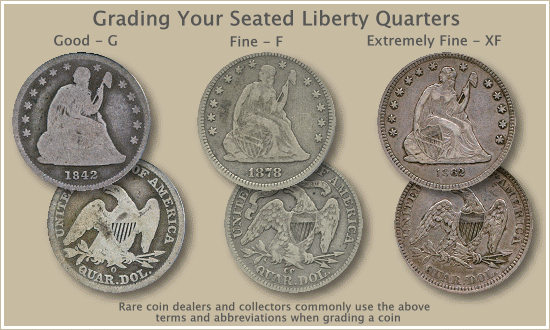 Sometimes the difference from one grade to the next is subtle. Not so with the value of your old quarter, many times the increase in value from one grade to the next is often large. If you believe your coin is of a higher grade and value and not sure, help is available.
Collectors and dealers consider PCGS and NGC as leaders in coin grading services. Seek their advice. They both authenticate and grade your coin. The small fee you pay provides assurance you understand and receive the full value of your coin.
It is also helpful to know grading a coin is not an exact science. It is your opinion, dealers and collectors have their own opinions... and they can all differ slightly.
Check a few rare coin dealers listings, look for those offering Seated Liberty quarters similar to yours. Their listings and prices usually include a notation of the NGC or PCGS assigned grade. Additionally, these coin dealers are potential buyers of your coins.
The Exciting "CC" Mintmark

Quarters with the "CC" mintmark indicates the coin was produced at the Carson City Mint in Nevada. All are highly prized by collectors. Many are extremely rare. Refer back to the coin values chart for some amazing values. Check to find the "CC" on the reverse just under the eagle.
The other mint marks that contribute to the Seated Liberty quarter values are... "O" for the New Orleans Mint and "S" for the mint in San Francisco and are found in the same location. Good luck in your hunt for these as well.
All of this adds up to making Seated Liberty Quarters a fascinating and rewarding collectable.
Consider your group of coins as the beginning of a coin collection. The start of an enjoyable and rewarding hobby. If that is not for you, one successful approach is to sell all your coins and use the proceeds to buy one nice rare coin. The one you were hoping to find in the box. Pass the thrill of a rare coin on to your children.
Take a minute and visit Jake's Marketplace. They deal with many fascinating rare coins. Additionally... they are serious buyers of US coins.
Seated Liberty Quarter Values in the Future
One thing is certain, change. The value of your quarters is constantly changing. The trend of the past is for the values to increase. The future is bright for Seated Liberty quarters. Many new collectors take up the hobby every year and seasoned collectors are constantly adding to their collections.
Check back whenever curious or should you decide to sell your coins. Stay current with Seated Liberty quarter values.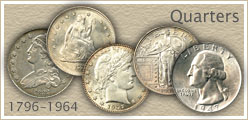 More Quarter Values
Easily find how much your old coins are worth. From Bust Quarters to Seated Liberty, Barber, Standing Liberty and Washington quarters. All series include Grading Images to judge the condition of your coins and coin value charts.
Do you have other coin denominations?
Coin Values Discovery... finds Seated Liberty Quarter Values and... All old US coin values. It is an excellent index with images and text links to all coin series, from Cents to Gold. Value charts, grading images and descriptions uncover how much your box of old coins is worth.
Top of Page