Coin Values Moving with Precious Metals: Up-Dated 11/27/2023: Gold $2010 | Silver $24.66
Finding Rare Quarters
Many rare quarters are grouped in the very early years of minting. Quarters were a large denomination to circulate at the time, mintages were low.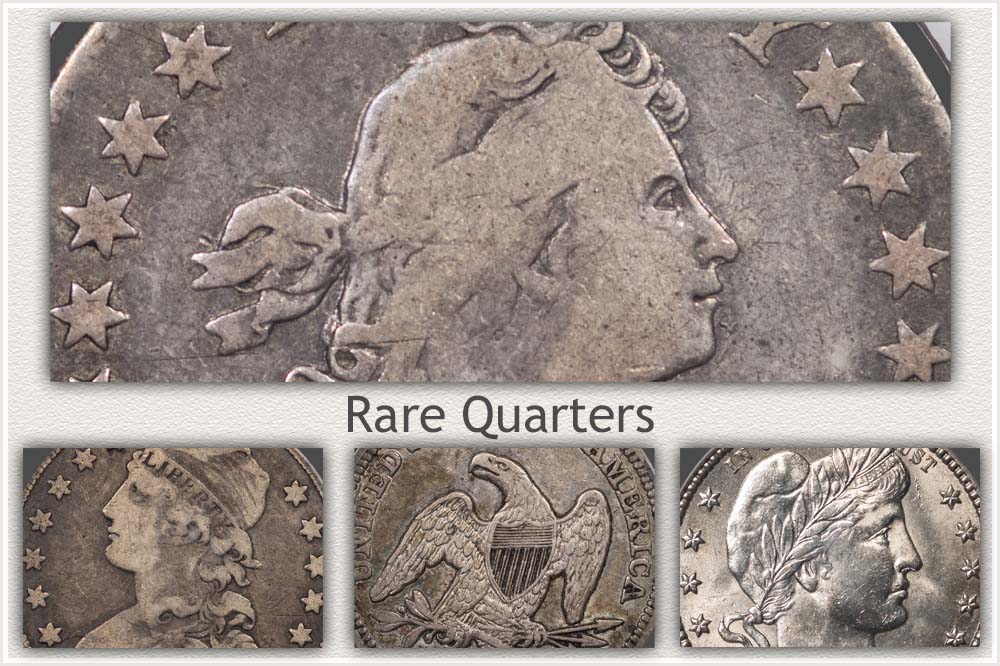 The vast majority of the any quarter dated prior to 1838 is a scarce coin. Heavy wear and/or damage is the condition of the typical old quarter found. In later years branch mints added to production and demand for the quarter denomination was met. Often these branch mint quarters are the scarce to rare issues.
1796 is the first key date U.S. quarter representing the first year of production. Early quarter are all scarce, both because of low mintages and active use.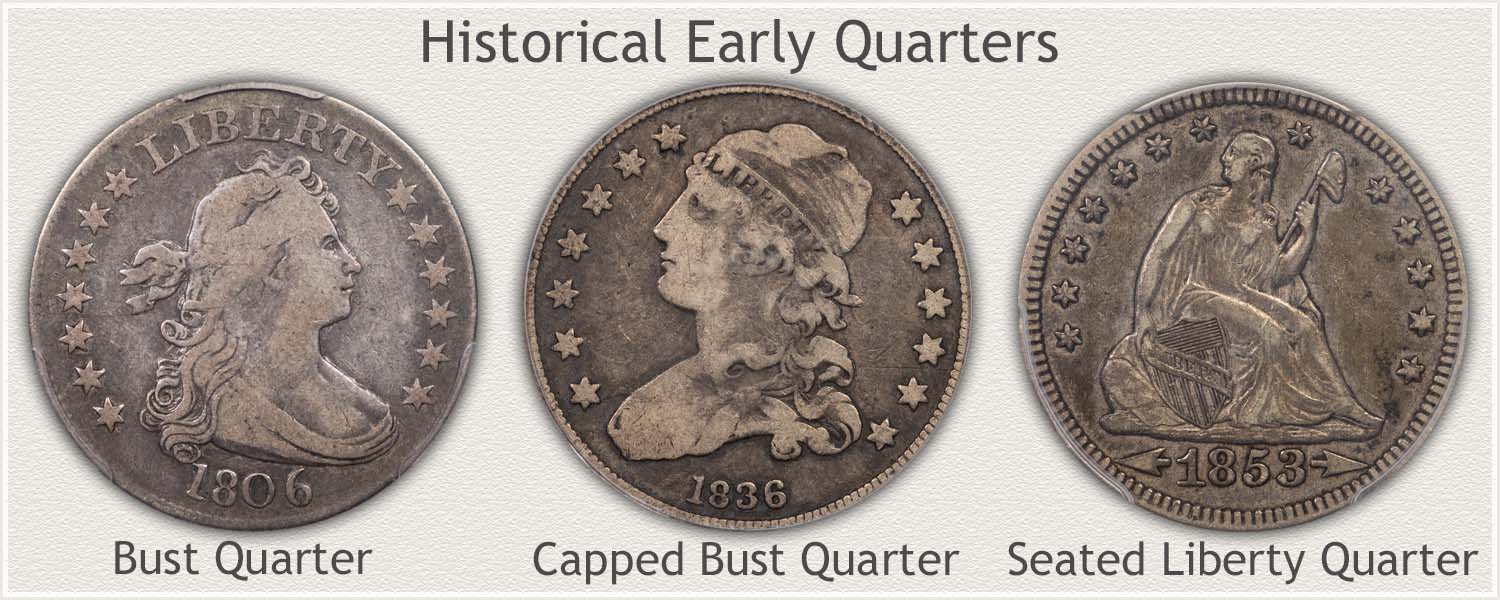 Total number of early quarters, the Bust and Capped Bust series through 1838 amounted to under 5.5 million struck, all coined by the Philadelphia mint. Interestingly, 1,952,000 quarters were minted in 1835 representing a large percentage of the total number. Every issue began scarce and through use many are now very rarely encountered.
The Exceptional Rare Early Quarters
1796 Bust Quarter: Key rarity because of first quarter minted, low numbers struck, and intensely collected.
1804 Bust Quarter: Few have survived today of the 6,738 struck. Most are heavily worn, high grade examples are a historical rarity.
1823 Capped Bust Quarter: The key rare date of the early Capped Bust quarters. Few are known today; all are collectible and in demand.
1842-O Seated Quarter: New Orleans mint added a few quarters to circulation in 1842. It is the first key date and mintmark ("O" Mintmark) of the Seated Liberty Quarter series.
1870-CC Seated Quarter: First year of Carson City mint quarter and a major rarity of all quarter series. Carson City typically struck very low numbers of coins. Collections often focus on Carson City mint coins exclusively. Low mintages combined with strong demand and high values are the norm of Carson City coinage.
Rare Quarters of the Twentieth Century
1901-S Barber Quarter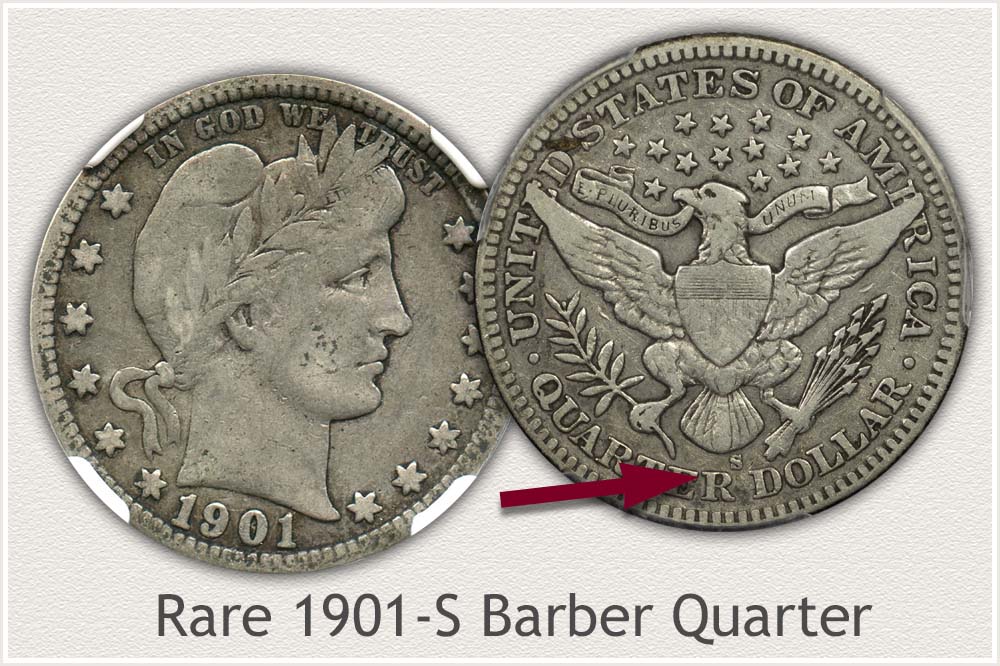 A traditional rare quarter was minted in 1901 when the San Francisco mint struck only 72,644 pieces. Low numbers produced, few saved (high value in all conditions) and demand by collectors are a trait of this twentieth century rarity. 1901-S quarters are worth thousands in any grade. Minted in the first half of 1901, released into circulation and most served the west coast until worn smooth.
1913-S Barber Quarter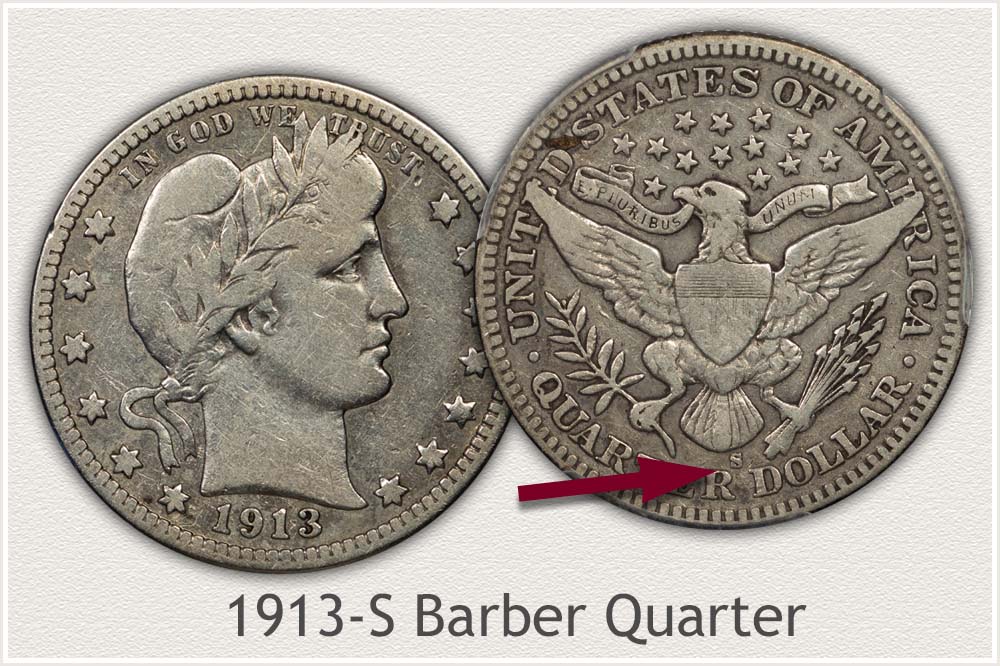 In 1913 the San Francisco mint again produced a traditional rare quarter. The Barber quarters are noted as scarce from the San Francisco mint. Western U.S. needs for circulating coinage was strong and all coinage saw active use. San Francisco struck a very small 40,000 quarters ("S" mintmark) in 1913. This proved the lowest number of any regular issue quarters of the twentieth century. 1913-S Barber quarters are a key rare US coin.
1916 Standing Liberty Quarter
1916 was the introduction year of the Standing Liberty quarter design. It became an important year when Philadelphia devoted the majority of production of quarters to the retiring Barber series. Philadelphia was the only mint to strike 1916 Standing Liberty quarters and only produced 52,000. An instant rarity was created.
1921 Standing Liberty Quarter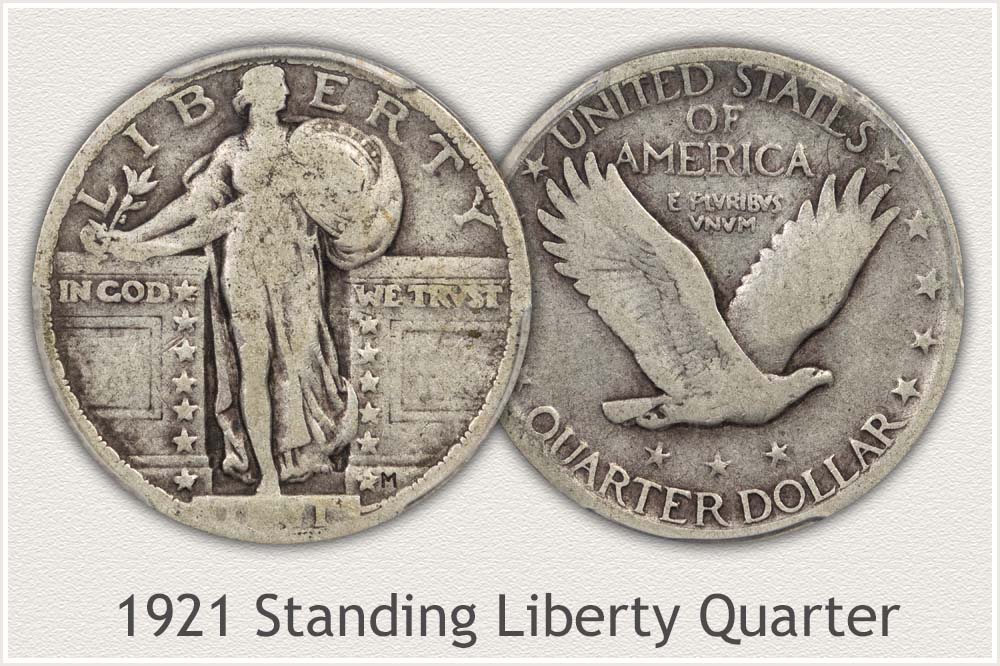 Typical mintages of Standing Liberty quarters from the Philadelphia mint in the 1920's was in the tens of millions of coins. The earlier 1916 and the now the 1921 quarter became the exception to high mintages. With 1,916,000 1921 quarters struck, it started as a scarce coin. Released into circulation, many worn out leaving only a small number surviving today. Even heavily worn examples of the 1921 Philadelphia quarters are sought by collectors as the only 1921 dated quarter. Lightly circulated to mint state condition coins are rarities.
1923-S Standing Liberty Quarter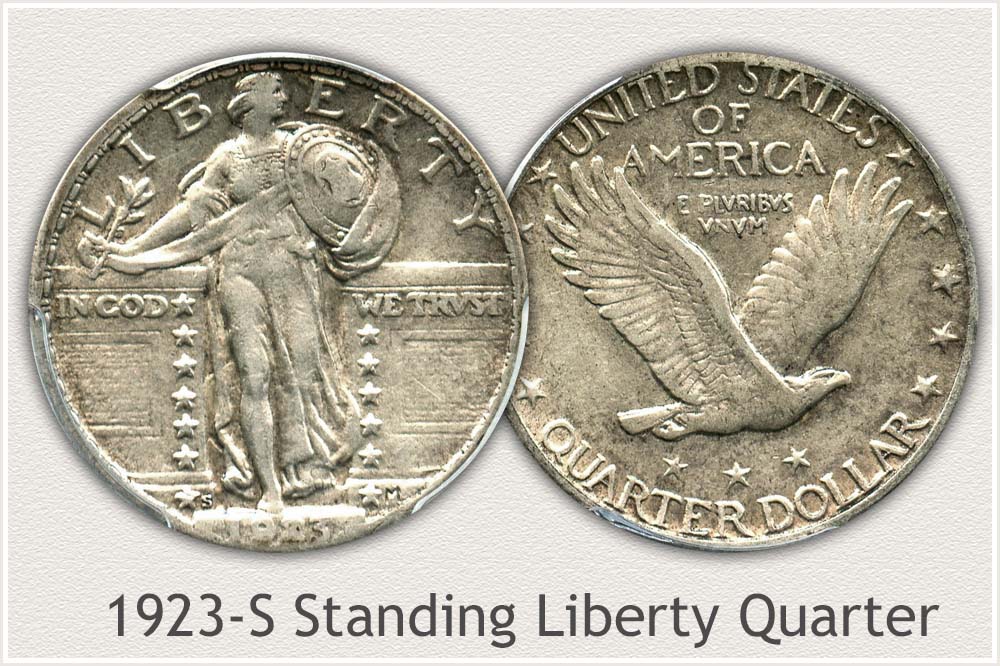 Production of quarters was skipped in 1922. Resumed in 1923, the majority of quarters were minted at the Philadelphia mint. San Francisco the only other mint to strike 1923 quarters did so in a low amount, 1,366,000 in total. These low numbers struck from the branch mint were overshadowed by the multi-millions produced the main mint, Philadelphia. Few of the branch mint coins was saved from wear caused by circulation. The result, mint state examples (no wear to the surface) 1923-S quarters are a key rarity to the Standing Liberty series.
1927-S Standing Liberty Quarter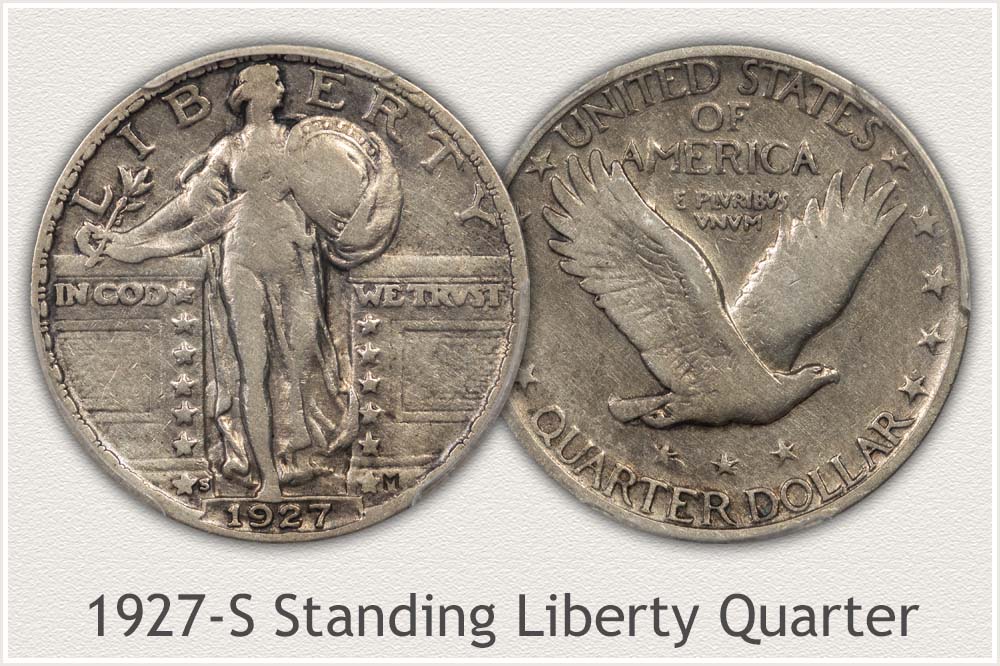 1927 San Francisco quarters are the lowest mintage of the entire series. Just 396,000 struck in 1927 an immediate scarce variety. Collectors typically collect the series including an example of each date and mintmark issued. With few "S" mint 1927's produced they are premium coins in any grade. Low mintage, plus most show wear from circulation, these are a scarce to rare coin depending on condition.
1932-D Washington Quarter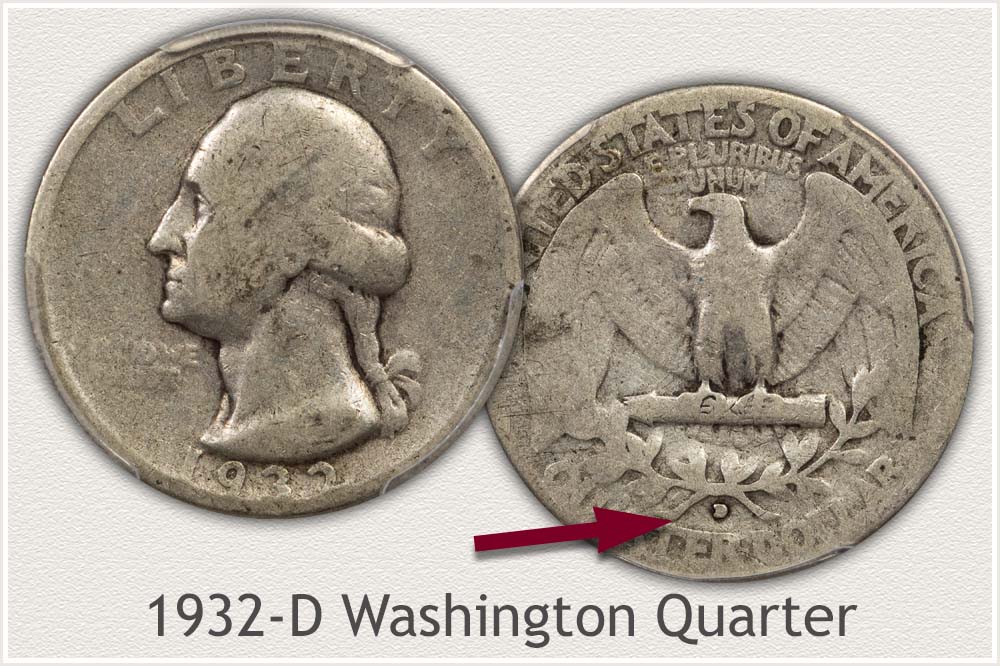 1932 marked the 200th anniversary of George Washington's birth. Celebrated by creating the Washington quarter series. Three mints struck these new coins in 1932, the majority at Philadelphia. Many of the Philadelphia issue were saved and are plentiful today. The key difference is low production numbers struck at the two branch mints; Denver and San Francisco. Denver coined 436.800 and most were used in circulation.
1932-S Washington Quarter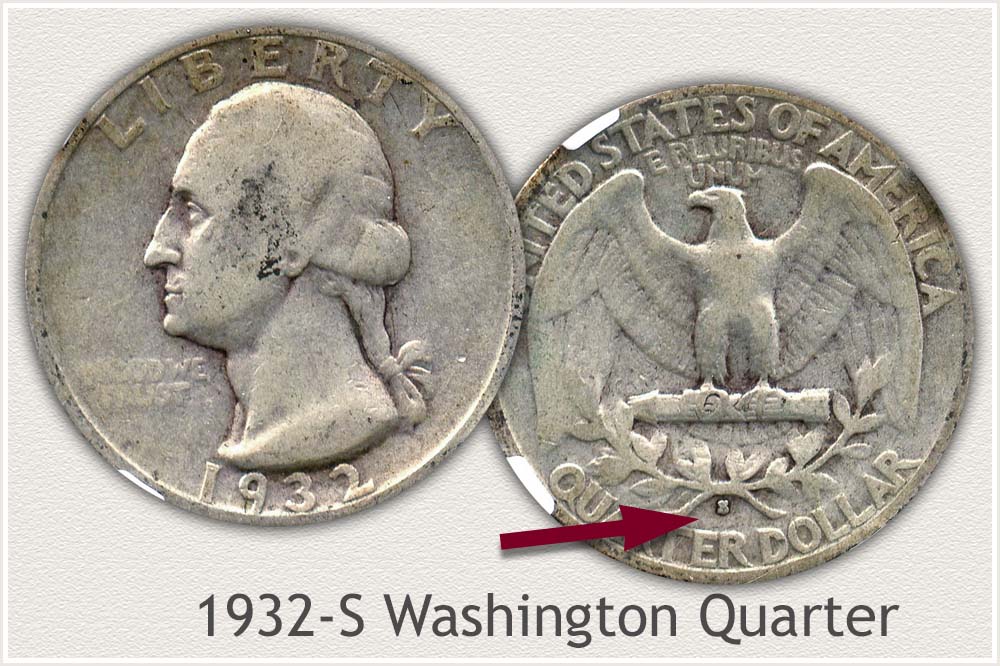 The key date 1932-S Washington quarter is the result of both low mintage numbers and lack of saving examples at the time. The vast majority released into circulation stayed and became heavily worn. These worn coins were retrieved in later years when their scarcity and value was realized. Demand from collectors today support strong value for all condition 1932-S quarters. High state of preservation coins with no wear and few marks to the surface are considered very rare.
Finding Valuable Collectible Quarters
Two series of quarters are full of dates and mintmark issues that are premium in value but not necessarily rare. Standing Liberty quarters and Washington quarters are both series with many coins of collectible status and valuable.
Standing Liberty quarters are now a very old series. Most spent their time in circulation and became very worn. Today any Standing Liberty quarter in lightly worn condition or better is within the collectible statue no matter its date or mintmark.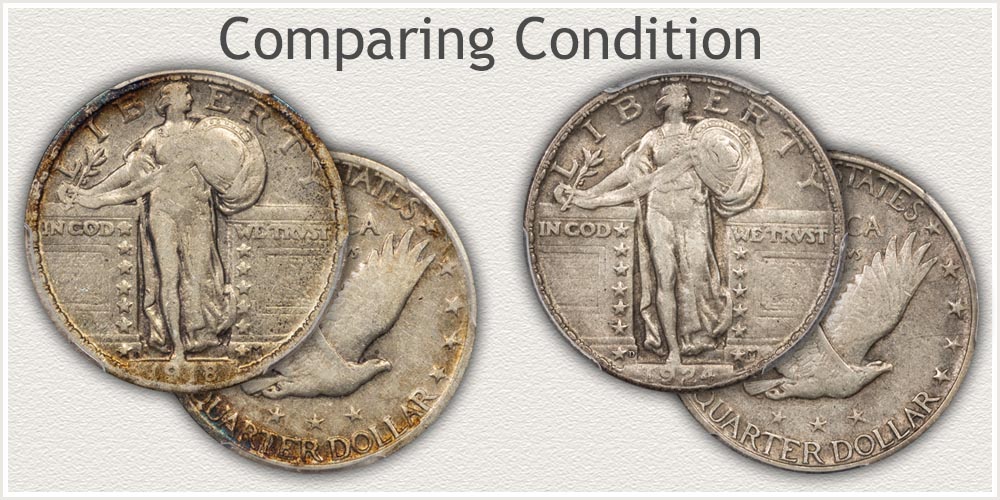 Viewing the images shows one quarter is noticeability nicer in preservation. The higher condition coin displays minor details within Liberty's gown and feather details covering the eagle. Any Standing Liberty in this condition or better is eagerly sought by collectors.
Silver Washington Quarter Era
Washington quarters began as a 90% silver alloy metal composition. From 1932 through 1964 all quarters are silver. Beginning with the 1965's a "clad" composition of nickel and copper is the alloy of quarters, no silver.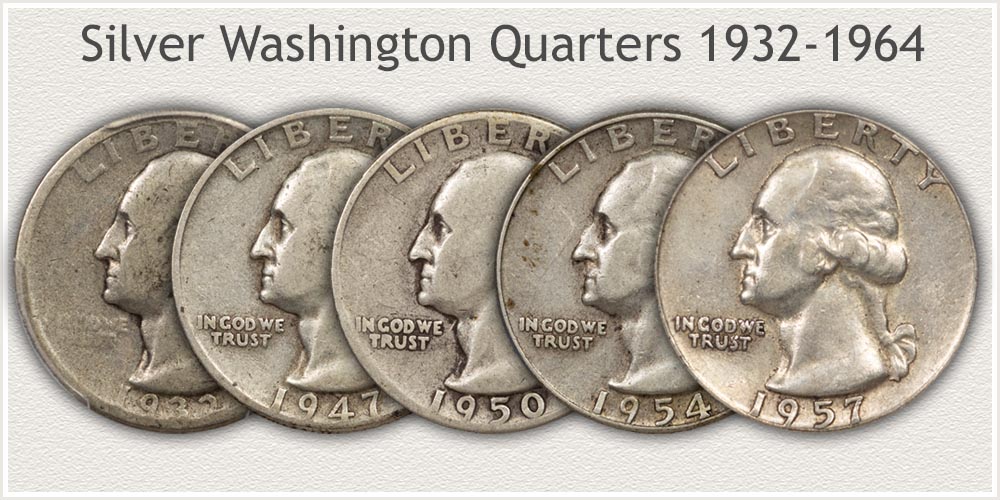 Today's quarters are similar in appearance in color but are not of a precious metal. Inspect closely dates of old Washington quarters. As of 11/27/2023 any pre 1965 quarter is worth $4.14 as a minimum value. A scarce silver quarter with respectable value. Collections of circulated quarters are an excellent and popular entry to coin collecting.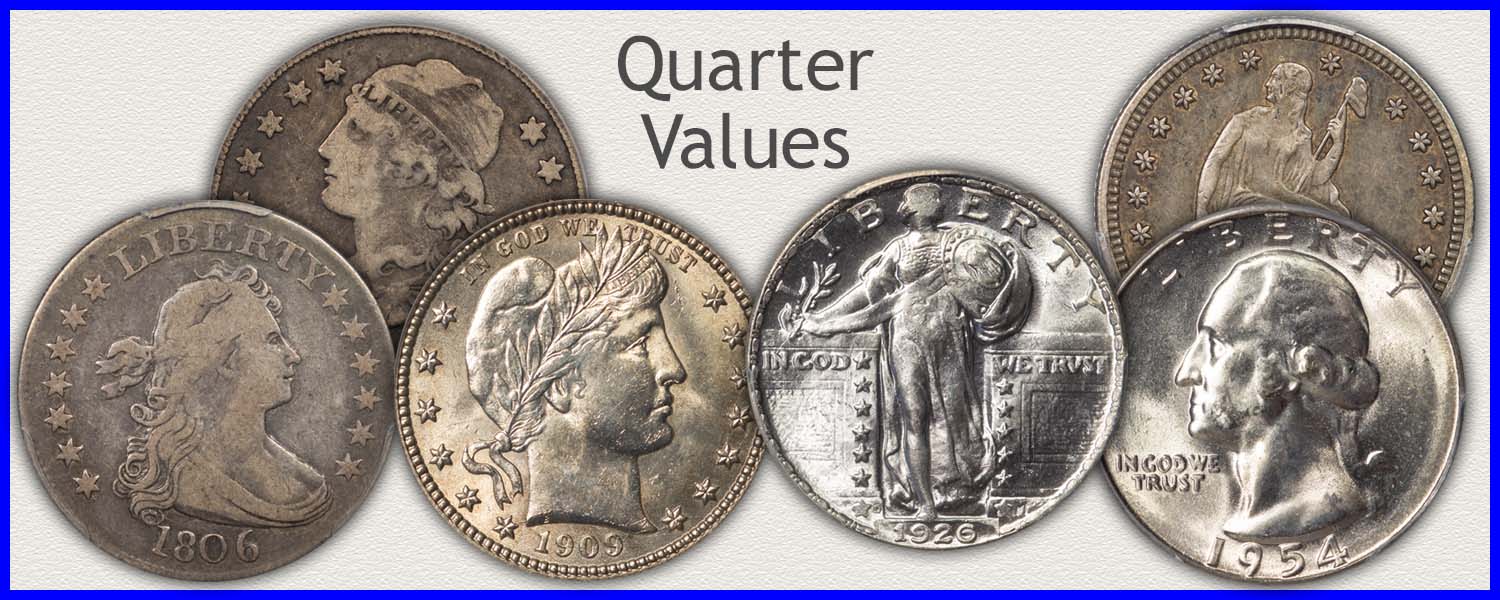 Using a step by step method, find how much your old quarters are worth. From Bust Quarters to Seated Liberty, Barber, Standing Liberty and Washington quarters. All series include Grading Images to judge the condition of your coins and coin value charts.
★ Coin Values Discovery finds rare quarters value and...
All old US coin values. It is an excellent index with images and text links to all coin series, from Cents to Gold. Value charts, grading images and a step by step procedure uncovers how much your box of old coins is worth.
References
US Mint. 1914 US Mint Annual Report. https://nnp.wustl.edu/library/book/514127
US Mint. 1948 US Mint Annual Report. https://nnp.wustl.edu/library/book/339
US Mint. 1892 US Mint Annual Report. https://nnp.wustl.edu/library/book/316