Standing Liberty Quarter Values
Standing Liberty quarter values begin in the range of $4.52 and above. This is for a common, later date coin in the heavily worn "Good" condition.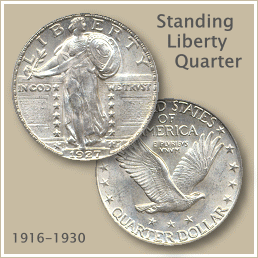 Not bad, but that is the minimum. Find any Standing Liberty quarter before 1925 with a clearly visible date and your coin is worth $10 to $15. If it is mintmarked "D" or "S" now the value climbs to at least $15 each with most worth much higher.
The Uncirculated Standing Liberty quarter pictured because of condition is worth at least $92. See below for more about how to "Grade" the condition of your quarters.
Looking for higher values? Find the rarely encountered but exciting, 1923-S... starting value $200. Followed closely by the 1921... starting at $120. Check the value list, a couple of rare dates are amazingly valuable.
Standing Liberty Quarter Values and What Dealers Pay
The following coin values chart shows clearly collectors pay a premium for the higher grade coins. Examine your coins closely for dates, mint marks, and condition. Each plays an important role in determining accurate Standing Liberty quarter values.
Standing Liberty Quarter Values
1916-1930

Condition of Coin
Date
Good - G
Fine - F
Extremely Fine
XF
Uncirculated
1916
$2,025
Rare
Rare
Rare
1917
$18.25
$44
$92
$195
1917 D
$24
$57
$134
$222
1917 S
$29
$71
$163
$320
Type II - Stars Below Eagle on Reverse
1917
$15.75
$39
$75
$161
1917 D
$29
$60
$117
$208
1917 S
$27
$63
$117
$231
1918
$12.50
$21
$42
$133
1918 D
$18.25
$51
$103
$215
1918/7 S
$1,070
$2,525
Rare
Rare
1918 S
$12.75
$23
$46
$152
1919
$23
$43
$56
$115
1919 D
$58
$141
$459
$937
1919 S
$53
$126
$370
$960
1920
$9.10
$20
$40
$131
1920 D
$35
$63
$127
$284
1920 S
$13.25
$23
$46
$221
1921
$120
$306
$669
$980
1923
$9.37
$21
$41
$134
1923 S
$195
$491
$1,195
$1,540
1924
$9.10
$16.75
$36
$113
1924 D
$36
$70
$148
$187
1924 S
$19.00
$30
$91
$350
1925
$4.52
$6.14
$35
$120
1926
$4.52
$5.75
$33
$120
1926 D
$5.75
$15.25
$67
$104
1926 S
$4.52
$8.37
$75
$331
1927
$4.52
$5.75
$24
$110
1927 D
$8.37
$21
$104
$169
1927 S
$28
$81
$787
Rare
1928
$4.52
$5.75
$26
$102
1928 D
$4.52
$6.14
$30
$114
1928 S
$4.52
$6.14
$31
$142
1929
$4.52
$5.75
$23
$130
1929 D
$4.52
$6.14
$31
$114
1929 S
$4.52
$5.75
$25
$102
1930
$4.52
$5.75
$25
$102
1930 S
$4.52
$6.14
$23
$113
Standing Liberty Quarter Values Updated
8/25/2014
The above are wholesale Standing Liberty Quarter values. Computed from dealer's price lists with various mark-up factors figured in. They reflect closely the value you would expect to receive when selling.
However do expect variations in value to occur subject to subtle grading points, collector demands and dealer needs. For more background information, see how value listings in the above Coin Value Guide are determined.
Printable Coin Values Worksheet
Print the handy Coin Values Worksheet to list your coins and record their values. Should you decide to sell... use the worksheet as an invoice and packing slip when sending coins through the mail to dealers. It indicates you have done your coin values homework.
How did your coins compare to the listings?
What sets many coins apart is the condition, or how worn it is. Finding a higher grade, better condition coin is your best chance at a rare coin and high Standing Liberty quarter values.
Values are Conditional
Dealers and collectors look at the condition of coins very closely and determine the "Grade". This is done first before determining Standing Liberty quarter values.
As a coin circulates and wears each stage is assigned a grade. From heavily worn "Good" condition to one bright and new in "Uncirculated" condition.
Compare your coins to the grading images below. Look closely at Liberty holding the shield. A complete shield separates a coin in "Fine" condition from one in a lower grade. On the reverse about half of the feathers of the eagle must show to reach the "Fine" condition.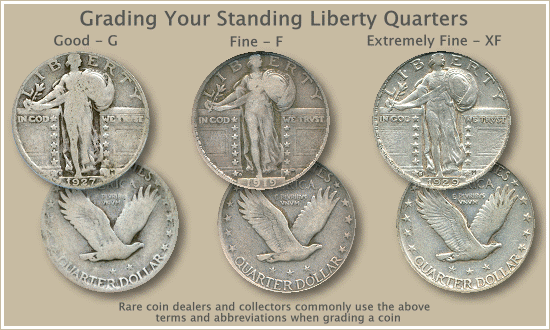 Hopefully some of your coins obtain the higher grades and values. Are one or two coins really nice and you are not sure of the grade?
Collectors and dealers consider PCGS and NGC as leaders in coin grading services. They both authenticate and grade your coin. The small fee you pay provides assurance you understand and receive the full value of your coin.
It is also helpful to know grading a coin is not an exact science. It is your opinion, dealers and collectors have their own opinions... and they can all differ slightly.
Rare coin and auction listings are very helpful. Look for those offering Standing Liberty quarters for sale. Their listings and prices usually include a notation of the NGC or PCGS assigned grade. Additionally... these coin dealers are potential buyers of your coins.
Finding Rare Dates and Mintmarks
1916 is the rarest Standing Liberty Quarter. Always in demand by collectors. Always creates excitement when auctioned. Should you have one you are holding a numismatic treasure.

Many of the premium value Standing Liberty quarters display the "S" mintmark. It indicates the coin was minted at the San Francisco mint. Locate the "S" just to the left of the date. A magnifying glass makes the job easier. Also, the Denver mint produced Standing Liberty quarters and placed a "D" in the same location. No mintmark for the Philadelphia mint.
Your Standing Liberty quarter values are determined by, date, mintmark and condition.
Perhaps consider your group of coins as the beginning of a coin collection. The start of an enjoyable and rewarding hobby. If that is not for you, one successful approach is to sell all your coins and use the proceeds to buy one nice rare coin. The one you were hoping to find in the box. One suggestion, a beautiful uncirculated 1925 Standing Liberty quarter. Pass the thrill of a rare coin on to your children.
Take a minute and visit Jake's Marketplace. They are serious buyers of US coins. Additionally... they have many fascinating rare coins for sale.
Why Values Constantly Edge Forward
Even though the value of silver forms a nice base to Standing Liberty values, collector demand rules. New collectors pick up the hobby daily, adding to the rising demand and values.
Check back whenever you need values, and definitely before your sell.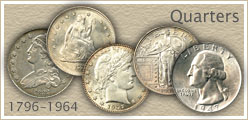 More Quarter Values
Easily find how much your old coins are worth. From Bust Quarters to Seated Liberty, Barber, Standing Liberty and Washington quarters. All series include Grading Images to judge the condition of your coins and coin value charts.
Do you have other coin denominations?
Coin Values Discovery... finds Standing Liberty Quarter Values and... All old US coin values. It is an excellent index with images and text links to all coin series, from Cents to Gold. Value charts, grading images and descriptions uncover how much your box of old coins is worth.
Top of Page