Grading Old Coins
Video Index
Every collector and dealer is proficient with grading old coins. It is one of the key steps in determining an accurate value. The denomination and series of your old coin (ex. Morgan Dollar) along with its date and mintmark (ex. 1904-O) finds its range of values on the charts. Judging condition and assigning a grade pinpoints how much your coin is worth - accurately.
Highlighted above is an old penny as an example, notice the separated lines in the wheat stalk. It is these subtle points and others, necessary to judge condition and arrive at a grade. Videos along with enhanced images and descriptions cover grading old coins in detail.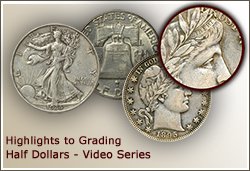 Grading Old Half Dollars | Video Series
Barber Half Dollar: Amazingly there are a few dates still influenced by the price of silver. However if your Barber halves show a full "Liberty" in the headband these are now in the collectible grade and value range.
Walking Liberty: Many dates and mints in the "fine" and even the "good" grade are now worth a premium. Grade the center of Liberty with care, evidence of remaining detail in her arm and gown indicates above average grade.
Franklin Half Dollar: Examine for the possibility your coin is "uncirculated" a popular grade with collectors. Inspect the high points (cheek, eyebrow and Liberty bell) for signs of dulling from wear.
Grading Old Pennies | Video Series
American Large Cent: Hugely popular with dedicated collectors. Large cents are historically important and eagerly sought. Inspect your coin closely, if there is detail remaining within the wreath and leaves are also distinct, you have found a premium value coin.
Indian Head Penny: Compare your penny to the close-up images in the video. You are looking for the presence of fine details in the headdress and hair curls. Between the "good" grade and the "extremely fine" grade are small but important points of judgment that truly affect value.
Lincoln Wheat Cent: Last year of issue was 1958; these are now becoming very old coins. In today's market they are still plentiful (many were saved), however the ones in above average condition are gaining value and collectible status. Crisp and well detailed wheat stalks on the reverse indicates potential. Points of interest are highlighted to help judge the condition of your old Lincoln pennies.
Coin Values Discovery pulls together… Grading Old Coins and...

It is an excellent index with images and text links to all coin series, from Cents to Gold. Value charts combined with the Grading Old Coins Video Series discovers the common to rare found in your box of old coins.
Top of Page