Coin Values Moving with Precious Metals: Up-Dated 9/25/2023: Gold $1921 | Silver $23.44
Selling Coins
How to Get the Best Price
Selling coins for the best possible price is done by following the well tested methods used by the coin collecting community.
Collectors routinely sell some of their coins and use the proceeds to upgrade their collections. And in every case the basic method of getting the most for their coins is the same.
Here are the two main points successful collectors adhere to when selling coins.
First and most important, understand the value of your coins in order to know what to expect is a reasonable offer.
Certain coins sell best to certain dealers. Low value, medium and high value coins each have their unique best-selling practices.
These two key points, when kept in mind steer your decisions about the rest of the details covered below.
Know the Value of Your Coins
Your objective; do not - undervalue the truly rare coins and overvalue the common coins.
In order to place yourself closer to an equal footing with the dealer as you negotiate selling coins, have an accurate understanding of your coin's value.
Follow the steps below to categorize your coins both in quality and value.
With confidence you can identify most of what is necessary to value a coin.
Denomination | Series | Date | Mintmark
US coinage displays "United States of America" as part of the legend on all coins.
Organization is very helpful; Record the following important points to value.
Denomination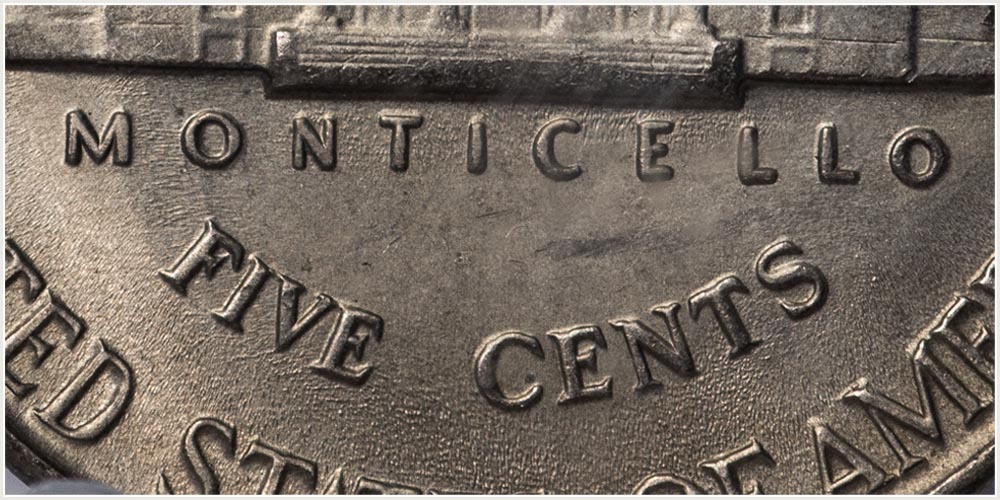 Each Coin Notes Denomination
Date
Date of Minting
Mintmark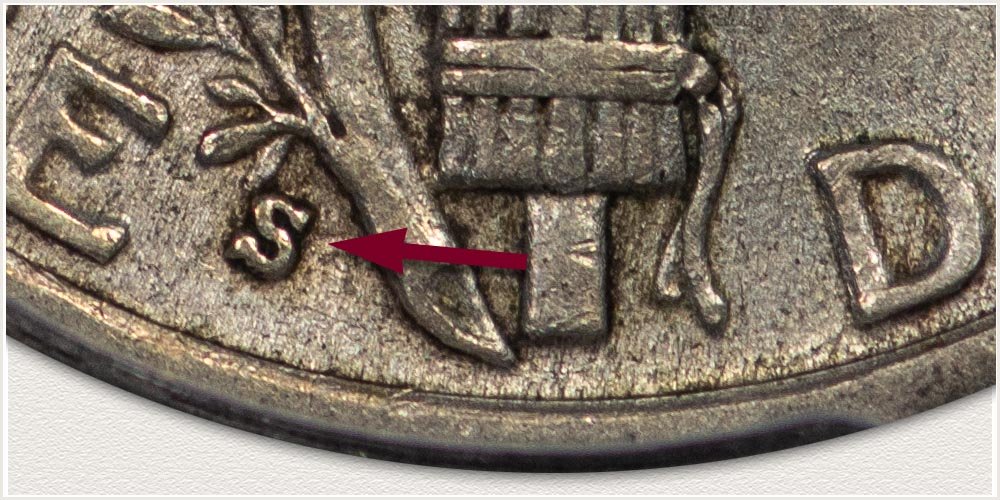 Mintmark: Identifies Mint Striking Coin
As you proceed, the different coin series are visually identified on the value chart pages.
Begin to Organize the Collection
Takes you to the page - "Print Worksheet" button is towards top of page.
Separate and organize your group of coins by denomination and dates. A listing of the coins is recorded on the worksheet. Next is beginning to recognize and judge condition.
Recommendations: Handle coins by the edges, avoiding spoiling the surface. Leave coins in existing holders, albums, and individual holders. It is not necessary to clean any coin, buyers avoid these or heavily discount them.
Viewing Overall Quality of the Coins
As your organization continues, begin to recognize the overall condition and quality of the coins. Many stand-out as heavily worn, other coins are noticeably better preserved with greater detail. To dealers and the collector, condition is a large factor to value. Coins are individually inspected and "graded" to a set of standards. These grades are part of the listings on value charts.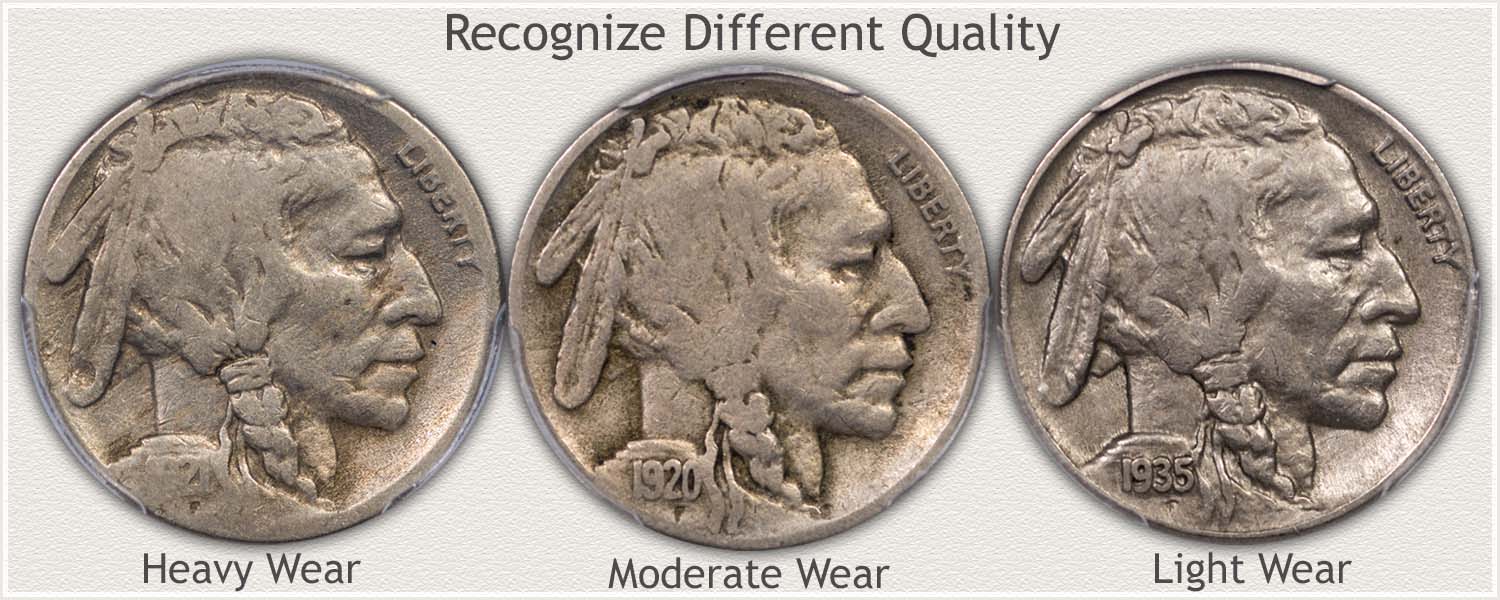 With dates and mintmarks recorded, certain coins are now beginning to show potential to higher value because of condition. Special consideration is given to coins in very nice condition and grade is a large factor to value.
At this stage of your progress, recognizing the heavily worn from moderate to light is all that is needed. Once you consult the value chart the coins needing a close evaluation is evident because of potential value. Judging condition is covered in detail within each denomination and series.
As you spot coins in high condition, set these aside for close examination. The above examples are coins in Mint State grade and are judged closely for both condition and aesthetics.
Professional Grading Services
Grading condition is important to value on a rising scale. Value differences because of condition are minor within the lower value category. With high value coins, grade often reflects hundreds of dollars.
Expert grading of high potential value coins is done by one of the top two grading services. They authenticate, grade, and enclose the coin in a holder. This does involve a fee; however, you have a professional judgement of grade and marketability is improved. Often worth the service. You can access these services yourself or use the help of authorized dealers. Coins you estimate with values above $100 are good candidates to have professionally graded.
More information about Coin Grading Services…
Refine and Identify Specific Value of Coins
Your coins are now organized by denomination. Viewing the images, match your coin and visit the pages of the specific series. Each series includes, value charts by date, identifying mintmarks, and grading condition of your coin. These are the pages alerting you to factors determining value and guide through the value process in a step by step method.
You are now in position to complete the value range section of the worksheet.
References to Find Coin Dealers | Potential Buyers of Coins
With your collection tabulated, and a value range estimated, time to find a dealer. Coin dealers and auction houses are your two main avenues of selling coins. These are found locally in your area, online, and by ads within periodicals.
Sorting through all the different coin dealers to find the best for your situation is the next step. You are looking for specific dealers. Dealers specialize and their inventory usually reflects this specialization. Match a dealer to the type of coins you have. For example, a dealer of high-end material is not in a position to best serve your needs when it is time to sell rolls of wheat pennies.
🔎Conduct the sale with an established coin dealer.
Professional Numismatists Guild | Dealer Directory
Professional Numismatists Guild. PNG dealers are held to the highest standards of ethics and professionalism. All members pass a set of standards.
American Numismatic Association | Dealer Directory
The ANA Coin Dealer Directory connects sellers with coin dealers abiding by the ANA's Dealer Code of Ethics. American Numismatic Association is the leading education and coin collecting organization.
Professional Coin Grading Services | Authorized Dealers
Dealers required to meet a set of acceptant standards. Dealers provide help assessing your coins and if beneficial, submitting coins to the PCGS grading service. Once sent to the service acceptance of grade and marketability improves.
Numismatic Guaranty Corporation | Dealer Locator
Dealers meeting a set of acceptant standards. Dealers provide help assessing your coins and if beneficial, submitting coins to the NGC grading service. With your coin encapsulated acceptance of grade and marketability improves.
Local Dealers and Coin Shows
Listing of Coin Shows and Dealers
Search this site to find area dealers and coin shows, review the dealer specialty, and contact information given. If you have a small quantity of coins to sell, visit a local dealer, it is cost effective, avoiding mailing expense. Conducting a sale with a dealer online is also very efficient. Both are suitable when selling coins.
Coin Shows are hosted all over the country, they bring together tens to many hundreds of dealers, depending on the size of the convention. At shows, dealers representing the complete range of coin values, from the low end to the very rare and valuable are found.
A coin show is a good place to establish contact, get to know and decide upon a dealer for a future transaction. A place to meet a large number of dealers and conduct selling your coins.
Rare Coin Auctions
Visit these top auction companies. View the range of coins auctioned. One noticeable trait is the majority of coins sold at auction are certified by the top grading services. Coins encapsulated in PCGS or NGS holders. Values typically range above $100 for the coins auctioned.
🔎Read their consignment pages, giving an insight to their many services to coin sellers.
Placing your coins into an auction is one method of selling coins. The right auction with an enthusiastic group of bidders can bring results to you, the seller, closer to the retail side of the market.
Heritage Auctions
Heritage Rare Coin Galleries and Heritage Numismatic Auctions, divisions of Heritage Auctions, are the world's largest numismatic dealers and auctioneers.
David Lawrence Rare Coins
David Lawrence Rare Coins holds weekly internet auctions and offers sellers the options of direct sale or consignment to auction.
Stacks and Bowers
Stack's Bowers Galleries conducts live, Internet and specialized auctions of rare U.S. and world coins and currency and ancient coins, as well as direct sales through retail and wholesale channels.
Ira & Larry Goldberg Auctioneers
Awarded a Lifetime Achievement for their contributions to the Numismatic Community.
Great Collections Auctions and Direct Sales
Quote from their Grade and Auction Program: "Our company was built on servicing clients with both small and large collections/holdings."
Selling Coins | Best Practices
As you can see, selling coins requires some extra research and legwork. However, if you persist, and do it well, the pay-off is knowing you received the best value for your box of old coins. Let's wrap it up and overview the most important step in selling coins.
Accurately understand the value of your coins, match them to the right buyer and you will receive the best price when selling coins.
You have in your possession now, a "box of old coins." Turn it into a valuable asset and start the process of selling by first understanding their value.
Coin Values | CoinStudy Articles
An organized collection presents well to a potential buyer. Original holders are still intact. Coins remain in their albums and individual holders. Multiple coins once loose are sorted by series. Example: wheat pennies are counted and placed in a roll or zip bag. Small aids to help the selling process.
For more specific information…
Selling Wheat Pennies and Receiving the Highest Price
Separate your old wheat pennies into the main value groups - different decades, mintmarks, rare dates and importantly condition. Preparing and selling wheat pennies for the best value is possible.
How to Sell Silver Coins details the separating and pricing of the rare collectible coins, determining the silver value of the rest and finding the best buyer for each. Additionally...
★Coin Values Discovery and best practices to Selling Coins and...
All old US coin values. The home page is an excellent index, quickly leading to the major coin series. From Cents to Gold. Easily sort and value your coins, an important step in preparing for selling and finding coin buyers.