Coin Values Moving with Precious Metals: Up-Dated 11/27/2023: Gold $2010 | Silver $24.66
Grading Liberty Nickels
How to Video
You can accurately judge condition yourself by following the How to Video - Grading Liberty Nickels. Grading is a necessary step in discovering the true value of your Liberty V nickels.
Small and subtle details such the presence of letters in the headband quickly separate lower from higher value coins. Start with the video, then review your coins and compare them with the details highlighted in the images and descriptions.
Please note: Although your old nickel is not as avidly collected as other series, inspect it closely. There is a strong market and interest in higher grade Liberty nickels.
Collector demand for Liberty nickels in nice condition, those grading extremely fine and better, have reached a minimum of $20 plus. Realize; many dates in these higher premium grades are worth even more. Combine the grading video above with the descriptions and close-up images that follow and you can sharpen your grading skills. Accurately place a value on your old coins.
Uncirculated Condition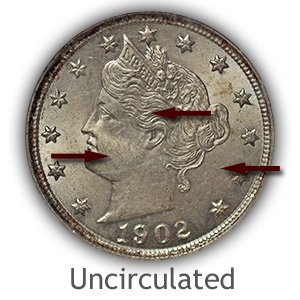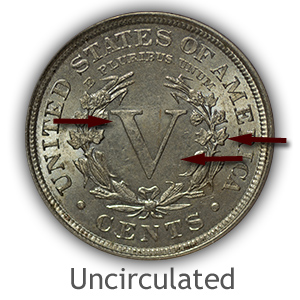 Using a single light source and tilting your coin at an angle, slowly rotate the coin. You are looking for bands of luster to extent across the entire surface. Luster has a frosty texture on Liberty nickels and if complete indicates the high value uncirculated grade.
Obverse:
Liberty's cheek is a continuous bright, lustrous silver grey. No dulling or smoothness should be present.
Hair curls and strands are separate and complete, again with no dulling.
Fields both in the front and back of Liberty shimmer with mint frost.
Reverse:
Confirm bands of luster are continuous across the large "V" in the center.
Look closely at the wreath for signs of flattening of detail.
Fields must remain frosted with mint luster.
Extremely Fine Condition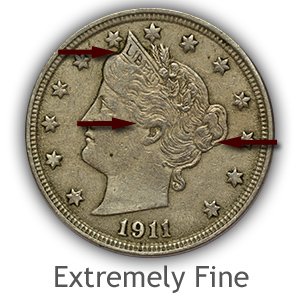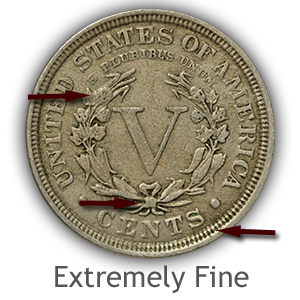 In the "extremely fine" grade this Liberty nickel circulated long enough to remove all luster leaving a soft light grey appearance.
Here we check the raised high points of the design for signs of wear. Liberty's cheek, hair and lettering are areas of focus and are highlighted on the image. The majority of the coin should remain sharp and well detailed with only slight removal of metal.
Obverse:
Wear is visible in Liberty's hair with just a few stands merging above forehead and ear.
All letters of "Liberty" in headband are clear and sharp.
Tie in hair must show strands of hair.
Reverse:
Wreath remains well defined, corn ears, maple leaves and cotton bolls are recognizable and only worn on high points.
Weakness of strike may occur at bow holding wreath, however corn ears are defined.
Rim and lettering remains in high relief.
Fine Condition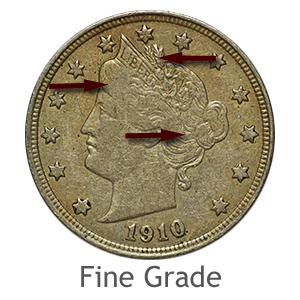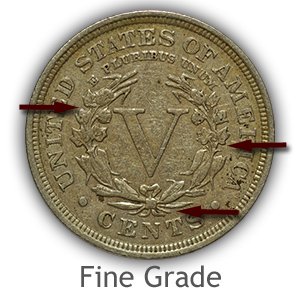 In "Fine" condition moderate wear is evident. A few strands of hair above forehead and ear have merged. However your coin is still distinctly detailed, and appreciated and valued by collectors. Look for a separation of the hairline and Liberty's face to indicate the Fine grade.
Obverse:
Individual strands of hair are worn smooth in small areas above Liberty's forehead and above ear.
Stands of hair must remain distinct in front of tie in hair.
All letter of "Liberty" in headband remain readable, although the letter "I" is often faint.
Reverse:
Major elements of the wreath are separated despite obvious wear.
Recognizable are corn ears, leaves and cotton bolls.
Bow at bottom of wreath, although worn, is separated from the ears of corn.
Good Condition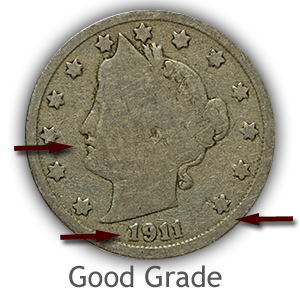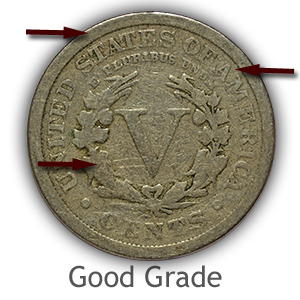 Liberty's portrait is still bold but just an outline. Missing are all details such her hair and crown. A Liberty V nickel in this condition is considered the "Good" grade. Pleasing examples are those with rim separation from lettering and stars. If your coin retains a nice grey color it is valued over a coin that has developed a dark charcoal color.
Obverse:
Liberty's portrait is mostly smooth, although a full bodied "Good" grade coin has some separation remaining at tie in hair and above forehead.
Date must remain readable.
Rim is weak in places but mostly separated from stars.
Reverse:
Wreath, although heavily worn, shows some definition and is separated from the large central "V."
All lettering remains visible however faint in some areas.
A complete rim indicates your coin is a solid candidate for the good grade.
Accurate Grading Liberty Nickels = Value
Although grading Liberty nickels is in part a technical examination of your coins, also include in your judgment the coin's overall eye appeal. For example, large distracting nicks or cuts on the surface would lower its appeal as a collectible. Match your coin closely the applicable image and you determine a fairly accurate value range.
Grading Old Coins | Video Index
Improve your skills at grading old coins. Visit the video index.
The Value of V Nickels | Common to Very Rare
Once you have judged condition and determined a grade of your Liberty nickels, visit the value charts to determine their worth. Often a slight improvement in condition, when recognized, discovers a higher value is possible.
★Coin Values Discovery pulls together... Grading Liberty Nickels and...
All old US coin values. Use the image index to identify your coin, follow the link to value charts covering dates and mints of each series. Importantly, the condition of your coin is playing an increasing role in value. Each series covers the grading process in detail, helping find the complete value.