Grading Old Half Dollars and Value
Accurate value depends on accurate judgment of condition. The art of grading old half dollars by evaluating condition eliminates the undervaluing of your coin.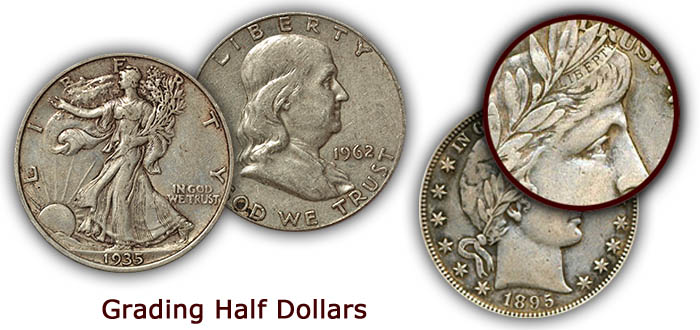 Collectors and dealers always evaluate the condition of every half dollar, assign a "grade," and then place a value. You can do the same.
How To | Video Series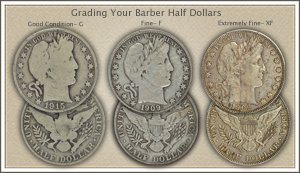 Video | Grading Barber Half Dollars
Two main grades of Barber half dollars have the greatest impact on value; the Good grade and the Uncirculated grade. Judging your as coin better than Good increases its collectability above bullion silver value. Additionally recognizing your coin as Uncirculated places it solidly in the top end of the grading scale.
The important point to consider when judging condition are covered in the video. Also images and descriptions are used to highlight the process to grading.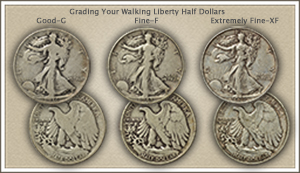 Video | Grading Walking Liberty Half Dollars

Popular today with collectors, a deliberate effort grading the condition of your old Walking Liberty half often discovers something special.
It is possible to accurately grade these coins yourself. Small changes in the amount of wear, once described, are soon recognizable and your expertise quickly improves.
Date and mintmark are important - and now you can decide condition as part of an accurate appraisal.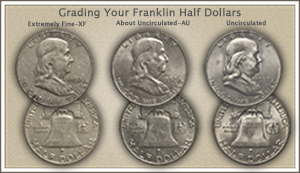 Video | Grading Franklin Half Dollars

In the grading video - watch closely the difference between an "uncirculated" and "about uncirculated" Franklin half dollar.
It is these two grades that separate the higher value coins, with the uncirculated coin at the top of the value charts. Specific areas of the obverse and reverse of your coins are highlighted to make the distinction.
Now You Can Grade | Discover Half Dollar Values
Barber Half Dollars:
Pull from your coins any Barber half with a full "Liberty" visible in her headband. All in this condition or nicer are worth a collector premium. Later date Barber half dollars, heavily worn and graded as "good" condition are worth $10.13 each. In "fine" condition every date is a valued collectible.
Walking Liberty Halves:
Walking Liberty half dollars start at $7.42 any in the "extremely fine" grade is now a $11.12 or higher valued coin. If hair detail remains and there is a separation from Liberty's forehead you have a higher grade coin. Many dates and mints are valued above minimum bullion silver value.
Franklin Half Dollars:
Many Franklin halves move up and down in value with changes in silver price. All are now $6.37 with a few higher because of their condition. Grading these is becoming important to separate the premium coins. Inspect the reverse, look for the inscription on the bell. A lightly worn or better condition Franklin half still has lettering intact on the Liberty Bell. Earlier dates are becoming collectible, breaking above base silver value.
Grading Old Coins || Video Index

It is not always the combination of date and mintmark raising your old half dollars to the scarce and valuable level. Often it's your coin's condition, or "grade" as referred to by collectors.
Avidly sought are nice quality examples (of any coin series) to add to collections. How-to-videos detail the subtle insights into grading not only half dollars but the condition of all your old coins.
Coin Values Discovery Highlights... Grading Old Half Dollars and...

All old US coin values. It is an excellent index with images and text links to all coin series, from Cents to Gold. Half Dollar value charts, grading images and descriptions uncover how much your box of old coins is worth.