Coin Values Moving with Precious Metals: Up-Dated 9/25/2023: Gold $1921 | Silver $23.44
Grading Franklin Half Dollars
How to Video
You can accurately judge condition yourself by following the How to Video - Grading Franklin Half Dollars. Grading is a necessary step in discovering the true value of your old Franklin half dollars.
Today's silver value, currently in the $23.44 per ounce range forms a strong underlying base to how much your coin is worth. Heavy with silver the minimum is $7.90 each. Grading the condition has the potential to identify a higher collector quality and value. Take your time, a few of the subtle points to grading Franklin half dollars take a moment to recognize.
Grading Franklin half dollars is a process of comparison, judging the condition of your half dollar and assigning a "grade." Assessing the amount of wear - if any - to surfaces of the coin determines each grading category.
Uncirculated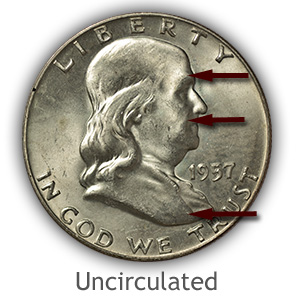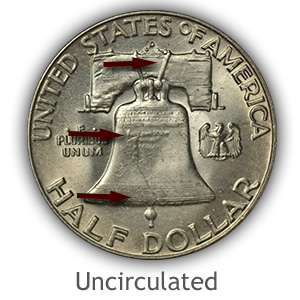 To confirm any of your coins are uncirculated slowly rotate it under a single light source. The band of luster would remain complete extending from rim to rim. No breaks accrue in the areas of Franklin's cheek and also notice no dulling of the luster across his hair.
Luster must remain in the following areas of your Franklin half.
Obverse:
Franklin's cheek and above eye
Hair behind ear
Lower edge of shoulder
Reverse:
Lettering on Liberty Bell
Lower area of bell rim
Straps and right edge of wooden beam
About Uncirculated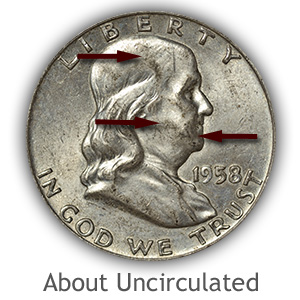 As the high points of the design begin to show trace amount of wear your Franklin half is graded "about uncirculated" condition. To obtain this grade your coin will show most of the original mint luster and the wear is just faint. Typically the cheek area just below the eye is first to show dullness and smoothing of the surface. On the reverse the center portions and edges of the Liberty bell are the raised areas prone to loss of luster.
Although removal of luster is evident on the following areas, design details must remain. Also confirm brightness remains surrounding the Liberty bell, lettering and Franklin's portrait.
Obverse:
Removal of luster to Franklins Chin is apparent, although roundness is still present
The cheek is one of the first areas to dull from wear, also should remain full
Additionally, confirm hair detail remains behind ear
Reverse:
Lettering within the center of the Liberty bell remains, showing traces of wear
Straps to the beam are dull and smoothed as are the edges of the beam
Often evidence of wear is detectible along the lower rim of the Liberty bell
Extremely Fine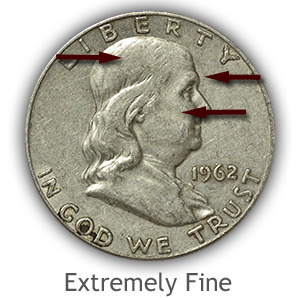 In the "extremely fine" grade this coin has seen enough wear to remove all luster leaving a soft light grey sheen. Although wear is visible across Franklin's hair most details are visible.
One of the first places to check confirming the extremely fine grade is the presence of the letters on the Liberty bell. Never really pronounced however they must remain despite overall wear. Your coin is still well defined with an overall sharp appearance.
Obverse:
Hair details worn but visible
Franklin's cheek is slightly flattened
Noticeable wear on brow above eye
Reverse:
Lettering on Liberty bell remains although weak
Luster is gone over entire bell and beam above
Minor smoothing and flatness to lower rim of bell
Average Circulated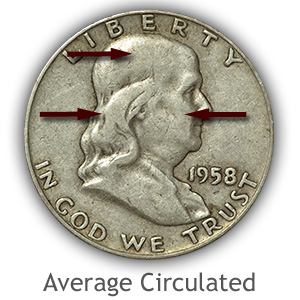 Noticeable flat areas are visible and somewhat prominent to an "average circulated" coin. Roundness is gone to Franklin eyebrow, cheek and hair. The once highly detailed Liberty bell is now smooth. Although the term Average Circulated is not a technical grade it is commonly used to describe a Franklin half trading in the bullion value range.
Obverse:
Hair across top of head is without detail
Behind Franklin's ear all strands of hair have merged
Cheek under eye has lost all roundness and is flat
Reverse:
All lettering on Liberty Bell is missing
Noticeable flatting to beam and strap
Center of the small eagle has lost all feather detail
Accurate Grading Franklin Half Dollars = Value
Viewing these Franklins side by side highlights the subtle differences in condition and overall appeal to collectors. The center piece to any Franklin collection is a coin with date and mintmark rarity combined with high condition. A few moments of study on your part and differences in both condition and value begin to appear.
Grading Old Half Dollars | Video Series
Visit the in-depth half dollar grading videos, combined with enlarged images and detailed descriptions. Dates and mintmarks on the coins are only part of half dollar value. Follow the steps to grading condition and it leads to how much your coins are worth, accurately.
Date by Date Franklin Half Dollar Value
It's true most of the circulated Franklin half dollar value is directly tied to silver. However, there is a small but growing number of rare dates and mints in certain grades worth a rising premium. All the dates of issue are listed in the value charts in the different grades. Discover how much your silver halves are worth.
★Coin Values Discovery pulls together... Grading Franklin Half Dollars and...
All old US coin values. Use the image index to identify your coin, follow the link to value charts covering dates and mints of each series. Importantly, the condition of your coin is playing an increasing role in value. Each series covers the grading process in detail, helping find the complete value.