Coin Values Moving with Precious Metals: Up-Dated 11/27/2023: Gold $2010 | Silver $24.66
Grading Indian Head Pennies
How to Video
Judge condition yourself by following the How to Video - Grading Indian Head Pennies. Grading condition is a necessary step; both collectors and dealers take, to accurately place a value on Indian head pennies.
Value is often ruled by the eye appeal of the coin leading to its desirability. A heavily worn Indian cent is worth 75 cents to $1 each; however, above average condition pieces are valued at multiples of this price. These subtle points to grading Indian head pennies are covered in detail below.
Grading Indian cents is a process of comparison, judging the condition of your penny and assigning a "grade." Assessing the amount of wear - if any - to the surface of the coin determines each grading category.
Uncirculated Condition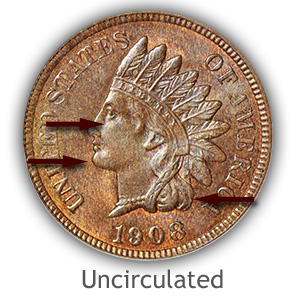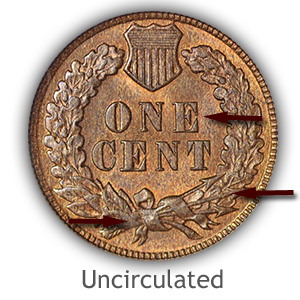 To confirm your Indian penny is uncirculated (no wear to the surface) slowly rotate it under a single light source. Luster radiates in bands and remains complete from rim to rim. Watch closely as the light moves over her cheek, any wear causes a change in texture and subtle changes in reflection.
Full luster must remain in the following high points of the design. Light wear is often seen as smoothness on the metal. On copper coins this may even brighten the surface.
Obverse:
Her cheek below the eye
Chin and lower edge of her face extending to the ear
Hair curls just above the date
Reverse:
Knot and folds in ribbon
Check the edges of leaves in the wreath; both sides
Since "One Cent" is large and in the center, study carefully for changes in texture
Extremely Fine Condition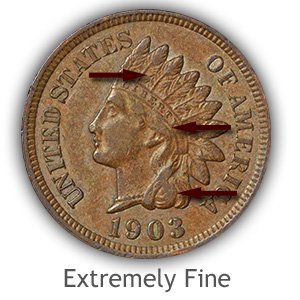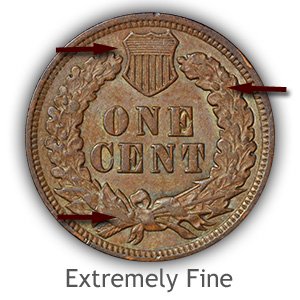 Here is a coin that entered circulation, saw light use; and is beginning to display a small amount of wear. Although worn most of the finer detail is visible and the coin grades Extremely Fine. First to notice is the bright copper luster is gone, replaced by an even light brown color. Defining this grade, light wear is found only on the very highest points. Overall, a nice well detailed, sharp looking coin.
Obverse:
In the headdress, feather details are clear, slight wear towards the tops of feathers
Hair curls above the ear have small flat areas
Just above the date, some of the hair detail is merging with the ribbon
Reverse:
Knot holding wreath retains detail although reduced
All leaves are raised with central design intact
Horizontal lines of the shield are separated
Fine Condition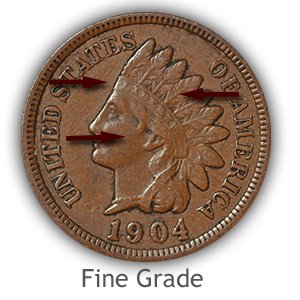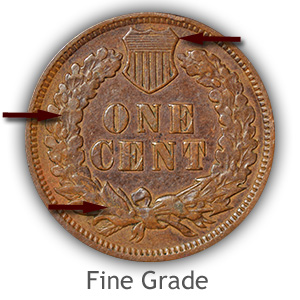 As an Indian penny begins to show moderate wear its condition is graded "Fine." Many dates are highly valued and desirable in this condition, especially the earlier years, pre 1880. It is not uncommon to see these offered at $15 and higher depending on date. Look first at the headband; if all letters to Liberty are readable your coin is a strong candidate for the fine grade and value.
Obverse:
Separation of hairline from her forehead is visible
All letters of "Liberty" are readable
Details at the base of feathers are sharp
Reverse:
Only a few of the horizontal lines of the shield have merged
Leaves in the wreath are noticeably flattened, however distinctly outlined
A clear knot holding the wreath is visible and arrows remain distinct
Good Condition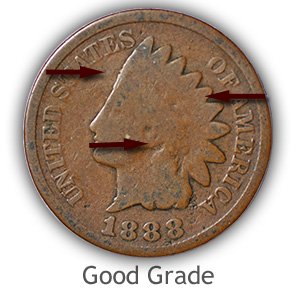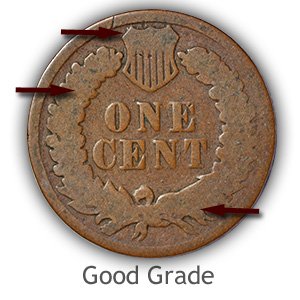 Worn to a shallow relief with little detail remaining describes an old Indian penny in "good" condition. Still an important coin because of its history, collectors today place a high value on the scarce dates, notably those minted in 1877 and those of the earlier Civil War years.
Notice despite lack of fine details, complete outlines of portrait, date and lettering is intact.
Obverse:
Headdress feathers are without detail
All hair definitions completely merged
"Liberty" in headband is missing
Reverse:
Leaves in the wreath form only an outline
Horizontal lines in shield are flat and missing
Knot holding wreath and arrows have merged and are no longer separated
Accurate Grading Indian Head Pennies = Value
Grade your Indian pennies conservatively to realize a fair value. Coin grading is subjective, follow the points outlined above and in the video, quickly many of the subtle differences in condition become easier to recognize.
Grading Old Pennies | Video Series
Visit the in-depth penny grading videos, combined with enlarged images and detailed descriptions. Dates and mintmarks on the coins are only part of penny value. Follow the steps to grading condition and it leads to how much your coins are worth, accurately.
The Value of an Indian Penny | Very Solid
One of the stars of the coin collecting hobby, Indian head pennies with their bold distinctive design is a very popular coin. Many collectors are building collections and putting a heavy demand on the rare dates and better condition coins. Discover the value of your Indian penny.
★Coin Values Discovery pulls together... Grading Indian Head Pennies and...
All old US coin values. Use this page as a starting point, it is an excellent index with images and text links to all coin series, from Cents to Gold. Value charts, grading images and descriptions uncover not only the value of Indian pennies but how much your box of old coins is worth.