Coin Values Moving with Precious Metals: Up-Dated 11/27/2023: Gold $2010 | Silver $24.66
Grading Shield Nickels | How to Video
Accurate value of any coin is dependent on condition. Grading Shield nickels has a few subtle points to judge. Follow the video as examples from Mint State (Uncirculated) to Good condition are described and graded.
If there are clear horizontal and vertical lines visible with-in the shield of your coin it is sought by collectors. Many dates of Shield nickels are scarce in high circulated condition and command a premium value. Images and descriptions below describe these details to higher grade.
With a little time and study the skills to accurately grade old nickels develop. Your eyes become keen at detecting the finer details. Additional images and descriptions are below.
Uncirculated Condition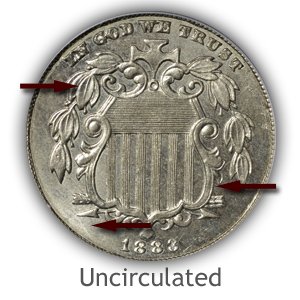 Uncirculated - Mint State Shield nickels are eagerly collected and a valuable coin. Recognizing this grade is important. Details to consider in your judgement include mint luster and faint signs of wear.
Obverse:
Outside edges of leaves bright with luster
Frame of shield displays no dulling on tops of fine details
When rotated under light mint luster radiates across the entire surface
Reverse:
Top surface of the number 5 is still lustrous
The open fields surrounding the 5 remain covered with luster
Toning a soft grey may occur however no smoothness or loss of fine grain texture is evident
Extremely Fine Condition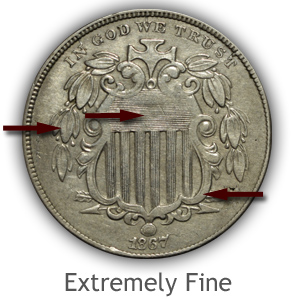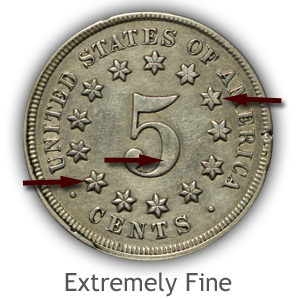 Typical of a Shield nickel in Extremely Fine condition is ample detail visible. The coin remains "sharp" to the eye. Look for the high-point detail to have a flatness, however minor.
Obverse:
Minor wear is found on the edges of leaves extending to the tips of the leaves
Small high point detail on shield frame now worn and in some spots missing
Areas of horizontal and vertical shield lines may merge
Reverse:
Numeral 5 is bold, texture is now smooth from slight wear
Most stars remain slightly rounded in profile with some flatness
Weakness of strike may cause some stars to appear with flatness
Fine Condition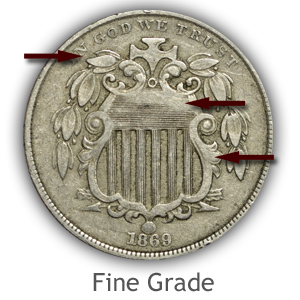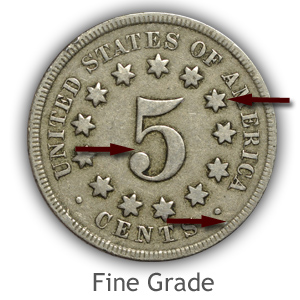 Obvious wear covers the design, having a distinct worn appearance. There is however enough fine design remaining to give a pleasing appearance.
Obverse:
Leaves as clusters are now partially evident
Central detail to shield frame is missing in areas
Many horizontal and vertical lines missing and flat
Reverse:
Numeral 5 must remain clear and separate from field
Stars remain complete and bold from field
Rim is still separate and raised above the field
Good Condition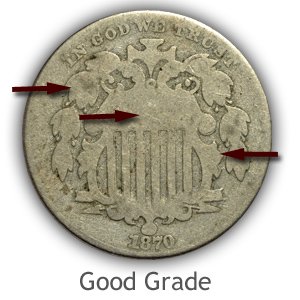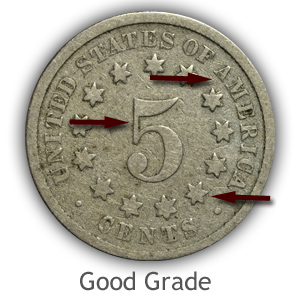 Extensive wear has removed most of the design, especially the obverse of this 1870 Shield Nickel. The impression of just an out-line is the "look" of the coin. A readable date must remain to have collectable value.
Obverse:
Once defined leaf clusters are now a single outline
Frame detail to shield is missing and frame flat
Horizontal lines and the fine vertical lines to shield missing, if any remain your coin is solid for the grade
Reverse:
Numeral 5 is almost flat with the field; on weaker struck coins parts if the five often fade into the field
Stars are flat with no central detail lines; on weak struck coins parts of stars merge with field
With this example the reverse is more boldly struck; the obverse because of the loss of detail determines grade
Accurate Grading Shield Nickels = Value
Value differences of Shield nickels from one grade to the next requires an in-depth study of the coin's condition. If a conservative approach is used in your judgement of grade, others will agree, locking in an accurate value.
Grading Old Nickels | Video Series
Visit the in-depth nickel grading videos, combined with enlarged images and detailed descriptions. Date and mintmarks on coins are only part of the value process. Follow the steps to grading condition and it leads to how much your old nickels are worth, accurately.
Grading Old Coins || Video Index
Video index of how to grade coins, videos, close-up images and descriptions of other coin series are found here.
Shield Nickel Value | Discover Their Worth
After the grading process visit the listing of Shield nickel values. These nickels are the first nickel alloy five cent US coin. Along with the "first of" status comes popularity and demand for collectable grade coins. Shield nickels are an exciting find in a box of old coins.
★Coin Values Discovery pulls together... Grading Shield Nickels and...

Today, demand for obsolete and vintage US coins is strong. Many series are surprisingly valuable. Visit the index of series and discover the value of all your old coins.