Coin Values Moving with Precious Metals: Up-Dated 11/27/2023: Gold $2010 | Silver $24.66
Grading Barber Dimes | How to Video
A key part in the decision of an accurate value of any coin is an accurate judgement of the coin's condition. Grading Barber dimes have a few major points and a few subtle points to judge when judging condition.
How to grade old coins yourself is demonstrated in the video using Barber dimes ranging in grade from the worn Good grade to a nice Uncirculated example. Any of these with a fully readable Liberty in the headband is sought by collectors.
Many dates - especially those prior to 1900 are scarce in high circulated condition and command a premium value. Continue below with the images and grading descriptions describing the differences to these higher grade coins. A little time and study and your eye begins to detect the small differences to grade these old dimes.
Uncirculated Condition
Beginning with the Uncirculated condition introduces the beauty of Barber dime and a complete and full detailed design. All of the intricate details are portrayed on a mint state coin. Notably; mint state dimes are eagerly sought by collectors and carry the highest value premium. Recognizing this grade is important. Points to consider in your grading judgement include the presences of mint luster and detecting faint signs of wear.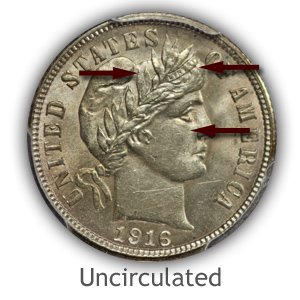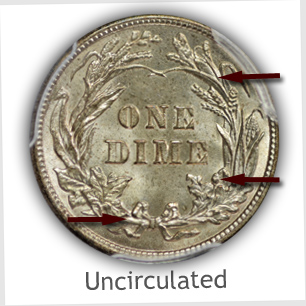 Obverse:
Hair above eye retains mint luster with no dulling, grading Barber dimes begins here
Look closely at the leaves above the headband, the upper edges are high in profile and prone to show first signs of wear
Under the eye is the large expanse of her face and cheek, any disturbance of luster here results in a dulling to the sheen.
Reverse:
Close inspection of the ribbon bow would reveal any signs of lost detail from wear, a different texture would result
Leaves of the wreath directly on either side of the bow must also retain luster
Viewing the rest of the corn and wheat designs; outer edges of the leaves are the highest elements and must remain without any dulling or smoothness
One final check of the grains of wheat and corn themselves and lacking any contact confirms the reverse grades uncirculated
Extremely Fine Condition
Separating a Barber dime into the Extremely Fine grade is the small areas of wear to the highest parts of the design. Although wear is present and the original brightness of luster is missing the coin must be sharp and distinct in appearance.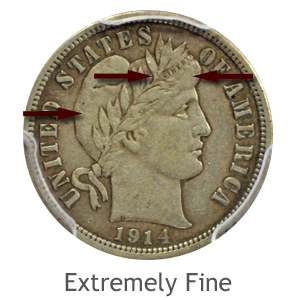 Obverse:
Hair above the eye, although showing wear, still retains some minor detail
Important: a full "Liberty" must be readable in the headband, all letters distinct
Important: top and bottom edges of the headband must remain and form an unbroken line
Although wear shows on the top portion of the cap, flatness does not extend to the outer edges of the cap, some roundness remains
Reverse:
Wear is confined to only the outer edges of the leaves and raised edges of the bow, each leaf is clearly separated
Fine details within the leaves remain
Most grains of wheat are separated; notable on the right side
Fine Condition
Objective grading of this Barber dime places it in the Fine category. With a somewhat faded appearance, wear is now clearly noticeable. Many major design elements are just an outline lacking depth. However there are a few key elements needed to place this coins in the Fine grade.
Obverse:
Headband now lacks any raised definition, in places merging with hair
Important: All letters of "Liberty" within headband are visible. Often ER is weak but must show, also the ending letter "Y" must remain.
Upper row of leaves in wreath show as outlines but retain separation, lower leaves are now missing
Although cap is worn flat it does not merge with leaves. Grading this Barber dime obverse as a solid Fine.
Reverse:
Bow and lower wreath next to the bow show large areas of flatness, leaves themselves are still separated as well as a clear knot tying the ribbon
Flat areas are extensive within the leaves of wheat; however all are separate with no merging
Confirm many of the grains of wheat and corn are distinct
Good Condition
In spite the amount of wear and missing detail, a Barber dime in the Good grade still has character. The bold design of the portrait, large lettering and date remains; all framed by a distinct rim.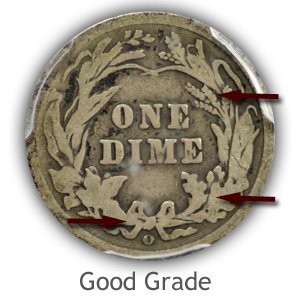 Obverse:
Portrait is worn smooth, few major details remain; however it is not merging with lettering
Applying to the obverse specifically, a full rim must remain
Lettering and date clear and distinct
Reverse:
Distinction of separate leave on either side of the bow have merged
Bow worn to the point of merging with wreath, ribbon loops and bow knot just visible
Major elements of wreath, leaves and grain stems visible
Rim on reverse is often weak and faded in areas. A full rim on reverse is an added appeal to collectors.
Accurate Grading Barber Dimes = Value
Discovering the value differences of Barber dimes from one grade to the next grade requires an in-depth study of the coin's condition. If a conservative approach is used; over-valuing the coin is avoided.
Mint Luster
Is there any mint luster still showing on your coin? Mint luster; the "frost" of metal flow lines created during the striking process is the indicator of a high grade coin. Complete coverage of luster over the entire surface grades a Barber dime as mint state.
Your coin may be worn slightly indicating an Extremely Fine grade. However; if any luster is still clinging in and around the lettering it is a strong plus to potential value. Handel these coins with care by the edges, avoid placing fingers directly on the surfaces.
Original Toning
Original surfaces and toning are highly sought by today's collector. If a coin is original and appealing, not artificial or cleaned, value is solid. Collector desire to acquire original surface coins applies to all grades, Mint State to Good. Imaged is a 1913-S Barber dime far from highest value uncirculated grade but still highly collectible, notably because of the wonderful toing.
Grading the Barber dime as Fine, indicating moderate wear, the original natural toing acquired over the decades helps set this coin apart. Especially nice are the deeper shades of toning around the edges blending smoothly into the lighter toned center portrait.
There are collectors building collections in all grades based on originality and matched appearances. Careful handling is necessary with these old coins and cleaning is not an option, it should never be done.
Consider Date and Mintmark
Does a heavily worn Barber dime still have potential value?
Yes, there are many coins in the Barber dime series, despite heavy wear, carry premium values. Date and the mint that struck the coin are now considered. The New Orleans issues are popular with collectors and all dated before 1900 are premium coins. Followed closely in popularity are the San Francisco issues. Mintmarks denoting the mints are found on the reverse under the bow.
Notable dates in the Good grade:
1895 | 1895-O | 1896-S | 1897-S | 1901-S | 1907-S
Overall Barber dimes in good condition and dated before 1900 are wroth above minimum silver value. In many cases these older dates of the series are very valuable.
Grading Old Coins || Video Index
Video index of how to grade coins, videos, close-up images and descriptions of other coin series are found here. Following the steps to grading the condition of coins, is the key to value.
Barber Dime Values | Discover Their Worth
Once grading is complete finding a value of Barber dimes is closer to accurate. Value charts of all dates and mints are listed.
★Coin Values Discovery pulls together... Grading Barber Dimes and...
All old US coin values. Use the image index to identify the series of each coin and follow the links to value charts covering the different dates and mints. Each series covers the grading process in detail. Many series of old coins are surprisingly valuable.