Coin Values Moving with Precious Metals: Up-Dated 5/29/2023: Gold $1945 | Silver $23.25
Grading Walking Liberty Half Dollars
How to Video
You can accurately judge condition yourself by following the How to Video - Grading Walking Liberty Half Dollars. Grading is a necessary step in discovering the true value of your old half dollars.
Even today silver value currently $23.25 per ounce is the underlining driver to how much many of these old half dollars are worth. As of 5/29/2023 each Walking half is a minimum of $8.40 a nice start.
Along with the date and mint of your coin - grading the condition has the potential to identify a higher collector quality and value. Take your time; there are a few subtle points that take some comparison to recognize. Soon you become comfortable in how to grade old coins yourself.
Grading Walking Liberty half dollars is a process of comparison, judging the condition of your half dollar and assigning a "grade." Assessing the amount of wear - if any - to the surface of the coin determines each grading category.
Uncirculated Condition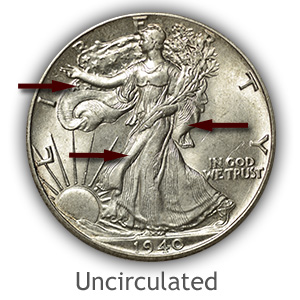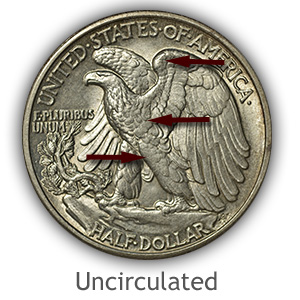 An "uncirculated" Walking Liberty half is still covered with its original and delicate mint luster. It is the new coin shine. Confirm your coin is this top collector condition by slowly rotating it under a single light source. Bands of luster would remain complete extending from rim to rim. No breaks accrue in the luster in the areas of Liberty's arms and no removal of luster down the center of Liberty.
Obverse:
Outstretched arm remains lustrous
A high point in the center of the coin, folds of Liberty's skirt shows no wear
Billows in sleeve are also bright and covered with luster
Reverse:
Eagle's leading edge of wing would indicate first signs of wear
Breast feathers must retain original sheen
Front of legs are still bright with no dulling
Extremely Fine Condition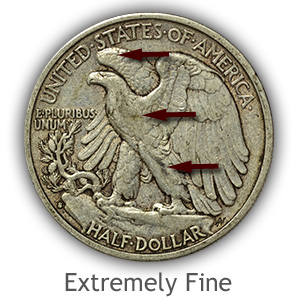 In "extremely fine" grade many Walking Liberty half dollars are considered collectible quality, especially the earlier dates. One of the first areas to check to consider your coin is a candidate for this grade is a noticeable separation of Liberty's hair from her forehead. True the highest areas of her head show a minor flattening but the loss of detail is minimal. Look for the details of the design listed below to remain.
Obverse:
Hair detail is still visible and line separating from forehead
Fine lines in Liberty's gown remain
Branches in her arm still separated
Reverse:
Feather detail on Eagle's breast have just begun to merge
Slight wear obscures a few feathers on leg
Detail must remain on tip of right wing
Fine Condition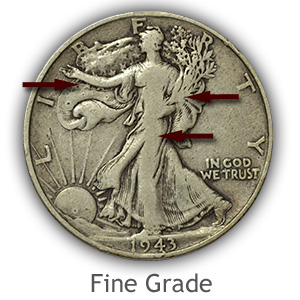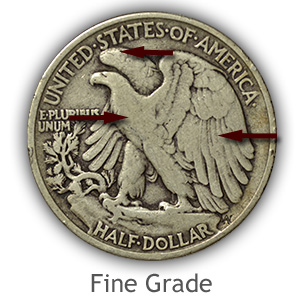 Next to judge is a moderately worn example. Despite noticeable wear the "fine" grade remains popular with today's collectors. Many old Walking Liberty dates and mints in this condition are awarded a premium value. A quick check is to confirm the stars above her arm remain, some flattening is acceptable but if the stars are visible your coin is a candidate for the fine grade.
Obverse:
Extended arm now clearly shows flat areas
Branches have merged
A continuous flat area extends down the center from Liberty's head to foot
Reverse:
Most feather detail covering the Eagle's breast and legs is now gone
Feathers, although worn are separated within wing
Some detail remains on upper right wing
Good Condition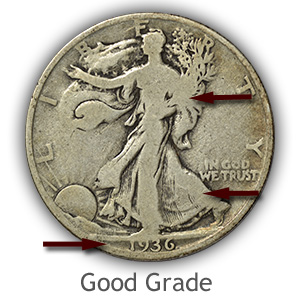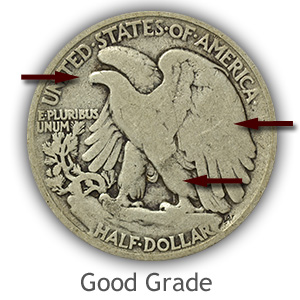 Years of service has removed a large amount of metal on this coin. It is now judged and graded as "Good" condition. The date, although visible is merging with the design both above and below. The branches have flattened with Liberty's arm and she is now mostly an outline. Hold your coin at a steep angle and extensive flat areas are noticeable.
Obverse:
Date is visible but beginning to merge with the rim
Branches are completely merged with arm
Lines of the flag are now missing over the back leg
Reverse:
Eagles head is now flat
Detail of left wing mostly missing
Both of the eagle's legs are without detail
Accurate Grading Walking Liberty Half Dollars = Value
Consider grading Walking Liberty half dollars carefully. Even despite heavy wear the Walking Liberty design holds up well and is still pleasing. Many early dates in the "good" grade are attractive to collectors and eagerly sought. Judge conservatively and you get closer to an accurate value.
Grading Old Half Dollars | Video Series
Visit the in-depth half dollar grading videos, combined with enlarged images and detailed descriptions. Dates and mintmarks on the coins are only part of half dollar value. Follow the steps to grading condition and it leads to how much your coins are worth, accurately.
Walking Liberty Half Dollar Value Chart
It's true most of the circulated Walking Liberty half dollar value is directly tied to silver. However, there is a small but growing number of rare dates and mints in certain grades worth a rising premium. All the dates of issue are listed in the value charts in the different grades. Discover how much your silver halves are worth.
★Coin Values Discovery pulls together... Grading Walking Liberty Half Dollars and...
It is an excellent index with images and text links to all coin series, from Cents to Gold. Value charts, grading images and descriptions uncovers the common to rare coin values found in your box of old coins.