Coin Values Moving with Precious Metals: Up-Dated 11/27/2023: Gold $2010 | Silver $24.66
Grading Washington Quarters | How to Video
Condition is important to how much these old silver quarters are worth. Grading Washington quarters is presented in the video. Subtle differences in condition are highlighted bringing you closer to an accurate value.
Silver Washington quarters are in demand by two groups. Collectors that search for nice high condition pieces to add to collections and secondly, investors seeking the coins for their silver content. To a collector; dates, mintmarks and condition are important. To an investor these do not matter and the coins trade as bullion silver only.
Grading the condition of these coins is important when separating the collector quality from the bullion quality. Grading images and descriptions found below is your hard copy transcript of the grading Washington quarters video.
Uncirculated Condition
Mint State Washington quarters are eagerly collected and a valuable coin. Recognizing this grade is important. Details to consider in your judgement include mint luster and faint signs of wear. To confirm any of your coins are uncirculated slowly rotate it under a single light source. Luster must remain complete covering the entire surface.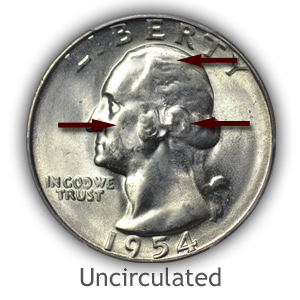 Obverse:
Hair at the top of Washington's head retains luster
Curls surrounding the ear is a high area and prone to first wear
Inspect the cheek; any smoothing and dullness is possible wear
Reverse:
First to inspect is the Eagle's breast feathers for loss of luster
Also high in profile are the fronts of the Eagle's legs, these must remain free of dulling from wear
Top edges of the wings, luster will cover these areas on an uncirculated example
Extremely Fine Condition
Notice the mint luster is missing and the coin is now a soft grey tone. Small patches of flatness are beginning the show. The overall condition and appearance of the quarter is still sharp. Many dates are sought by collectors in the extremely fine grade and carry premiums above silver value.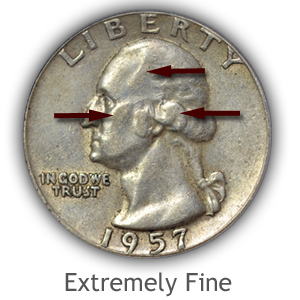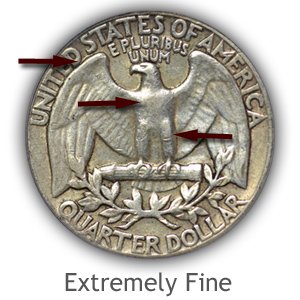 Obverse:
Small amounts of flatness now show in the hair line along the forehead
Hair curls behind the ear now have a smooth spot
Evidence of wear shows on the cheek just below the eye
Reverse:
Brest feathers are missing fine detail in the center
Small flat areas now extend down the legs
Edges of the wings have lost a minor amount of roundness, however the feather detail within the wings is fully separated
Fine Condition
Wear is clearly seen on a Washington quarter in the fine grade. A somewhat "faded" appearance is the impression these quarters display.
Obverse: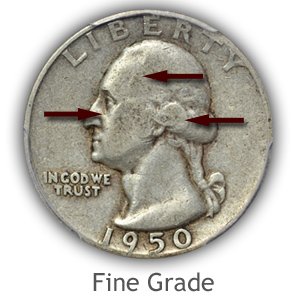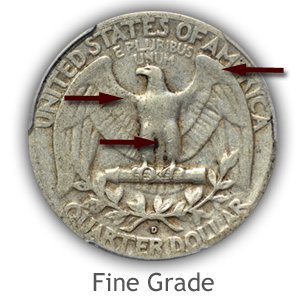 Majority of the fine hair strands have merged and the curls both in front and back of the ear are now flat
Hair line separating the forehead is all but worn away
Flatness of the cheek now extends to almost the ear
Reverse:
Outer edges of wings are now flat but the center feather detail is distinct and feathers are separated
All eagle's breast feathers are missing
Legs of eagle are lacking any feather detail
Good Condition
Despite heavy wear these quarters display all major details. Washington's portrait is bold with jaw line separated from neck. Eagle is still prominent with some center feathers separated and detailed.
Obverse:
Hairline and forehead have flattened, although curls at back of head are noticeable
Lettering has faded and is faint
Confirming a solid "Good" grade is a clear date although slight merging with the rim is acceptable
Reverse:
Lettering is faded into the rim along most of the top edges
Eagle is still somewhat bold however wide areas of flatness cover many feathers
Eagle's head, breast and legs are all worn to the same level and give a flat appearance
Accurate Grading Washington Quarters = Value
Accurate judgement of the condition of your coins is important to accurate value. One tendency to guard against is "optimistic" grading; the natural tendency to over grade in your favor. Use a conservative approach when grading. Ask: Is this the grade I would assign if buying the coin?
Dates and Grades With Future Potential
Many Washington quarters within the silver years of 1932-1964 have the potential to gain in collector value and rise above silver bullion value. Focusing only on condition and grade for the moment, the Extremely Fine grade has good potential to gain collector interest. Lightly worn coins are pleasing in appearance with nice detailing. Dates and mints in the early years have begun to command premiums. Here listed are latter dates of interest starting to separate above silver value alone.
1940-1945 All dates and mints
1949 and 1949-D
Silver price alone may drive the value of heavily worn Washington quarters. Considering future interests of collectors, lightly worn examples are best left out of the silver bullion group.
Handle these future collectables gently by the edges to avoid adding contact marks to the surface.
Grading Old Coins || Video Index
Video index of how to grade coins, videos, close-up images and descriptions of other coin series are found here. Grading the condition of your old coins is important to discovering accurate value.
Washington Quarters Value | Discover Their Worth
After the grading process visit the listing of Washington Quarters values. All silver Washington quarters (those dated 1964 and earlier) are worth a premium. Currently 11/27/2023 each is $4.14 .
★Coin Values Discovery pulls together... Grading Washington Quarters and...
Today the demand for these obsolete silver coins is strong. Many old series are surprisingly valuable. Visit the index and discover the value of all your old coins.