Coin Values Moving with Precious Metals: Up-Dated 11/27/2023: Gold $2010 | Silver $24.66
1923 Quarter Value
Spotting a scarce mintmark is key to accurate 1923 quarter value. Vastly different mintages separate the two issues of the year leading to an in-demand variety.
Collectors correctly identify all elements - date - mint issue - condition. Compare your coin to images and description of the important factors in the few steps below. 1923 is a part of the early Standing Liberty quarter series, an actively collected series with strong values.
Steps Leading to Value:
Step 1: Date and Mintmark Variety - Quarters are collected and valued by date and mint combination. It's important to recognize the distinct varieties of 1923.
Step 2: Grading Condition - Condition is part of the appeal of a coin. Worn examples to no-wear pieces are each compared to standards and given a grade. Judging condition narrows the value range.
Step 3: Special Qualities - Surface qualities of these old quarters are examined to spot any high end - appealing qualities raising appeal.
1923 Quarter Value
Condition of Coin
Date
Good
Fine
Extremely
Fine
Mint
State
Standing Liberty Quarter Values Updated
11/27/2023
1923
$9.67
$28
$39
$158
1923 S
$229
$323
$992
$2,119
A vast difference in value is seen on the above chart. Standing Liberty quarters are an appealing collectible to many. Demand for date and mint varieties support strong premiums. Work through the steps finding and separating the scarce quarter.
Step 1: | Rare Date and Mintmark Variety Identified
Mint Varieties of 1923 Quarters
Featuring a full Liberty striding forward, these quarters are a stunning design. Produced long ago, many date and mint combinations are noted as scarce today. In all years of the series branch mints struck the fewest numbers and many have become key issues in scarcity and value. San Francisco mint 1923 quarters are highly prized.
1923-S Standing Liberty Quarter
"S" Mintmark on Obverse: San Francisco Mint Struck the Coin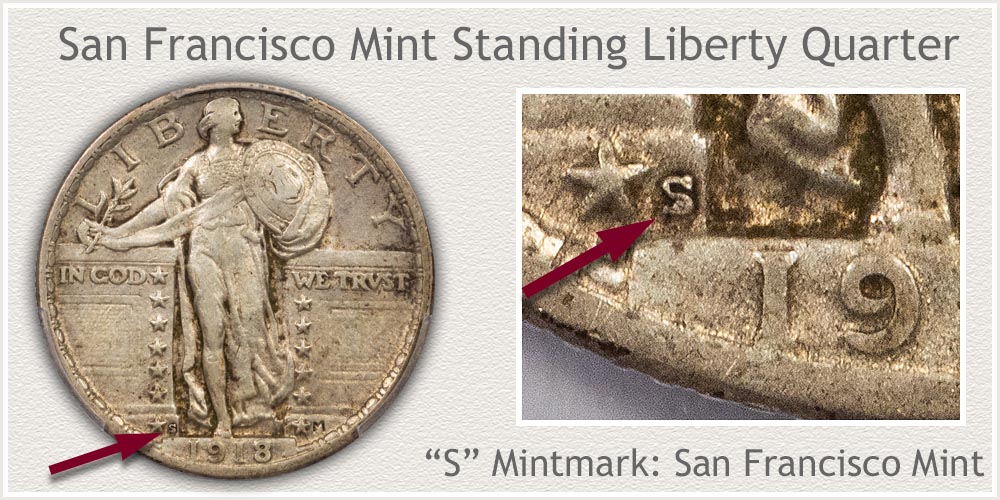 Although San Francisco struck 1.3 million quarters in 1923 few have survived until today. Most were worn during use to the point of not identifying the date. Saving quarters at the time was infrequent and finding a nice condition coin is a rarity among the series.
The rare San Francisco issue is identified by the "S" mintmark next to the date. Look closely to the left of the date. A small "S" letter on the wall beside the star is the San Francisco mintmark.
1923 Standing Liberty Quarter
No Mintmark on Obverse: Philadelphia Mint Struck the Coin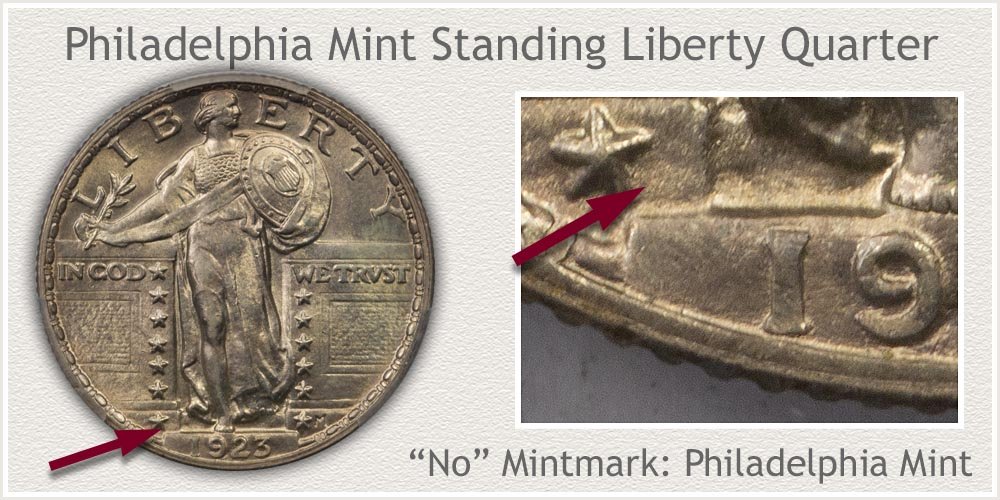 The task of supplying quarters in 1923 fell to the Philadelphia mint. 9,716,000 was the recorded total of Philadelphia's production. Just under 10 million coins, a typical year for the mint. These are the abundant variety for the date and lightly circulated or better coins are premium examples.
Philadelphia did not place mintmarks on quarters, or any coinage in the 1920's. The absence of a mark is how they are identified as Philadelphia mintage. Just left of the date, no mark is a Philadelphia struck coin.
Step 2: | Judge Condition Comparing to Images of Grades
Grading Confirms 1923 Quarter Value
With a detailed full figure of Liberty as the design, Standing Liberty quarters have many areas to judge for different stages of condition. Wear patterns begin to show on the highest points and as features diminish, these different "looks" are used to determine grades.
Beginning with a quarter in Mint State grade helps recognize the coin and its design with all features, both major and minor as it was first minted.
Mint State Grade
Mint State: No wear to the surface is the key requirement for a quarter to grade Mint State condition. At this high level of preservation, a close look is needed to confirm the absence of slight and subtle evidence of wear.
Inspect the surface of the coin overall, note the texture and luster of the field behind Liberty, a low protected area and compare to high points, her legs and shield. A consistent color and shine of both helps indicate a coin without wear.
Fabric covers the lower part of the shield; on a mint state coin the upper edges of the cloth are rounded without any flatness. Liberty's gown over the legs also shows no evidence of flat spots on the upper edges of the folds.
Extremely Fine Grade
Extremely Fine: Light wear is smoothing and reducing metal on a quarter in Extremely Fine grade. Key to the grade is the amount of wear. Small flat areas at the tops of high contours without eliminating fine detail helps define the grade.
Liberty's right leg is just beginning to show a smooth flat line down the center. An indication of her knee remains. Folds of her gown on the sides of the legs are smooth at the very tops of the folds.
Another high relief area is the shield and folds of fabric on the lower half. In extremely fine grade only the edges of the folds show flattening due to wear. The shield is well defined and distinct from the cloth.
Fine Grade
Fine Grade: Visible wear and noticeable flat areas are defining the example quarter as Fine grade. Wear has reduced many fine details; however, a few key elements remain.
Liberty's right leg has worn visibly flat with a small contour remaining to the sides. Importantly, the gown on the sides of her legs is very detailed. Just small flat lines are seen at the ridges of the folds.
In the shield area, the fabric over the lower portion is just beginning to merge with the shield. Folds remain in the fabric and the majority of the edge to the shield is visible.
Good Grade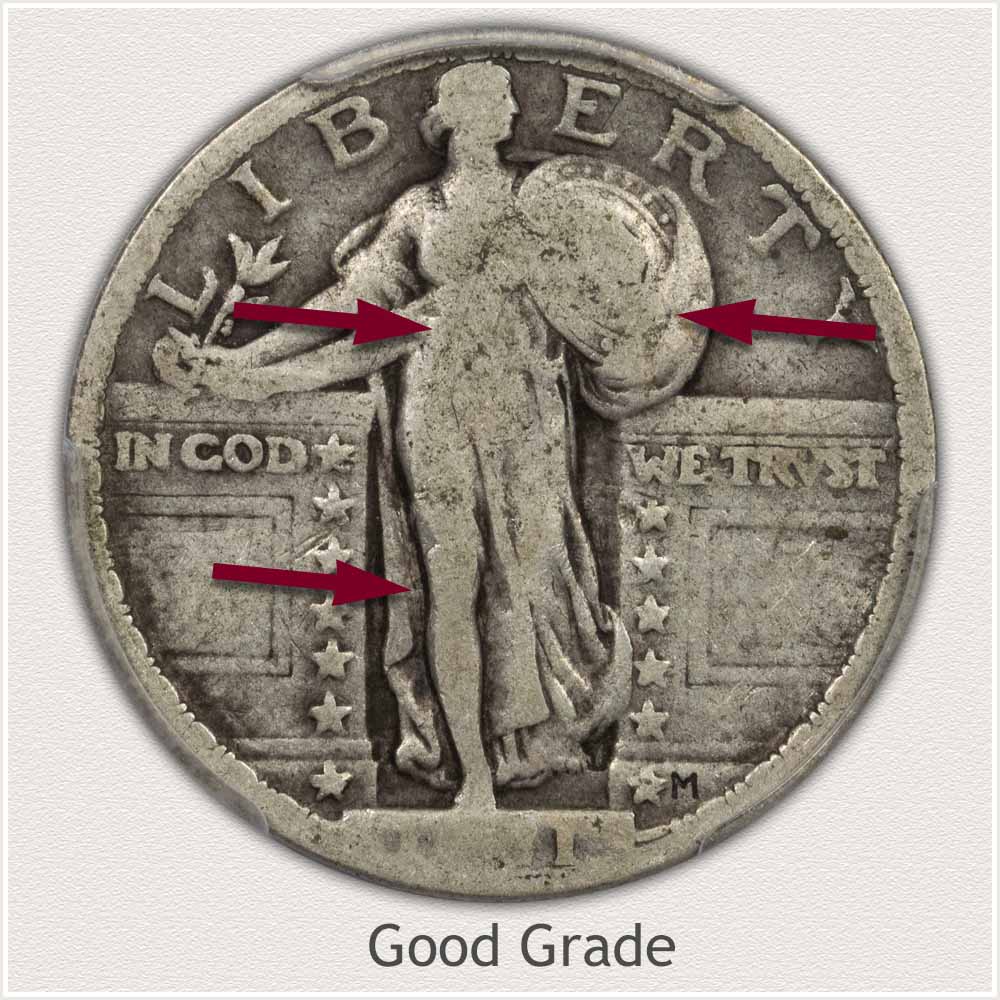 Good Grade: A quarter in worn condition with many major details merging is defined as the Good grade.
Liberty is noticeably flattened throughout the mid-section. Her right leg is completely flat extending from her foot to head.
The shield has lost most of the lower detail and is merging with Liberty. Once deep folds in the fabric covering the bottom of the shield are now smooth and blending with the shield. A pleasant appearance remains with the outline of Liberty.
How to Video: Grading Standing Liberty Quarters
Added insight to the process of grading quarters. Subtle points are examined to recognize the different grades and values.
Video, Images and Descriptions | Grading Standing Liberty Quarters
Step 3: | Special Qualities Creating Collector Demand
Rarity of the 1923-S Quarter
Values of coins are driven in part by popularity and scarcity of a date and mint. This is apparent with a 1923-S quarter by the listing on the value chart. Worth hundreds in Good grade, it is second only to the rare 1916 quarter in minimum worth.
Several factors are in favor of the 1923 San Francisco coin drawing the attention of collectors.
Although not an extremely low mintage, 1.3 million struck. It is the second lowest of the early "raised date" variety, 1916 to 1924 quarters. These years are noted as quick wearing of the date because of its high profile. Vast amounts of coins became non-collectible quickly.
High grade examples are elusive. Values are high in the upper grades; Extremely Fine and better quality are very expensive. Buying pressure by collectors includes grades below Extremely Fine, adding demand to these lower grades.
1923-S quarters became tagged as elusive early, now notable as standout date and mint for decades. A popular date in a popular series also strengthening demand.
Value of the 1923-S quarter is supported first by popularity: an early era year and San Francisco mintage. Second by scarcity of available examples is pressured through strong demand by collectors seeking examples in all grades of condition. A nice find!
References
U.S. Mint. 1924 U.S. Mint Annual Report https://nnp.wustl.edu/library/book/326
Coin Values | CoinStudy Articles
Date by Date
In Depth Standing Liberty Quarter Values
1917 to 1930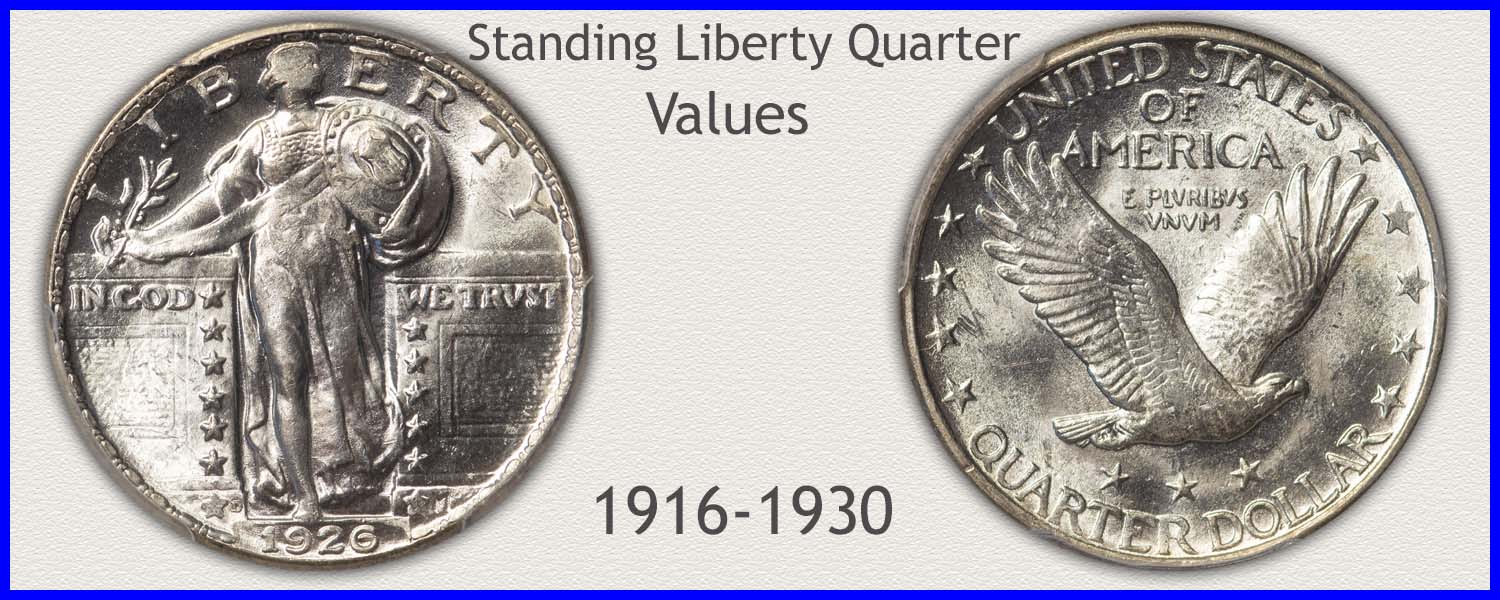 Standing Liberty Quarter Values | Strong Demand
Popularity of the series with both advanced and new collectors supports strong premiums on many date and mintmark combinations. Value chart lists all issues of the Standing Liberty quarter series.
U.S. quarters date back to 1796. During the following years many designs and varieties were minted. Rarity of these different series runs from common to scarce. Any quarter older than 1892 is now a scarce coin. Exceptional issues are identified including a few of the Washington quarters series.
Safe Coin Storage | Recommendations
Thoughtful coin storage to improve safe handling, preserve value, and organize your box of old coins. Determining today's value of Standing Liberty quarter combined with a few basic supplies provide long term protection of the coin and value.
Silver Coin Values | Minimum Values of U.S. Silver Coins
Calculate current silver value of U.S. coinage. Silver dimes, quarters, halves, and dollars all move with the changing price of silver. Standing Liberty quarters are heavy with silver and worth well above face value, changing daily.
★Coin Values Discovery finds 1923 Quarter Value and...
U.S. coin values determined using a step-by-step process. Begin with identifying the major coin series covering cents to gold coins. Images are used throughout to compare dates, mint varieties, special varieties, and grading condition of your coins. Follow a few steps to a narrow range on value charts.