Coin Values Moving with Precious Metals: Up-Dated 9/25/2023: Gold $1921 | Silver $23.44
1928 Quarter Value
Collectors place premiums above silver content for nice condition coins. 1928 quarter value starts at $4.43 based largely on silver price. A clear - readable date is a good sign condition has the potential to raise how much the coin is worth.
Using a step-by-step method and comparing to images the condition of the coin is determined. Higher quality is recognized by subtle points identified on the surface. Standing Liberty quarters are collected by date, mint variety and attention to condition. Proceed through the steps below.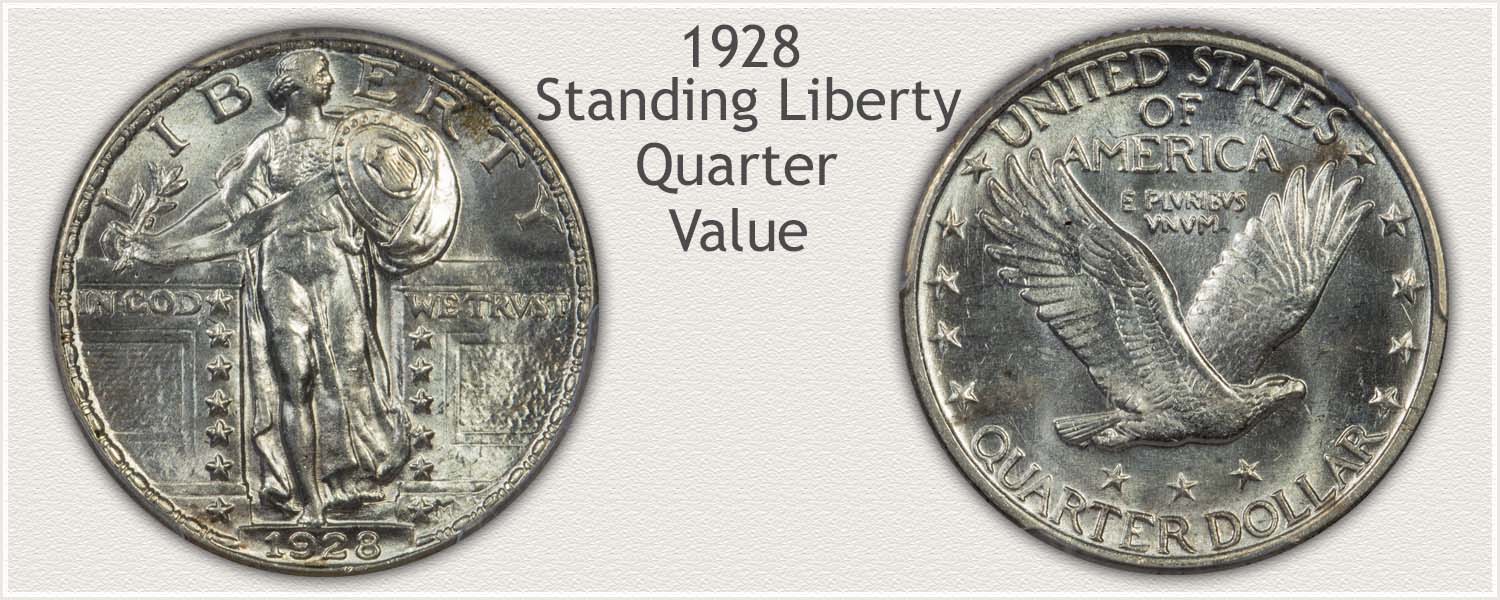 Steps Leading to Value:
Step 1: Date and Mintmark Variety - Varieties if 1928 quarters are listed and valued separately on the chart. Identity of each issued is necessary to narrow premium range above silver worth.
Step 2: Grading Condition - Collectors place large premiums on better condition coins. Images and descriptions help visualize the different stages of preservation.
Step 3: Special Qualities - Many times a worn coin stands out from the rest because of qualities recognized as eye appealing. These old quarters are collected in varying stages of condition by a range of collectors both new and advanced. Important aesthetics are noted.
1928 Quarter Value
Condition of Coin
Date
Good
Fine
Extremely
Fine
Mint
State
Standing Liberty Quarter Values Updated
5/25/2023
1928
$4.43
$5.64
$35
$159
1928 D
$4.43
$6.02
$35
$145
1928 S
$4.43
$6.02
$36
$122
Looking at the chart, silver content is quickly a minor part of value in collector quality Standing Liberty quarters. Nice condition and eye appeal are very important to recognize. First confirm date and mint variety.
Step 1: | Identify Date and Mintmark Variety Combination
Three Varieties of 1928 Quarters to Recognize
All three mints produced quarters in 1928. Philadelphia, Denver, and San Francisco struck moderate amounts totaling 10.6 million combined.
Interestingly, production of quarters was low in comparison to other years, however this has not carried over into added premiums for low mintage numbers. With the ending of the series in 1930 its likely many were saved and help supply today's collector. 1928 quarters are an opportunity to obtain low mintage coinage in an affordable range.
1928-S Standing Liberty Quarter
"S" Mintmark on Obverse: San Francisco Mint Struck the Coin
San Francisco mint contributed 2.6 million 1928 quarters to the economy, an average number for the western branch mint. A lightly circulated or better coin is well received by collectors. It is available and affordable representing a San Francisco mint Standing Liberty quarter.
An "S" mintmark identifies the mint's production. San Francisco placed the mintmark to the left of the date. Look on the wall between the lowest star and date to find the small "S" mark.
1928-D Standing Liberty Quarter
"D" Mintmark on Obverse: Denver Mint Struck the Coin
Denver production of quarters was just over 1.6 million and are considered abundant today. The value chart shows availability is concentrated in the lower grades, finding a lightly worn or nicer condition coin does represent a challenge. Premium quality coins represent a nice find, true of the entire series.
Denver issues are identified by the "D" mintmark placed on all of its coins. Inspect the left side of the date on the wall. Just next to the lowest star if the "D" mark is present, Denver struck the quarter.
1928 Standing Liberty Quarter
No Mintmark on Obverse: Philadelphia Mint Struck the Coin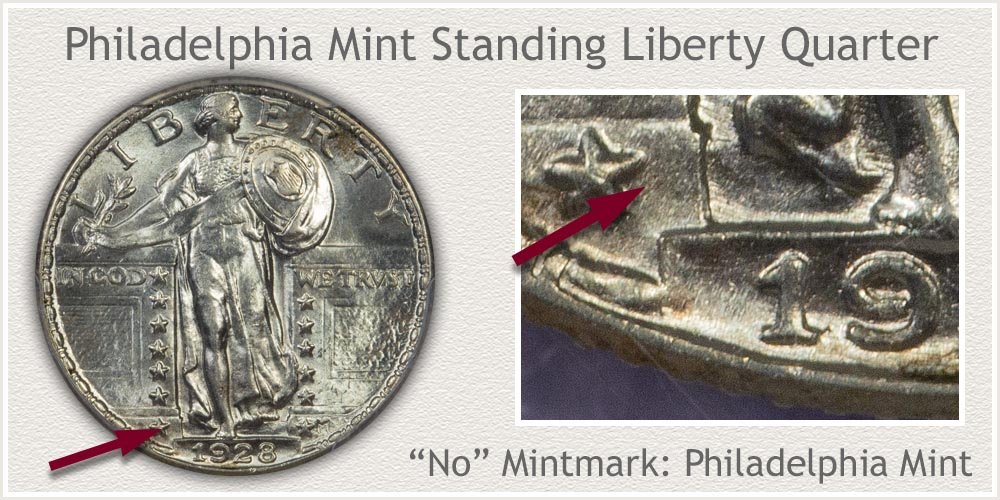 1928 became the fourth lowest mintage year of Standing Liberty quarters struck at the Philadelphia mint. Here is a coin with a low mint total of 6.3 million still abundant enough to remain affordable. A popular and collectible example of the series.
Philadelphia, the main mint, did not place mintmarks on coinage in the 1920's. To the left of the date, an empty space on the wall next to the star, identifies the Philadelphia variety.
Step 2: | Judge Condition to Identify Grade and Collectible Quality
1928 Quarter Value | Silver and Collector Grades
Collectors seek 1928 Standing Liberty quarters with ample detail across Liberty and the shield. In the process of grading, key elements of the design are judged for wear and remaining detail.
The method collectors use is comparing to standards of grades and finding a close match. For example, a bold shield with central detail, evidence of the scarf, and strong lettering and date is a high-grade quarter collectors seek.
Mint State Grade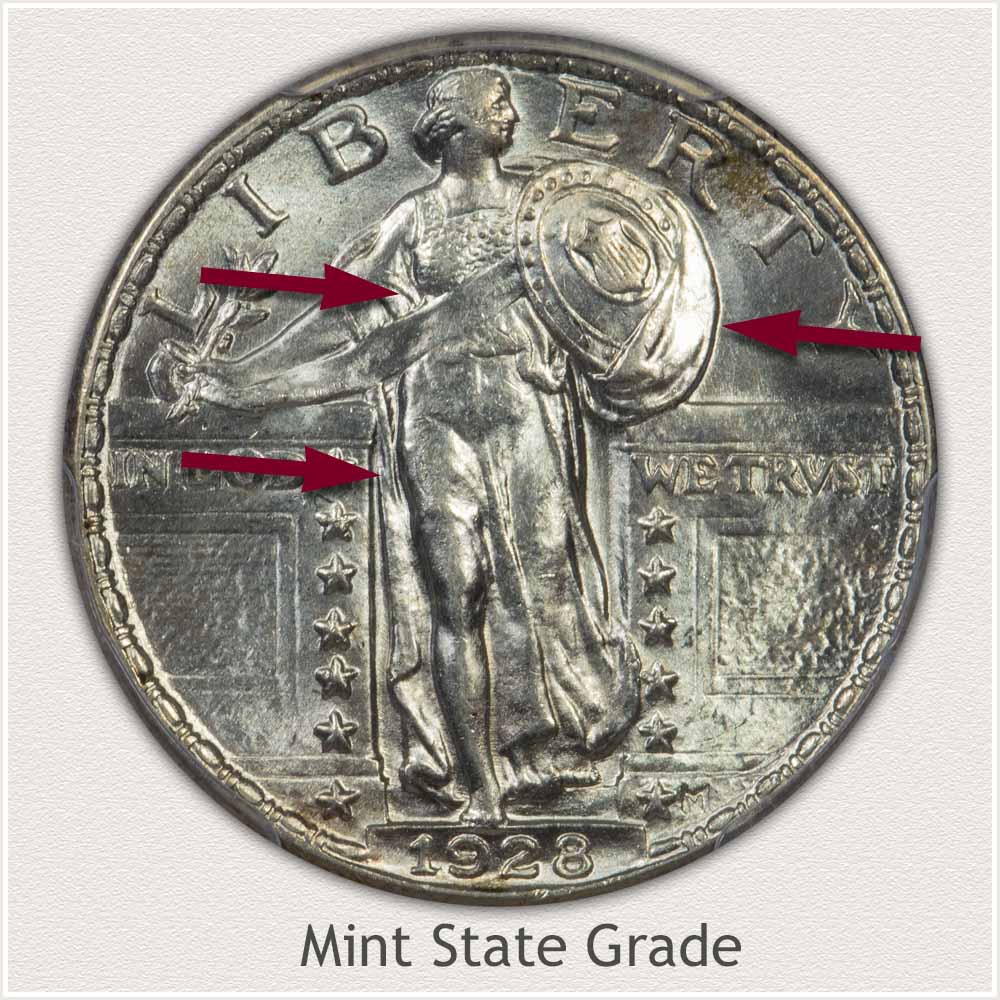 Mint State: Coins that have not received wear to the surface are considered Mint State grade. High points of the design are covered with luster, a delicate texture to the metal. Imparted at the time of striking the coin, presence of luster is inspected closely on top grade coins.
Fabric covers the lower part of the shield Liberty is holding. To qualify as mint state, luster must cover the entire fabric and the shield. A similar texture and color is found on the example, luster flows across the surface as the coin is tilted helping confirm no wear to the surface.
The scarf as it passes over the midriff of Liberty is the same color, texture, and brightness as surrounding metal. Any wear shows as a different color to the metal, smooth in texture and less vibrance to the surface.
Extremely Fine Grade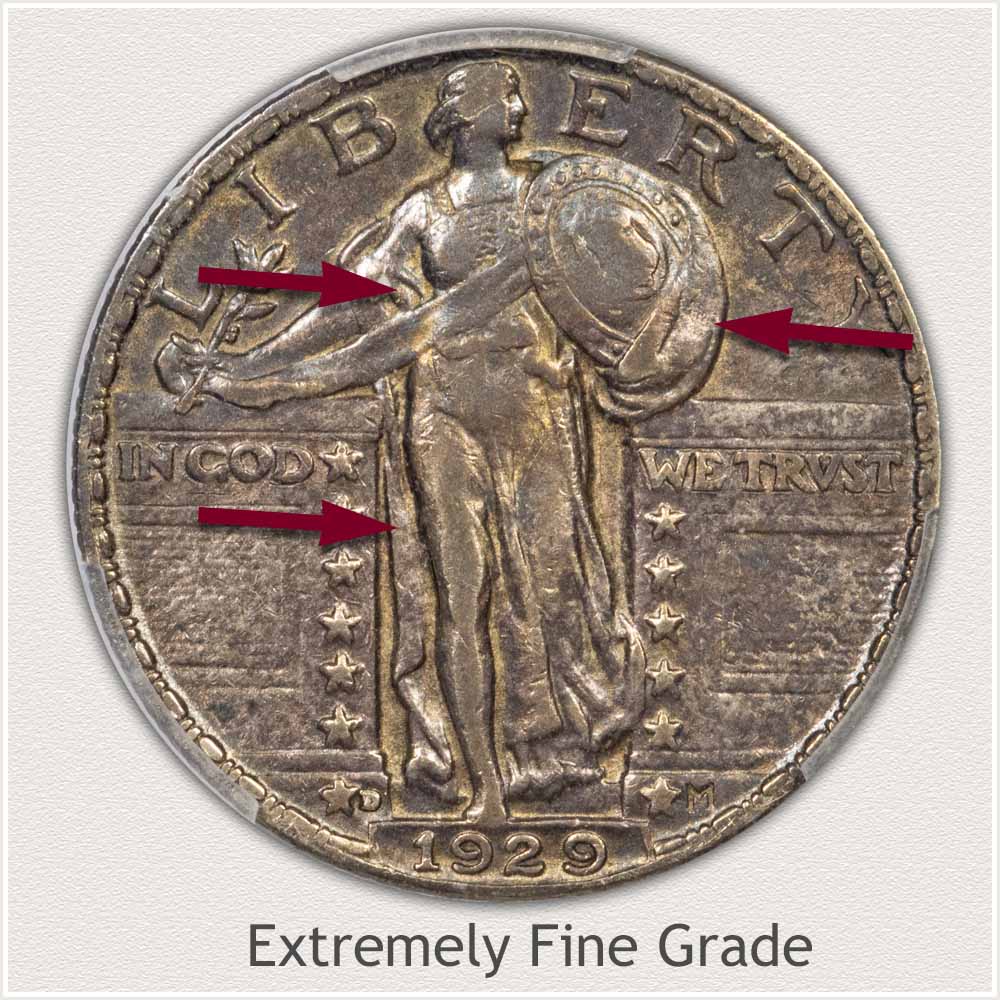 Extremely Fine: Light wear removing only the very highest parts of design elements defines the Extremely Fine grade. Most luster is worn replaced by a grey tone overall. This color change and a slight smoothing is also seen on very high relief contours.
Looking closely at the fabric covering the shield finds a small flattened area on the highest fold. Wear is slight leaving the majority of the contours well defined.
A full defined scarf is complete at Liberty's mid-section. Upper and lower edges to the scarf are complete and raised. Importantly a lower contour runs through the center and length of the scarf.
Fine Grade
Fine Grade: Visibly flattened surfaces is a condition of moderate wear and places the quarter in the Fine grade. Smooth metal has replaced many fine details.
Liberty's shield is now smooth within the center, little of the emblem is seen. To reach the Fine grade only the slightest of merging of the shield with Liberty is noted.
A scarf is visible over Liberty's mid-section. Lower edge of the scarf is very faint to merging in places. Top edge is also merged with Liberty in places.
Good Grade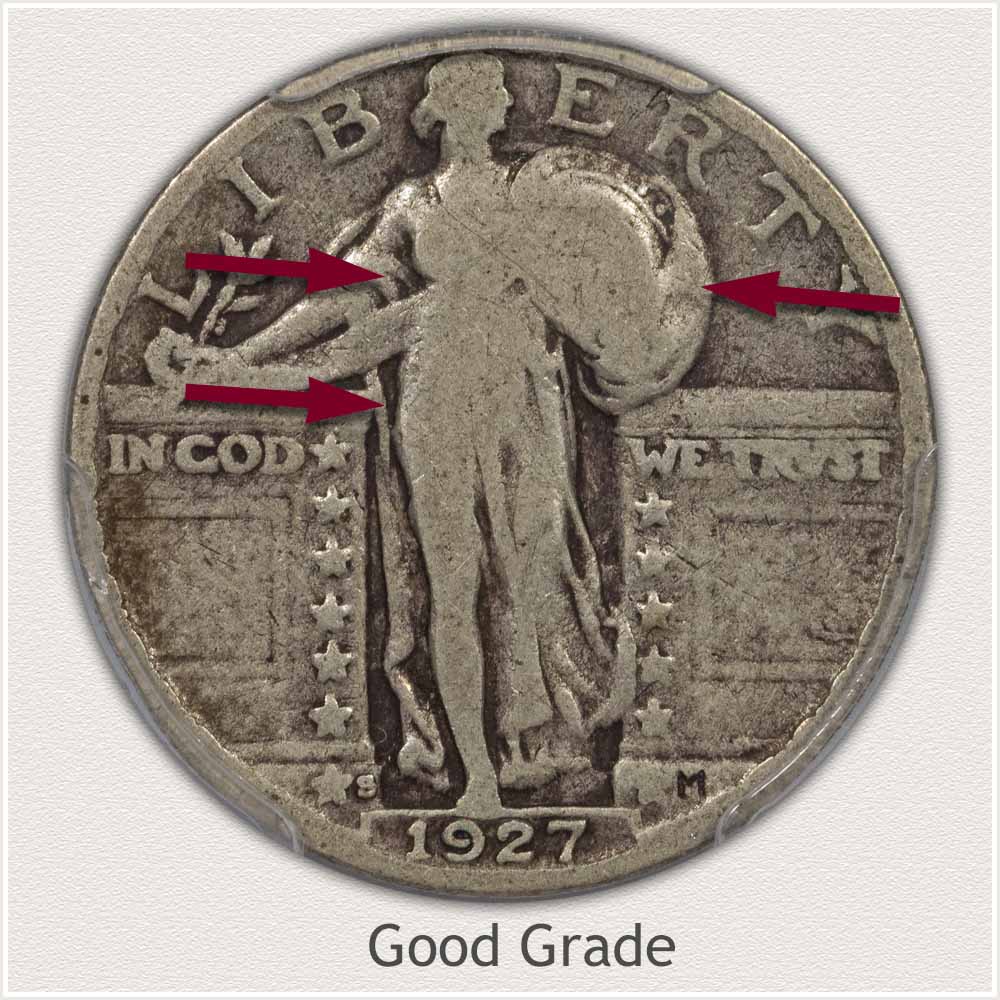 Good Grade: Heavy wear connecting major design elements defines the Good grade. A clear date is a requirement for the grade as well as strong lettering along the rim and across the walls.
Liberty is now an outline with few central details. Her outline is strong and parts of the gown, protected by the walls, is well detailed giving the coin nice eye appeal for the grade.
The shield is fully blended into Liberty. Fabric at the lower part of the shield shows little detail and is also merged with the shield.
A well detailed scarf is seen in Liberty's hand, as it meets Liberty's figure all traces of top and bottom edges are missing.
How to Video: Grading Standing Liberty Quarters
1928 quarters are no longer considered tied to silver value when approaching the Extremely Fine grade. Additional grading is done to recognize a coin approaching this high degree of quality.
Video, Images and Descriptions | Grading Standing Liberty Quarters
Step 3: | Special Qualities Enhancing Value
Collectors View of Aesthetics and Added Value
When collectors are assembling sets of coins, they begin to develop an opinion of traits separating an appealing coin from others. One of the draws to collecting Standing Liberty quarters is the design. A full figure of Liberty holding symbolism of peace (Olive Branch) and protection (U.S. Shield) is a dynamic portrayal.
This exceptional design is appreciated by collectors and prompts many to collect the series in as high, best preserved, condition possible. Eye appeal sums up their approach when considering a coin.
From mint state to worn condition, eye appeal of a Standing Liberty quarter varies from coin to coin. Wear to the surface and removal of fine design elements does lessen the impact of the original design. Other factors are also considered to eye appeal and when found positive and pleasing help strengthen any grade
Using a lightly circulated example illustrates a few important aesthetics. A moment viewing the coin and you begin to "see" the coin from a collector's perspective.
First is the amount of wear, light and subtle. Most fine details remain. Looking at the coin overall, fine line detail is found on Liberty, shield, and olive branch. The wall on either side shows the original texture on the panels.
Secondly, coloration of the coin is a natural silver-grey with deeper tones of grey on lower contours. A subtle antique tan is just developing on the brighter protected areas. These slight tones are well blended, balanced over the coin, and highlight the design bringing out small details.
Third is the lack of any marks to the surface. Circulated coins often become nicked and marked over time, a common occurrence. Viewing the coin, no marks or scratches glint in the light catching the eye. Mark free surfaces is a quick separation from the majority of examples.
By recognizing the aesthetics of these three elements on your coin, any condition example becomes very solid for the grade and an eye appealing coin sought by collectors.
References
U.S. Mint. 1929 U.S. Mint Annual Report https://nnp.wustl.edu/library/book/331
U.S. Mint. 1916 U.S. Mint Annual Report. https://nnp.wustl.edu/library/book/514129
Coin Values | CoinStudy Articles
Date by Date
In Depth Standing Liberty Quarter Values
1917 to 1930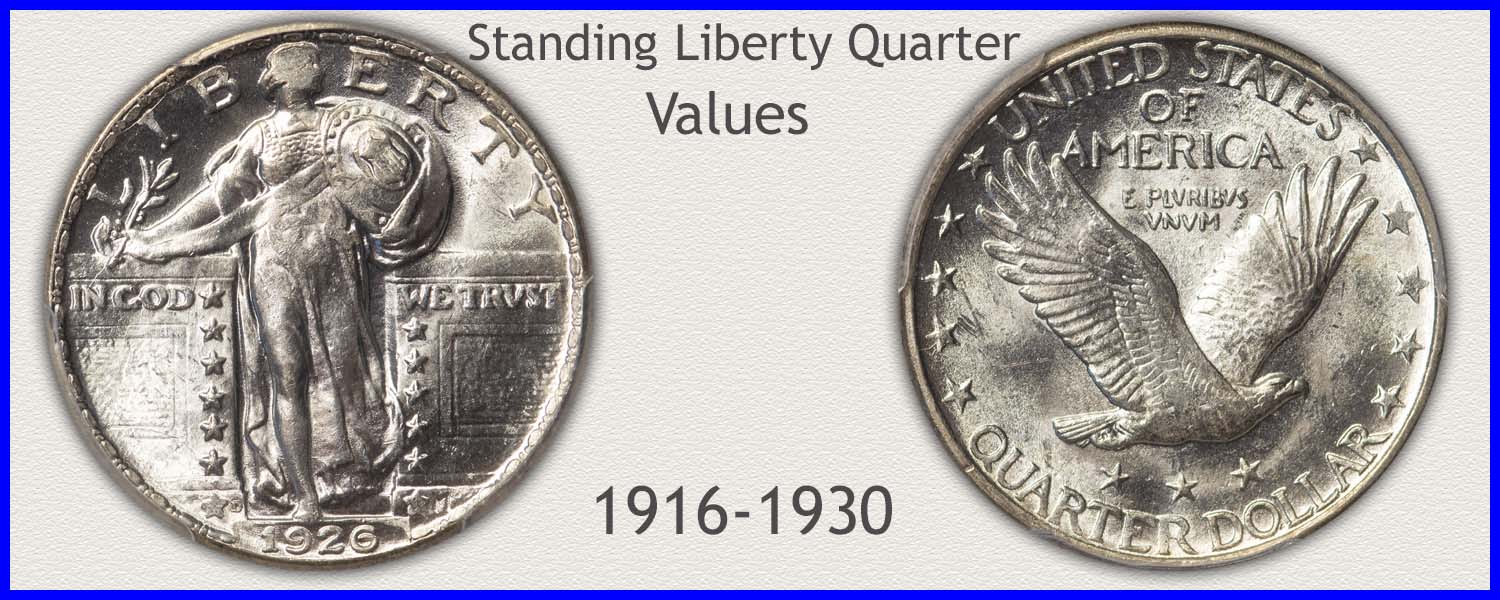 Standing Liberty Quarter Values | Strong Demand
Expanded value chart includes all dates and mints of the Standing Liberty quarter series. Grading images highlight the important factors to a collectible quality coin and narrow how much they are worth.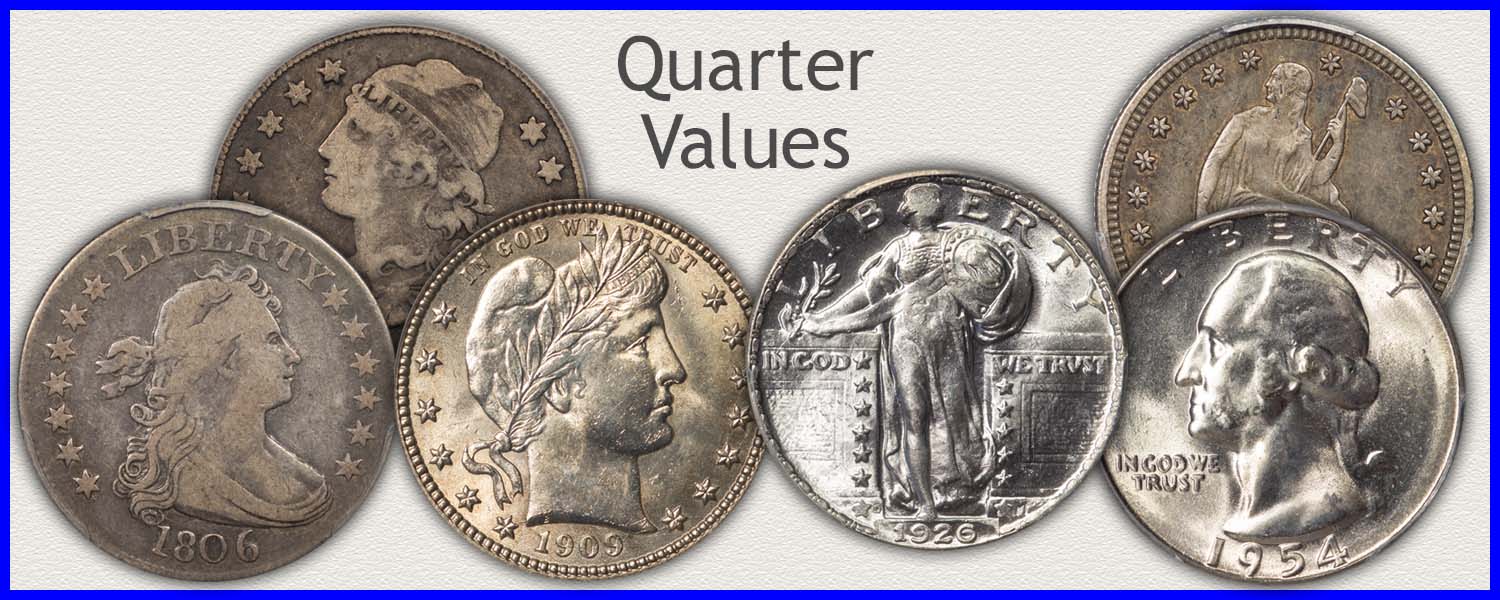 Quarter Values | Discover all the Rare Dates
Discover the value of old quarters. Charts listing dates and mints varieties for series of quarters dating back to 1796. Bust quarters, Seated Liberty series, turn of the century Barber quarter to the silver Washington pieces. Dates and condition are an important part to how much they are worth. Images lead to accurate identification and judgement.
All quarters minted prior to 1965 are considered highly valuable. Silver content of these early quarters is worth over face value. Scarce date and mint combinations are in many of the older series. Rare quarters, highly sought and historically important are identified.
Safe Coin Storage | Recommendations
Safe coin storage is important to preserve value, organize your box of old coins, and improve safe handling. Standing Liberty quarters are a silver alloy and few basic supplies are highlighted that provide long term protection. Silver alloy coins need the protection as other coinage metals such as copper and nickel.
Silver Coin Values | Minimum Values of U.S. Silver Coins
Calculate current silver value of U.S. coinage. Silver dimes, quarters, halves, and dollars all move with the changing price of silver. Standing Liberty quarters are heavy with silver and worth well above face value, changing daily.
★Coin Values Discovery finds 1928 Quarter Value and...
All old U.S. coin values. Follow this image and description index leading to value charts. The same step-by-step method to value Standing Liberty quarters is used for each series of date and variety identification. Additionally, grade condition by comparing to images, video and descriptions. Special qualities are also judged. Discover how much your box of old coins is worth.