Coin Values Moving with Precious Metals: Up-Dated 11/27/2023: Gold $2010 | Silver $24.66
1920 Quarter Value
Appealing design, scarce and collectible, all add to 1920 quarter value. Standing Liberty quarters are now becoming very old. Collectors are recognizing the scarcity of pleasing coins to add to their collections.
When placing a value, date and mint combination is first considered, followed by condition. Separate values are listed on the chart for each important factor. Following a few steps using images and descriptions identifies the qualities needed to a narrow range of how much a 1920 quarter is worth.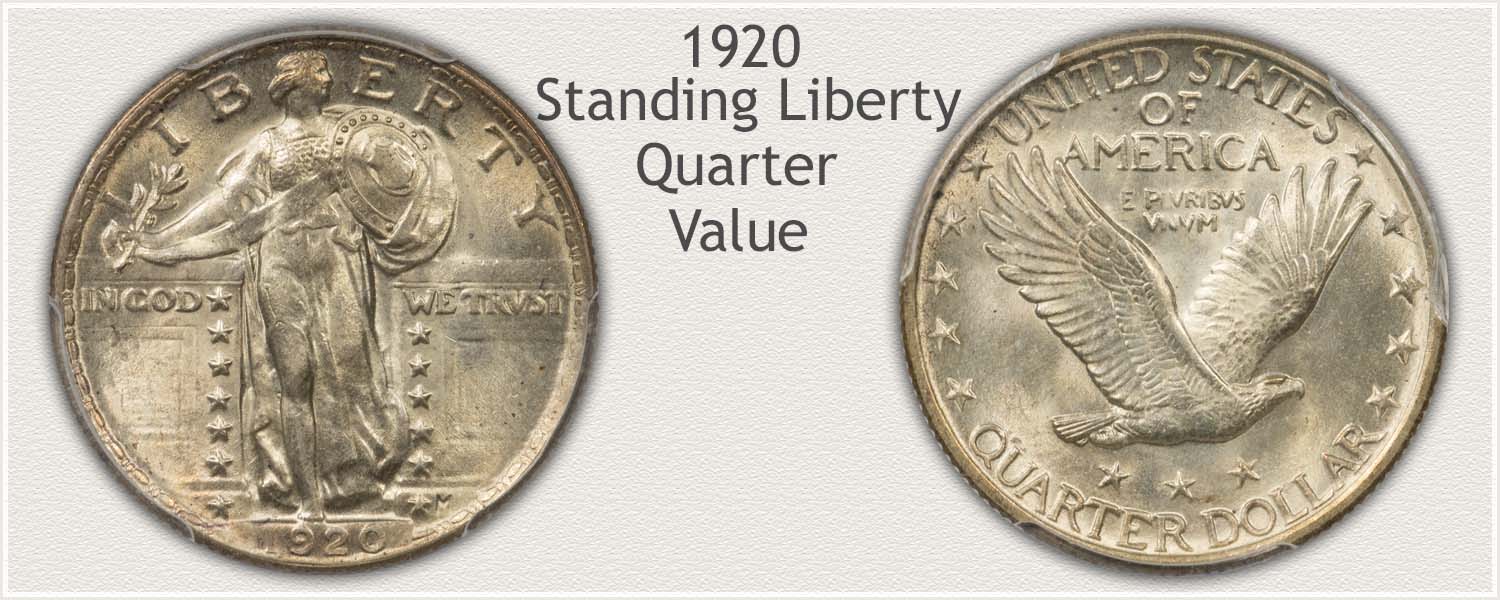 Steps Leading to Value:
Step 1: Date and Mintmark Variety - Each date is confirmed, a close look is often necessary. Mintmarks are then identified to determining the mint striking the coin and its place on the value chart.
Step 2: Grading Condition - Condition, an important element is recognized by comparing to images of standard grades. Subtle qualities to each grade are highlighted.
Step 3: Special Qualities - Collectors are the base to demand for Standing Liberty quarters. New and beginning collectors seek circulated - worn examples. Advanced collections feature mint state coins. Judging the special qualities of each coin finds its place among collectors.
1920 Quarter Value
Condition of Coin
Date
Good
Fine
Extremely
Fine
Mint
State
Standing Liberty Quarter Values Updated
11/27/2023
1920
$9.38
$22
$43
$148
1920 D
$75
$122
$178
$602
1920 S
$21
$28
$82
$499
A little time now, following the steps outlined below, accurately narrows the identity and value of these old quarters.
Step 1: | Confirm Date and Mintmark Variety
Varieties of 1920 Quarters
1920 quarters were issued by three mints and each is distinct in both availability and value. Additionally, it is a record setting year of Standing Liberty quarter production. A total of 37,826,000 coins struck at the three mints.
A view of the chart shows the Denver variety is the scarce issue and important to identify.
1920-S Standing Liberty Quarter
"S" Mintmark on Obverse: San Francisco Mint Struck the Coin
San Francisco 1920 quarters are a difficult coin to find in nice well detailed condition. Although 6.3 million were produced, wear from circulation has reduced the majority of these coins to just barely recognizable as to date. A premium collectible quality coin shows most of the date clear.
San Francisco variety quarters are mint marked with a small "S". At the left side of the date, an "S" mintmark is next to the lowest star. Often the mintmark is clear and the date is the hardest to identify.
1920-D Standing Liberty Quarter
"D" Mintmark on Obverse: Denver Mint Struck the Coin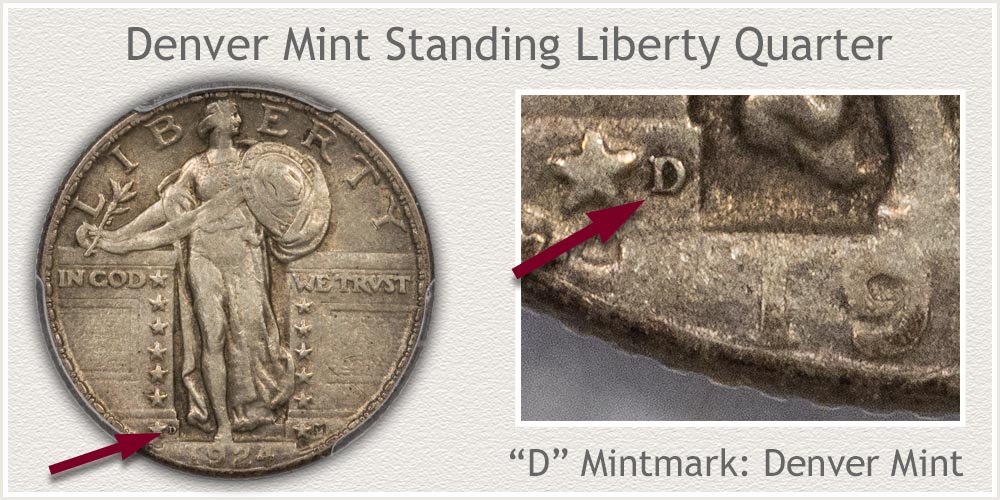 A large quantity of Denver quarters were struck, 3.5 million. 1920 production became the third largest of the entire series. However, it is known as a scarce issue to find and is a premium coin on the chart. Saving of coins at the time was minimal leading to today's limited availability.
Denver placed a "D" mintmark on these quarters. At the left of the date and next to the star, a small "D" indicates Denver struck the coin.
1920 Standing Liberty Quarter
No Mintmark on Obverse: Philadelphia Mint Struck the Coin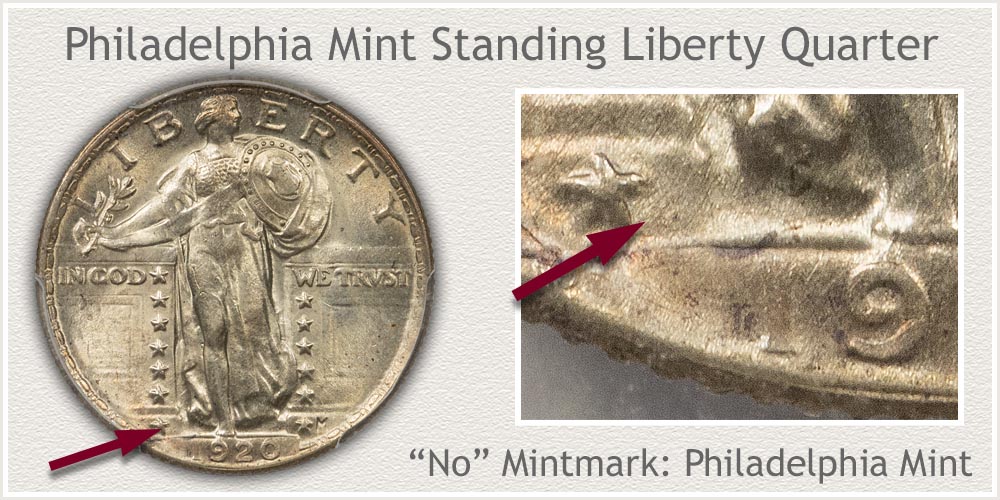 1920 leads in total number of coins struck by any mint of the entire Standing Liberty series. 27.8 million produced by the Philadelphia mint. It is an excellent entry coin to young collectors as an affordable example of the series.
Philadelphia, the original and main mint of the U.S. did not place mintmarks on coinage in the 1920's. Looking at the left side of the date. On the wall, between the star and date, if the space is empty, Philadelphia struck the coin.
Step 2: | Condition is Judged and Grade Determined
Grade Helps Determine 1920 Quarter Value
Stages of wear are recognized on the surface of coins as they progress from ones with no-wear to those with heavy wear. Amounts of remaining design are used to help recognize the stages and place coins in the different grade categories.
Mint State Grade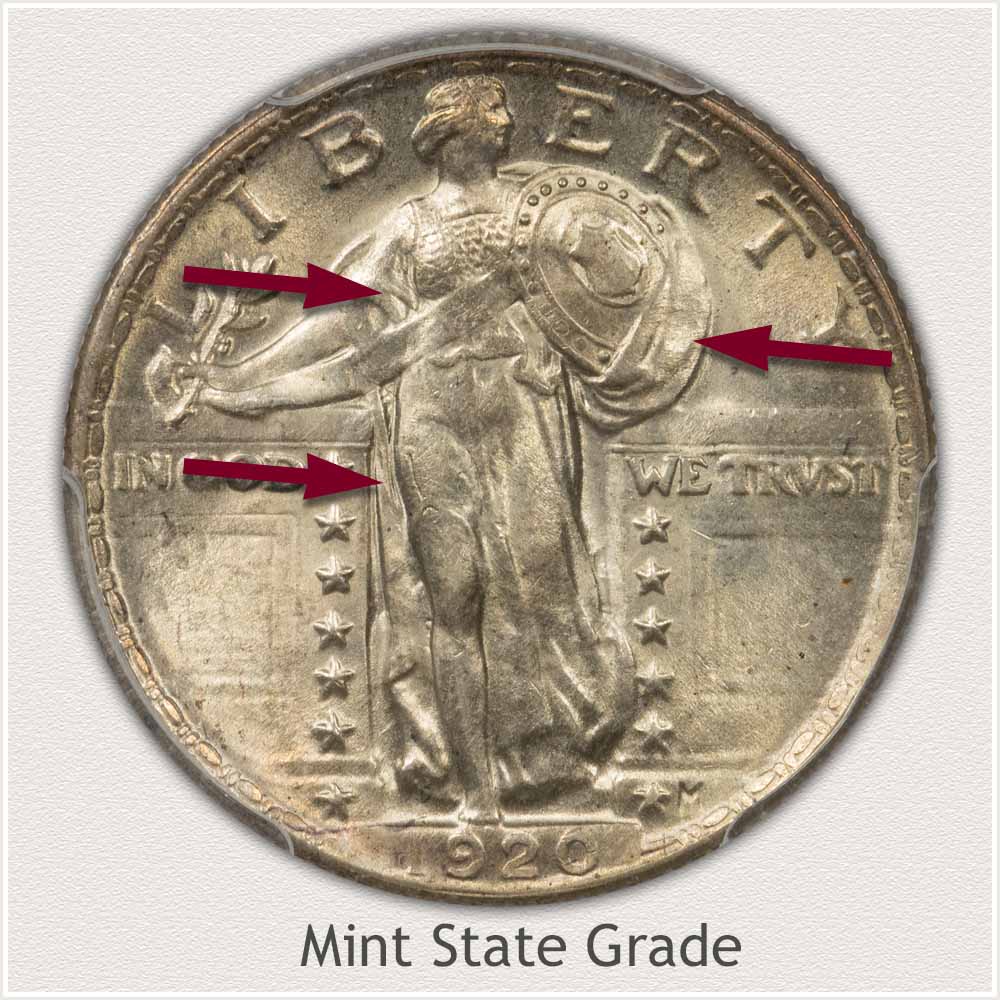 Mint State: A silver quarter when first minted is bright with luster and free of wear to the surface. No wear defines a Mint State coin. Luster, a fine grain texture giving the glowing shine to a coin is delicate and quickly worn. Recognizing complete luster across the surface of a coin confirms - no wear.
Liberty's tummy and fabric over the lower part of the shield are prone to first wear because of the high contours. Looking closely, both areas remain lustrous, any wear causes a dullness and smooth texture to the metal. A similar texture and color matches surrounding metal.
Extremely Fine Grade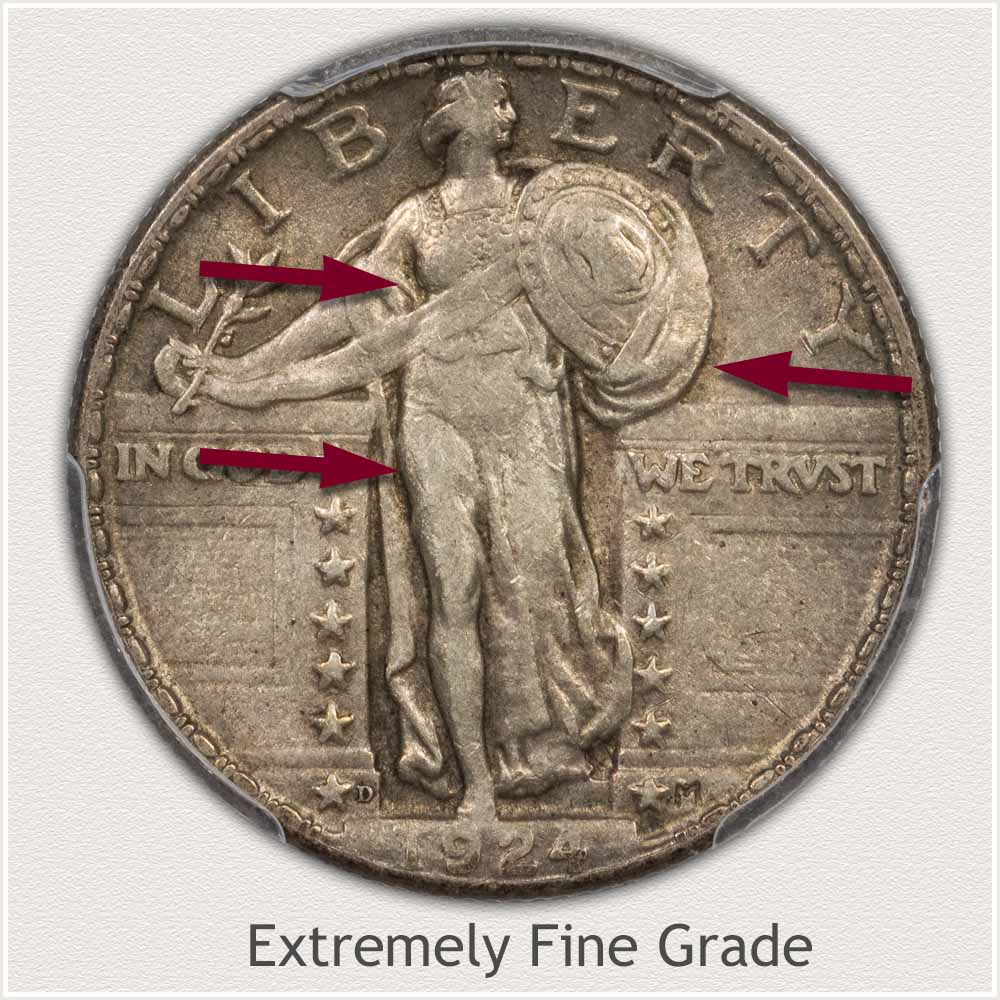 Extremely Fine: Wear to a coin removes luster and dulls the metal. Light wear limited to high areas defines the Extremely Fine grade. Finer details remain and major details are complete.
Inspecting the folds of material at the lower edge of the shield shows loss of luster and smoothness to high edges of the folds.
Liberty's tummy is now slightly smooth in texture. Wear has flattened the metal and removed some of the contour.
Fine Grade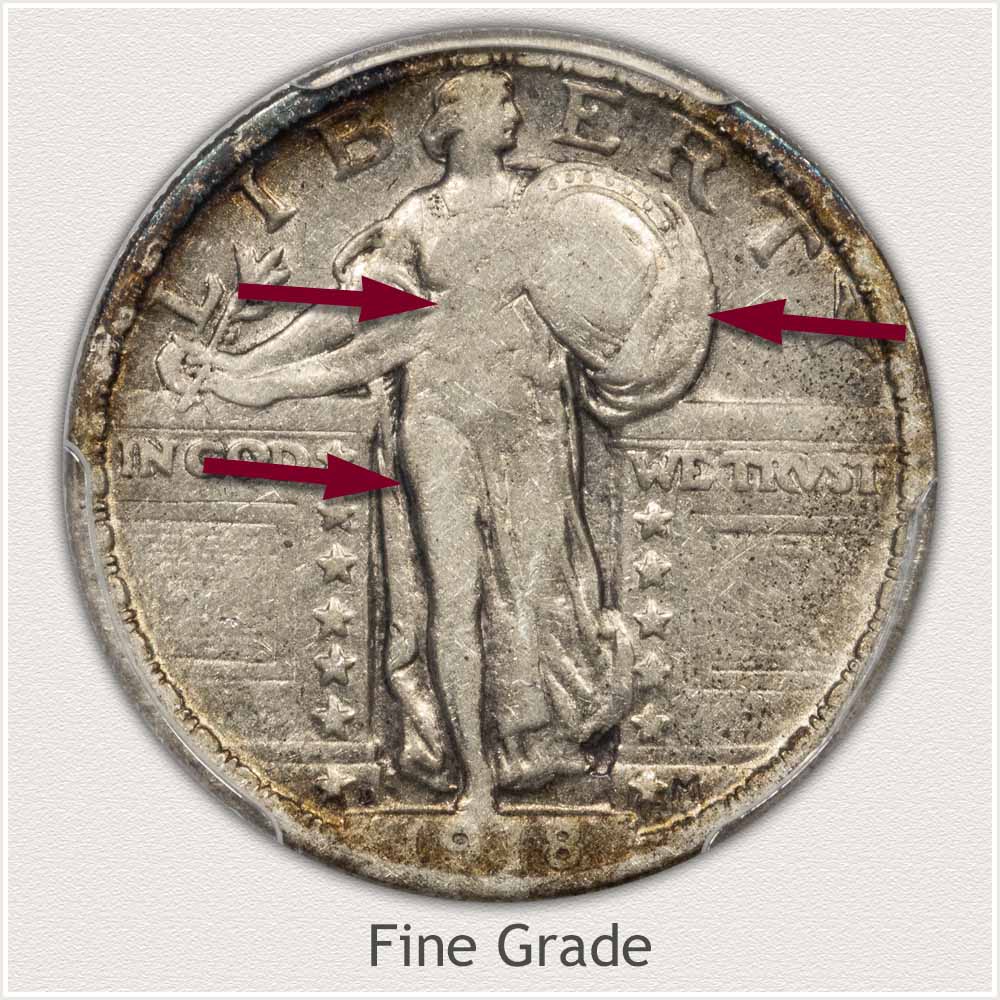 Fine Grade: Areas of flatness across Liberty is an indication of moderate wear. The progression of wear has reduced rounded contours to smooth areas without finer detail. Loss of minor details describe the Fine grade.
Folds of material covering the lower part of the shield no longer give the impression of high and low relief. Loss of metal is now seen as flat areas across the shield and material.
Through the center of Liberty, smooth areas are found across her midsection and right leg. Notice the scarf above has lost the defining lower edge.
Good Grade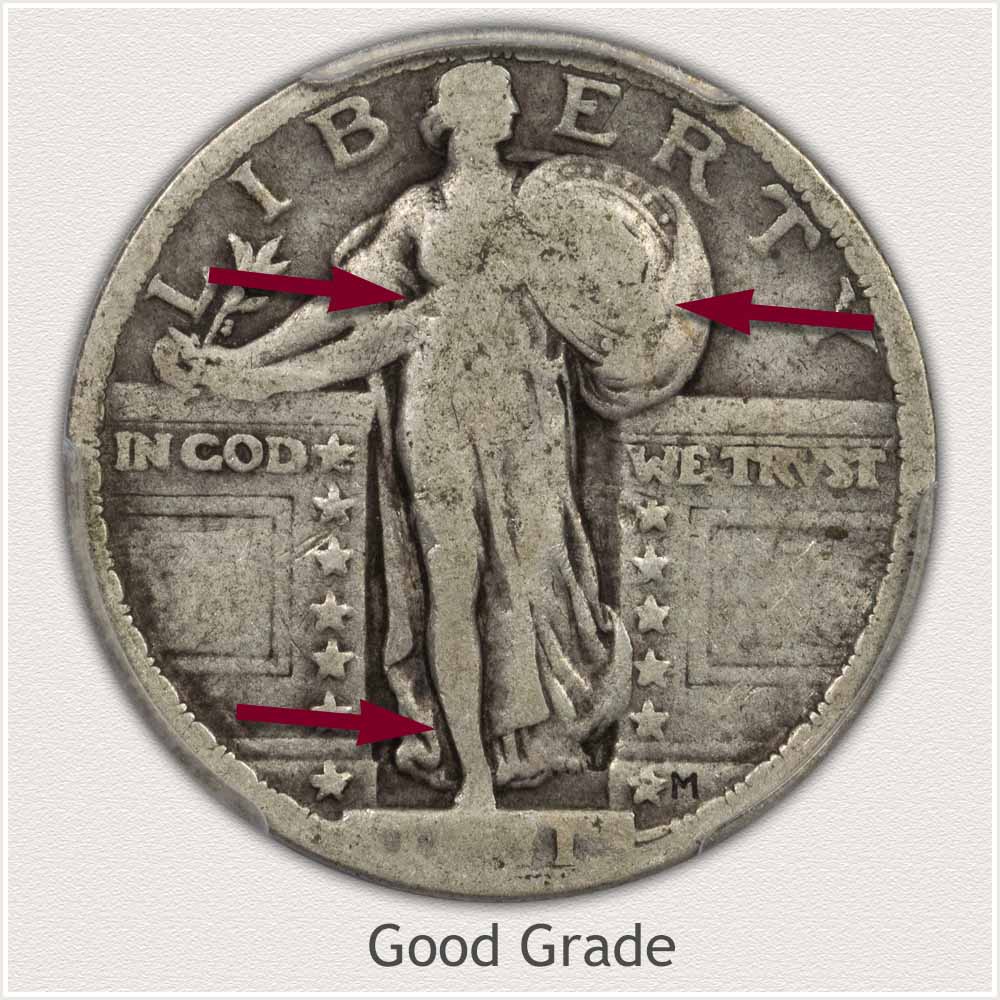 Good Grade: Heavy wear resulting in smoothing of Liberty is defining the Good grade. Loss of features has resulted in a flattened figure with few central details.
Material covering the lower part of the shield has merged with the shield with no defining edge. Folds within the material have become very faint and flat.
Liberty is now smooth through her mid-section. A flat area extends from the head connecting to the shield and continuous to her right foot.
How to Video: Grading Standing Liberty Quarters
1920 quarters increase quickly in value when approaching the Extremely Fine grade. Added images and descriptions point to subtle factors required to reach this high degree of quality.
Video, Images and Descriptions | Grading Standing Liberty Quarters
Step 3: | Special Qualities Enhancing Value
Collecting Themes Support Standing Liberty Quarter Value
Standing Liberty quarters are a surprisingly varied series. This variety within the series allows collectors to develop different collecting themes. With many ways to collect the series it has become popular and available to a range of collectors.
Tops on the list of collections is a complete date and mintmark run of the series. Limitations to this theme is the heavy price of the 1916 quarter, eliminating many, especially new and beginning collectors with light budgets.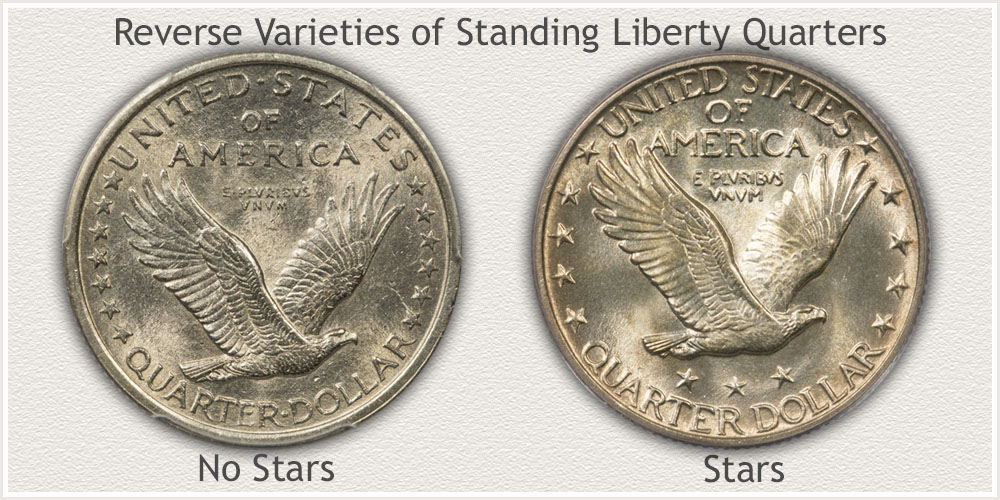 Fortunately, alternatives to a complete date and mint set are completable by many. Design changes divide the dates into distinct eras of the series. Each era forms a set suitable to advanced and new collectors.
First era coins include the 1916 and 1917 dates, "no stars" below eagle variety. An expensive theme.
An alternative is the 1917 date alone that features both the "no stars" and "with stars" eagle varieties. This themed collection includes six coins when all mints are included.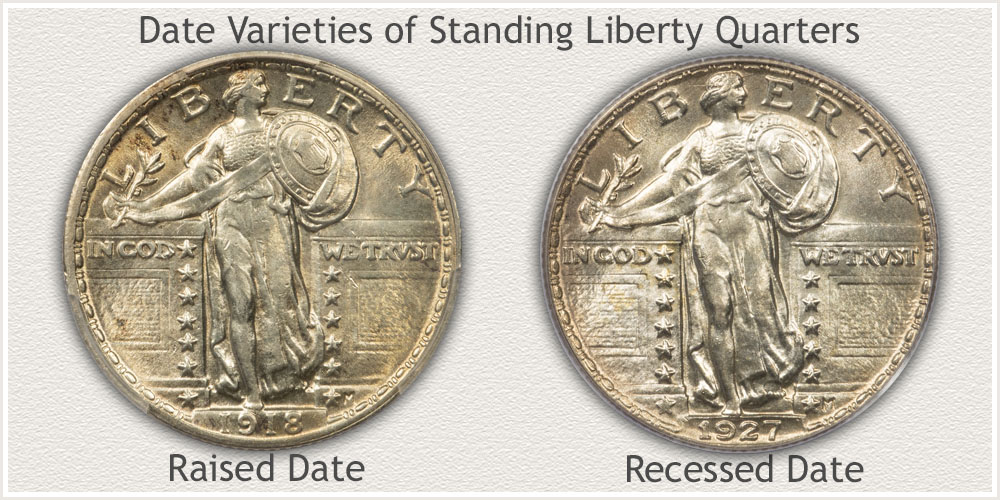 A redesigned placement of the date in 1925 introduced the "recessed" date variety. From 1925 to the end of the series in 1930 is a collectible theme. A set featuring high grade circulated examples is within the range of most collectors. The same set is popular with advanced collectors in Mint State condition.
With multiple ways to collect the series, Standing Liberty quarter have a strong base of collectors. Any quarter with crisp details is a sought-after collectible and worth a premium over silver value.
References
U.S. Mint. 1921 U.S. Mint Annual Report https://nnp.wustl.edu/library/book/514133
Coin Values | CoinStudy Articles
Date by Date
In Depth Standing Liberty Quarter Values
1917 to 1930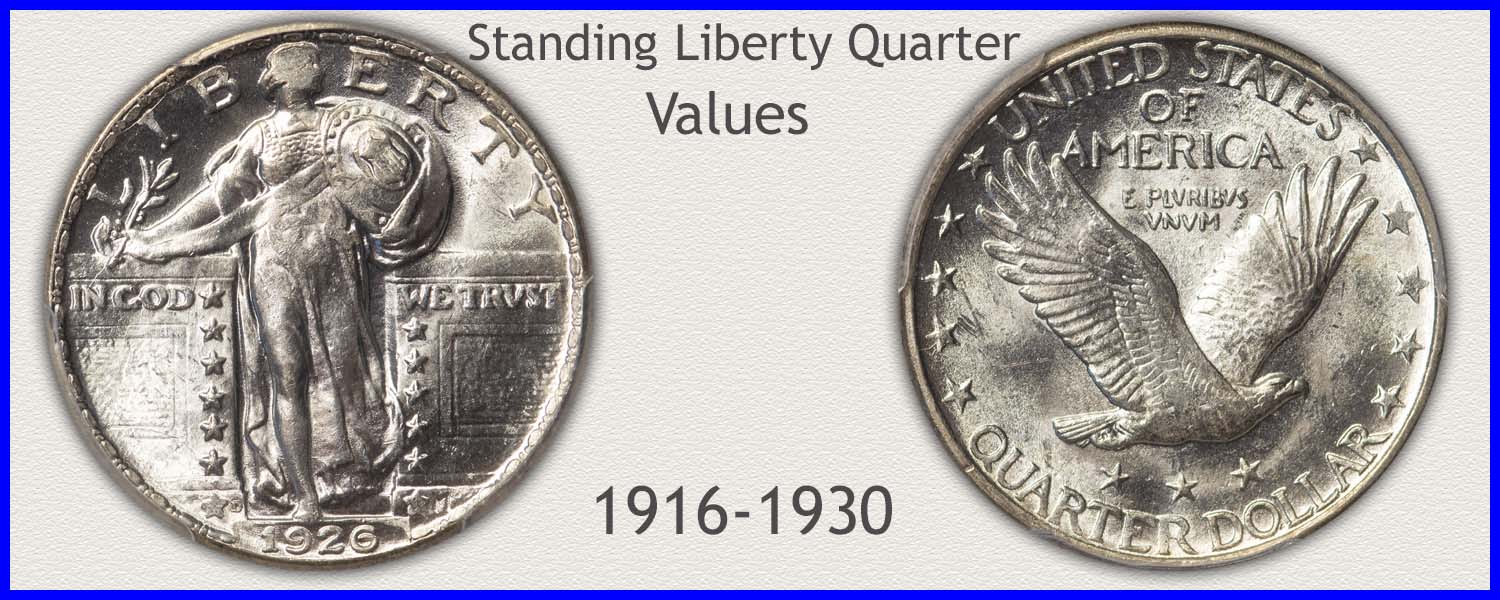 Standing Liberty Quarter Values | Strong Demand
Everyone agrees it is a beautiful coin. Easily one of the most popular coins with collectors. Discover the value that strong demand has placed on all dates and mint combinations of Standing Liberty quarters. Grading images to evaluate their condition and price chart listing all dates, mints and varieties.
All quarters minted prior to 1965 are considered highly valuable. Silver content of these early quarters is worth over face value. Scarce date and mint combinations are in many of the older series. Rare quarters, highly sought and historically important are identified.
Coin Value Guide | How to Value a Coin Collection
A coin collection is valued using a step-by-step method. Key factors are identified on all series of coins, from cents through Standing Liberty quarters to gold coins. are just one included. The coin value guide leads to charts of how much your collection is worth.
Safe Coin Storage | Recommendations
Safe coin storage is important to preserve value, organize your box of old coins, and improve safe handling. Standing Liberty quarters are a silver alloy and few basic supplies are highlighted that provide long term protection. Silver alloy coins need the protection as other coinage metals such as copper and nickel.
★Coin Values Discovery finds 1920 Quarter Value and...
All U.S. coin values. Recognize the rest of your old coins using the image links leading to value charts. Standing Liberty quarters are one of many series of coins. Date | Mintmark | Condition is considered; all described and imaged within each series. Surprising value is often found in the smallest of detail.