Coin Values Moving with Precious Metals: Up-Dated 9/18/2023: Gold $1928 | Silver $23.14
1925 Quarter Value
With a clear and readable date, 1925 quarter value begins at $4.38 each. A heavily worn coin is reflecting both high silver content and some collector demand in how much it's worth.
Using a step-by-step method identifies the lightly worn or better condition examples. Collector demand is raising values of the eye appealing coins well above minimum premiums.
Collectors are seeking lightly worn or better condition examples. Accurate grading recognizes higher end coins.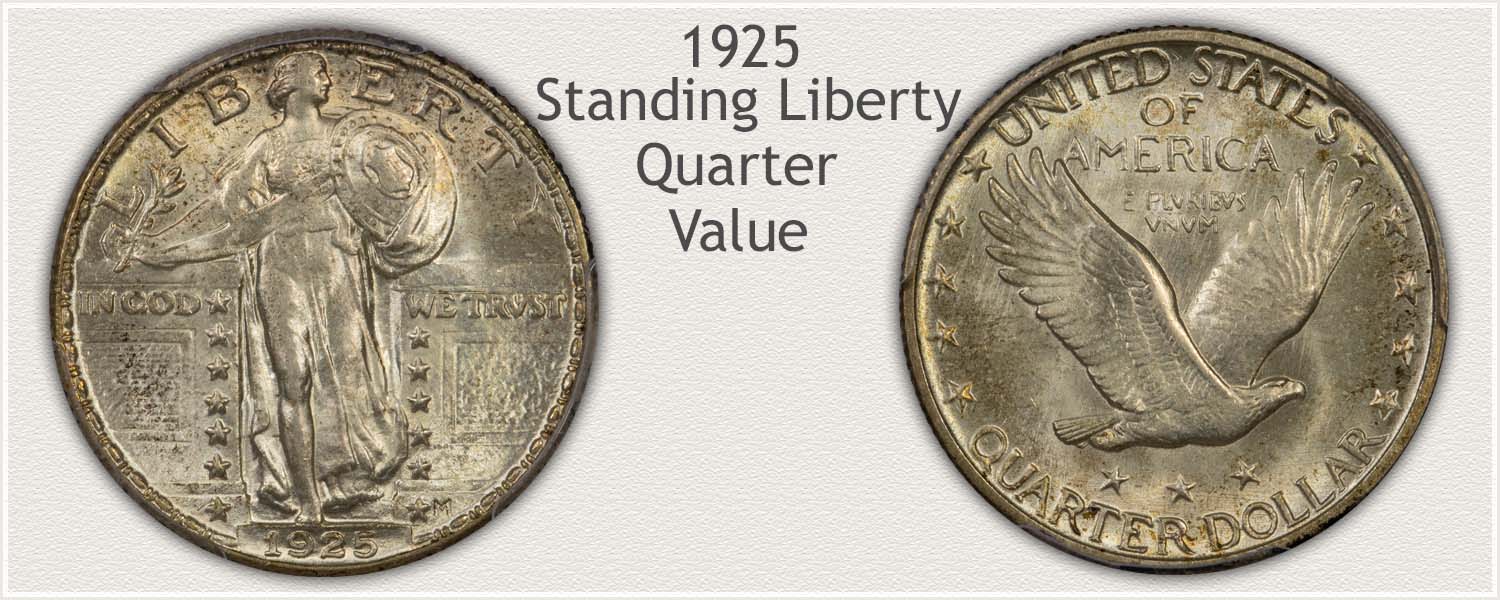 Steps Leading to Value:
Step 1: Date and Mintmark Variety - Confirming an accurate date is first. Wear, fading the date, often requires a close look.
Step 2: Grading Condition - Separating and finding premium Standing Liberty quarters is part of the grading condition process. Images represent grades to compare your coin.
Step 3: Special Qualities - Many factors affect quality, some raising appeal and others lower appeal. Subtle points on the coin are examined to spot the special quality pieces.
1925 Quarter Value
Condition of Coin
Date
Good
Fine
Extremely
Fine
Mint
State
Standing Liberty Quarter Values Updated
9/18/2023
1925
$4.38
$5.94
$43
$153
Viewing the chart indicates the important separation to value is in grading condition. Completing the steps below narrows value range.
Step 1: | Date and Mint Identified
1925 Standing Liberty Quarter
No Mintmark on Obverse: Philadelphia Mint Struck the Coin
Philadelphia was the only mint to strike quarters in 1925. With a production of 12.2 million pieces, it is an available date. Philadelphia is noted as the only mint to coin Standing Liberty quarters every year of the design, spanning 1916 to 1930. Additionally, along with 1925, Philadelphia was the only mint to strike 1916 Standing Liberty quarters. Both years are of interest to collectors and important additions to a set of these coins.
On all 1925 quarters the area next to the date lacks a mintmark. Philadelphia did not use mintmarks during the series. Look to the left of the date. In the area of the wall between the last star and date, no mintmark is found.
Step 2: | Judge Condition by Comparing to Images of Grades
Grading Finds Accurate 1925 Quarter Value
Grading condition of your quarter defines it into a standard category. Grades separate the various levels of wear defining each and are used to help collectors value coins.
Images of the grades are below to compare your coin finding a close match. Start with the mint state grade representing the Standing Liberty quarter with all design detail as first minted. Focus on the elements highlighted in the descriptions to "see" subtle details to grading.
Mint State Grade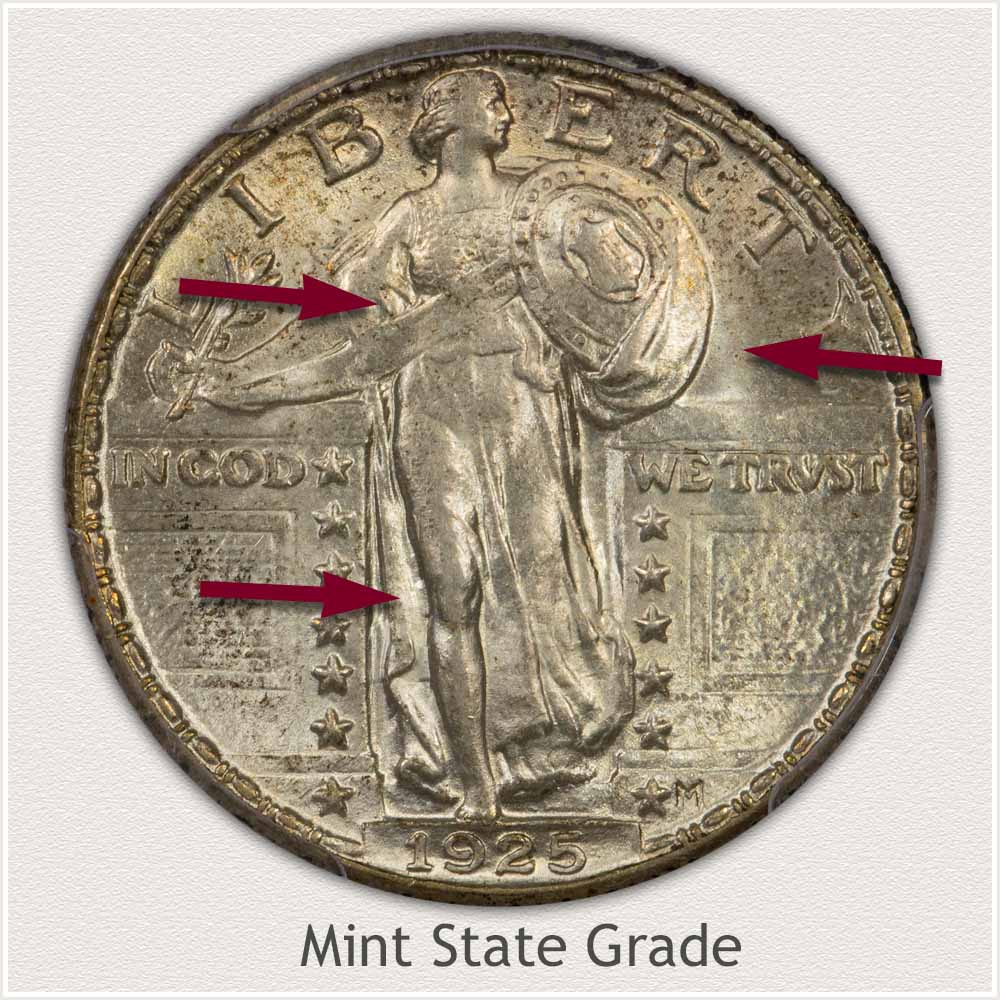 Mint State: A quarter remaining without any wear to the surface is awarded a Mint State grade. The key - no wear - is found on the coin. High points and finer details are closely inspected to confirm absence of wear.
Liberty's full figure is central to the design and orientation on the coin. Her right leg and midriff are very high in contour and remains with original luster and no smoothing to the metal on the example mint state grade quarter. Luster is a fine texture and quickly smooths and dulls when worn. Traces of wear first show at the knee and tummy.
Extremely Fine Grade
Extremely Fine: When a coin begins to show light wear and the fine detail still remains it defines the Extremely Fine grade.
Inspecting the right knee a narrow line of flat metal is seen. This flat area extends to the thigh and downward over the shin. A slight smoothing is found on the edges of the scarf crossing Liberty with both upper and lower edges to the scarf complete. Fine details separating the shield from Liberty are confirming the Extremely Fine grade.
Fine Grade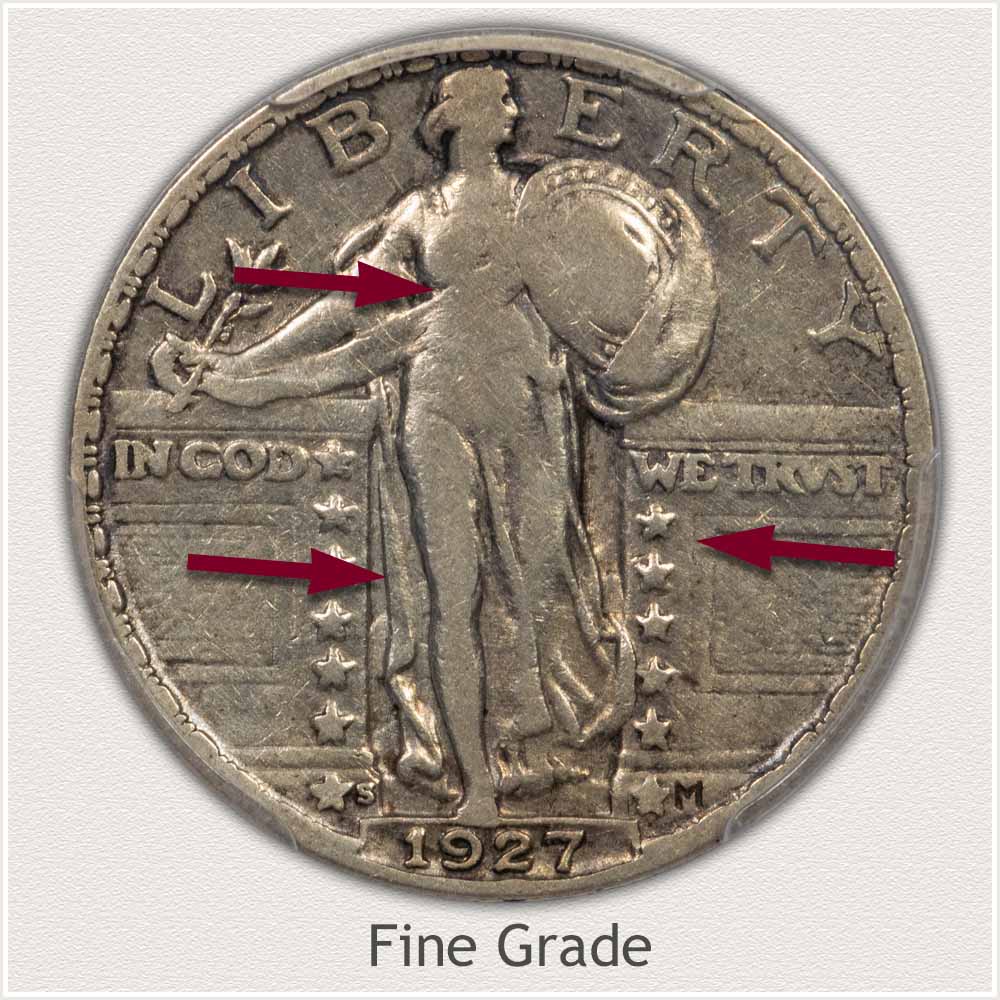 Fine Grade: Once wear is smoothing the majority of Liberty's figure, the condition of a quarter becomes Fine grade. Moderate wear has removed high areas and merged design elements.
Across Liberty, the scarf has lost most of its upper and lower edges and high and low contours. The scarf is flattened and merging with Liberty's mid-section.
Inspecting her knee finds a wide smooth flat area from hip to foot. The flatness is the entire width of the leg with just a slight contour at the edges.
Stars and all letters on the wall, either side of Liberty, are full.
Good Grade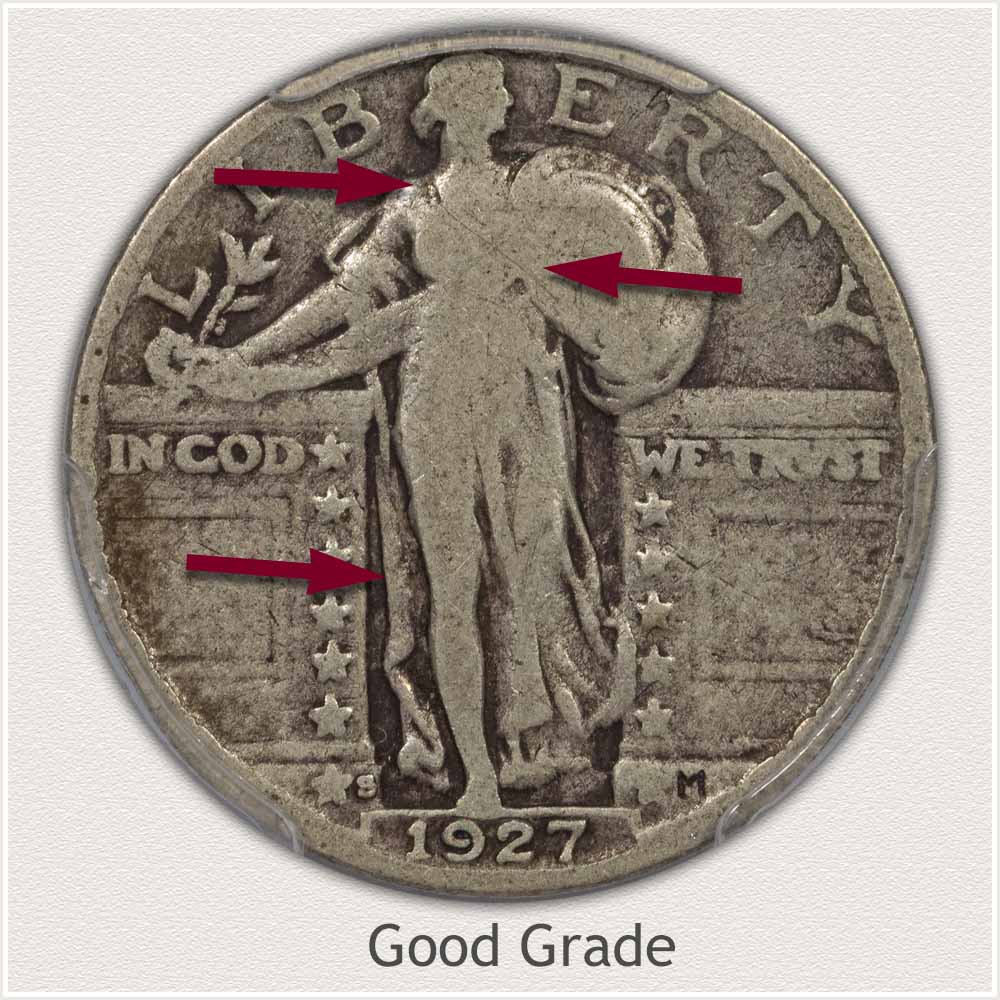 Good Grade: Heavy wear is the overall impression of a quarter in Good grade. Most of Liberty's figure has worn smooth throughout the central area.
Liberty's right leg is flattened from her foot to hip and across mid-section. A separation of the shield from her figure is faint in areas. No collar line of her gown in evident at the neck.
Date is complete with all numerals clear.
How to Video: Grading Standing Liberty Quarters
Added images and description are used to give insight to subtle grading points.
Video, Images and Descriptions | Grading Standing Liberty Quarters
Step 3: | Special Qualities Enhancing Value
1925 Introduces an Interesting Sub-Type to the Design
Modifications to the Standing Liberty series of quarters continued with a small change to the design in 1925. The date area was recessed, lowering the numerals below the surface of the step.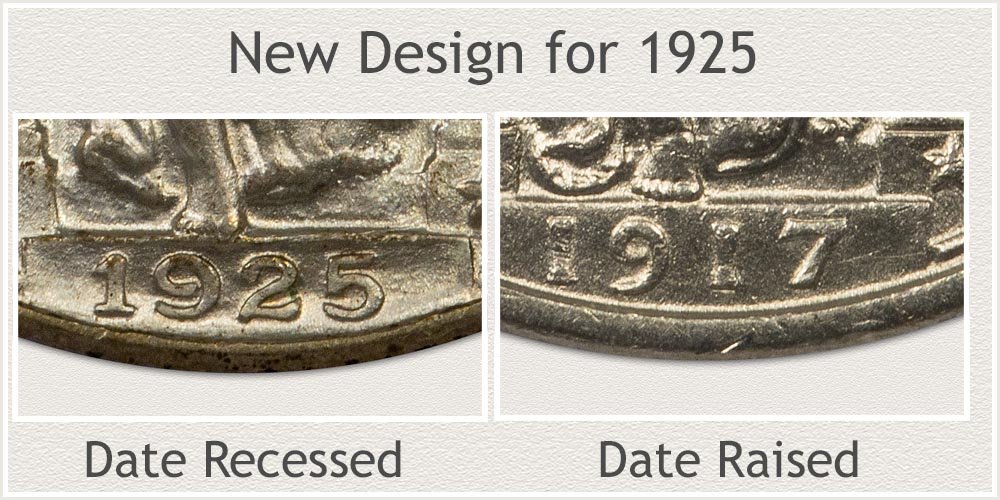 This change in design solved the quick wearing and loss of the date from the previous placement; high in profile with the step. These recessed date era quarters are now graded based on other areas of the coin. A full date is clearly displayed.
With the date now protected, coins in lower condition remain with readable dates and better aesthetic appeal. The series now has two distinct eras; raised date era 1916 to 1924 and the recessed date era 1925 to 1930.
Notable of the two eras is the involvement of new and beginning collectors. Availability and affordable prices of the second era allows entry by the younger and newer collectors. A worthy collection of 1925 to 1930 quarters in circulated grades is obtainable. New collectors working through these second era sets develop skills to grading and finding appealing examples that help when collecting advanced sets.
Always inspect closely all coins with clearly defined dates. Many are special in their appeal to collectors of all levels.
References
U.S. Mint. 1926 U.S. Mint Annual Report https://nnp.wustl.edu/library/book/328
Coin Values | CoinStudy Articles
Date by Date
In Depth Standing Liberty Quarter Values
1917 to 1930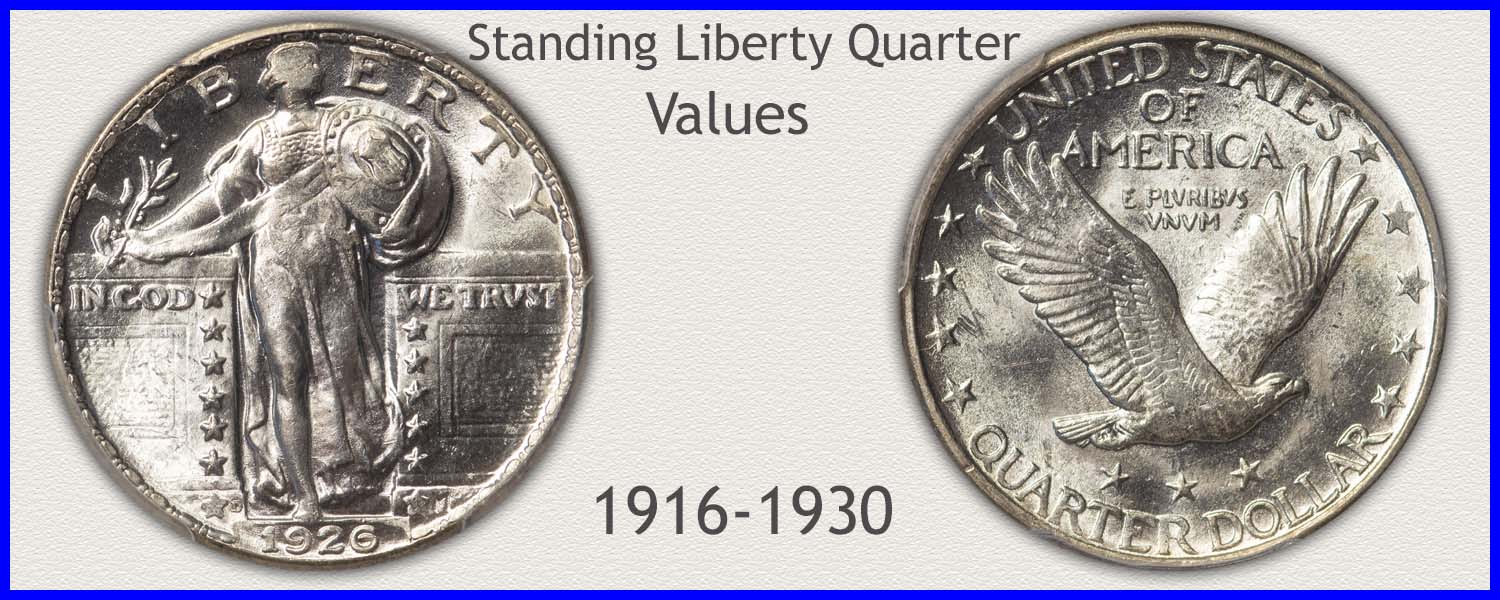 Standing Liberty Quarter Values | Strong Demand
Expanded value chart includes all dates and mints of the Standing Liberty quarter series. Grading images highlight the important factors to a collectible quality coin and narrow how much they are worth.
Scarce and rare quarters are found in all the design series. Early era quarters, 1796 to the 1890's are all scarce. Quarters of the twentieth century are very popular today, with certain key dates considered rare.
Coin Value Guide | How to Value a Coin Collection
Place a value on your entire box of old coins. Coin collections are valued using a step-by-step process helping identify, organize, and record specific information needed. Starting with your Standing Liberty quarters continue through the entire collection.
Silver Coin Values | Minimum Values of U.S. Silver Coins
Identify silver U.S. coins and find current up to the minute values. Standing Liberty quarters 1916 to 1930 are 90% silver. Many years and condition examples have minimum values moving up or down with changing silver prices. Enter silver price and calculate dimes, quarters, half and silver dollar premiums.
★Coin Values Discovery finds 1925 Quarter Value and...
All old U.S. coin values. Follow this image and description index leading to value charts. The same step-by-step method to value Standing Liberty quarters is used for each series of date and variety identification. Additionally, grade condition by comparing to images, video and descriptions. Special qualities are also judged. Discover how much your box of old coins is worth.