Coin Values Moving with Precious Metals: Up-Dated 9/25/2023: Gold $1921 | Silver $23.44
1917 Quarter Value
Scarcity is the base to 1917 quarter value. All Standing Liberty quarters are highly collectible. Additionally, collectors place a premium on better condition coins and are interested in specific date and mintmark combinations.
Using a step-by-step process identifies the important and different issues of 1917. Six separate varieties were released. Of these varieties, pleasing coins tend to attract the highest values. Grading condition is an important step covered.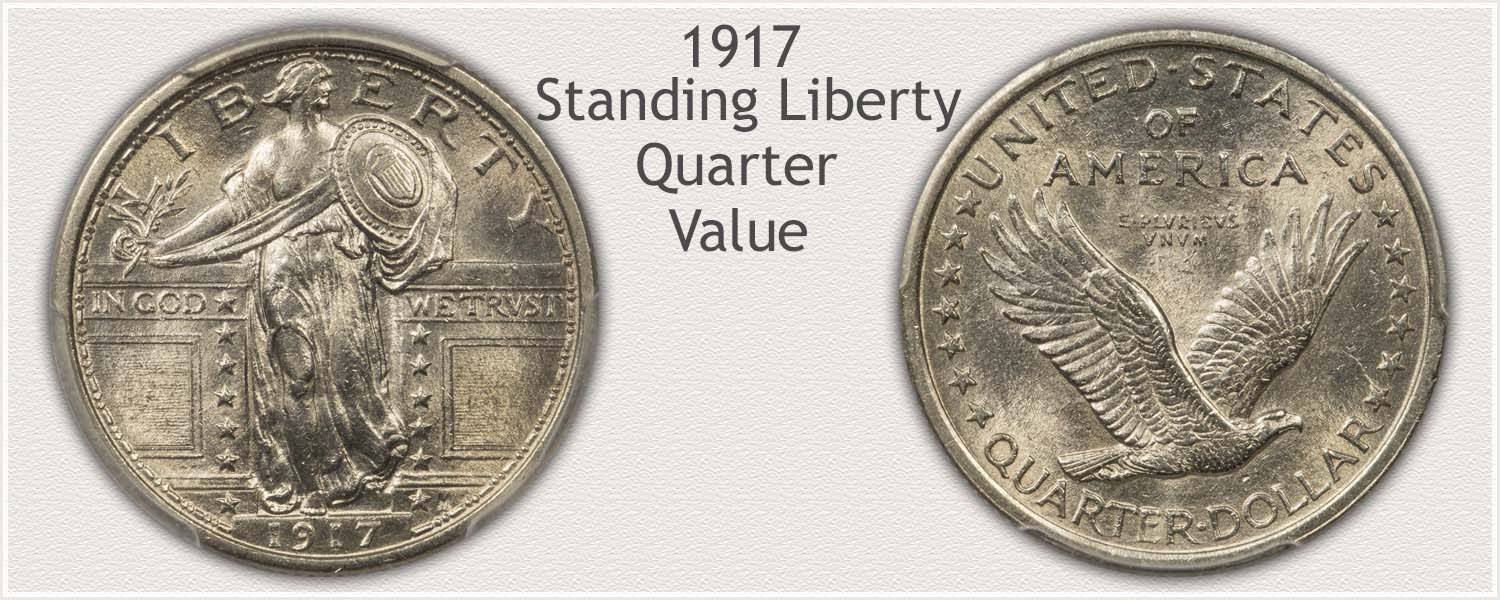 Steps Leading to Value:
Step 1: Date and Mintmark Variety - Standing Liberty quarters minted in 1917 are noted as having six distinct varieties. Mintmarks and design change are important to recognize.
Step 2: Grading Condition - Finding your coin is above average is part of judging condition. Grades are listed on values charts indicating these different conditions.
Step 3: Special Qualities - Collectors seek all mint varieties of the different dates in the series. 1917 is unique with a total of six different issues struck. A special year to recognize and determine how much these coins are worth.
1917 Quarter Value
Condition of Coin
Date
Good
Fine
Extremely
Fine
Mint
State
Standing Liberty Quarter Values Updated
5/25/2023
1917
$22
$56
$120
$247
1917 D
$28
$78
$125
$275
1917 S
$32
$94
$146
$320
Type II - Stars Below Eagle on Reverse
1917
$17
$41
$89
$196
1917 D
$35
$86
$129
$193
1917 S
$35
$87
$118
$232
Highlighted by the table is the wide range of potential value to a 1917 quarter. Notable is the premiums placed on better condition coins. These high collector quality coins are recognized by subtle points discovered in the grading process in Step 2 below.
Step 1: | Date and Mintmark Variety Identified
Six Varieties of 1917 Quarters to Recognize
1917 Standing Liberty quarters are the second-year of the design series. Interestingly the design was still in the development stage. Modifications were needed to satisfy a balance to the design for striking purposes and aesthetics to please the public. Step 3 below images the differences in design helping identify the two different variety.
Of first concern to collects is an accurate reading of the date and to identify the mint striking the coin. Collected and valued separately, date and mint combinations are confirmed.
Three mints were involved in 1917 quarter production, Philadelphia, Denver, and San Francisco. Each is identified by mintmarks or absence of mintmarks placed on the coin.
1917-S Standing Liberty Quarter
"S" Mintmark on Obverse: San Francisco Mint Struck the Coin
San Francisco quarters of 1917 have become the premium mint variety of the year. The value chart highlights the importance of recognizing the mintmark and additionally the condition of the coin. Low mintage numbers, 7.5 million in total of both varieties have resulted in a scarce issue to find.
An "S" mintmark was used by the San Francisco mint and placed on all quarters it produced. To the left of the date and next to the star a small "S" indicates the San Francisco issue.
1917-D Standing Liberty Quarter
"D" Mintmark on Obverse: Denver Mint Struck the Coin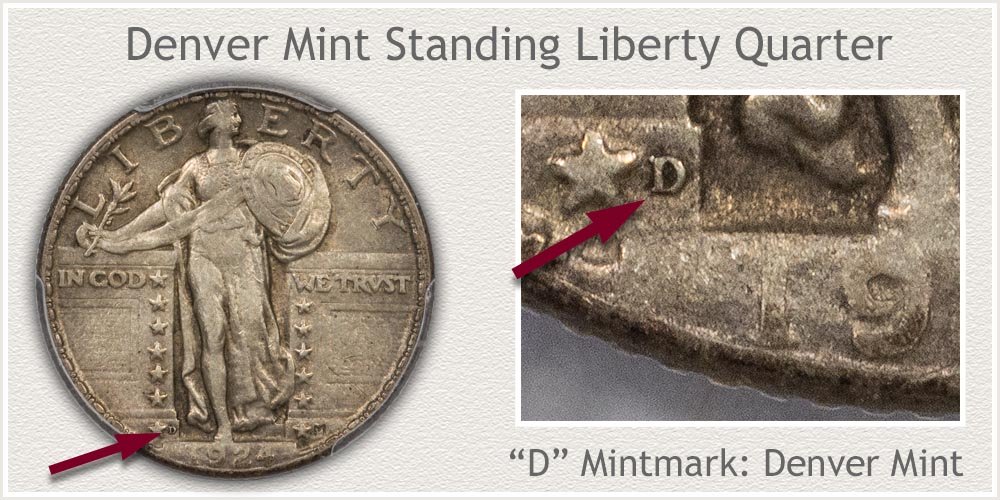 The Denver mint added to production of 1917 quarters, striking just over 7.7 million pieces. These were added to circulation and the majority became very worn. Detecting a strong date and mintmark is a premium coin.
As a branch mint, Denver placed a "D" mintmark to identify its production. Looking just to the left of the date, the letter "D" is Denver's mark.
1917 Standing Liberty Quarter
No Mintmark on Obverse: Philadelphia Mint Struck the Coin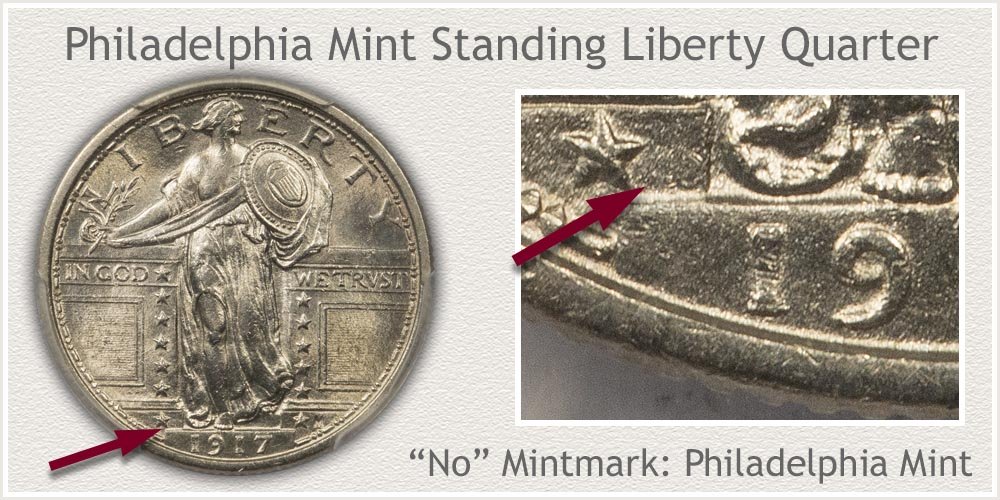 Supplying the majority of 1917 quarters, Philadelphia produced 22.6 million coins. These are the issue likely found today. Many exist and are collected in all grades. A clear date is a quality highly prized by collectors.
Philadelphia did not place mintmarks on coinage in the early years. Looking at the left side of the date, if no mintmark is seen Philadelphia struck the coin.
Step 2: | Judge Condition to Identify Grade
1917 Quarter Value is Conditional
After identifying date and mint variety, Standing Liberty quarters are next judged as to condition. How much detail remains and eye appeal are key factors determining value. Charts list coins by dates and the different grades on a scale of values.
Grading examines surface qualities and extent of wear to the coin compared to standards of grades finding a close match. Grades are used by collectors to define the condition of coins into a narrow range.
Mint State Grade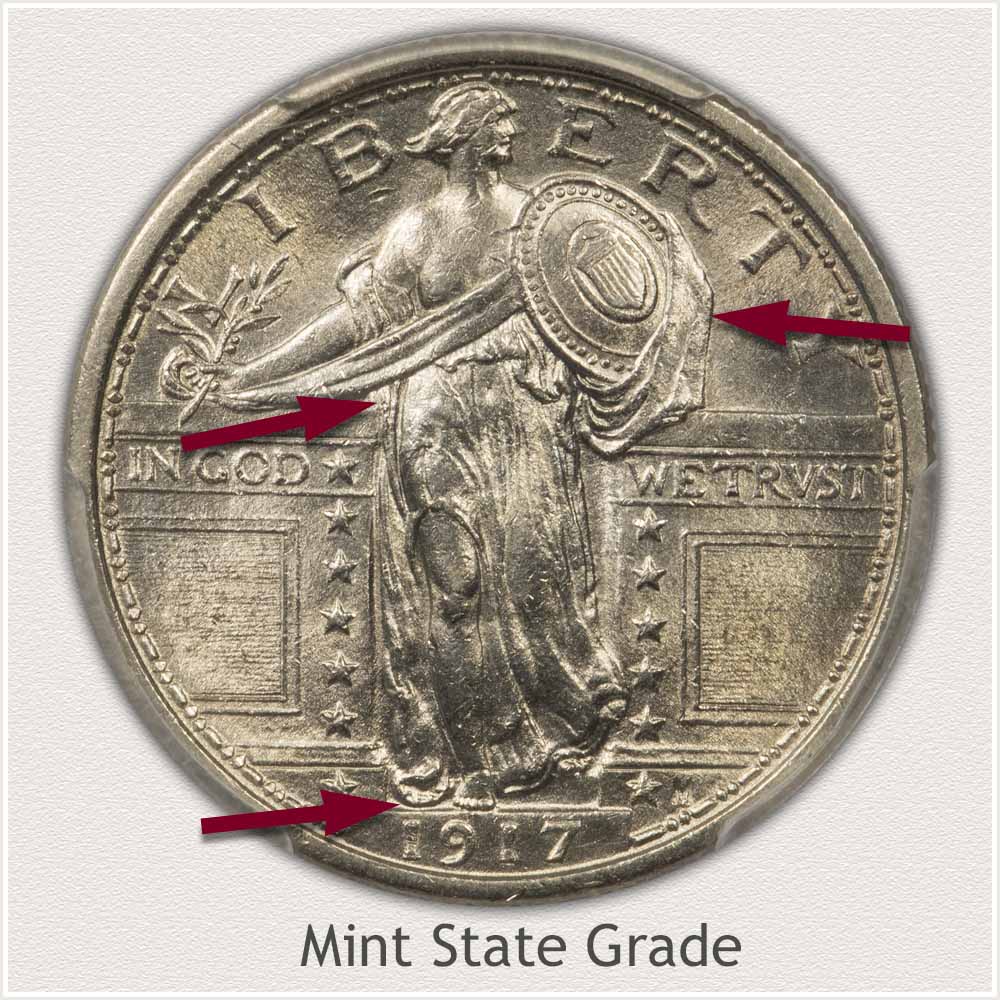 Mint State: A mint state coin is in a special category by definition; there is no wear to the surface. All details and luster, as minted, remains. Confirming this top condition quality requires a close examination.
Notice luster, a shine to the metal, covers the entire surface. This fine grain texture is the result of the minting process and flow of the metal across the die striking the coin. High areas are judged for completeness of luster. Liberty's right leg from her hip to foot shows no disruption of luster.
Next, a close look at the scarf crossing her mid-section, another high point to the design, is fully lustrous and no dulling to the metal is seen. High areas that are worn show a dull grey color when compared to lower relief contours remaining with the shine of mint luster.
Extremely Fine Grade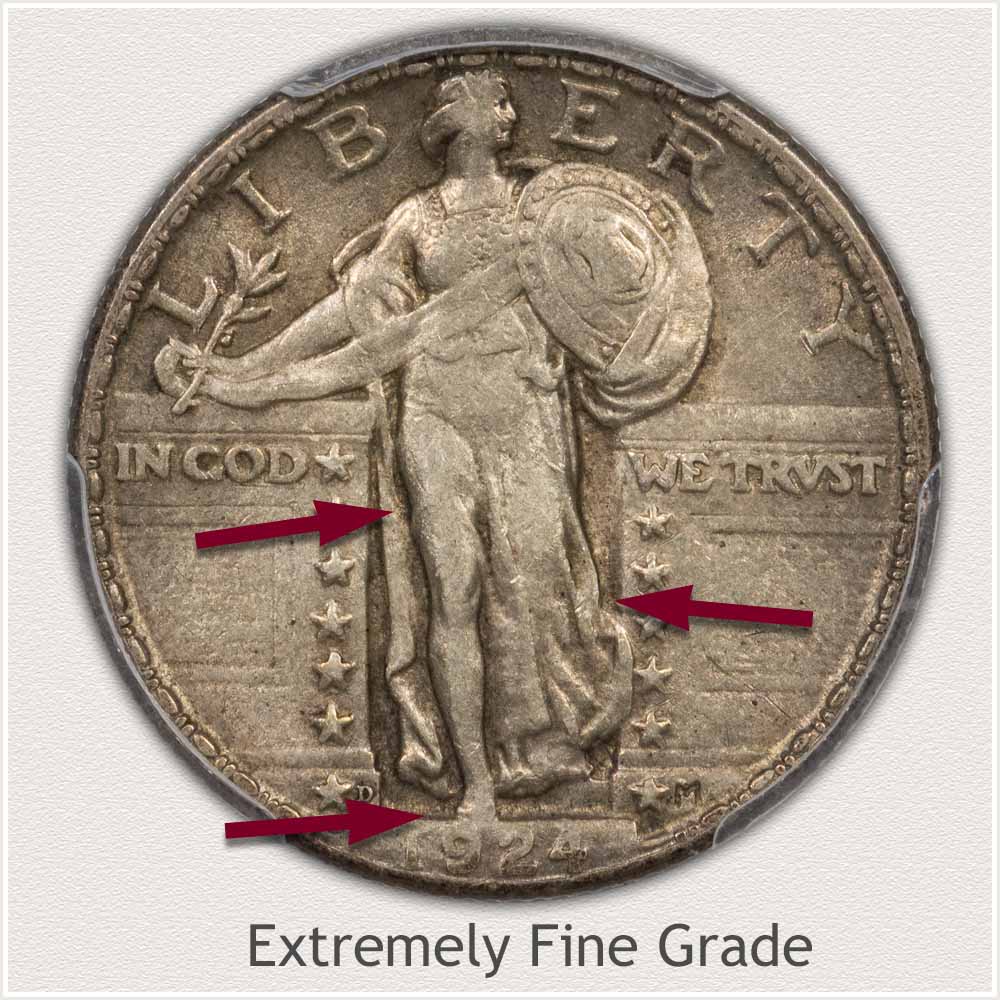 Extremely Fine: Wear begins to show over the surface as a dulling to the metal on a circulated coin. Light wear on the highest points is defining the example coin as Extremely Fine grade.
Liberty remains well detailed with just light wear overall, folds in her gown are visible. A small area of flat metal is beginning in the center of the right leg starting above the knee and extending to her foot.
A slight reduction of detail is noted on the scarf from the shield to her hand. Importantly, both top and bottom edges of the scarf are visible and well defined.
Fine Grade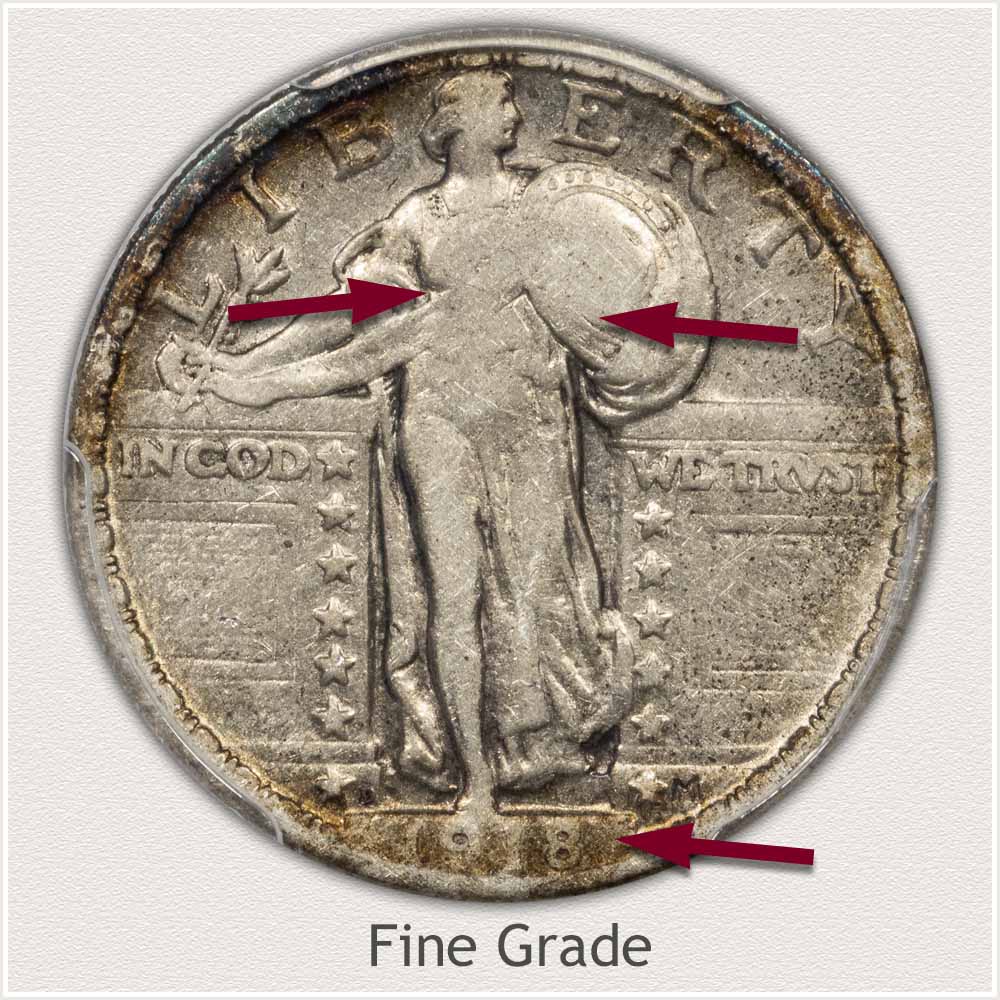 Fine Grade: Moderate wear and loss of finer details describes the Fine grade. Major details are recognizable, importantly the date. Numbers of the date are often faded at the tops; however, all are readable.
Liberty is beginning to show loss of detail over the central area. Her right leg is now very flat with a continuous smooth area from hip to foot. Only a small contour remains at the edges of the leg.
A once defined scarf has blended into Liberty across her midriff. This loss of defining edges to the scarf as it crosses Liberty helps define the grade.
Good Grade
Good Grade: Heavy wear and loss of major details defines a quarter in Good grade.
Liberty is smooth across her entire figure. A strong outline remains adding to the character of the coin.
Her right leg is now a smooth surface without contour. No definition of her hip, knee, and foot is visible.
The scarf has completely blended with Liberty's figure and edge of the shield.
How to Video: Grading Standing Liberty Quarters
A further insight to the process of grading. Subtle points are examined to recognize the different grades and values.
Video, Images and Descriptions | Grading Standing Liberty Quarters
Step 3: | Special Qualities and Collector Support Enhance Value
Multiple 1917 Varieties a Unique Year
Coin collectors enjoy a challenge. Learning about a series of coins, seeking date and mint combinations to complete a set, and developing an understanding of the special qualities involved. All of this interest, study, and effort leading to a satisfaction of accomplishment.
1917 quarters present all collectors a large opportunity to follow an interest. Featuring six different Standing Liberty quarters minted in the year, unique within the series. A design change of Liberty and stars added to the reverse occurred mid-year representing two major varieties. Additionally, three mints issued quarters of both varieties. With six coins involved and seeking eye appealing examples of each, a complete set of just the 1917 quarters is a worthy goal.
This 1917 sub-set of Standing Liberty quarters is of interest to both new and beginning collectors and a satisfying challenge to advanced collectors. A beginning collector is not stopped by any "out of range" prices. A new collector develops a sense of quality and improves judging condition. Advanced collectors seek high quality, more elusive examples and often adds the challenge of matching aesthetic qualities to all coins in a set. When completed, both collectors have advanced their skills.
Combining the interest factor of a unique year, with collectability to a range of collectors, 1917 quarters have a special quality. The design of the coin is a favorite among all U.S. series. Each quarter is silver representing a precious metal. A special year in coinage.
References
U.S. Mint. 1917 U.S. Mint Annual Report. https://nnp.wustl.edu/library/book/514130
U.S. Mint. 1918 U.S. Mint Annual Report https://nnp.wustl.edu/library/book/514131
U.S. Mint. 1919 U.S. Mint Annual Report https://nnp.wustl.edu/library/book/514132
Coin Values | CoinStudy Articles
Date by Date
In Depth Standing Liberty Quarter Values
1917 to 1930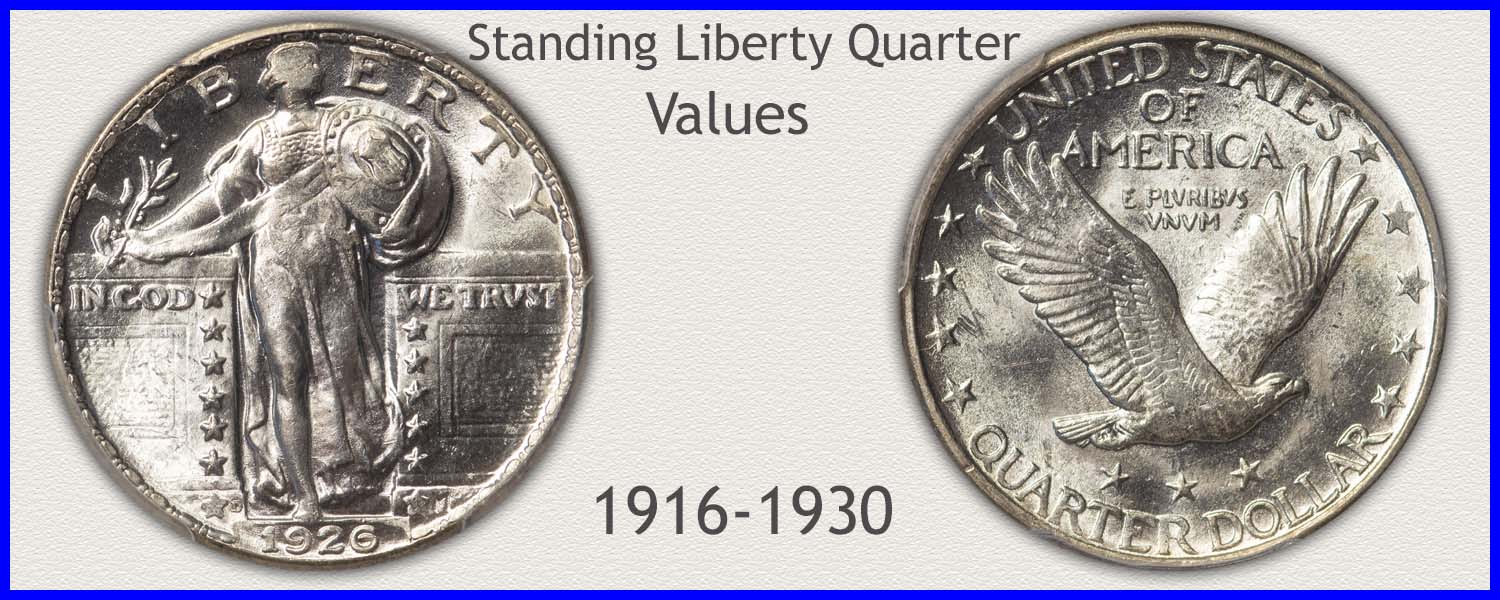 Standing Liberty Quarter Values | Strong Demand
Everyone agrees it is a beautiful coin. Easily one of the most popular coins with collectors. Discover the value that strong demand has placed on Standing Liberty quarters. Grading images to evaluate their condition and price chart listing all dates, mint marks and varieties.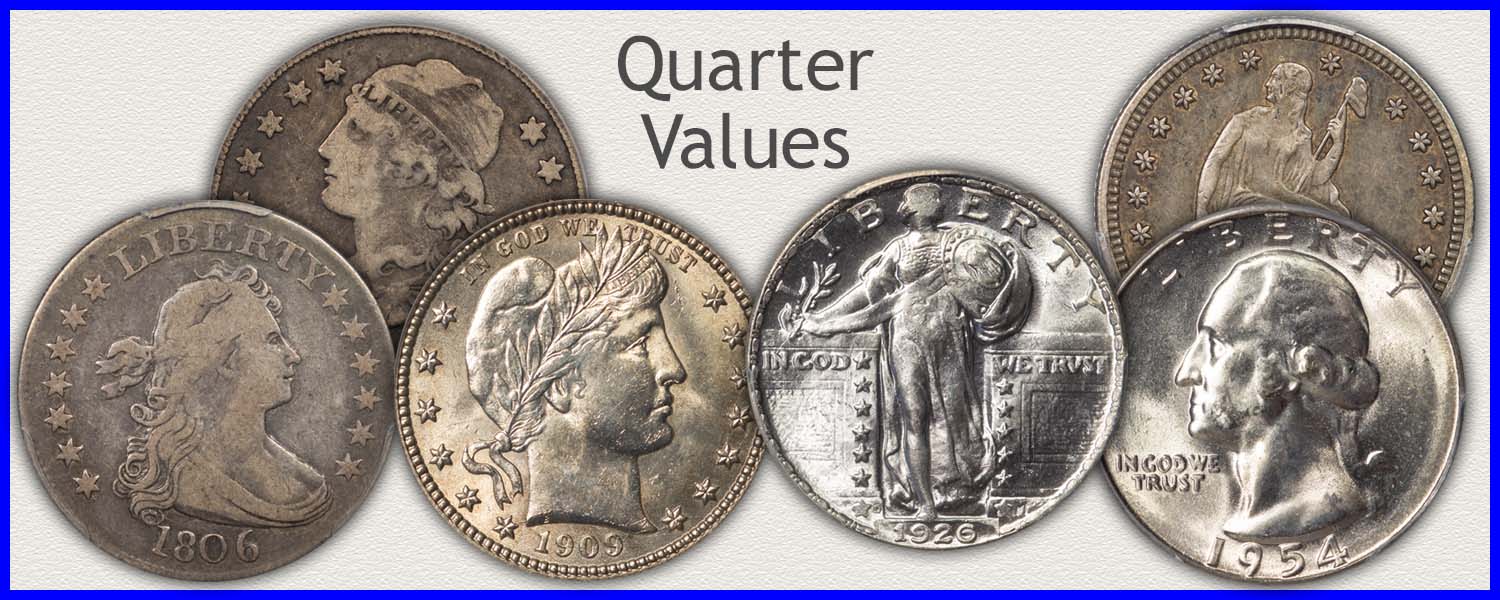 Quarter Values | Discover all the Rare Dates
Quarter Values listed. With grading images to help value all quarter series.
From Bust quarters to Seated Liberty, Barber, Standing Liberty to Washington quarters. For the right coin, values are very high. Discover the rare coin in your box.
Print the Coin Values Worksheet
List your Standing Liberty quarters and record their values. Should you decide to sell... use the worksheet as an invoice and packing slip when sending coins through the mail to dealers.
Popular Coin Series | Standing Liberty Quarters
How much your old quarter is worth is determined using base silver value plus collectible demand. Popular series - Standing Liberty Quarters - has a solid base to premiums. Series of coins are listed in order of numbers of serious collectors involved.
An easy, quick reference to U.S. Coin Values. Follow images to identify each coin series. Standing Liberty quarters are one series from pennies to silver dollars to gold coins. Minimum values are listed for each and links lead to expanded value charts.
★Coin Values Discovery finds 1917 Quarter Value and...
All U.S. coin values. Recognize the rest of your old coins using the image links leading to value charts. Standing Liberty quarters are one of many series of coins. Date | Mintmark | Condition is considered; all described and imaged within each series. Surprising value is often found in the smallest of detail.