Coin Values Moving with Precious Metals: Up-Dated 11/27/2023: Gold $2010 | Silver $24.66
1919 Quarter Value
A few steps are used to identify 1919 quarter value. Confirming date and mint combination begins the process. Collectors are also keen on condition as a primary value factor. Images are used to recognize the collectible condition of your coin.
The Standing Liberty quarter series minted 1916 to 1930 is a distinct design in U.S. coinage. It has become a favorite with collectors who support strong values. Many special qualities are part of how much they are worth.
Steps Leading to Value:
Step 1: Date and Mintmark Variety - Old quarters are identified and valued by the date and mint combination. An accurate reading of both is needed to identify variety.
Step 2: Grading Condition - Compare closely to images of standard grades to judge the condition of your quarter. Grades are important to an accurate value.
Step 3: Special Qualities - Many qualities are recognized by collectors that either raise or lower a coin's appeal. Some old, worn quarters are recognized and judged as eye pleasing while others are lacking appeal.
1919 Quarter Value
Condition of Coin
Date
Good
Fine
Extremely
Fine
Mint
State
Standing Liberty Quarter Values Updated
11/27/2023
1919
$28
$55
$72
$158
1919 D
$115
$214
$444
$955
1919 S
$66
$198
$434
$1,610
Follow the same method as collectors to determine value and appeal of your coin. Collections typically include each date and the different mint issues of the year in a set of coins. Additionally, condition is important to a collector, placing higher values on better condition examples.
Begin the step-by-step process.
Step 1: | Confirm Date and Mintmark Variety
Mint Issues of 1919 Quarters to Recognize
Three mint issues of Standing Liberty quarter were struck in the year. Over 15 million in total combined from the different mints. Significant is the majority of quarters were produced by the main mint in Philadelphia. The two branch mints, San Francisco and Denver struck far fewer and are premium coins.
Mintmarks identify the mints and are part of an accurate assessment of your coins.
1919-S Standing Liberty Quarter
"S" Mintmark on Obverse: San Francisco Mint Struck the Coin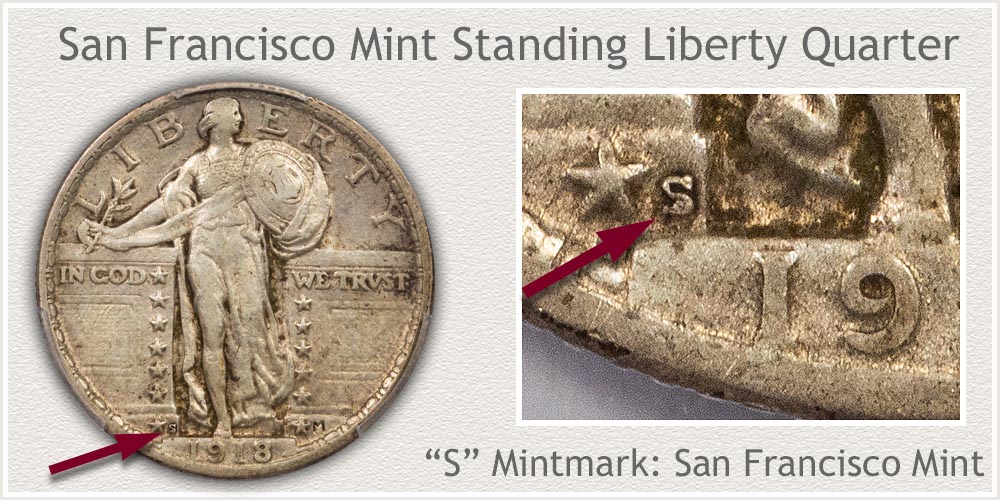 The San Francisco quarter is the premium variety of the year. These are elusive in nice condition. Mint records show 1,836,000 were struck and values indicate few remain in a high state of preservation. If Liberty and her shield are well detailed it is an important find.
An "S" mintmark next to the date is how these are identified. San Francisco place a small "S" letter to the left of the date. Look closely on the wall beside the star for the mintmark.
1919-D Standing Liberty Quarter
"D" Mintmark on Obverse: Denver Mint Struck the Coin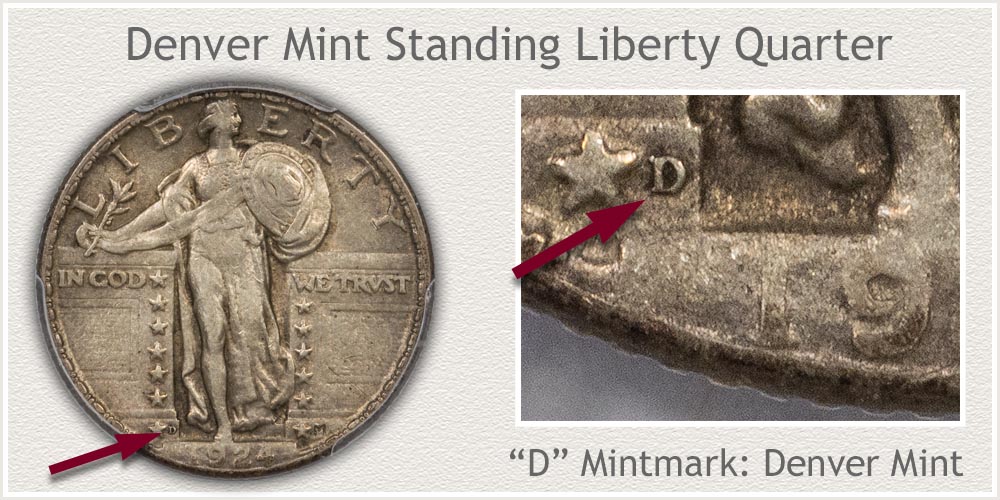 Branch mint coinage of 1919 quarters are the scarce varieties. Denver struck far fewer quarters just under 2 million, and they are a challenge to find in nice condition. The date is quick to wear and become faded adding to the difficulty of finding quality examples.
Denver placed a "D" mintmark on all coinage to identify its production. Looking to the left of the date, a "D" next to the star is the Denver variety quarter.
1919 Standing Liberty Quarter
No Mintmark on Obverse: Philadelphia Mint Struck the Coin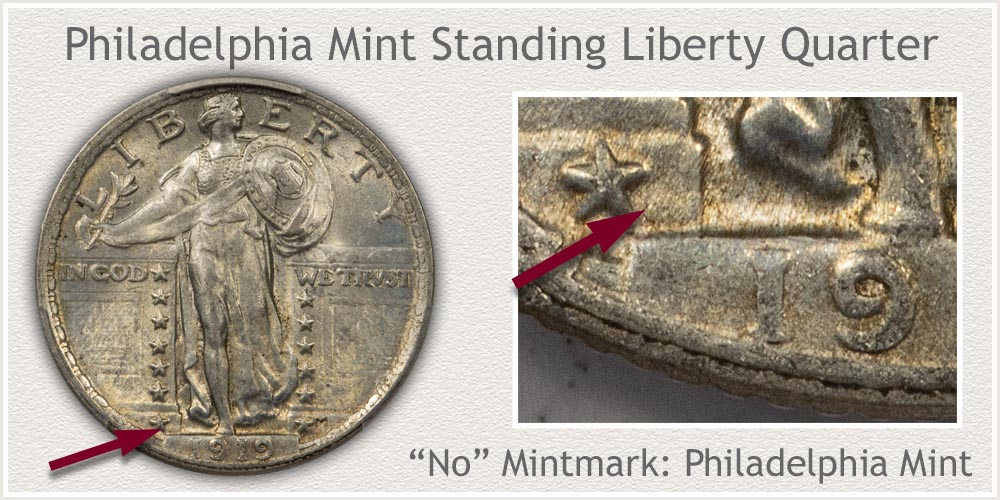 The likely 1919 quarter to find is the Philadelphia variety. Striking 11,324,000 it is the available issue for the year. Although many still exist, most are worn with faded dates and lack any of the original fine details. A well-defined example is a premium collectible.
Identity of the Philadelphia quarter is the lack of a mintmark. The main mint did not place mintmarks on coinage at the time. An inspection of the wall just left of the date finds an empty area next to the star. No mintmark confirms Philadelphia struck the coin.
Step 2: | Judge Condition Comparing to Images of Grades
Quality Determines 1919 Quarter Value
Standing Liberty quarters are a deeply detailed coin design. Grading these coins is a process of using high and low relief areas to recognize wear patterns. Different stages of wear are defined as grades and each is unique in appearance.
Starting with a Mint State example familiarizes the design in its complete form. Grade your coins using a single light source to help bring out subtle details. The date areas of heavily worn 1919 quarters is often very faded.
Mint State Grade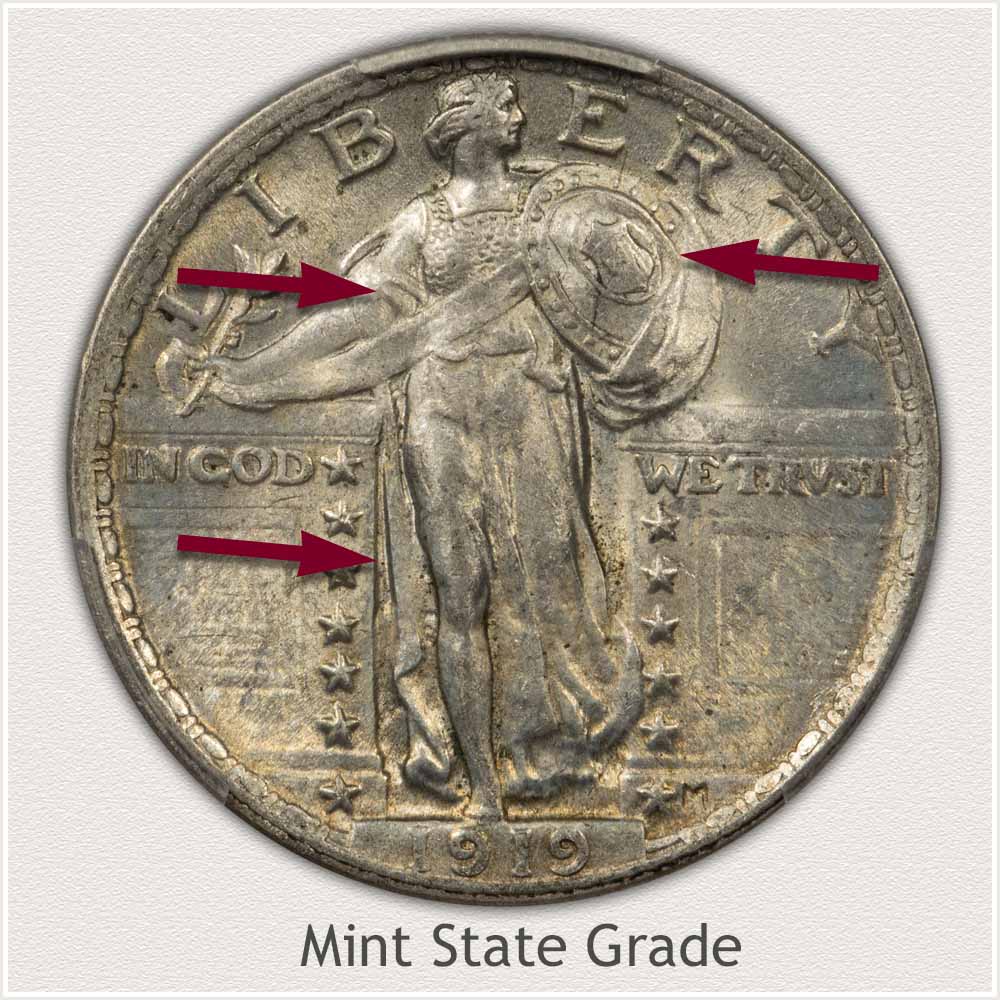 Mint State: High condition coins are inspected closely. Determining the Mint State grade often involves a strong increase in value above a circulated example. A quarter in Mint State is one without any wear to the surface. These scarce condition coins are judged for completeness of luster and no wear on the high points of the design.
When comparing the luster of the small emblem within the shield to outer parts of the shield a consistent look to the metal is indicating no wear. This emblem is a high area and wear causes a dulling to the surface. Worn silver also lacks the fine grains of luster, leaving a smooth surface lacking texture.
Liberty's midriff and right leg also remain with a brightness similar to the lower relief areas either side. Shine and texture of luster is complete indicating a Mint State grade.
Extremely Fine Grade
Extremely Fine: A close examination of the example coin shows just small flattening due to wear on the high areas. Most mint luster is removed and the overall tone is grey compared to a shine. Light wear confined to just high spots defines the Extremely Fine grade.
The small emblem within the shield is now only an outline. Wear on the surface of the emblem has changed the metal to both smooth and dull. Portions of the outline is weak and just beginning to fade.
Liberty's right leg and midriff is also showing a small amount of wear. A thin line of flatness is over the knee and lower leg. The scarf is complete where it crosses over Liberty.
Fine Grade
Fine Grade: Moderate wear is showing as connected flat areas on the example coin. Flatness plus loss of fine detail is a quarter in Fine grade.
No longer does an emblem show in the center of the shield. A slight outer edge is detected with the majority of the emblem faded.
Wear continues throughout the center of Liberty. Her right leg now has a distinct flat area connecting the lower leg to hip losing the contour of the knee. To maintain the Fine grade, flat areas are only found on the center of Liberty, her sides a fully contoured.
Good Grade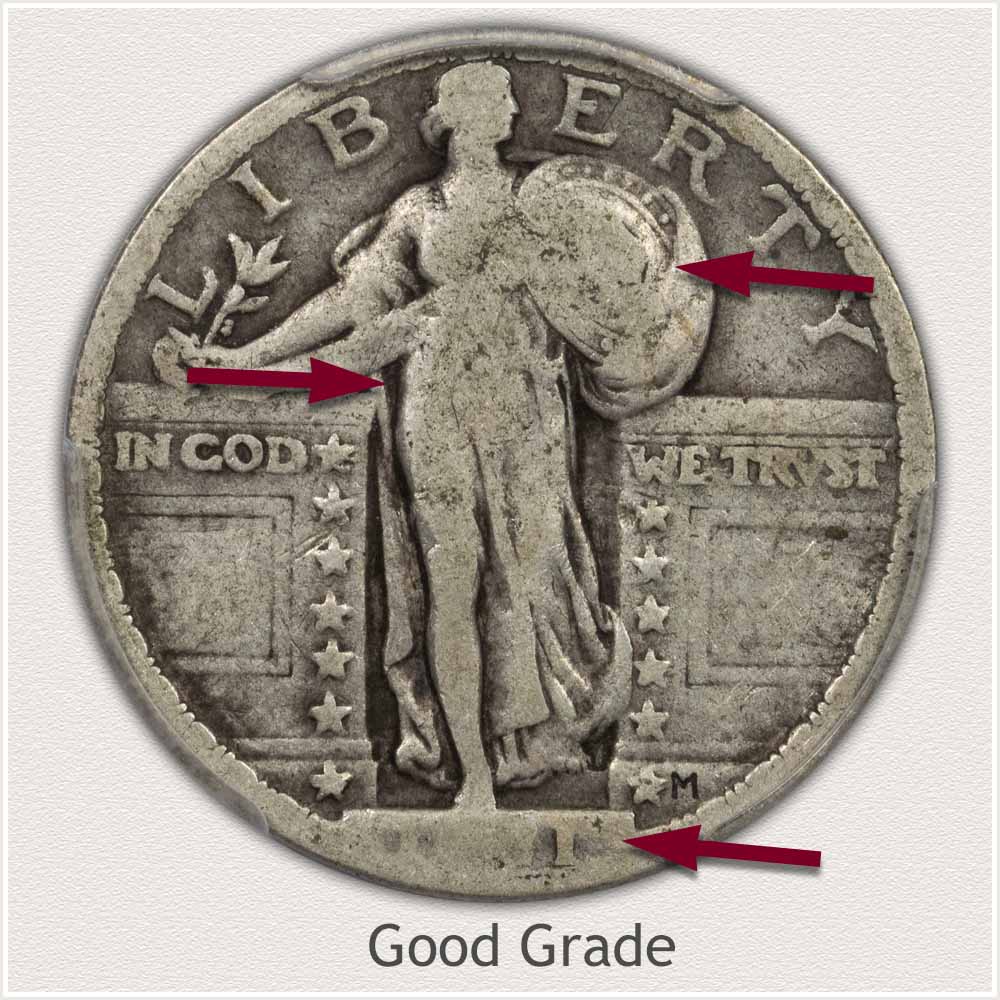 Good Grade: Heavy wear removing fine detail and parts of major detail across Liberty is placing the example quarter into the Good grade.
Defining lines of the inner emblem have worn away. The shield itself is indistinct and blended into the figure of Liberty. Liberty herself is flat with no contours at the outline.
Liberty's right leg is flat across the entire area with no definition at the hip and knee. Date is just readable with heavy wear across the top of the numbers.
How to Video: Grading Standing Liberty Quarters
Added images and description are used to give insight to subtle grading points.
Video, Images and Descriptions | Grading Standing Liberty Quarters
Step 3: | Special Qualities Enhancing Value
Two Focal Points to Recognize Premium Value
Circulated examples are the vast majority of remaining Standing Liberty quarters. Since coins with varying amounts of wear are the typical 1919 quarter a couple of quick scans spot the standout, scarce coin.
One point of background detail: 1919 quarters are part of the "raised date" variety, minted 1916 to 1924. Dates are a high-profile part of the design, rising above the already high area of the step. Dates became one of the first design elements to wear and quickly fade. An interesting situation, as most of the major parts of the design continued to show detail. A redesign of the date in 1925 corrected the fading and introduced the "recessed date" variety continuing to the end of the series in 1930.
A first focal point to inspect on these early era quarters is the date. Adding a great amount of eye appeal is the clear 1918 date example; somewhat faded but still readable. All digits are clear, and this coin is well into the top range of collector quality.
The very faded date is a 1921 quarter. Only a small portion of the "1" at the beginning of the date is visible and only the "1" at the end is clear. Research to confirm the 1921 date is needed;
All Standing Liberty were minted from 1916 to 1930. The second number is a "9".
Mint records show no 1911 or 1931 Standing Liberty quarters were minted. The missing third digit is a "2".
A bit of detective work and knowledge of the series required to date the coin. Less eye appeal and desirability because of missing digits.
An important focal point is Liberty and her Shield. On the first coin, Liberty is well detailed, and the gown and scarf are recognizable. However, her shield is clearly faded into her mid-section. This blending of major details is quick to see and lowers the eye appeal of the coin.
On the second quarter the shield is fully separate of Liberty. A full rim to the shield is well detailed. A completeness to the design is portrayed. Eye appeal is greatly improved and becomes a coin sought by many.
Quick scans of these two focal points and noting "full dates" and "full shields" place coins with these traits into high collector desirability. First variety Standing Liberty quarters of high quality are scarce and premium coins.
References
U.S. Mint. 1920 U.S. Mint Annual Report https://nnp.wustl.edu/library/book/512056
Coin Values | CoinStudy Articles
Date by Date
In Depth Standing Liberty Quarter Values
1917 to 1930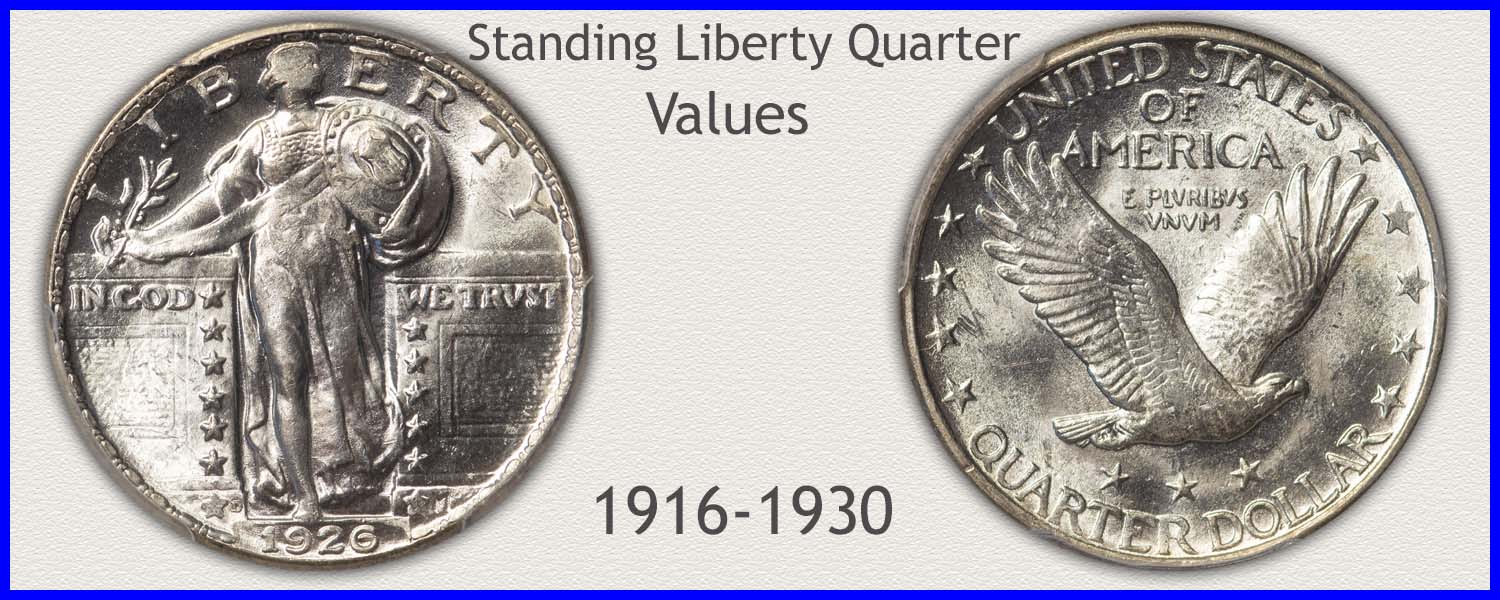 Standing Liberty Quarter Values | Strong Demand
Popularity of the series with both advanced and new collectors supports strong premiums on many date and mintmark combinations. Value chart lists all issues of the Standing Liberty quarter series.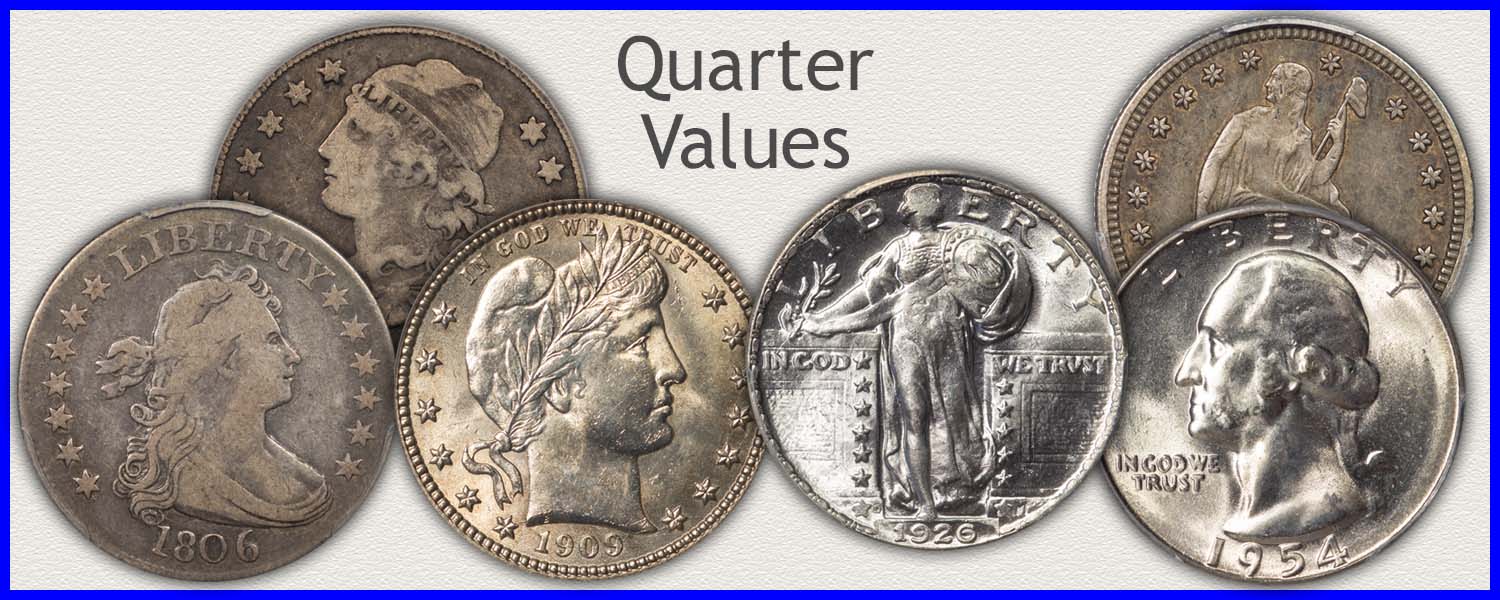 Quarter Values | Discover all the Rare Dates
U.S. quarters are a long running denomination dating back to 1796. Compare your old quarters with images of the different series to find a match. Value charts highlight the strong values on the very oldest series and surprising premiums on later Barber and silver Washington quarters.
Print the Coin Values Worksheet
List collectible Standing Liberty quarters separately by date and mint variety. Add the bullion quality numbers to the list and record their values. Identify and organize your collection, keeping a summary of all coins.
Popular Coin Series | Standing Liberty Quarters
All quarters minted prior to 1965 are considered highly valuable. Silver content of these early quarters is worth over face value. Scarce date and mint combinations are in many of the older series. Rare quarters, highly sought and historically important are identified.
Images to identify U.S. coins along with charts of minimum values. A quick beginning to the step-by step method used to place a starting value on coins. Bookmark to phone to recognize starting value of coin series. Each links to expanded charts. Identify important dates and judge condition to find premium coins and a narrow value range.
★Coin Values Discovery finds 1919 Quarter Value and...
U.S. coin values determined using a step-by-step process. Begin with identifying the major coin series covering cents to gold coins. Images are used throughout to compare dates, mint varieties, special varieties, and grading condition of your coins. Follow a few steps to a narrow range on value charts.