Coin Values Moving with Precious Metals: Up-Dated 11/27/2023: Gold $2010 | Silver $24.66
1930 Quarter Value
1930 quarter value begins at $4.66 each. These Standing Liberty quarters are 90% silver and moderately to heavily worn examples trade based on silver price.
Collectible quality pieces begin to rise in value when condition is slight wear or less. Comparing your coin to images of the different grades narrows the condition and place on value charts.
A step-by-step approach, as used by collectors, identifies all important features on the coin to determine how much these old quarters are worth.
Steps Leading to Value:
Step 1: Date and Mintmark Variety - Collected and valued separately, an accurate identity of date and mint issue is needed.
Step 2: Grading Condition - Recognizing a high-quality coin is finding a premium collectible. In demand are 1930 quarters with sharp and crisp details. Images used in the grading section highlight areas to judge.
Step 3: Special Qualities - Collectors support the value to old coins. Standing Liberty quarters are collected by new and advanced collectors. Overall rarity is studied to identify scarce issues.
1930 Quarter Value
Condition of Coin
Date
Good
Fine
Extremely
Fine
Mint
State
Standing Liberty Quarter Values Updated
11/27/2023
1930
$4.66
$5.93
$31
$115
1930 S
$4.66
$6.33
$35
$141
As noted on the above chart, preservation is the major separator in values. Wear to the surface is often subtle and at the same time important to recognize. Proceed through the steps and in-depth evaluation of your coin.
Step 1: | Date and Mintmark Variety Identified
Varieties of 1930 Quarters to Recognize
1930 is the last year of the Standing Liberty quarter. An important coin, collectors take note of significant events of coin series. Type collections of different series are often "first of" and "last of" years as a popular theme.
By March of 1931 authorization of the new Washington Quarter was in place. Demand for minor silver coinage was low in the beginnings of the 1930's decade and only 7.1 million quarters were produced in 1930. Combining the ending of the series and the third lowest total for any year of the Standing Liberty series, these "last of" quarters are always in demand.
1930-S Standing Liberty Quarter
"S" Mintmark on Obverse: San Francisco Mint Struck the Coin
San Francisco mint provided 1,556,000 quarters to the economy in 1930, a typical yearly amount. The value chart shows these are abundant through the Fine grade and affordable. Most circulated for a long period and strong premiums are awarded to those saved early in high quality.
An "S" mintmark identifies the San Francisco variety. On the obverse just left of the date, look on the wall, a small "S" mintmark is the San Francisco quarter.
1930 Standing Liberty Quarter
No Mintmark on Obverse: Philadelphia Mint Struck the Coin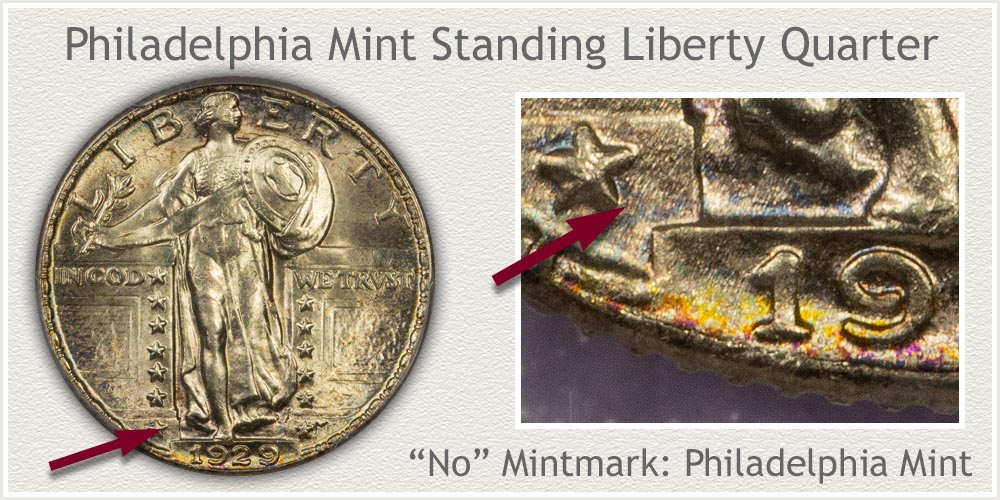 Philadelphia is the second variety of 1930 quarters. Both, San Francisco and Philadelphia issues are collected and considered as part of a complete set of Standing Liberty quarters. A significant reduction in numbers produced places the 1930 Philadelphia quarter as the third lowest year of the series, 5.6 million struck, an important fact to collectors.
The Philadelphia mint did not place a mintmark on quarters at the time. An absence of a mark to the left of the date identifies the Philadelphia variety quarter. Confirm the space is empty between the lowest star and the left side of the date.
Step 2: | Identify Grade to Find Collectible Quarter
Grade Determines Premium 1930 Quarter Value
A certain amount of detail must remain on these old quarter to confirm them as collector quality. Inspecting the surface and alert to fine details visible, spots a premium coin. Inspect your coin in comparison to images representing the different grades finding a close match.
Mint State Grade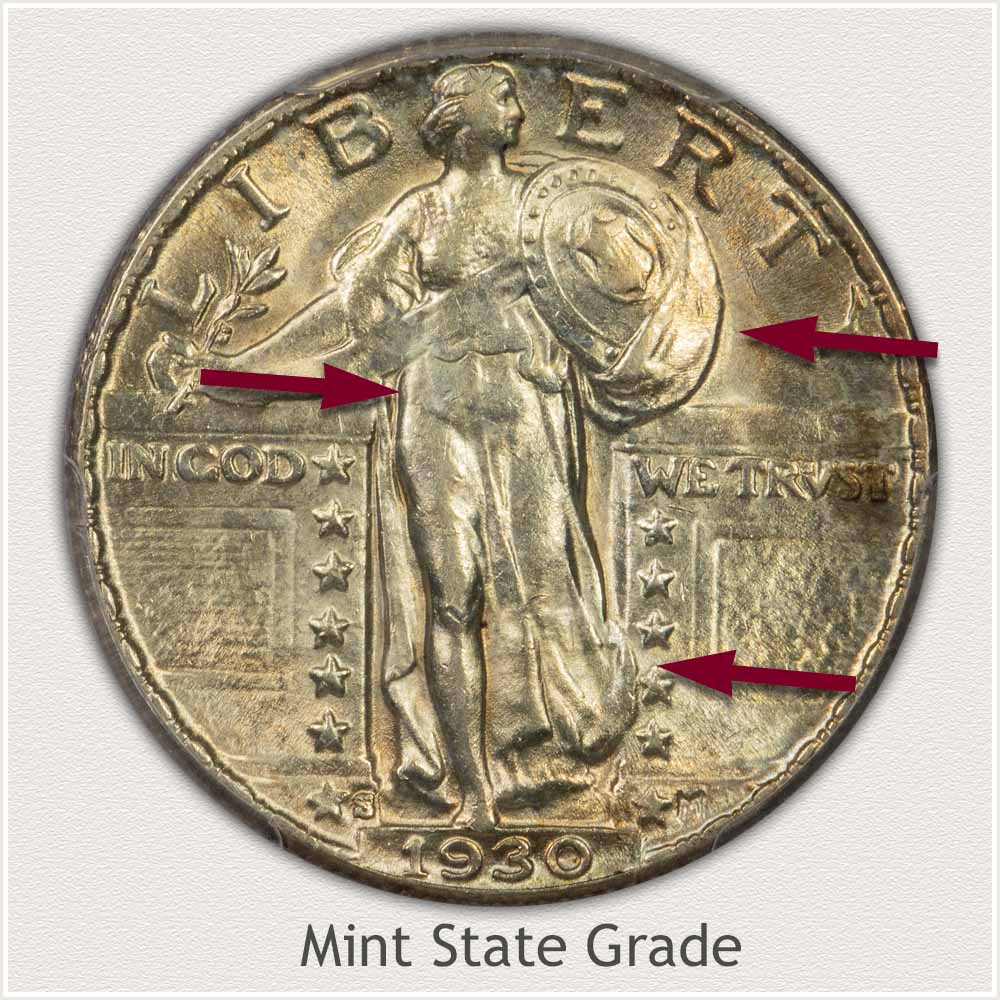 Mint State: A coin with all details visible defines the Mint State grade. No wear has smoothed or removed metal and the fine texture of luster must remain to reach this high state of preservation.
Luster, the original texture of the metal when minted, is delicate and wear appears as dulling and smoothing to the surface. High points are inspected to detect wear. Folds of the fabric over the shield and the central portion of Liberty are first to show evidence of wear.
A close look at the midriff of Liberty is needed to confirm luster is visible and undisturbed. Any wear changes the metal giving it a smooth surface and a dull silver-grey tone. Compare all areas of Liberty for a similar appearance in shine and texture.
Over the lower portion of the shield are folds of fabric. High and low areas of the folds are consistent in appearance helping identify no wear and the mint state grade.
Extremely Fine Grade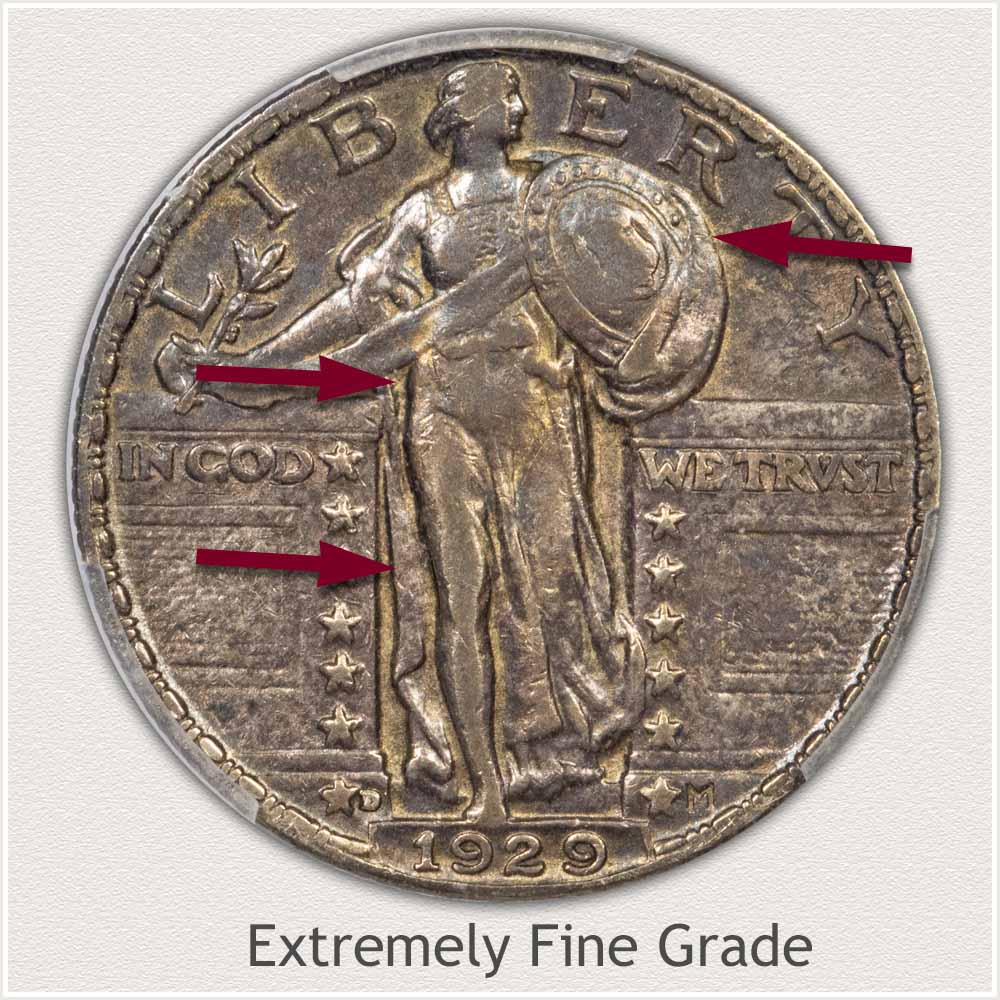 Extremely Fine: Light traces of wear removing the shine of luster and creating small flat areas defines the Extremely Fine grade.
A small amount of smooth metal is seen on the shield, over the high relief of the right leg, and mid-section of Liberty. Lister is these areas is gone and the texture of the metal is smooth when compared to lower, protected areas.
To remain in the Extremely Fine grade, confirm the scarf is complete as it passes over Liberty. Both upper and lower edges of the scarf are bold from her hand to the shield.
Fine Grade
Fine Grade: Moderate wear removing many fine details on the shield and scarf defines the Fine grade. Slight merging of minor design elements is also seen and help confirm the grade.
The fabric covering the shield has a noticeable flat area. Although worn, the fabric is boldly separate of the shield.
Areas of flatness are beginning to smooth the contours through the center of Liberty. In Fine grade flat areas do not connect leaving contours of her chest, mid-section, and legs. Although faint, upper and lower lines of the scarf are not completely merged with Liberty.
Good Grade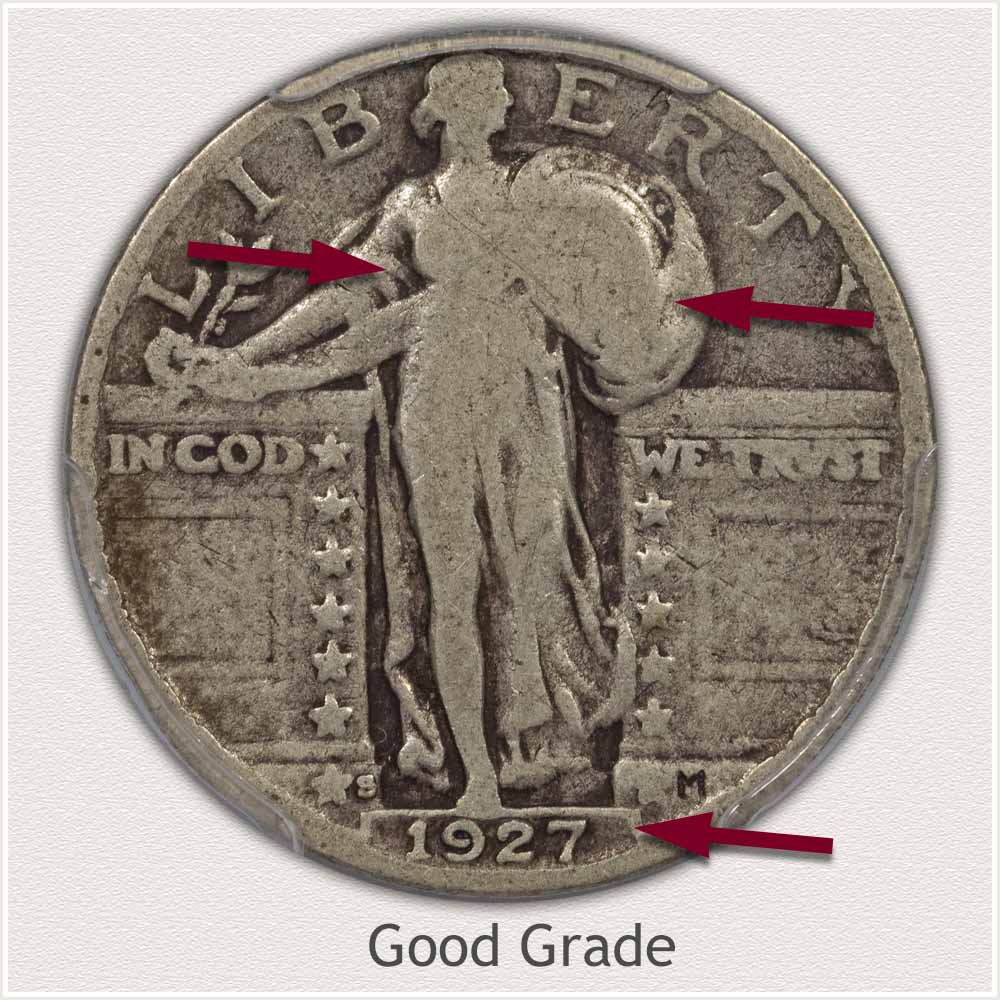 Good Grade: Major wear and extensive flat areas defines the Good grade. A smooth area covers the majority of Liberty.
Once wear extends the length of Liberty and blends with the shield most of the original fine detail is lost. Heavy wear is the overall appearance of these coins.
Fabric covering the lower part of the shield has lost its defining edge. The shield itself has connected to Liberty.
A bold scarf is held in Liberty's hand, however, is completely faded as it crosses over her to the shield. A bold date remains and combined with strong lettering along the rim defines the grade.
How to Video: Grading Standing Liberty Quarters
Higher quality 1930 quarters are valued well above silver content. Added images and description are used to give insight to subtle grading points.
Video, Images and Descriptions | Grading Standing Liberty Quarters
Step 3: | Special Qualities Enhancing Value
Scarcity of the Standing Liberty Quarter Series
1930 became the last year of the Standing Liberty quarter series. A dramatic design that began in 1916 with a total of 226,741,400 quarters produced over the 15-year span.
Three mints across the U.S. contributed to production of the series. Not all in equal amounts, with Philadelphia leading in coinage by a large margin.
Philadelphia Mintage 157,264,000 | The only mint striking every year of production. Denver Mintage: 29,432,400 | Lowest total of the mints, with the 1927-D as a scarce yearly total. San Francisco Mintage: 40,045.000 | Missing only two years production and the second lowest mintage of the series the 1927-S quarter.
Standing Liberty quarters are a series containing high production issues along side low to very low numbers minted. In all years the main mint, Philadelphia leads with numbers of quarters coined. Branch mints, Denver and San Francisco supplemented coinage as needed.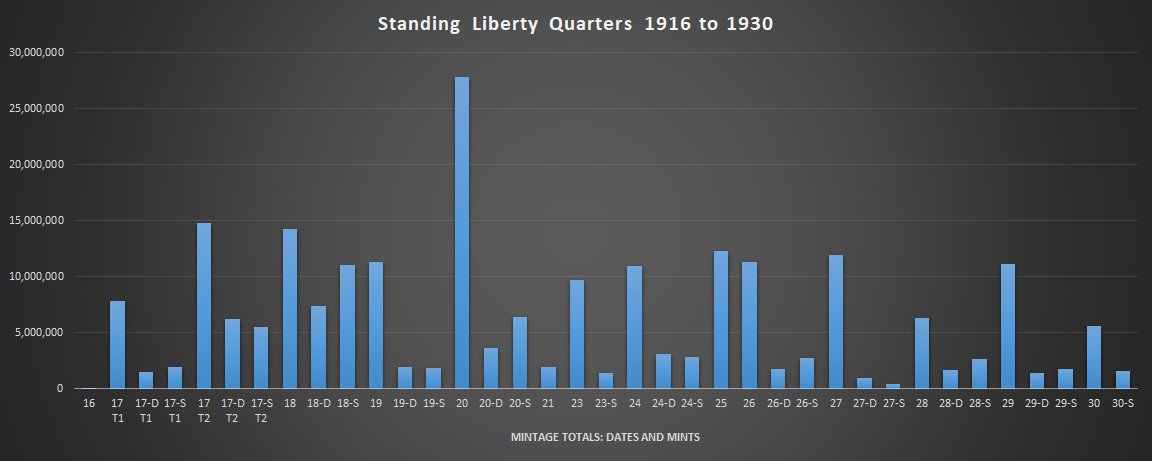 With a 15-year span that includes branch mint issues and a wide range of scarcity and availability to the series, collectors have many choices in building a set. Branch mints, typically the scarce issues and Philadelphia coinage the affordable coin representing the year.
With advanced age of the series, any Standing Liberty quarter with a clear date and light wear is a premium, and scarce coin.
One last note: Over 226 million Standing Liberty quarters were struck in total. By 1963 the production of quarters was 209.6 million in that year alone. An indication to the scarcity of Standing Liberty quarters in comparison to later production numbers.
References
U.S. Mint. 1931 U.S. Mint Annual Report. https://nnp.wustl.edu/library/book/514135
U.S. Mint. 1932 U.S. Mint Annual Report https://nnp.wustl.edu/library/book/514136
U.S. Mint. 1963 U.S. Mint Annual Report. https://nnp.wustl.edu/library/book/514148
Coin Values | CoinStudy Articles
Date by Date
In Depth Standing Liberty Quarter Values
1917 to 1930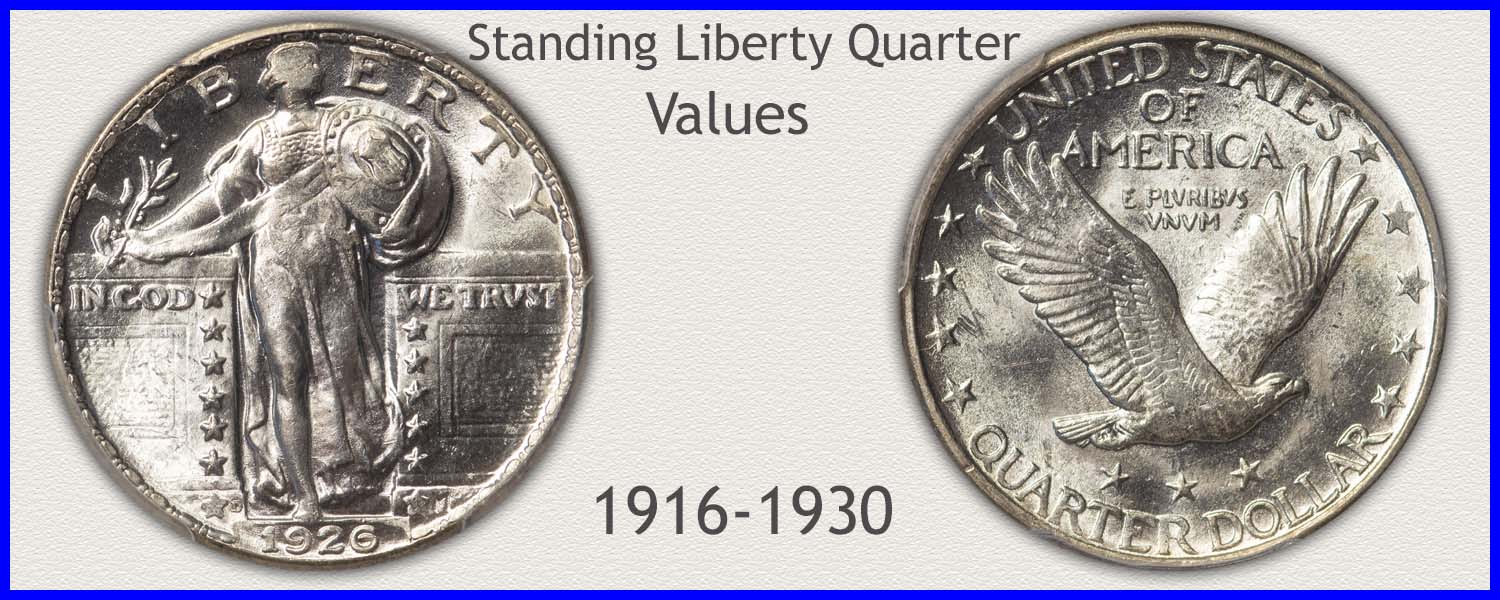 Standing Liberty Quarter Values | Strong Demand
Everyone agrees it is a beautiful coin. Easily one of the most popular coins with collectors. Discover the value that strong demand has placed on all dates and mint combinations of Standing Liberty quarters. Grading images to evaluate their condition and price chart listing all dates, mints and varieties.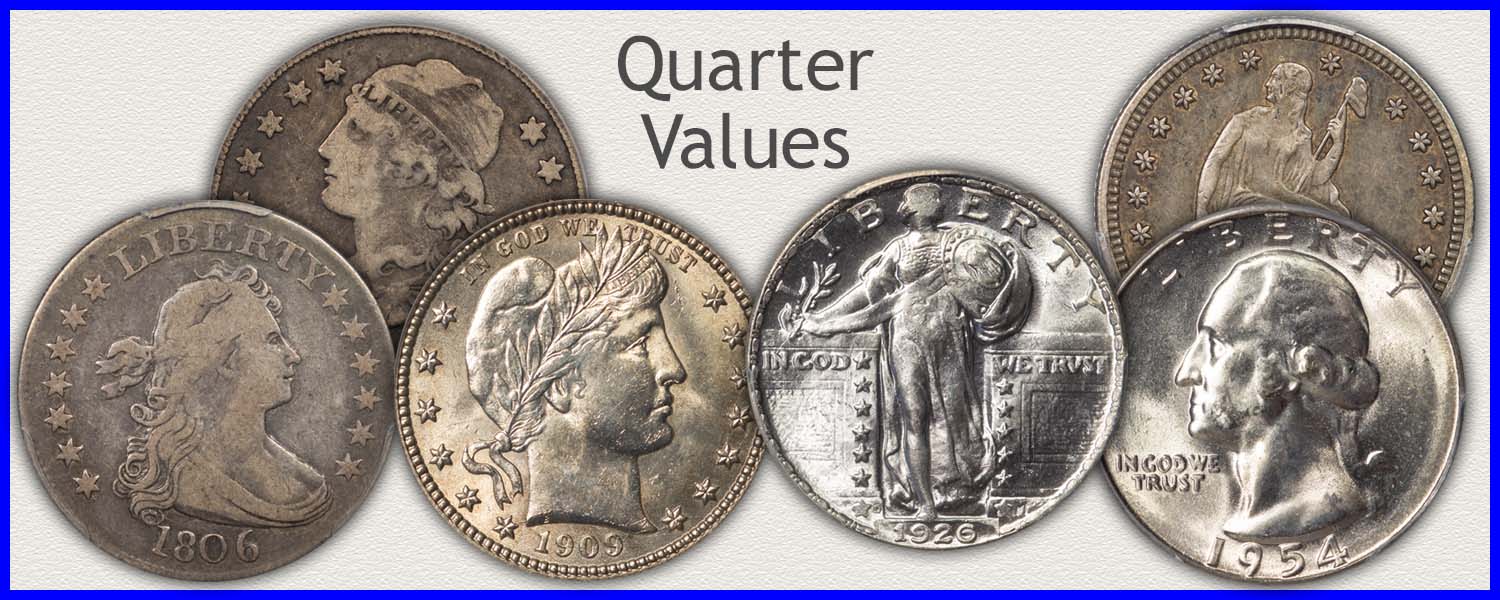 Quarter Values | Discover all the Rare Dates
Quarter Values listed. With grading images to help value all quarter series.
From Bust quarters to Seated Liberty, Barber, Standing Liberty to Washington quarters. For the right coin, values are very high. Discover the rare coin in your box.
U.S. quarters date back to 1796. During the following years many designs and varieties were minted. Rarity of these different series runs from common to scarce. Any quarter older than 1892 is now a scarce coin. Exceptional issues are identified including a few within the Washington quarters series.
Popular Coin Series | Standing Liberty Quarters
An insight into what is collected today, what is popular, and numbers of collectors involved helps show Standing Liberty quarters are a series in demand. Compare to coin series spanning all denominations.
Coin Value Guide | How to Value a Coin Collection
Identify the different series of coins, cents through Standing Liberty quarters to silver dollars and gold coins. Recognize the higher condition coins, special dates and narrow the range of value on the charts. A step-by-step process insures a complete assessment of your coin collection.
Silver Coin Values | Minimum Values of U.S. Silver Coins
Identify silver U.S. coins and find current up to the minute values. Standing Liberty quarters 1916 to 1930 are 90% silver. Many years and condition examples have minimum values moving up or down with changing silver prices. Enter silver price and calculate dimes, quarters, half and silver dollar premiums.
★Coin Values Discovery finds 1930 Quarter Value and...
All U.S. coin values. Recognize the rest of your old coins using the image links leading to value charts. Standing Liberty quarters are one of many series of coins. Date | Mintmark | Condition is considered; all described and imaged within each series. Surprising value is often found in the smallest of detail.