Coin Values Moving with Precious Metals: Up-Dated 9/25/2023: Gold $1921 | Silver $23.44
1921 Quarter Value
A unique date in the Standing Liberty series, accurate 1921 quarter value needs a close inspection of the coin. Considered a scarce coin in all conditions, how much it is worth is first determined by recognizing a somewhat difficult date to identify.
A step-by-step process compares each important feature with images. Descriptions help with spotting the subtle points.
An important date to collectors, special handling and inspection is needed.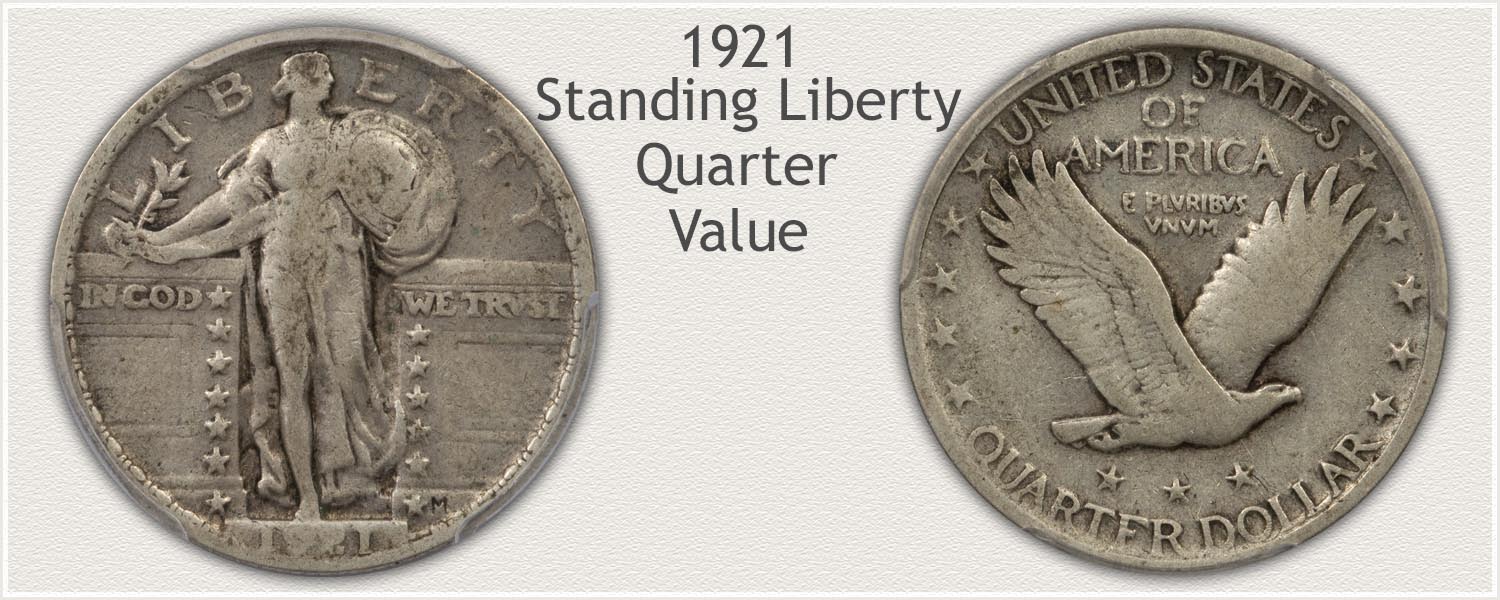 Steps Leading to Value:
Step 1: Date and Mintmark Variety - These first years of the Standing Liberty quarter series are known for the difficulty of accurate recognition of dates. A close-up inspection is required.
Step 2: Grading Condition - Condition is closely inspected using images to compare. Values climb steeply when a higher grade is determined.
Step 3: Special Qualities - Collectors have noted the scarcity of 1921 quarters. Each is judged thoroughly with an eye towards high end quality. Maintain the special qualities found in all grade and condition ranges.
1921 Quarter Value
Condition of Coin
Date
Good
Fine
Extremely
Fine
Mint
State
Standing Liberty Quarter Values Updated
5/25/2023
1921
$116
$227
$501
$1,169
Two major steps are taken to narrow the exact identity of the coin. Collector quality is next considered. Compare your coin closely to the images.
Step 1: | Close Inspection to Confirm Date
Scarce 1921 Standing Liberty Quarter
Only one mint coined quarters in 1921. Philadelphia, the main mint struck limited quantities and 1921 has since become one of the key dates to the series.
Because of the high-profile placement of the date and its tendency to wear quickly, nice clear and detailed examples are scarce. Continued use in circulation reduced the number of high-grade pieces; today a difficult coin to find.
1921 Standing Liberty Quarter
No Mintmark on Obverse: Philadelphia Mint Struck the Coin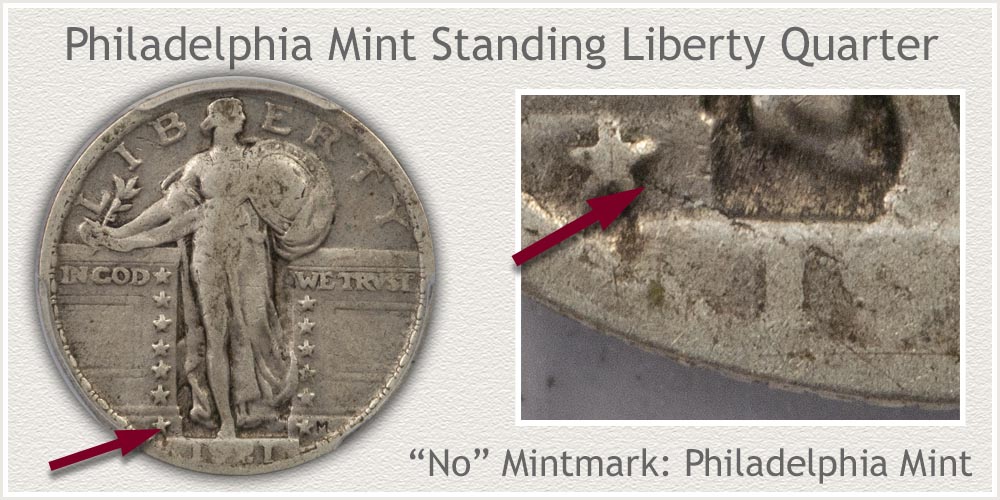 Production of minor silver coinage was displaced by huge production of silver dollars in 1921. Silver dimes, halves, and the 1921 quarter were struck in historically low numbers.
A total of 1,916,00 Standing Liberty quarters dated 1921 were produced by the Philadelphia mint. Because it is the only issue for the year and low mintage, demand is strong among collectors.
Heavy wear causing fading of the date requires a very close inspection to confirm an accurate date. One factor is, all are the Philadelphia variety with no mintmark, absence of a mark helps clarify on extremely worn examples.
Philadelphia did not use a mintmark during the Standing Liberty series. Look closely at the left side of the date. On the wall just to the side of the star, if the area is blank, Philadelphia struck the coin.
Step 2: | Judging Condition Determines Grade | Narrows Value
1921 Quarter Value is Conditional
1921 is a key date to the Standing Liberty quarter series. Values are high in all stages of preservation. Grading defines the condition depending on amount of wear as compared to standards for the different grades.
A focus on a few elements of the designs helps recognize a close determination of grade.
Mint State Grade
Mint State: Eye appeal is a strong component to value of these old quarters. A mint state coins exhibit all original details of a coin as struck. No wear to the surface defines the mint state grade.
Liberty's right leg and specifically the knee is raised high above the surface of the coin and quickly shows the beginnings of wear. A consistent brightness and luster texture to the knee and surrounding areas indicated no wear is present. Dulling and smoothness to the top of the knee and leg is a sign of wear.
A second area to examine is the mid-section of Liberty and scarf. Both remain bright with luster and no smooth spots. Upper edges of contours are without and flat areas.
Extremely Fine Grade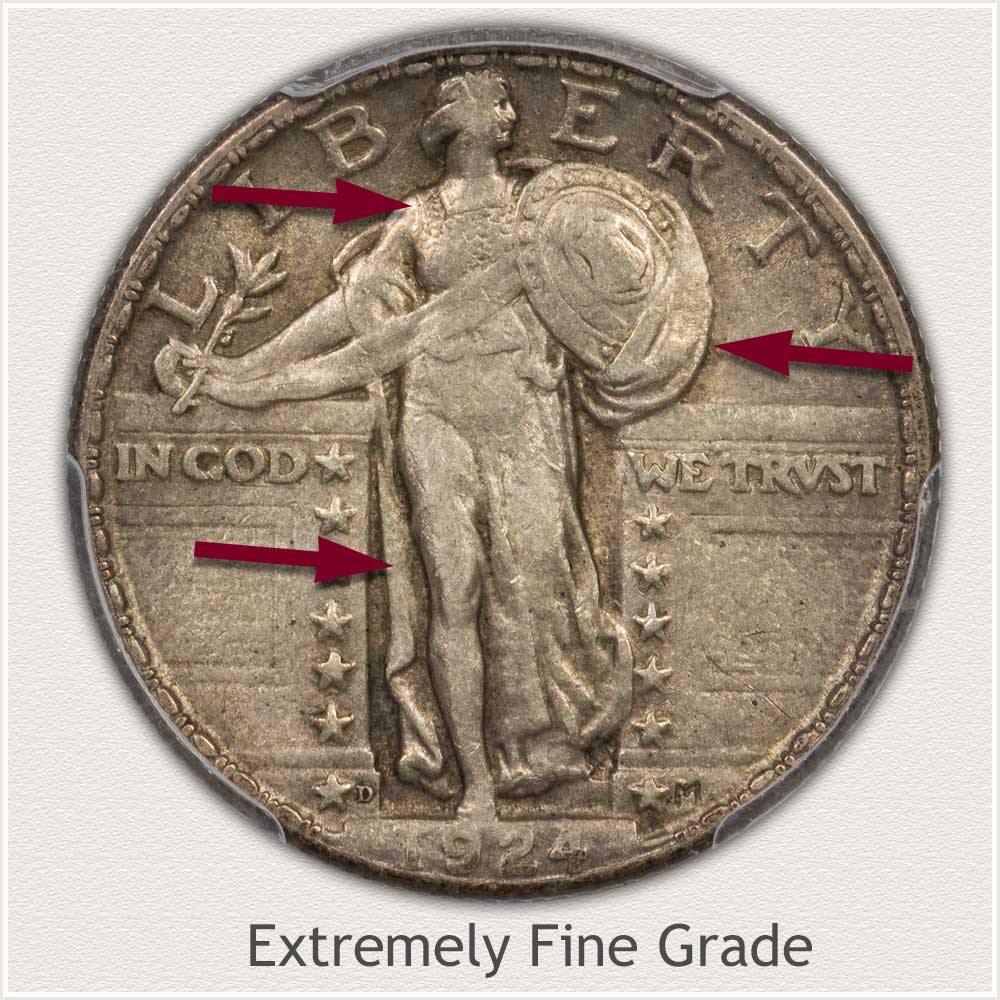 Extremely Fine: A lightly worn quarter with many fine details remaining is considered for the Extremely Fine grade. A soft grey tone replacing luster is now the first impression of the light wear condition.
Liberty's right leg and knee is slightly worn, indicated by the small flat area from her foot over the knee to the hip. This wear is noted only on the very top edge of the contour of the leg.
Inspecting her neck, a visible line to the collar is continuous across her chest and remains part of the straps on either side. Although light wear is visible overall it is just the very tops of high points showing flatness.
Fine Grade
Fine Grade: Wear has begun to fade small details on a quarter in Fine grade. Major details, shield, scarf, and neck line to her gown are visible but faded and partly missing.
A flattened area on Liberty's right leg is very pronounced. From her hip to foot is a wide flat area covering the width of the leg.
The neck line to the gown is missing across the center. A small area along the edge of the shield has blended to Liberty. Also missing is the definition of the scarf crossing her midriff. These details are confirming a Fine grade condition.
Good Grade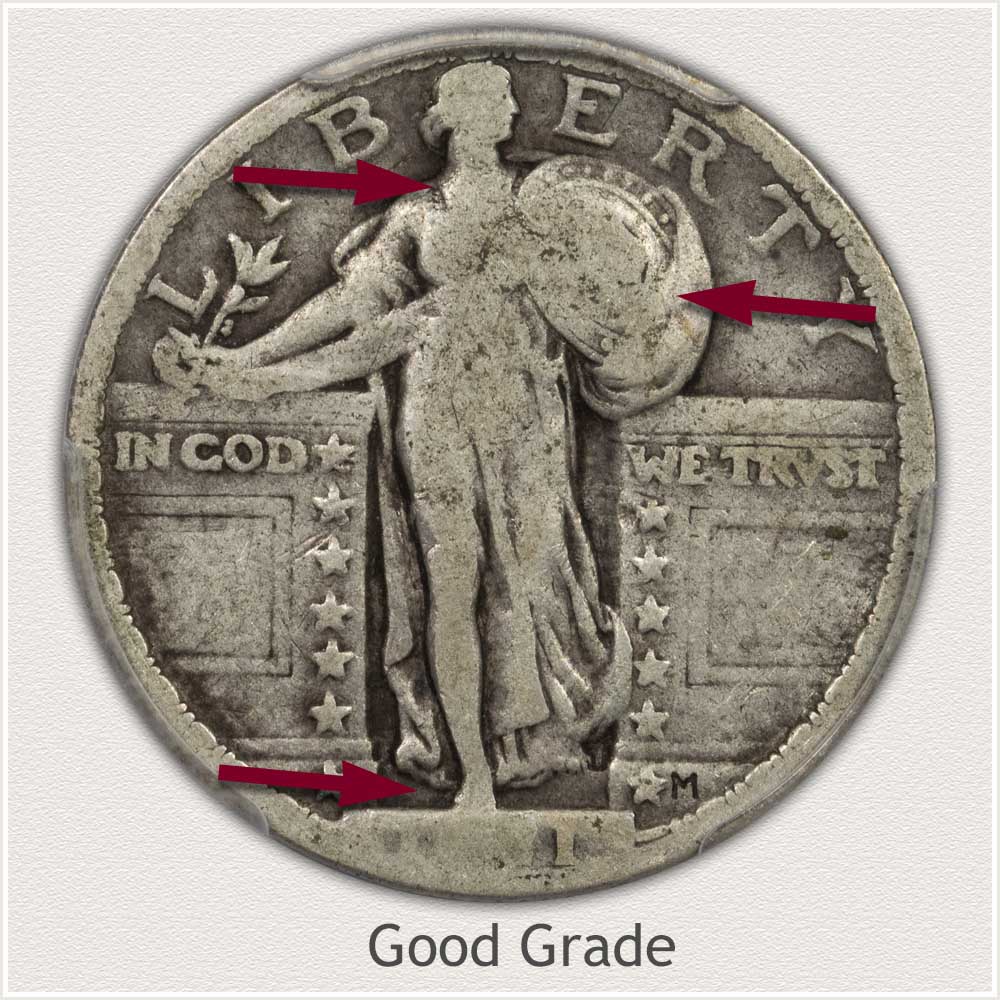 Good Grade: Overall flatness to Liberty and lack of central detail is a heavily worn quarter. Good grade examples remain with a discernable date, although faint.
A complete figure of Liberty is noted with detail to her gown on both sides of her legs. The line to the collar at the neck is missing and a flat area extends from Liberty's head to feet.
All lettering is visible in the Good grade. Although the Good grade is a heavily worn coin, major details; the figure of Liberty, her extended arm, and the wall on both sides is fully defined.
How to Video: Grading Standing Liberty Quarters
A key date to the series, 1921 quarters are inspected closely for small changes in condition. Additional images and descriptions are used to fully judge condition.
Video, Images and Descriptions | Grading Standing Liberty Quarters
Step 3: | Preservation of Special Qualities Enhancing Value
Storage to Protect Future Value of Old Quarters
Proper storage allows a coin to rest peacefully and protected from both the elements and damage. Standing Liberty quarters are a silver alloy coin, 10% copper and 90% silver. Both metals benefit when stored in a dry location and separate from other coins avoiding contact.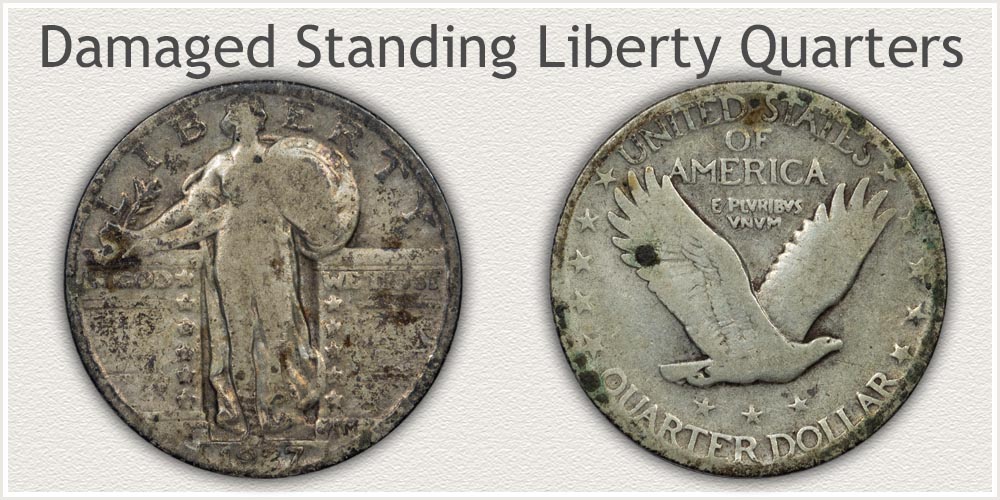 Circulation wear takes its toll and when a coin is collected the objective is to create a stable situation to preserve the existing condition long term. The above examples once collected did not receive special attention when stored and continued to decline in surface preservation.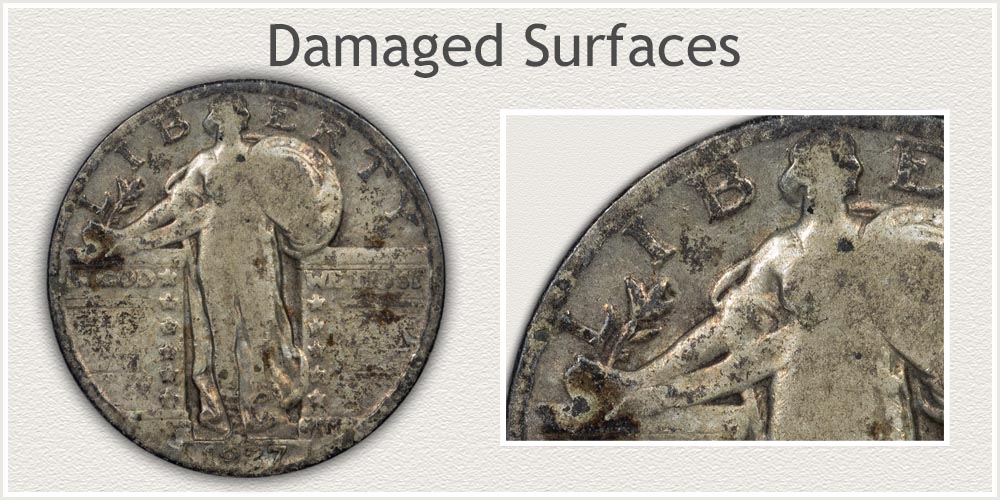 The obverse coin is portraying Liberty surrounded by dark mottled coloring. The uppermost areas of the surface reacted to its original storage, likely paper and formed very dark colors. Once an eye appealing circulated quarter, has over time lost its aesthetic charm.
The reverse coin shows a large dark spot on the eagle's wing. Exposure to humid air allowed moisture to collect and develop into the spots seen on the coin. Looking closely, a green color - verdigris - surrounds the spots; a reaction with the copper in the alloy. Corrosion under the green coloration is likely pitting the surface and causing damage.
Two coins housed in "Saflips" because of nice condition and value. These individual holders protect the surface of coins from any contact and away from harmful materials. Second is a group of old quarters stored in a coin tube. These coins are lower quality and valued primarily on silver content. The tube is an excellent choice to organize a box of old coins. Both the Saflips and tubes were sourced from WizardCoinSupply.com under the headings of "coin flips" and "coin tubes".
Safe coin storage now protects these old quarters into the future and enjoyment of tomorrows collector.
References
U.S. Mint. 1922 U.S. Mint Annual Report. https://nnp.wustl.edu/library/book/325
Coin Values | CoinStudy Articles
Date by Date
In Depth Standing Liberty Quarter Values
1917 to 1930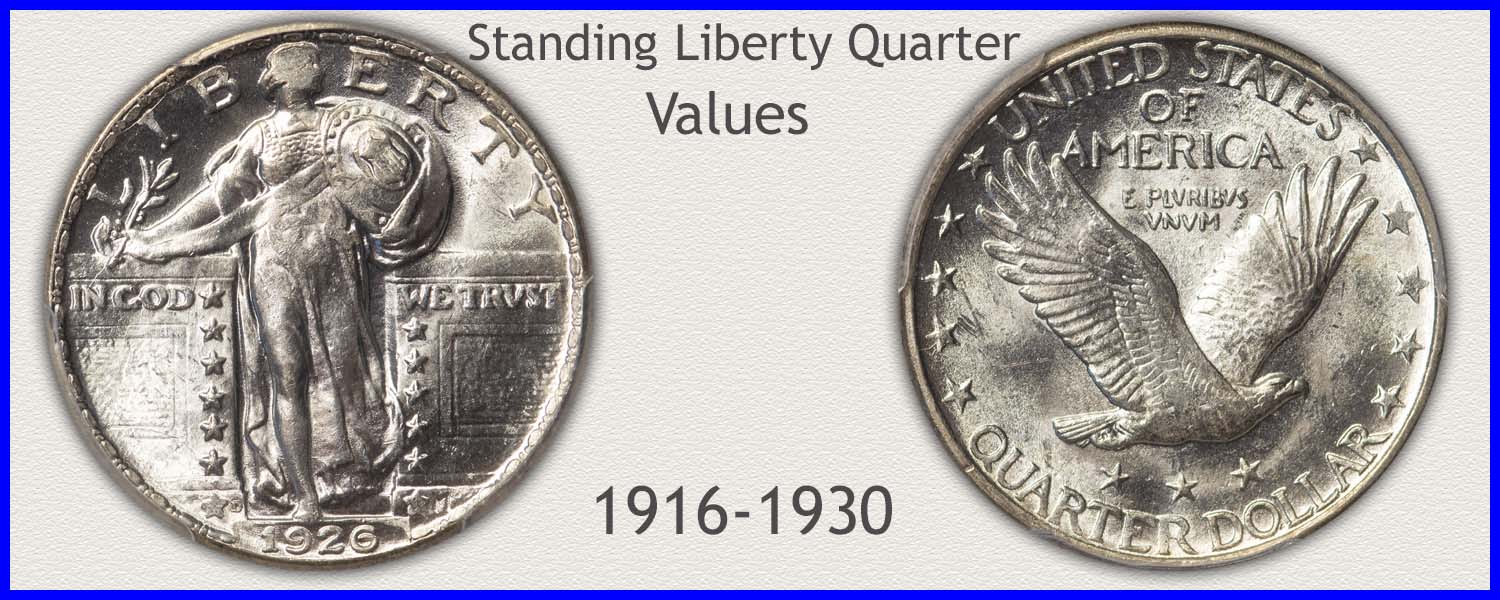 Standing Liberty Quarter Values | Strong Demand
Expanded value chart includes all dates and mints of the Standing Liberty quarter series. Grading images highlight the important factors to a collectible quality coin and narrow how much they are worth.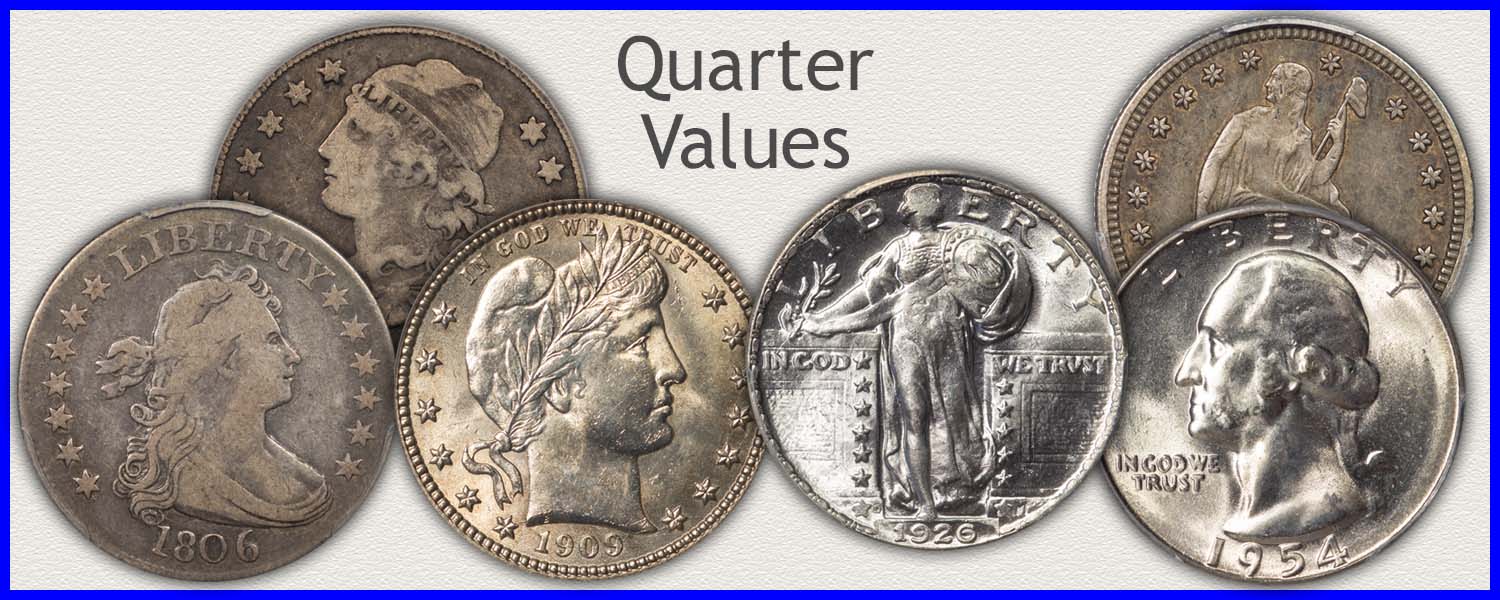 Quarter Values | Discover all the Rare Dates
Discover the value of old quarters. Charts listing dates and mint varieties for series of quarters dating back to 1796. Bust quarters, Seated Liberty series, turn of the century Barber quarter to the silver Washington pieces. Dates and condition are an important part to how much they are worth. Images lead to accurate identification and judgement.
Print the Coin Values Worksheet
After following the steps above to evaluate your coins. List quarters by dates, mints and bullion quality to record their values. A convenient list of the collection.
Coin Value Guide | How to Value a Coin Collection
Identify the different series of coins, cents through Standing Liberty quarters to silver dollars and gold coins. Recognize the higher condition coins, special dates and narrow the range of value on the charts. A step-by-step process insures a complete assessment of your coin collection.
Silver Coin Values | Minimum Values of U.S. Silver Coins
Follow the movements in silver price and calculate minimum values of silver U.S. coinage. Standing Liberty quarters 1916 to 1930 are of the silver era. These 90% silver alloy coins are worth far above face value. Calculator lists Pre 1965 silver coins and current silver values.
★Coin Values Discovery finds 1921 Quarter Value and...
All old U.S. coin values. Follow this image and description index leading to value charts. The same step-by-step method to value Standing Liberty quarters is used for each series of date and variety identification. Additionally, grade condition by comparing to images, video and descriptions. Special qualities are also judged. Discover how much your box of old coins is worth.