Coin Values Moving with Precious Metals: Up-Dated 9/25/2023: Gold $1921 | Silver $23.44
1929 Quarter Value
Worn examples of Standing Liberty quarters have a strong silver base plus a small collector premium. 1929 quarter value begins at $4.43 each. This represents a circulated coin with a clear date.
Condition and grade are important elements to recognizing higher collectible worth. Follow the steps taken by collectors to confirm date and mint plus narrow condition range.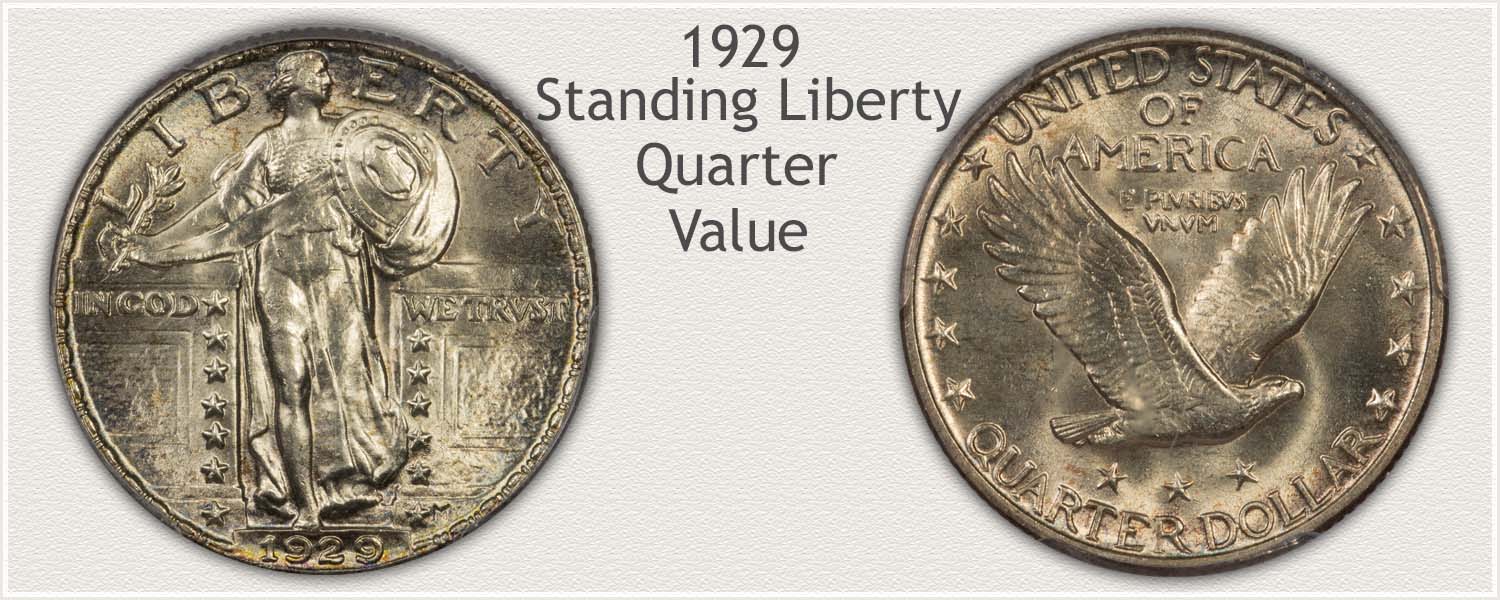 Steps Leading to Value:
Step 1: Date and Mintmark Variety - Old Standing Liberty quarters are typically collected as a set including each date and mint combination. Confirm your quarter's variety.
Step 2: Grading Condition - Condition is a strong appeal to collectors. Images are used to compare your coin to different levels of preservation and grade.
Step 3: Special Qualities - Identify the positive qualities to help understand the subtle points adding to collector demand.
1929 Quarter Value
Condition of Coin
Date
Good
Fine
Extremely
Fine
Mint
State
Standing Liberty Quarter Values Updated
5/25/2023
1929
$4.43
$5.64
$29
$131
1929 D
$4.43
$6.02
$34
$126
1929 S
$4.43
$5.64
$36
$128
Quarters from the 1920's are now a very old coin. Most became worn and lost most of their original detail over time. All need close inspection as many reasons either raise or lower the collectability. Each does have a good silver base value, additionally follow the steps below to finding added appeal to collectors and added worth.
Step 1: | Date and Mintmark Variety Identified
Varieties of 1929 Quarters to Recognize
Ample supplies of 1929 quarters remain today and actively trade in the $4.43 to $5.64 range. Collectors do pay close attention to mint variety when assembling sets and each is evaluated separately. Grading in Step 2 judges for higher quality and premium value coins.
Inspect the date closely and confirm the "29". Dates of the 1920 and 1929 quarters are similar in appearance at first glance.
1929-S Standing Liberty Quarter
"S" Mintmark on Obverse: San Francisco Mint Struck the Coin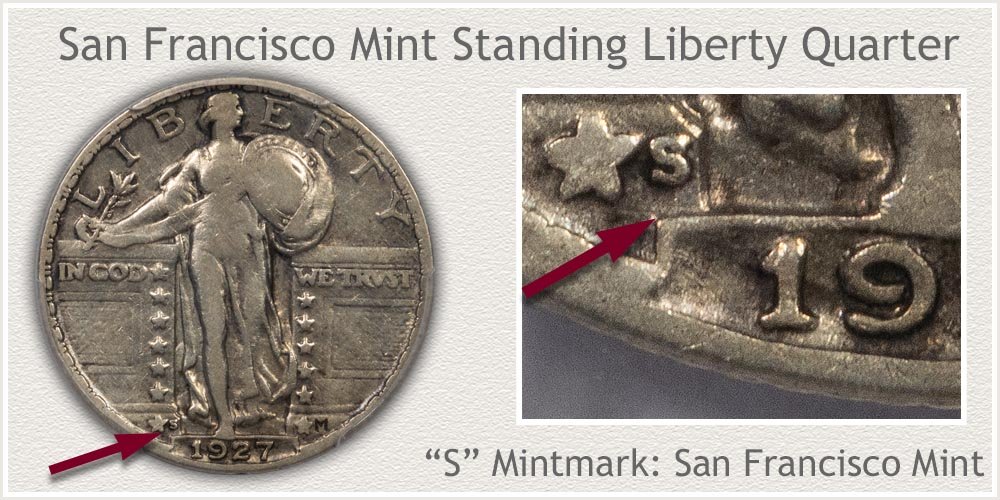 San Francisco's mintage of 1,764,000 quarters in 1929 seems low in comparison to today's contemporary mintages in the hundreds of millions. Fortunately, enough remain and are affordable to all collectors. New and young collectors seek well detailed circulated examples and advanced collections feature mint state quality coins.
The "S" mintmark identifies the San Francisco mint produced the quarter. At the left side of the date a small "S" on the wall next to the lowest star is San Francisco's mintmark.
1929-D Standing Liberty Quarter
"D" Mintmark on Obverse: Denver Mint Struck the Coin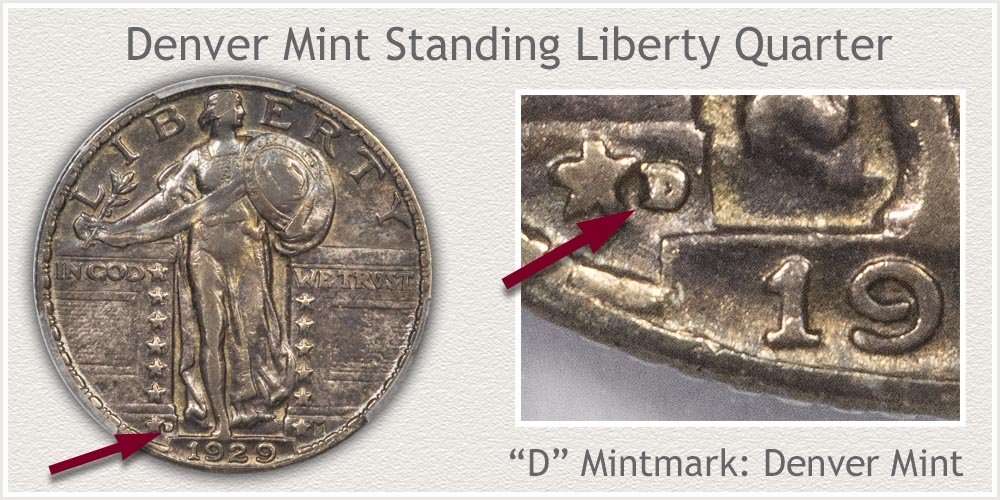 1929 represents the last Denver Standing Liberty quarter. The series ended in 1930 with Denver not contributing to production in the final year. Last of series is a notable quality to any coin and these "last of" issue Denver coins are sought by collectors. Saving at the time set enough of the original mintage - 1.3 million - aside and is plentiful in circulated condition.
Look for a small "D" mintmark to the left of the date. Denver coinage is recognized as part of complete sets of quarters and also condition is inspected closely.
1929 Standing Liberty Quarter
No Mintmark on Obverse: Philadelphia Mint Struck the Coin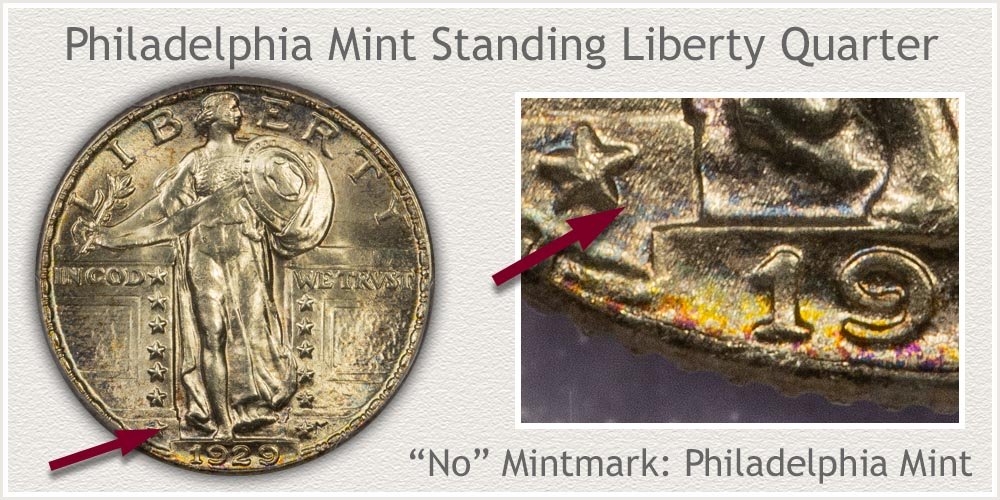 The main mint, Philadelphia, produced the largest quantity of quarters in 1929 over 11 million. These are the abundant variety of the year. After confirming date and mint, Step 2 Grading helps find premium value examples sought by collectors.
No mintmark was use by Philadelphia on Standing Liberty quarters. Absence of a mark identifies the variety. Look at the left side of the date, the area on the wall between the lowest star and date is empty, confirming the Philadelphia coin.
Step 2: | Grading Condition to Identify Collectible Quality
Collectible Grades Define 1929 Quarter Value
Grading the condition of your quarter immediately points out coins with potential to higher collectible quality. Heavily worn 1929 quarters are worth close to their silver values; nice well detailed examples are those sought by the collecting community.
Liberty is finely detailed; many high and low relief elements are part of the design lending to points to inspect for signs of wear and reduction in metal. Different degrees of wear are defined into grades. These grades are represented by images to compare your coin finding a close match.
Inspecting a quarter in mint state grade is an excellent place to start. All original details are as minted on these coins without wear.
Mint State Grade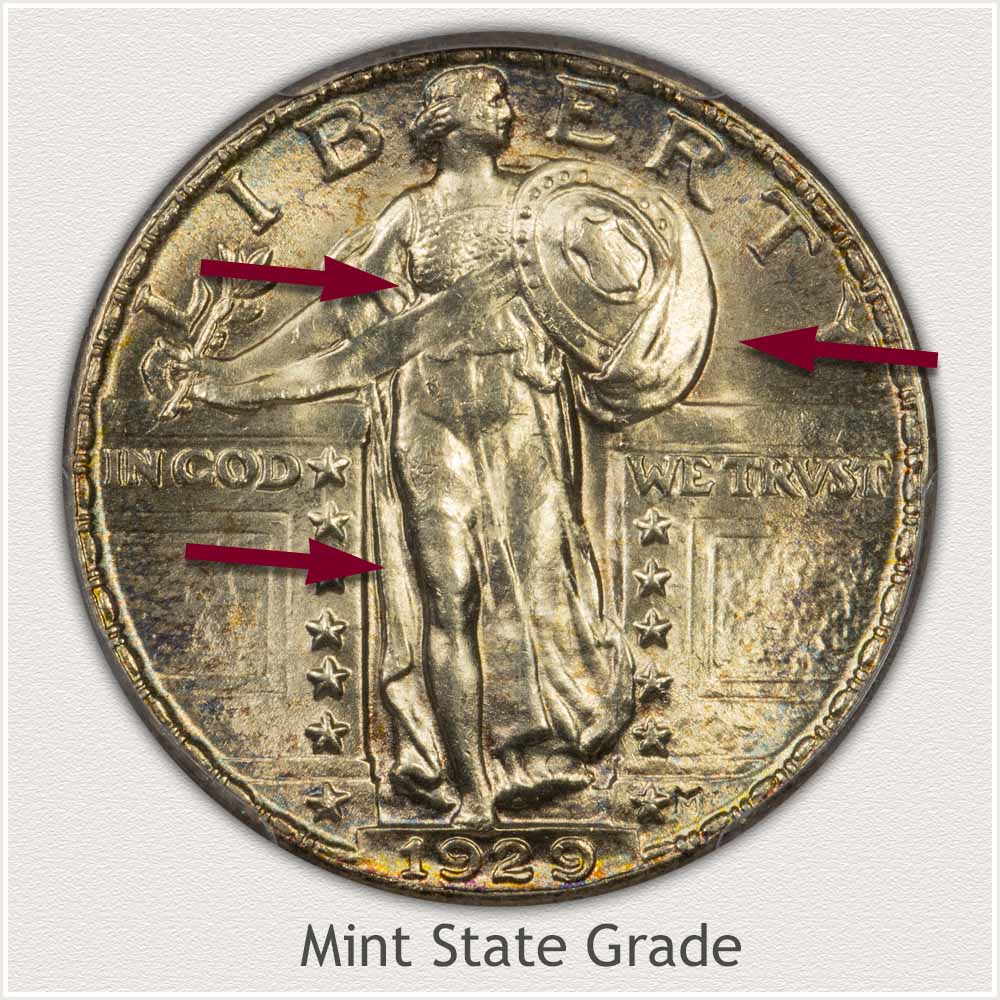 Mint State: Coins in original condition as when they first left the mint are a prized collectible. No wear has occurred to the surface of these coins defining the mint state grade. A good indicator of no wear is complete luster with no dulling and smoothing to the high points of the design.
Part of the full figure of Liberty is her right leg striding forward. This area is one the highest contours of the design and shows evidence of wear quickly. On mint state quarters the leg is fully rounded in profile, luster is intact, and a shine is similar to surrounding metal. Wear dulls the shine and creates a flattened line along the ridge of the leg's contour.
Crossing over the mid-section of Liberty is a scarf held in her hand and extending to the shield. Luster is complete along the entire scarf, no dull or smooth surfaces. Inspect the top and bottom edges of the scarf, these are highest in profile and would show any wear causing smooth areas and dullness to the metal.
Extremely Fine Grade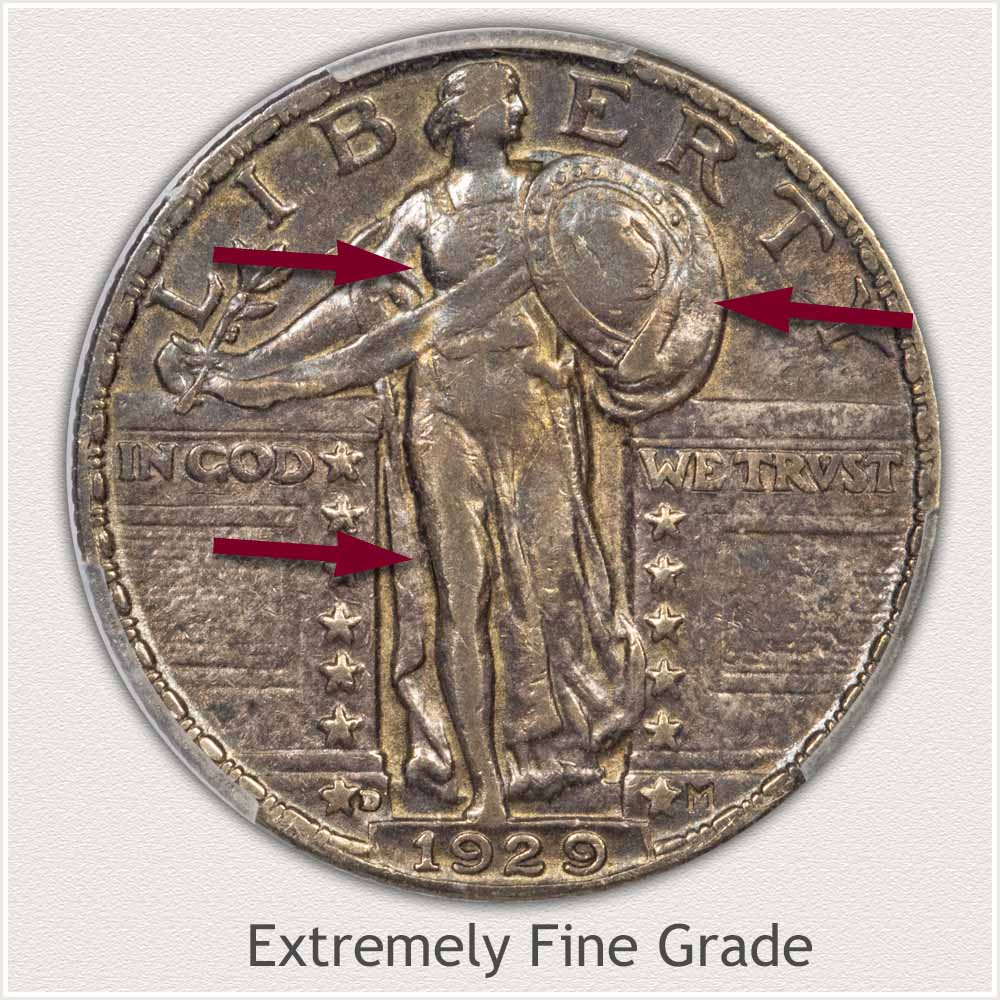 Extremely Fine: A majority of the finer details remain on a quarter in Extremely Fine grade. Only traces of wear is detected at the high points of the design. Eye appeal and pleasing surfaces help define a coin in this collectible quality.
A small amount of contour has worn flat on the top of the right leg of Liberty. Her knee is slightly worn with flatness on the leg extending from the thigh to foot. A contour must remain on either side of the leg.
Wear has dulled the once bright luster on the scarf from Liberty's hand to the shield. Small smooth areas are just visible along the upper and lower edges of the scarf. Across her midriff the scarf is well defined and with contours high and low. Crisp and sharp details are seen overall.
Fine Grade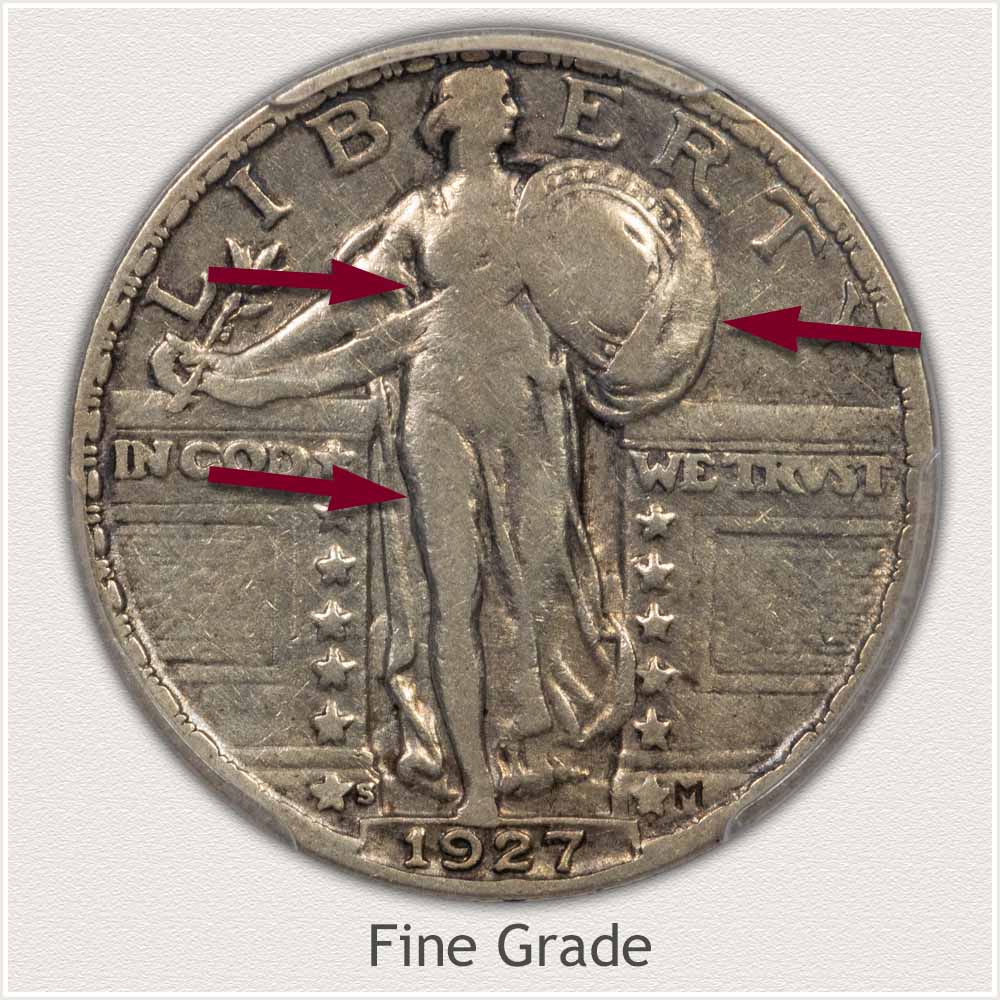 Fine Grade: Moderate wear is visible as flatness over the majority of Liberty. Fine details within the center of the shield are missing and merged.
Liberty's right leg is flat from her hip to foot. Evidence of the knee is missing. Remaining are slight contours either side of the leg and hip.
As the scarf crosses Liberty only portions of the upper and lower edges are visible. With traces of the scarf still intact, the grade of Fine is awarded to the coin.
Good Grade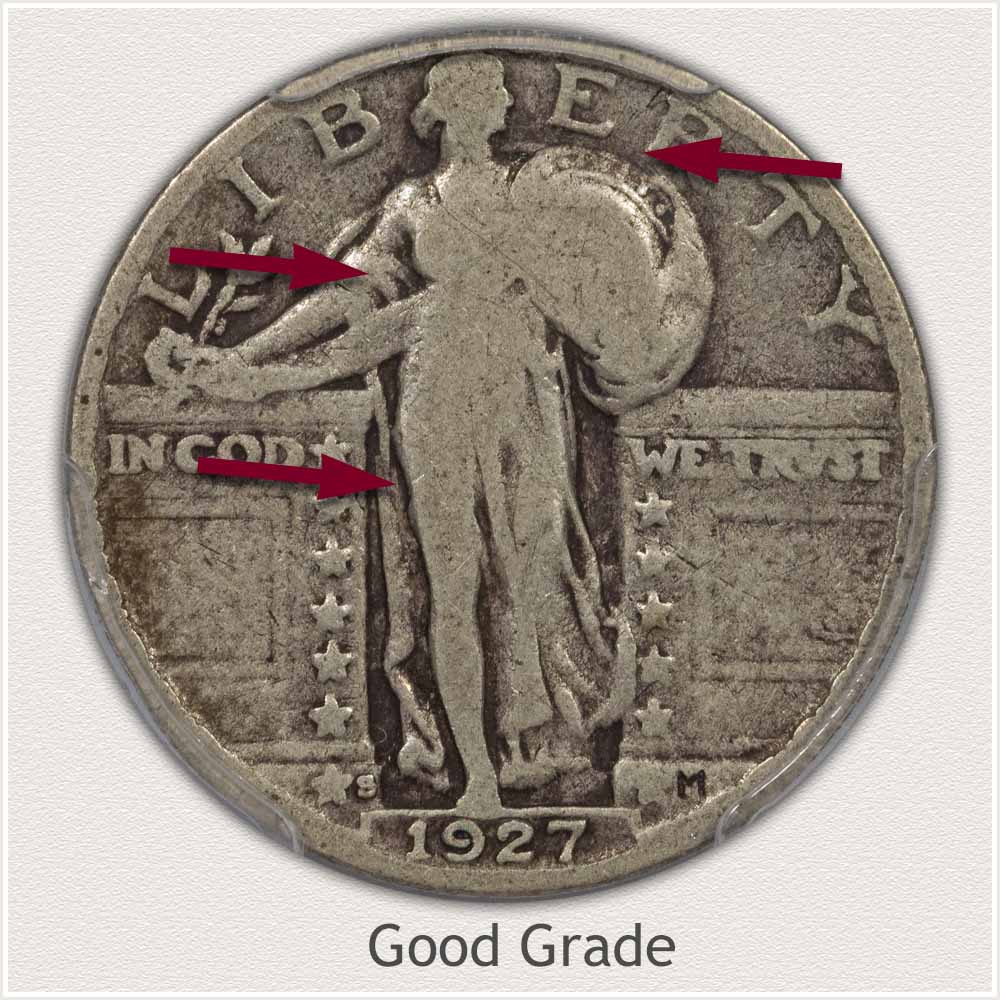 Good Grade: Overall appearance of a quarter in Good grade is heavy wear flattening the majority of Liberty.
Liberty's features are now smooth in a continuous flat area from her foot through the mid-section and missing details across the shield. Parts of the upper edge of the shield remain.
Loosing all traces of the scarf over the middle of Liberty places this example quarter in the Good grade. A strong date and lettering remain.
How to Video: Grading Standing Liberty Quarters
Extremely Fine grade and above 1929 quarters are collectible quality and highly valued by collectors. Explore subtle points to grading these coins.
Video, Images and Descriptions | Grading Standing Liberty Quarters
Step 3: | Special Qualities: Common to Scarce Value
Quick Reference | Bullion or Collector Value
1929 quarters are a year where the majority of the coins available today are heavily worn and fall below "collector quality". Low condition examples are considered common to the point they trade using silver content as the base to value. Collectors refer to these worn coins as "bullion quality" or as a less desirable "junk silver".
Significant to a bullion quality Standing Liberty quarter is value moves up or down with the price of silver. Unlike bullion coins, a collector quality coin's value is stable, supported by a stable collector base. Collector quality is also valued higher, often many times higher.
Minted during the 1925 to 1930 years, 1929 quarters are part of the second variety of the series with the date recessed and protected from wear. Over 73 million of the variety were minted and are the majority found today. Many are available to choose from by a collector and nice examples are the quality in demand.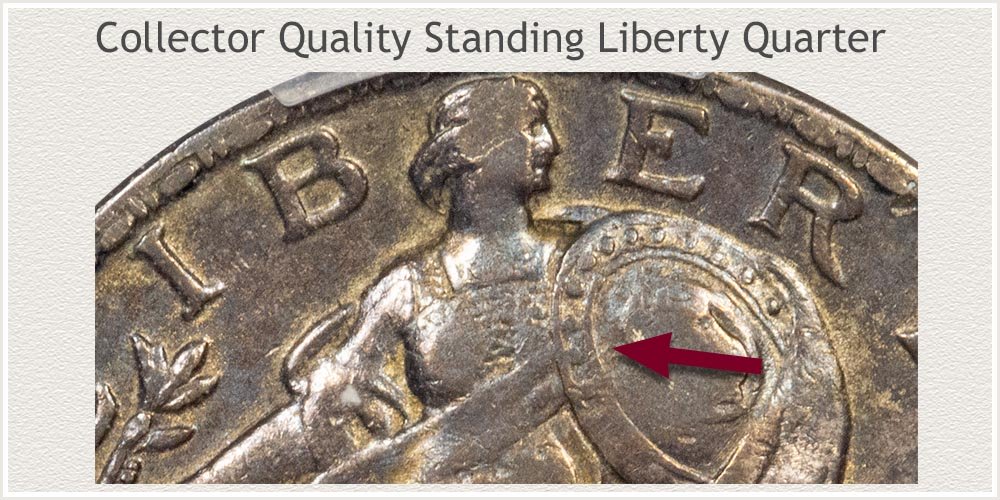 Collector Quality: Illustrated is a high condition coin sought by collectors. The defining point of condition is a visible and strong edge to the shield as it crosses Liberty. A full line to the shield - collector quality and value.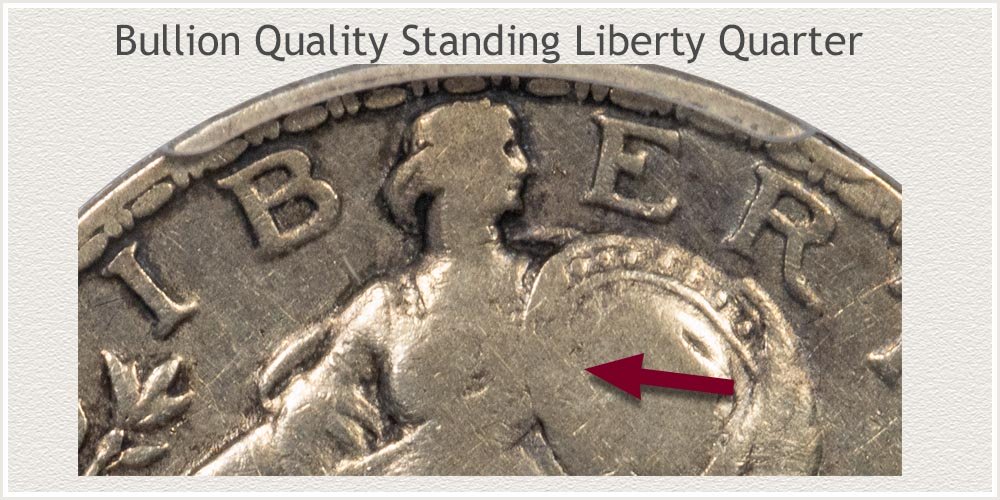 Bullion Quality: This second coin is lower condition and a bullion valued 1929 quarter. The edge of the Shield is missing as it crossed over Liberty. A small but important detail of the Shield edge merging with Liberty is placing the coin along with the majority commonly found. Major design elements blending - bullion quality and value.
A quick reference to many of the common dates and mints within the years 1925 to 1930 is a full shield rim visible; is a highly valued coin.
References
U.S. Mint. 1930 U.S. Mint Annual Report https://nnp.wustl.edu/library/book/332
U.S. Mint. 1948 U.S. Mint Annual Report. https://nnp.wustl.edu/library/book/339
Coin Values | CoinStudy Articles
Date by Date
In Depth Standing Liberty Quarter Values
1917 to 1930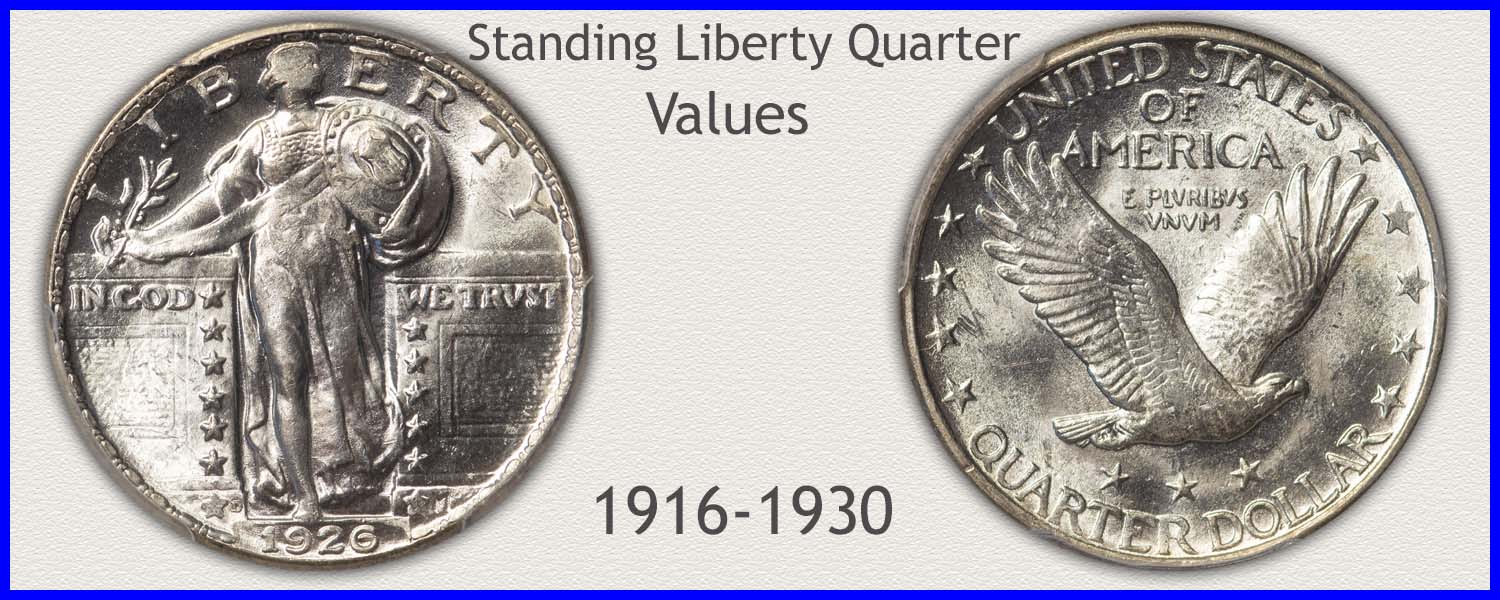 Standing Liberty Quarter Values | Strong Demand
Popularity of the series with both advanced and new collectors supports strong premiums on many date and mintmark combinations. Value chart lists all issues of the Standing Liberty quarter series.
Print the Coin Values Worksheet
List collectible Standing Liberty quarters separately by date and mint variety. Add the bullion quality numbers to the list and record their values. Identify and organize your collection, keeping a summary of all coins.
Popular Coin Series | Standing Liberty Quarters
A study of Registry Set collection totals begins to identifies popular coin series. Collectors post their collections to share their interest in a coin series. Standing Liberty quarters are solid in popularity. Ranking the total collectors involved in a particular series gives insight into popularity.
Images to identify U.S. coins along with charts of minimum values. A quick beginning to the step-by step method used to place a starting value on coins. Bookmark to phone to recognize starting value of coin series. Each links to expanded charts. Identify important dates and judge condition to find premium coins and a narrow value range.
★Coin Values Discovery finds 1929 Quarter Value and...
U.S. coin values determined using a step-by-step process. Begin with identifying the major coin series covering cents to gold coins. Images are used throughout to compare dates, mint varieties, special varieties, and grading condition of your coins. Follow a few steps to a narrow range on value charts.