1963 Franklin Half Dollar Value
You can look upon 1963 Franklin half dollar value as split into two main groups. First, worn circulated coins are traded as bullion pieces, currently $6.75 each as of (2/20/2017 ).
The second area of value is the high quality examples sought by collectors. They are willing to pay above base silver price for conditionally scarce examples. Now it becomes important to recognize the qualities of the coin. Is your Franklin half worn or in like new condition and of greater value to coin collectors.
Silver value has risen over the years and pulling with it the value of all old US silver coins. Along with this increase in worth comes a greater interest in the Franklin half dollar series, one of the last all silver content designs.
The coin image to the right is an example of collector quality. Mint luster still covers the entire coin and few marks or abrasions mar the surface. See the important grading section below.
Old time collections often contain very nice 1963 half dollars. Set aside in the year of minting and remaining today in very nice condition. Often these coins are beginning to tone subtle shades of blue and gold adding even more collector appeal. A condition rarity 1963 Franklin half is highlighted further down the page.
1963 Franklin Half Dollar Value

Condition of Coin
Date
Average
Circulated
Extremely Fine
XF
About
Uncirculated
AU
Uncirculated
1963
$6.75
$6.75
$6.75
$8.59
1963 D
$6.75
$6.75
$6.75
$8.59
1963 Franklin Half Dollar Value Updated
2/20/2017
Total mintage figures for 1963 Franklin halves alone lead me to guess your half dollar is from the Denver mint. Look on the reverse just above the Liberty bell for a small "D." By far there is more Denver 1963's than any other date or mint Franklin half for that matter. This does not diminish its value to collectors however.
Collecting Franklin half dollars by date and mintmark is very popular, with a continued demand for all. Realize that if your coin is without the mintmark it was produced at the Philadelphia mint with less than a third minted than Denver.
The Why to Condition and 1963 Franklin Half Dollar Value
Tops in interest are outstanding condition Franklin half dollars, this is where the value action takes place. Millions were produced and saved, leading to today's ample supply. However the quest facing collectors is obtaining finest quality examples.
Quite a bit of study goes into understanding the subtle differences in condition and translating into grades. By far the breakaway condition is the "uncirculated" grade. Compare closely your coin to both the Uncirculated and About Uncirculated images below.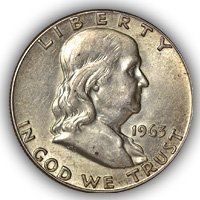 Uncirculated: As part of the 1963 Franklin half dollar value process collectors assign "grades" to the condition of coins. Leading in desirability is the "uncirculated" grade. This is a coin with essentially no wear to its surfaces.
Does your coin still retain original mint luster, with the look of a new half dollar? If tilted under a light and slowly rotated mint luster shines in bands across the surface. Any wear to the coin and this luster becomes missing. Look closely at Franklin's shoulder, collar and chin; these are some of the first areas to wear.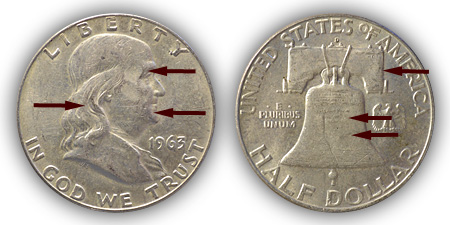 About Uncirculated: Take your time here, small details are critical. This grade separates bullion value 1963's from those worth collector prices. Once the high points of the design begin to wear a coin is graded as "about uncirculated" condition. To fit in this grade your coin should have most of the original mint luster remaining, and the wear must be light. The cheek of Franklin just below the eye typically shows the first signs of wear. Also confirm only light wear present on the shoulder, it shows as a dulling to the shine without much removal of metal.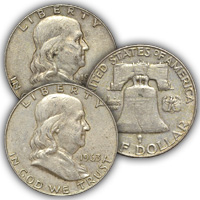 Average Circulated: All worn 1963 Franklins are grouped into this "average circulated" value category. The amount of wear is not an issue; value is based and fluctuates on silver price. Your coin is 90% silver and even though it misses as a collectible it's still valued at $6.75 each. The overall look of the coin is a silver grey without any mint luster, that shine of a new coin.
The easiest area I have found to check is the lettering in the center of the Liberty bell. If the lettering is missing it confirms your coin is worn and you can confidently value it at the bullion silver level.
Top Condition Leads to Top Value 1963 Franklin Half Dollar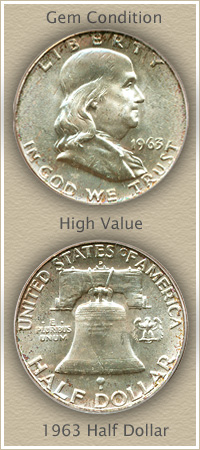 When a coin meets all the points to qualify as tops in quality its value is often determined by auction results. Conditionally rare Franklins are eagerly sought by advanced collectors today. When a remarkable coin is offered at auction bidding is predictably very active.
Pictured is an exceptional 1963 Franklin half, with these outstanding features.
1) Bold Strike: In a year noted for soft mushy details few are as intensely sharp.
2) Pristine Surfaces: Large coins tend to attract marks and nicks; finding any Franklin half without these detractors is rare.
3) Luster and Toning: Combining unusually bright luster and just a touch of toning has rendered a pleasing vintage look. Originality is highly valued.
Bidding at a David Lawrence rare coin auction took the value of this gem 1963 Franklin half dollar to $97.75. Under bidders never know how long before they have another opportunity to acquire such quality, and at what price.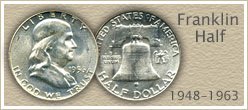 Complete Series Listing of Franklin Half Dollar Value

Franklin half dollars are highly valued not only for their silver content, currently $6.75 per coin, but are now becoming a sought after collectible. All dates and mints listed on the chart, with links to specialized silver value pages.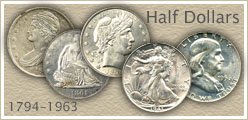 Half Dollar Value Spanning All Series

Never a week goes by without movement in half dollar value. Silver is the driving force to most of 1963 Franklin half dollar value, however many halves are in the higher collectible range. All series are listed with value charts and important grading images.
Coin Values Discovery finds... 1963 Franklin Half Dollar Value and...

There is potential with any coin, if it seem a little daunting sorting it all out, begin at the home page to identify your coin values. Match your coin to the images on the home page - each is linked to the specific US coin series and their value charts.
All coins are valued individually; important details such as Mintmarks and Grading Condition are covered in depth. A few steps are necessary in the process, however all combined - discovers the accurate value in your box of old coins.
Top of Page