Coin Values Moving with Precious Metals: Up-Dated 7/26/2021: Gold $1806 | Silver $25.20
1960 Franklin Half Dollar Value
It is the price of silver driving your 1960 Franklin half dollar value? Currently each is worth $8.49 at the minimum.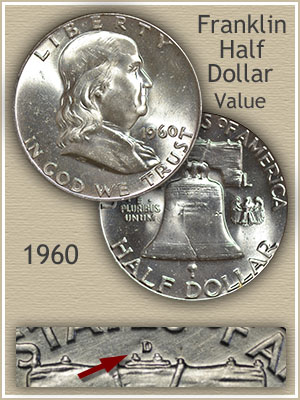 1960 half dollars are one of the years where the dividing line between bullion value and collector value is the "uncirculated" condition. Your job in determining value is a little easier.
If the coin is worn it is worth bullion silver value.
The part to judge closely is the difference necessary to qualify as the uncirculated collector condition.
Below the value chart see the section on grading Franklin halves. It is important to recognize the difference in surface qualities of your coin and recognize the uncirculated grade.
Franklin half dollars are steadily growing in popularity. With 35 date and mintmark combinations a complete display of uncirculated examples is quite impressive. These coins are not too expensive (currently) and just enough of a challenge to make them fun to collect, adding to their appeal.
Have a close look at the 1960 half dollar pictured; it is notable because of its bright luster and mark free surfaces. The rarity of coins in top quality is now becoming recognized by collectors.
Two different mints coined half dollars in 1960, the main mint in Philadelphia and the branch mint in Denver. Although both are valued the same, collectors are interested in obtaining an example of each to complete a collection. Look on the reverse for the "D" mintmark of the Denver mint just above the bell, no mintmark indicates the Philadelphia mint.
1960 Franklin Half Dollar Value
Condition of Coin
Date
Good
Fine
Extremely
Fine
Uncirculated
1960 Franklin Half Dollar Value Updated
7/26/2021
1960
$8.49
$8.49
$8.49
$11.66
1960 D
$8.49
$8.49
$8.49
$11.66
Elusive Perfection and 1960 Franklin Half Dollars
Huge numbers of half dollars were produced in 1960. Of those, how many have survived to this day in perfect condition? Unfortunately not many. The number of what collectors term "superb gems" is small and compared to earlier dates quite small.
Always in demand to enhance a top quality collection, pictured is a coin combining all the necessary features to qualify as one of the finest 1960 Franklin half dollars. Its eye appeal is remarkable. Vivid colorful toning, flashes of brilliant luster underneath, bold strike and virtually no marks to the surface. There is simply not enough of these top quality coins to meet the demand.
Offered at a David Lawrence auction, the half dollar pictured was bid to $460, a very reasonable price for such a coin. However it is evident 1960 Franklin half dollar value really takes off when a top condition coin is offered into the market. The stunning colors really set this coin apart, rarely are they so vibrant.
Finding Collectible 1960 Franklin Half Dollar Value
Judging the condition of your coin is known as "grading" within the hobby. Close inspection of the surface quality, amount of wear and damage is all considered to arrive at a grade. 1960 Franklin half dollar value is especially sensitive to the difference between the uncirculated grade and any coin that is worn.
As shown on the value chart the dividing line is the "uncirculated" grade. View closely the differences between the "uncirculated" and "about uncirculated" images.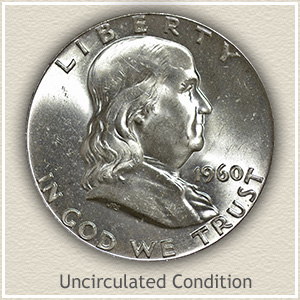 Uncirculated: 1960 halves are comprised of two main value groups, those that were used in circulation and became worn and Uncirculated coins without any wear. It is the uncirculated grade that is in demand by collectors.
Essentially a coin without wear to the surface is termed "uncirculated." Mint luster, the shine of a new coin, still radiates over the entire surface and is used to judge this grade. If any luster is missing it indicated worn surfaces. By slowing rotating and tilting your coin under a light check Franklin's cheek and on the reverse the center of the Liberty bell. Any dulling and change in texture is the first indication of wear.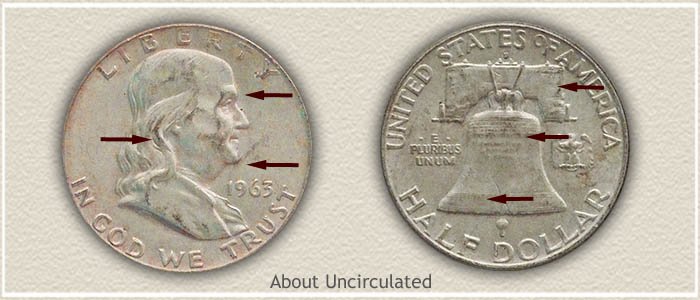 About Uncirculated: Slight wear to the surface defines the "about uncirculated" grade. Wear is evident by the diminishing of original mint luster.
Even a short amount of time in circulation and this delicate luster begins to fade from the high points of the design. Franklin's eye brow, cheek and hair behind his head quickly wear and the texture of the luster is replaced by a smoothness. Within the center area of the Liberty bell is also an area to inspect for signs of wear. The about uncirculated image also highlights the edges of the Liberty bell and also the straps that cross the beam as areas first to wear.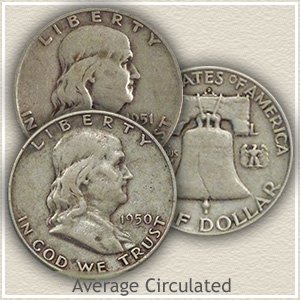 Average Circulated: If your 1960 half dollar is obviously worn it falls into the "average circulated" category. Value is now tied directly to silver prices. Wear covers the surface removing hair detail and on the reverse all central detail to the Liberty bell is worn smooth. These coins are traded as a bullion pieces without any distinction to the amount of wear.
Coin Values | CoinStudy Articles
Date by Date
In Depth Franklin Half Dollar Value
1948 to 1963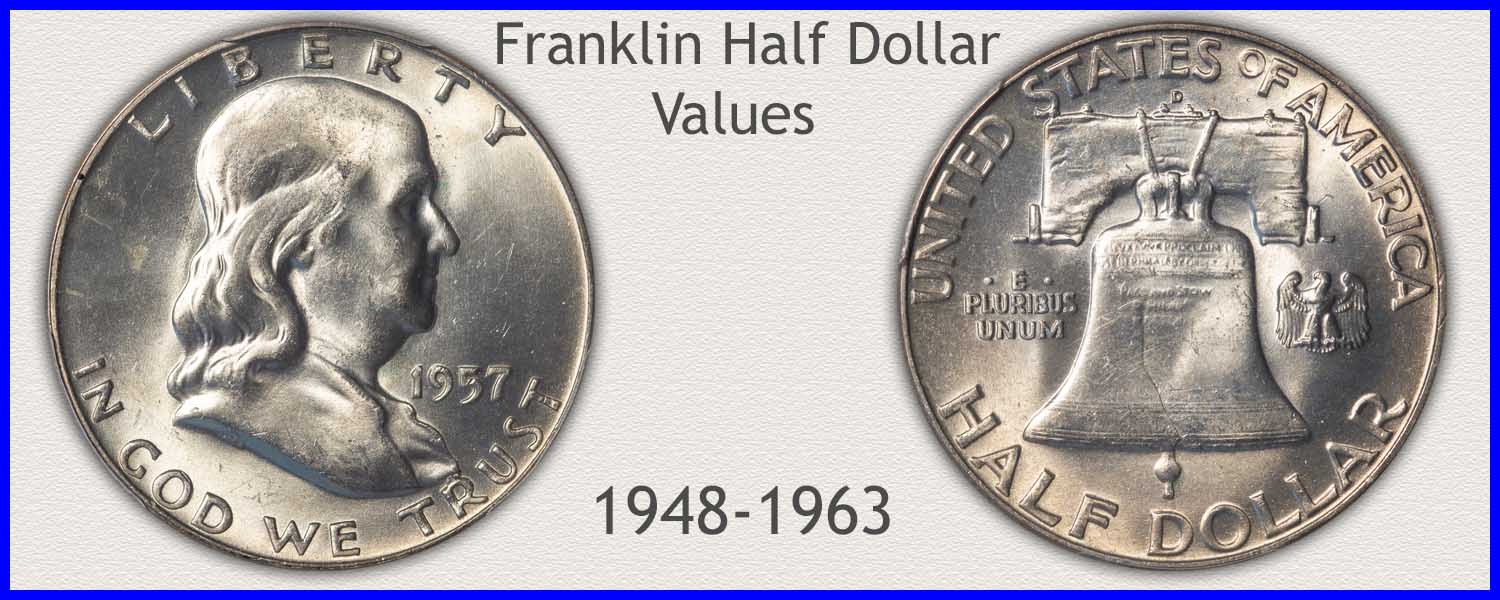 Complete Franklin Half Dollar Value Chart
In today's market, values of many Franklin halves move in line with the price of silver. However, the value chart shows a few dates and mints and especially the better condition coins break away from this base silver price.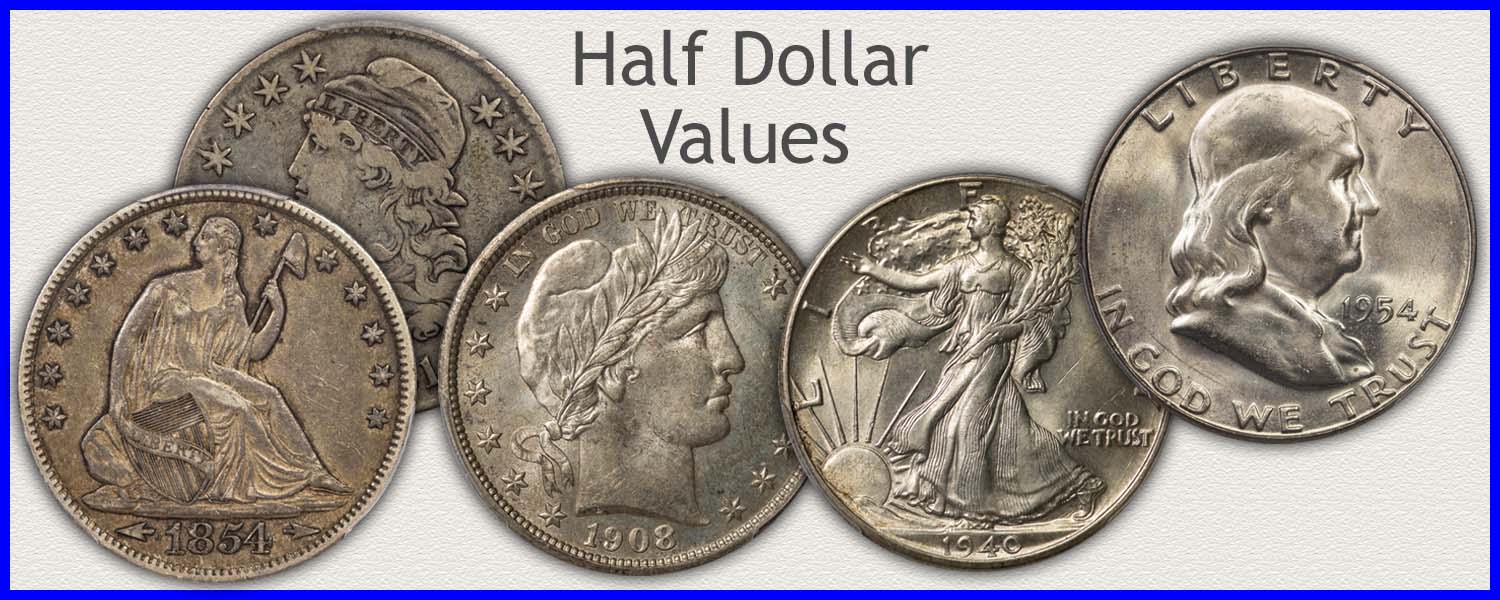 Complete and Current Half Dollar Value
Never a week goes by without movement in half dollar value. Ever changing silver price is the driving force to most of 1960 Franklin half dollar value, however most older halves are in the higher collectible range. All series listed with grading images and value charts.
★Return to Coin Values Discovery... find 1960 Franklin half dollar value and... Coin Values of all US series. Use the image index to identify your coin. Pennies through gold coins all have value charts, mintmark locations described, and importantly grading images to determine condition and find an accurate value of your box of old coins.
Preparing to Sell Silver Coins
Silver Franklin half dollars are in demand by dealers. These old coins are very liquid in the coin collecting market. There are always buyers interested in purchasing your coins. Receive the highest price by separating the collectable from the bullion priced pieces. For more info see the Sell Silver Coins article.