Coin Values Moving with Precious Metals: Up-Dated 11/27/2023: Gold $2010 | Silver $24.66
1960 Franklin Half Dollar Value
It is the price of silver driving 1960 Franklin half dollar value. Currently 11/27/2023 each is worth $8.31 at the minimum. Circulated - worn examples trade at these bullion levels.
Collectors place higher premiums on coins in mint state condition. This high level of preservation is recognized and judged in Step 2 of the step-by-step process below.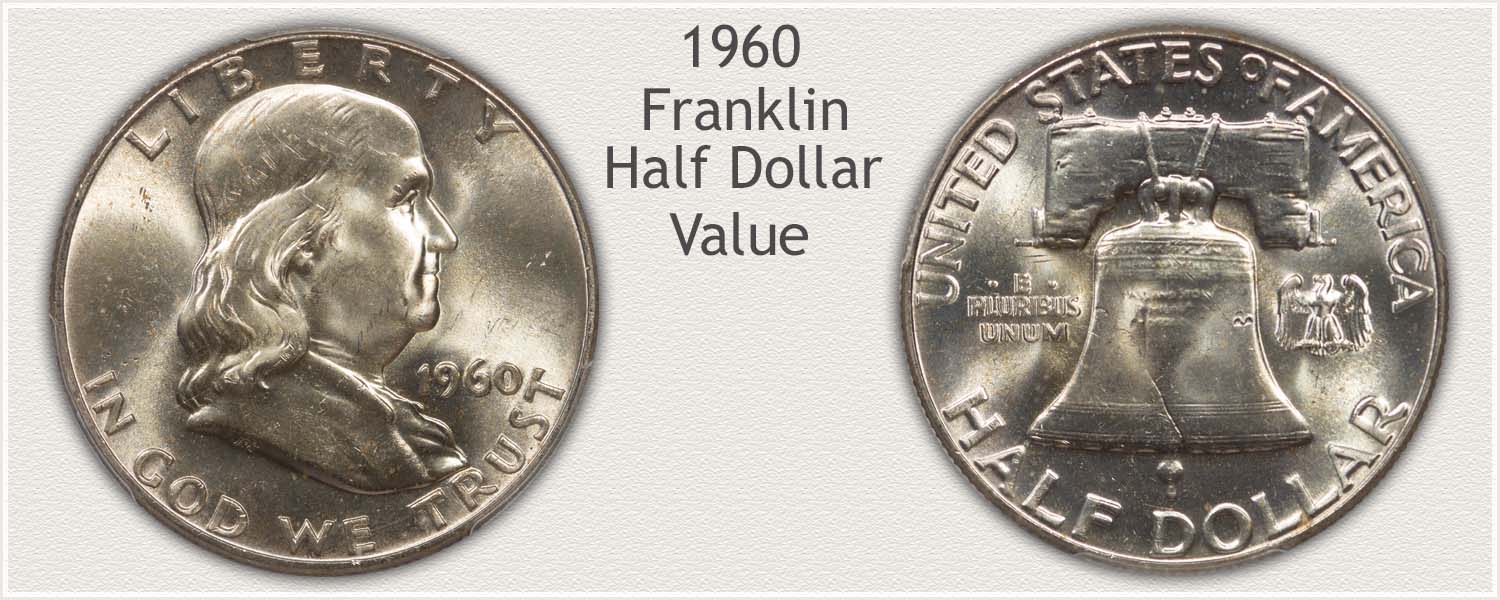 Steps Leading to Value:
Step 1: Date and Mintmark Variety - A popular form of collecting Franklin halves is a complete set of date and mint issues of the series. Each is valued and listed on charts. Important to identify correct mint variety.
Step 2: Grading Condition - A comparison to images of standard grades is made to separate bullion quality from collector quality.
Step 3: Special Qualities - Silver coins, a reactive metal, are examined for subtle qualities adding or diminishing eye appeal.
1960 Franklin Half Dollar Value
Condition of Coin
Date
Average
Circulated
Extremely
Fine
About
Uncirculated
Mint
State
1960 Franklin Half Dollar Value Updated
11/27/2023
1960
$8.31
$8.31
$8.31
$11.41
1960 D
$8.31
$8.31
$8.31
$11.41
Wholesale values are listed on the chart. These are a guide when deciding a selling range to a dealer.
1960 half dollars are one of the years in the Franklin series a large dividing line between bullion value and collector value is the "mint state" condition. Steps are used to accurately judge these coins.
Step 1: | Date and Mintmark Combination Identified
Mint Varieties of 1960 Half Dollar to Recognize
Mintage totals were typical for the Franklin series with 24 million 1960 half dollar struck. However, a large difference is seen in the numbers struck by the two mints in operation. The Denver mint produced three times as many halves as the Philadelphia mint.
Identifying the different mints is done by determining if a mintmark is present. Branch mints used mintmarks and Philadelphia did not at the time.
Collectors have noted the difference in production numbers and collect each date and mint for all years of the Franklin series. It is necessary to record the exact date and mint for an accurate evaluation of these coins.
1960-D Franklin Half Dollar
"D" Mintmark on Reverse: Denver Mint Struck the Coin
Collectors assemble set of coins by date and mint of each year's issue. Denver is the leading producer of Franklin half dollars in 1960 with a total of 18,215,812 struck. These are an abundant coin in worn condition and its primary value is silver content. A large coin, 90% silver, value moves as silver prices rise and decline.
High condition examples of 1960 half dollars are the coins sought by collectors placing a "collector" premium on exceptional pieces. A section on grading condition and the necessary factors to high grade is covered in Step 2 below.
Denver coinage is identified by the "D" mintmark on the reverse. Value charts list each variety of dates with the mint notation. Look just below the E on STATES, a small "D" mark is the Denver mint variety.
1960 Franklin Half Dollar
No Mintmark on Reverse: Philadelphia Mint Struck the Coin
To fulfill the needs of commerce for half dollars, Philadelphia struck just over 6 million halves in 1960. An ample supply remains today. Considered abundant, a strong market trades these coins based on silver content.
To reach premiums above the silver base value, excellent condition of the surfaces is needed. Coins set aside before becoming worn are the type in demand by the collector market. Grading the surface of Franklin half dollars is in Step 2 below.
Noted on the value chart are two varieties. Those without mintmarks are the Philadelphia issues. To confirm the Philadelphia coin, inspect the reverse above the beam. In the center, if the area is empty, Philadelphia produced the coin.
Step 2: | Judge Condition to Identify Premium Grade
Grading and 1960 Franklin Half Dollar Value
Judging the condition of your coin is known as "grading" within the hobby. Close inspection of the surface quality, amount of wear and damage is all considered to arrive at a grade. 1960 Franklin half dollar value is especially sensitive to the difference between the "mint state" grade and any coin that is worn.
Highlighted on the value chart a premium is found in the "mint state" grade. Worn pieces are valued based on silver content. View closely the difference between the "mint state" and "about uncirculated" images below.
Mint State Grade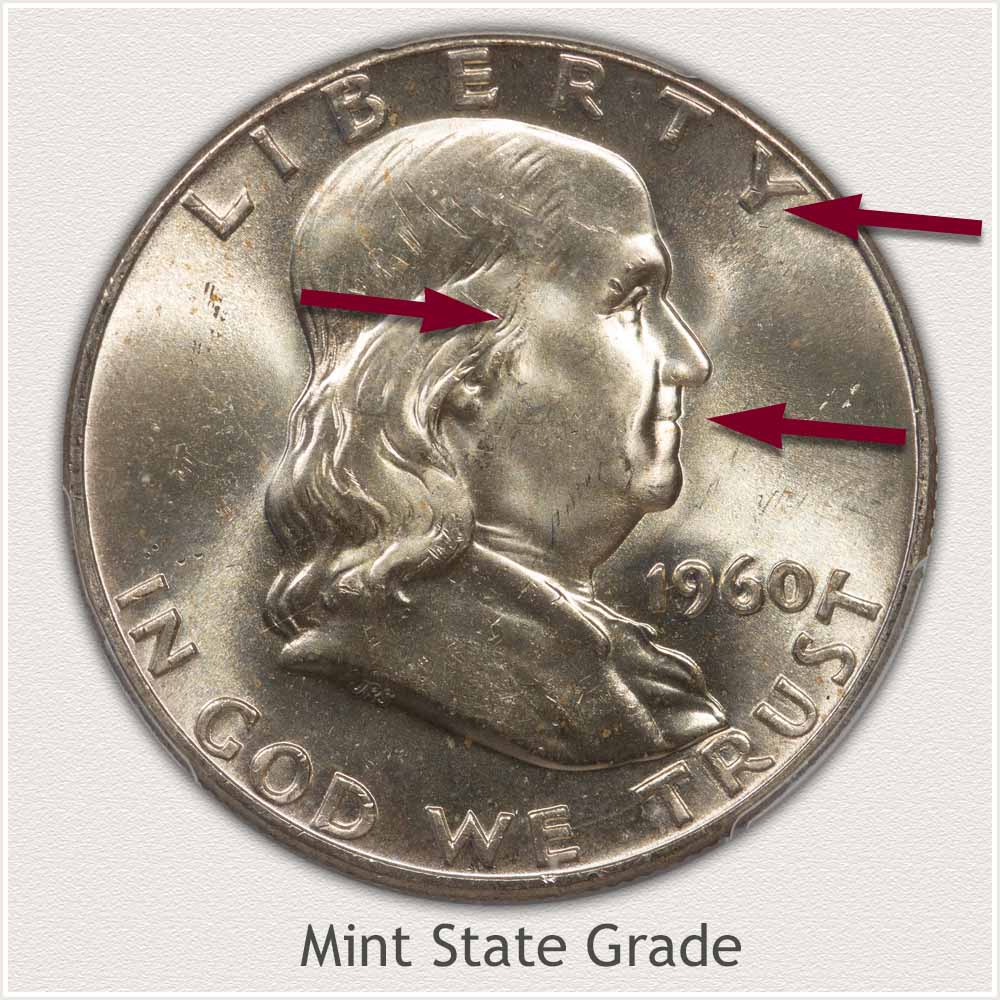 Mint State: 1960 halves are comprised of two main value groups, those used in circulation and becoming worn and mint state coins without any wear. It is the mint state grade that is in demand by collectors placing premiums above base silver value.
Essentially a coin without wear to the surface is termed "mint state." Mint luster, the shine of a new coin, still radiates over the entire surface and is used to judge this grade. If any luster is missing it indicates worn surfaces.
By slowing rotating and tilting your coin under a light; check Franklin's cheek for any smoothing of the surface and dulling (color change) of the metal. High areas of the cheek when compared to lower relief areas remain visibly similar on mint state grade pieces. Any dulling and change in texture are the first indication of wear.
About Uncirculated Grade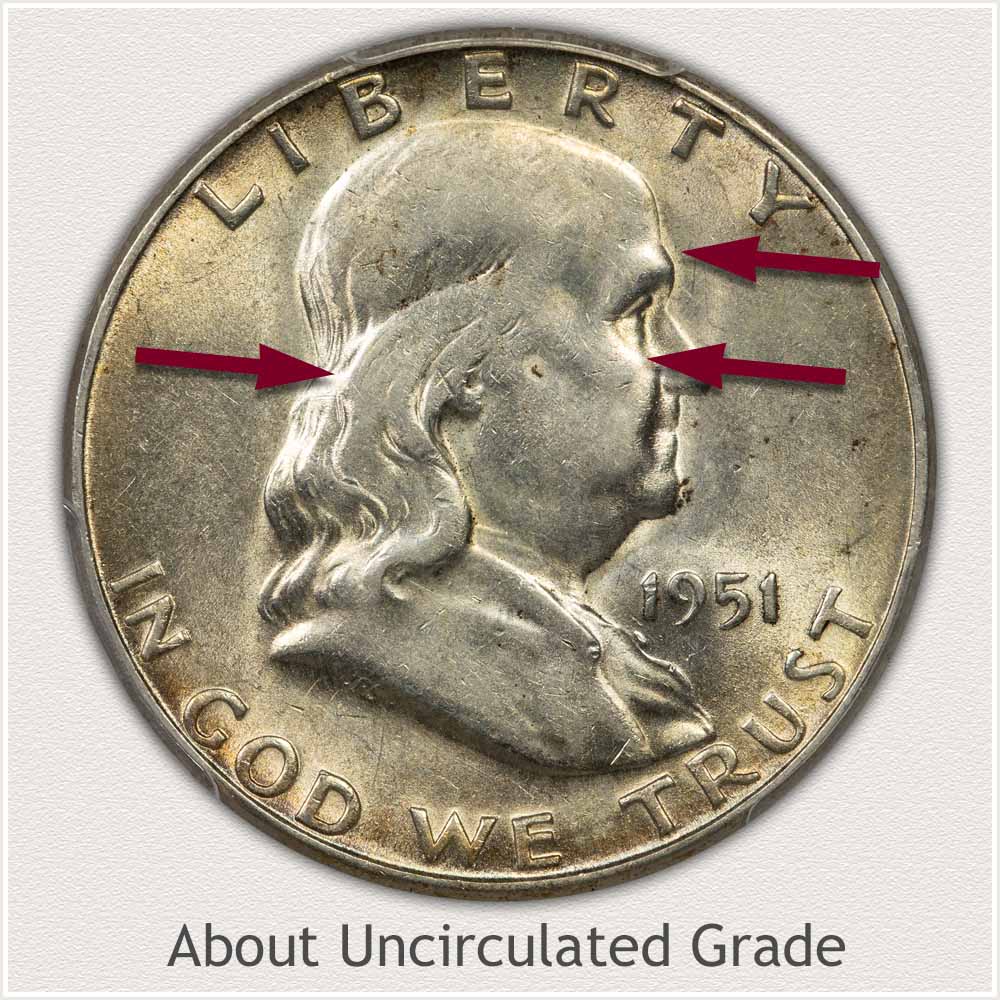 About Uncirculated: Slight wear to the surface defines the "about uncirculated" grade. Wear is evident by the diminishing of original mint luster. The amount of wear acceptable is very minor, confined only the highest points of the design.
Even a short amount of time in circulation and original luster begins to fade from the high points of the design. Franklin's eye brow, cheek, and hair behind his head quickly wear and the texture of the luster is replaced by a smoothness.
Notice on the example the color change found on high areas of Franklin's face. Wear has removed the fine texture of luster and smoothed the metal. A slightly different reflective surface to the metal results in fading of luster shine.
Extremely Fine Grade
Extremely Fine Grade: Displaying a minor amount of wear to only high points indicates an Extremely Fine grade half dollar.
The shimmer of luster has worn away and is missing. Notable is only a slight amount of wear is found overall. Franklin's cheek is without luster and on the very high ridges of contours small areas of flatness are developing. His eyebrow shows a distinct flat spot near the corner of the eye.
A soft grey color plus ample detail remains on eye appealing, lightly circulated half dollars.
Average Circulated Condition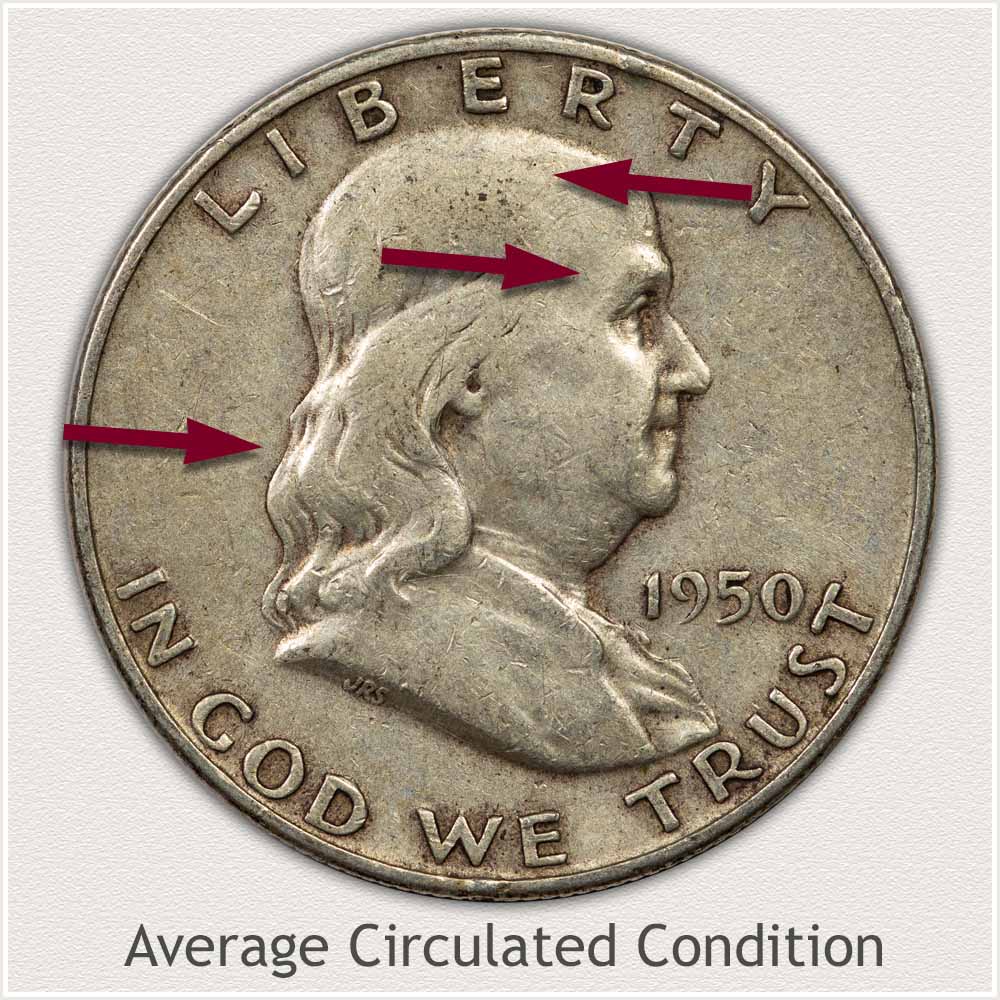 Average Circulated Condition: Obvious wear seen throughout the design places a Frankling half in the "average circulate" category. Moderate to heavy wear is causing flattened spots on high areas and removing fine details.
Hair details at the top of Franklin's head are missing. His cheek and eyebrow show obvious flat spots on high points. Confirming the condition is the lack of separation between the large waves of hair behind the ear.
Blending of major design elements is a deciding factor to judging a Franklin half as average circulated condition.
How to Video: Grading Franklin Half Dollars
Additional descriptions added to video help give insight into the grading process. With a few minutes of time and viewing the examples, the difference in quality and condition become easier to determine.
Video, Images and Descriptions | Grading Franklin Half Dollars
Step 3: | Special Qualities and Collector Coins
Quick Recognition of Bullion/Collector Value Premiums
Beginning in 1960 and continuing to 1963 the end of the series, production numbers of Franklins halves increased sharply. A demand for the coins, because of their silver content and rising silver prices was drawing many out of circulation. Silver traded at 91 cents an ounce in 1960 rising to $1.20 an ounce in 1963. Normal usage patterns of half dollars had changed, large quantities were set aside as stores of silver.
Today, two large separate markets exist for these half dollars. First is the silver bullion market supporting strong minimum values because of silver content. All Franklin halves are 90% silver and circulated/worn halves dated 1960 to 1963 trade at these levels.
Wear to the surface of the coins quickly separates the silver valued, bullion quality pieces. The image shows examples typical of coins with circulation wear and well within the quality of coins trading based on silver content.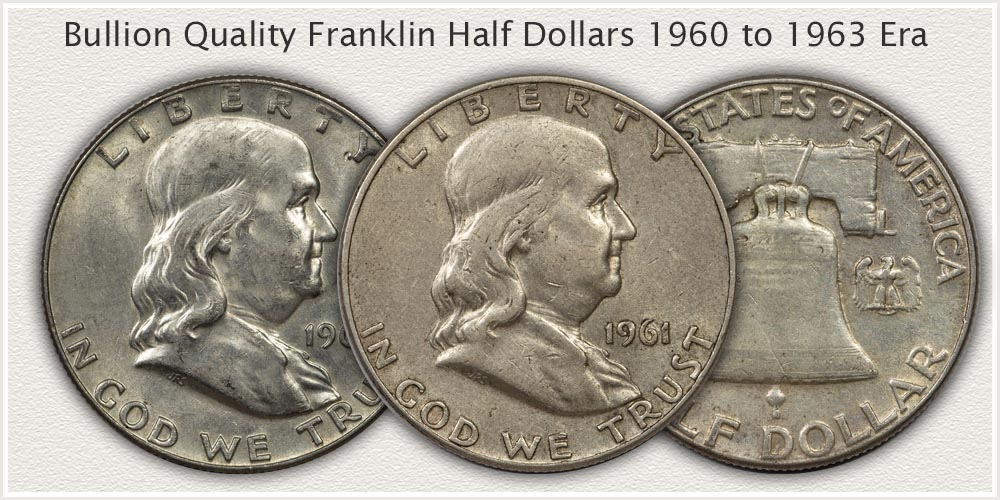 Note the missing luster on Franklin's portrait and grey tone to the metal of the above coins. Wear has removed the fine texture of luster and reduced the overall eye appeal. These were removed from circulation early after release but not before wear began to reduce the surface quality.
Second market is the collector market where premiums are awarded by collectors seeking high quality, eye appealing coins. Mint state coins, those without wear are in the collector quality category. Ample supplies of 1960 to 1963 Franklin halves were saved in mint state condition before entering circulation. It is these quality pieces showing premiums above base silver value.
Visual quality sets these half dollars apart from bullion coins. Eye appeal, and mint state surfaces are displayed by the example coins.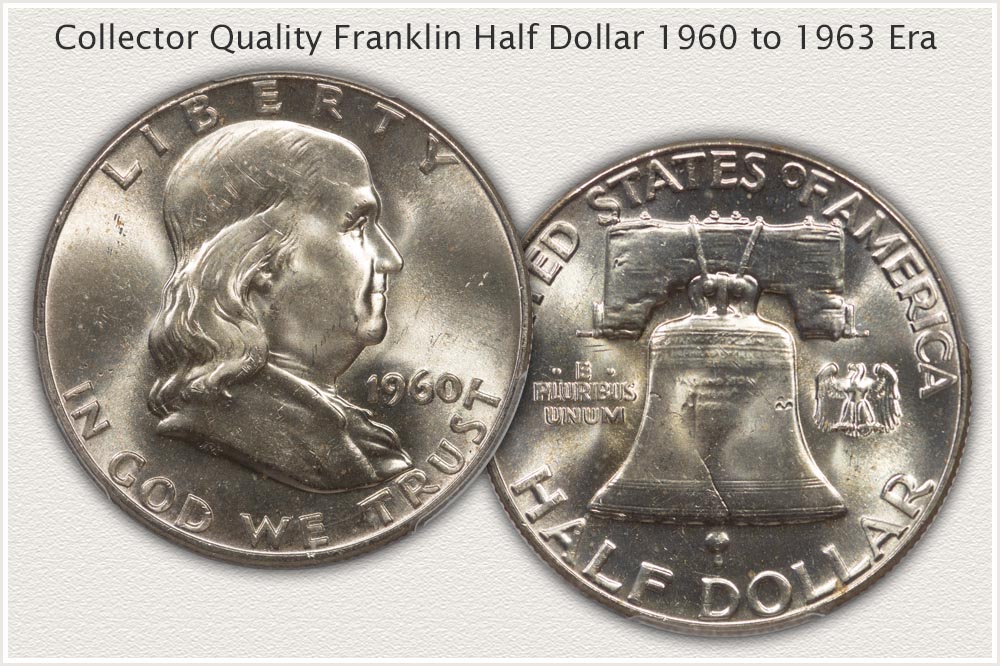 The above 1960 Franklin half dollar represents a high quality example. Noted for the bright luster, lack of marks to the surface, and strong strike. These above average condition coins within the 1960 to 1963 era are highly prized by collectors.
Two markets of Franklin half dollars are recognized by the presence or absence of wear to the coins.
Worn | Visible Wear to Surface: 1960 to 1963 Dates are Bullion Quality
Mint State | No Visible Wear to Surface: 1960 to 1963 Dates are Premium Value Collector Quality
Detecting wear to the surface is a quick quality and value check to the final few years of the Frankling half dollar series.
References
U.S. Mint. 1961 U.S. Mint Annual Report. https://nnp.wustl.edu/library/book/519605
U.S. Mint. 1960 U.S. Mint Annual Report. https://nnp.wustl.edu/library/book/514147
U.S. Mint. 1964 U.S. Mint Annual Report. https://nnp.wustl.edu/library/book/514149
Coin Values | CoinStudy Articles
Date by Date
In Depth Franklin Half Dollar Value
1948 to 1963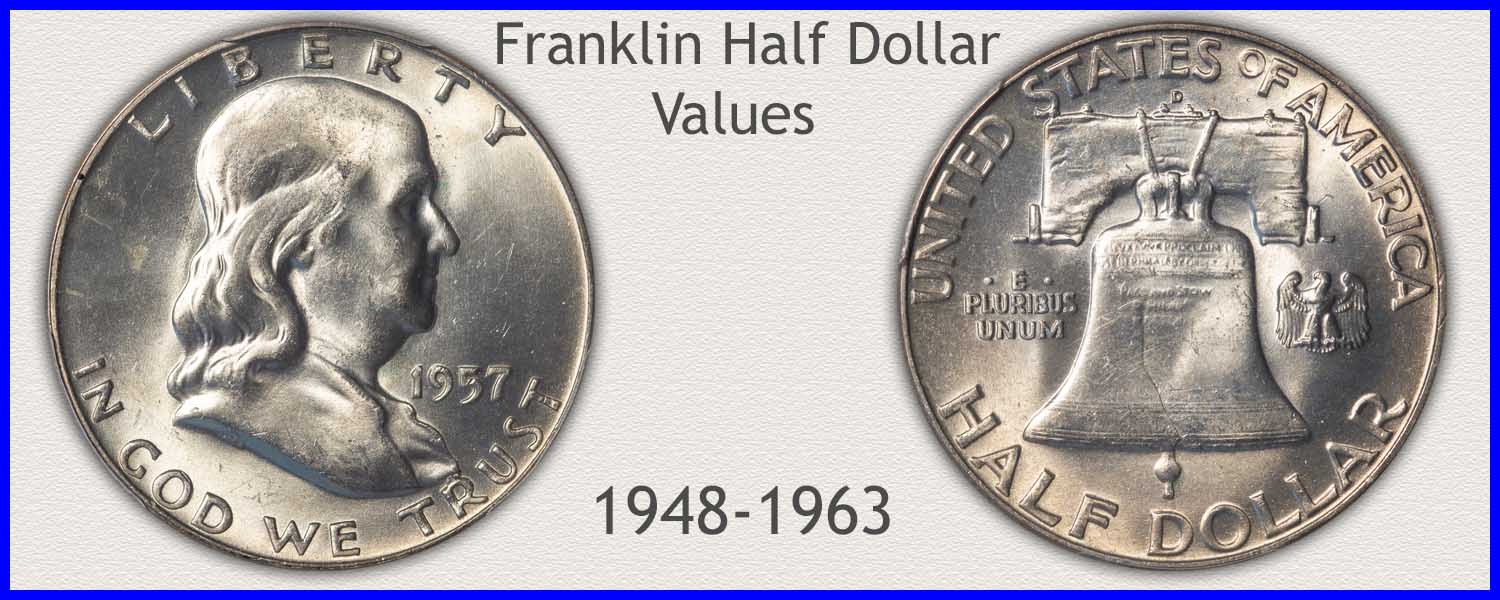 Complete Franklin Half Dollar Value Chart
In today's market, values of many Franklin halves move in line with the price of silver. However, the value chart of all dates and mints shows a few, especially the better condition coins, break away from this base silver price.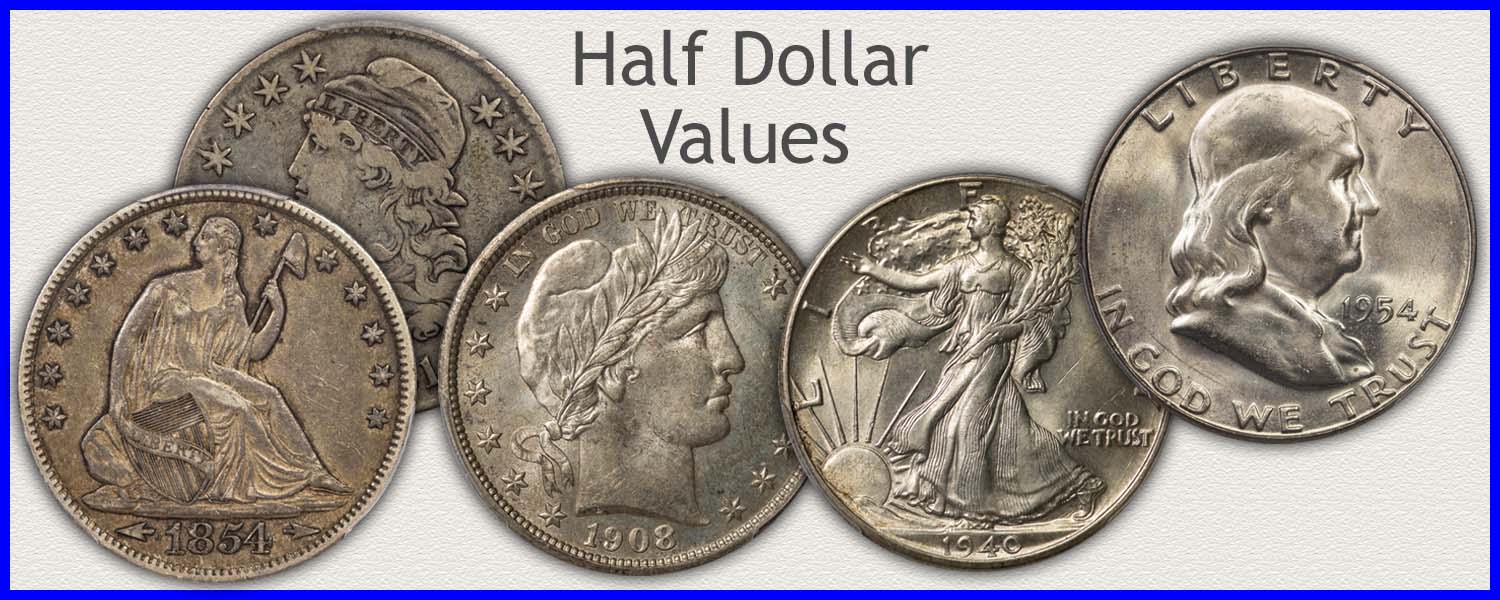 Complete and Current Half Dollar Value
Never a week goes by without movement in half dollar value. Ever changing silver price is the driving force to most of 1960 Franklin half dollar value, however many older halves are in the higher collectible range. All series listed with grading images and value charts.
Print the Coin Values Worksheet
Printable sheet to list and inventory your coins and record Franklin Half Dollar values.
Safe Coin Storage | Recommendations
Stored and housed properly, Franklin half dollars maintain their state of preservation and value. Recommendations on basic supplies that greatly improve coin storage.
U.S. Coin Values | Mobile Guide
Value charts and images combine to recognize your coin and determine its minimum value. From the early cent designs to Franklin Half Dollars to the rare Gold U.S. coinage. Each series is linked to expanded coverage of date and mint varieties, plus grading the different series to narrow a value range.
Silver Coin Values | Minimum Values of U.S. Silver Coins
Identify the different U.S. silver coins and find current up to the minute values. Franklin half dollars minted 1948 to 1964 are 90% silver. They are just one of many different series of silver coinage. Use the calculator, enter silver price and find silver value of dimes, quarters, half and silver dollars.
★Coin Values Discovery finds 1960 Franklin Half Dollar Value and...
Finding all U.S. coin values begins here. Your old classic U.S. coins are experiencing a renewed interest and higher value. Rising metal prices over the years have changed dramatically the minimum values of most coins.