Coin Values Moving with Precious Metals: Up-Dated 11/27/2023: Gold $2010 | Silver $24.66
1950 Franklin Half Dollar Value
Heavy with silver, 1950 Franklin half dollar value is currently $8.31 each. However, this is just the minimum to how much it is worth.
A step-by-step method used by collectors identifies the higher quality and different mint issues of the year. Recognize and separate the collectible quality and premium halves.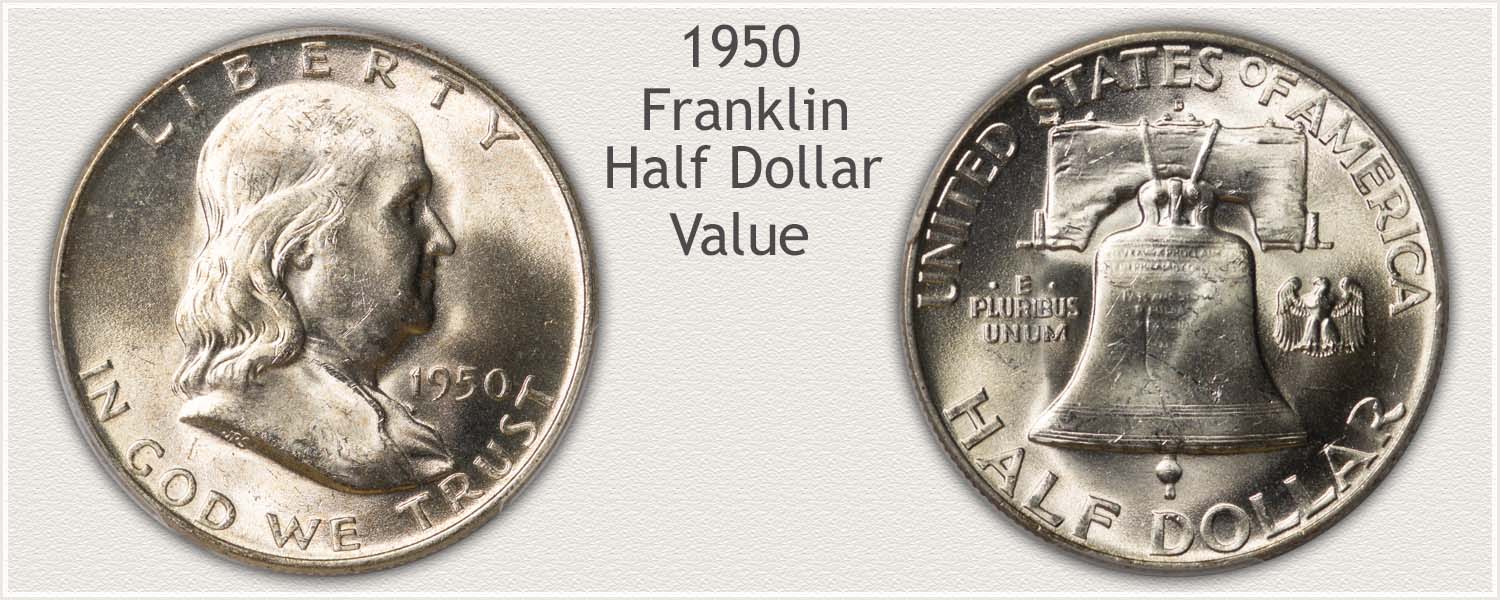 Steps Leading to Value:
Step 1: Date and Mintmark Variety - Franklin halves are now a vintage series. It's important to identify an accurate date and mint combination.
Step 2: Grading Condition - Comparing your coin to images of different grades is the key to finding a coin worth above base silver value. Follow the descriptions to judge your coin.
Step 3: Special Qualities - Subtle traits are often the difference between bullion half dollars and those sought by collectors willing to apply a premium.
1950 Franklin Half Dollar Value
Condition of Coin
Date
Average
Circulated
Extremely
Fine
About
Uncirculated
Mint
State
1950 Franklin Half Dollar Value Updated
11/27/2023
1950
$8.31
$8.31
$10.19
$17.75
1950 D
$8.31
$8.31
$9.86
$15.58
Use the above chart to get a range of wholesale values, what dealers pay. The majority of circulated 1950 halves move up or down in premiums based on silver and are up-dated weekly.
By looking closely at your coin, you can spot the distinct difference, from one that is average circulated condition and one nicer in appearance, and the type awarded a higher value.
Steps below use detailed images and description to accurately judge these old half dollars.
Step 1: | Date and Mintmark Issue Identified
Mint Varieties of 1950 Half Dollar to Recognize
After confirming the date, a necessary step is identifying the mint that issued the coin. Two mints struck Franklin halves in 1950 and each is identified by the presence or absence of a mintmark on the reverse.
Both varieties of 1950 halves are listed on charts and each is needed by collectors to complete sets of half dollars. Date and mint combinations narrow the value range.
1950-D Franklin Half Dollar
"D" Mintmark on Reverse: Denver Mint Struck the Coin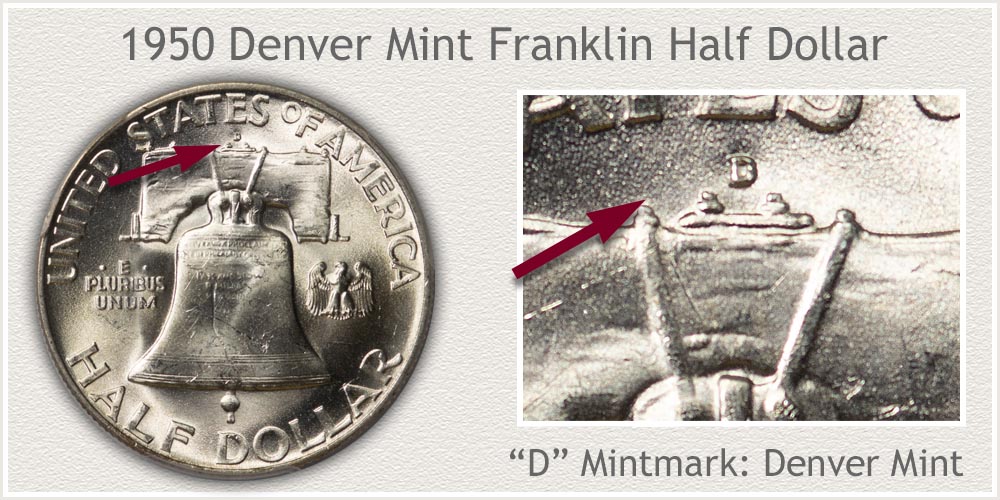 Production increased at the Denver mint in 1950 striking over 8 million Franklin halves. Although there is an abundant supply of Denver coins the challenge is finding an eye pleasing example. Most became worn and unattractive.
Date and mint collectors seek a quality example of the Denver coin as part of a complete set. An accurate description of the coin includes both date and mint of issue.
Locate the "D" mintmark identifying the Denver mint variety on the reverse. Just above the beam holding the Liberty Bell the small "D" was placed on all Franklin halves minted by the Denver mint.
1950 Franklin Half Dollar
No Mintmark on Reverse: Philadelphia Mint Struck the Coin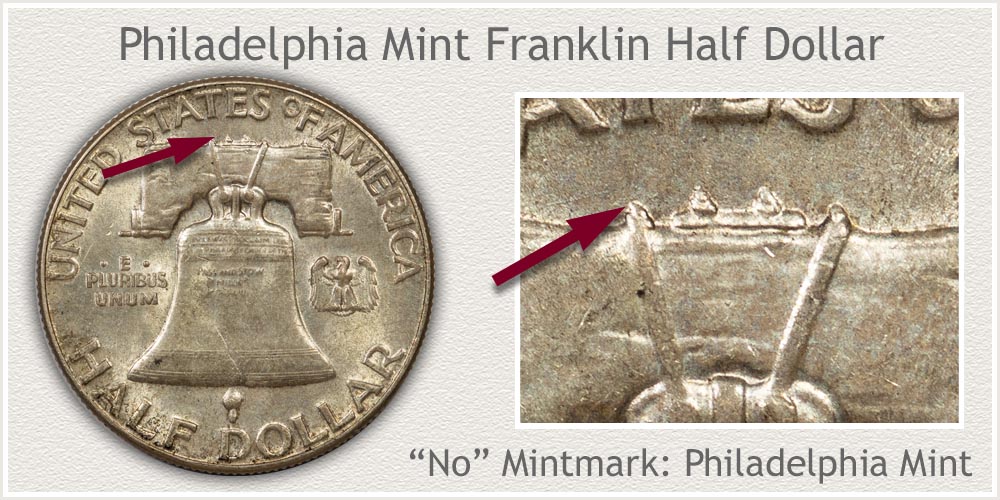 Starting the new decade, Philadelphia struck what became a typical yearly number of 1950 Franklin halves, 7.7 million pieces. With a sufficient amount remaining today these are routinely traded based on silver content value.
Premiums above silver value begin to show on the chart at the higher condition levels. Nice coins with minimal wear are sought by many beginning collectors. An advanced collectors seeks the top grades in Mint State condition.
Exact date and mint combination is noted by dealers and collectors to describe the issue. Philadelphia, the main, mint did not use mintmarks on coinage in the 1950's. Looking on the reverse, inspect the area above the wooden beam over the Liberty Bell. If no mark is present in the central area the coin is confirmed as the Philadelphia variety.
Step 2: | Judge Condition Comparing to Images
Grading Condition Confirms 1950 Franklin Half Dollar
Grading the condition of a coin defines its state of preservation compared to standards of the different grades. The progression of wear, as a coin becomes worn, is judged by the remaining detail of design elements.
Minimal-to-total absence of wear on a 1950 half dollar qualifies it as a collectible. See further down the page, images showing the different stages of wear highlight what is necessary to realize a higher value.
Your half dollar is either valued as a collectible or as bullion silver, the difference is condition. Collectors "grade" the condition of coins for two reasons; one is to help decide if they want the coin for their collection. And the second, value. Use the example images and descriptions below to arrive at an accurate value of your half dollar.
Mint State Grade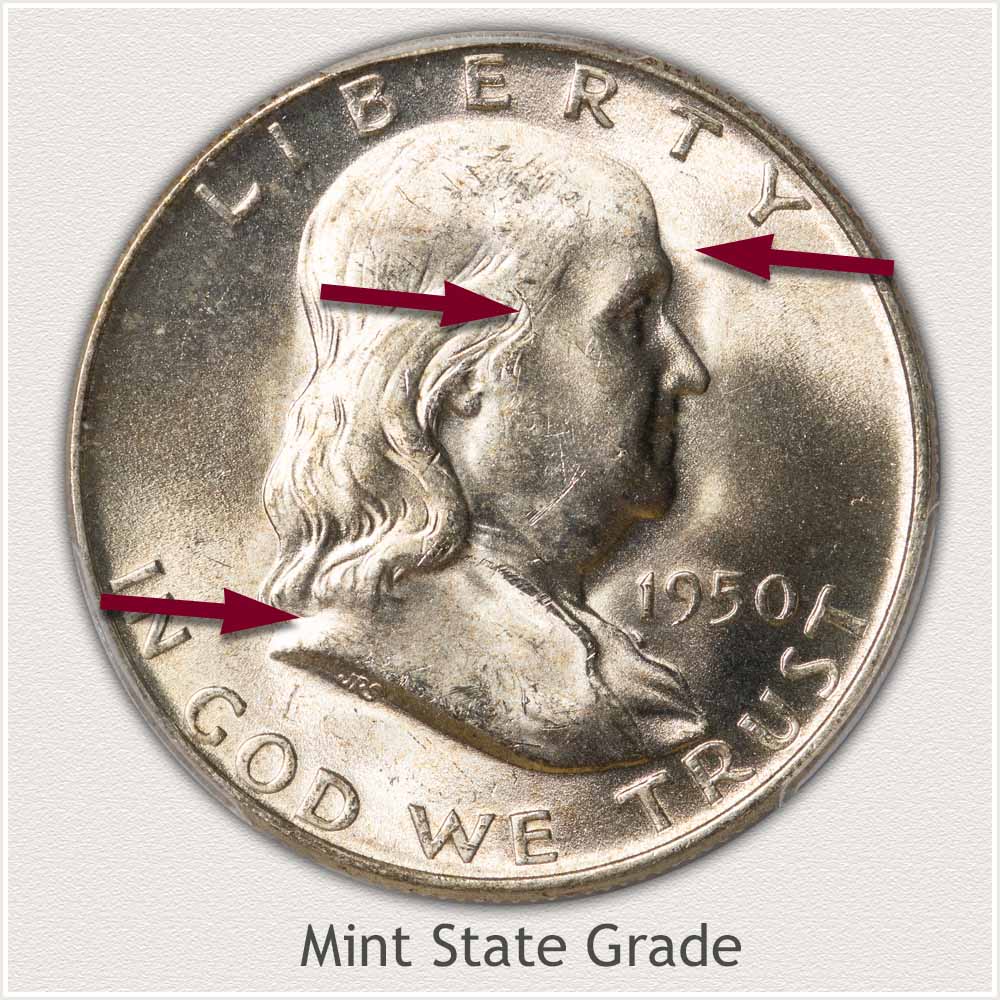 Mint State: Take your time here, 1950 Franklin half dollar value is highest if in "mint state" condition. No wear to the surface defines the mint state grade. When first minted all coins display mint luster, this luster radiates along the surface in bands when the coin is tilted.
Also delicate, luster it is the first to wear and show signs of use. Examine both the side of Franklin's eye and eyebrow. These are high in profile and quickly show smoothing and dulling from wear.
About Uncirculated Grade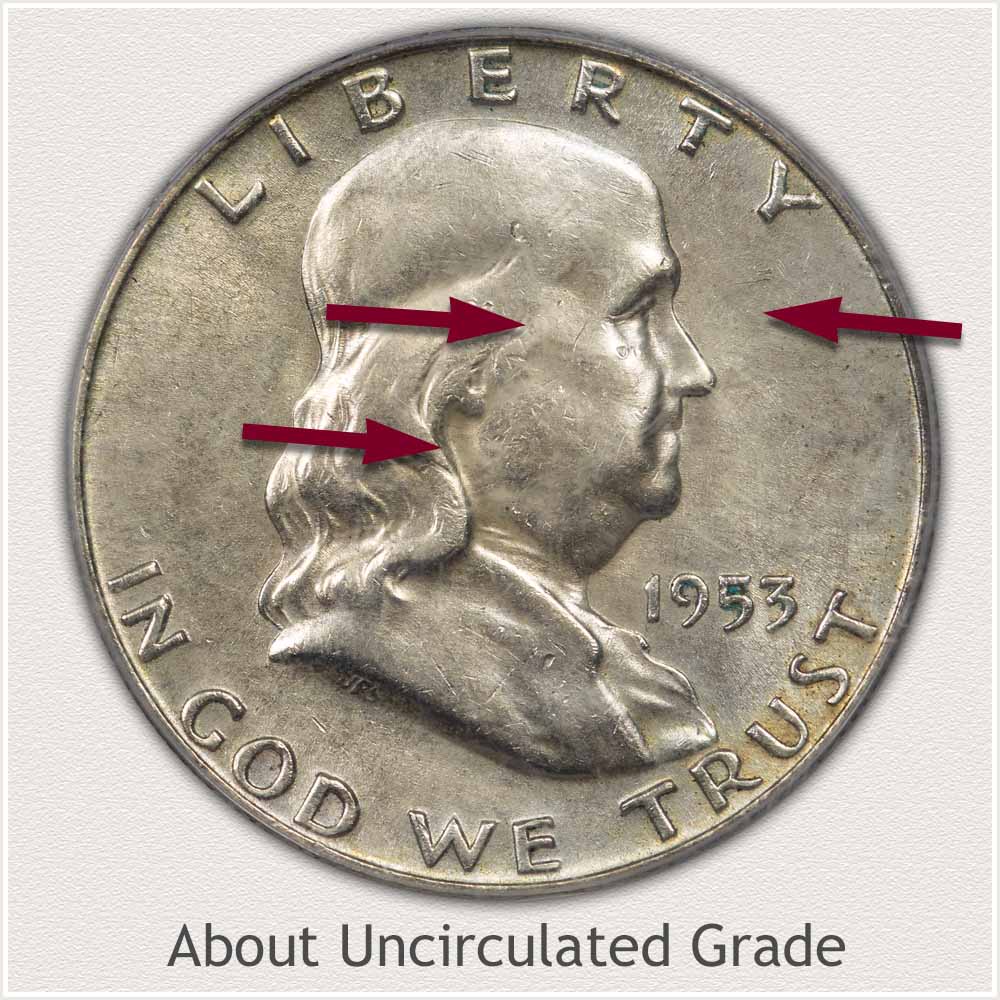 About Uncirculated: Light wear to a coin's surface is graded as "about uncirculated" in condition. The importance is on - light.
To qualify as "about uncirculated" the majority of original mint luster remains and light wear is confined to just the high points.
Franklin's jaw, his cheek below and in front of his mouth are the first to show signs of wear; an excellent place to examine. Faint wear appears as a color change to the metal and slight smoothness. Compare these high points to surrounding low areas to "see" the difference.
Extremely Fine Grade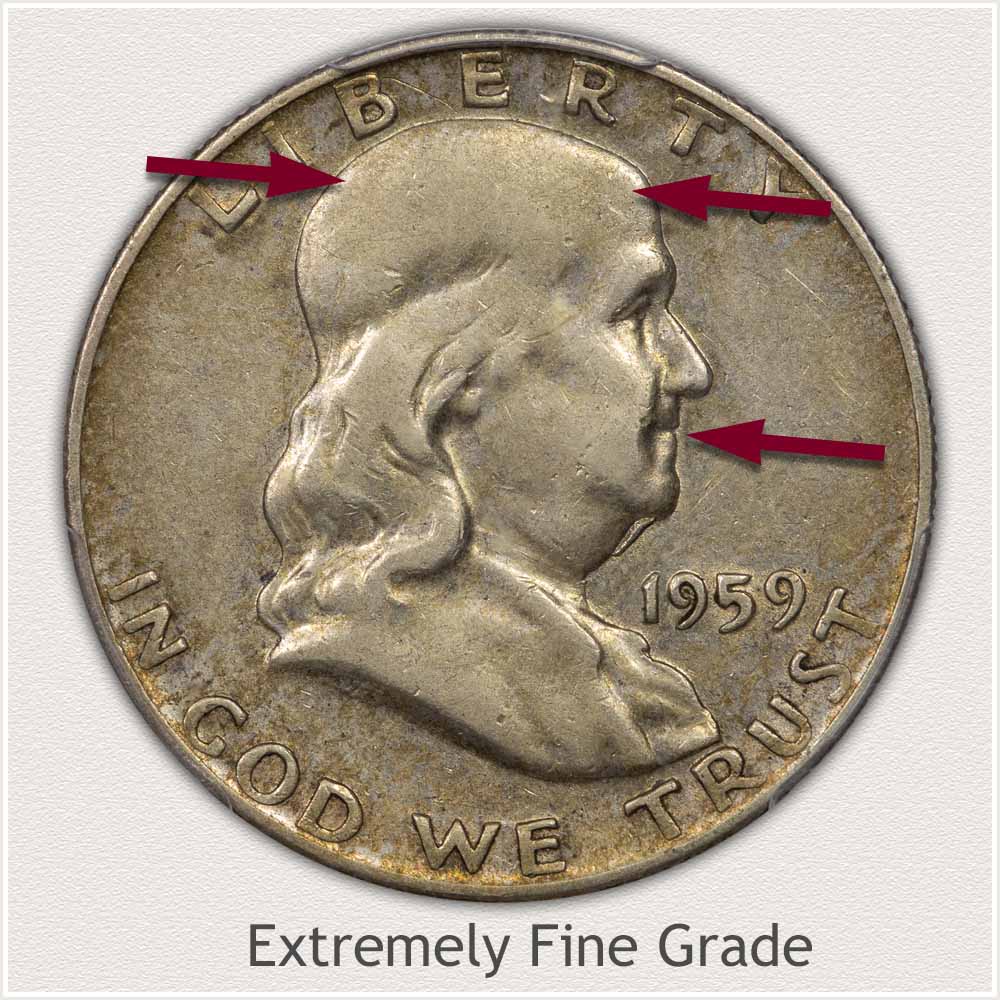 Extremely Fine Grade: Wear is just beginning to show as small flattening to delicate and high areas of the design.
Delicate hair strands along the top of Franklin's head are faded to missing. The hair and top of head still shows as roundness to its profile. Wear on his jaw and cheeks in very minor with just the trace of smooth flat areas.
Luster is now absent from the majority of the surface.
Average Circulated Condition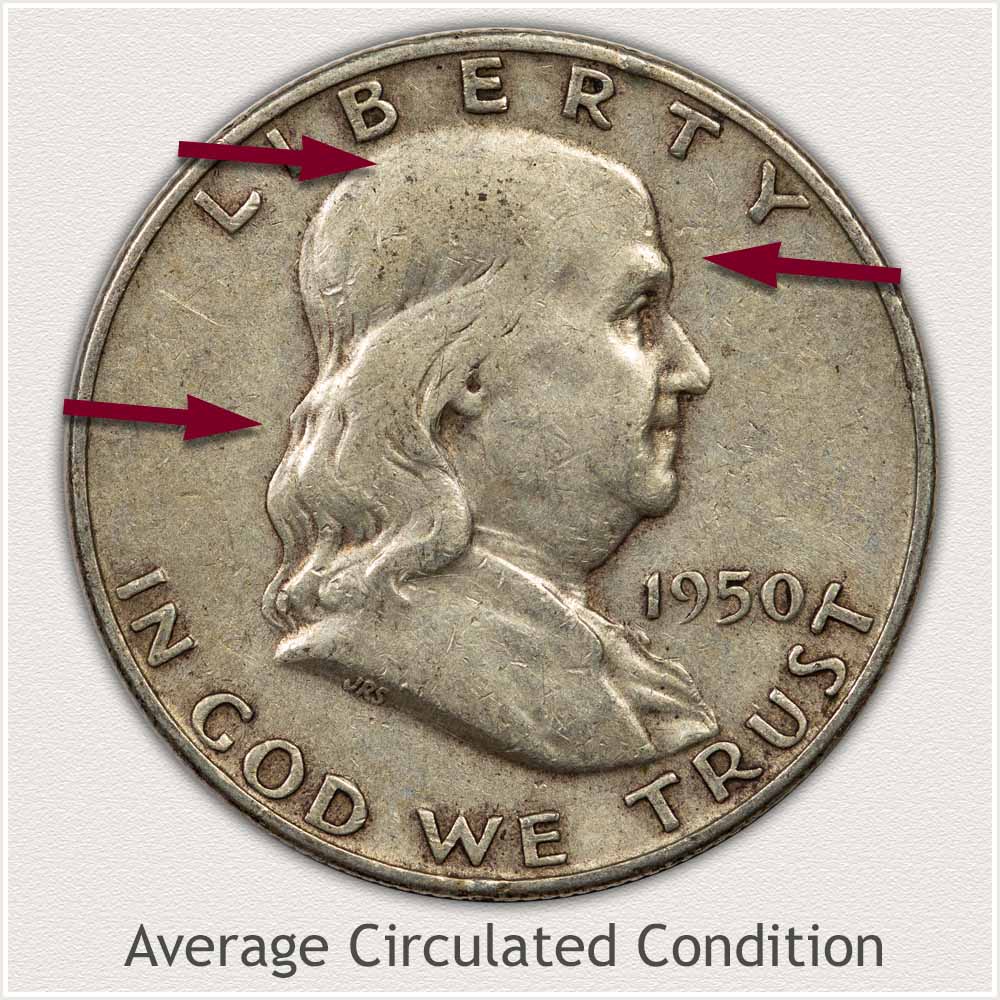 Average Circulated Condition: Moderate to heavy wear to the surface is considered a coin in Average Circulated condition.
Hair detail across the top of Franklin's head was never strong to begin with and if missing, indicates moderate wear. The large waves of hair behind the ear are visibly flattened and beginning to merge.
Today's collectors are willing to place a high value on a 1950 Franklin half dollar if it's in the top grades. If enough wear has developed to eliminate all mint luster and obscure fine details, they are worth silver bullion value.
How to Video: Grading Franklin Half Dollars
Take a second look at both your coins and how to determine the different grades. Subtle points are inspected to narrow the ranges of grades and values.
Video, Images and Descriptions | Grading Franklin Half Dollars
Step 3: | Special Qualities and Preserving Value
Coin Storage to Maintain Value of Silver Half Dollars
Every series of coins come with the challenge of maintaining their value. Franklin half dollars are, in particular, large and of a silver alloy. Large coins tend to attract marks and nicks and also impart damage to other coins. All Franklin halves are silver - a precious metal. Silver alloy of the coins, over time, tones and if left unprotected progresses to a very dark grey. Both marks and very dark toning lower value, but are avoidable.
Safe storage of Franklin halves is considered for two main value groups. Collector quality coins need individual protection. Bullion quality Franklin halves, those coins worn extensively and valued base on silver content are best stored in bulk. Specific coin collecting supplies are needed to achieve both individual and bulk storage.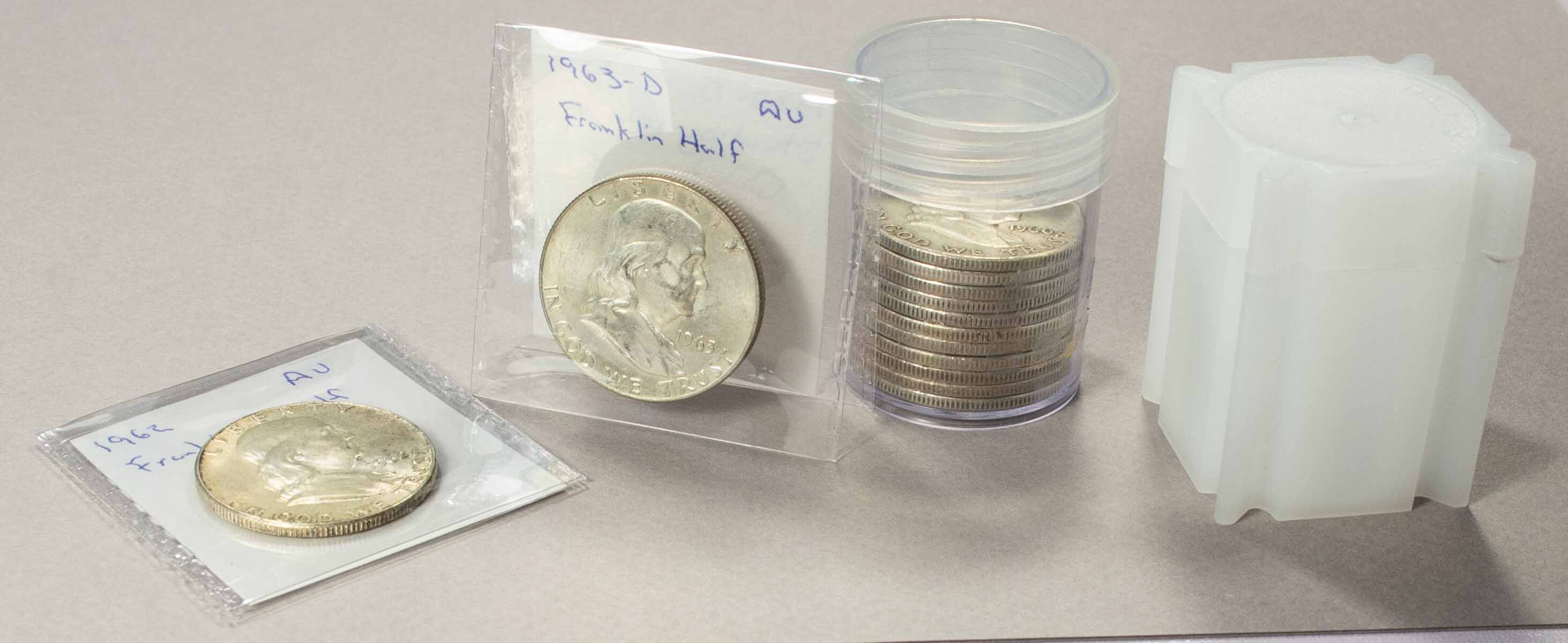 An excellent way to protect individual coins is to house them in what the coin collecting hobby refers to as "coin flips". Many different types are available. One in particular, Saflips by the E & T Kointainer brand are of exceptional quality. The Franklin half in the image is within a Saflip and individually protected.
Coin tubes are featured in the image to hold quantities of half dollars in a convenient way. Quantities of bullion quality halves are held in 20 coins per tube, safe from moving and causing damage to each other. The two styles shown, round and square tubes are of your personal choice, both serve their purpose equality.
Using these two methods to organize your coins protects and maintains their value. A catalog of the many supplies available is found at Wizard Coin Supply - wizardcoinsupply.com. Saflip is found within the "coin flip" section; "coin tube" listings feature the different types and sizes.
Two products affordably house your coins allowing for protection from humidity, handling, and additional marks.
References
U.S. Mint. 1951 U.S. Mint Annual Report https://nnp.wustl.edu/library/book/342
Coin Values | CoinStudy Articles
Date by Date
In Depth Franklin Half Dollar Value
1948 to 1963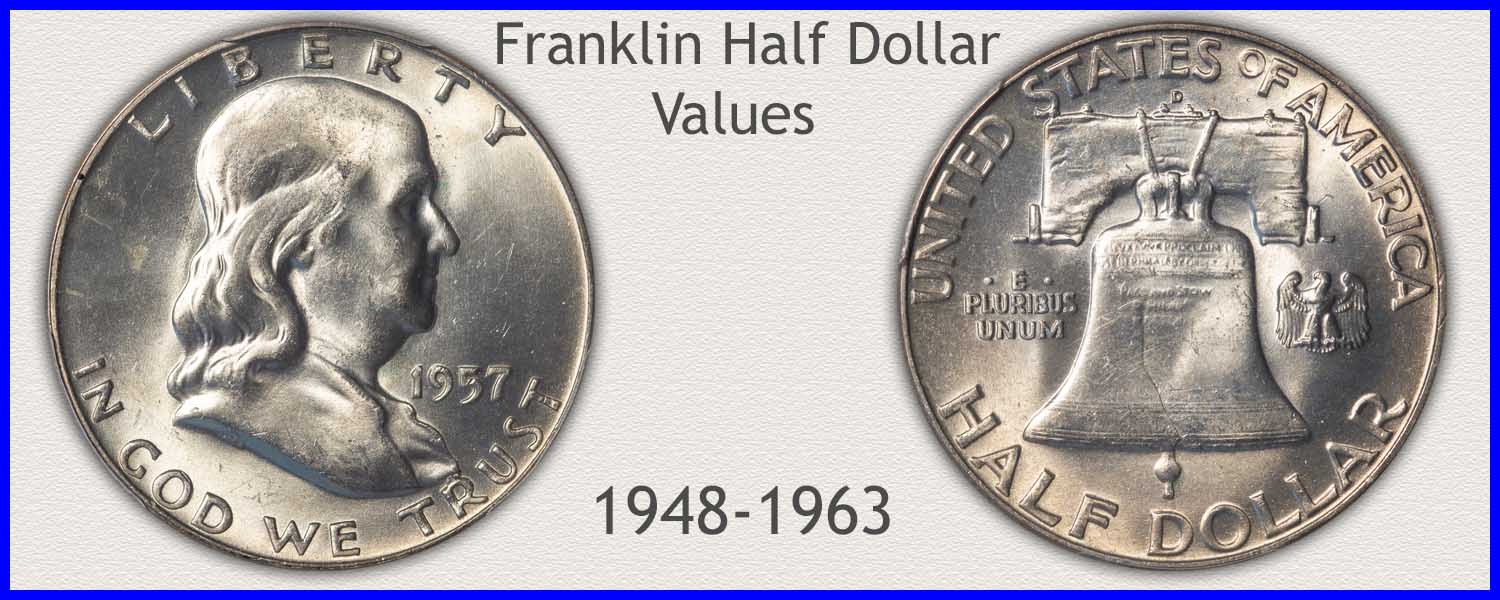 Complete Series Listing of Franklin Half Dollar Value
Franklin half dollars are highly valued not only for their silver content, currently $7.00 per coin, but are now becoming a sought after collectible. All dates and mints listed on the chart, with links to specialized silver value pages.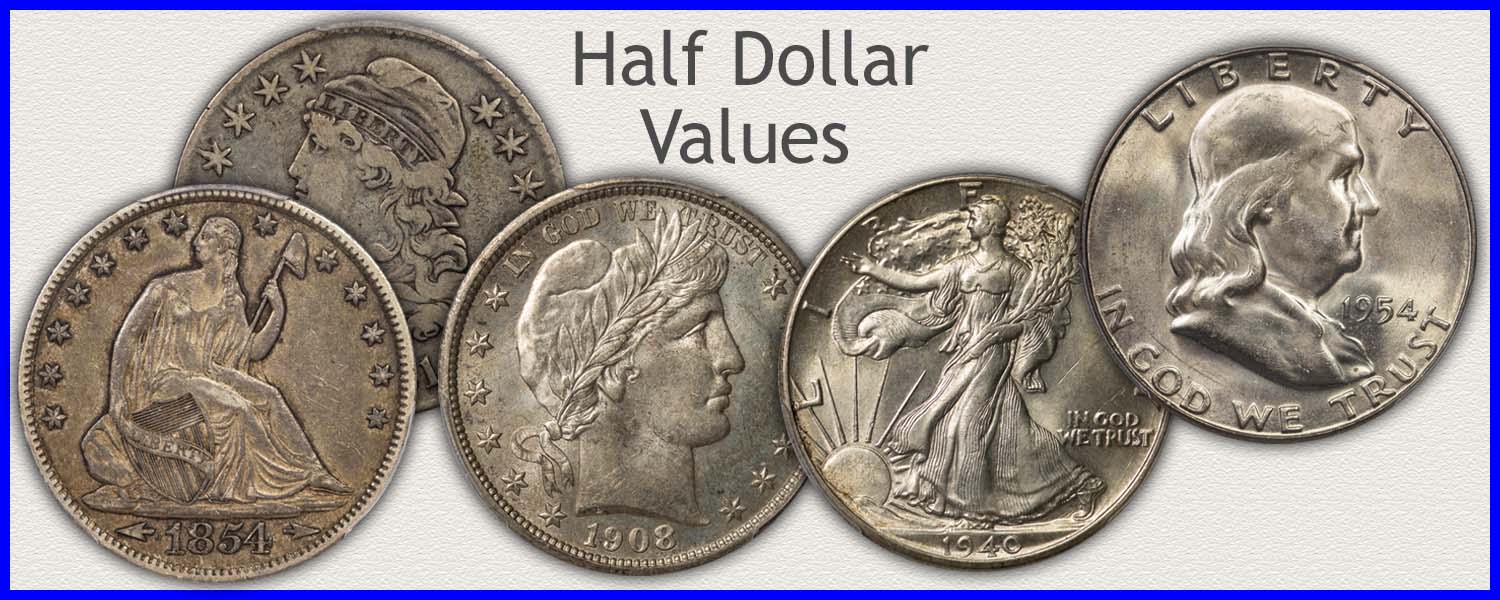 Identify Your Half Dollar Value
All half dollar series are listed here. From the early Bust to Seated halves, noted for their high value and scarcity. Continuing to the now very collectible Barber and Walking Liberty series and to the awakening interest in Franklin halves. Follow the links to these valuable coins.
Print the Coin Values Worksheet
After following the steps above to evaluate coins. Print the worksheet to list your Franklin Half Dollars and the rest of your collection and record their values.
Coin Value Guide | How to Value a Coin Collection
Using the step-by-step method as outlined with Franklin Halves, place a value on your entire collection. Key factors are identified on all series of coins.
Silver Coin Values | Minimum Values of U.S. Silver Coins
Price of silver is in constant change, up or down. U.S. silver coinage follows these movements. Franklin half dollars are one of many series heavy with silver. Calculate silver value of the different coin series.
★Coin Values Discovery finds 1950 Franklin Half Dollar Value and...
Finding all US coin values of each series begins here. Your old classic US coins are experiencing a renewed interest and higher value. Rising metal prices over the years have changed dramatically the minimum values of most coins.