Coin Values Moving with Precious Metals: Up-Dated 11/27/2023: Gold $2010 | Silver $24.66
1953 Franklin Half Dollar Value
Collectors are realizing that today's 1953 Franklin half dollar value of $8.31 is just the least of what they are worth.
1953 half dollars are one of those special coins whose value, notably in higher condition, is slightly complex to resolve. Each of the three key factors affecting 1953 Franklin half dollar value is explored in depth below.
Steps Leading to Value:
Step 1: Date and Mintmark Variety - Mintmarks identify the mint striking the coin and each are listed and valued separately. Confirm the date and mint variety.
Step 2: Grading Condition - High grade nice eye appealing Franklin half dollars are in demand. Comparing your coin to images of different grades, recognize high quality.
Step 3: Special Qualities - Subtle strike qualities of the San Francisco issue are noted as elusive. Images highlight boldly struck coins.
1953 Franklin Half Dollar Value
Condition of Coin
Date
Average
Circulated
Extremely
Fine
About
Uncirculated
Mint
State
1953 Franklin Half Dollar Value Updated
11/27/2023
1953
$8.31
$8.31
$11.00
$13.50
1953 D
$8.31
$8.31
$9.50
$11.77
1953 S
$8.31
$8.31
$11.00
$17.75
Values listed on the chart are wholesale, use as a guide helping narrow the range to how much they are worth when selling.
A careful examination for three important elements is needed to determine its highest value. Follow the steps and compare your coin to images below.
Step 1: | Date and Mintmark Variety Identified
Varieties of 1953 Half Dollars to Recognize
Date plus mint of issue completes the identity of 1953 Franklin half dollars. Mintmarks are placed on the reverse to indicate the mint producing the coin. Collected and valued separately, mintmarks are part of the value equation.
A large part of value is the silver content of these large silver coins. Most varieties of 1953 halves are abundant in worn condition. There is a demand for these worn coins based on silver alone. Added is the potential of collectible quality depending on condition.
Date and mint is confirmed as an important factor to an overall value.
1953-S Franklin Half Dollar
"S" Mintmark on Reverse: San Francisco Mint Struck the Coin
The San Francisco mint supplied 4.1 million halve dollars to the economy in 1953. Sufficient supplies remain today and these vintage halves are sought in above average condition. A lightly worn circulated piece is attractive to many collectors. Mint state condition coins (no wear) are also available in numbers and remain affordable.
Identify the San Francisco issue by the "S" mintmark on the reverse. Just under the "E" in STATES the small "S" is the mintmark of San Francisco.
1953-D Franklin Half Dollar
"D" Mintmark on Reverse: Denver Mint Struck the Coin
The vast majority of 1953 Franklin half dollars were produced by the Denver mint. Contributing 20,900,400 coins to the yearly mintage.
Complete date and mint sets require the Denver issue, assuring a demand for nice examples. It is important to judge condition as described in Step 2 below to find its place on value charts.
Denver coinage is recognized by the "D" mintmark on the reverse. Over the center of the beam suspending the Liberty Bell the small "D" mark indicates Denver mint production.
1953 Franklin Half Dollar
No Mintmark on Reverse: Philadelphia Mint Struck the Coin
The Philadelphia 1953 Franklin half dollar is an example of a low mintage coin that is available and affordable despite low numbers struck. Just 2.6 million produced, second lowest of the series from Philadelphia. However, these were saved at the time providing ample quantities today.
Worn examples are abundant trading at silver bullion values. Beginning collectors enjoy seeking a pleasing example of an historic low mintage half dollar.
View the reverse of the coin to determine the correct mint variety. Philadelphia coinage of the time is without a mintmark. Location of mintmarks is above the Liberty Bell centrally placed over the beam. If the area is blank, Philadelphia struck the coin.
Step 2: | Grade Identifies Condition and Narrows Value
Examine Condition to Confirm 1953 Franklin Half Dollar Value
Grading a coin places a definition on its condition. These grades are used by collectors and dealers to help arrive at an understanding of the coin and its value. Images are used below to match your coin to standards of each grade, finding a close match.
Note; most of the San Francisco halves this year are rather softly struck; their appearance has an - out of focus - look.
Mint State Grade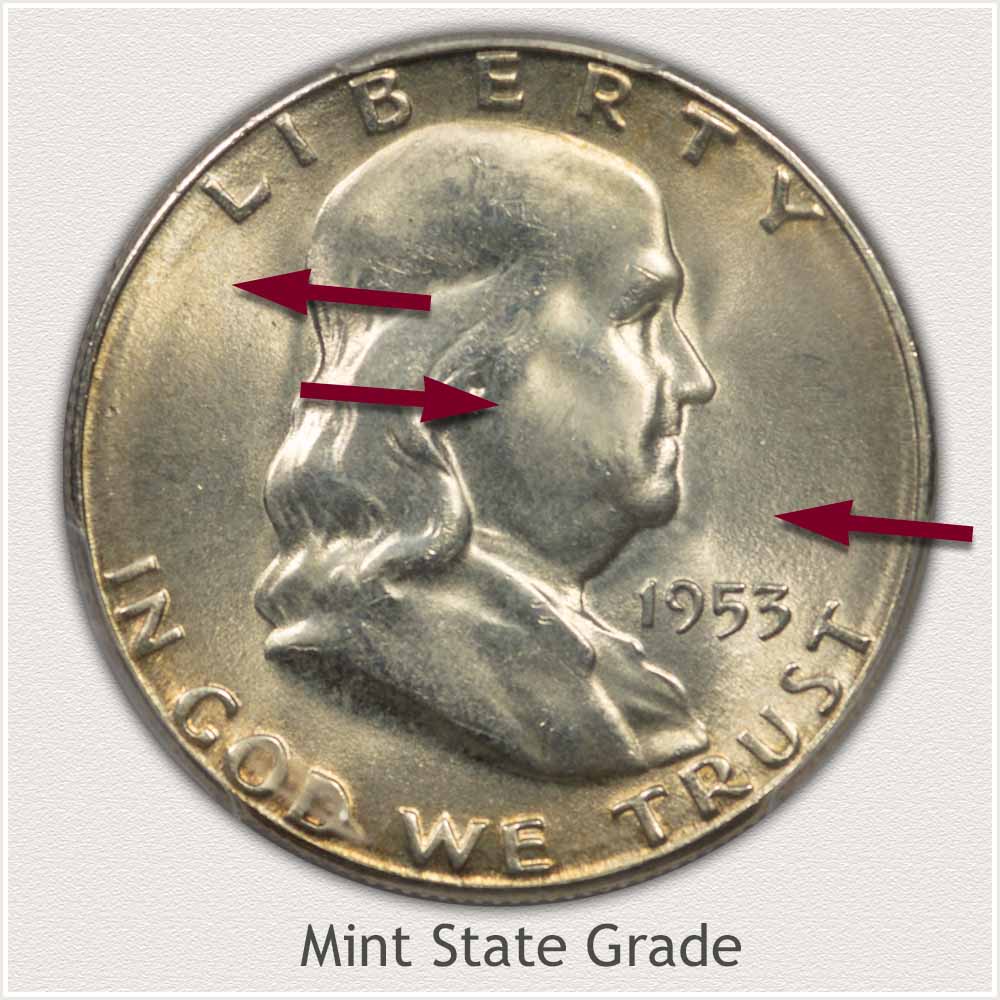 Mint State: Complete mint luster is a first indicator a coin is a candidate to receive the "mint state" grade. The surface condition of a coin when first minted displays a radiating shine - mint luster. This luster, the result of metal flow during the striking process, is delicate and the first to wear as a coin circulates.
An indicator to confirm the mint state grade is to examine Franklin's cheek and the field just in front. As you rotate the coin under a light, a true mint state coin remains brilliant not showing any dulling of the surfaces.
Examine the cheek and field of the coin for a change in color of the metal, wear causes a dull grey change in appearance.
About Uncirculated Grade
About Uncirculated: Slight traces of wear to the surface is a coin in "about uncirculated" condition. Your coin still has most of the original luster remaining especially within the lettering.
About Uncirculated is describing touches of wear and a slight dullness to the high points of the design. Examine Franklin's hair just behind the ear. Tilt the coin under a light and subtle changes to the color of the metal and texture indicates a minor amount of wear.
Extremely Fine Grade
Extremely Fine Grade: Light wear removing the majority of luster and creating small flat areas defines an Extremely Fine grade half dollar.
Soft grey is now the overall appearance of the surface of the silver. The brilliance of luster is worn smooth. Examine the hair behind Franklin's ear. The large wave shows a smooth texture and flattened surface. Important to remain are the small strand details within the waves of hair.
Average Circulated Condition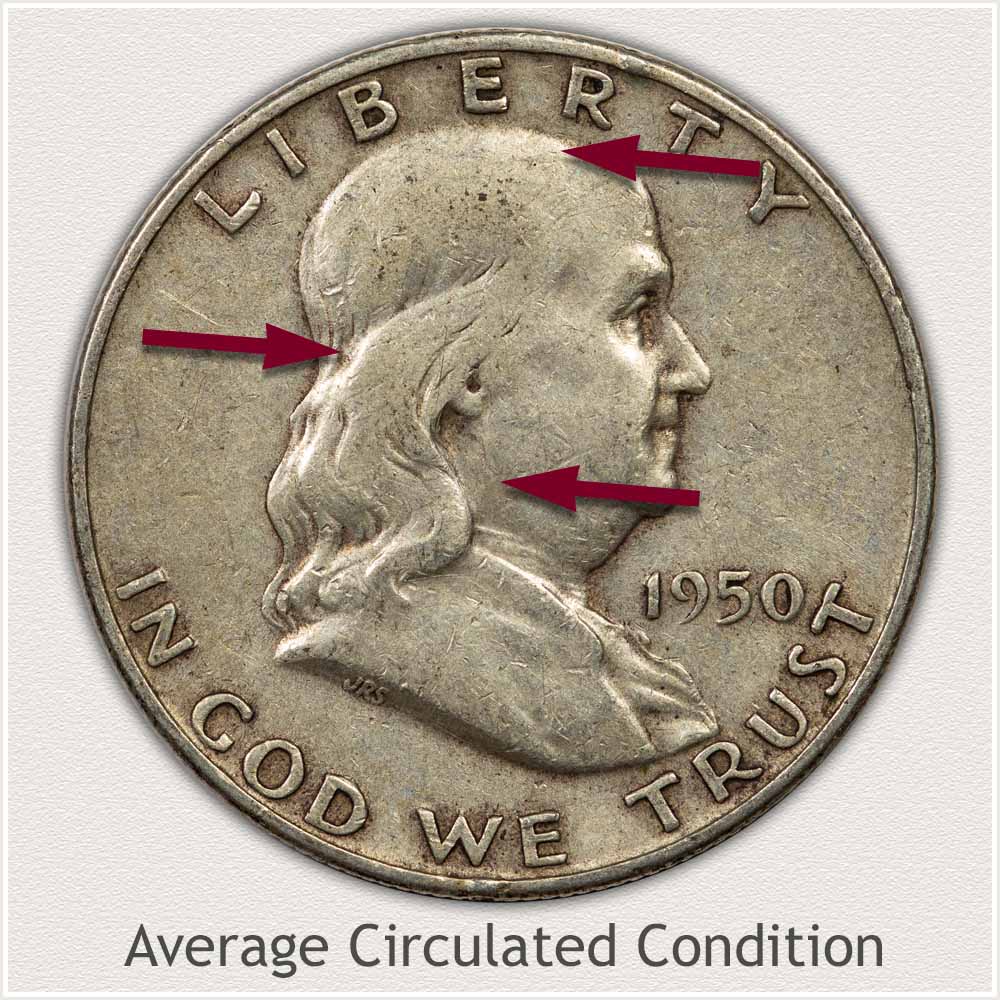 Average Circulated Condition: Once wear has created large, noticeable flattened areas across Franklins portrait, condition falls below the extremely fine grade. These moderate to heavily worn pieces are considered as "average circulated" in condition.
Notice the complete lack of small hair strands in the top portion of Franklin's head. Additionally, the large waves of hair behind his ear are now visibly flat and merging. A distinguishing feature is the strand close to the ear is flattened from the ear to the shoulder.
The majority of 1953 halves in average circulated condition are valued tied to their silver content.
How to Video: Grading Franklin Half Dollars
1953 half dollars are one of those special coins whose value is notability higher in top condition. However, slightly complex to resolve. Video plus additional descriptions help judge subtle elements to condition and grade.
Video, Images and Descriptions | Grading Franklin Half Dollars
Step 3: | Special Qualities | Subtle Value
Strike Quality Adding to Franklin Half Dollar Value
When judging potential value of Franklin half dollars there are two primary considerations when looking at the condition of the coin. First, identifying if the coin is mint state - no wear to the surface. Second, recognizing circulated examples - those with visible wear.
A clear separation is made in values, placing mint state Franklins in collectible status with all enjoying premium values. Circulated - worn pieces of most date and mints are very abundant and valued based on the price of silver, all are valued the same.
It is the mint state coins with a further range of values. These high condition premium coins are examined closely looking for subtle qualities raising value higher.
One recognizable trait of Franklin half dollars is the quality of strike imparted during the minting process. In particular the Liberty Bell displays very fine and delicate details as part of the design. A well struck piece shows lettering and fine detail at the shoulder of the bell. A softly struck coin is missing many of the lettering and details over the top shoulder of the bell.
When viewed side by side a noticeable difference is seen comparing the quality of strike of the two coins. On the left is a boldly impressed Liberty Bell. Lettering is visible and well defined. Design detail is also visible along the shoulder. The right hand coin did not receive a complete strike. Lettering is either very faint or missing in places. A smooth surface is found at the shoulder of the Bell, lacking any design elements.
Extending the view, note the quality of strike found on the wings of the eagle. A boldly struck coin is preferred by collectors. Bold strikes are scarce in comparison and in demand.
Mint state coins, when studied, display a range of subtle strike quality. Boldness of strike, is not widely understood outside the coin collecting community. Your coin when recognized as well struck is potentially a higher valued Franklin half dollar.
References
U.S. Mint. 1954 U.S. Mint Annual Report https://nnp.wustl.edu/library/book/343
Coin Values | CoinStudy Articles
Date by Date
In Depth Franklin Half Dollar Value
1948 to 1963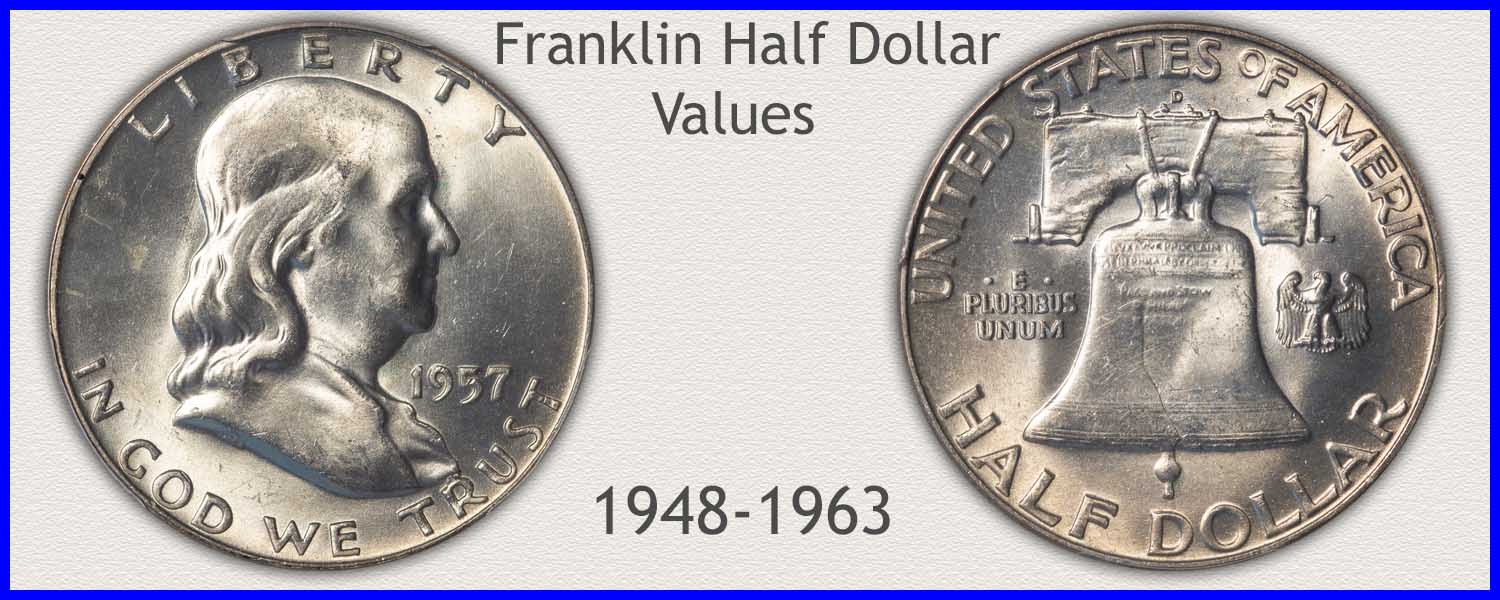 Franklin Half Dollar Value | Growing Collector Interest
Value of most Franklin halves ride silver prices up and down. Lately collectors have taken an interest in this neglected series. The result - many dates and mints are collected in circulated grades as well as the traditional mint state grades. Check the continually updated values of your Franklin half dollars.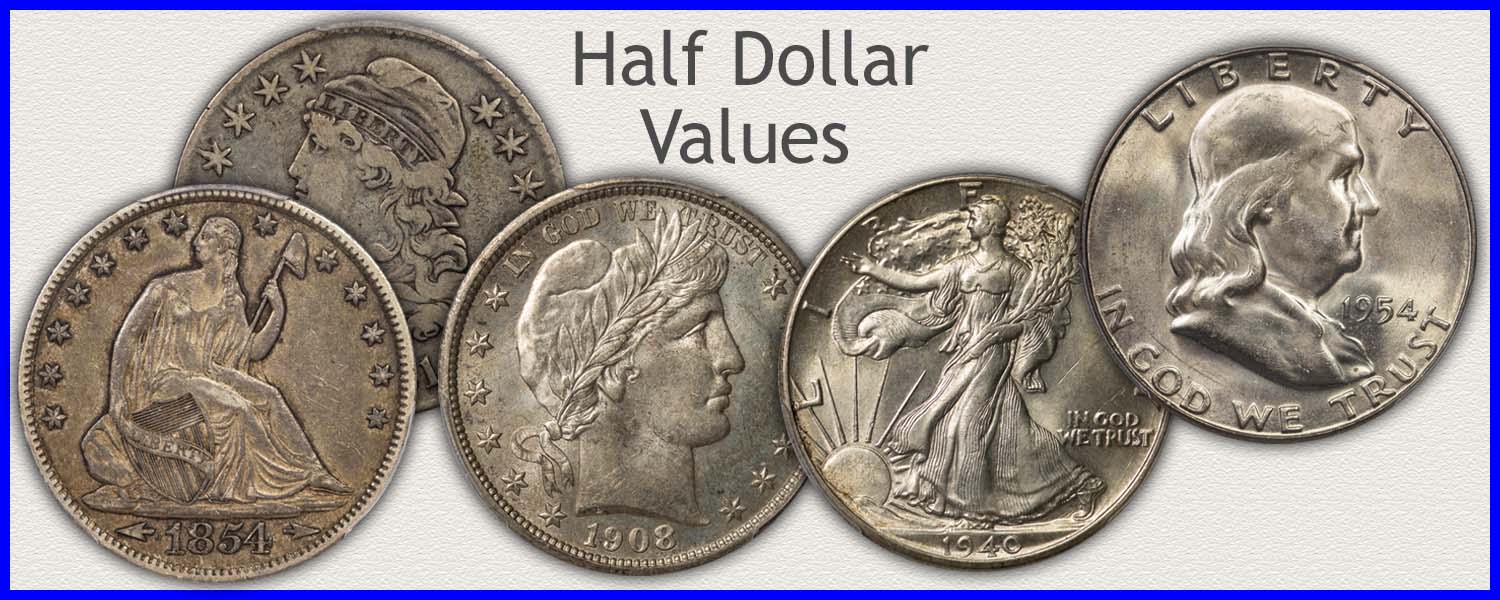 Complete and Current Half Dollar Value
Never a week goes by without movement in half dollar value. Silver is the driving force to most of 1953 Franklin half dollar value, however many halves are in the higher collectible range. All series listed with grading images and value charts.
Popular Coin Series | Franklin Half Dollars
An insight into what is collected today, what is popular, and numbers of collectors involved shows Franklin Halves are in demand among half dollar collectors.
Safe Coin Storage | Recommendations
An important part to value is safe handling and storage of all coins. Franklin halves are silver and safe storage supplies provide lasting preservation.
Silver Coin Values | Minimum Values of U.S. Silver Coins
Calculate current silver value of U.S. coinage. Silver dimes, quarters, halves, and dollars all move with the changing price of silver. All Franklin half dollars are 90% silver alloy and worth far above face value, changing daily.
★Coin Values Discovery finds 1953 Franklin Half Dollar Value and...
Begin here to identify your coin values. Images if each U.S. coin series are linked to value charts and grading images. These combined with mintmark details cover the important factors needed to find an accurate value of your box of old coins. Follow the step-by-step method for all series.