Coin Values Moving with Precious Metals: Up-Dated 11/27/2023: Gold $2010 | Silver $24.66
1956 Franklin Half Dollar Value
Because of high silver content, 1956 Franklin half dollar value is currently $8.31 each.
All Franklin half dollars are 90% silver; and it's the current price of the silver forming this strong underlying value. Known as bullion value, no added collector premium is part of this price.
It is the condition of your coin that is important to finding higher value.
Steps Leading to Value:
Step 1: Date and Mintmark Variety - Variety is important to verify. Collected by date and mint issue; old Franklin halves are listed on charts by date.
Step 2: Grading Condition - Grading is the important element to finding a coin worth above base silver value. Compare to images of standard grades to find a match and narrow place on chart.
Step 3: Special Qualities - Collectors and their demand for these half dollars is the support for premiums awarded. Recognize the possible subtle qualities.
1956 Franklin Half Dollar Value
Condition of Coin
Date
Average
Circulated
Extremely
Fine
About
Uncirculated
Mint
State
1956 Franklin Half Dollar Value Updated
11/27/2023
1956
$8.31
$8.31
$8.31
$11.77
Updated weekly, use the above wholesale values as a guide. Consider them as a range when placing a value on your coin.
1956 is a year that Franklins are divided into two main value groups.
First, if your coin is worn, most are valued as a bullion piece.
Second, if mint state (like brand new) collector interest and value increases.
A step-by-step process using images helps judge the important elements to recognize potential.
Step 1: | Date and Mint Variety Identified
One Variety of 1956 Half Dollar
All 1956 half dollars were produced at the Philadelphia mint. The two branch mints, Denver and San Francisco concentrated on striking silver quarter and dimes.
1956 Franklin Half Dollar
No Mintmark on Reverse: Philadelphia Mint Struck the Coin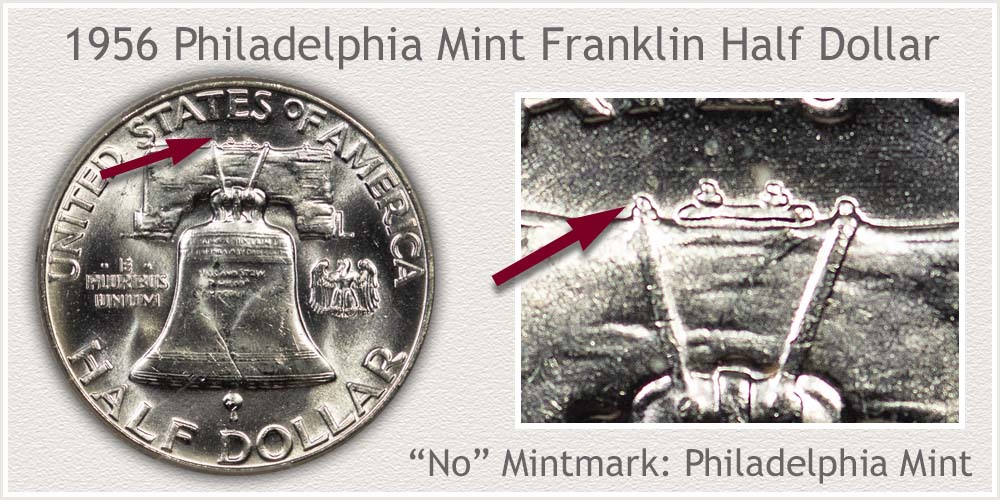 1956 is special within the Franklin half dollars series as a low mintage year with a total of just 4,032,000 struck. Also significant is the Philadelphia mint was the only mint striking halves. The branch mints did not produce halves in 1956 leaving the yearly total second lowest of the series.
Philadelphia, the main mint did not place mintmarks on coinage at the time. Confirm the absence of any mintmark by examining just above the Liberty Bell. On the reverse, the area under E in STATES is empty, no mintmark; Philadelphia struck the coin.
Step 2: | Judge Condition to Identify Grade
1956 Franklin Half Dollar Value is Conditional
Grading the condition of your 1956 Franklin half dollar recognizes and separates the bullion value pieces from collector quality halves. Grades are used by collectors defining the condition of the coin's surface. Use the images representing the grades to find a close match to your coin.
Judge carefully comparing the "about circulated" example to the "mint state" image.
Mint State Grade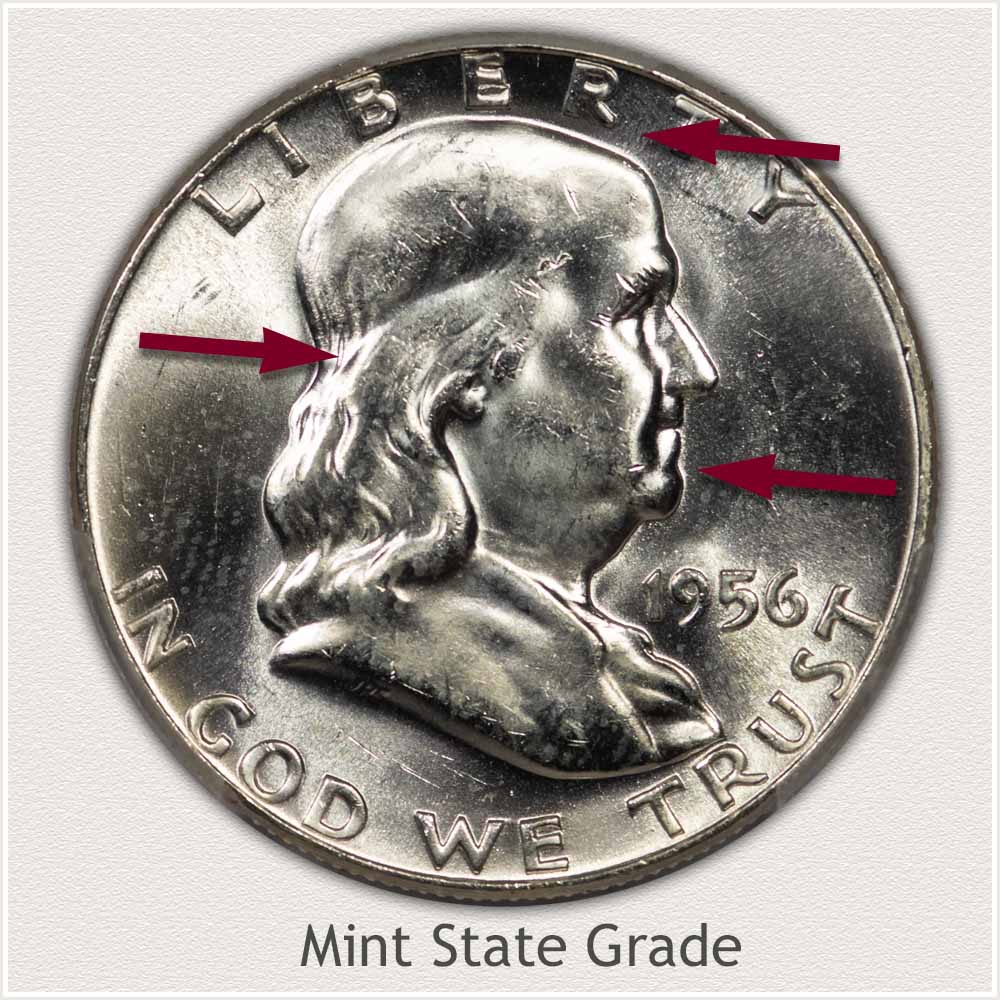 Mint State: Franklin half dollars in mint state grade enjoy a collector premium. To reach this price level it must not have any wear to the surface of the coin.
To help confirm condition; original mint luster covers the entire surface without any breaks, defining the "mint state" grade.
The delicate nature of mint luster and its radiating shine causes it to show wear quickly. High points of Franklin's hair behind the ear and his chin are commonly used by collectors inspecting for wear. Compare the texture and luster of these highest points to the low relief areas nearby, and finding both are consistent helps identify a mint state coin.
About Uncirculated Grade
About Uncirculated: It's the slight amount of wear on the "about uncirculated" half dollar pictured indicating the grade. Defining the about uncirculated grade is very slight wear on high areas and just as important, luster remains on the majority of the surface.
With a little time and comparing a few examples the subtle difference in texture on a coin's surface indicating wear become easy to detect. Mint luster (shine) is removed quickly as a coin is used, it becomes a silver-grey color, losing its sparkle. It is this change in the brilliance helping decide the grade.
Inspect for loss of brilliance and traces of wear on the ridges of Franklin's eyebrow, cheek, and jaw line. Tilt the coin under a light and note the subtle change from high relief areas appearing dull compared to low relief areas with brilliance.
Extremely Fine Grade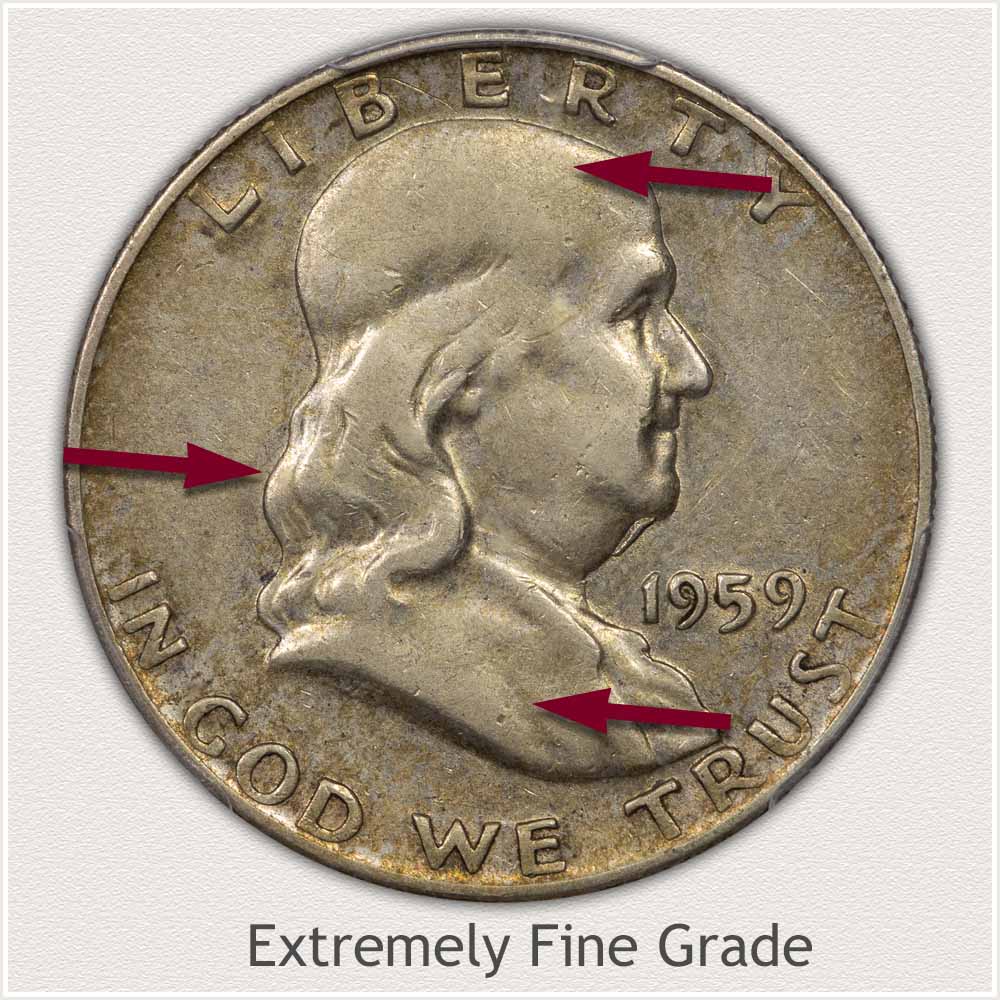 Extremely Fine Grade: Wear just beginning to flatten small details of the design, describes an Extremely Fine condition half. Overall tone of the coin is a silver grey, lacking the brilliance of luster.
Wear has removed the brilliance of the original mint surface and looking at the top of Franklin's head, also removed the fine lines within the hair.
Wear remains light to qualify for the extremely fine grade. Waves of hair behind the ear are visibly worn. To qualify for the grade inner strands of hair remain in the large waves of hair.
Average Circulated Condition
Average Circulated Condition: Pictured is a Franklin half displaying wear covering the entire surface. Wear is noticeable as causing flattened areas on many key elements of the design. Moderate to heavy wear condition Franklin halves are termed "average circulated" by collectors and dealers.
Roundness of Franklin's eye brow has flattened as well as the high contour his cheek near the mouth. The large waves of hair behind the ear are now visibly flattened and towards the ends merge in a flat area with the shoulder. Most of the finer details; lines within hair and high rounded profiles of cheek are worn, placing the condition well below the crisp extremely fine grade.
How to Video: Grading Franklin Half Dollars
Grading condition and quality of surfaces is often a recognition of subtle points. Descriptions of important factors plus video showing coins representing these important features helps in arriving at an accurate grade.
Video, Images and Descriptions | Grading Franklin Half Dollars
Step 3: | Special Qualities Enhancing Value
A Close Look at the Mint State Grade Recognizes Top Collector Quality
An important factor to overall quality of Franklin halves is the amount and severity of nicks and abrasions to the surface. Within the top mint state grade, all Franklin's are awarded a premium value over base silver value. These coins never circulated and show no wear to the surface. Collectors further judge qualities of these mint state coins for visual appeal. Brightness of luster, beauty of toning if present, and quality of surface.
When looking at the quality of a coin's surface one notable distraction are nicks and abrasions. A well struck, nicely brilliant coin when nicked and marked is of less appeal to a collector.
These coins display a progression of surface abrasions. The coin on the left shows a low quality surface with many noticeable marks. The coin in the middle, and looking at Franklin's face, is lightly abraded with a few marks scattered but not dense. An example close to pristine quality is the right hand coin. Surfaces are visibly free of any distracting marks.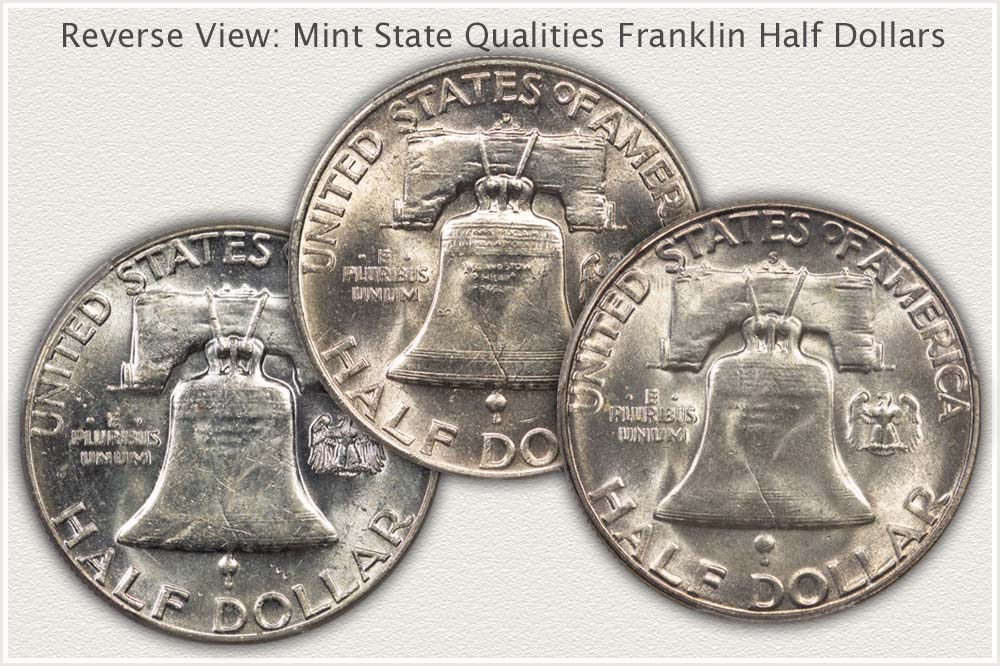 At the level of mint state grade the reverse of the coin is given the same intense judgement of quality as the obverse. The focal point is the Liberty Bell and the surface around the lettering. Many marks both small and large are covering the example on the left. The bell has received marks in all areas from the lower edge to the top. With the coin in the middle, there are marks evident, but only a few. High quality mint state condition is displayed on the right. Lettering on the bell is visible with no marks to distract the eye.
Nicks and abrasions are visibly recognizable. If concentrated at the focal points, Franklin's face and the Liberty bell, they play are large role in overall quality. With these large silver coins, it is a scarce half dollar that has avoided marks to the surface. Large premiums are awarded to mint state coins in blemish free quality.
Judging your coin as mint state and further quantifying the surface abrasions begins to recognize the very top collector quality Franklin half dollar.
References
U.S. Mint. 1957 U.S. Mint Annual Report https:// https://nnp.wustl.edu/library/book/346
Coin Values | CoinStudy Articles
Date by Date
In Depth Franklin Half Dollar Value
1948 to 1963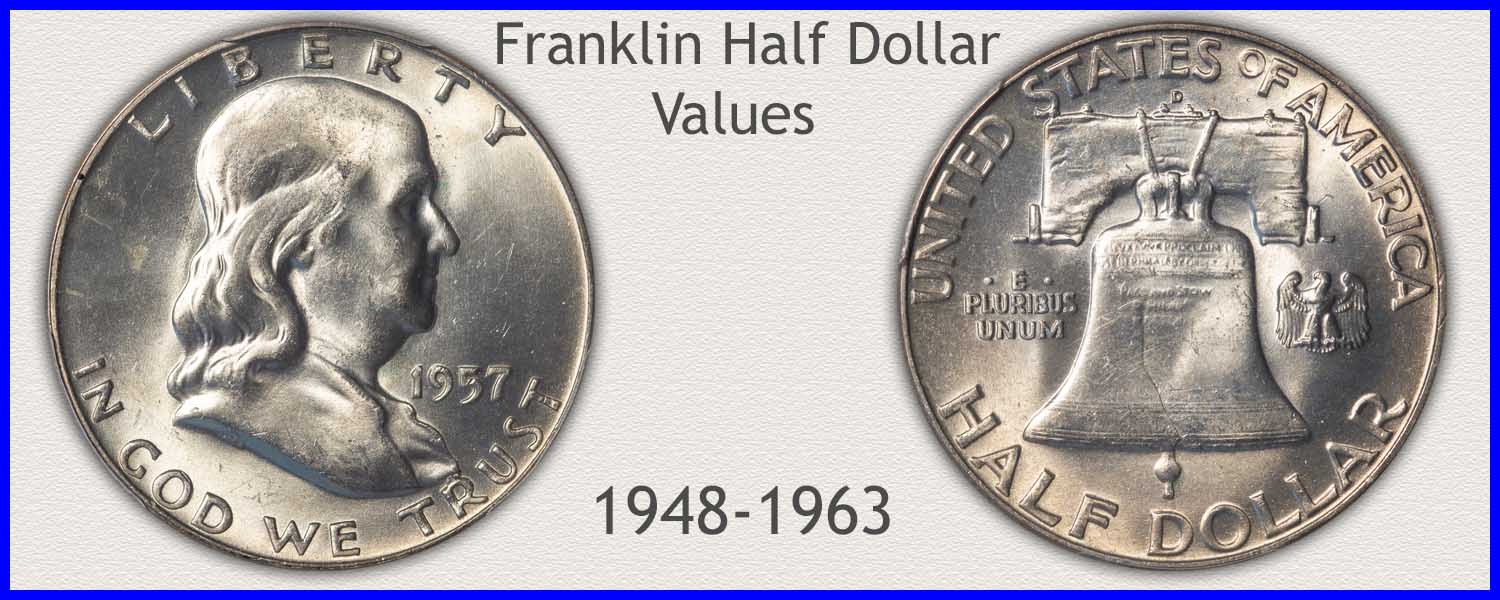 Value Chart | Franklin Half Dollar Value
1956 Franklin half dollar value is highlighted above, find all values of the series listed on one chart. As always, judge condition and identify mintmarks to arrive at the true value.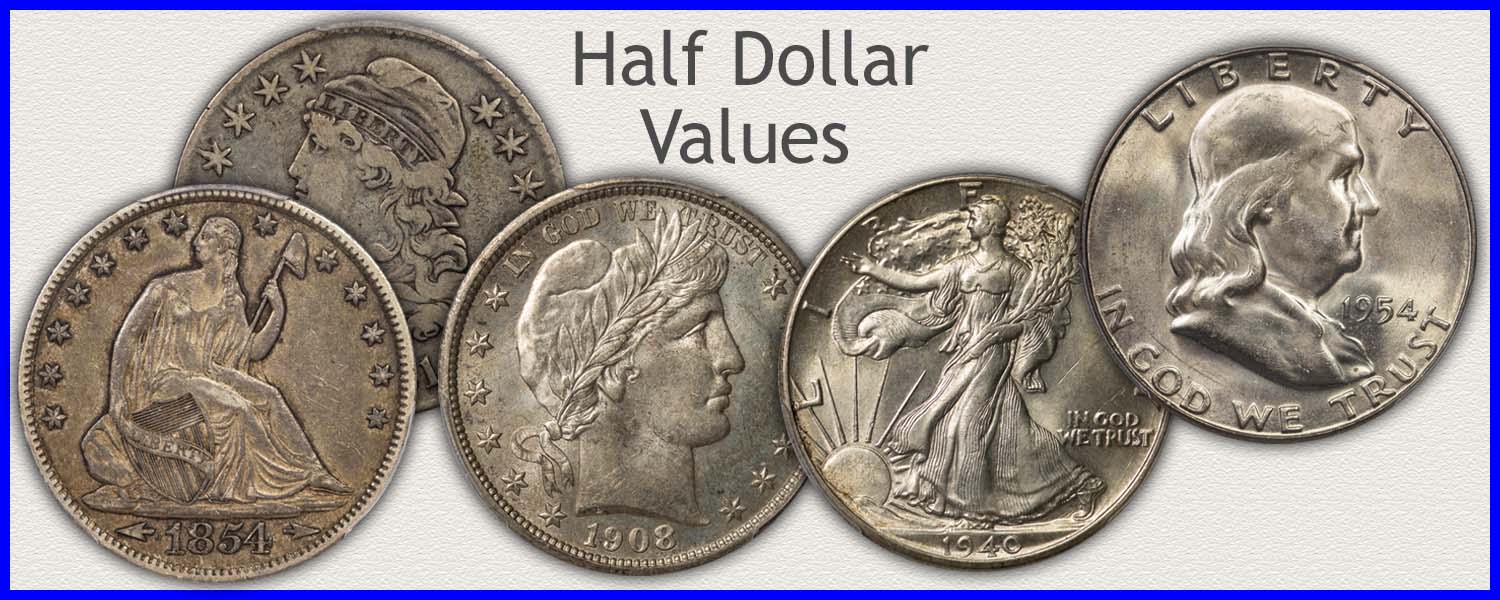 Half Dollar Value Charts by Series
Half dollars are collected by series, each covered with their value chart. Listings of the Bust, Seated design, the Barber series show all are highly valued. Continue to the popular Walking Liberty and Franklin half dollars.
Print the Coin Values Worksheet
After following the steps above to evaluate coins. Print the worksheet to list your Franklin Half Dollars and the rest of your collection and record their values.
Safe Coin Storage | Recommendations
Stored and housed properly, Franklin half dollars maintain their state of preservation and value. Recommendations on basic supplies that greatly improve coin storage.
Combining images and value charts, recognize and identify your coin and find its minimum value. Each series is linked to a major page with a step-by-step value process.
Discover the worth of bullion quality silver coins. Many old U.S. silver coins are traded based on silver content value. Identify these, determine value, and find potential buyers.
★Coin Values Discovery finds 1956 Franklin Half Dollar Value and...
Begin here to identify your old U.S. coin values. Images if each coin series are linked to value charts and grading images. Additionally, mintmark details are needed to find an accurate value of your box of old coins.