Coin Values Moving with Precious Metals: Up-Dated 7/26/2021: Gold $1806 | Silver $25.20
1951 Franklin Half Dollar Value
Your coin has potential, collector interest often raises 1951 Franklin half dollar value above its current $8.49 minimum.
Franklin half dollars are emerging as a popular series with collectors today. With 35 date and mintmark combinations a complete display of uncirculated examples is quite impressive. Have a close look at the 1951 half dollar pictured; it is notable because of its bright luster and mark free surfaces. Referred to as gem uncirculated it is a quality at the top of 1951 Franklin half dollar value.
Combining the condition of your coin with noting the mint that struck the coin is all part of finding an accurate value. Three mints were in operation at the time. See the image to locate the deciding mint marks.
As mentioned earlier, judging the condition of your coin is also needed as part of determining how much it's worth. Most are tied to the movements of the silver market, moving up and down. Breaking away from the silver influence are those top quality coins with just faint traces of wear or no wear at all. An in-depth description and images are below to help you determine condition and grade.
Listings on the value chart; for example 1951-D, represent the Denver mint that struck the coin. Listed with an "S" are the halves minted at the San Francisco mint. The Philadelphia mint produced Franklin halves without using a mintmark. On the reverse just under E in STATES is the location of these mintmarks.
1951 Franklin Half Dollar Value
Condition of Coin
Date
Good
Fine
Extremely
Fine
Uncirculated
1951 Franklin Half Dollar Value Updated
7/26/2021
1951
$8.49
$8.49
$9.90
$12.03
1951 D
$8.49
$8.49
$11.24
$24
1951 S
$8.49
$8.49
$10.41
$17.27
Rare Multi-Color Toning Sets Value
Beauty of the rare multi-color toning is the leading factor raising the value of this 1951 Franklin half dollar. Lending an almost surreal appearance, a coin with this "look" is seldom encountered.
Translucent colors atop original blazing white luster imparts a certain magic. Collectors often build specialized collections of Franklin halves featuring examples with just this type of colorful toning. Demand is certainly strong for these coins.
Silver a reactive metal; is prone to changing colors from its original bright white to many different hues of blues, reds and browns. Taking on eye appeal; toning is distinguished from tarnish when the colors are pleasing, well balanced and not spotty.
Since there is a specialized interest in toned Franklins, this coin drew attention at a David Lawrence rare coin auction. Bidding reached $172 for this choice MS63 grade 1951 Franklin half. A typical MS63 grade is not near this value.
Handle your coins gently, careful not to disturb their original appearance. Never clean or even rub them; you may wash away value that's in the eyes of collectors.

Dividing Line in 1951 Franklin Half Dollar Value
Among collectors and dealers both; Franklin halves are considered one the hardest series of US coins to agree on a grade of condition. Fortunately 1951 half dollars are split into two main value groups. If your coin has noticeable wear it is valued according to silver price. Those with slight to no wear are all higher in value. See specifically the dividing line "about circulated" grade.
Uncirculated: Uncirculated is the condition a coin leaves the mint, it shows no evidence of use. Its surfaces are without any wear and retain that brilliant shine of a new coin. The highest parts of the design; the center of the Liberty bell and Franklin's cheek are two main areas to inspect closely. A dulling of the metal indicates wear.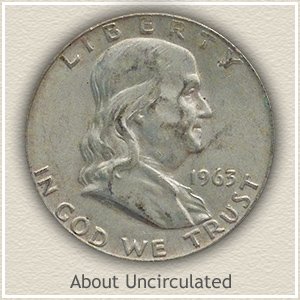 About Uncirculated: Very slight wear defines the "about uncirculated" grade. This is the specific condition where 1951 Franklin half dollar value breaks away from it underlying silver price. It must be stressed; only very minor amounts of wear is acceptable to qualify for the about uncirculated grade. Judge carefully that wear is confined to just the very tops of Franklin's cheek and along the lower edge of his shoulder. Parts of his hair just behind the ear may also be slightly smooth. It is important that a majority of the mint luster remain.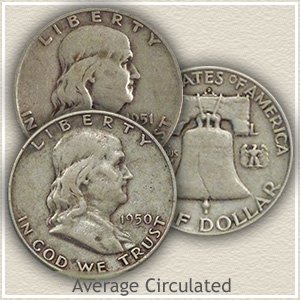 Average Circulated: Any 1951 half dollar displaying noticeable wear is termed "average circulated." Technically not a grade, it refers to coins that are worn to the point they fall below a collectible grade. These heavily to moderately worn half dollars are all tied to the silver price. On the reverse; if the Liberty Bell is completely smooth it confirms the average circulated condition.
Coin Values | CoinStudy Articles
Date by Date
In Depth Franklin Half Dollar Value
1948 to 1963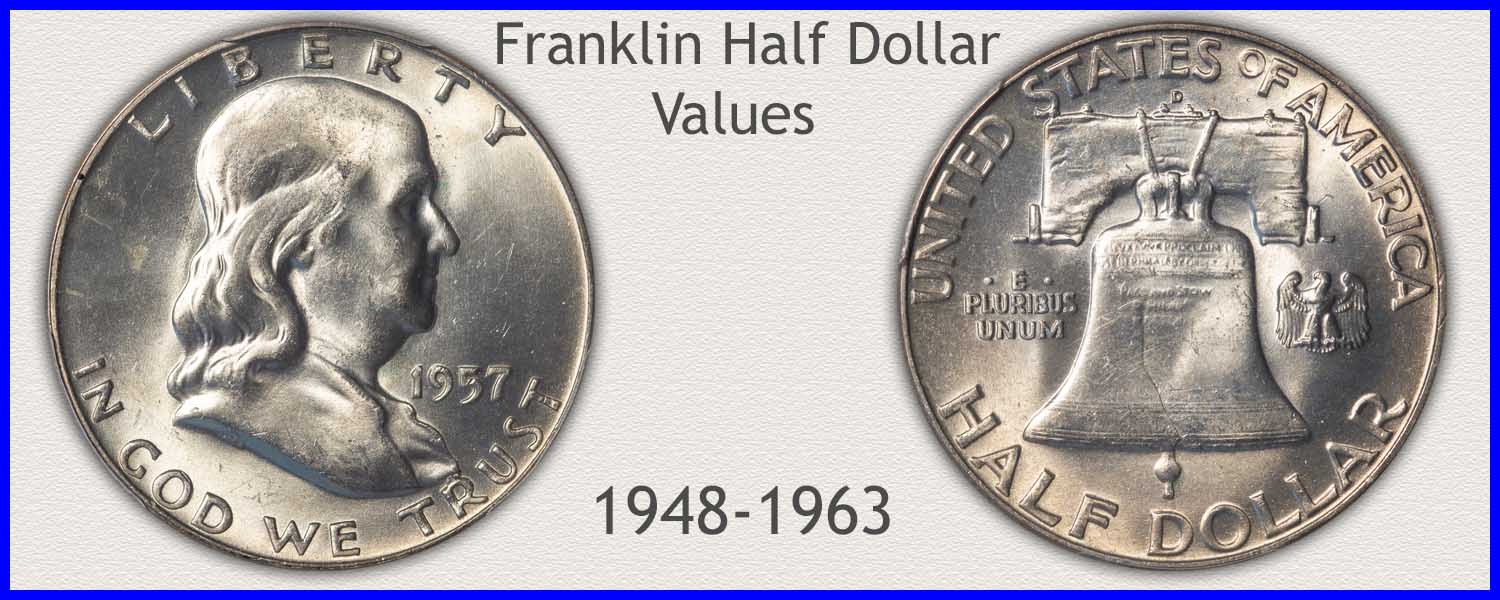 Details to Franklin Half Dollar Value
Accurate value of your coins is found in the details; date, mintmark and condition. These three are the highest in importance. Value charts, images to locate mintmark and judging condition are covered in detail.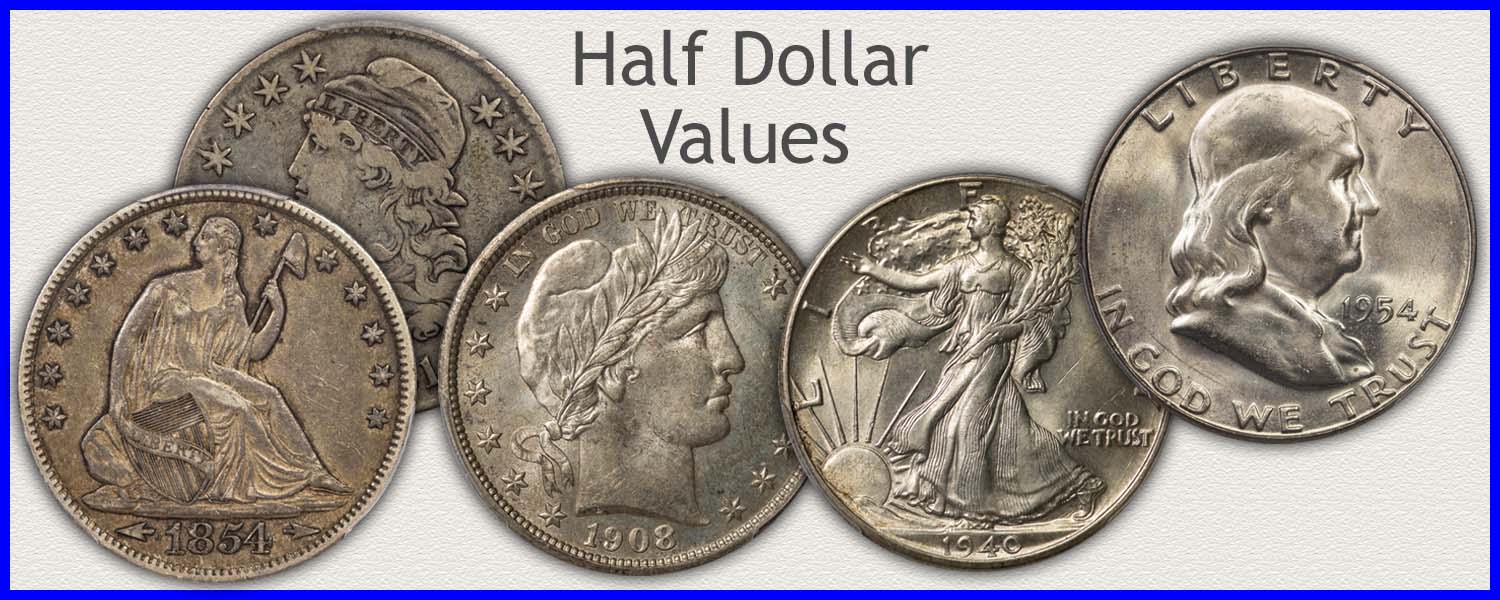 Half Dollar Value of All Series
Silver US half dollars were first minted in 1794 and continued to 1964. Your 1951 Franklin half is part of this long history. All series of half dollars are imaged to help identify your coins, with links to specific value charts.
★Return to Coin Values Discovery... find 1951 Franklin half dollar value and... Coin Values of all US series. Use the image index to identify your coin. Pennies through gold coins all have value charts, mintmark locations described, and importantly grading images to determine condition and find an accurate value of your box of old coins.
Minimum Silver Value | A Good Place to Start
Many of your old US silver coin values are tied closely to the price of silver. Pre 1965 silver dimes, quarters, half dollars and silver dollars are all heavy with 90% silver and worth many times their face value. With today's high value of silver; $25.20 per ounce as of 7/26/2021 your old half dollars are becoming surprisingly valuable. Today's Minimum Silver Coin Values