Coin Values Moving with Precious Metals: Up-Dated 11/27/2023: Gold $2010 | Silver $24.66
1951 Franklin Half Dollar Value
Your coin has potential; collector interest often raises 1951 Franklin half dollar value above its current $8.31 minimum.
Combining the condition of your coin with identifying the mintmark is all part of finding how much it's worth. Follow the step-by-step method below to an accurate judgement of the coin.
Steps Leading to Value:
Step 1: Date and Mintmark Variety - Franklin halves are collected as a series by date and mintmark varieties. Confirm correct issue.
Step 2: Grading Condition - Judging condition closely narrows the range on the value chart. A comparison to images of the different grades is used to find a close match of condition.
Step 3: Special Qualities - Not all date and mints were produced in even quantities. Pleasing early 1950's Franklins are worth recognizing. Subtle qualities add value above silver bullion level.
1951 Franklin Half Dollar Value
Condition of Coin
Date
Average
Circulated
Extremely
Fine
About
Uncirculated
Mint
State
1951 Franklin Half Dollar Value Updated
11/27/2023
1951
$8.31
$8.31
$9.69
$11.77
1951 D
$8.31
$8.31
$11.00
$27
1951 S
$8.31
$8.31
$10.19
$16.90
Above are wholesale values, representing a range when selling to dealers. Grading of the higher condition coins is key to accuracy.
Identify the coins with premiums above silver by following the steps below.
Step 1: | Date and Mintmark Variety Identified
Varieties of 1951 Half Dollar to Recognize
The San Francisco mint after a year absence, again joined in production of 1950 half dollars. Now three mints were producing half dollars, Philadelphia, Denver, and San Francisco.
In total just under 40 million halves were struck in 1950. To identify each mint's coinage, mintmarks were placed on the reverse. With three varieties to recognize, each is listed and valued on the above chart.
Double check the date and next confirm mint of issue using the images below to locate mintmarks. Listings on the value chart; for example; 1951-D, represent the Denver mint.
1951-S Franklin Half Dollar
"S" Mintmark on Reverse: San Francisco Mint Struck the Coin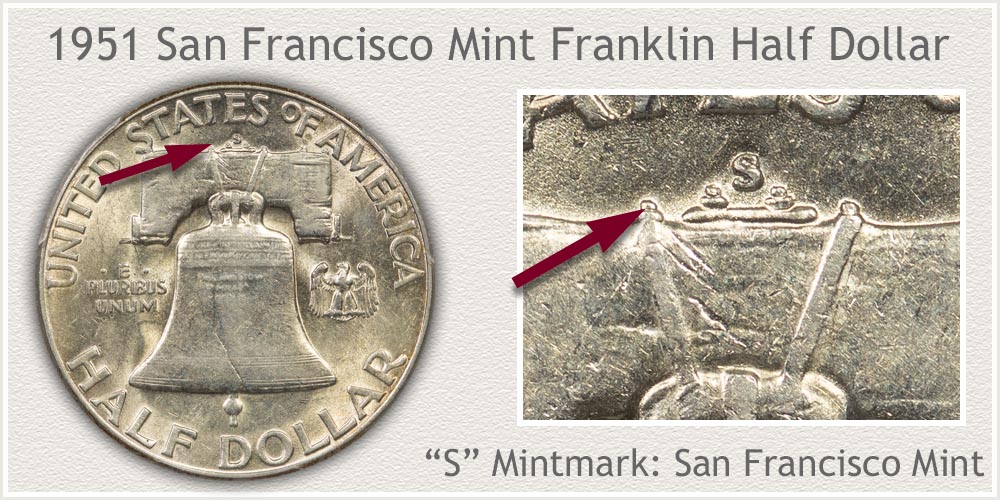 After a one year absence of striking half dollars, the San Francisco mint was needed to supply additional pieces. Recording what became its highest yearly total of the series 13.6 million 1951 Franklin half dollars were produced. These "S" mint halves are abundant today.
Circulated and worn examples are the normal condition and readily supply the bullion silver market. As affordable examples of San Francisco coinage, new collectors are attracted to the issue. Strong premiums are awarded the top condition examples and sought by more advanced collectors.
San Francisco placed an "S" mintmark on the reverse to identify its coinage. Inspect above the Liberty Bell between the straps on the beam. A small "S" mark is the San Francisco variety half.
1951-D Franklin Half Dollar
"D" Mintmark on Reverse: Denver Mint Struck the Coin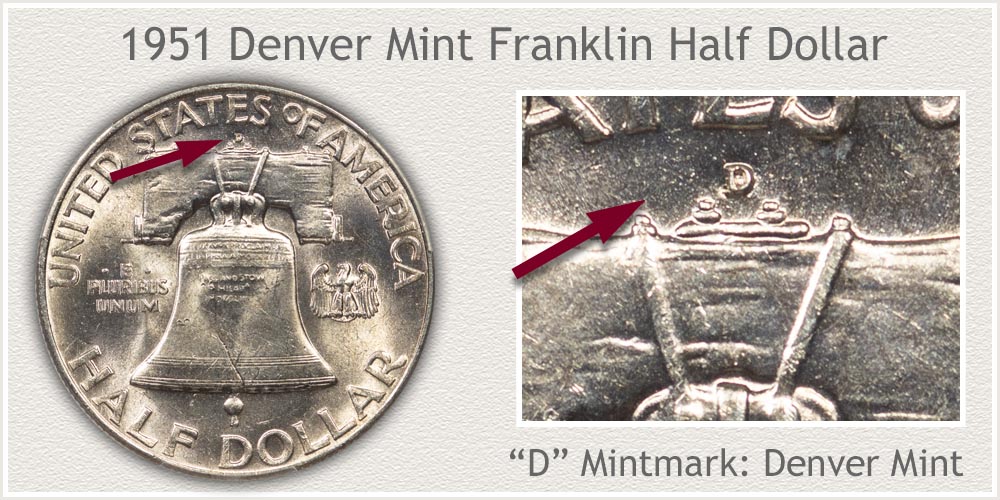 Denver, the branch mint supplying the central U.S. contributed a total of 9,475,200 half dollars to the yearly total. In mint state condition (no wear to the coin) a strong premium has developed. Advanced collectors seek well detailed examples.
A 1951 Denver half represents an early year of the series with a mintage total ranking as the fourth lowest of the Denver issues for the series.
Identify the Denver coin by the "D" mintmark on the reverse placed above the beam suspending the Liberty Bell.
1951 Franklin Half Dollar
No Mintmark on Reverse: Philadelphia Mint Struck the Coin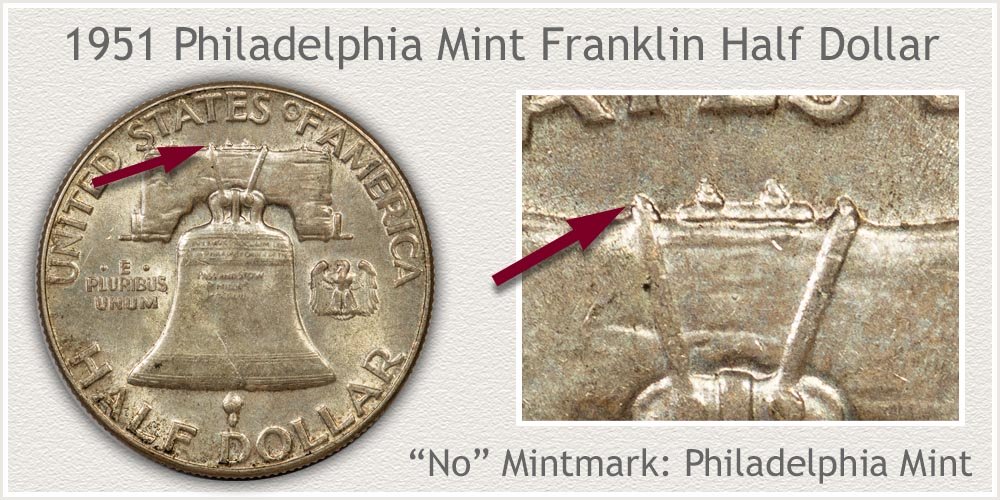 1951 was a strong production year for the Philadelphia mint striking half dollars. Just under 17 million were placed into circulation. With the high numbers produced, a worn 1951 half dollar trades based on its silver value.
Date and mint collectors favor the high condition example 1951 halves, searching for pleasing examples with no wear to the surface. Judging condition is detailed in Step 2 below.
Mint of issue is important to the coin collecting market. Philadelphia varieties of Franklin halves do not have mintmarks. Inspect the area just under the "E" in STATES. An empty area at the center of the beam confirms Philadelphia struck the coin.
Step 2: | Judge Condition to Identify Grade and Collectible Quality
Grading Finds Accurate 1951 Franklin Half Dollar Value
Grading judges and establishes the surface preservation of coins. Many considerations are used to define a grade, luster, wear, and any damage to the coin. Images of standards for grades are used to compare and find a match.
1951 half dollars are split into two main value groups according to wear on their surface. If your coin has noticeable wear it is valued according to silver price. Those with slight to no wear are all higher in value. See specifically the dividing line "about circulated" grade.
Mint State Grade
Mint State: Mint state is the condition a coin leaves the mint. These freshly minted coins show no evidence of use. Surfaces are without any wear and retain that brilliant shine of a new coin. The highest parts of the design; Franklin's cheek is an area to inspect closely. A dulling of the metal indicates wear.
Note the raised area of Franklin's cheek under the eye. Metal on the high profile is matching lower relief areas above and below the eye. When tilting the coin under a light, luster is complete and of the same brightness on all contours of the cheek.
About Uncirculated Grade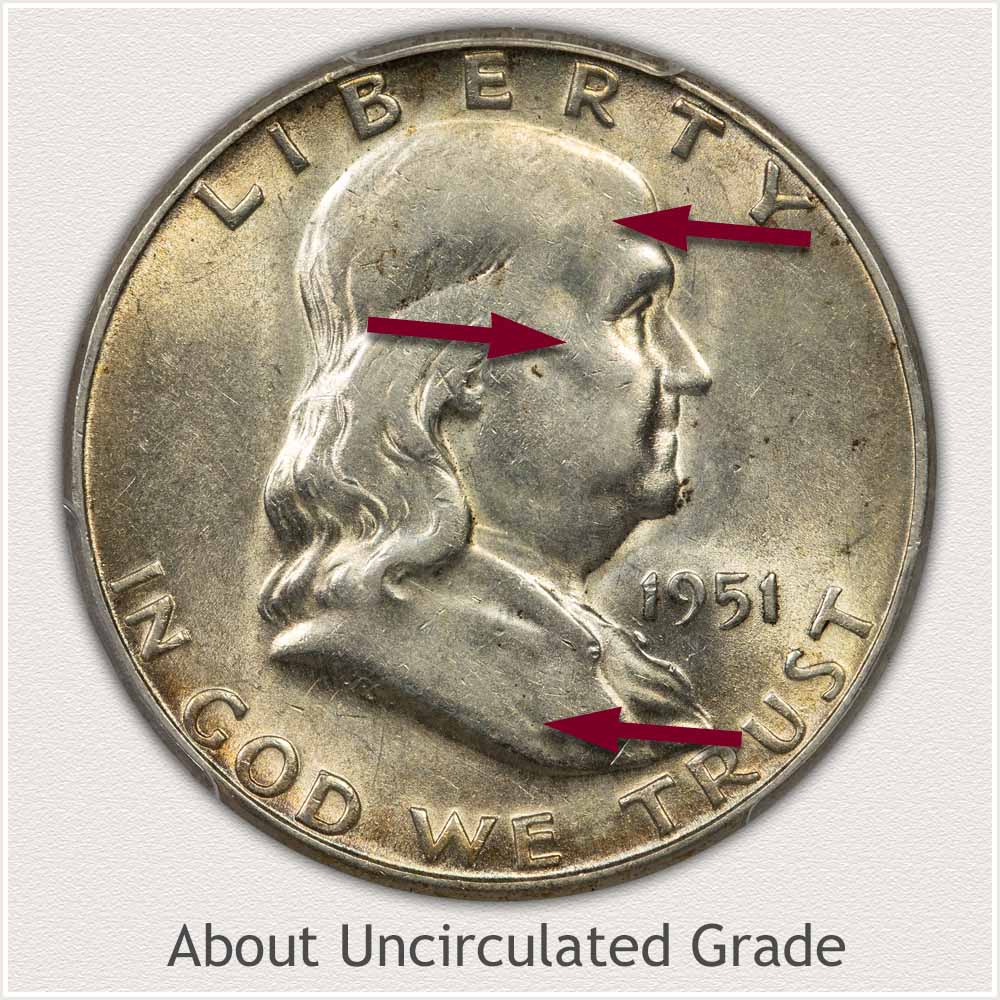 About Uncirculated: Very slight wear defines the "about uncirculated" grade. This is the specific condition where 1951 Franklin half dollar value breaks away from its underlying silver price.
It must be stressed; only very minor amounts of wear is acceptable to qualify for the about uncirculated grade. Judge carefully that wear is confined to just the very tops of Franklin's cheek and along the lower edge of his shoulder. Parts of his hair just behind the ear is also slightly smooth. A slight dulling of the metal and color change is indicating slight wear.
It is important that a majority of the mint luster remain over all areas of the coin.
Extremely Fine Grade
Extremely Fine Grade: Wear is noticeable on coins in the Extremely Fine grade. All traces of luster is gone leaving the coin a soft grey color.
Focus on the cheek area, high contours are a different, smooth texture than the low relief area above and below the cheek. A smooth texture is also found in the waves of hair behind the ear. A small amount of detail is blended in these large waves of hair; however, a few fine lines remain.
Average Circulated Condition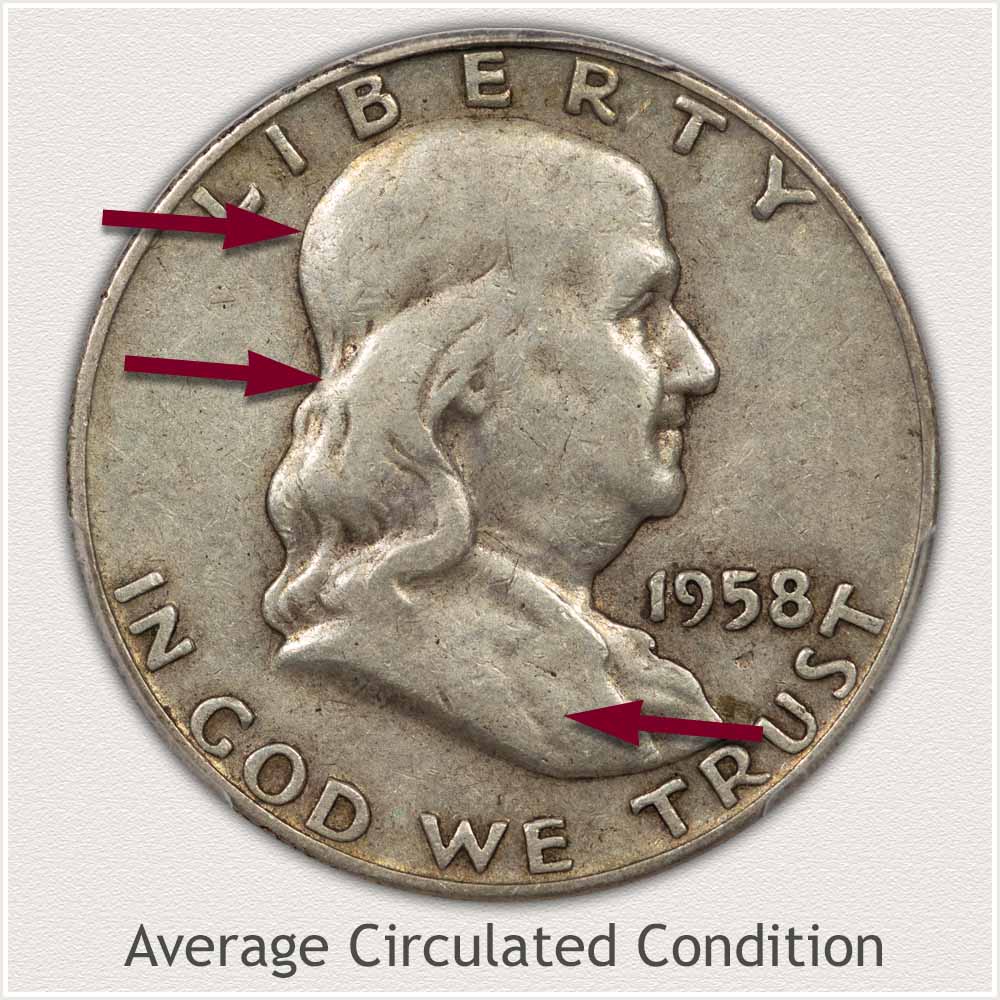 Average Circulated Condition: Any 1951 half dollar displaying noticeable wear is termed "average circulated." These coins are worn to the point they fall below a collectible grade.
Helping identify the heavy wear condition is the top of Franklin's head is missing all fine hair lines. Wear has reduced the upper details of his head to a flat surface. Waves of hair above and behind the ear are now smooth with little separation of distinct waves.
A noticeable flattened area is visible along the lower line of the shoulder.
How to Video: Grading Franklin Half Dollars
Judging the condition of your coin is also needed as part of determining how much it's worth. Most are tied to the movements of the silver market, moving up and down. Breaking away from the silver influence are those top-quality coins with just faint traces of wear or no wear at all. An in-depth video, descriptions and images add to understanding grades and conditions.
Video, Images and Descriptions | Grading Franklin Half Dollars
Step 3: | Special Qualities Identify Collectible Value
Subtle Factors to High Quality - Collectible Franklin Half Dollars
The collector market in Franklin half dollars is driven primarily by condition - grade of the coins. A large number of collections of these half dollars are assembled by advanced collectors seeking high grade mint state pieces. A second group are collectors placing About Uncirculated coins in their collection. About Uncirculated Franklin's enjoy a strong demand because of affordable prices of these nice looking coins.
About Uncirculated halves are just slightly worn, retain ample mint luster, available, and within the price range of new and young collectors. These coins are an excellent start to the hobby. Here are few pleasing examples.
Eye appeal and aesthetics of the above coins remains high. Only the slightest amount of wear is on the surface. Original vibrance of the surface including the bright shine of luster is a plus to the pleasing "look" of about uncirculated coins.
Looking closely, the coins all display a couple of subtle qualities helping these stand apart as collectibles. Of note is the high amount of detail found on the Liberty bell. All lettering is readable and bold. Franklin halves varied in the boldness of design detail; some examples are noticeably well struck when compared to others. Finding the different dates and mint varieties with well struck devices is a challenge. Well struck, about uncirculated pieces are appreciated and collected.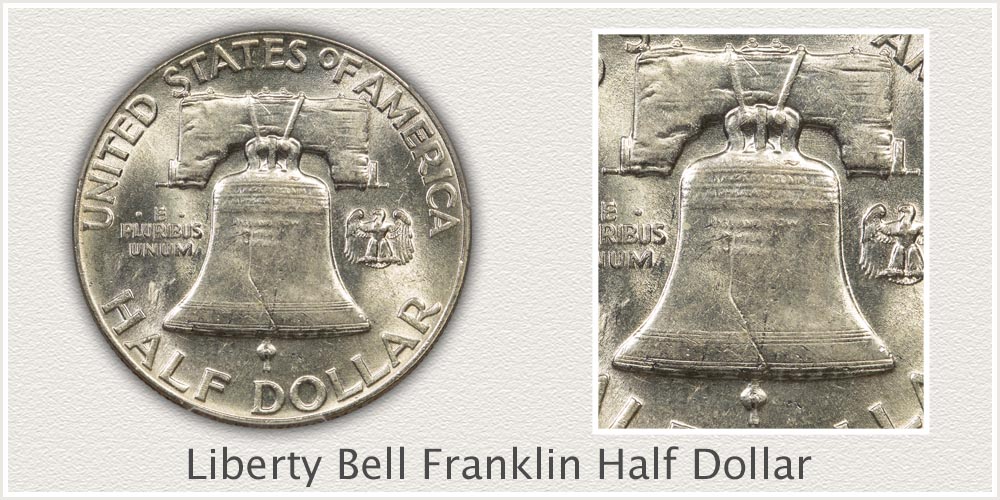 Second subtle quality is the lack of distracting marks. Large marks do not catch the eye and small nicks are at a minimum, leaving a well preserved surface. These coins are not common, a dedicated search is needed to find acceptable examples combining the many quality factors.
When assembled into a collection, Franklin halves chosen for luster, quality of strike, and surface preservation becomes a prideful collection. A young or new collector becomes astute in their abilities in the hobby.
References
U.S. Mint. 1952 U.S. Mint Annual Report https://nnp.wustl.edu/library/book/514146
Coin Values | CoinStudy Articles
Date by Date
In Depth Franklin Half Dollar Value
1948 to 1963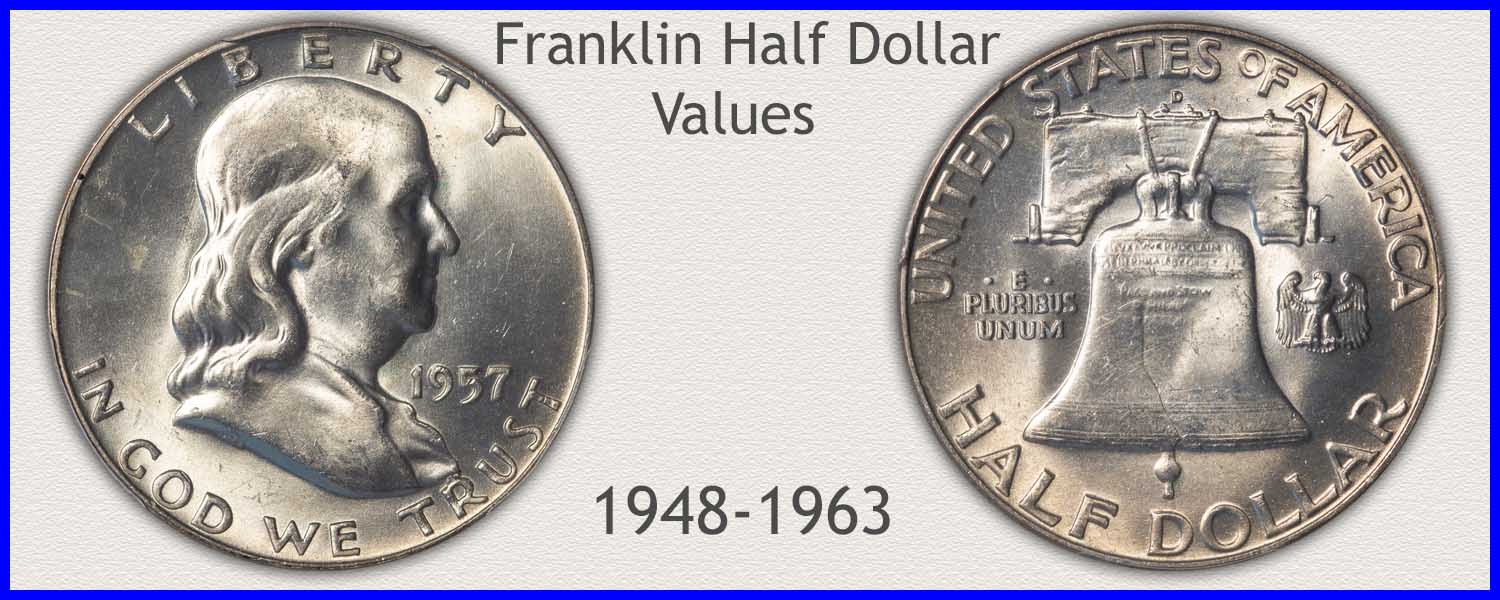 Details to Franklin Half Dollar Value
Accurate value of your coins is found in the details; date, mintmark and condition. These three are the highest in importance. Value charts, images to locate mintmark and judging condition are covered in detail.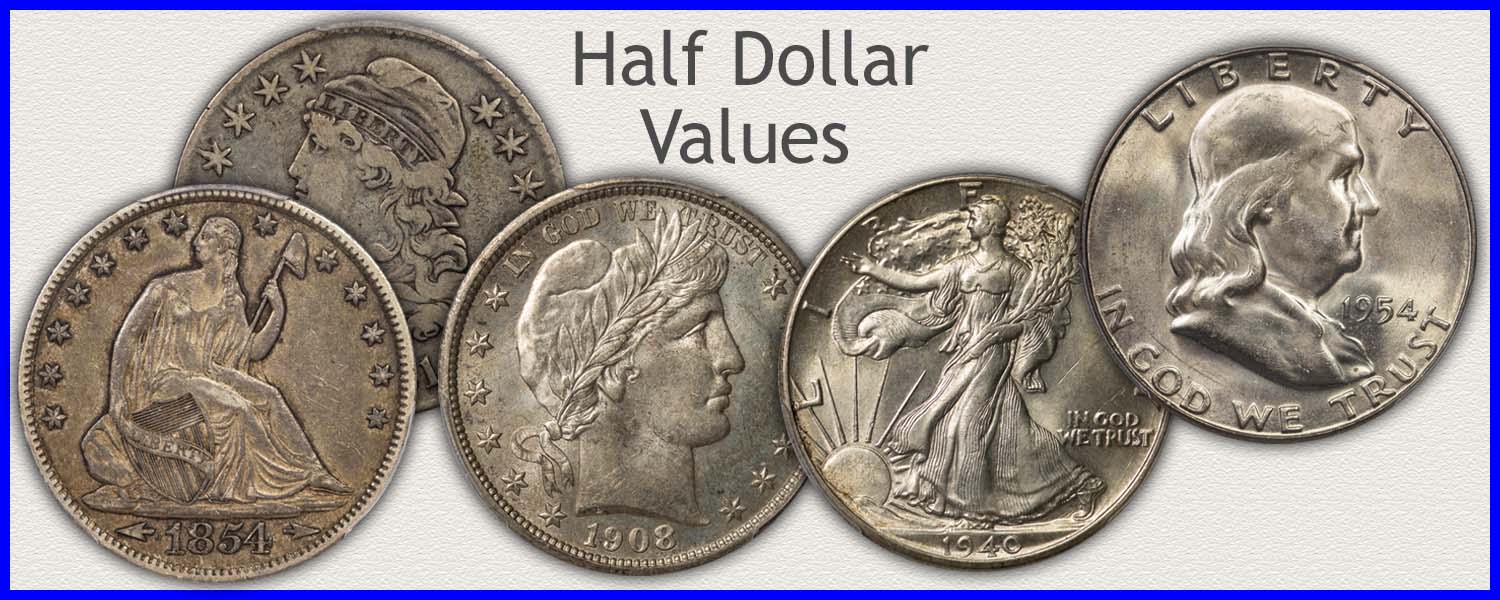 Half Dollar Value of All Series
Silver U.S. half dollars were first minted in 1794 and continued to 1964. Your 1951 Franklin half is part of this long history. All series of half dollars are imaged to help identify your coins, with links to specific value charts.
Popular Coin Series | Franklin Half Dollars
Interest of collectors is the base to coin values. A study of the number of Registry Set collections of the different series shows level of interest. Franklin Half Dollars have a solid ranking and popularity.
Safe Coin Storage | Recommendations
Safe coin storage is important to preserve value, organize your box of old coins, and improve safe handling of your Franklin halves. Recommendations of a few supplies to house all silver, nickel, and copper coins.
A quick reference to U.S. Coin Values. Recognize your coin compared to images. Old coins from cents to gold coins are imaged and charts list minimum values for each type. Each chart links to in-depth coverage of a step-by-step process to coin values.
★Coin Values Discovery finds 1951 Franklin Half Dollar Value and...
All old U.S. coin values. Follow image and text links to identify all series of coins from cents to gold. Determine date and mintmark and importantly use grading images to judge condition. Discover how much your box of old coins are worth.