Coin Values Moving with Precious Metals: Up-Dated 9/25/2023: Gold $1921 | Silver $23.44
Franklin Half Dollar Value
Heavy with silver, minimum Franklin Half dollar value is $7.90 for an average circulated example. Silver prices as of 5/25/2023 are a solid base to how much these old half dollars are worth.
A step by step approach is used to find dates important to collectors. Next, mintmarks are identified with higher than minimum value. Step 2 judges condition to recognize high quality collector value Franklin Half dollars.
Steps Leading to Value:
Step 1: Date and Mintmark Variety - Identify those in demand date and mintmark combinations needed by collectors.
Step 2: Grading Condition - Quality is key to value. Judge condition to recognize high grade and desirable Franklin halves.
Step 3: Special Qualities - Separate markets move how much these old half dollars are worth. Highest value are collector quality coins.
Review the value chart, steps to judge your coin follow. Subtle differences are evaluated along with insight to specific demands from both collectors and silver buyers of half dollars.
The above are wholesale Franklin half dollar values. Computed from dealer's price lists with various mark-up factors figured in. They reflect closely the value you would expect to receive when selling.
However, do expect variations in value to occur subject to subtle grading points, collector demands and dealer needs.
Step 1: | Date and Mintmark Variety are Identified
Release of the new Franklin half dollars in April 1948 began a new half dollar series continuing through 1963. A modern change from the prior design, a bust of Benjamin Franklin fills the obverse. Equally, the Liberty Bell is the main element to the reverse.
Mints and Mintmarks of the Franklin Half Dollar Series
Huge numbers of half dollars were struck of the Franklin series. Philadelphia, Denver, and San Francisco mints all struck half dollars totaling over 465 million released into circulation. Large number still exist today.
Collections typically include an example of each mint and year. Mintmarks identify the mints striking the coin.
"S" Mintmark: San Francisco Mint Struck the Coin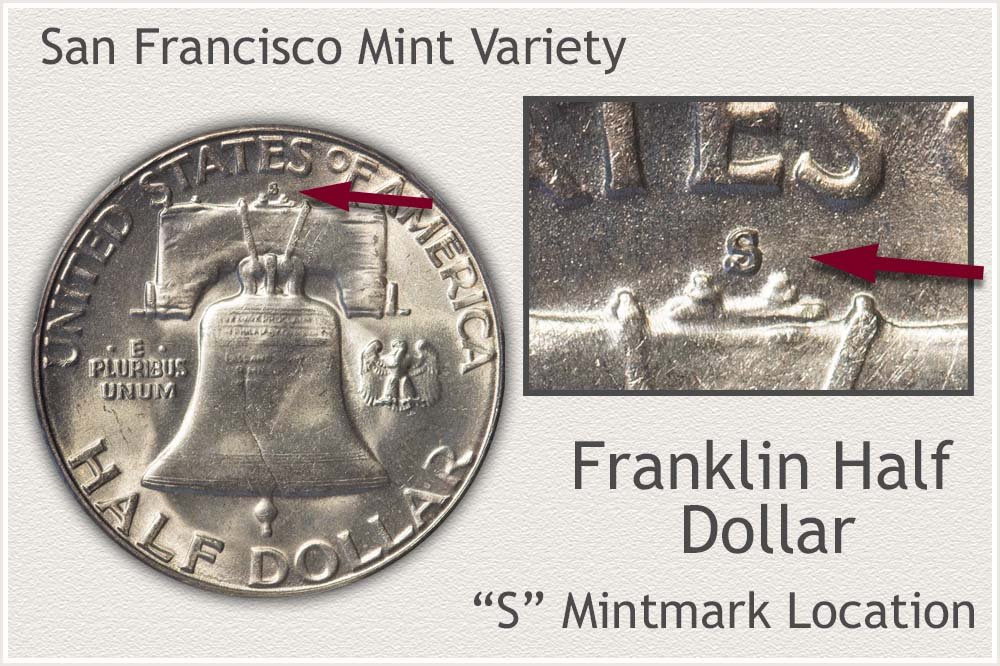 The San Francisco mint was involved in Franklin half production beginning in 1949. It ceased operation striking coins for circulation in 1955. In total minting just over 32 million half dollars of the series. It is the fewest total of the three mints. In Mint State grades San Francisco variety halves carry a premium.
To identify the San Francisco coin, a small "S" was placed above the bell just below "E" of States.
"D" Mintmark: Denver Mint Struck the Coin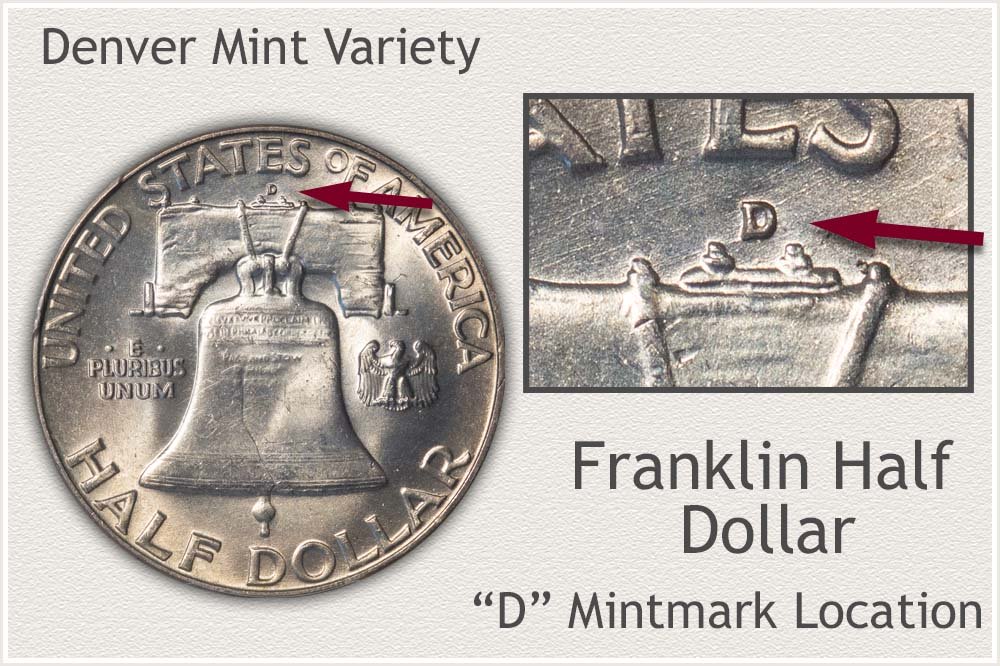 Denver despite missing two years of production, 1955 and 1956, contributed the largest total of all mints. Just over 295 million half dollars of the series with 67 million in 1963 alone. All dates are considered available in average circulated condition, most trade at bullion level values. 1949-D stands out showing demand from beginning collectors. Nice, lightly circulated 1949-D Franklin's are worth close inspection.
Denver used a "D" mintmark to identify its production. Above the bell, a small "D" indicates Denver struck the coin.
No Mintmark: Philadelphia Mint Struck the Coin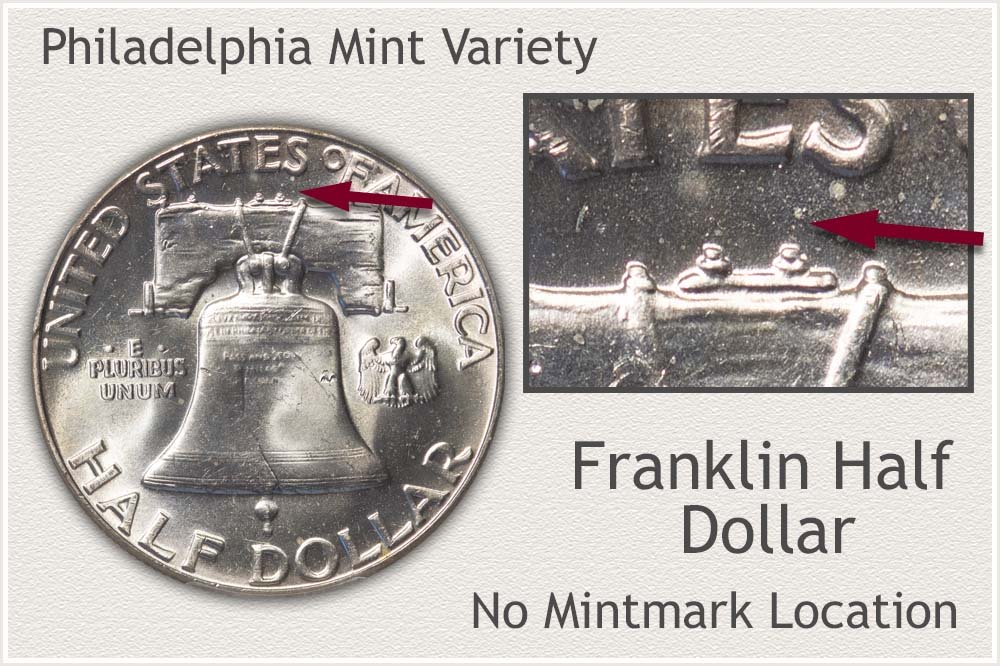 Philadelphia is the main US mint. Responsible for striking circulating coinage, assay office, and producing all dies used in coinage operations of all mints. Philadelphia contributed 138 million halves for circulation. Additionally, striking just under 16 million proof Franklin halves. Proof coins (special high-quality striking) were packaged and sold as sets, not released into circulation. Philadelphia is noted for minting Franklins halves every year of the series. The variety is available in quantities and worn examples trade with movements of silver value.
Philadelphia did not use a mintmark at the time of the Franklin series. No mintmark in the area just above the bell and below the "E" of States confirms Philadelphia struck the coin.
Step 2: | Judging Condition | Identify Grade | Determine Value
Mint State grade Franklin halves are at the center of collector demand. These top condition coins are tops in popularity and a focus of collectors.
Collectors and dealers, before they determine value, first examine the condition of each coin and assign a "Grade". The following are descriptions of the grades listed on the value chart.
Franklin Half Dollar Value is Conditional
Finding Franklin halves breaking away from underlying silver bullion value is judging a few key areas on the coin. The major price point is Mint State and About Uncirculated grades. Slight wear to the surface decides the difference. Images of standards for the grades help identify the areas to judge.
Mint State Grade: Franklin Half Dollar
Obverse: Features Identifying Mint State Grade: Defining the Mint State grade is; complete texture of luster covering the surface. Luster, imparted when the coin is struck is delicate, wear is first identified when this luster is removed.
Franklin's portrait is wide open and exposed to any wear to its surface. High in profile, his cheek, inspect closely for unbroken luster remaining.
Hair just above and to the left of his ear receives any wear almost immediately. Luster matches surrounding areas on a mint state coin.
Inspect closely Franklin's shoulder where the hair curl ends. Luster on the shoulder matches luster throughout the coat.
Reverse: Features Identifying Mint State Grade: A sparkle to the luster remains over the high points of the Liberty bell, matching luster of the field.
Inspecting the lower edge of the Liberty bell finds a continuous, matching texture to the metal. No smoothing has removed any metal.
Outer edges of the beam above the bell are the same texture as the beam overall.
An eagle with outstretched wings remains without any flattening or smoothing to the upper edges of the wings.
About Uncirculated Grade: Franklin Half Dollar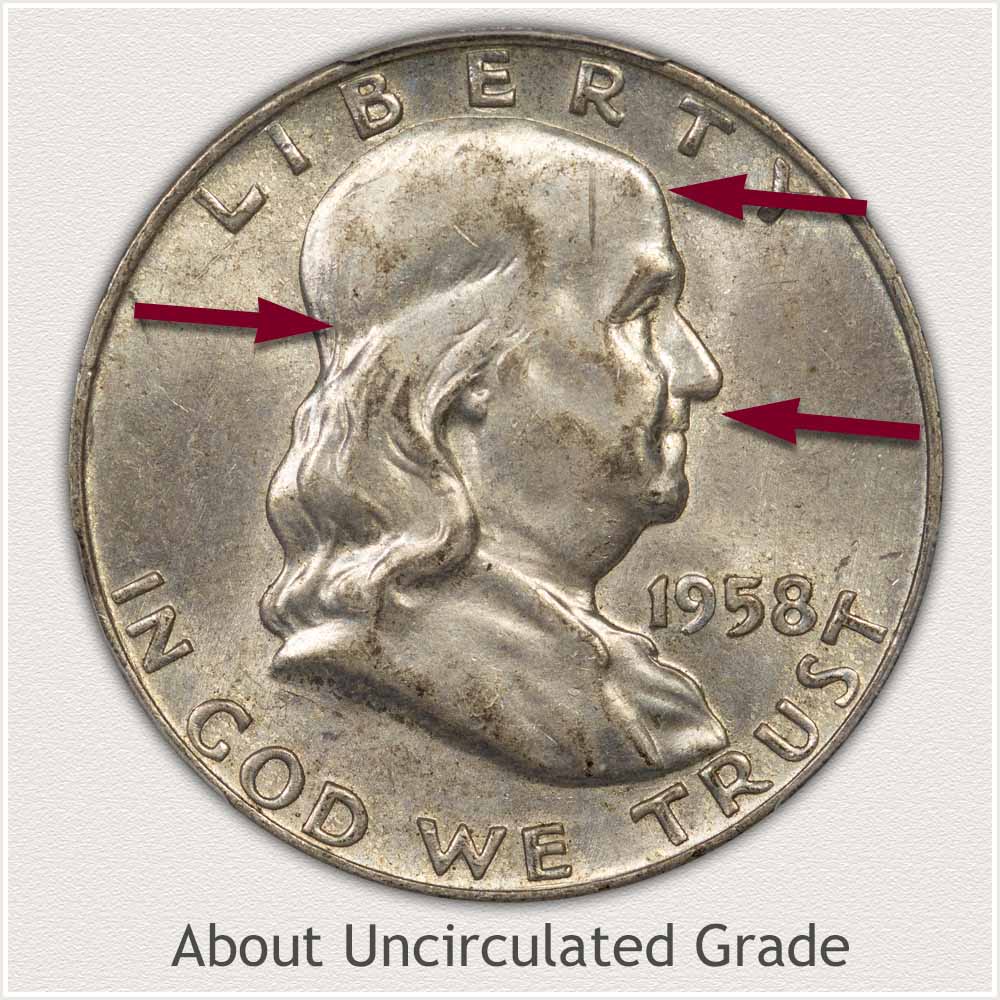 Obverse: Features Identifying About Uncirculated Grade: Subtle color changes on high points of the design are indicating a slight degree of wear. About Uncirculated is defined as wear confined to just the tops of design elements. Only minor amounts of metal are removed.
Mint luster/texture still covers most of the surface. Checking the hair above and left of the ear finds a change in texture and dulling, indicating a small amount of wear.
Franklin's cheek is lustrous except on the highest part of the contours. Smooth and just slightly dull is the result of wear to the surface.
Hair flowing over the temple is beginning to show evidence of a change in color and a difference in texture. Wear has smoothed the metal in the area and is a distinctly difference appearance.
Reverse: Features Identifying About Uncirculated Grade: A few key areas are indicating wear on the reverse imaged. Lightness of the wear is placing the coin in the About Uncirculated grade.
Traces of dulling is found along the lower edge of the Liberty bell. This dulling is helping confirm the smooth texture of the metal, a result of worn luster.
Fine lettering is found on the bell. A small degree of wear is dulling the tops of the letters in comparison to the bell.
Two straps across the beam are tied to the bell. These straps are high in profile and display slight wear. Color and texture of the straps is less vibrant than the surface of the beam just below.
Extremely Fine Grade: Franklin Half Dollar
Obverse: Features Identifying the Extremely Fine Grade: Luster is missing, replaced with a soft silver color to the metal. Wear is beginning to flatten high areas of the design.
Franklin's cheek just behind his mouth shows a small flat area.
Noticeable is wear just above Franklin's ear. An area of smooth and flat metal has merged fine strands of hair.
Behind the ear strands of hair are just visible.
Lowest wave of hair remains with a rounded profile to the tops and disconnected flat areas.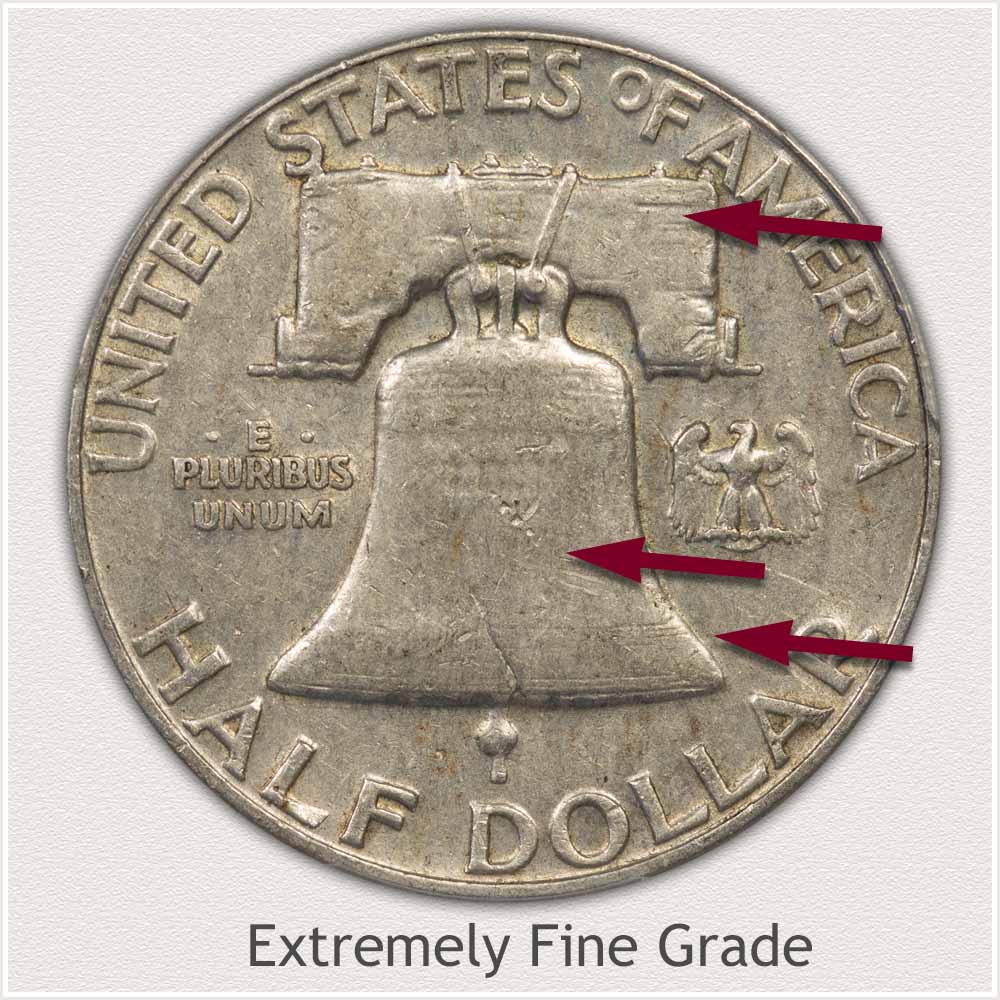 Reverse: Features Identifying the Extremely Fine Grade: Wear is beginning to flatten finer details to the Liberty bell leaving only traces of detail behind.
Fine lines along the lower edge of the bell and just above are faintly visible but disconnected.
Lettering of "Pass and Stow" is faint, never strong, now just a raising of the metal.
A wood grain look to the beam remains. Heaviest wear is confined to the centers of the beam.
Small amounts of wear are limited to the high profiles of the eagle to the right of the bell.
Average Circulated Condition: Franklin Half Dollar
Obverse: Features Identifying Average Circulated Condition: Wear has now flattened many major details to Franklin's portrait.
A connected flat area now involves Franklin's cheek merged with the temple ridge to the eyebrow.
All fine hair details and strands at the top of the head are smooth.
Flattened and now a wide area defines the hair behind Franklin's ear.
Hair just above the shoulder is now very flat across the curl.
Reverse: Features Identifying Average Circulated Condition: Liberty bell is now a smooth flattened outline.
No traces of lettering across the bell remains. Fine decorative details once covering the upper area of the bell is worn away.
Lines at bottom of bell are missing over the clapper.
Beam is mostly smooth. Eagle to the right is flattened in the center with only small areas of detail remaining to the wings.
How to Video: Grading Franklin Half Dollars
Mint State condition Franklin half dollars pictured on this page are examples dealers and collectors pay a premium to obtain. If your coin is just slightly worn the number of dates worth above base silver drops to just a few.
Grading the condition of coins is often the difference in higher value. Follow the video and compare your coins to the images and descriptions. With a little time, you develop an eye for quality.
How to Video | Grading Franklin Half Dollars
Step 3: | Special Qualities to Recognize with Potential Value
Subtle differences separate the two main markets of Franklin half dollars. These differences are identifiable by judging surface quality of the coin. Circulation wear moves most coins into the Bullion market. Absence of circulation wear raises a coin into the Collectible market.
A bullion quality coin follows in value with changing prices of silver. All Franklin halves are 90% silver and 5/25/2023 each is worth $7.90 .
Collector quality coins, high grade Mint State examples, enjoy premiums well above underlying silver value. Price movements of these coins are caused by demand from collectors, not the silver market. Detecting and judging the difference of a mint state verses a circulated coin is needed.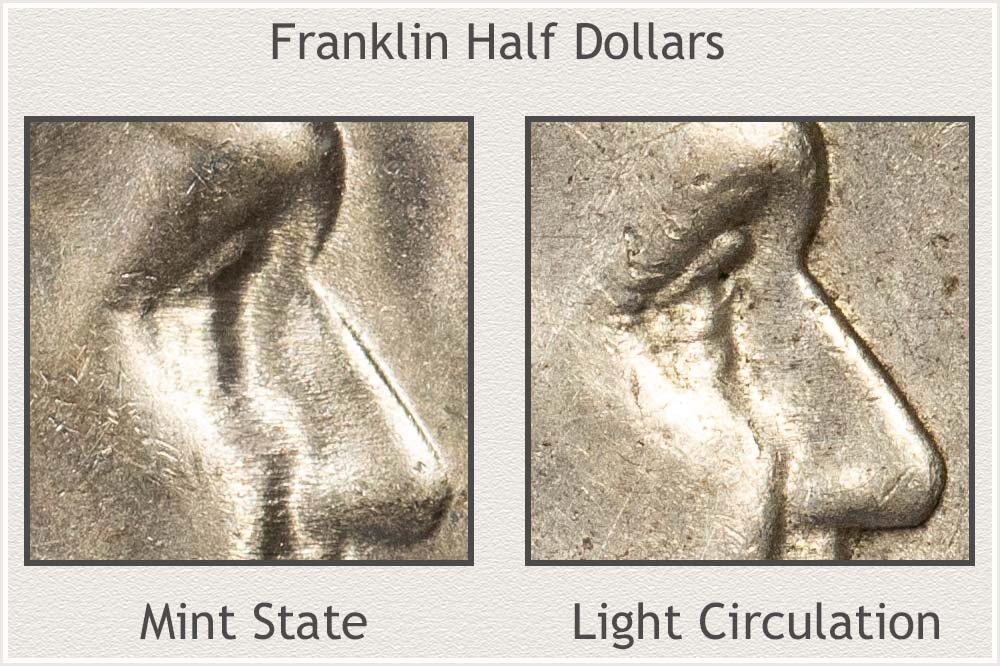 Mint state grade is the defining value difference to many Franklin halves. A very close look at surface quality and preservation is needed to recognize the grade.
Tilting a coin under a single light source allows the light to reflect brightly off mint luster. Mint luster is the original surface and has a fine texture causing the shine. The coin in the image displays typical mint state texture with a few scuffs from abrasions with other coins.
A lightly circulated coin under the same lighting shows worn areas as dull surfaces. Once the fine texture is missing the surface is smooth and less of a shimmer. On a lightly worn coin, compare high relief areas to low protected areas helping see the difference in texture and reflectivity.
Any Franklin half at the mint state level of preservation is a high potential, collector quality coin.
References
US Mint. 1948 US Mint Annual Report. https://nnp.wustl.edu/library/book/339
US Mint. 1964 US Mint Annual Report. https://nnp.wustl.edu/library/book/514149
US Mint. 1950 to 1963 US Mint Annual Reports. https://nnp.wustl.edu/library/publisherdetail/51
Coin Values | CoinStudy Articles
Date by Date
In Depth Franklin Half Dollar Value
1948 to 1963

Coin Value Guide | How to Value a Coin Collection
A step by step method combined with the coin value online guide identifies how to value a coin collection. Discover how much your box of old coins is worth.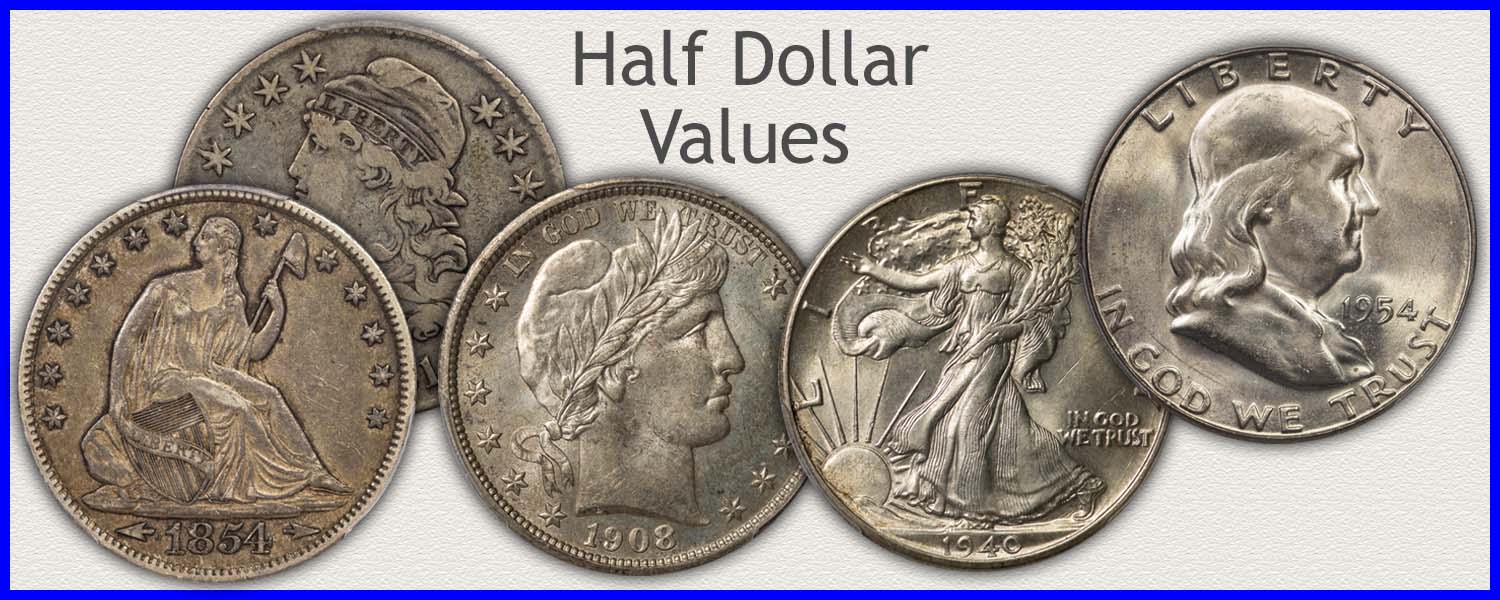 Discover the value of all your old half dollars. From the very first Bust half dollars to Seated Liberty to Barber halves. Continue to the Walking Liberty and Franklin Half dollars. Compare your coins to the "Grading Images" and find their accurate value on the charts.
Searching for rare half dollars starts with the year 1965. Any half dollar minted before 1965 is silver and premium value. Twentieth century series have a large number of scarce dates and a few very rare issues. Halves minted in the early years are all scarce.
Today's Minimum Silver Coin Values
Continuing with special qualities of coins. Many of your old silver quarter values are tied closely to the price of silver. Half dollars dated 1964 and earlier are 90% silver and worth many times their face value. With today's high value of silver your old coins are becoming surprisingly valuable.
The Forgotten Silver Kennedy Half Dollars
Early year Kennedy half dollars contain silver as part of the alloy. Not often remembered these silver half dollars are valuable coins today. Groups of half dollars need searching to identify the years of silver halves.
Follow the steps to sell silver coins. Determine value first; then how to find a dealer. Images and descriptions help recognize the dates and series US coins contained silver.
★ Coin Values Discovery finds Franklin Half Dollar Value and...
All old US coin values. It is an excellent index with images and text links to all coin series, from Cents to Gold. Value charts, grading images and a step by step procedure uncovers how much your box of old coins is worth.
Print the Coin Values Worksheet to list your Franklin half dollars and record their values. Should you decide to sell... use the worksheet as an invoice and packing slip when sending coins through the mail to dealers. It indicates you have done your coin values homework.