Coin Values Moving with Precious Metals: Up-Dated 11/27/2023: Gold $2010 | Silver $24.66
1963 Franklin Half Dollar Value
Look upon 1963 Franklin half dollar value as split into two main groups. Worn circulated coins are traded as bullion pieces, currently $8.31 each as of 11/27/2023 . This is the minimum to expect.
The second area of value is quality examples sought by collectors. They are willing to pay above base silver price for conditionally scarce examples.
Using a step-by-step method determine the accurate quality of your coin and the correct market to how much it is worth.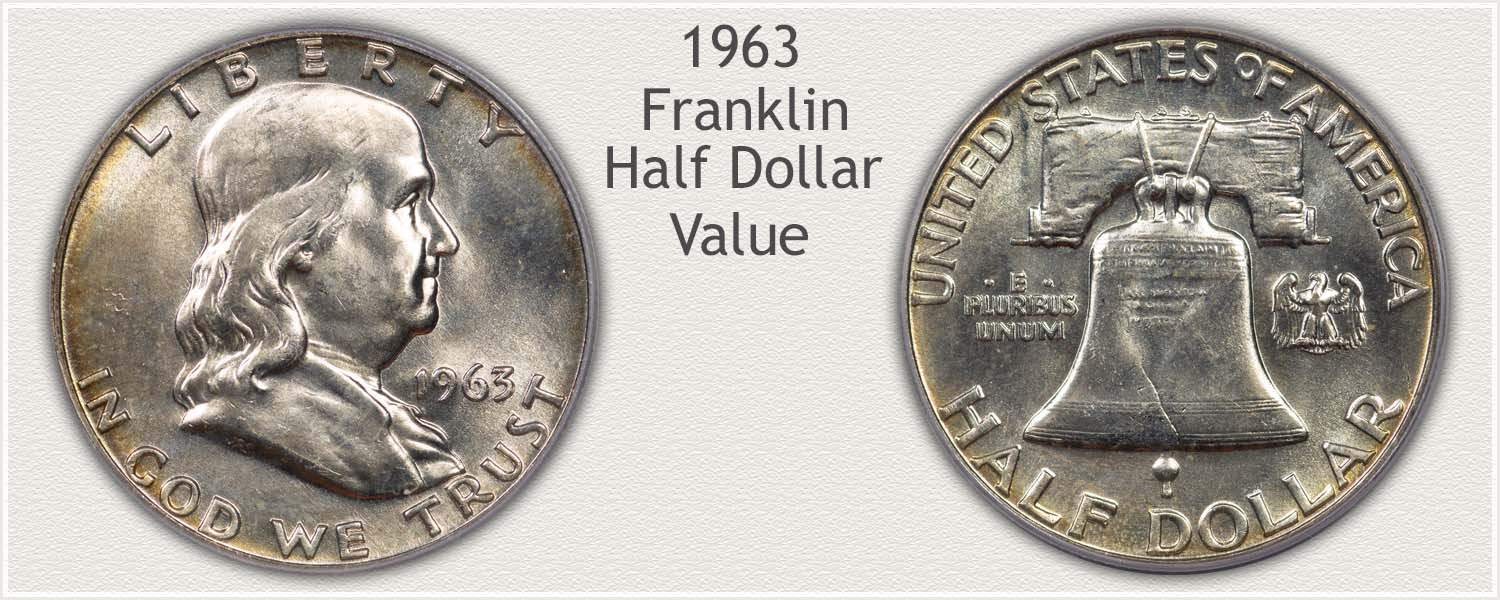 Steps Leading to Value:
Step 1: Date and Mintmark Variety - A collectible quality Franklin half is accurately identified by date and mint that struck the coin. Locate mintmark to confirm variety.
Step 2: Grading Condition - Comparing your coin to images helps judge condition and recognize bullion valued coins from premium collectible examples.
Step 3: Special Qualities - 1963 ended the Franklin half series. Many collectors specialize in the series and certain dates are in high demand. Scarcity of examples in both, total struck and well-preserved condition is showing in premiums.
1963 Franklin Half Dollar Value
Condition of Coin
Date
Average
Circulated
Extremely
Fine
About
Uncirculated
Mint
State
1963 Franklin Half Dollar Value Updated
11/27/2023
1963
$8.31
$8.31
$8.31
$11.41
1963 D
$8.31
$8.31
$8.31
$11.41
Determining how much a Franklin half is worth considers retail (what you pay) and wholesale; value/worth (what you sell to a dealer). Above are wholesale values. Use as a guide to narrow a selling range.
Accurately judge and define your coin using the images in the steps below.
Step 1: | Date and Mintmark Variety Identified
Varieties of 1963 Half Dollar to Recognize
1963 became the last year of the Franklin half dollars series. The Kennedy halves replaced the Franklin design in 1964.
Also notable is the huge numbers of 1963 half dollars produced, over 89 million during the year. This total is the largest single year production of the entire series.
Two mints struck 1963 halves, Philadelphia and Denver. Mintmarks on the Denver coinage identifies its production. Value charts, collectors, and dealers recognize the separate issues and date and mint notations are needed for an accurate description of the coins.
1963-D Franklin Half Dollar
"D" Mintmark on Reverse: Denver Mint Struck the Coin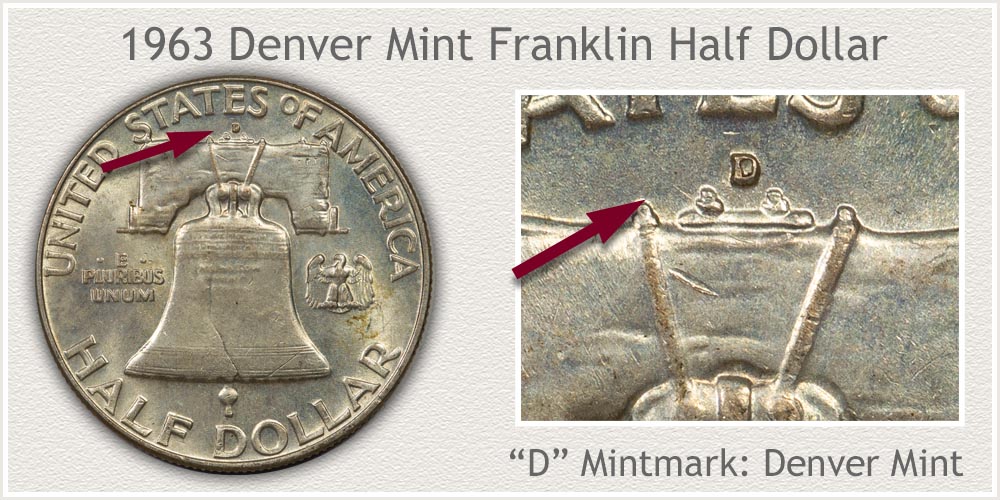 1963 became the last year of the Franklin half dollars series. This historical fact is combined with the record yearly production total of 67,069,292 half dollars produced by the Denver mint. Over 67 million halves is the greatest amount by any mint for a given year in the entire series.
A Denver mint 1963 half dollar is abundant today, many from the original mintage still exist. Because huge quantities are available most trade at the base silver value of the coin. It requires a very well preserved coin, without any wear to the surface, to attract the attention of collectors and premium values.
To identify the Denver issue coins, a small "D" mintmark was placed on the reverse of its coinage. Just under the E in STATES if the "D" mark is found, Denver struck the coin.
1963 Franklin Half Dollar
No Mintmark on Reverse: Philadelphia Mint Struck the Coin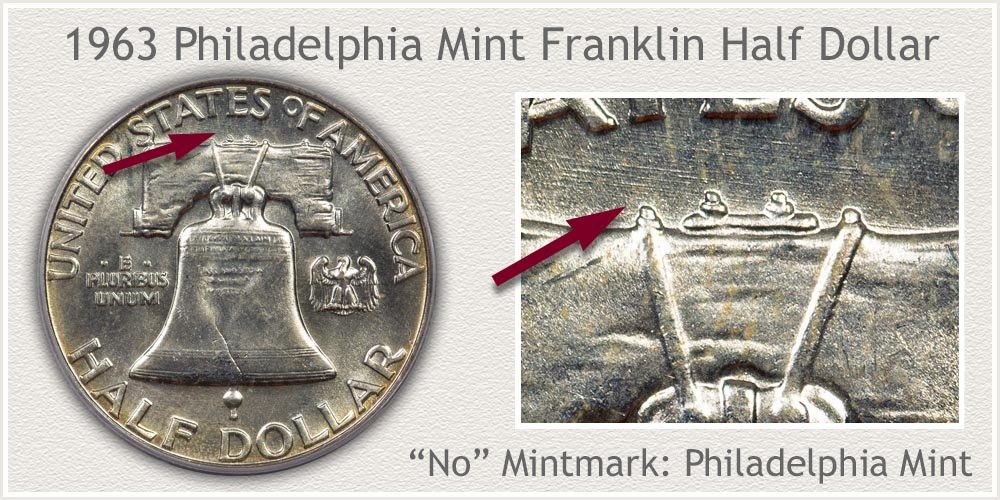 In 1963 the Philadelphia mint struck what became the record high production of Franklin halves by the mint for a single year. Just over 22 million 1963 half dollars struck. These also became the last of the Franklin series, 1964 saw the beginning to the Kennedy series.
There are abundant supplies of Philadelphia 1963 halves remaining today. An average condition coin displays wear to the surface and is valued based on its silver content. Collectors and dealers place a premium on exceptional condition coins. Coins set aside before entering circulation and without wear to the surface are awarded values above silver base worth. Grading condition is detailed in Step 2 just below.
Philadelphia mintage halves are recognized by the lack of a mintmark. If no mintmark is found in the area just above the beam suspending the Liberty Bell the coin was struck at the Philadelphia mint.
Step 2: | Judge Condition to Identify Grade
Quality Determines 1963 Franklin Half Dollar Value
Interest by collectors is focused on top quality half dollars to add to sets. Grading judges the surface condition and applies a "grade" to define the state of preservation. Grades are now used to categorize levels of condition and narrow value ranges.
As part of the 1963 Franklin half dollar value process, compare your coin to images found below to find a matching condition and assign a grade.
Mint State Grade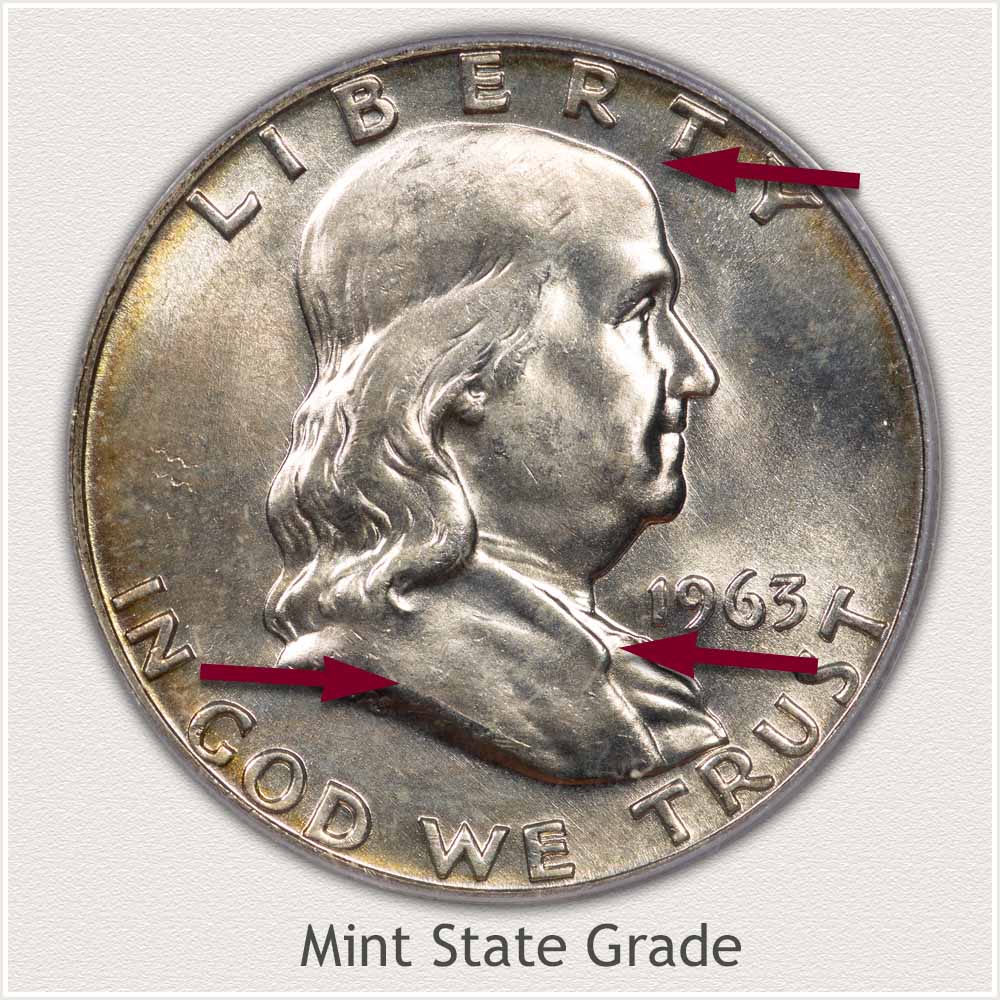 Mint State: Leading in desirability is the "mint state" grade. This is a coin with essentially no wear to its surfaces. These coins retain original mint luster, with a distinctly "new" look. When tilted under a light and slowly rotated, mint luster shines in bands across the surface. Any wear to the coin and this luster becomes missing, taking on a dull appearance.
Look closely at Franklin's shoulder, collar and chin; these are some of the first areas to wear and show missing luster. A consistent color and texture is found on both the higher contours of the metal when compared to the lower, protected areas.
A complete lack of dull, smooth surfaces on the peaks of the design indicates no wear to the coin and a mint state grade.
About Uncirculated Grade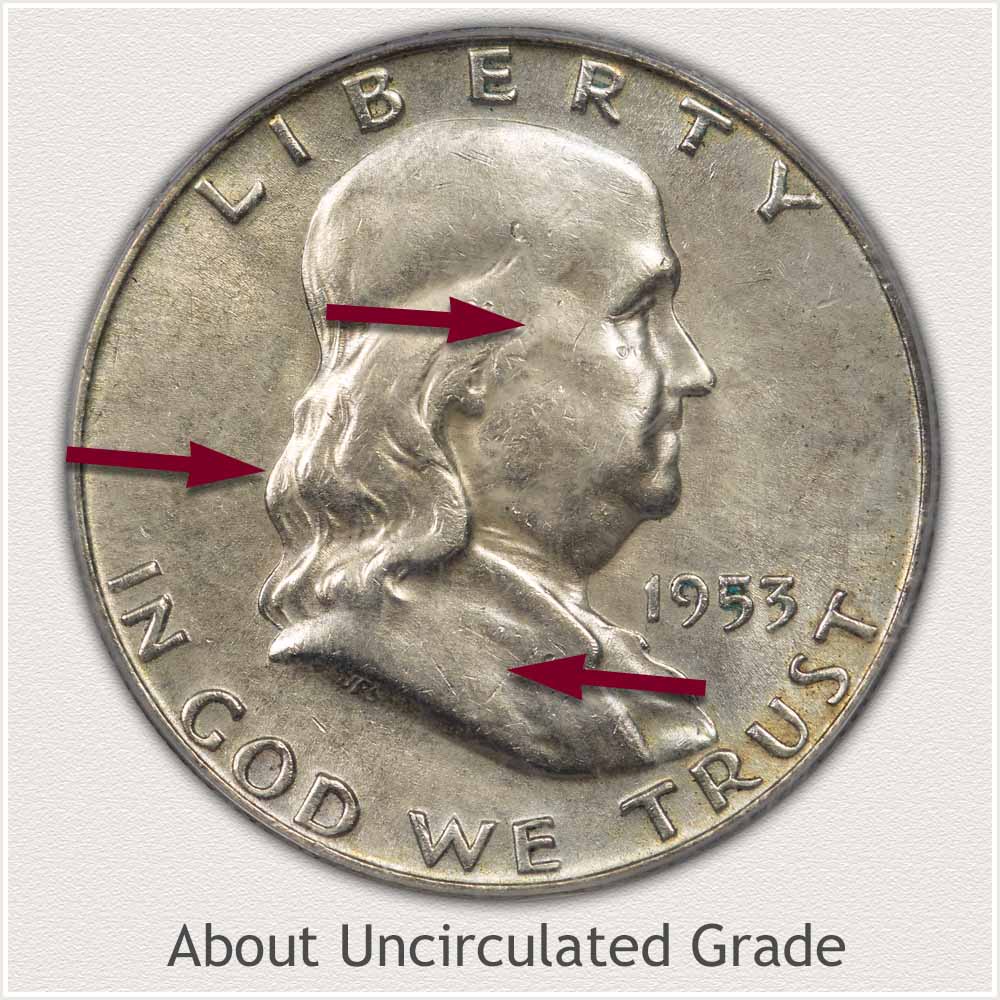 About Uncirculated: Take your time here, small details are critical. This grade separates the majority of 1963's halves from those worth premium collector value.
Once the high points of the design begin to wear a coin is graded as "about uncirculated" condition. To fit in this grade your coin should have most of the original mint luster remaining (only high spots removed) and the wear must be light.
The cheek of Franklin just below the eye typically shows the first signs of wear. Also confirm only light wear present on the shoulder, it shows as a dulling to the shine without much removal of metal.
Extremely Fine Grade
Extremely Fine Grade: Light wear on all parts of the design is a half dollar approaching the Extremely Find grade.
Two factors standout on the example coin. First, the overall soft silver-grey tone, indicating original luster is removed by wear. Secondly, only the very tops of contours and high points of the design show smoothing from wear.
Franklin's hair is now mostly smooth covering the head, fine strands within the hair are missing. Large waves of hair behind the ear remain bold with inner strands visible.
Additionally, his cheek and area around the eye are well contoured with remaining high and low relief.
Average Circulated Condition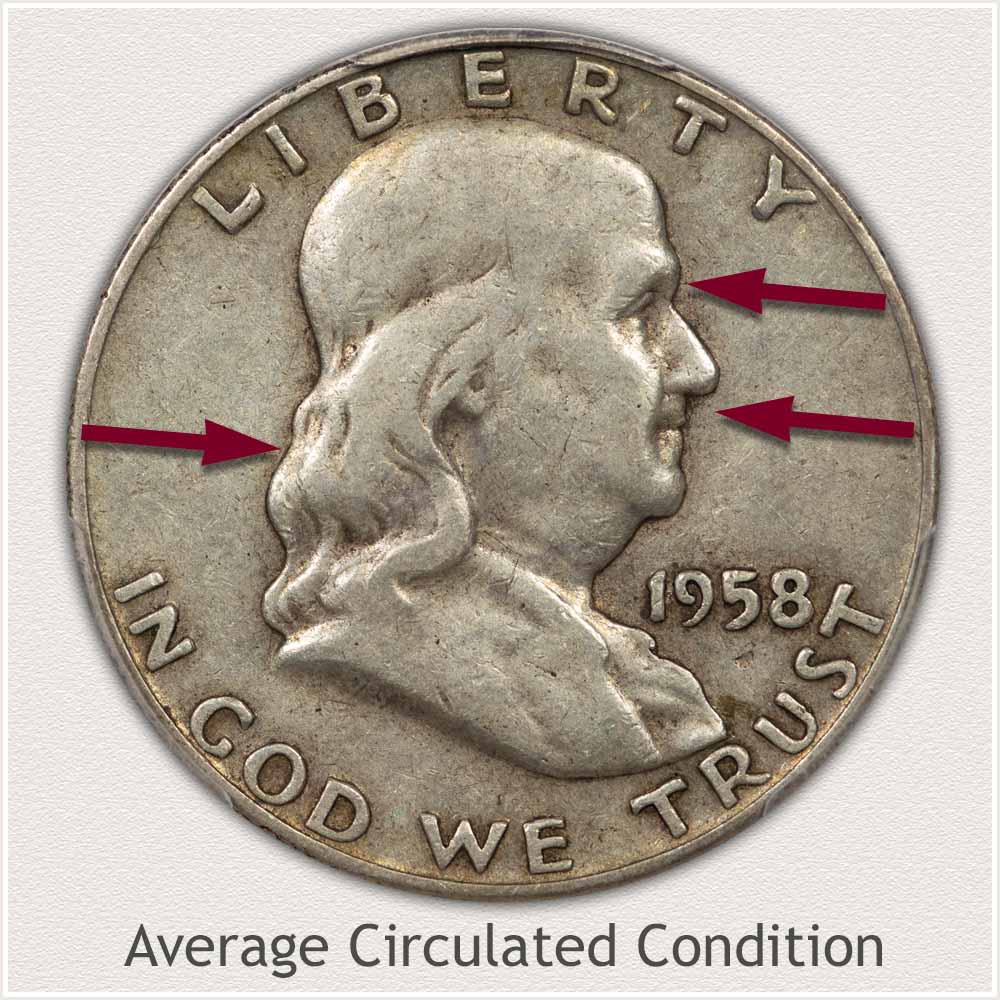 Average Circulated Condition: A noticeably visible amount of wear is lowering the example coin to the "average circulated" condition. These coins are distinctly less clear in detail than the Extremely Fine grade.
A key area to inspect are the waves of hair behind ear. Note the large flattened area of metal merging with the strands creating a flat spot. Finer details are missing.
Wear is also lowering the contours over the entire face of the portrait. The eyebrow is easily seen with a flat area in place of a high contour. With reduced fine detail these coins are termed "average circulated" and 1963 halves in this condition are traded based on value of silver content.
How to Video: Grading Franklin Half Dollars
Collecting Franklin half dollars by date and mintmark is very popular, with a demand for high quality pieces. 1963 halves are primarily sought in the mint state grade, a condition with subtle points required to qualify. Reviewing the video and additional images helps recognize the quality in demand.
Video, Images and Descriptions | Grading Franklin Half Dollars
Step 3: | Special Qualities Within the Franklin Series
Visible Separation of Potential Franklin Half Dollar Value
With the ending of the Franklin half dollar series in 1963 an overall view begins to reveal facts important to collectors. Assembling a complete set of Franklin halves includes all date and mint combinations issued. A starting point to determine availability and scarcity of individual issues is the original numbers produced. When used in context and comparing to other dates in the series, very low numbers and very high numbers minted point to basic scarcity.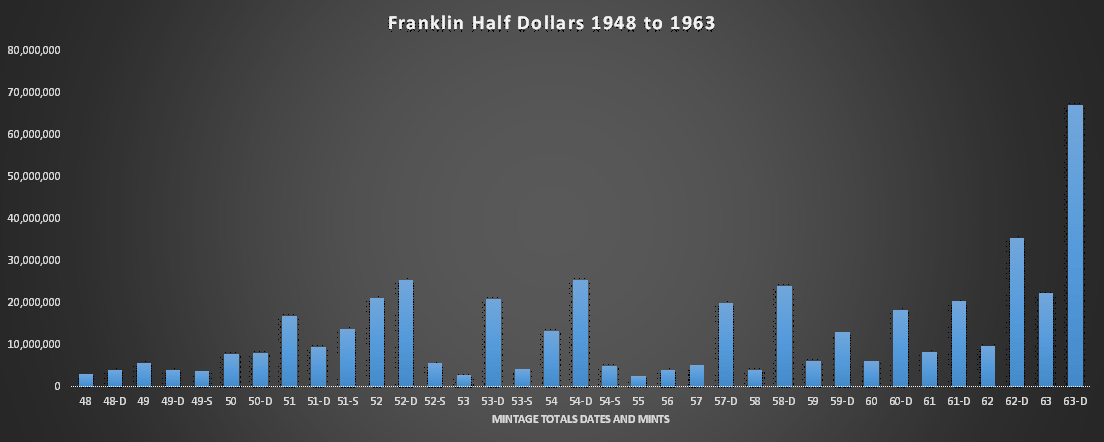 Viewing the graph, those dates and mints at the extreme ends of low to high production are quickly visible. Collectors when taking note of the high mintages appreciate the basic scarcity of the very low production varieties.
Standout date is the 1955 Philadelphia Franklin half. It is the lowest mintage of the entire series. Less the 2.5 million struck, well below the next lowest the 1948 Philadelphia half at 3 million. Adding to demand is the 1955 was minted only at Philadelphia. Representing a half dollar from 1955 requires the Philadelphia issue, no other mints struck half dollar in 1955.
A second issue, the 1949 San Francisco coin is high in demand, confirmed by both its place on value charts and its place as the lowest San Francisco mintage of the series.
A visible pattern is the grouping of low mintages during the first years of the series as compared to later years. Early year Franklins are less available in high condition because of initial low numbers produced and time in circulation. Later years of the series ended with the ending of silver in coinage and where quickly removed from circulation, many just lightly worn.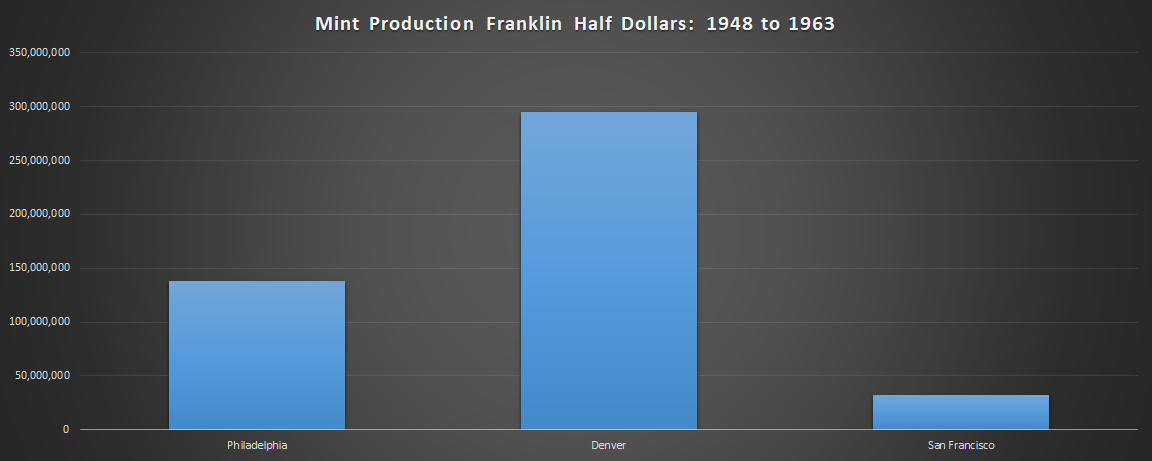 Philadelphia mint is notable as the only mint striking Franklin half dollar each year of the series.
When mint production is totaled for each of the three mints, Philadelphia, Denver, and San Francisco, overall scarcity of each variety is clear. The San Francisco Franklin halves are noticeably a very low number produced overall. Added also to basic scarcity of San Francisco coins is all were produced during the early years, many becoming moderately to heavily worn.
Although the Denver mint records the largest total amount of Franklin halves, early year issues enjoy premiums in light to no wear condition.
Philadelphia issues follow the same value trends as Denver coinage, early years are beginning to rise in premiums based on demand for nice eye appealing coins.
Low mintage numbers of the early years - 1948 to 1956 represent coinage with premium above base silver content. Years 1957 to 1963 with high production numbers requires a high quality example to reach collectible status and value.
References
U.S. Mint. 1964 U.S. Mint Annual Report. https://nnp.wustl.edu/library/book/514149
U.S. Mint. 1963 U.S. Mint Annual Report. https://nnp.wustl.edu/library/book/514148
Coin Values | CoinStudy Articles
Date by Date
In Depth Franklin Half Dollar Value
1948 to 1963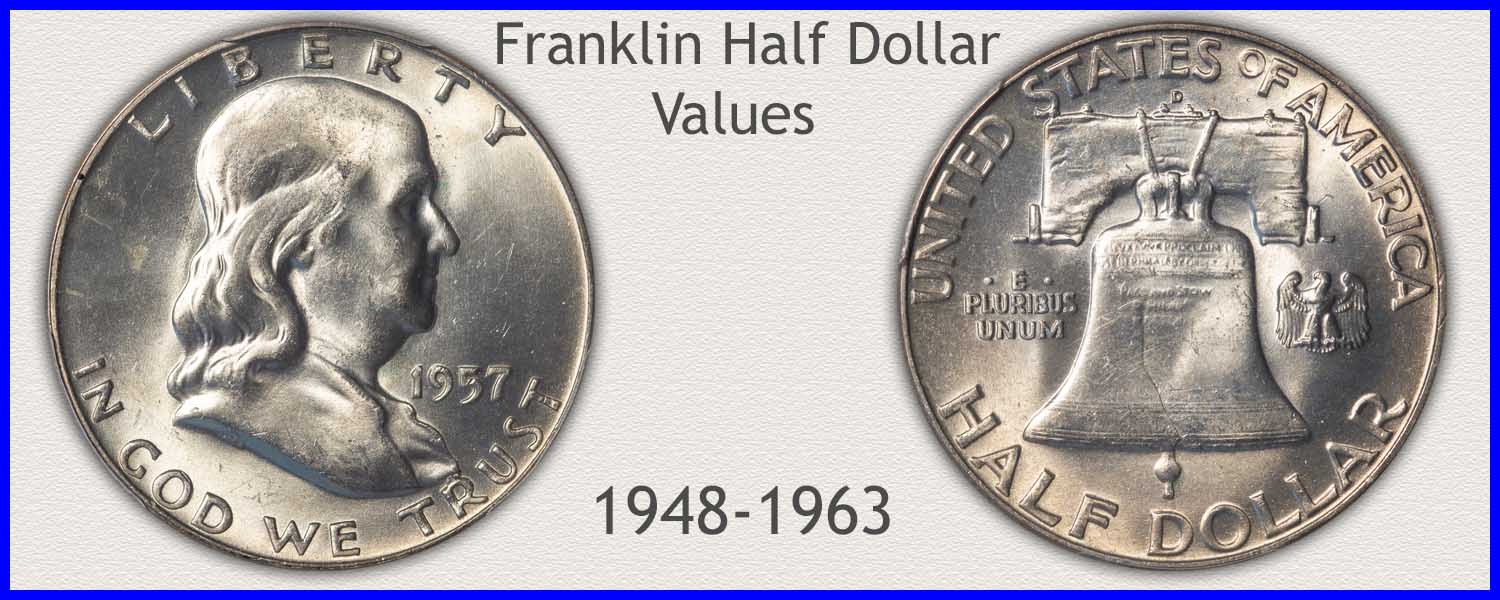 Complete Series Listing of Franklin Half Dollar Value
Franklin half dollars are highly valued not only for their silver content, currently $7.00 per coin, but are now becoming a sought-after collectible. All dates and mints listed on the chart, with links to specialized silver value pages.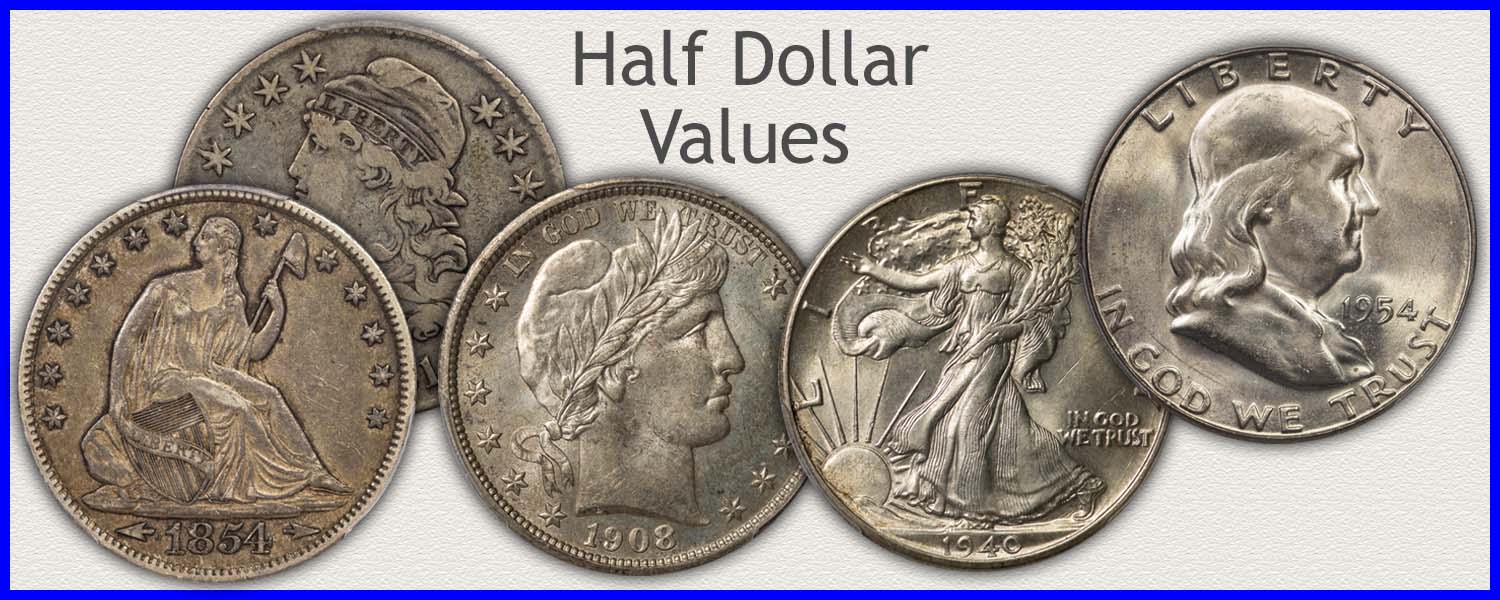 Half Dollar Value Spanning All Series
Never a week goes by without movement in half dollar value. Silver is the driving force to most of 1963 Franklin half dollar value, however many halves are in the higher collectible range. All series are listed with value charts and important grading images.
Print the Coin Values Worksheet
After following the steps above to evaluate coins. Print the worksheet to list your Franklin Half Dollars and the rest of your collection and record their values.
Popular Coin Series | Franklin Half Dollars
How much your old half dollars are worth is determined first using base silver value and then premiums added due to collectible demand. Franklin Half Dollars rank solid in popularity within the different vintage series.
Coin Value Guide | How to Value a Coin Collection
Place a value on your entire box of old coins. Coin collections are valued using a step-by-step process helping identify, organize, and record specific information needed. Starting with your Franklin Half Dollars continue through the entire collection.
Safe Coin Storage | Recommendations
Safe coin storage is important to preserve value, organize your box of old coins, and improve safe handling of your Franklin halves. Recommendations of a few supplies to house all silver, nickel, and copper coins.
Discover the worth of bullion quality silver coins. Many old U.S. silver coins are traded based on silver content value. Identify these, determine value, and find potential buyers.
★Coin Values Discovery finds 1963 Franklin Half Dollar Value and...
There is potential with any coin, if it seems a little daunting sorting it all out, begin at the home page to identify your coin values. Match your coin to the images on the home page - each is linked to the specific U.S. coin series and their value charts.
All coins are valued individually; important details such as Mintmarks and Grading Condition are covered in depth. A few steps are necessary in the process, however all combined - discovers the accurate value in your box of old coins.