Coin Values Moving with Precious Metals: Up-Dated 11/27/2023: Gold $2010 | Silver $24.66
1948 Franklin Half Dollar Value
Today's minimum 1948 Franklin half dollar value is $8.31 for a coin the hobby refers to as "average circulated" condition, one whose appearance is noticeably worn from use.
Your coin needs careful viewing. Often examples of the 1948 half dollar are worth more if the wear to the surface is very slight. Minor touches of wear confined only to high points indicates above average condition, and these are beginning to take on a premium as a collectible.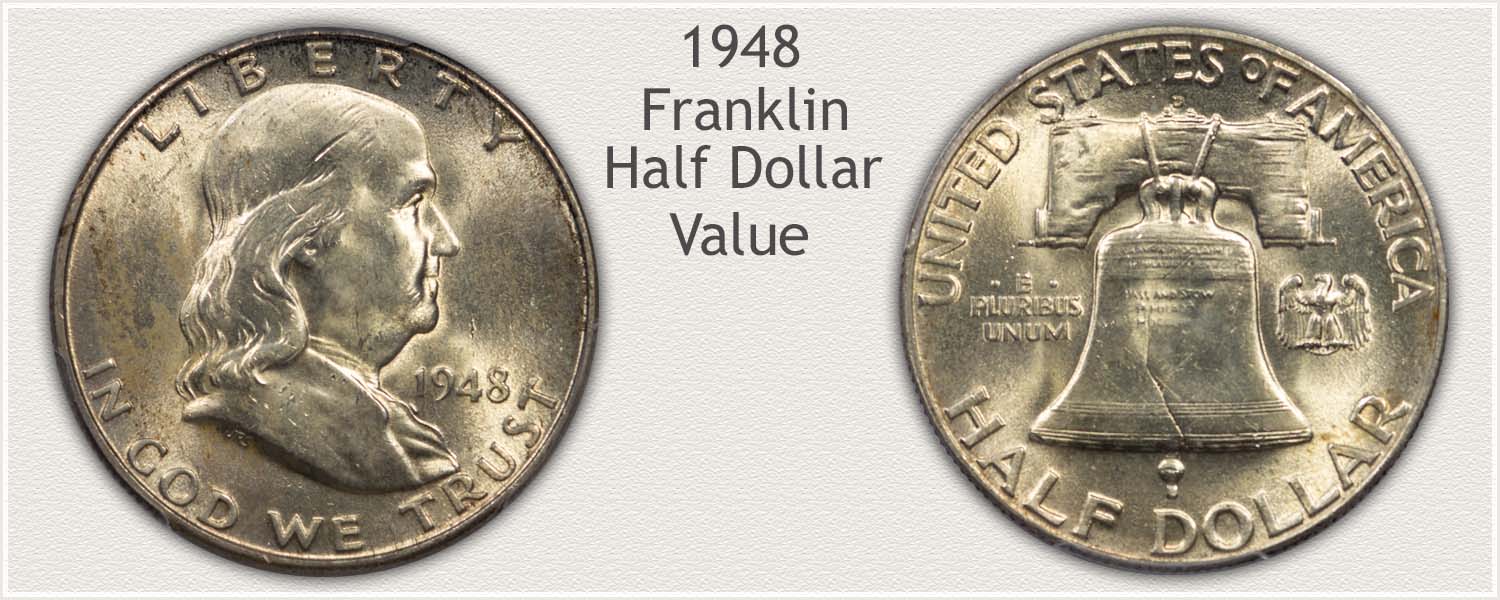 Steps Leading to Value:
Step 1: Date and Mintmark Variety - 1948 began a new series of half dollars. With two mints striking these coins in the first year collectors add both to sets. Correctly identify mint issue.
Step 2: Grading Condition - Very important to premium value is condition of the coin. Images and descriptions are used to accurately judge the higher-grade coins.
Step 3: Special Qualities - Always of interest to collectors is the first year of a series. Built in demand is part of how much these old half dollars are worth.
1948 Franklin Half Dollar Value
Condition of Coin
Date
Average
Circulated
Extremely
Fine
About
Uncirculated
Mint
State
1948 Franklin Half Dollar Value Updated
11/27/2023
1948
$8.31
$8.31
$10.19
$13.50
1948 D
$8.31
$8.31
$10.19
$13.50
Above are average wholesale values, a starting point - range a collector would sell to a dealer. Use as a guide and expect variations subject to subtle grading points.
Unquestionably, mint state condition is the premier, in-demand and highest 1948 Franklin half dollar value. Pictured above is an example, one set aside long ago and well preserved. Never seeing use and remaining as-minted; value is easily $13.23 with room to go higher. Proceed through the steps below to identify your coin's place on the chart.
Step 1: | Date and Mintmark Variety Identified
Varieties of 1948 Half Dollar to Recognize
Beginning a new design series, 1948 Franklin half dollars are in continual demand by collectors. An important date and also minted at two facilities; recognition of the variety is needed to accurately value the coin.
Mintmarks are small letters placed on the reverse of Franklin halves to identify the Branch mint that produced the coin. Value charts list by date and mint, with each valued separately.
Just over 7 million of these "first of series" halves were struck placing 1948 as the third lowest mintage year of the series. Despite the mintage numbers, enough were saved at the time (attention to new design) the date is available today. Premium values begin for both varieties as condition approaches the Mint State grade, covered in Step 2.
First step, confirm date and mint combination.
1948-D Franklin Half Dollar
"D" Mintmark on Reverse: Denver Mint Struck the Coin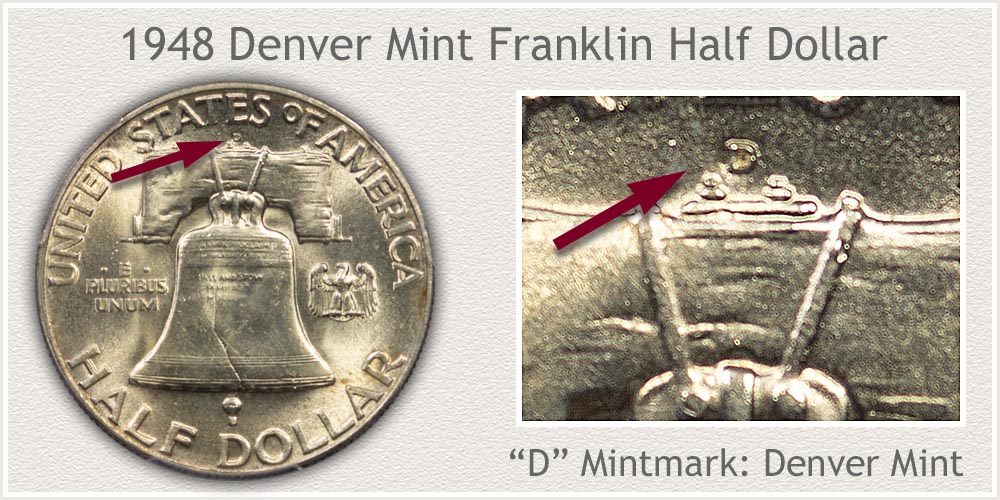 First year of the series and the Denver mint production of 1948 Franklin halves totaled 4,028,600 coins. This became the second lowest year for the mint, a low amount noticed by collectors. Fortunately saving at the time results in plenty available today.
Denver issue halves are an excellent coin to represent the beginnings of the new series.
Identify the mint by the "D" placed on the reverse. Just above the Liberty Bell a small "D" is found confirming the mint.
1948 Franklin Half Dollar
No Mintmark on Reverse: Philadelphia Mint Struck the Coin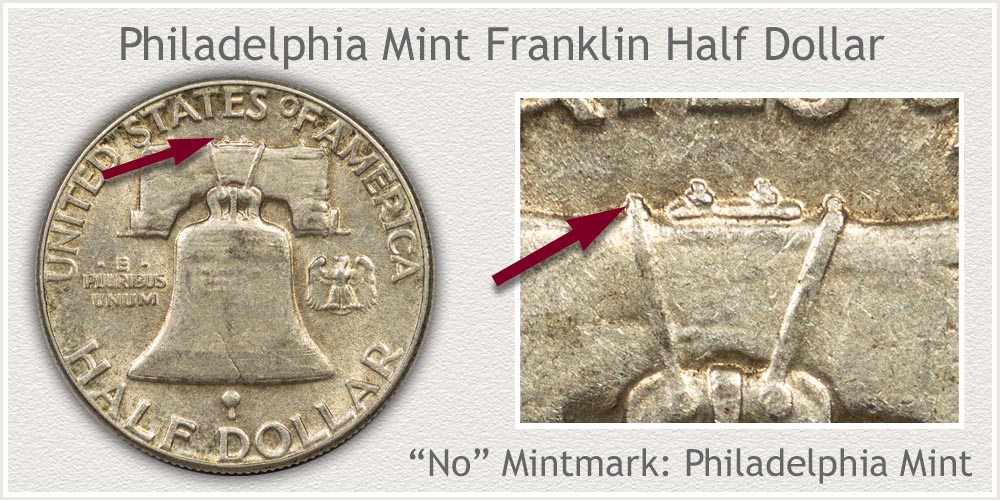 Philadelphia contributed just over 3 million 1948 halves to the yearly total. The main mint began releasing Franklin halves in April 1948. As a new design, many were saved as keepsakes, and in all states of condition are considered an available coin today.
Collectors seek these in high condition to represent the beginnings of the series. A pleasing coin without heavy wear is sought by new collectors as an affordable addition a set of the series.
Identify the Philadelphia issue by lack of a mintmark on the reverse. Above the bell yoke, if the space is empty Philadelphia struck the coin.
Step 2: | Judge Condition to Identify Grade
Condition Determines 1948 Franklin Half Dollar Value
Grading a coin examines the state of preservation on a scale of wear and damage to the surface. Compare your coin to standards of the different grades finding its place on the grading scale.
Condition of your coin is "the" deciding factor in value. 1948 halves are popular with collectors and as the first year of the design are a great type coin representing the series. Because of "first year" status collectors desire very nice examples.
Mint State Grade
Mint State: No trace of wear to the surface is the definition of an "mint state" coin. In this grade your coin still has mint luster (the look of new) over the entire surface. Any wear to a coin removes this delicate brilliance, leaving a dull grey appearance.
Examine the fine lines of hair found towards the top of Franklin's head. The central area is usually lacking strands and must remain with luster. Tilting the view under a light brings out any dulling and evidence of wear.
In a wider view, and rotating the coin, all areas of the surface reflect luster in unbroken bands. If luster is complete, 1948 half dollar value is in the premium collector range.
About Uncirculated Grade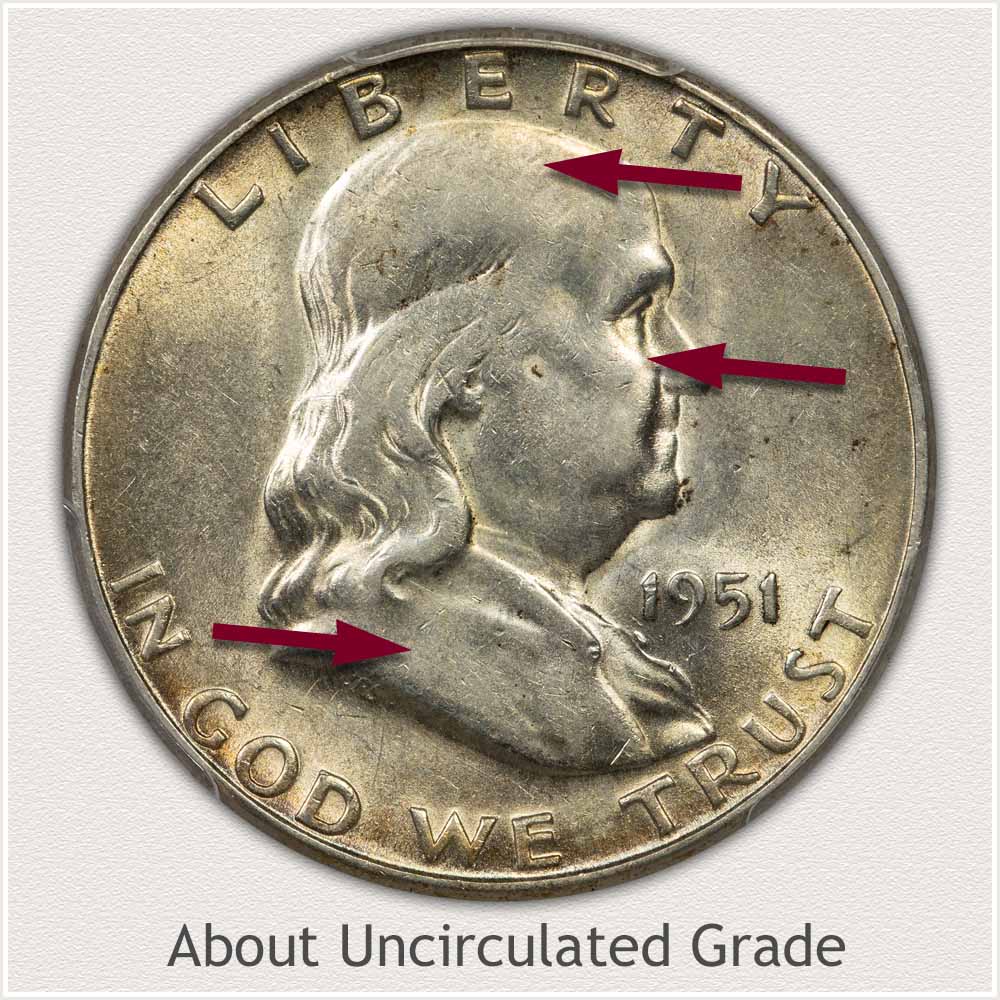 About Uncirculated: Once the high points of the design begin to wear a coin is graded as "about uncirculated" condition. To fit in this grade your coin should have most of the original mint luster remaining, and the wear must be very light.
The hair at the top of Franklin head and his cheek just below the eye typically shows the first signs of wear. Use the technique of a single light source when viewing, and tilting the coin to help detect any color change and smoothness on the surface.
Slight wear without removing fine details helps recognize the About Uncirculated grade.
Additionally, confirm only light wear is present on the shoulder, it shows as a dulling to the shine without much removal of metal.
Extremely Fine Grade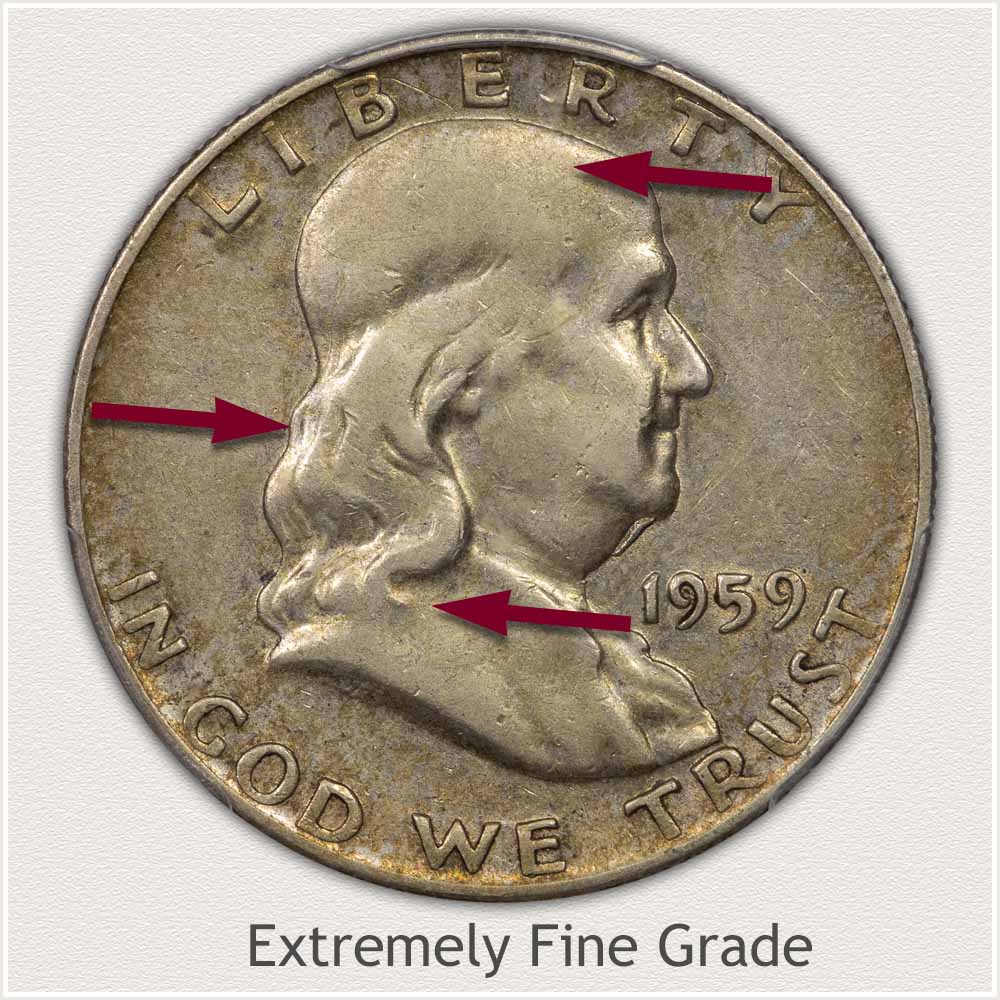 Extremely Fine Grade: Light, visible wear, and loss of luster is indicating a grade of Extremely Fine.
Light wear is notable in the hair towards the top of Franklins head. Fine strands of hair are worn and missing throughout the head area. The overall color of the coin is a soft grey, lacking any shine of luster.
Notice the waves of hair behind and below the ear are well defined. Hair line at the shoulder is fully separated and raised from the shoulder.
Average Circulated Condition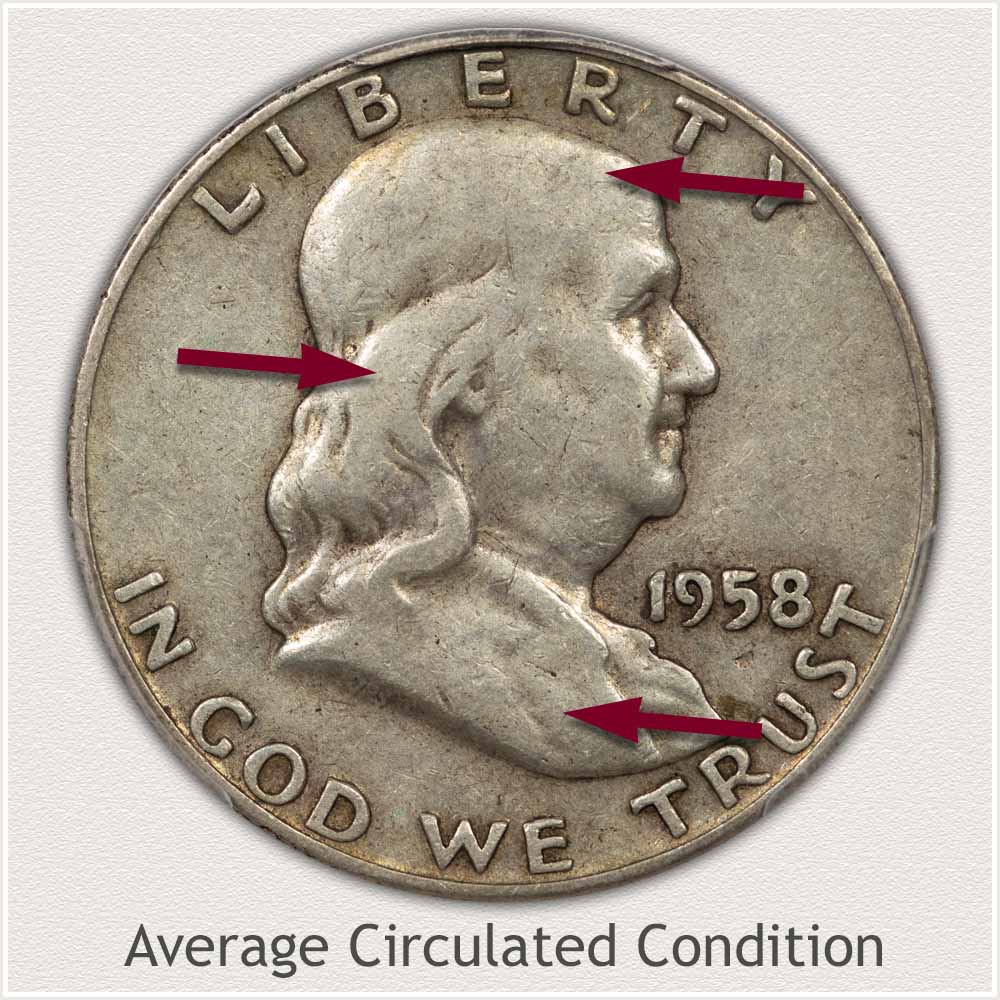 Average Circulated Condition: 1948 Franklin half dollars with more than just slight indications of wear to the surface are valued as a bullion coin. However, vintage halves are 90% silver and even though it misses as a collectible it's still valued at $7.00 each.
The image is a representation an average circulated Franklin half. Wear is noticeable and overall, eye appeal is very different from the quality of mint state halves.
Indicating moderate to heavy wear is the top of Franklin's head missing hair details and smooth. Waves of hair behind the ear are visibly flattened and show large areas of design elements connecting.
How to Video: Grading Franklin Half Dollars
Video, Images and Descriptions | Grading Franklin Half Dollars
Please note; differences in condition are subtle and sometime hard to detect, a few moments studying the "grading images" in the video highlights the deciding details.
The value chart does indicate higher value for the better grade half dollars; however, the requirements are strict.
Step 3: | Special Qualities Enhancing Value
1948 First Year of Issue | Collectible Status
A design change of the half dollar in 1948 becomes a historical event of importance. Major change in U.S. coinage places the "First Year of Issue" in a unique collectible status.
The new coin, titled by the mint: Franklin Liberty Bell Half Dollar began circulating in early 1948. Production of the series continued through 1963.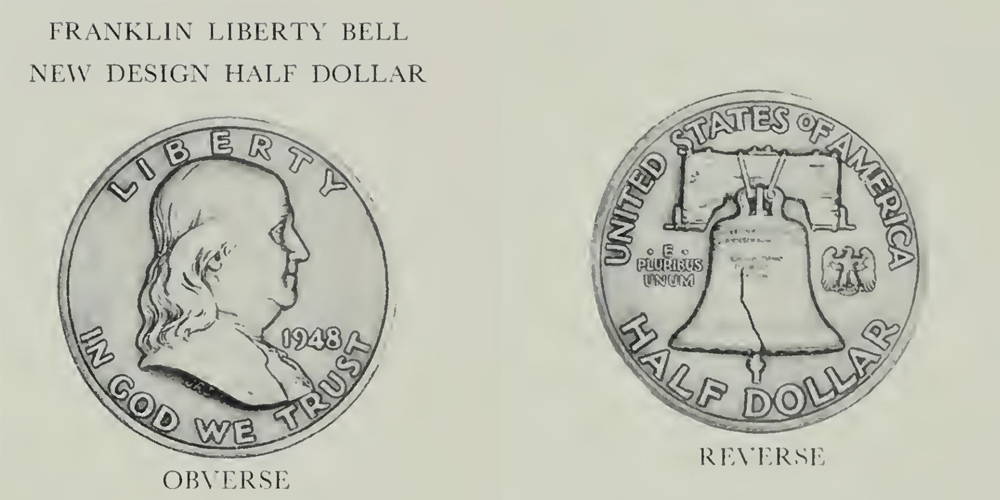 Today, collectors shortened the full title to: Franklin Half Dollars, leaving out the "Liberty Bell" designation.
Collectors form the base to a large demand of the Franklin series. Many collectors assemble a complete date and mint set. 1948 is a necessary issue, the beginnings of a date and mint collection. A popular and completable set to collect in both Mint State grades and affordable to new collectors in lightly circulated conditions.
Another demand unique to the 1948 issue are those collectors assembling type collections of half dollars. They seek one example of each different series, from early Bust to Seated halves to Barber and Walking Liberty series of halve dollars. A popular choice is the first-year mintage of each different design. 1948 becomes the choice representing the Franklin series of half dollars.
A subtle point to the 1948 issue, assuring demand, is the "freshness" of the design details imparted on the coins. New coining dies struck the 1948 halves, imparting very sharp, full details. Intricate details are visible within Franklin's portrait, the Liberty Bell, and all lettering along the borders is crisp. Seasoned collectors are aware of the special refined qualities represented on 1948 half dollars.
Historical demand plus aesthetic qualities are unique to 1948 halves.
References
U.S. Mint. 1964 U.S. Mint Annual Report https://nnp.wustl.edu/library/book/514149
U.S. Mint. 1949 U.S. Mint Annual Report https://nnp.wustl.edu/library/book/340
U.S. Mint. 1948 U.S. Mint Annual Report. https://nnp.wustl.edu/library/book/339
Coin Values | CoinStudy Articles
Date by Date
In Depth Franklin Half Dollar Value
1948 to 1963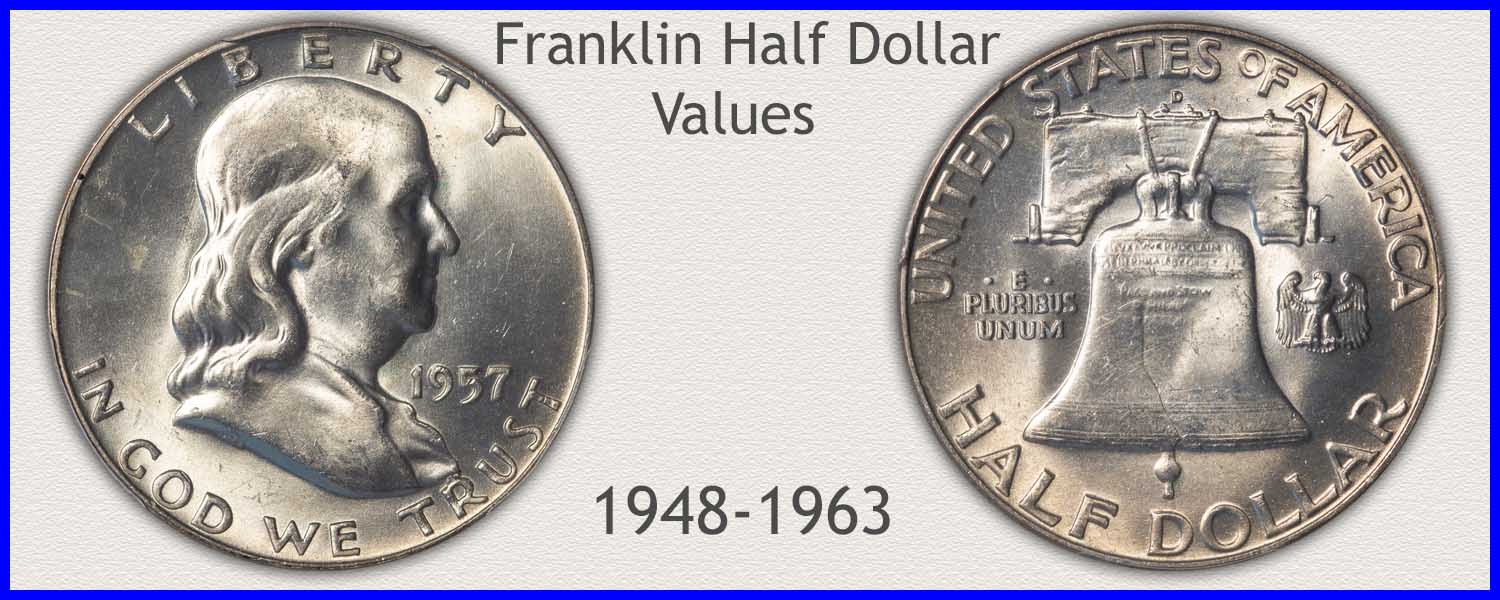 Franklin Half Dollar Value | The Collectible Silver
It's true most of the circulated Franklin half dollar value is directly tied to silver. However, there are a small but growing number of rare dates and mints worth a rising premium. All dates of issue are listed in the value chart. Discover how much your silver halves are worth.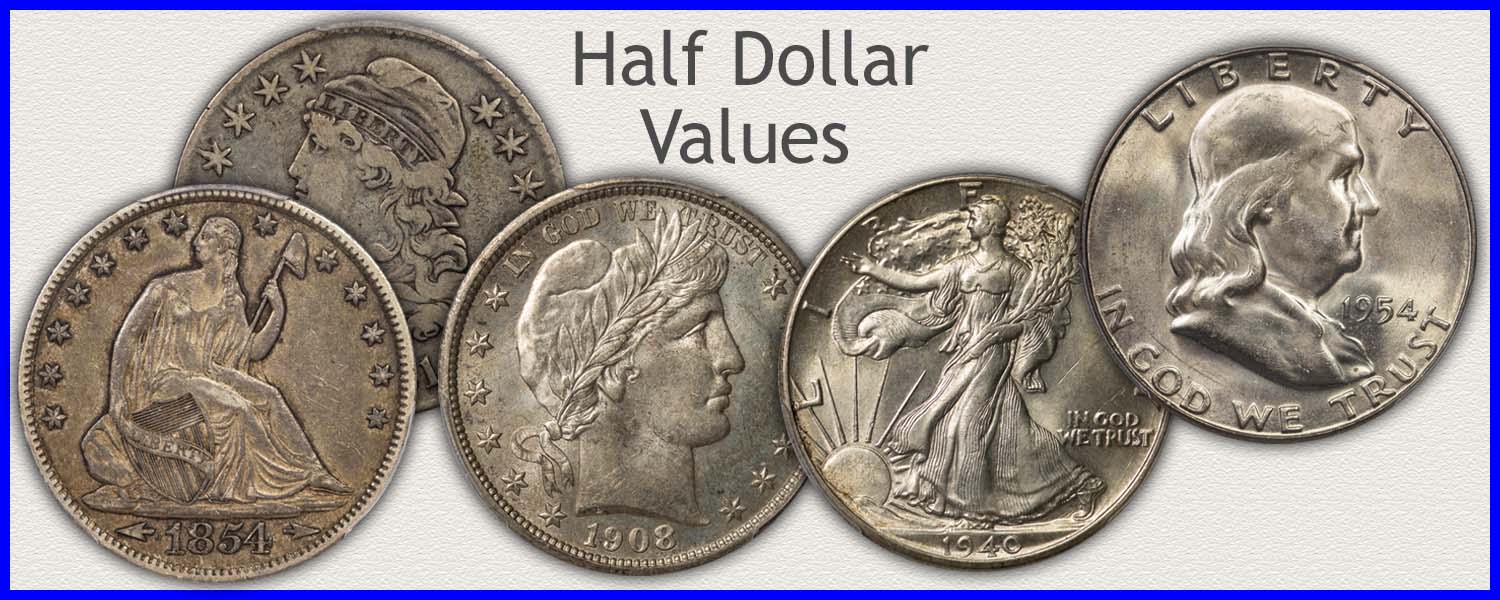 Half dollars are very widely collected, spanning several series and a huge range in values. Charts listing the Bust, Seated design, the Barber series show all are highly valued. Continue with Walking Liberty and Franklin half dollars. Of special importance is the condition of your coins, see grading images for each series and value your coins in detail.
Print the Coin Values Worksheet
Printable sheet to list and inventory your coins and record Franklin Half Dollar values.
Coin Value Guide | How to Value a Coin Collection
Place a value on your entire box of old coins. Coin collections are valued using a step-by-step process helping identify, organize, and record specific information needed. Starting with your Franklin Half Dollars continue through the entire collection.
Silver Coin Values | Minimum Values of U.S. Silver Coins
Identify the different U.S. silver coins and find current up to the minute values. Franklin half dollars minted 1948 to 1964 are 90% silver. They are just one of many different series of silver coinage. Use the calculator, enter silver price and find silver value of dimes, quarters, half and silver dollars.
★Coin Values Discovery finds 1948 Franklin Half Dollar Value and...
Coin Values of all US series. Use the image index to identify your coin, from pennies to gold coins all have value charts, mintmark locations described, and importantly grading images to determine condition and find an accurate value of your box of old coins.