Coin Values Moving with Precious Metals: Up-Dated 11/27/2023: Gold $2010 | Silver $24.66
1952 Franklin Half Dollar Value
Minimum 1952 Franklin half dollar value is $8.31 however a quick check for the "S" mintmark on the reverse is needed. A strong silver price is the major base to these old half dollars. Additionally, collecting of the different mints adds demand and premiums.
Dates and mints are part of the step-by-step method used to determine an accurate assessment of coins. Condition is also very important; both are detailed and compared with images and descriptions.
Steps Leading to Value:
Step 1: Date and Mintmark Variety - Collected by date and mintmark combination, confirm an accurate date and mint.
Step 2: Grading Condition - Recognize and separate the higher collector grades worth a premium from the bullion quality with a base silver value.
Step 3: Special Qualities - Collectors when building sets look for many aesthetic qualities on coins. Subtle differences enhance or detract from the eye appeal of old coins.
1952 Franklin Half Dollar Value
Condition of Coin
Date
Average
Circulated
Extremely
Fine
About
Uncirculated
Mint
State
1952 Franklin Half Dollar Value Updated
11/27/2023
1952
$8.31
$8.31
$9.69
$11.77
1952 D
$8.31
$8.31
$9.69
$11.77
1952 S
$8.31
$10.19
$34
$43
Wholesale values are listed on the above chart. Use as a guide and range when determining how much your coin is worth.
Judge your coin closely following the steps below.
Step 1: | Date and Mintmark Combination Identified
Mintmark Varieties of 1952 Half Dollar to Recognize
As you reference the above value chart, note 1952 Franklin halves were minted at three different mints. Mintmarks, the "D" and "S" denote the mint striking the coin. A total over 52 million halves were struck in 1952 with the "S" identifying the San Francisco mint as the standout premium issue.
Collectors seek all varieties of 1952 halves and with the San Francisco issue difficult to find in pleasing condition, these are now valued well above base silver value.
Confirm date and then the correct mint of issue.
1952-S Franklin Half Dollar
"S" Mintmark on Reverse: San Francisco Mint Struck the Coin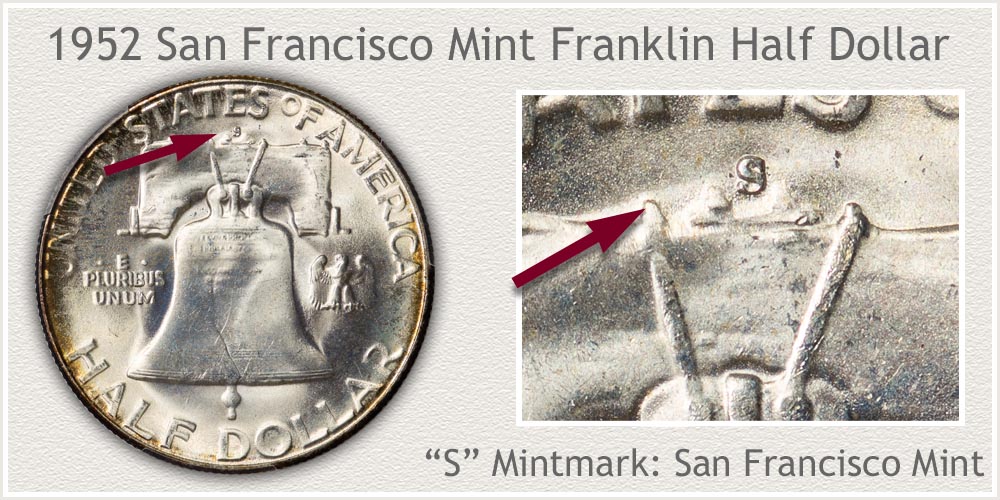 Collectors have noted the difficulty of finding nice examples of the San Francisco 1952 half dollar. 5.5 million were produced, however, in lightly worn or better condition these have begun to show a strong premium value.
A close inspection is needed to recognize both the mintmark of San Francisco and judgement of condition. In comparison to other mints striking Franklin halves the San Francisco issues were routinely the lowest mintages of the year. Collectors use mintage numbers a one factor indicating a scarce variety.
All San Francisco Franklin half dollars have a small "S" mintmark on the reverse. Look just above the beam suspending the Liberty Bell, an "S" towards the center identifies the San Francisco mint.
1952-D Franklin Half Dollar
"D" Mintmark on Reverse: Denver Mint Struck the Coin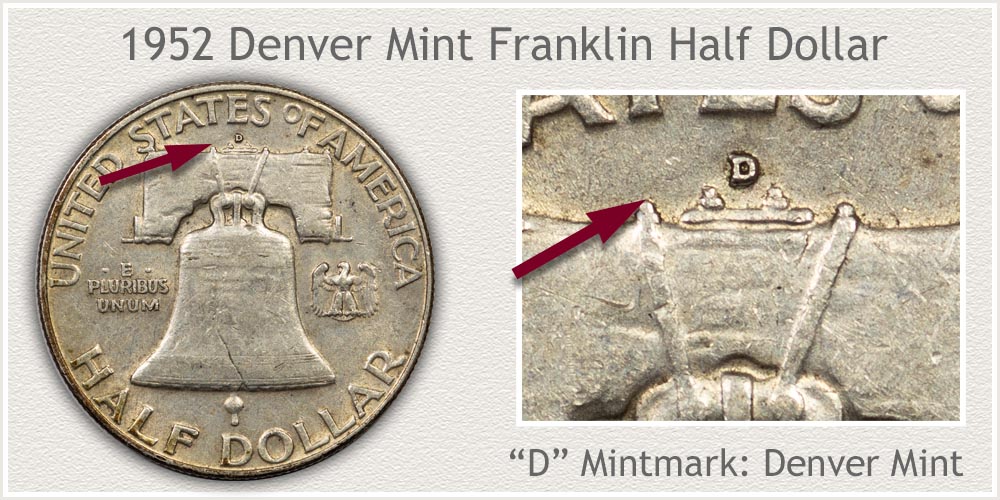 Denver's 25.3 million halves produced places 1952 as the fourth highest year's mintage. An average example with noticeable wear is valued based on its heavy silver content.
Ample supplies are available and affordable to beginner collectors. High grade pieces are showing a small premium over the dates of the 1960's. A date and mint combination in demand by collectors.
Denver used a "D" mintmark to identify its coinage in 1952. Just under the E in STATES the small "D" mark is found.
1952 Franklin Half Dollar
No Mintmark on Reverse: Philadelphia Mint Struck the Coin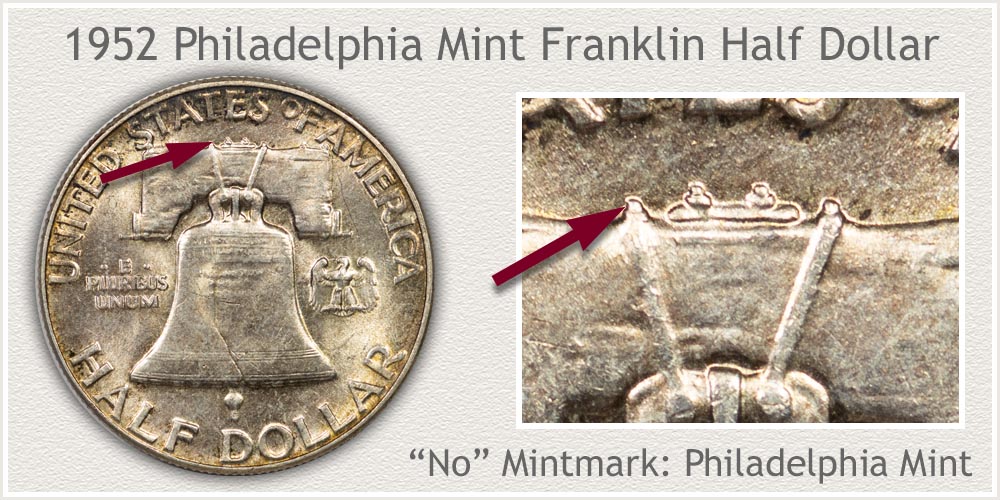 Philadelphia 1952 Franklin halves are an abundant variety. With an initial mintage of over 21 million coins these are available today. It is the well preserved examples with no wear to the surface sought by collectors and valued over silver content.
To accurately define your coin, date and mint combination is needed. Philadelphia did not place mintmarks on Franklin halves. The absence of a mark in the central area just above the Liberty Bell is confirming Philadelphia struck the coin.
Step 2: | Judge Condition to Identify Grade
Grading Determines Accurate 1952 Franklin Half Dollar Value
Grading a coin first examines the condition of its surfaces and compares the coin to images representing standards of the different grades. Once a close match is determined, damage and distractions (large nicks, scratches, etc.) are judged to confirm a grade.
Judging condition and assigning a grade gives the ability to accurately value a coin. Special attention to the Extremely Fine grade is necessary with the 1952 Franklin half.
Mint State Grade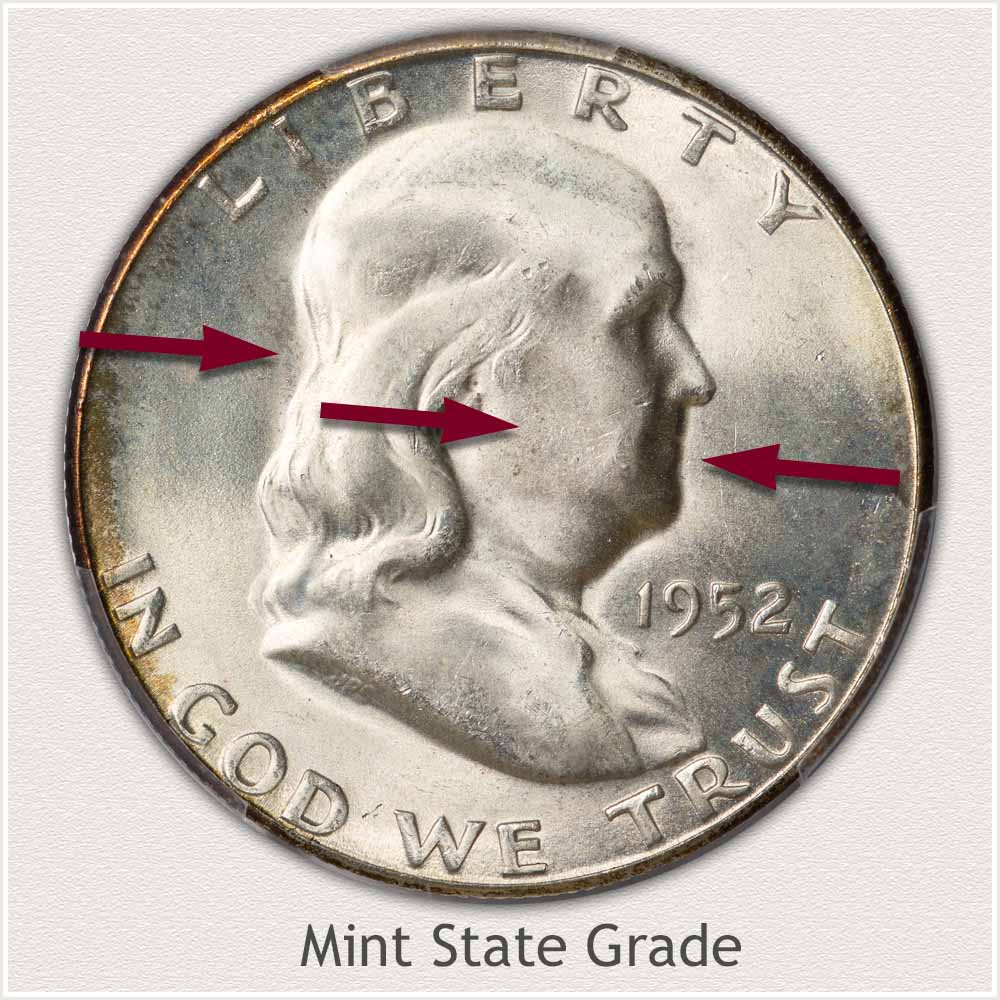 Mint State: For a coin to grade "mint state" and at the top of 1952 Franklin half dollar value; no wear is present to its surfaces. Your half should appear as if it was just minted.
To confirm the mint state grade a close examination is needed of the cheeks and hair of Franklin. The large waves of hair just behind the ear remain covered in luster with the small strands of hair visible. Franklin's cheek is slightly contoured with high and low areas. Tilting the coin under a single light helps show if mint luster shines over the cheek. If wear is present on the cheek, luster is replaced by smoothness and the silver color has dulled.
With a focus on the cheek, notice the luster is similar on the high areas and low parts of the design. A consistent texture and shine indicates - no wear - and a mint state coin.
About Uncirculated Grade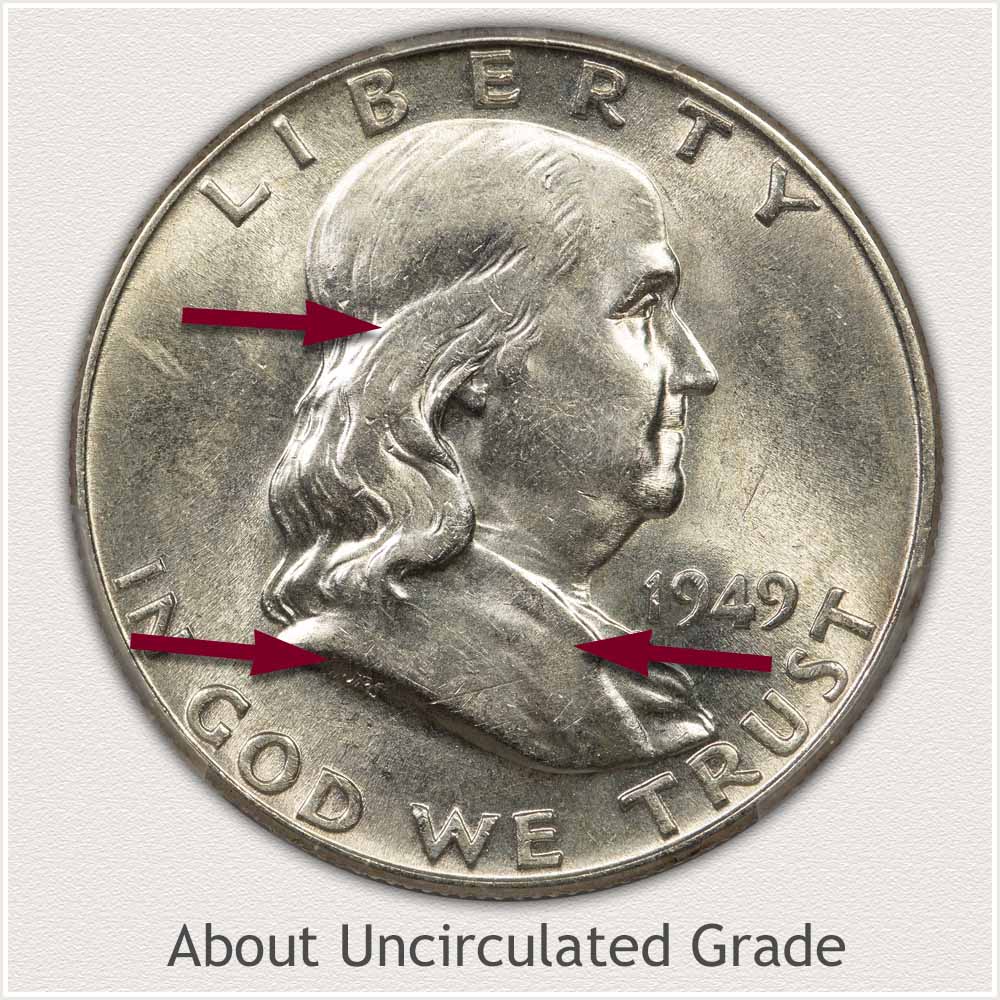 About Uncirculated: A coin with very slight wear is termed "about uncirculated." Wear appears on the surface, but only in small areas of the highest parts of the design.
Helping confirm the grade is mint luster missing from just the small worn areas; the very tops of contours and fine details. Only slight actual wear of the metal is seen, just removal of luster. The majority of luster remains and is visible over the surface especially among the protected areas of the lettering.
Franklin's shoulder and just behind his ear are some of the first areas to receive wear. Examine these areas and note only small areas of luster removal to recognize an about uncirculated coin.
Extremely Fine Grade
Extremely Fine Grade: Once small areas of wear are noticed on the high points of the design a Franklin half is close to the Extremely Fine grade. A close inspection must note the majority of small details remain, although worn.
The extremely fine grade is important to the San Francisco halves dated 1952. A collector value is beginning to develop for ones in this condition. Your coin must be crisp and sharp in appearance.
A minor amount of wear is acceptable. Franklin's features; hair, cheek and shoulder are only slightly flattened. A close look at the top of his head shows a few fine lines within the hair. His cheek is well contoured with only slight flattening. Although smooth in texture, the shoulder remains with no large flat areas.
Average Circulated Condition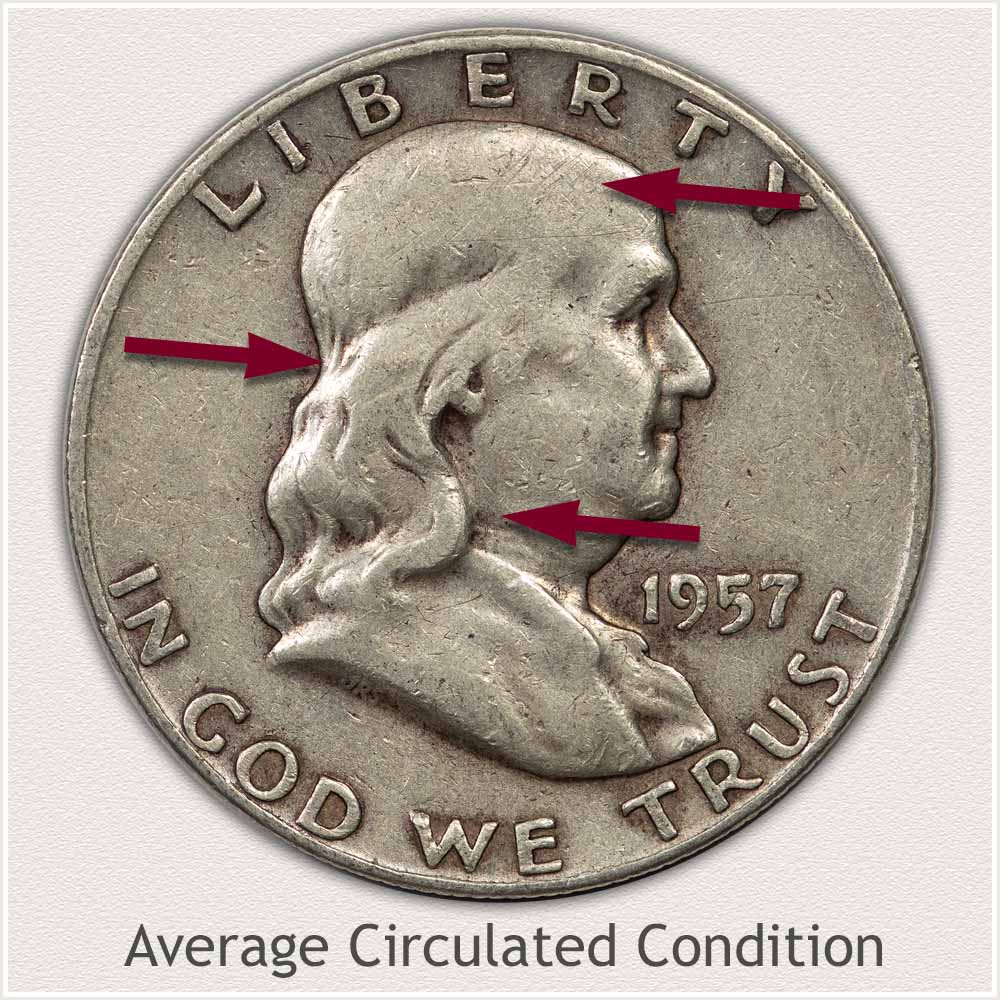 Average Circulated Condition: Noticeable wear flattening areas of Franklin's hair is a coin termed "average circulated" condition.
This leveling effect is best seen by looking at the hair just behind the ear. Large waves of hair near the ear are level along the tops of the design. The wave close to the ear is flat, extending to the shoulder.
Helping confirm the condition; no small, fine lines are visible in the upper area of Franklin's head.
How to Video: Grading Franklin Half Dollars
Along with higher value for the "S" mint issue of 1952 halves is the importance of condition. Your coin is avidly sought if in the top "mint state" grade.
Video plus additional descriptions begin the process of understanding subtle points to condition and accurate grade.
One note: be conservative and take your time while grading condition, it's easy to over grade these Franklin halves.
Video, Images and Descriptions | Grading Franklin Half Dollars
Step 3: | Recognizing Special Qualities Enhancing Value
Preserve Natural Surfaces to Preserve Value
Collectors are the final judge and ultimately the one placing a premium value on Franklin half dollars. Their primary source for collectible quality coins are dealers who are well aware of the type of coin a collector seeks.
One overriding factor to quality is the surface preservation of these old half dollars. Natural color and original toning are a main consideration. Collectors seek coins well maintained since first minted, with undisturbed surfaces. First glance eye appeal is a strong factor to desirability.
Secondly, nicks and abrasions, a part of quality assessment, found on a coin are expected and judged accordingly by amount and severity. However, disturbing the natural surface and toning is considered damage and eliminate the coin from collectible status and value. Diminishing eye appeal quickly lowers any potential interest to collectors.
The above Franklin halves were collected and set aside long ago, likely part of a collection. Resting protected, an appealing amount of "aging" in the form of soft toning and subtle coloration has developed. These pleasing, natural surface coins depict high quality and awarded premium values by today's collector.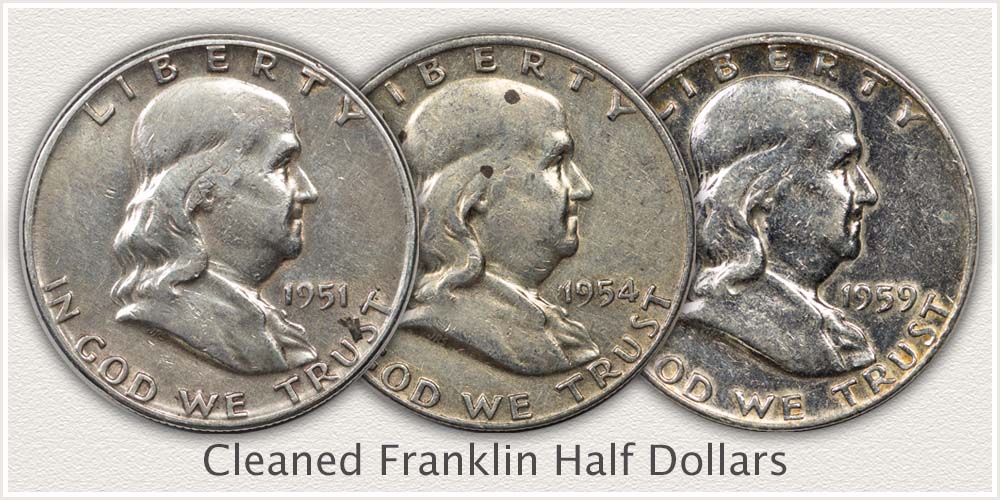 Disturbing the natural surfaces in any way is quickly seen as destroying the appeal of originality. All "vibrance" of the above coins is missing. Cleaning has removed subtle variances in shades, luster, and colors from the metal leaving a dull monotone grey. Overall, the coins project an unnatural appearance. Collectors pass on any cleaned Franklin half dollar when considering an addition to their collection.
Preserving the natural surfaces of a coin is an important part to value. It is not necessary to clean a coin in any way. Handle coins by the edges, avoid wiping the surface, rubbing the surface and no method of cleaning improves the original, desirability of the coin.
References
U.S. Mint. 1953 U.S. Mint Annual Report https://nnp.wustl.edu/library/book/512052
Coin Values | CoinStudy Articles
Date by Date
In Depth Franklin Half Dollar Value
1948 to 1963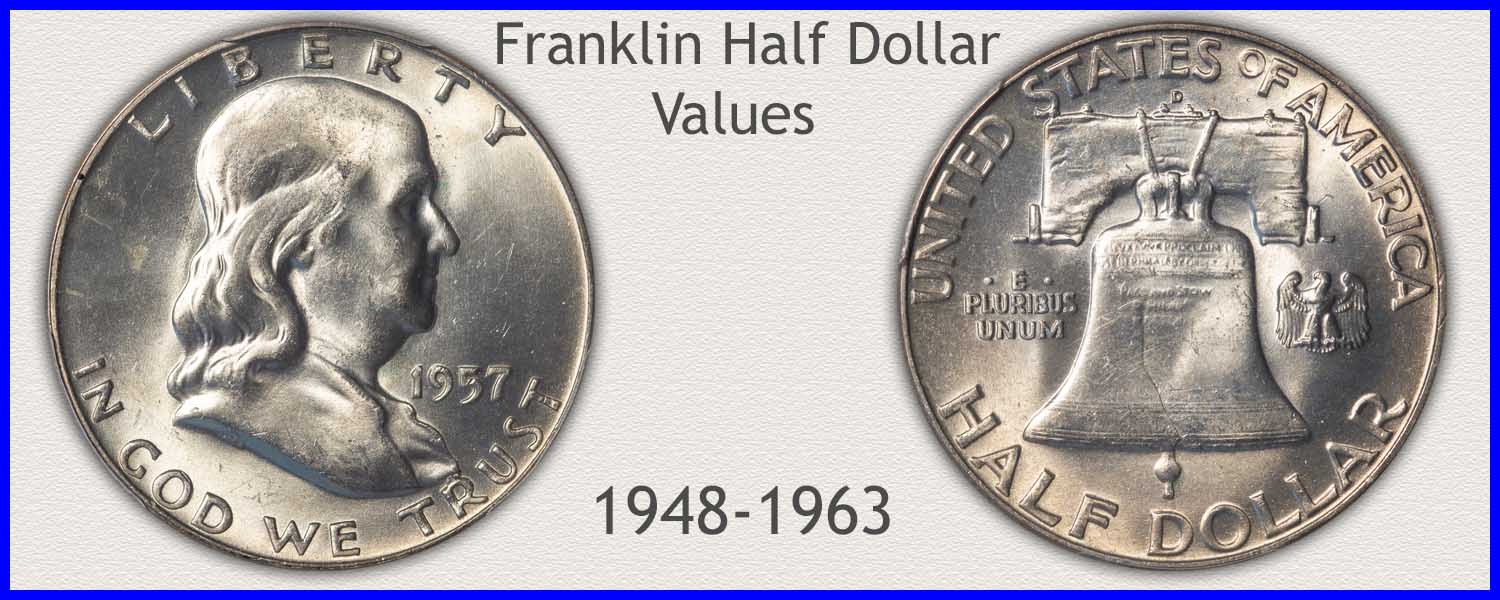 Date by Date Franklin Half Dollar Value
Moving with the price of silver, current minimum Franklin half dollar value is $7.00. Compare your coins to the value chart; date, mintmark and condition play an added role in value.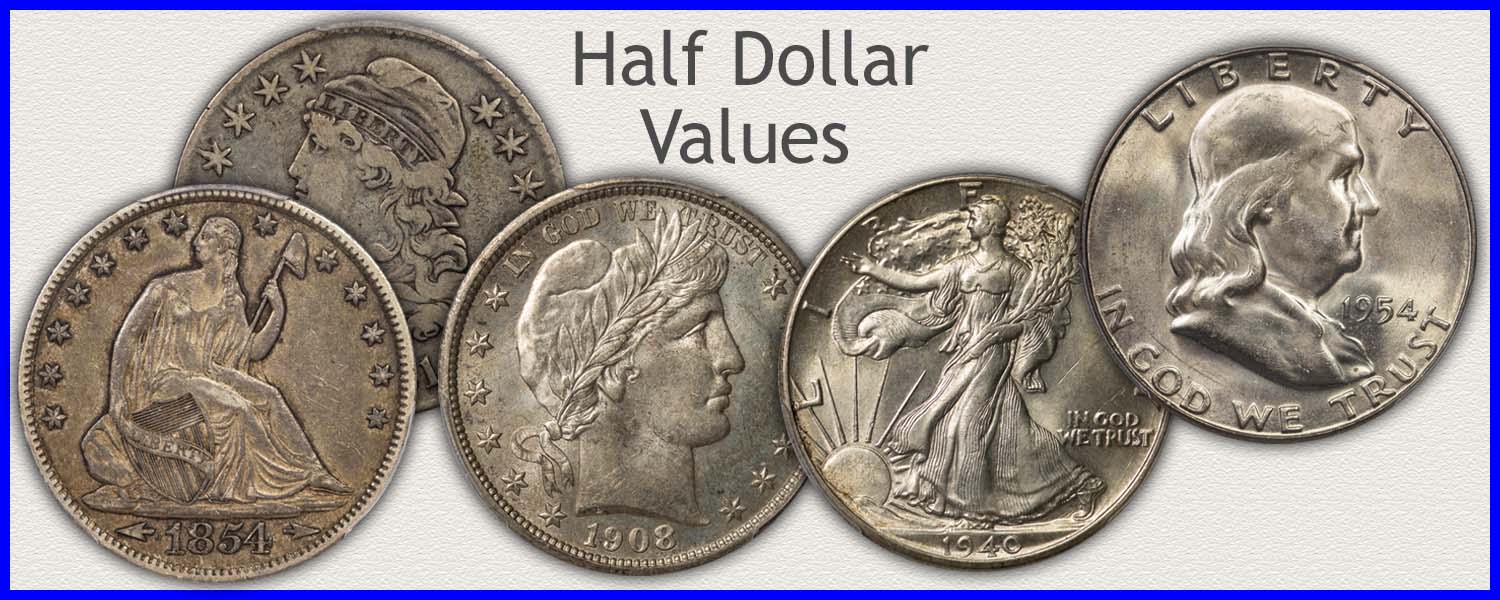 All half dollar series are listed here. From the early Bust to Seated halves, noted for their high value and scarcity. Continuing to the now very collectible Barber and Walking Liberty series and to the awakening interest in Franklin halves. Follow the links to these valuable coins.
Print the Coin Values Worksheet
The worksheet becomes a convenient and organized summary of your Franklin Half Dollars. Record the different groups of coins as you sort them. Coins of higher value are listed individually on the worksheet.
Coin Value Guide | How to Value a Coin Collection
The value guide Identifies the different series of coins, cents through Franklin half dollars to silver dollars and gold coins. Steps are used to recognize the higher condition coins, special dates and narrow the range of value on the charts.
Silver era U.S. coinage is highly valued. Identify the bullion silver quality. Next recognize the higher premium collector quality pieces worth well above silver value. Resources to find potential buyers of silver coins are listed.
★Coin Values Discovery finds 1952 Franklin Half Dollar Value and...
All old U.S. coin values. Use the image index to identify your coin, follow the link to value charts covering dates and mints of each series. Importantly, condition of your coin is playing an increasing role in value. Each series covers the grading process in detail, helping find the complete value.