Coin Values Moving with Precious Metals: Up-Dated 9/25/2023: Gold $1921 | Silver $23.44
1958 Franklin Half Dollar Value
Premium 1958 Franklin half dollar value is determined by condition. It is either worth $7.90 each as a silver bullion piece. If in high grade, a premium value is added becoming an in-demand collectible.
Collectors use the following step-by-step method to inspect for specific date and mint combinations and judge condition looking for scarce examples.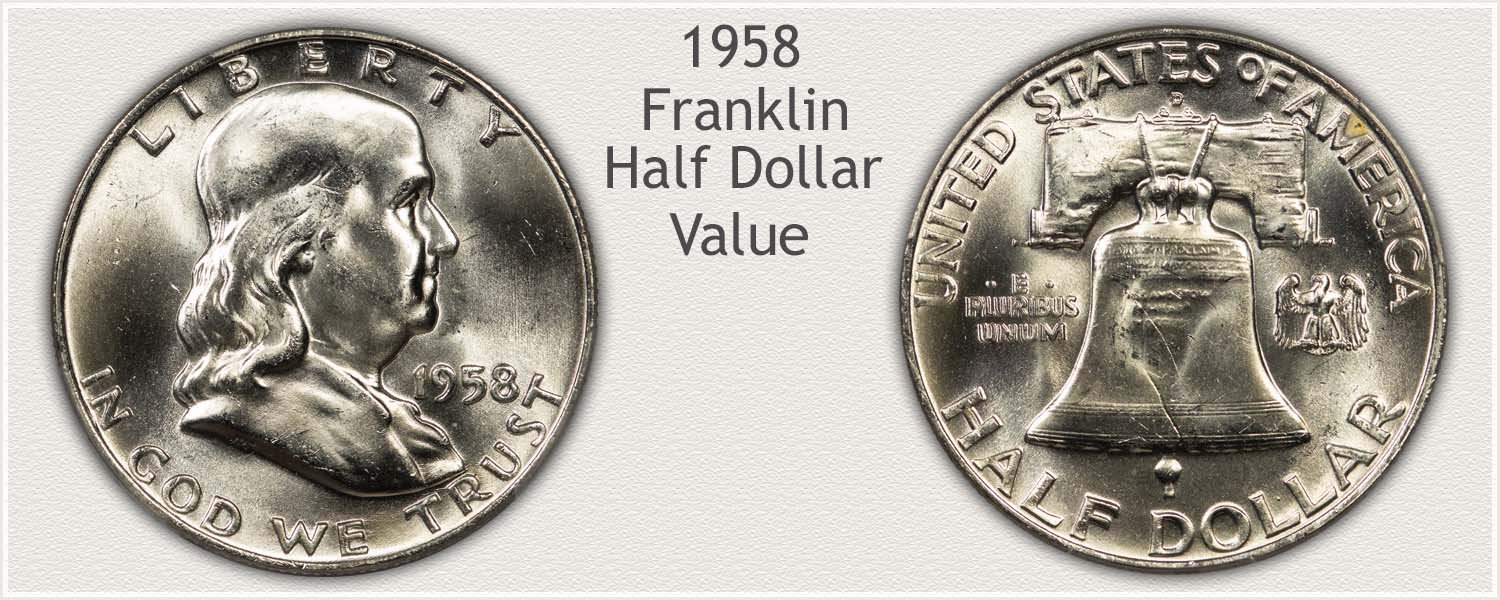 Steps Leading to Value:
Step 1: Date and Mintmark Variety - The Franklin half dollar series is collected and valued by date and mint variety. Confirm the correct variety.
Step 2: Grading Condition - Condition plays a large role in the premium demand of these coins. A comparison to descriptions and images places a "grade" on the state of preservation.
Step 3: Special Qualities - All coins have subtle qualities either adding or detracting from the potential of becoming a premium collectible. The Franklin series is closely inspected to find high end quality.
1958 Franklin Half Dollar Value
Condition of Coin
Date
Average
Circulated
Extremely
Fine
About
Uncirculated
Mint
State
1958 Franklin Half Dollar Value Updated
5/25/2023
1958
$7.90
$7.90
$7.90
$10.85
1958 D
$7.90
$7.90
$7.90
$10.85
A wholesale value is represented on the above chart. Use as a guide and range to determine how much it's worth when considering selling.
With most 1958 halves in the bullion silver category because of low-end worn condition, grading covered in Step 2 below is an important element to an accurate judgement of your coin.
Step 1: | Date and Mintmark Combinations Confirmed
Two Varieties of 1958 Half Dollar to Recognize
Mintmarks are used by the different branch mints to identify their production. These were placed on the reverse of Franklin halves.
Two mints struck over 28 million 1958 half dollars. The majority by the Denver mint with the Philadelphia mint a distant second. Collectors seek both issues and are interested in numbers produced by the separate mints, leading to insights of availability. Each is inspected closely for mintmarks.
A strong base to value is the silver market, coin values based on silver content. A second, collectible quality market follows the high-end condition half dollars.
An accurate description of your coin includes the exact date and mint.
1958-D Franklin Half Dollar
"D" Mintmark on Reverse: Denver Mint Struck the Coin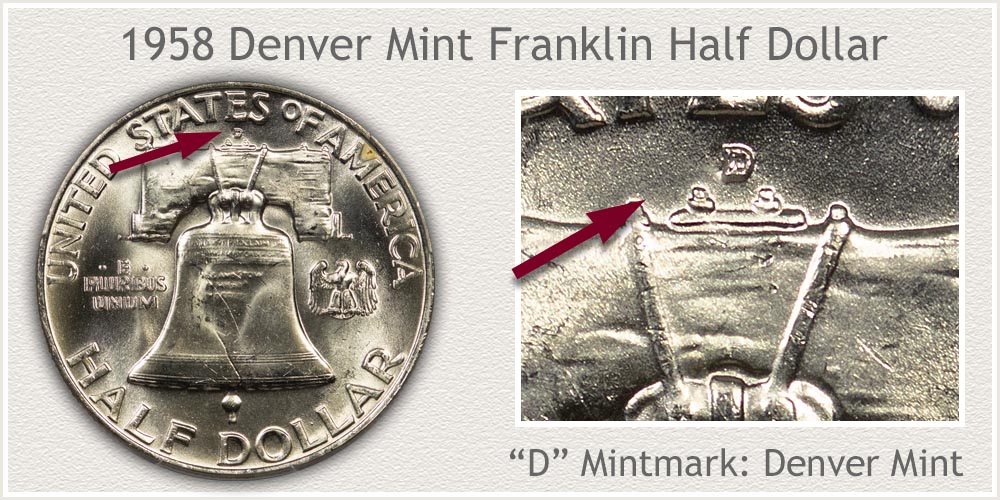 1958 saw the Denver mint increase production of Franklin halves to 23.9 million coins. These are the likely encountered variety of 1958 half dollars. An available date and mint combination with the majority valued based on their silver content.
Collector quality coins are those in mint state grade, a coin with no wear to the surface. Old collections often feature nice examples of Denver 1958 halves.
A "D" mintmark was placed on the reverse of all Denver struck Franklin half dollars. Look for a somewhat small "D" just above the beam suspending the Liberty Bell.
1958 Franklin Half Dollar
No Mintmark on Reverse: Philadelphia Mint Struck the Coin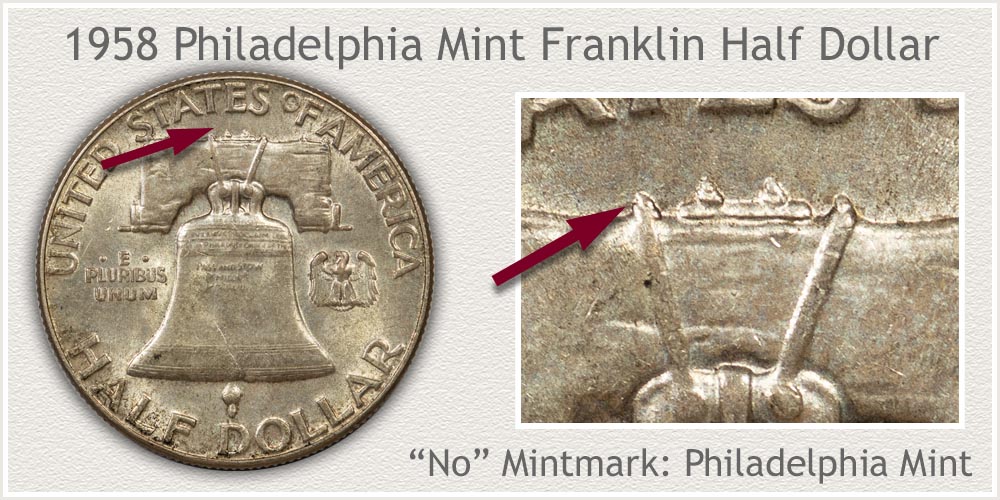 Philadelphia issue 1958 Franklin half dollars are notable as the fifth lowest mintage year of series struck by the mint. Low mintage numbers attract the attention of collectors and give insight to availability. As difficulty of finding nice examples increases premiums begin to rise.
These large silver coins are popular with collectors as a completable set. Both new and advanced collectors work on completing sets of all dates and mints of the series. High end condition examples enjoy a premium over base silver worth.
Philadelphia coinage is identified by a lack of a mintmark on the reverse. Looking below the E in STATES, the area is empty on Franklin halves struck by the Philadelphia mint.
Step 2: | Judge Condition to Identify Collectible Grade
Grading Narrows 1958 Franklin Half Dollar Value
Of the steps to value, grading the condition of your half dollar is the hardest to accomplish. Even among collectors the subjective aspects - strike, luster, etc. - are debated.
Grading places a definition on how well the coin is preserved. The different grades are represented by images, a close inspection and match finds a narrow grade range and value.
Greatest value difference is judging a mint state coin from one with wear. The "mint state" image compared to the "about uncirculated" images are the ones to focus on.
Mint State Grade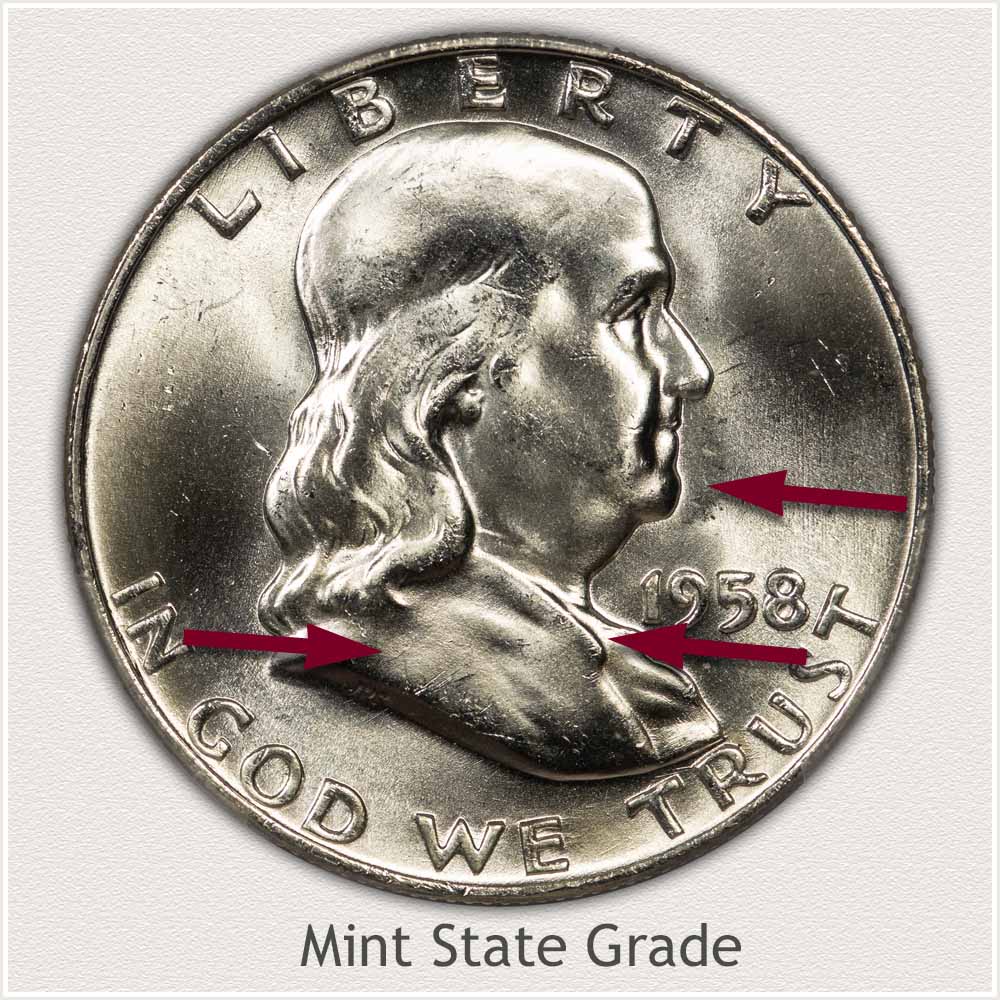 Mint State: As part of the value process collectors assign "grades" to the different condition of coins. Leading in desirability is the "mint state" grade. This is a coin defined as no wear to its surface.
Luster, the shine of a new coin needs to remain and cover the surface. Luster is delicate and quickly worn when a coin circulates, replaced by a soft silver-grey color. When tilted under a light and slowly rotated mint luster needs to shine in bands across the surface. Any wear to the coin and this luster fades. Look closely at Franklin's shoulder, collar and chin; these are some of the first areas to wear.
A dullness on the high points, and a smooth texture to the metal are signs of wear.
About Uncirculated Grade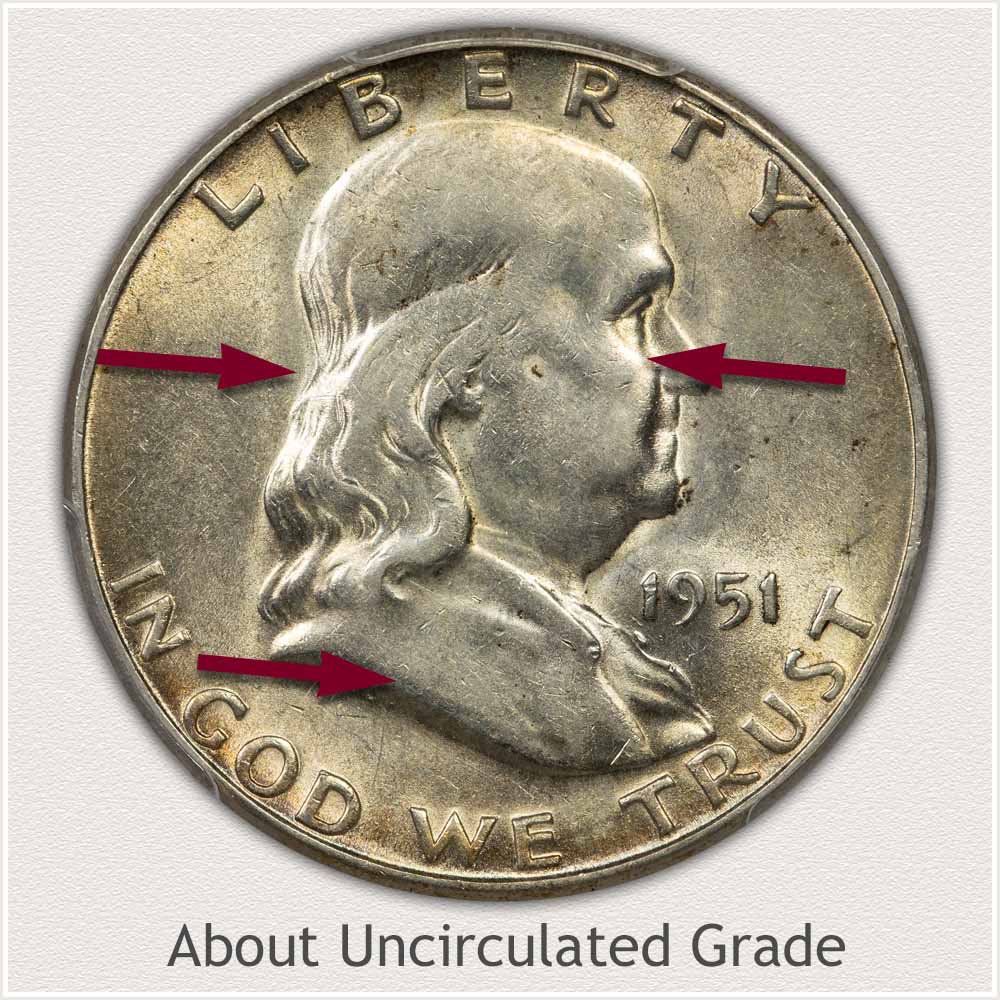 About Uncirculated: Very slight wear with the majority of luster remaining defines the "about uncirculated" grade. This is the specific condition where 1958 Franklin half dollar value breaks away to premiums above its underlying silver price.
It must be stressed; only very minor amounts of wear is acceptable to qualify for the about uncirculated grade. Judge carefully that wear is confined to just the very tops of Franklin's cheek and along the lower edge of his shoulder. Parts of his hair just behind the ear also shows as slightly smooth. It is important that a majority of the mint luster remain.
Extremely Fine Grade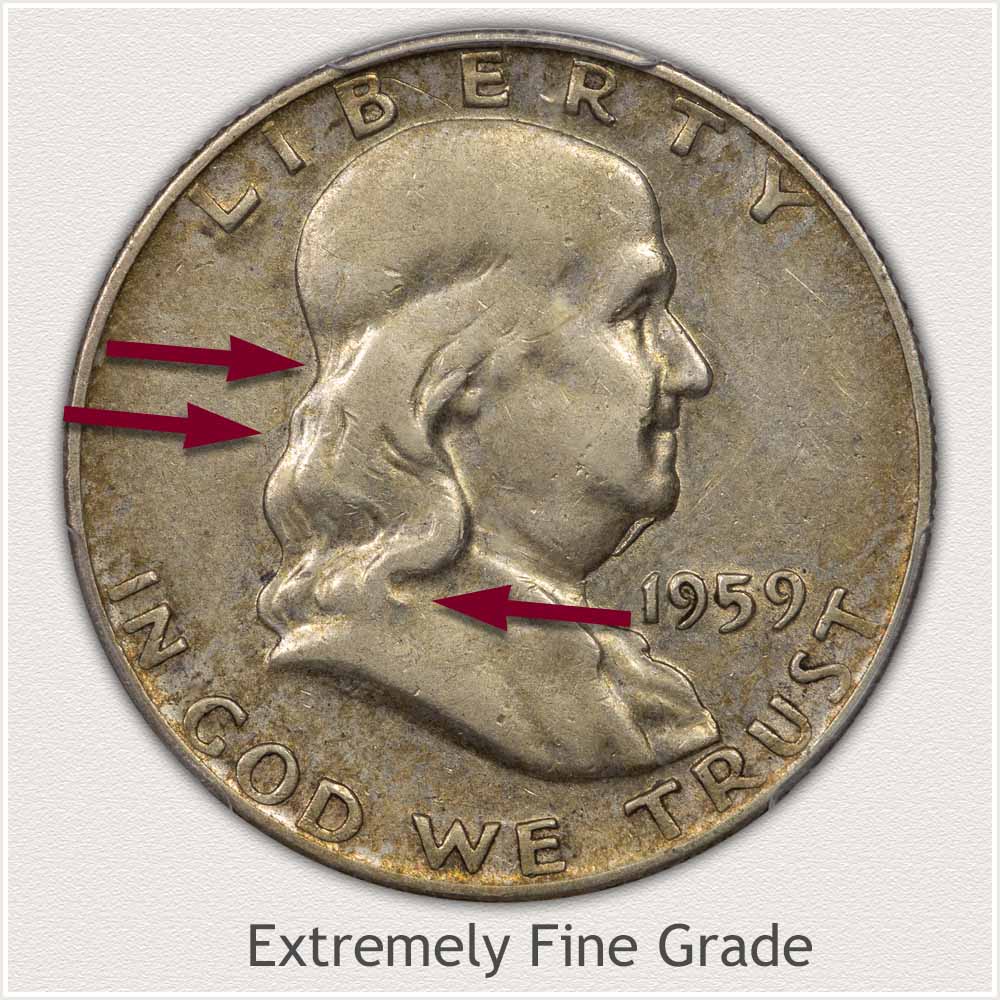 Extremely Fine Grade: Missing luster and small flattened areas on the fine details describes an Extremely Fine grade half dollar.
A soft grey tone is now the overall color to a lightly worn silver half. Small details are missing in the hair at the top of Franklin head. Looking at the waves of hair behind the ear finds smooth flattened areas on top of the high points.
Keeping the example coin within the extremely fine grade is the remaining fine lines within the large waves of hair. Also confirming the grade is the hair is raised and fully defined at the shoulder.
Average Circulated Condition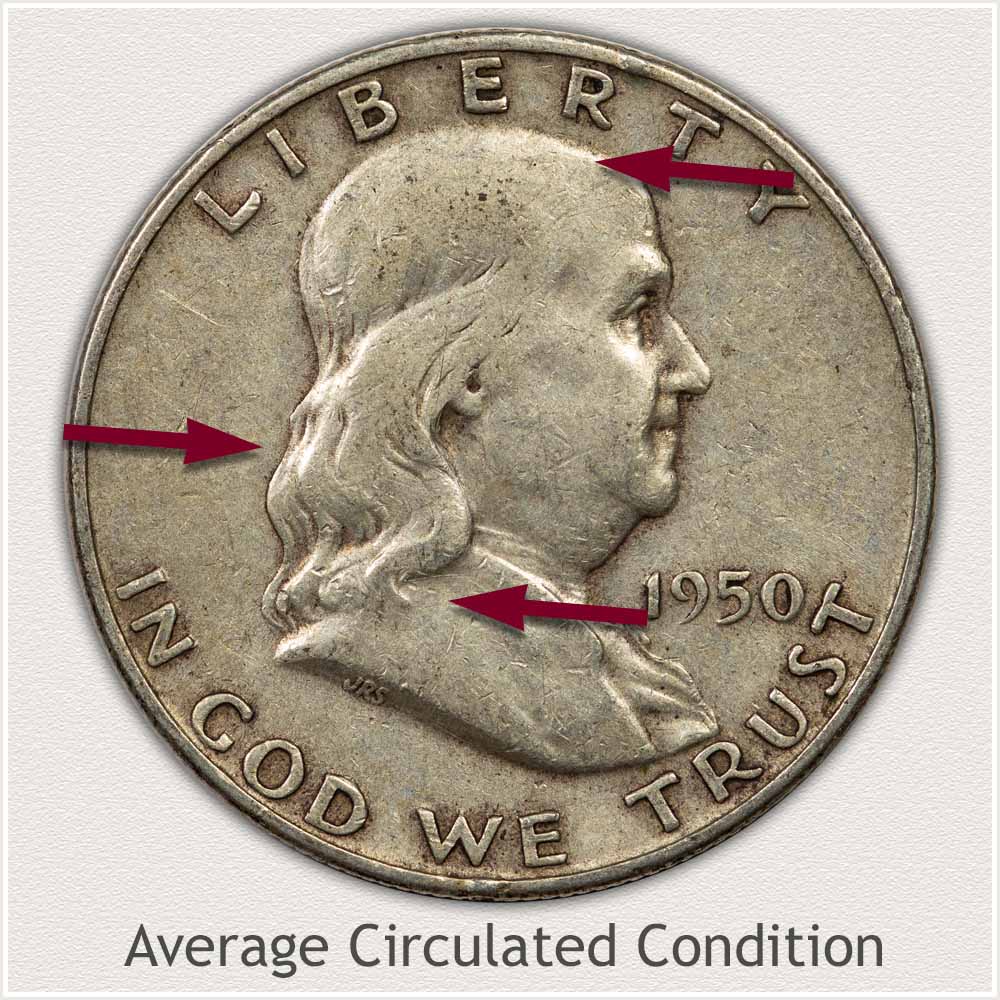 Average Circulated Condition: 1958 Franklin halves with moderate to heavy wear are termed "average circulated." Noticeable wear covers the entire surface of the coin. Major details are flattened and smaller details are missing.
All evidence of fine lines are missing from the hair at the top of the head. Moderate wear has flattened the waves of hair behind the ear. Note the merging of major details within the hair over the neck and collar.
Blending of the hair with the shoulder is confirming heavy wear and the "average circulated" condition. As of 5/25/2023 moderately to heavily worn 1958 Franklins halves are valued in the $7.90 range.
How to Video: Grading Franklin Half Dollars
Premium collector value is found by recognizing a mint state 1958 half dollar. Use the video plus the added images and descriptions to examine further the preservation of these old coins.
Video, Images and Descriptions | Grading Franklin Half Dollars
Step 3: | Special Qualities | Spotting Condition Rarity
Top Quality - Rare 1958 Half Dollar
In the coin collecting field, study and appreciation of quality are closely tied to value. Out any given number of coins, those in superb condition and high grade are scarce. Among collectors there is great interest in the number of survivors of a certain condition and how it affects a coin's position in the overall rarity scale.
In particular the Franklin half series, worn examples of all dates and mints are readily available. Large numbers were minted and saves in circulated condition. Also, mint state coins are available. Numbers of freshly minted coins were saved each year. However, collectors desiring a coin with stunning luster, a bold strike, and surfaces without any marks, the number of candidates is very small. The challenge of locating one of these superb gems is part of the challenge and enjoyment of the hobby.
Pictured is an elite condition 1958 Franklin half dollar, value is not tied to its underlining silver price. This coin is conditionally rare and its ability to enhance a top quality Franklin collection determines price.
Due to how coins were handled in the past, many of the mint state pieces saved long ago received small damage marks. As coins were processed by the mint and then banks when placed in rolls, contact with each other imparted small nicks and abrasions to the surface. These coins are considered in Mint State condition; however, marks and scuffs diminish quality.
Looking closely at the high relief area of Franklin's cheek, evidence of contact is minimal. The Liberty Bell is well detailed with no scraps through the raised lettering. On a steep rarity scale, this coin is certainly one of the finest survivors of the millions minted. Eye appeal and scarce condition are placing this 1958 half dollar within the top quality of those remaining.
References
U.S. Mint. 1959 U.S. Mint Annual Report https://hdl.handle.net/2027/osu.32435057210981
Coin Values | CoinStudy Articles
Date by Date
In Depth Franklin Half Dollar Value
1948 to 1963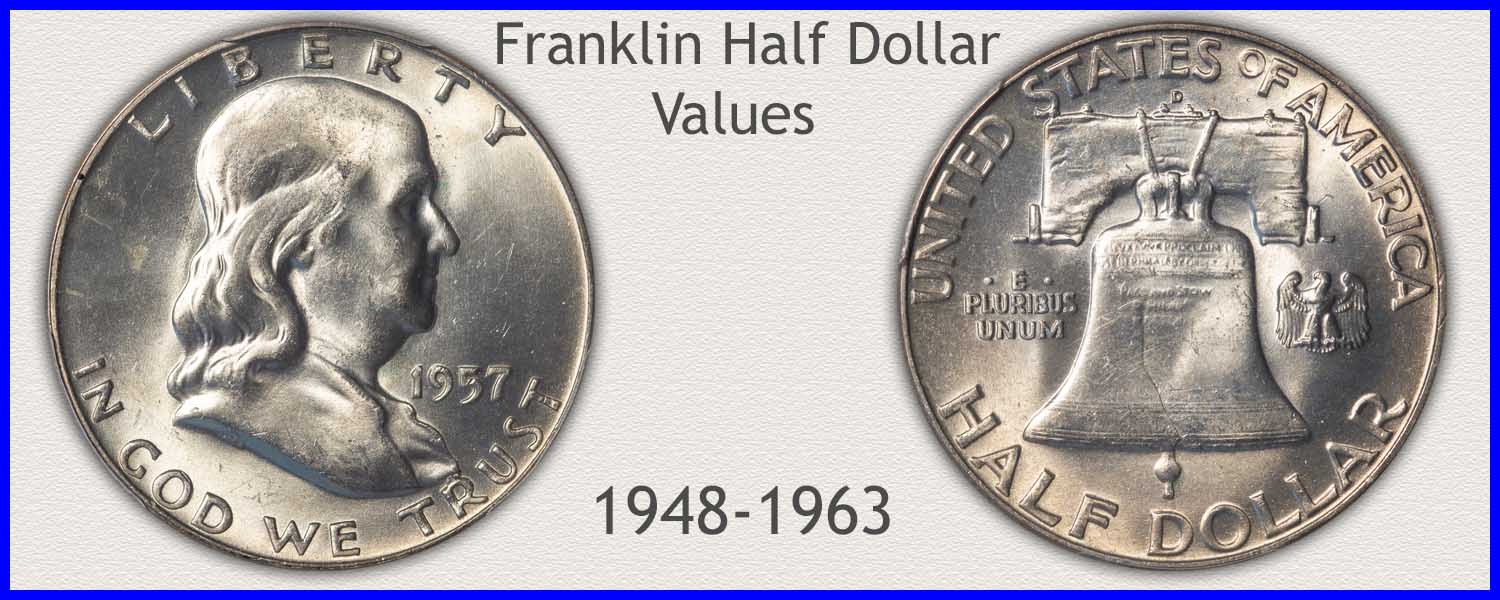 Franklin Half Dollar Value | The Details Listed
It's true most worn and circulated Franklin half dollar value is directly tied to silver. However, there are a small but growing number of rare dates and mints worth a rising premium. All the dates and mints are listed in the value chart. Discover how much your silver halves are worth.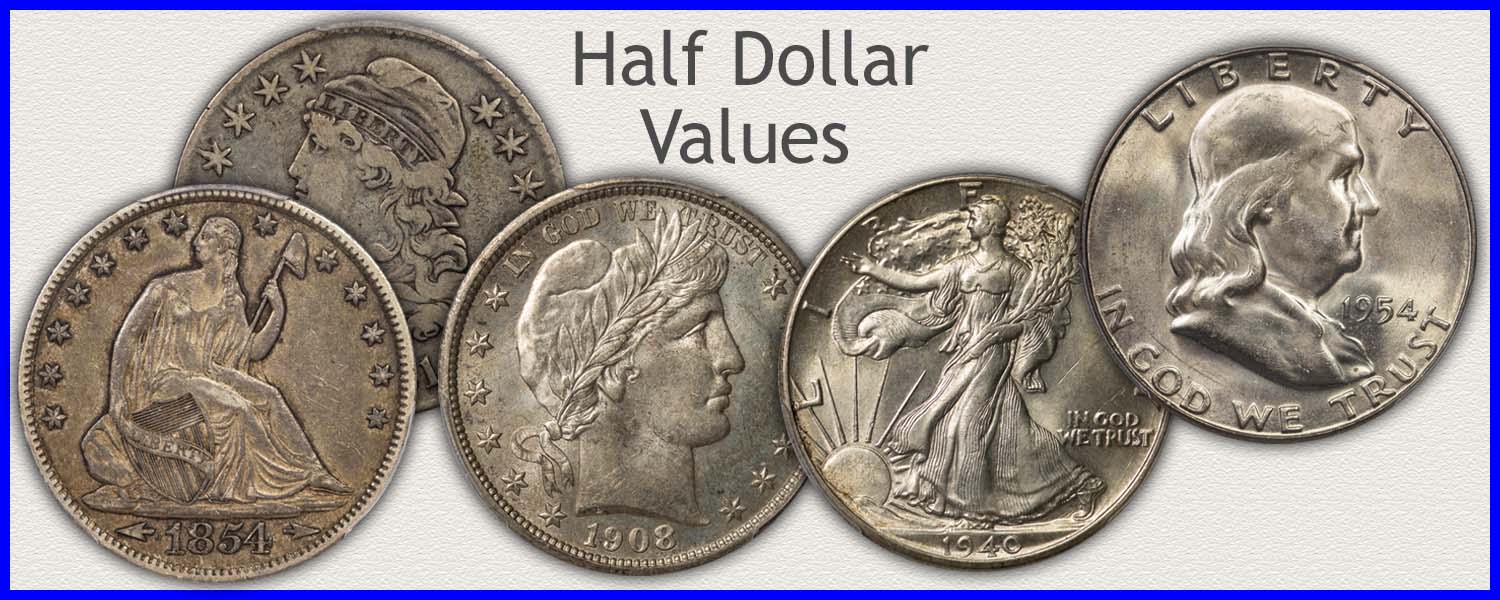 Half Dollar Value Charts of All Series
Follow image links to value charts of all U.S. half dollars. Determine if your old half dollar is worth bullion silver value, currently $7.00 as of 6/9/2014 or a higher collector value. Grading images and descriptions for each series help judge condition of your coin, one of the key points to value.
Print the Coin Values Worksheet
The worksheet becomes a convenient and organized summary of your Franklin Half Dollars. Record the different groups of coins as you sort them. Coins of higher value are listed individually on the worksheet.
Coin Value Guide | How to Value a Coin Collection
Using the step-by-step method as outlined with Franklin Halves, place a value on your entire collection. Key factors are identified on all series of coins.
Silver era U.S. coinage is highly valued. Identify the bullion silver quality. Next recognize the higher premium collector quality pieces worth well above silver value. Resources to find potential buyers of silver coins are listed.
★Coin Values Discovery finds 1958 Franklin Half Dollar Value and...
All old US coin values. Image and text links guide through the value process of…
Denomination | Series | Date | Mintmark | Condition