Coin Values Moving with Precious Metals: Up-Dated 7/26/2021: Gold $1806 | Silver $25.20
1949 Franklin Half Dollar Value
Although your 1949 Franklin half dollar value is tied closely to its silver price, currently they are worth $8.49 each, today a premium has developed for those in better than average condition.
Two events have combined to make 1949 a special year in the Franklin series. First is the low mintage totals, and secondly, saving of the coin by collectors at the time diminished.
Just shy of 13.5 million half dollars were produced in 1949, divided among three mints. Released into circulation most of them served as replacements for the obsolete Walking Liberty halves. They were simply used and worn out. Then along came rising silver prices in the 1980's resulting in further untold numbers melted and their silver reclaimed.
Secondly, collectors did not embrace the series as a whole. Unlike its first year cousin, it seems interest in Franklin halves slowed in 1949 and fewer higher grade and now high value examples were set aside. However, with popularity increasing today, demand has run into a supply shortage, especially for high grade mint marked Denver and San Francisco coins.
Judge your coin closely; mintmarks and condition are key to how much it's worth. Both are covered in detail below.
Mintmarks are small letters identifying the mint that struck your 1949 half dollar. Of the three mints involved in production Philadelphia did not use a mintmark, however the Denver mint used a "D" and the San Francisco mint an "S." On the reverse look for either of these small letters just below the E in STATES. Collecting coins by mint is very popular and each is valued separately.
1949 Franklin Half Dollar Value
Condition of Coin
Date
Good
Fine
Extremely
Fine
Uncirculated
1949 Franklin Half Dollar Value Updated
7/26/2021
1949
$8.49
$10.08
$11.24
$24
1949 D
$8.49
$10.08
$19
$34
1949 S
$8.49
$11.24
$25
$57
Why This 1949 Half Dollar is Rare
Just after a coin is struck it begins a rather tough life. Tumbling down conveyor belts, piled into bins, counted and weighted and grouped with others in bags, finally they are stacked on top of each other. And all this handling even before it leaves the mint.
Now the coins are onto further counting, sorting, and placed into rolls of $10 at the bank on the way to reaching their intended purpose. It's at this point the journey begins to take on a personal meaning, a new Franklin half as part of your pocket change.
Pictured is one fortunate 1949 half dollar spared most of the consequences of being - a coin. Although never placed into circulation, how it remained unscathed from its first few days at the mint is truly amazing. Still bright with radiating luster and minimal contacts marks disrupting the surface is a rare occurrence, few examples are known to exist. Our subject coin is a rare gem highly prized by collectors.
As part of a David Lawrence rare coin auction, this special coin reached a final bid of $264, a serious commitment. One of a lucky few destined to become a member of a gem Franklin half dollar collection. 1949 Franklin half dollar value at the top levels of preservation is backed by many serious collectors.

Finding Accurate 1949 Franklin Half Dollar Value
Essentially the condition of your coin decides if it is valued as a collectible or for its silver. Have a quick look at your coin, if wear to the surface is obvious it likely falls into the bullion silver value range. However there is a fine line between what is expectable wear and too much wear. The grading images below give further detail. Be conservative with your judgment, and you will gets close to an accurate grade.
Uncirculated: As part of the value process collectors assign "grades" to the condition of coins. Leading in desirability is the "uncirculated" grade. This is a coin with essentially no wear to its surfaces. Does you coin still retain original mint luster, with look of a new coin? If tilted under a light and slowly rotated mint luster shines in bands across the surface. Any wear to the coin and this luster is missing. Look closely at Franklin's shoulder, collar and chin; these are some of the first areas to wear.
About Uncirculated: Very minor rub and slight wear to the uppermost parts of the surface defines the "about uncirculated" grade. On the reverse the upper edges of the eagle's wings quickly show any smoothing due to wear, and to confirm look at the lower rim of the Liberty bell. Under magnification wear removes the frosted texture of a true uncirculated surface leaving a distantly smooth appearance. Detecting any wear or lack of it on your coin separates it from the next higher grade.
Extremely Fine: Extremely fine condition is the dividing line in 1949 Franklin half dollar value, the difference between collector quality and bullion quality. In this condition most of the newness of frosted luster is gone replaced by light wear. It is the "lightness" of this wear that is critical to value. Many areas show a color change of the metal, worn areas are dull and less vibrant in appearance. However this flattening of once rounded designs is very minor.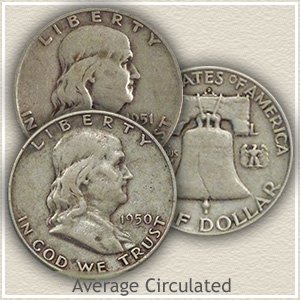 Average Circulated: Any 1949 Franklin half with obvious wear is termed as "average circulated" in grade. It is not critical at this point as to how much the coin is worn; if it falls below the extremely fine grade they are all valued as bullion silver coins. One quick confirmation of the grade is to tilt your coin to reflect light and focus on the front edge of the cheek running from the eye and down below the mouth. If this front edge is flat with no roundness and separation it is a little too heavily worn to be considered other than average circulated.
Coin Values | CoinStudy Articles
Date by Date
In Depth Franklin Half Dollar Value
1948 to 1963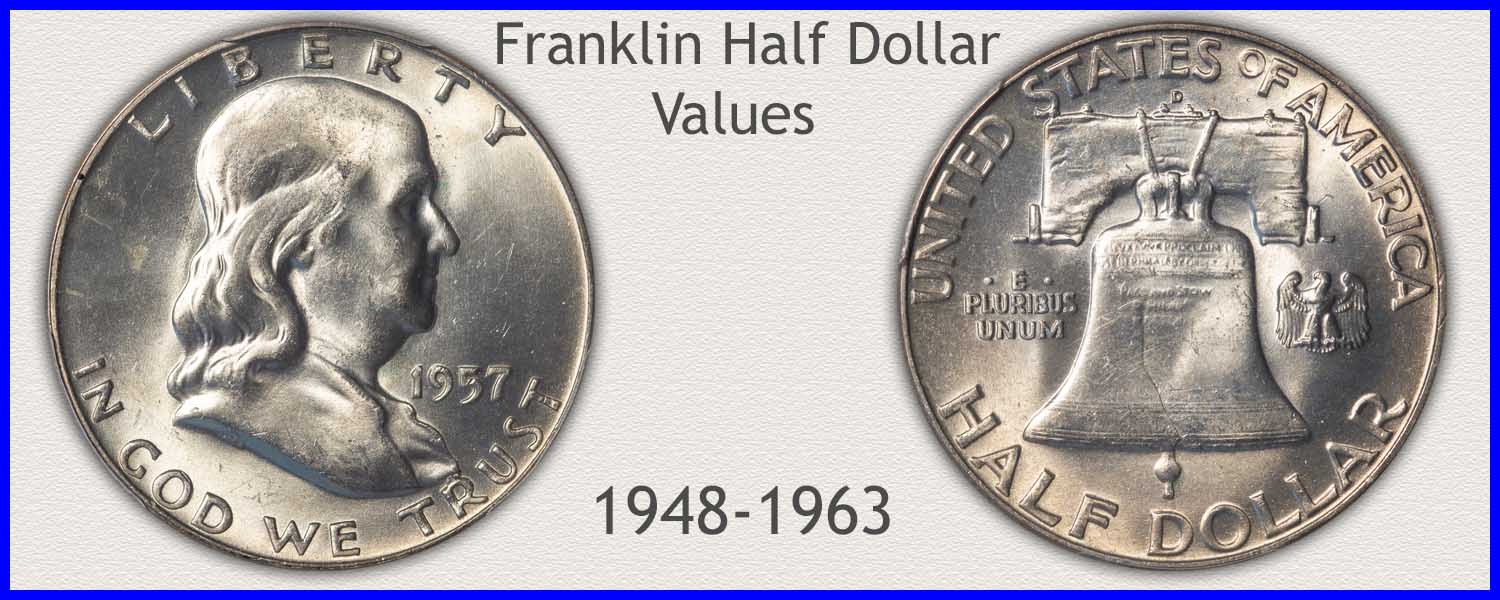 Finding Higher Franklin Half Dollar Value
It is often the condition of your old Franklin half dollar that separates the bullion minimum value from the higher collectible value. Check the date and mintmark on the charts, but importantly compare your coin to the grading images to find the accurate value.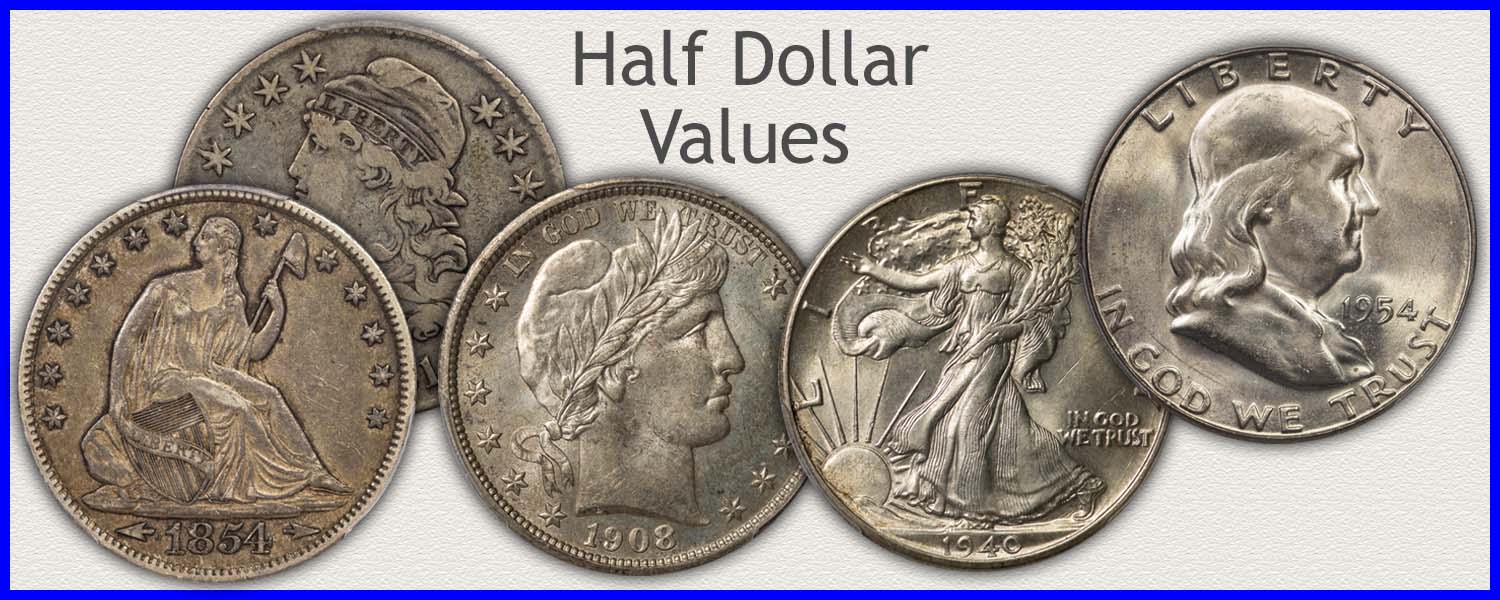 Every classic, obsolete silver half dollar is worth a minimum of $8.49 each. Additionally, most dated before 1916 are worth far more. From Franklin Halves going back to the Walking Liberty series, Barber, Seated Liberty Halves and the early Bust halves all have their very rare dates. Value charts cover each series.
★Return to Coin Values Discovery... find 1949 Franklin half dollar value and... All old US coin values. Use the image index to identify your coin, follow the link to value charts covering dates and mints of each series. Importantly, condition of your coin is playing an increasing role in value. Each series covers the grading process in detail, helping find the complete value.
Safe Coin Storage | Recommendations
Recommendations on basic supplies that greatly improve coin storage. Providing for safe handling, preserving of value and organizing your box of old coins. Franklin half dollars need a certain amount of careful handling to maintain their appeal to collectors. Housing them safely is covered in the Safe Coin Storage article.