Coin Values Moving with Precious Metals: Up-Dated 11/27/2023: Gold $2010 | Silver $24.66
1949 Franklin Half Dollar Value
Although 1949 Franklin half dollar value is tied closely to its silver price, currently they are worth $8.31 each. Premium coins are found by identifying mintmarks and accurate recognition of condition.
Two events have combined to make 1949 a special year in the Franklin series. First is the low mintage totals, branch mint production was especially low. Secondly, saving of these half dollars by collectors at the time diminished. Few in high grade were set aside, resulting in high value coins today.
Judge your coin closely; mintmarks and condition are key to how much it's worth. A step-by-step method is used below to recognize the collectible half dollar.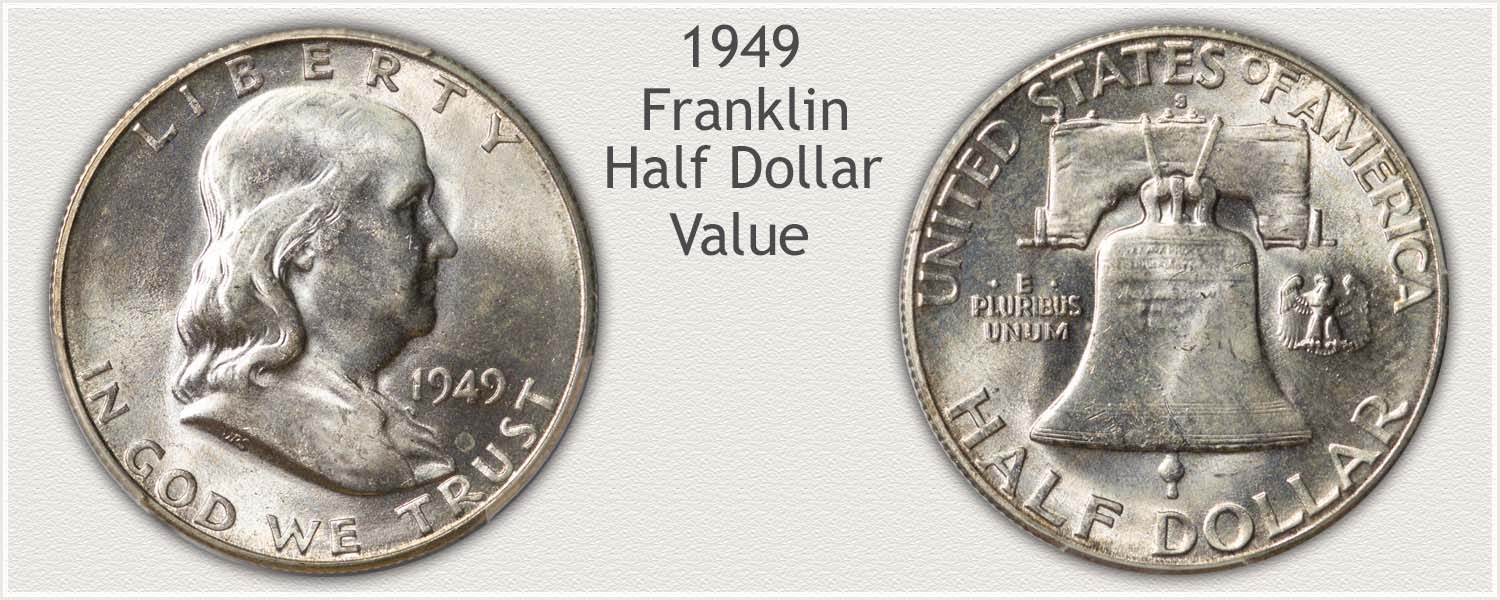 Steps Leading to Value:
Step 1: Date and Mintmark Variety - An important date to confirm. Mintmarks of the branch mints are further identified to an accurate value.
Step 2: Grading Condition - 1949 is one of a few dates of the series worth a premium in high circulated condition. Comparing to images spots those in demand.
Step 3: Special Qualities - Silver value and collectability are main supports to value. Qualities separating the levels of demand are recognized.
1949 Franklin Half Dollar Value
Condition of Coin
Date
Average
Circulated
Extremely
Fine
About
Uncirculated
Mint
State
1949 Franklin Half Dollar Value Updated
11/27/2023
1949
$8.31
$9.86
$11.00
$28
1949 D
$8.31
$9.86
$24
$41
1949 S
$8.31
$11.00
$31
$60
Above are averaged wholesale values, a starting point. Movements in silver are up-dated weekly. Use the value chart as a guide in deciding a selling range of your coins.
Next is proceed with the steps below: and the importance of mintmarks and condition.
Step 1: | Date and Mintmark Variety Identified
Collectible 1949 Half Dollars to Recognize
1949 is a year that mintmarks are very important to recognize. These small marks are used to identify the Branch mint striking the coin. Three mints struck half dollars in 1949, Philadelphia the main mint and two Branch mints. Denver and San Francisco are the premium branch mint varieties; both are recognized by mintmarks on the reverse.
With a strong silver value as a base, the exact date and mint combination confirms the collectible - premium 1949 half dollar.
1949-S Franklin Half Dollar
"S" Mintmark on Reverse: San Francisco Mint Struck the Coin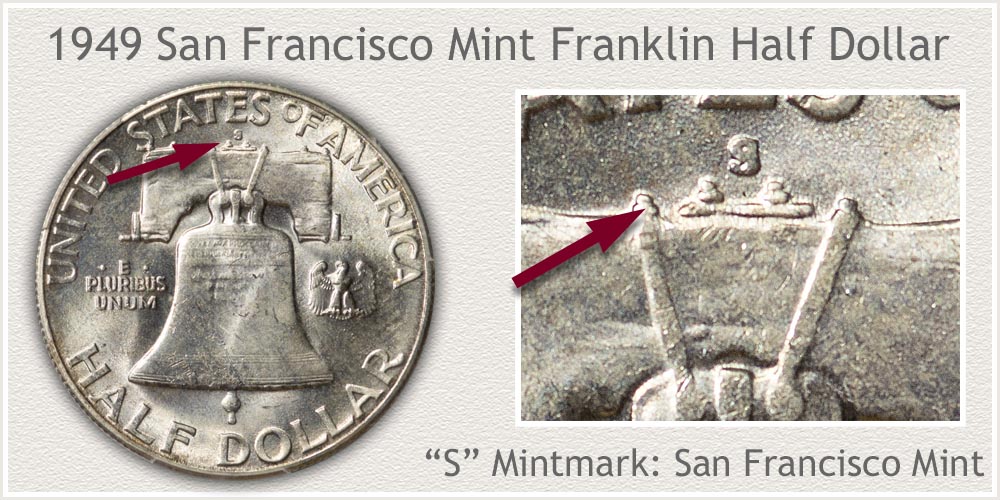 An increased need for half dollars required a third mint to coin 1949 Franklin halves. First year of the San Francisco mint producing the series. San Francisco minted 3,744,000 Franklin halves in 1949. This became the lowest San Francisco mintage year of the entire series. Low to lowest mintage numbers always attract the interest of collectors. Note the increased value listing on the chart in lightly worn or better condition.
First year of issue plus low mintage numbers is a strong base to value for these old half dollars. Find the premium "S" mintmark on the reverse. San Francisco placed a small "S" mark under the E in STATES.
1949-D Franklin Half Dollar
"D" Mintmark on Reverse: Denver Mint Struck the Coin
1949 has become one of the very interesting years to collectors because of the low mintages from all mints. Denver, an important branch mint of the series, struck just 4,000,600 Franklin halves in 1949. These coins in high condition are premium collectibles today.
1949-D halves are also the lowest Denver mint issue of the series. Locating and recognizing the "D" mintmark of Denver finds an historical issue and narrows its listing on the chart.
On the reverse of the coin, inspect the area above the wooden yoke, towards the center. A small "D" is the mintmark of Denver.
1949 Franklin Half Dollar
No Mintmark on Reverse: Philadelphia Mint Struck the Coin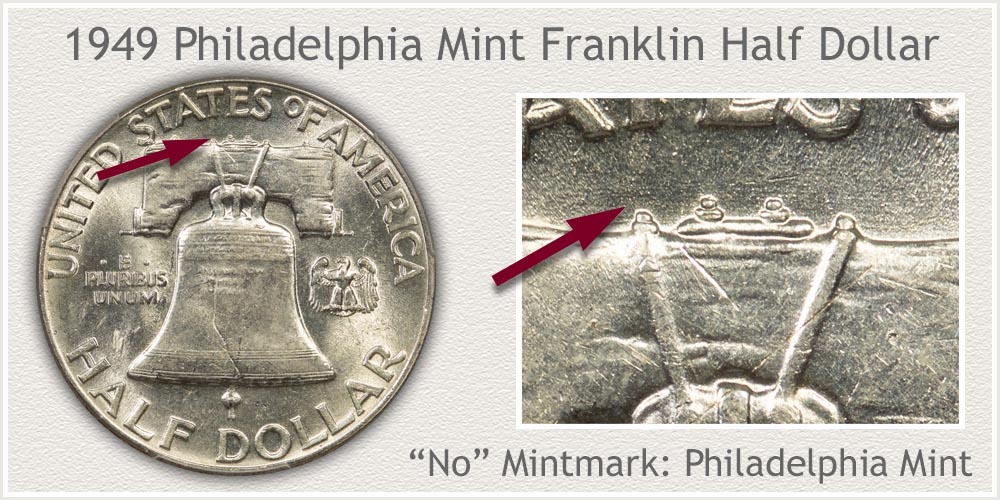 Both an early year of the Franklin series, 1949 is also a low production year for the Philadelphia mint. Striking just 5.6 million halves for circulation, becoming the third lowest mintage of the series.
These early halves appeal to both beginner half dollar collectors and the advance collectors. In pleasing lightly worn condition a new collector obtains an old, large silver coin affordably. Advance collectors take on the challenge of finding high grade, elusive examples to place in sets.
Philadelphia did not use mintmarks to identify its coinage. Inspect the area above the Liberty Bell just under "E" in STATES. If no mintmark is found and the space is empty the coin is the Philadelphia variety.
Step 2: | Condition is Judged and Grade Determined
Grading Finds Accurate 1949 Franklin Half Dollar Value
Grading the condition of coins places a definition on its state of preservation. Grades are used in value charts, by dealers, and collectors to narrow the ranges of values.
Essentially the condition of a Franklin half dollar decides if it is valued higher as a collectible or for its base silver. Have a quick look at your coin, if wear to the surface is obvious it likely falls into the bullion silver value range.
However, there is a fine line between what is expectable wear and too much wear. The grading images below give further detail. Be conservative with your judgment, helping recognize an accurate grade.
Mint State Grade
Mint State: As part of the value process collectors assign "grades" to the condition of coins. Leading in desirability is the "mint state" grade. This is defined as a coin with essentially no wear to its surfaces. An excellent candidate for the grade is a coin retaining original mint luster - the look of a new coin.
When tilted under a light and slowly rotated, mint luster shines in bands across the surface of a mint state example. Any wear to the coin and this luster is missing. Look closely at Franklin's shoulder, collar and chin; these are some of the first areas to wear, appearing as dulling to the metal.
About Uncirculated Grade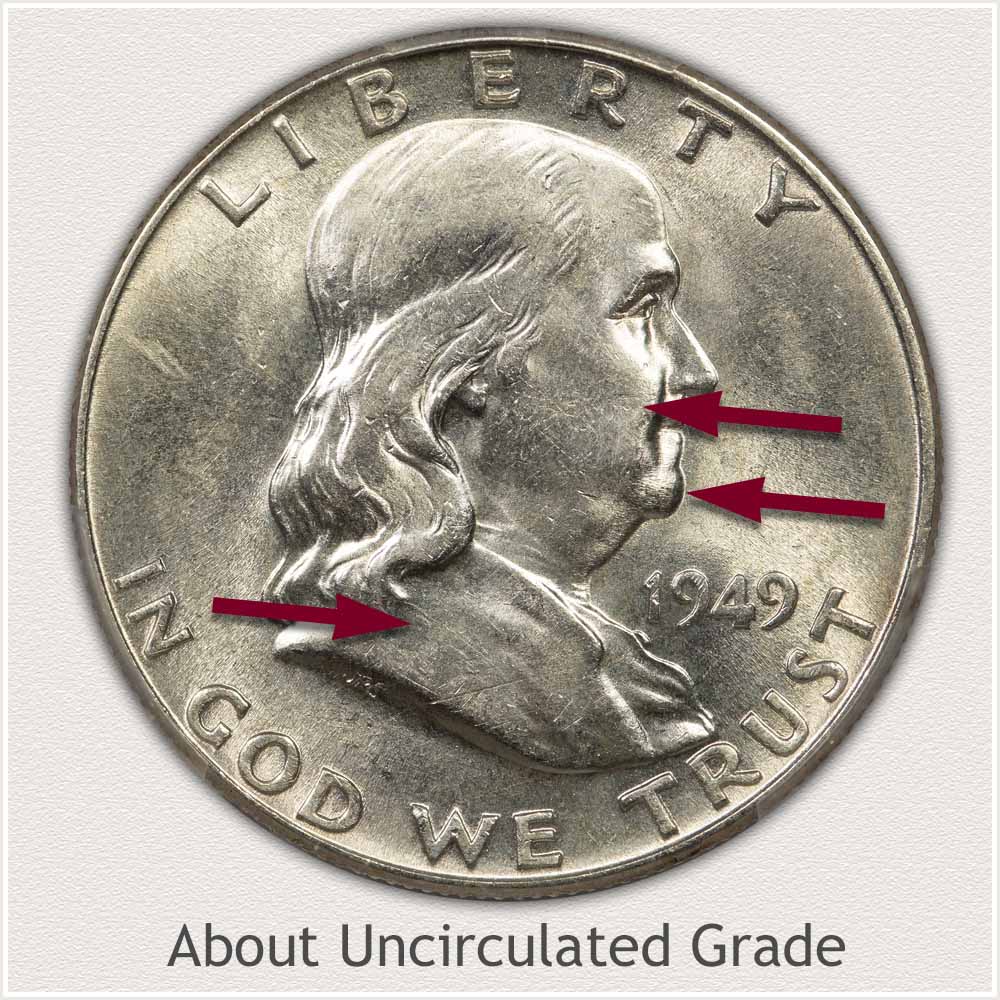 About Uncirculated: Very minor rub and slight wear to the uppermost parts of the surface defines the "about uncirculated" grade.
On the obverse - Franklin's side - looking closely at the cheek and chin, luster does not flow across the surface. A subtle dullness is present on his face. To confirm, the shoulder area is also lacking the brightness of luster along the lower edge when compared to the brightness of lower relief areas.
Under magnification, wear removes the frosted texture of a true mint state surface leaving a distinct smooth appearance. Detecting any wear or lack of it on your coin separates it from the next higher grade.
Extremely Fine Grade
Extremely Fine Grade: In Extremely Fine condition most of the newness of frosted luster is gone from the surface and replaced with a light grey color caused by wear. It is the "lightness" of this wear that is critical to value. Many areas show a color change of the metal, worn areas are dull and less vibrant in appearance.
Inspecting Franklin's cheek and chin, the metal is noticeably smooth and slightly flattened. However, this flattening of once rounded designs is very minor. His shoulder is noticeably flattened and beginning to connect with the collar above.
Extremely fine condition is the dividing line in 1949 Franklin half dollar value, the difference between collector quality and bullion quality.
Average Circulated Condition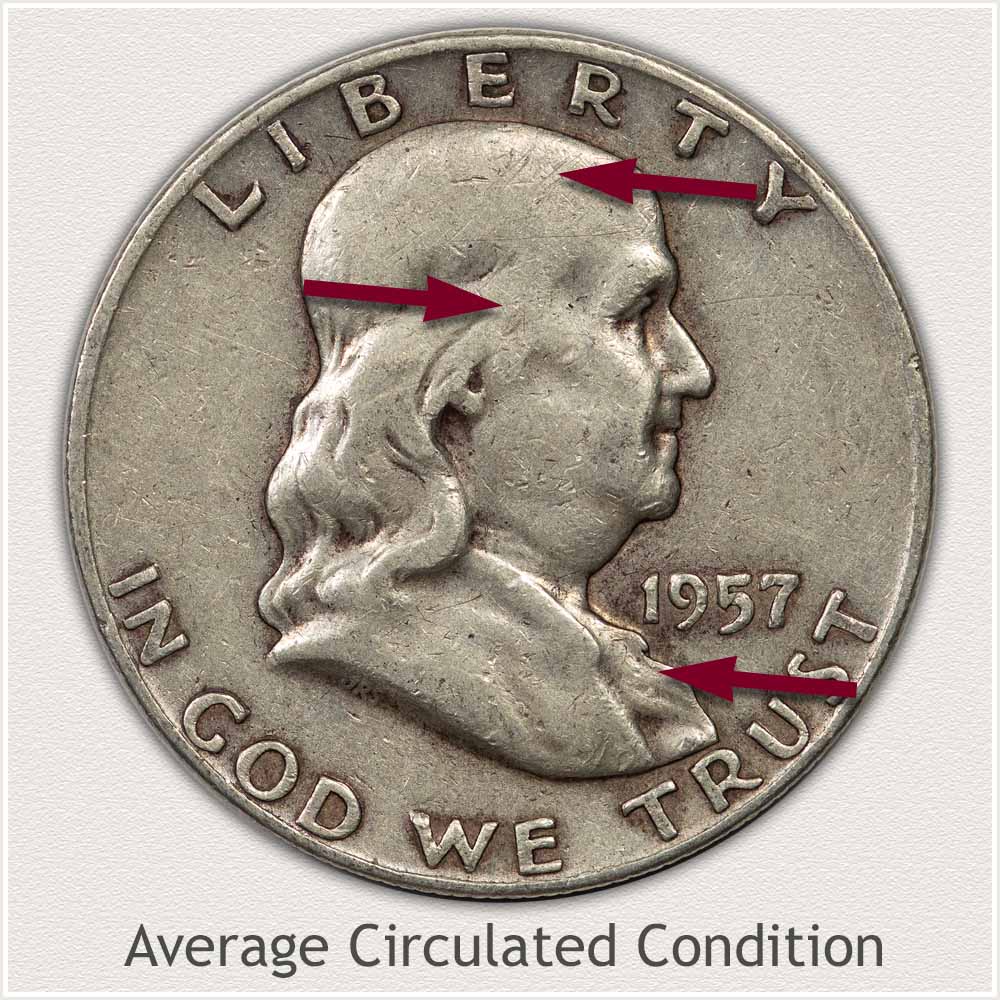 Average Circulated Condition: Franklin halves with obvious wear visible are termed as "average circulated" in grade. Evidence of removed metal is seen in many areas, from the top of Franklin's head to folds in the coat.
One quick confirmation of the grade is to tilt your coin to reflect light and focus on the front edge of the cheek running from the eye and down below the mouth. If this front edge is flat with no roundness the coin is considered worn below the Extremely Fine grade and an average circulated piece.
How to Video: Grading Franklin Half Dollars
Attention to grading condition can yield results in higher value. Slight premiums for 1949 halves are now beginning to develop for coins in the extremely fine condition. Video plus added images of important grades are helpful in spotting premium coins.
Video, Images and Descriptions | Grading Franklin Half Dollars
Step 3: | Special Qualities Adding to Collector Value
1949 Half Dollars | All Varieties are Premium Coins
After the first year of the new Franklin series in 1948, a focused effort by the public to save 1949 halves, the second year of the series tapered.
However, the Franklin series continued to record new events noted by collectors. 1949 saw the San Francisco mint contribute half dollars, first year of minting. Additionally, 1949 "S" mint halves over the course of San Francisco's production became the lowest mintage year. By the end of the series, the 1949 San Francisco halves are recorded as the third lowest mintage of all date and mint combinations. All combined a special quality half dollar.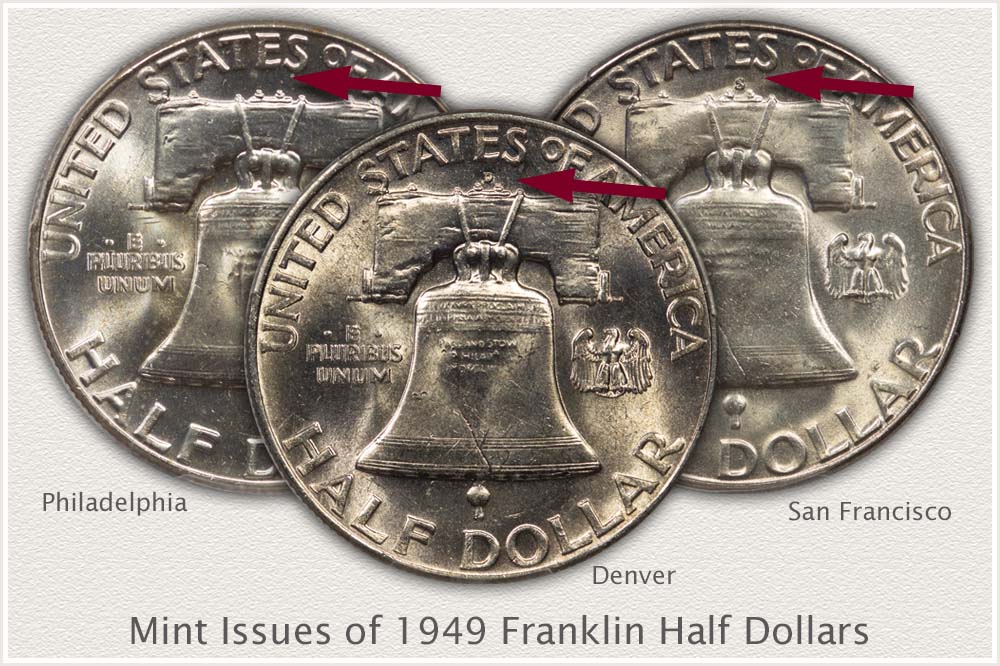 Adding to the alure of 1949 is the fourth lowest mintage of the entire series recorded by the Denver mint. Just over four million struck and a premium coin when found in nice, lightly worn or better condition.
In 1949 the overall saving of these half dollars slowed considerably as indicated by the premiums for all varieties in lightly circulated grades. Demand by collectors is meeting a small supply for all 1949 halves. Take a close look at any Franklin half dated 1949, a strong potential above base silver value is possible. A second inspection of grade is needed to accurately value these early year Franklins.
References
U.S. Mint. 1950 U.S. Mint Annual Report https://nnp.wustl.edu/library/book/341
Coin Values | CoinStudy Articles
Date by Date
In Depth Franklin Half Dollar Value
1948 to 1963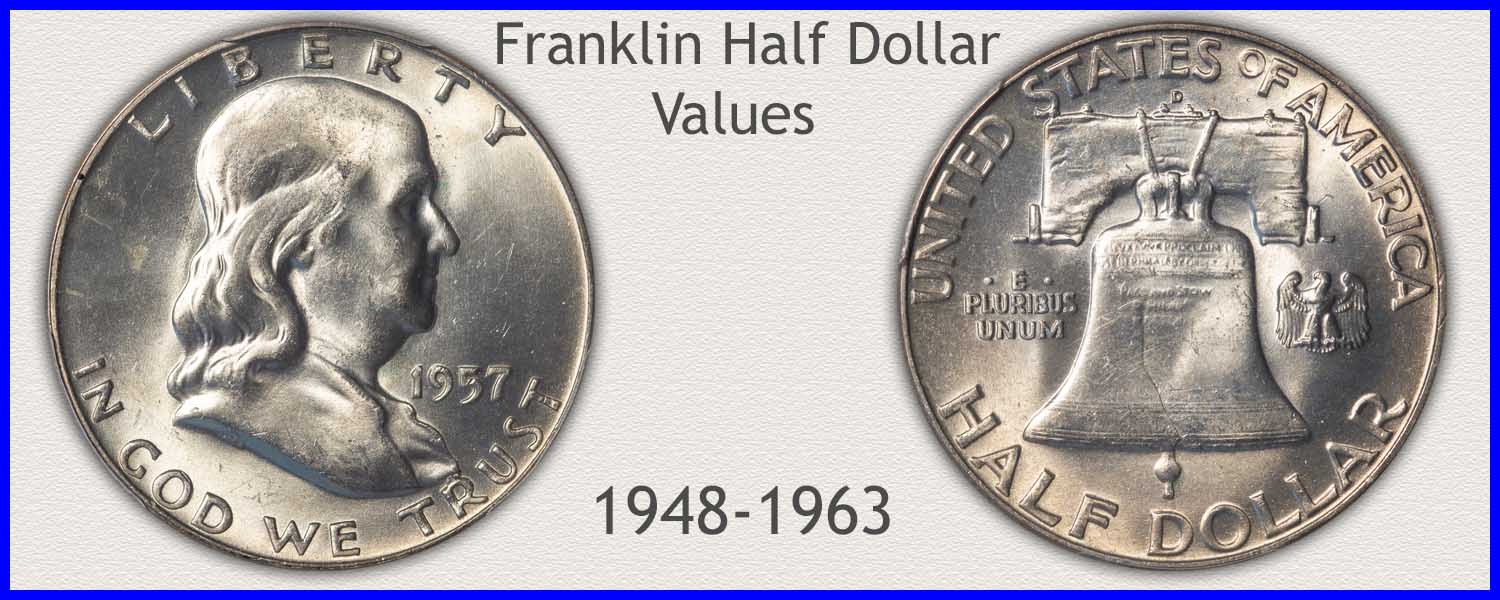 Finding Higher Franklin Half Dollar Value
It is often the condition of your old Franklin half dollar that separates the bullion minimum value from the higher collectible value. Check the date and mintmark on the charts, but importantly compare your coin to the grading images to find the accurate value.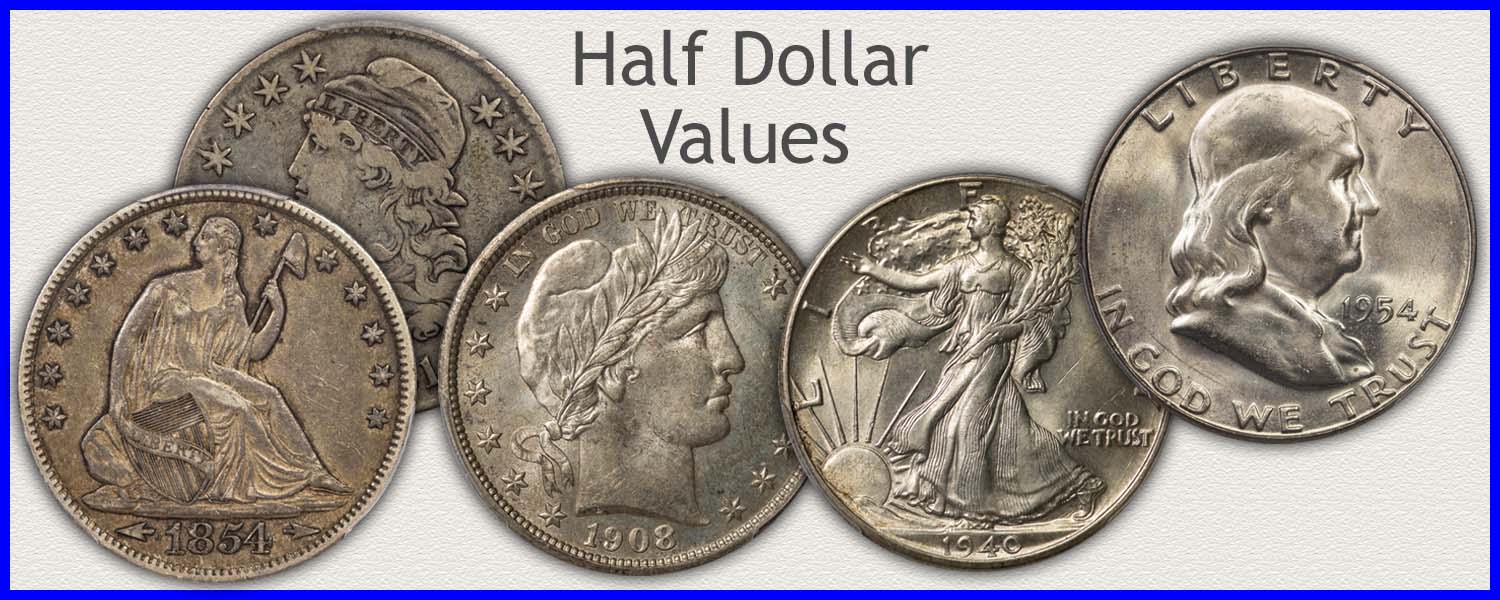 Every classic, obsolete silver half dollar is worth a minimum of $8.31 each. Additionally, most dated before 1916 are worth far more. From Franklin Halves going back to the Walking Liberty series, Barber, Seated Liberty Halves and the early Bust halves, all have their very rare dates. Value charts cover each series.
Popular Coin Series | Franklin Half Dollars
How much your old half dollars are worth is determined first using base silver value and then premiums added due to collectible demand. Franklin Half Dollars rank solid in popularity within the different vintage series.
Safe Coin Storage | Recommendations
Stored and housed properly, Franklin half dollars maintain their state of preservation and value. Recommendations on basic supplies that greatly improve coin storage.
Combining images and value charts, recognize and identify your coin and find its minimum value. Each series is linked to a major page with a step-by-step value process.
Discover the worth of bullion quality silver coins. Many old U.S. silver coins are traded based on silver content value. Identify these, determine value, and find potential buyers.
★Coin Values Discovery finds 1949 Franklin Half Dollar Value and...
All old US coin values. Use the image index to identify your coin, follow the link to value charts covering dates and mints of each series. Importantly, condition of your coin is playing an increasing role in value. Each series uses a step-by-step process; dates | mints and covers the grading the process in detail, helping find the complete value.