How to Sell Silver Coins
Sell silver coins and receive the highest value by...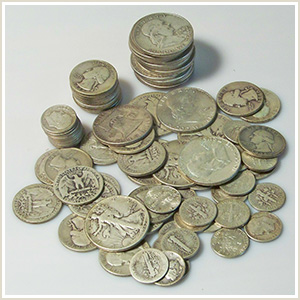 1) Separating out the collectible coins and value these individually.
2) Many of your old coins are valued primarily by their silver content, a dynamic market with prices changing daily. Determine how much they are worth today.
3) Finding the best coin buyer for each group of coins.
3 Steps to Sell Silver Coins
Step 1: Your collectible coins, those with rare dates, valuable mint marks and ones in better condition are avidly sought by dealers and collectors.
As example, the underlying value of all silver dimes as of 8/12/2019 is $1.26 and silver quarters$3.16 each. Often the value of -collectible- old silver coins is many times greater.
One by one, judge your coins and determine which are of a collectible quality, these are priced individually as you sell silver coins.
For date and mintmark pricing image links a the bottom of the page lead to each individual series.
In general, the older your coin the more likely you find higher value. US dimes, quarters and half dollars minted before 1916 if not heavily worn, all start to carry a premium above silver value.
Special Note, the Standing Liberty Quarter minted 1916-1930 is today quickly breaking away from its base silver price, with most valued higher.
Next, sell silver coins carefully from the era of 1916 and until mind 1940, they contain a mixture of rare and common. Check all for date, mintmark and condition. It is among these you find some nice valuable coins.
Now moving forward in years to the silver Roosevelt dime, Washington quarter and Franklin halves. Most of these are collected in "uncirculated" or brand new condition. Each series does have a small share of premium dates, well worth the effort to look for. However, the vast majority of these silver coins value is tied to the precious metal.