Coin Values Moving with Precious Metals: Up-Dated 9/18/2023: Gold $1928 | Silver $23.14
How to Sell Silver Coins
Sell silver coins and receive the highest value. A step by step method finds how much they are worth and where to sell.
Identify the silver US coins trading based on silver content.
Determine current minimum value.
Separate collectible quality pieces with higher potential.
Find the best coin buyer for each group.
Many of your old coins are valued primarily by their silver content, a dynamic market with prices changing daily.
The silver era of US coinage continued through 1964. Coins were a 90% silver alloy. Dimes contained .072 ounces of silver | quarters .180 ounces | and half dollars .361 ounces of silver. In total; one-dollar face value (any combination of dimes, quarters or half dollars) contained .7233 or just under ¾ ounce of silver.
Enter in the calculator the current price of silver and face amount of your silver coins. Determine their minimum worth today.
Identify Silver US Coinage Before Selling
Following are coins making up the bulk of those trading based on silver content. Older series of silver coinage are all developing collector premiums for many dates and condition.
Silver Roosevelt Dimes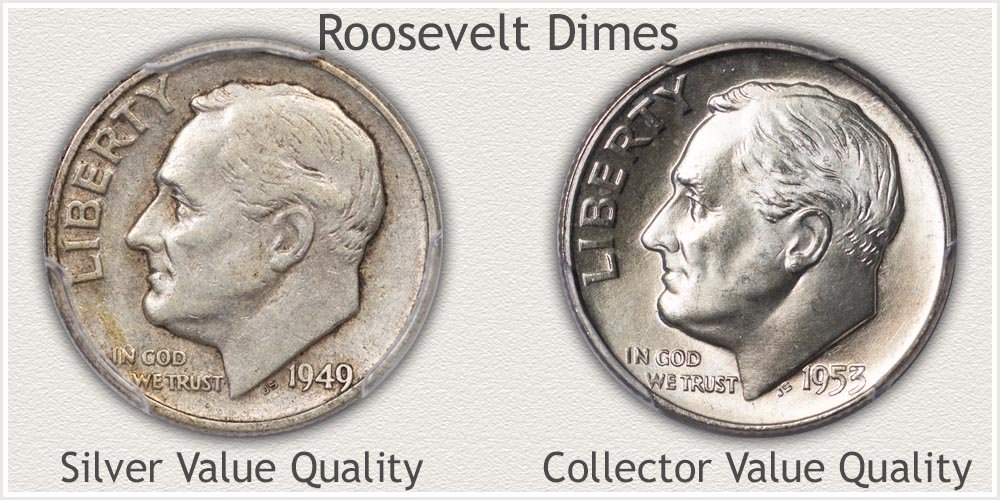 Roosevelt dimes first minted in 1946 started as the 90% silver variety. These silver issues continued through 1964. Typically, most are valued based on silver content. Important is identify the dates 1946 to 1964.
Next consideration is collector dates and quality worth a premium. A few dates; 1949, 1950, and 1951 are beginning to show small premiums in circulated condition. Mint State condition - no wear to the coin - is the major separation to collectible quality and higher value. Overall, silver Roosevelt dimes with wear to the surface are worth silver content.
Roosevelt Dime Values Chart with all dates and mints, plus grading examples to judge condition.
Silver Washington Quarters
The Washington silver quarter era spanned the years 1932 through 1964. These coins were minted in large quantities and the majority are valued based on silver content. Confirm your coin is dated 1932 through 1964 to identify a silver quarter. Quarters dated from the mid 1940's to 1964, if worn, sell at silver value.
A few collector dates are among the Washington silver quarters variety worth a premium. Notable are 1932 issues from the Denver and San Francisco mint, "D" and "S" mintmarks located on the reverse. Second major factor is condition. Early years 1932 to the mid 1940 in lightly circulated condition are developing premiums.
Washington Quarter Value Chart with all dates and mints, plus grading examples to judge condition.
Silver Franklin Half Dollars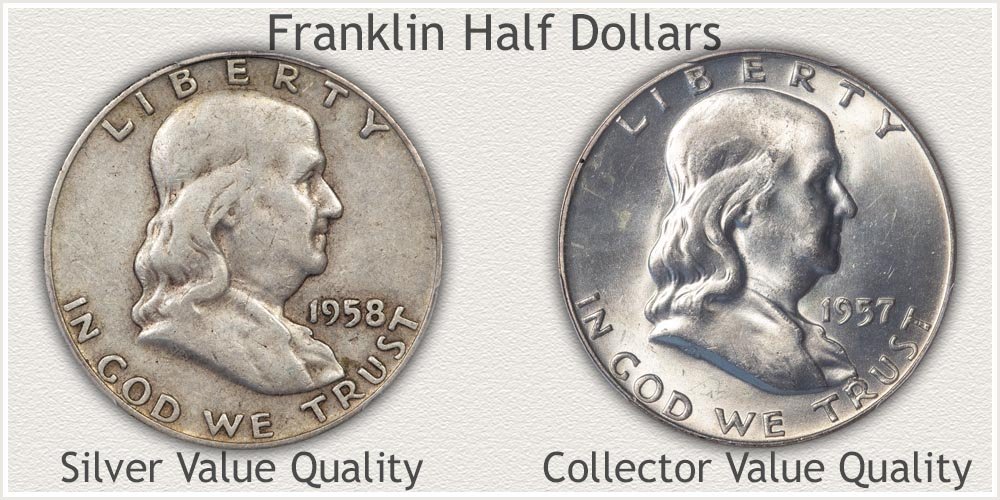 Franklin half dollars are all 90% silver alloy. Minted 1948 to 1963 a complete series of silver coins. An average quality coins is visibly worn. Every date is valued at base silver value in this condition. These worn quality coins trade in bulk.
Collectors assemble sets of Franklin halves primarily in Mint State grade - a coin in like new condition. In just slightly worn condition there are a few dates collectors place a premium. The 1949-D and S mintmark varieties are the standouts. 1952 "S" mintmark coins are also collector quality with just light wear or nicer.
Franklin Half Dollar Value Chart with all dates and mints, plus grading examples to judge condition.
Silver Kennedy Half Dollar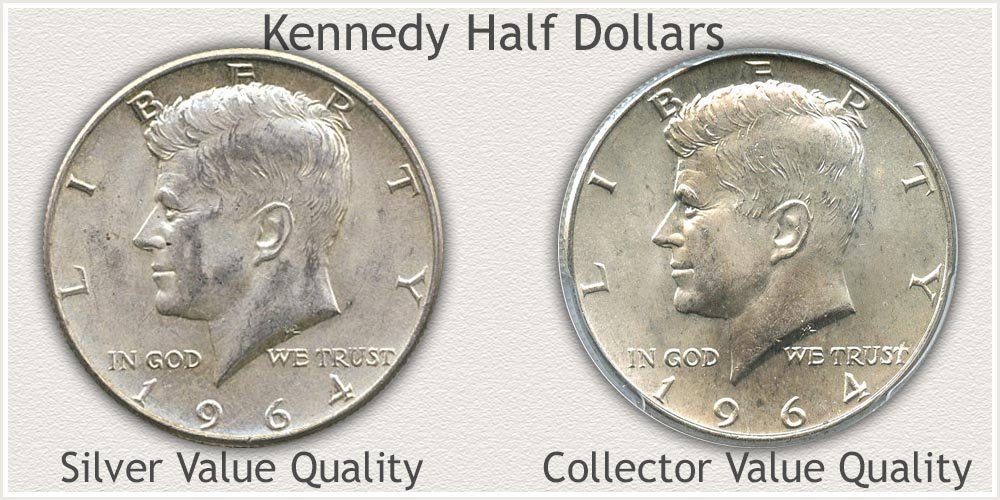 The very first year of the Kennedy half dollar was minted in 90% silver. 1964 is the year trading at this silver content value. Large numbers were minted at both Philadelphia and Denver mints, with large supplies available today. A "D" mintmark on the reverse identifies the Denver coin.
Any 1964 Kennedy half dollar with visible wear is valued at the base silver level. Both Philadelphia and Denver coins trade at the same level. The important consideration is to identify your Kennedy half as year 1964.
Kennedy Half Dollar Details on the 90% silver and 40% silver issues.
Recognize Value Before Selling Older Silver Coins
Advanced age plus high quality is causing many silver coins minted prior to 1940 to rise above base silver. Older series minted before 1916 are valued well above silver unless heavily worn.
All of these old silver coins are examined, valued, and sold individually. Dates, mintmarks, and condition is a major consideration. Match your coin to the images and inspect closely before selling these silver coins.
Mercury and Barber Dimes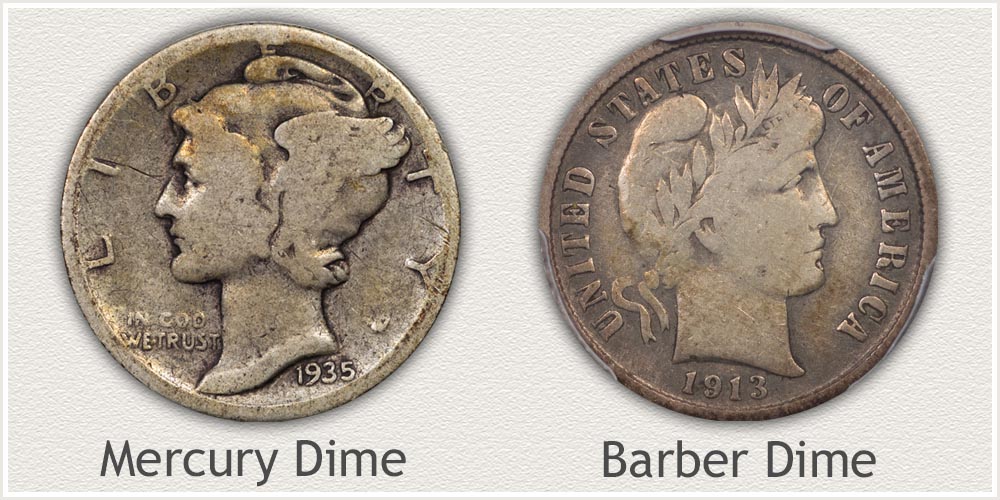 Standing Liberty and Barber Quarters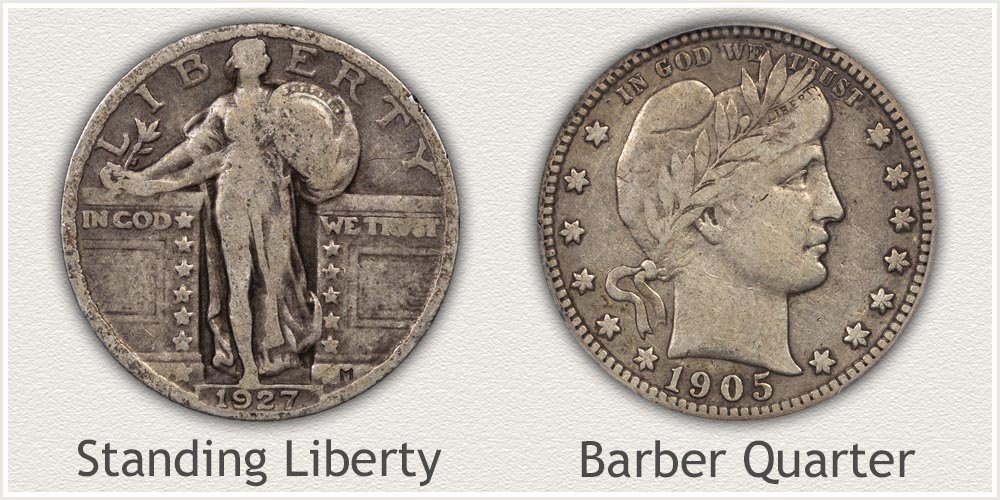 Walking Liberty and Barber Half Dollars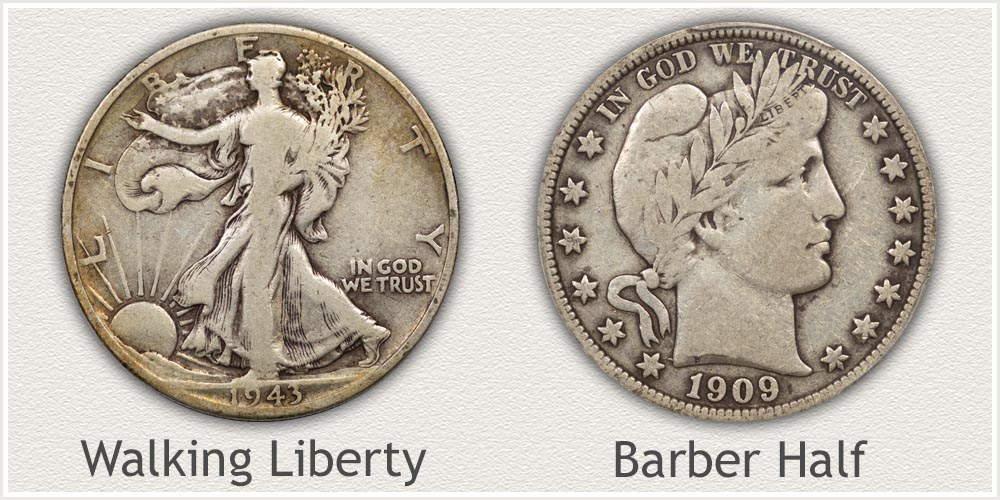 In general, the older your coin the more likely you find higher value. US dimes, quarters and half dollars minted before 1916 if not heavily worn, all start to carry a premium above silver value. An example: As of 9/18/2023 Washington silver quarters are$3.89 the Barber quarter minimum is $5.59 each. Both move with silver; however, the older Barber quarter enjoys a collectible premium. Sell these silver coins at a higher price.
Finding Silver Coin Buyers
Now your coins are separated into two distinct groups. The non-numismatic pieces, worth silver bullion value. Calculate current value.
Second group - old and collectible quality silver coins. Visit pages; from links above and determine value range.
With these values, you have an understanding of the amount and scope of your silver coins. Ready to find a buyer. The key is research beforehand, allowing you to sell silver coins with confidence.
🔎Conduct the sale with an established coin dealer.
If you have a small quantity to sell, visit a local dealer, it is cost effective, avoiding mailing expense. Conducting a sale with a dealer online is also very efficient. Both are suitable to sell silver coins.
References to finding local and online coin dealers; potential buyers of your coins.
Filter these listing by location and specialties.
Professional Numismatists Guild | Dealer Directory
Professional Numismatists Guild. PNG dealers are held to the highest standards of ethics and professionalism. All members pass a set of standards.
American Numismatic Association | Dealer Directory
The ANA Coin Dealer Directory connects sellers with coin dealers abiding by the ANA's Dealer Code of Ethics.
Professional Coin Grading Services | Authorized Dealers
Dealers meeting a set of acceptant standards. Dealers provide help assessing your coins and if beneficial, submitting coins to the PCGS grading service.
Numismatic Guaranty Corporation | Dealer Locator
Dealers meeting a set of acceptant standards. Dealers provide help assessing your coins and if beneficial, submitting coins to the NGC grading service.
Insight to the Market When You Sell Silver Coins
With silver moving daily in value. Dealer buy and sell prices are continually adjusted. Additionally, the pace of silver rising or falling is reflected in the spread between the buy and sell prices.
Buy/Sell spreads widen in fast moving silver values. Margins are increased because of uncertainty.
Quiet, slower up and down movements in silver provide for dealers offering a tighter Buy/Sell margin.
Refer to the chart tracking movements of silver over the past twelve months. It gives an insight into the current silver market condition. A fast-paced market is seen in sharp upward or downward movements in price.
References
US Mint. 1948 US Mint Annual Report. https://nnp.wustl.edu/library/book/339
Coin Values | CoinStudy Articles
Today's Minimum Silver Coin Values
Old silver coinage when properly evaluated is easily sold with confidence of receiving best value. Minimum silver value of each coin is a good place to start. Use this page as a companion page when judging US silver coins.
Interest of collectors is the base to coin values. Collecting sets of silver coins places demands on older series raising their values above underlying metal values. Popularity trends identify these coin series.
Safe Coin Storage | Recommendations
Recommendations on basic supplies that greatly improve coin storage. Providing for safe handling, preserving of value and organizing your box of old coins. Safe storage of silver coins maintains their preservation into the future.
Print the Coin Values Worksheet to list silver coin values. Should you decide to sell... use the worksheet as an invoice and packing slip when sending coins through the mail to dealers. It indicates you have done your coin values homework.
★Coin Values Discovery... Prepare to Sell Silver Coins... All old US coin values listed. It is an excellent index with images and text links to all coin series, from Cents to Gold. Value charts, grading images and descriptions uncover how much your box of old coins is worth.