Coin Values Moving with Precious Metals: Up-Dated 9/18/2023: Gold $1928 | Silver $23.14
1962 Franklin Half Dollar Value
1962 Franklin half dollar value is currently $7.80 each if in worn condition. Traded based on silver content; currently 9/18/2023 silver is in the $23.14 range.
Bullion quality Franklin half dollars are worth a strong minimum. Collector quality, higher premium examples are recognized using a step-by-step process. Compare your coin in the steps below to images and accurately identify higher quality.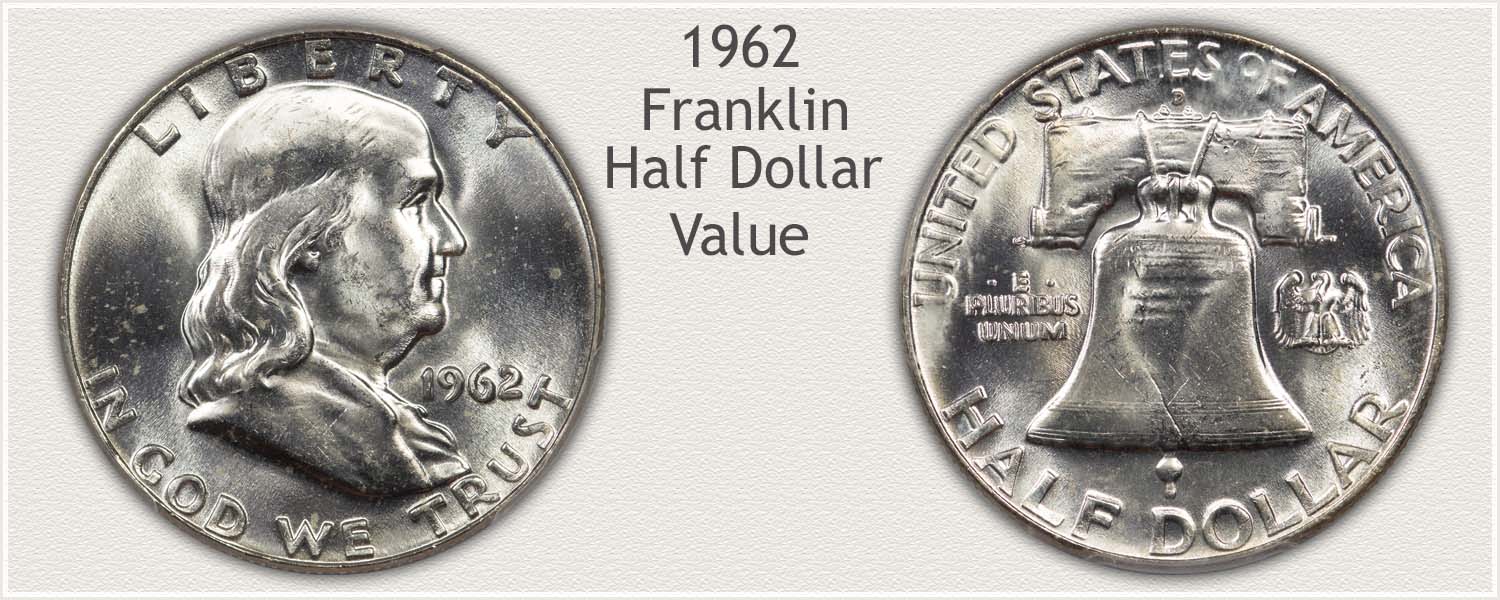 Steps Leading to Value:
Step 1: Date and Mintmark Variety - Accurate identity when describing coins is needed when referencing value charts. Confirm the half dollar issue.
Step 2: Grading Condition - Separating coins suitable for the silver market from the collector market narrows a value range. Comparing to images of standards for the grades helps in an accurate judgement of condition.
Step 3: Special Qualities - Coins set aside long ago often become valued additions to today's collections. Many levels of demand support values above silver content in these older series of half dollars.
1962 Franklin Half Dollar Value
Condition of Coin
Date
Average
Circulated
Extremely
Fine
About
Uncirculated
Mint
State
1962 Franklin Half Dollar Value Updated
9/18/2023
1962
$7.80
$7.80
$7.80
$10.71
1962 D
$7.80
$7.80
$7.80
$10.71
Values in the above chart are wholesale. Use as a guide to develop a narrow selling range when presenting the coin to a dealer.
As you proceed through the steps outlined below record the information on the Coin Values Worksheet. Special attention is given to the key elements; date/mint, and an assessment of condition.
Step 1: | Date and Mintmark Variety Identified
Two Mints Produced 1962 Half Dollars
Different mints produced coinage over the years. In 1962 half dollars were struck at two mints, Philadelphia and Denver. Noted on the value chart is listings; 1962 and 1962-D. The "D" is denoting the mintmark used by Denver, identifying its production.
Collectors of Franklin halves pay close attention to date and mint combinations needed to assemble complete sets of the series.
Confirming both the date and mint is needed for an accurate description of the coin.
1962-D Franklin Half Dollar
"D" Mintmark on Reverse: Denver Mint Struck the Coin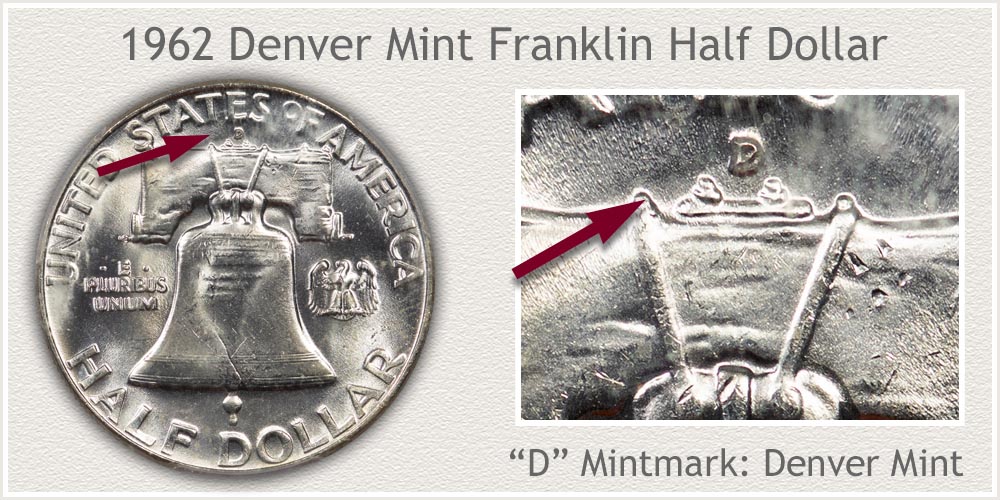 Of the two mints producing halves in 1962, the Denver mint struck the greatest amount. With over 35 million Franklin half dollars placed into the economy these are the likely variety found today. 1962 Denver halves are abundant, available, and values are based on silver content.
Value charts list the Denver variety as 1962-D. Denver used a "D" mintmark on the reverse to identify its production. Looking closely just above the beam over the Liberty Bell, towards the center, the small "D" is Denver's mintmark.
1962 Franklin Half Dollar
No Mintmark on Reverse: Philadelphia Mint Struck the Coin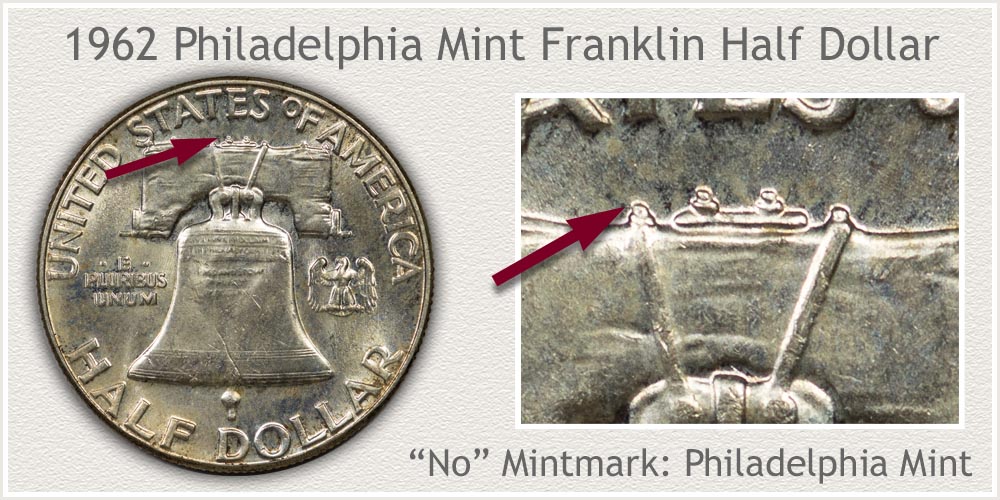 The second mint to strike 1962 Franklin halves was the main mint in Philadelphia. This variety of the year is an abundant coin today and most trade in line with its silver content. All Franklin series halves are 90% silver providing a solid base value.
It is the condition of your coin as the important factor to an accurate value. Grading condition and necessary factors to premiums is covered in Step 2 below.
Finding 1962 halves place on the chart is identifying the mint striking the coin. All Philadelphia halves struck during the 1960's are recognized by the lack of a mintmark on the reverse. Inspect under the "E" in STATES, if the area is empty, it confirms the Philadelphia variety.
Step 2: | Judge Condition Comparing to Images
Examine Condition to Confirm 1962 Franklin Half Dollar Value
Grading condition takes a close look at your coin. If the coin was collected and set aside long ago, never entering circulation, there is the possibility of a premium collector value. A coin without any wear to its surface is in demand by collectors today.
Condition of the coin's surface is compared to images of coins of different grades, finding a close match. The different Grades are used by collectors helping define the state of preservation.
Mint State Grade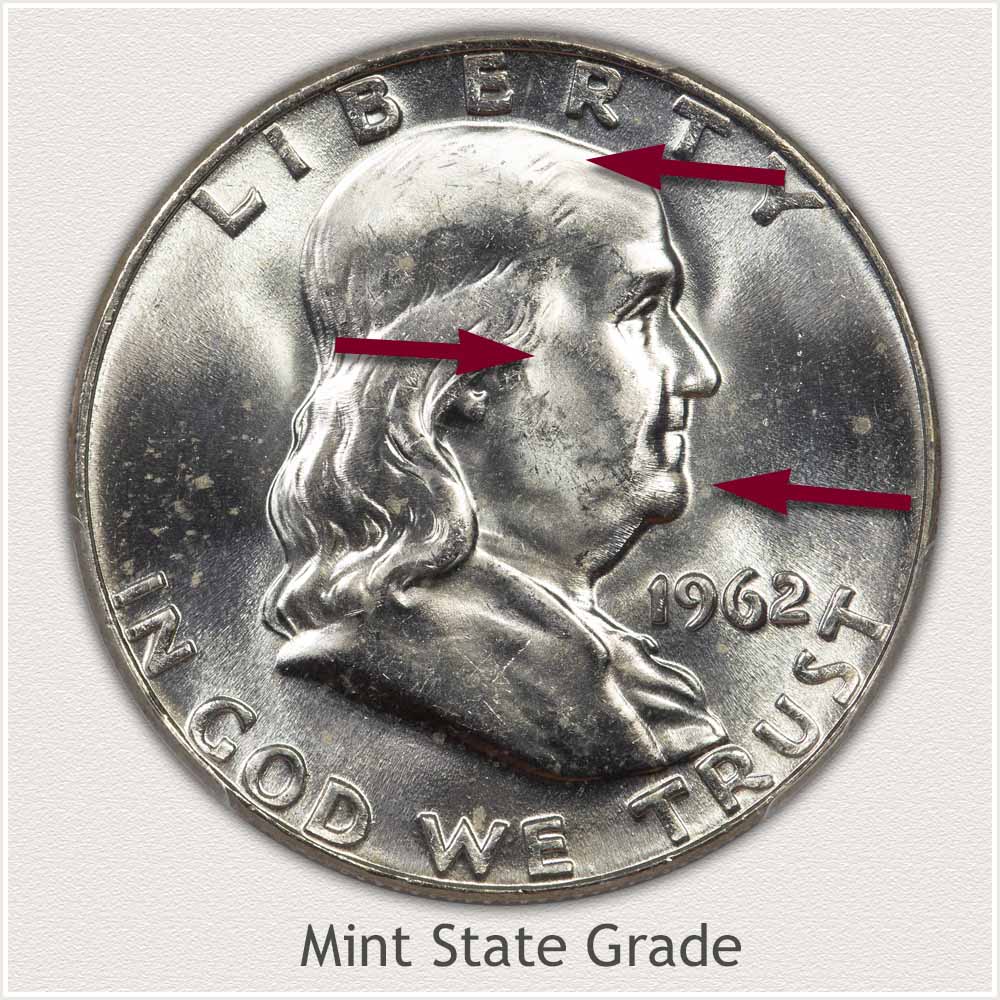 Mint State: No trace of wear to the surface is the definition of an "mint state" coin. In this grade your coin still has mint luster (the look of new) over the entire surface.
Any wear to a coin removes this delicate brilliance, leaving a dull grey appearance. Holding by the edges, rotate the coin under a light and the luster "rotates" around the coin, if the luster is complete your 1962 half dollar value is in the premium collector range.
Inspect the cheek area. High and low relief areas must remain the same texture and brilliance as you rotate the coin. Wear causes the high points to appear dull when compared to lower areas.
About Uncirculated Grade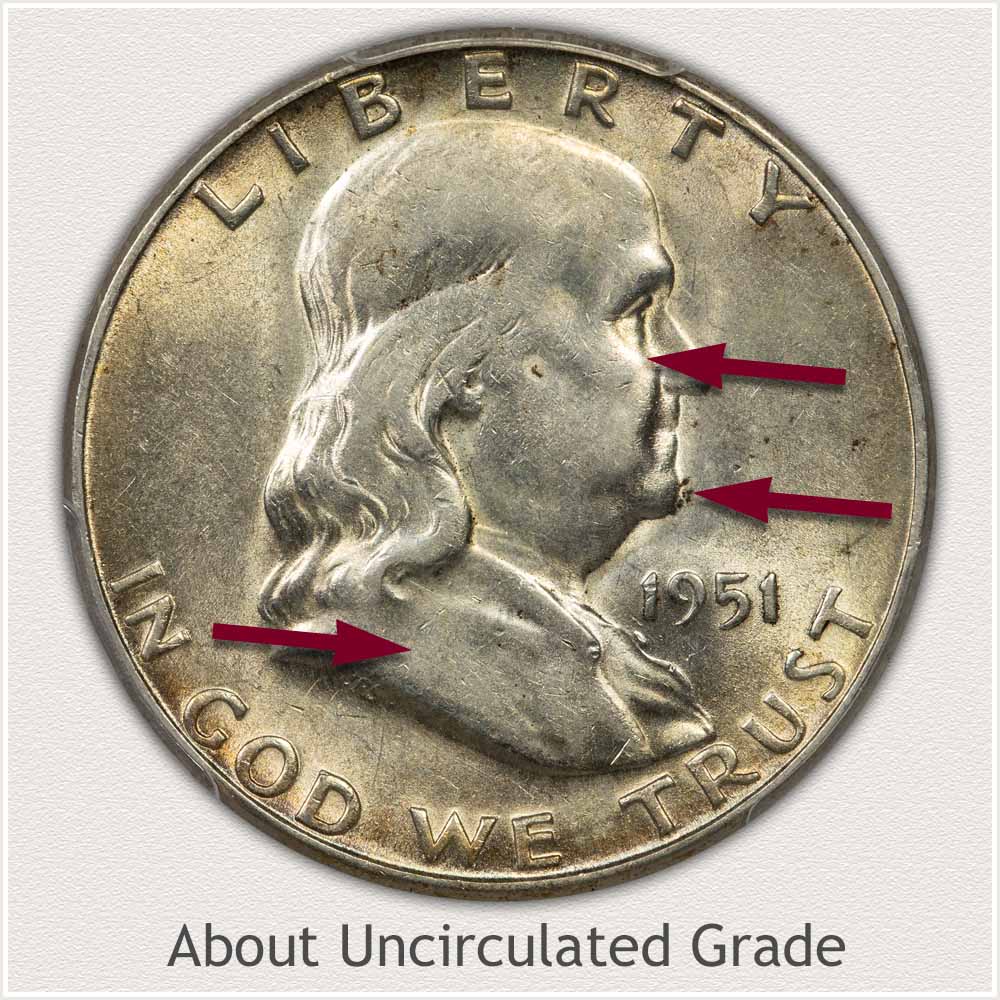 About Uncirculated: Very slight wear defines the "about uncirculated" grade.
Slight wear removes the delicate shine of mint luster. Franklin's chin and cheek are closely inspected, a smoothness is found on high areas and the luster is dull. To qualify in "about uncirculated" condition just traces of luster removal is found in high areas and only slight wear is acceptable.
Extremely Fine Grade
Extremely Fine Grade: A small amount of wear visible on high areas and the majority of mint luster gone defines the Extremely Fine grade.
A light grey color over the entire coin has replaced the brightness of luster. Slight amounts of wear is seen on Franklins cheek, eyebrow and hair behind the ear. Overall "look" of the coin must remain crisp and well detailed.
Average Circulated Condition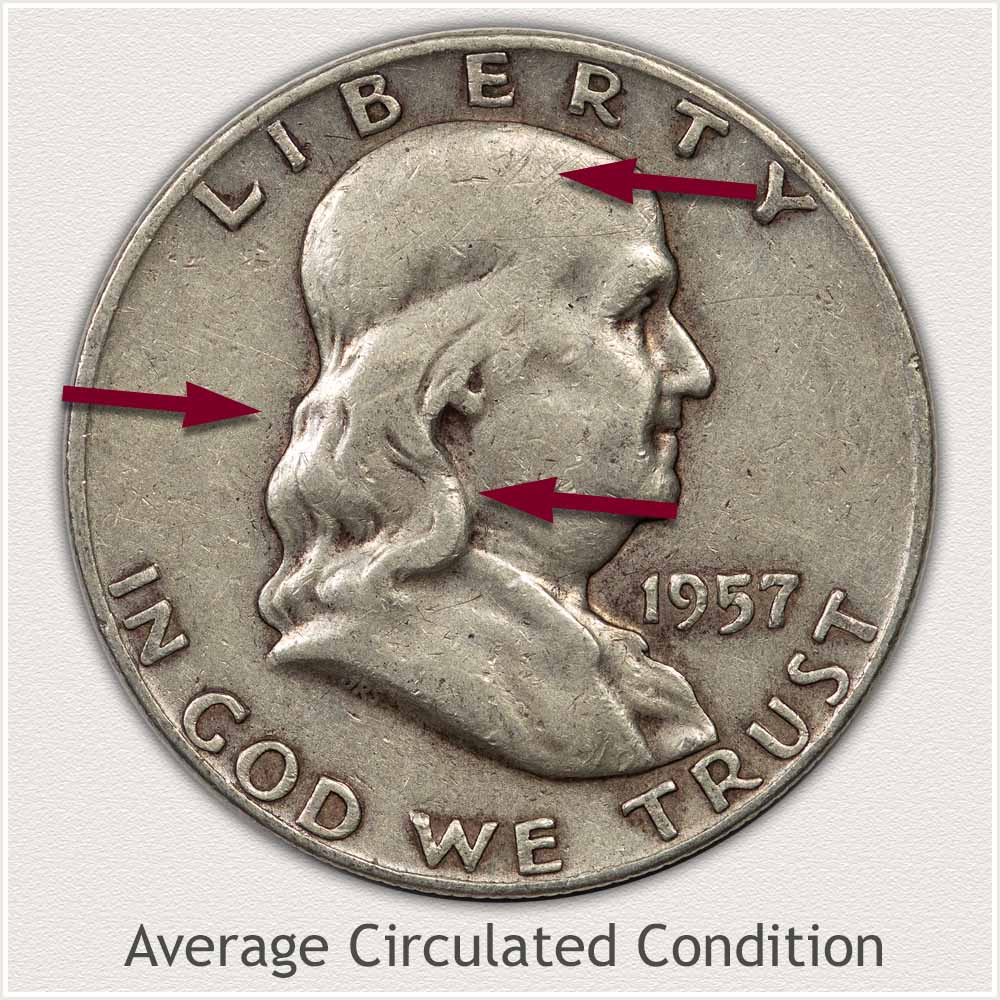 Average Circulated Condition: Noticeable wear creating large smooth areas lowers the grade below extremely fine. These moderate to heavily worn pieces are termed "average circulated" condition.
The large waves of hair at the back of the ear are worn sooth across the tops. Several strands are merged in the central area.
Helping identify the condition is the worn and flattened metal extending from above Franklin's ear along the wave of hair and connecting to his shoulder.
How to Video: Grading Franklin Half Dollars
An in-depth look at grading Franklin half dollars. Subtle points to recognize helping separate the different grades of condition.
Video, Images and Descriptions | Grading Franklin Half Dollars
Step 3: | Special Qualities Enhancing Value
Damage Eliminates Collectible Status
Franklin half dollars have a built-in value, all are 90% silver. The hope is finding examples rising above this base into the premium values of collectible quality.
Condition of the surface is the key to top condition examples. The above examples represent the quality of surface preservation resulting in eye appealing coins. A lightly circulated coin without distracting marks or color is an affordable, collectible coin. The mint state half is also without nicks and abrasions. Luster of the surface is still bright and vibrant.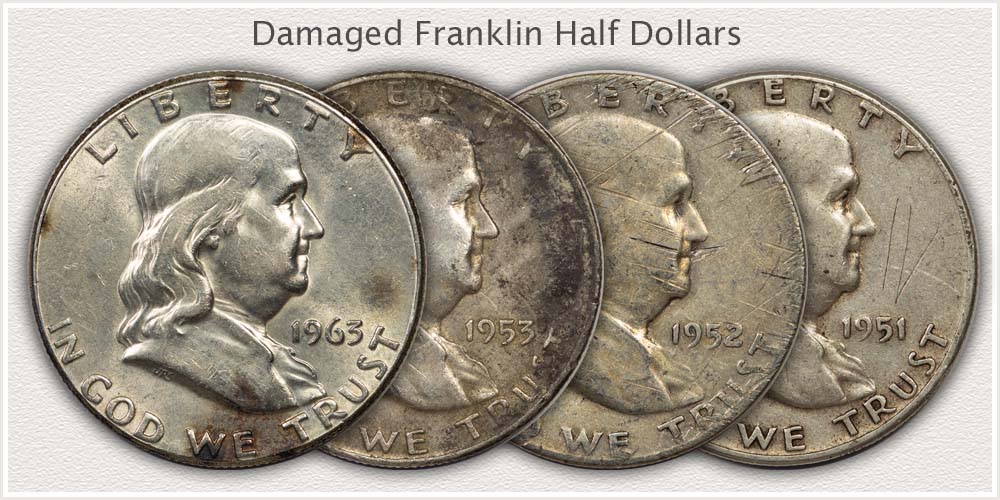 The above coins display varying degrees of damage, corrosion, and discoloration. All are removed from the collectible category because of these distractions. Even small scratches lower the quality of the coin into the bullion silver category.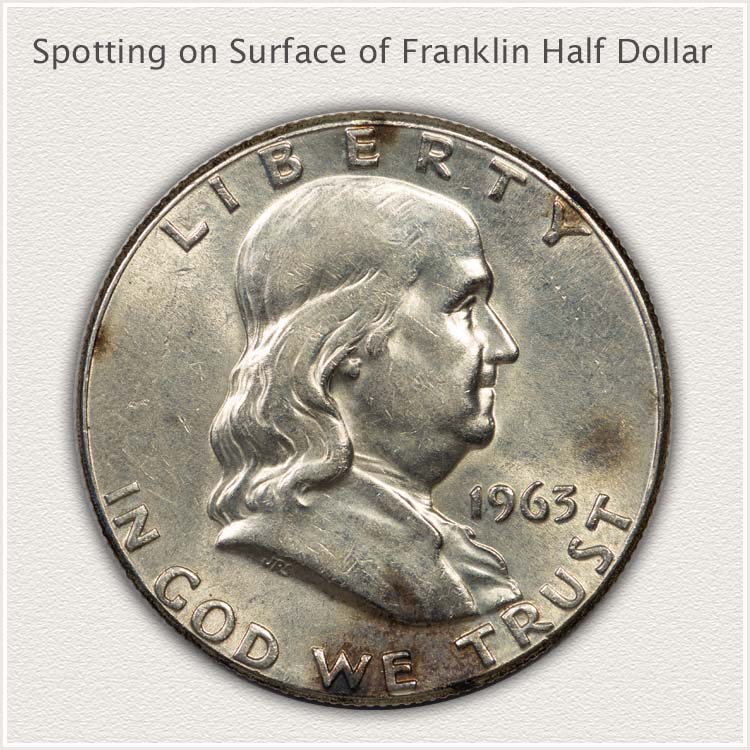 A nicely detailed 1963 half, unfortunately the spotting is indicating improper storage. A collector is seeking examples without distracting coloration.
A deeply discolored coin is likely damaged underneath with corrosion on the surface. Not considered as a collectible in any way.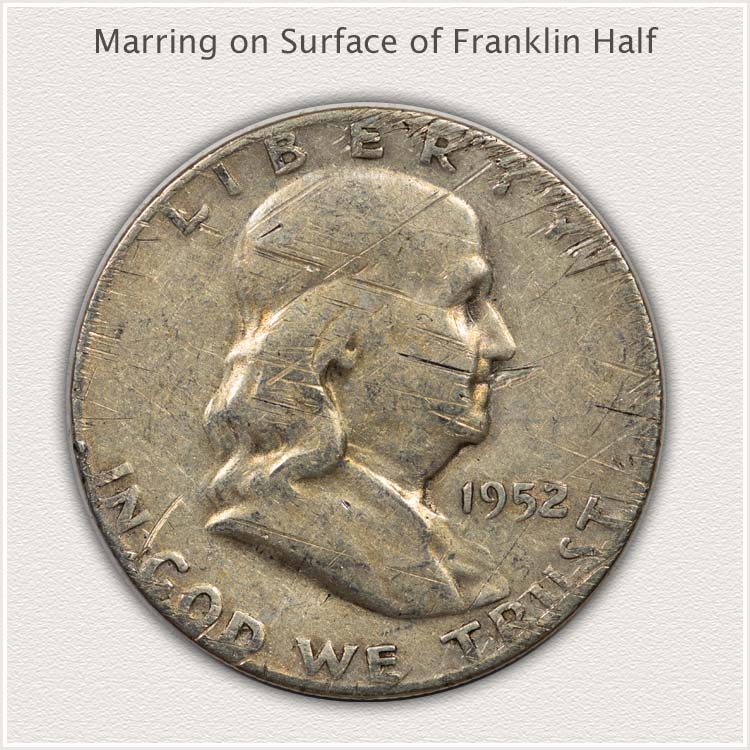 Heavy marring is visible on the surface of this 1952 half, concentrated on Frankling face. Deep cuts into the metal are severe and lower the appeal as a collectible.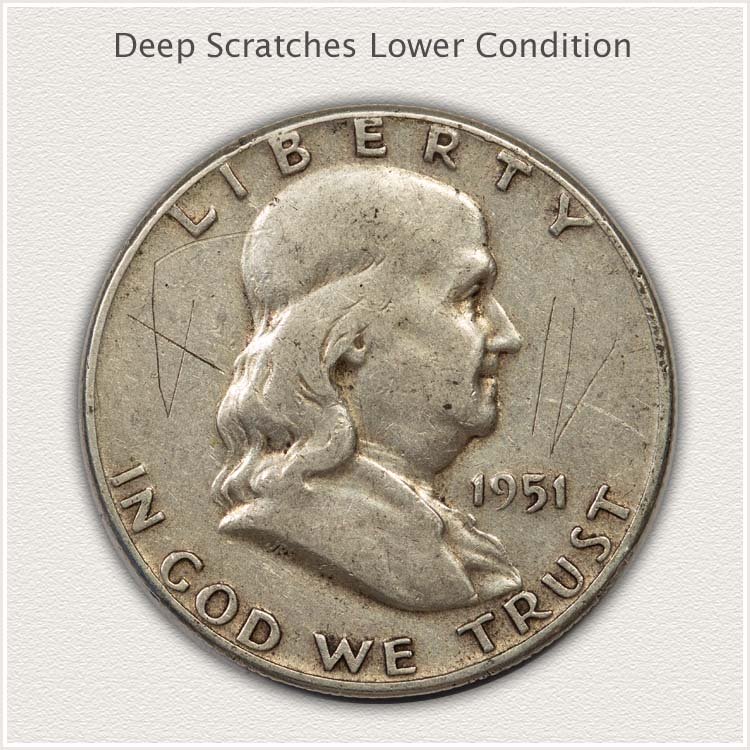 A 1951-S half with light wear disrupted by deep scratches in front and behind the portrait eliminate the coin from collectible statue.
Any Franklin half dollar "with problems" is valued at base silver worth. Natural wear from circulation is expected. Damage lowers eye appeal, a strong element to value. Poor overall appearance and distractions cause collectors to pass on the coin.
References
U.S. Mint. 1963 U.S. Mint Annual Report. https://nnp.wustl.edu/library/book/514148
Coin Values | CoinStudy Articles
Date by Date
In Depth Franklin Half Dollar Value
1948 to 1963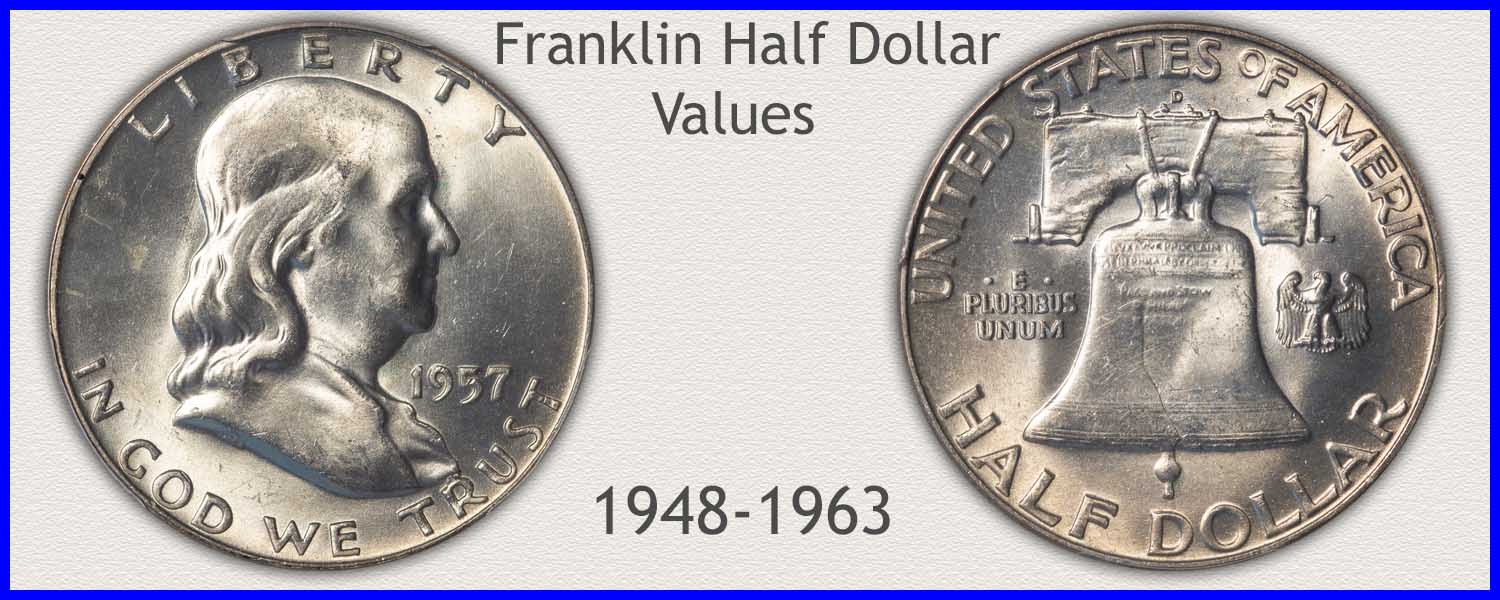 Date by Date Franklin Half Dollar Value Chart
It's true most of the circulated Franklin half dollar value is directly tied to silver. However, there are a small but growing number of rare date and mintmark combinations worth a rising premium. All the dates of issue are listed in the value chart on the page. Discover how much your silver Franklin halves are worth.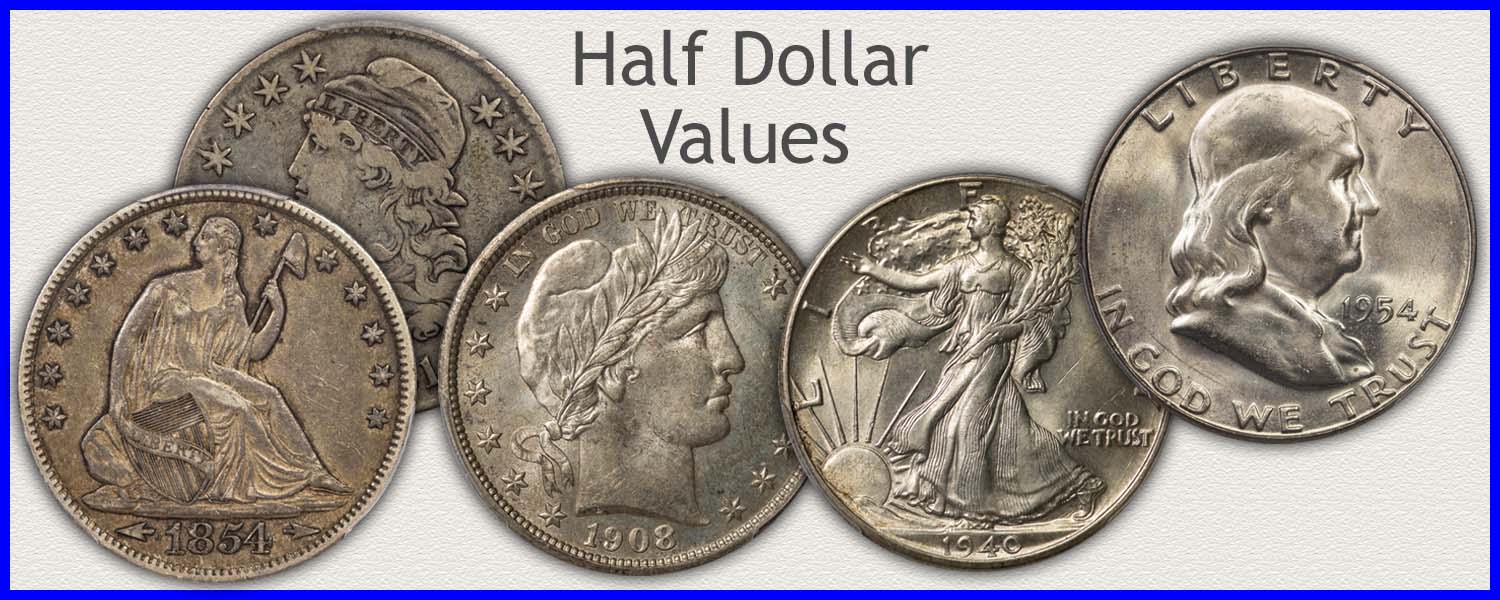 Identify All Half Dollar Value
Every classic, obsolete silver half dollar is worth a minimum of $7.00 each. Additionally, most dated before 1916 are valued far higher. From Franklin Halves going back to the Walking Liberty series, Barber, Seated Liberty Halves and the early Bust halves all have their very rare dates. Value charts cover each series.
Print the Coin Values Worksheet
After following the steps above to evaluate coins. Print the worksheet to list your Franklin Half Dollars and the rest of your collection and record their values.
U.S. Coin Values | Mobile Guide
A quick reference to U.S. Coin Values. Recognize your coin compared to images. Old coins from cents to gold coins are imaged and charts list minimum values for each type. Each chart links to in-depth coverage of a step-by-step process to coin values.
Silver Coin Values | Minimum Values of U.S. Silver Coins
Price of silver is in constant change, up or down. U.S. silver coinage follows these movements. Franklin half dollars are one of many series heavy with silver. Calculate silver value of the different coin series.
★Coin Values Discovery finds 1962 Franklin Half Dollar Value and...
Begin here to identify your coin values. Images if each U.S. coin series are linked to value charts and grading images. These combined with mintmark details cover the important factors needed to find an accurate value of your box of old coins. Follow the step-by-step method for all series.