Coin Values Moving with Precious Metals: Up-Dated 7/26/2021: Gold $1806 | Silver $25.20
1962 Franklin Half Dollar Value
Your 1962 Franklin half dollar value is currently $8.49 each if your coins is in worn condition. Traded as a bullion coin its worth is current as of 7/26/2021 with silver at $25.20 per ounce.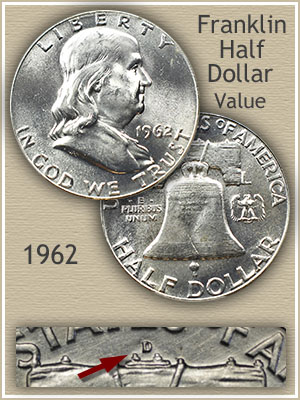 Have a close look at your coin however; if set aside long ago and never entered circulation, there is the possibility of a premium collector value. A coin without any wear to its surface is in demand by collectors today.
See the section on grading your Franklin half, it is found below the value chart. With interest in collecting the series and the value of silver high the condition of your coin determines how much it's worth.
Always in demand, the uncirculated condition; also known in the hobby as "mint state" is the premier and highest 1962 Franklin half dollar value. Pictured is one of these top condition coins, bright with original luster. Never seeing use and remaining as-minted; value is easily $11.66 with room to go higher.
Popularity of collecting Franklin half dollars is beginning to increase, and along with it an interest in the different mints that struck these coins. Two mints, Philadelphia, the main mint and the branch mint in Denver struck all 1962 half dollars.
A "D" mintmark was placed on the Denver production, and half dollars without a mintmark indicates the Philadelphia mint. On the revers just below the E in States is the location of the mintmark.
1962 Franklin Half Dollar Value
Condition of Coin
Date
Good
Fine
Extremely
Fine
Uncirculated
1962 Franklin Half Dollar Value Updated
7/26/2021
1962
$8.49
$8.49
$8.49
$11.66
1962 D
$8.49
$8.49
$8.49
$11.66
1962 Proof Franklins Shine in Value
Minted special, sold to collectors directly from the mint, Proof Franklin half dollars are a very popular set with collectors. Minted from 1950 through 1963 the coins are notable for their sharp detail and mirror reflective surfaces.
Originally issued in a five denomination set, many of these are still intact today and yield spectacular examples of proof cents through proof half dollars.
Value of the older date proof half dollars often reaches into the hundreds of dollars, with the latter years such as the 1962 pictured still moderately priced in the $25 to $30 range.
Differences in value are due to the number struck, hence availability. But also surprisingly condition is a major factor in value. Although the original packaging did a good job protection the coins problems did develop on some. Dark, random spots are seen affecting a sampling of coins. Another problem is an uneven haziness to the surface. A well struck, still bright 1962 proof Franklin half dollar is a true collectible.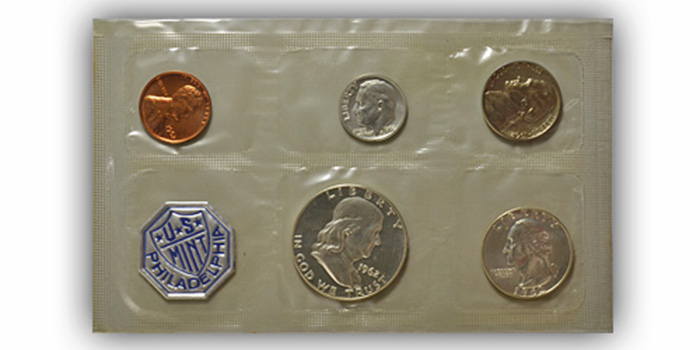 Condition Difference in 1962 Franklin Half Dollar Value
Condition decides if your coin is bullion silver value or a premium value because of collector interest. The dividing line between the two values is the presence or absence of wear.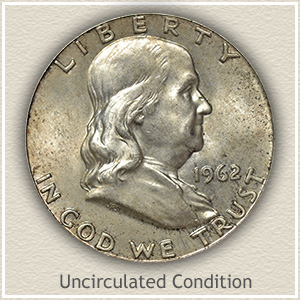 Uncirculated: No trace of wear to the surface is the definition of an "uncirculated" coin. In this grade your coin still has mint luster (the look of new) over the entire surface. Any wear to a coin removes this delicate brilliance, leaving a dull grey appearance. Holding by the edges, rotate the coin under a light and the luster "rotates" around the coin, if the luster is complete your 1962 half dollar value is in the premium collector range.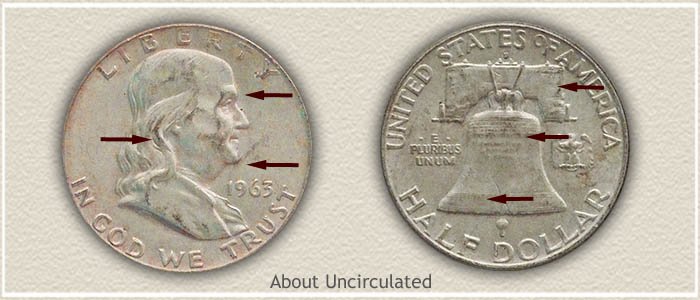 About Uncirculated: Very slight wear defines the "about uncirculated" grade. This is the specific condition where 1962 Franklin half dollar value breaks away from the higher collector quality value. Even a small amount of wear is enough to begin smoothing and removing mint luster from the coin. Wear is first noticeable in the center of the Liberty bell across the lettering and also on Franklin's chin and cheek. It must be stressed; only very minor amounts of wear is acceptable to qualify for the about uncirculated grade.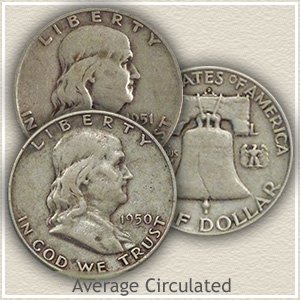 Average Circulated: If your coin is worn it falls into this "average circulated" value category. In today's market 1962 Franklin half dollar value is not affected by the amount of wear, heavy or light, all are considered average circulated and tied to silver price. One area to check is the center of the Liberty bell, if smooth without lettering it confirms your coin is worn.
Coin Values | CoinStudy Articles
Date by Date
In Depth Franklin Half Dollar Value
1948 to 1963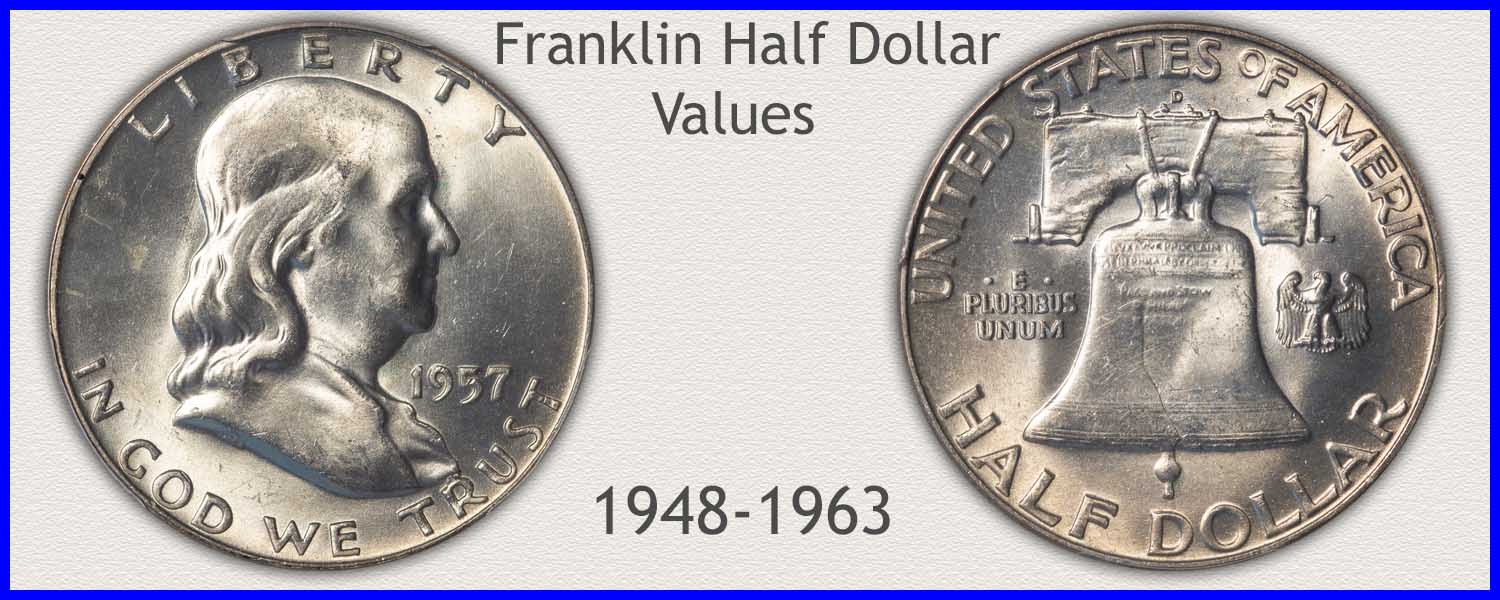 Date by Date Franklin Half Dollar Value Chart
It's true most of the circulated Franklin half dollar value is directly tied to silver. However, there are a small but growing number of rare dates and mintmark combinations worth a rising premium. All the dates of issue are listed in the value chart on the page. Discover how much your silver Franklin halves are worth.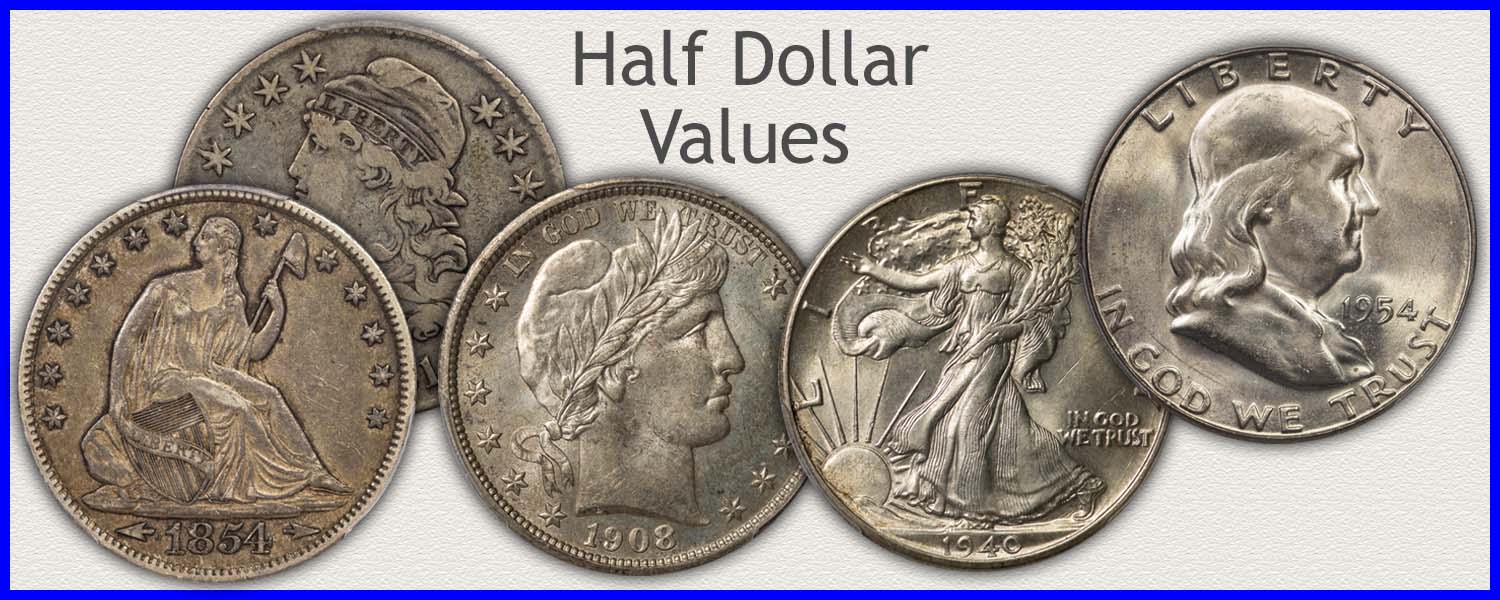 You Can Identify All Half Dollar Value
Every classic, obsolete silver half dollar is worth a minimum of $8.49 each. Additionally, most dated before 1916 are valued far higher. From Franklin Halves going back to the Walking Liberty series, Barber, Seated Liberty Halves and the early Bust halves all have their very rare dates. Value charts cover each series.
★Return to Coin Values Discovery... find 1962 Franklin half dollar value and... All old US coin values. Use the image index to identify your coin, follow the link to value charts covering dates and mints of each series. Importantly, condition of your coin is playing an increasing role in value. Each series covers the grading process in detail, helping find the complete value.
Minimum Silver Value | A Good Place to Start
Many of your old US silver coin values are tied closely to the price of silver. Pre 1965 silver dimes, quarters, half dollars and silver dollars are all heavy with 90% silver and worth many times their face value. With today's high value of silver; $25.20 per ounce as of 7/26/2021 your old half dollars are becoming surprisingly valuable. Today's Minimum Silver Coin Values