Coin Values Moving with Precious Metals: Up-Dated 11/27/2023: Gold $2010 | Silver $24.66
1959 Franklin Half Dollar Value
Today's minimum 1959 Franklin half dollar value is $8.31 each. This is a coin with noticeable wear, what is referred to as "average circulated" condition.
Using the step-by-step process below helps identify the higher quality pieces sought by collectors.
Steps Leading to Value:
Step 1: Date and Mintmark Variety - 1959 is an abundant year in terms of numbers available today. However, date and mint varieties are important to accurately identify.
Step 2: Grading Condition - Bullion circulated condition examples are at base silver value. Grading images of standard grades are used to compare helping identify higher condition Franklin half dollars.
Step 3: Special Qualities - The collector market and bullion silver market are the support to today's values. Certain qualities, if present, are a clear indication of the higher premium collectible examples.
1959 Franklin Half Dollar Value
Condition of Coin
Date
Average
Circulated
Extremely
Fine
About
Uncirculated
Mint
State
1959 Franklin Half Dollar Value Updated
11/27/2023
1959
$8.31
$8.31
$8.31
$11.41
1959 D
$8.31
$8.31
$8.31
$11.41
Wholesale values are listed on the chart above. Used as a guide helps narrow a range with considering selling these old silver half dollars.
Your 1959 half dollar is worth either a strong bullion silver price or a higher collectible value. Steps below confirm the category.
Step 1: | Date and Mintmark Variety Identified
Date and Mint Combinations of 1959 Half Dollars
Two mints struck half dollars in 1959, the Philadelphia and Denver mint. The branch mint Denver placed a small mintmark on all halves of the year creating an identifiable variety.
Value charts, collectors, and dealers all describe a coin by its date and mint that struck the coin. Each issue is valued and collected separately.
A total of 19,253,750 halves were produced in 1959, many still available today due to saving. Collectors both new and advanced seek the higher condition examples to include in a set.
Identify the mint striking the coin and confirm date to find an accurate listing on the value chart.
1959-D Franklin Half Dollar
"D" Mintmark on Reverse: Denver Mint Struck the Coin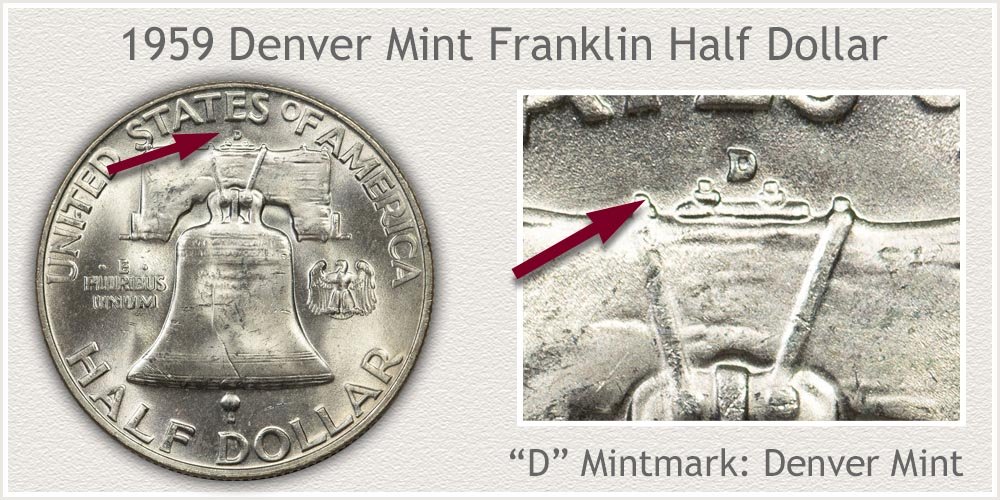 Ending the 1950's decade the Denver mint lowered production to just over 13 million Franklin halve dollars to meet current demands of commerce.
Ample supplies of these half dollars remain today with most trading and valued by their silver content. Special quality examples, those with no wear to the surface, are in need by collectors who place a premium on eye pleasing examples.
Denver issue half dollars are identified by the small "D" mintmark on the reverse. Looking toward the top of the beam suspending the Liberty Bell, the "D" mark confirms Denver struck the coin.
1959 Franklin Half Dollar
No Mintmark on Reverse: Philadelphia Mint Struck the Coin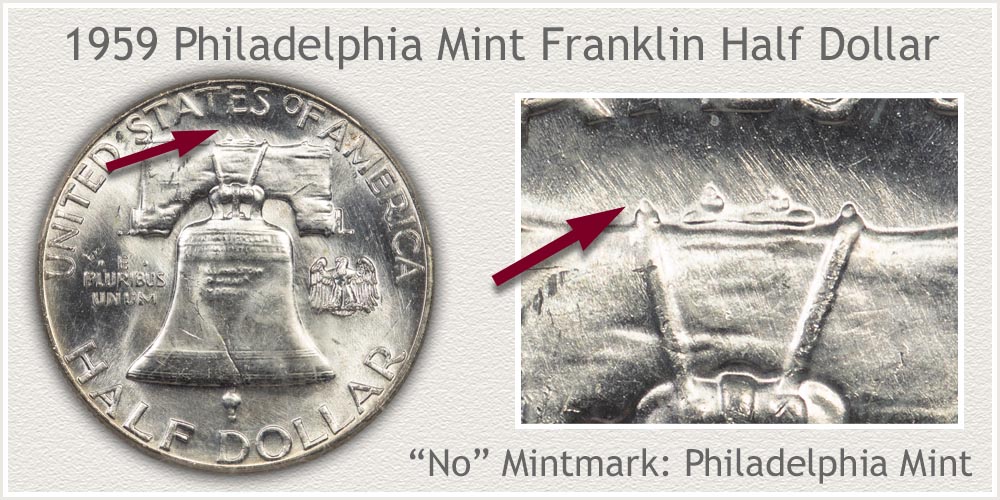 Philadelphia, the second mint to produce Franklin halves in 1959 is recognized by the lack of a mintmark on its coinage. At the time Philadelphia did not use a mintmark to identity its production.
The last of the decade issues are considered abundant today. Philadelphia mintage of 1959 halves was 6,024.000 pieces. Premiums are found in coin of high condition - bright luster - and pleasing eye appeal. Grading your half dollar to recognize top quality is Step 2 below.
To confirm the Philadelphia variety, look to the small area between the straps on the beam. If this mintmark location is empty, Philadelphia struck the half dollar.
Step 2: | Grading Condition to Identify Collectible Quality
Recognize Condition and 1959 Franklin Half Dollar Value
An essential part to deciding on how much your coin worth is condition. In the coin collecting hobby, judging condition and assigning a grade is done for every coin. Grading looks for factors involving the amount of wear, if any, and assigns a grade. Inspect the images and descriptions comparing your coin to judge a close match of condition.
Mint State Grade
Mint State: Take your time here, 1959 Franklin half dollar value is highest if in "mint state" condition. If the coin was collected and housed in an album by a collector long ago, many of these old half dollars are in mint state condition. Vintage collections enjoy high collector demand.
No wear to the surface defines the mint state grade. When first minted all coins display mint luster, this luster (shine) radiates in bands when the coin is tilted. Luster is a delicate texture of the metal and first to wear and show signs of use.
Examine the cheek area, high and low relief points are the same in texture and luster when tilted under a light. If wear is present, it shows as soft grey patches of color to the higher areas.
About Uncirculated Grade
About Uncirculated: Once the high points of the design begin to wear, just slightly, a coin is graded as "about uncirculated" condition.
The cheek of Franklin just below the eye typically shows the first signs of wear, causing dulling to the surface. Also confirm only light wear present on the shoulder, it shows as a dulling to the shine without much removal of metal.
An important factor to remain in the about uncirculated grade is the majority of original luster is intact.
Extremely Fine Grade
Extremely Fine Grade: Soft grey in color is the overall look of a lightly circulated half dollar. To qualify for the extremely fine grade any wear to the surface is minor and located only at the higher points of the design.
Examining the cheek of the example coin, note the highest areas are slightly smooth with just a small amount of flatness. Franklin's shoulder is also flat in areas along the lower edge.
Confined to the highest points of his hair, touches of wear and flatness is seen, many fine lines within the hair remain. Extremely fine grade halves present a crisp and detailed appearance.
Average Circulated Condition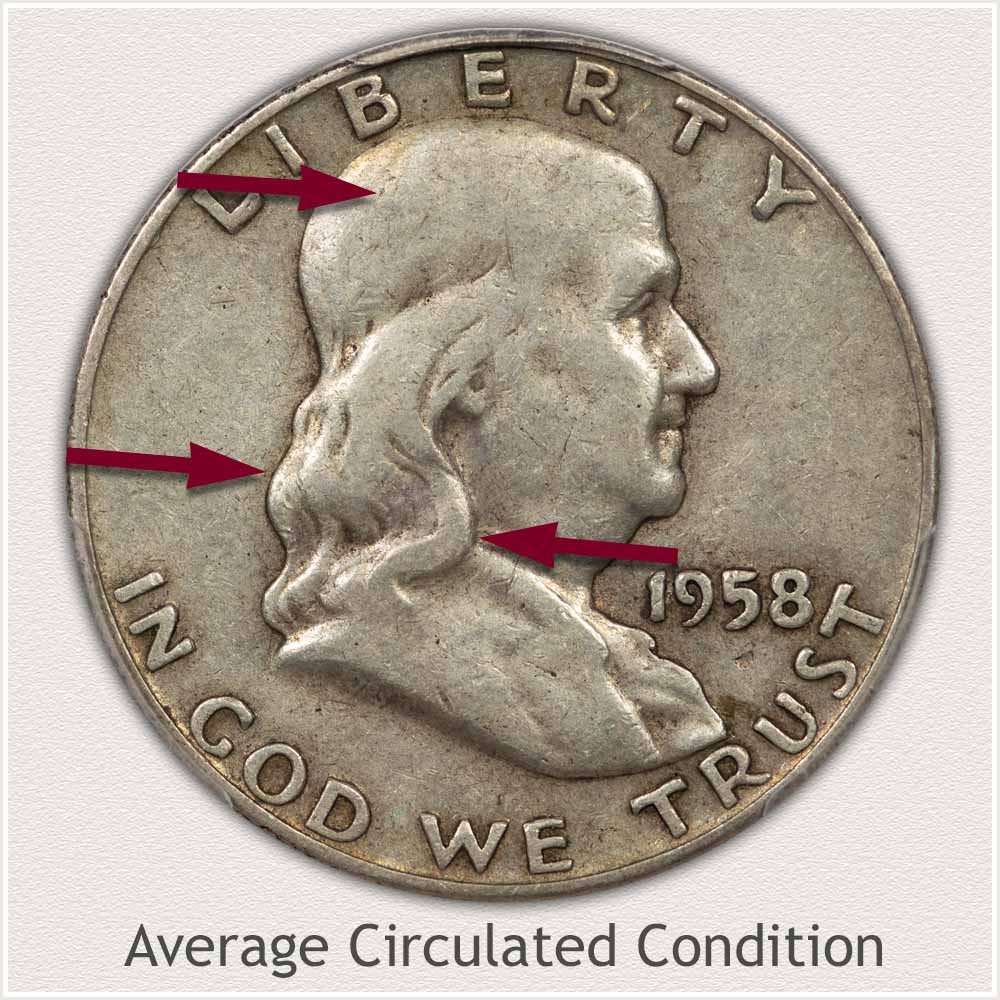 Average Circulated Condition: In the "average circulated" condition wear has removed all mint luster, replaced with a light silver grey color to the metal. The condition of the surface is now showing moderate to heavy wear.
All traces of fine lines within Franklin's hair at the top of his head are gone. Looking closely at the waves of hair down the neck, many of the waves are merging and forming a large flat area.
With major details merging, flattening of his cheek, and small details missing, moderate to heavy wear is placing the coin in the average circulated condition.
How to Video: Grading Franklin Half Dollars
Recognizing collectible condition with a premium; or average circulated condition with value based on silver content is a major break point when judging preservation of Franklin half dollars. A detailed inspection is made with video, images and descriptions.
Video, Images and Descriptions | Grading Franklin Half Dollars
Step 3: | Special Qualities Quickly Adding Value
Eye Appeal and Collector Quality Franklin Half Dollars
By 1959 production of Franklin half dollars was in the tens of millions of pieces. Large quantities are available today providing collectors many to choose when considering an addition to a collection. Judging the surface of each coin has become both important and involved when identifying a coin with possible appeal to collectors. Finding higher quality halves separates quickly the base silver coins from those worth more to a collector.
Keep in mind, eye appeal is the top priority to collectible status. Coins exhibiting noticeable wear are low in pleasing appearance and represent the majority of Franklin halves found today.
The coins noted in the image as eye pleasing have two common traits, easily recognized. First is the nice luster and color of the coins. Touches of toning are enhancing the brightness of luster shining through. Secondly, easily recognized is the lack of marks and nicks to the surface. With the combination of light to no wear, original bright silver remaining, and surfaces free of distracting damage places these coin high on the quality scale.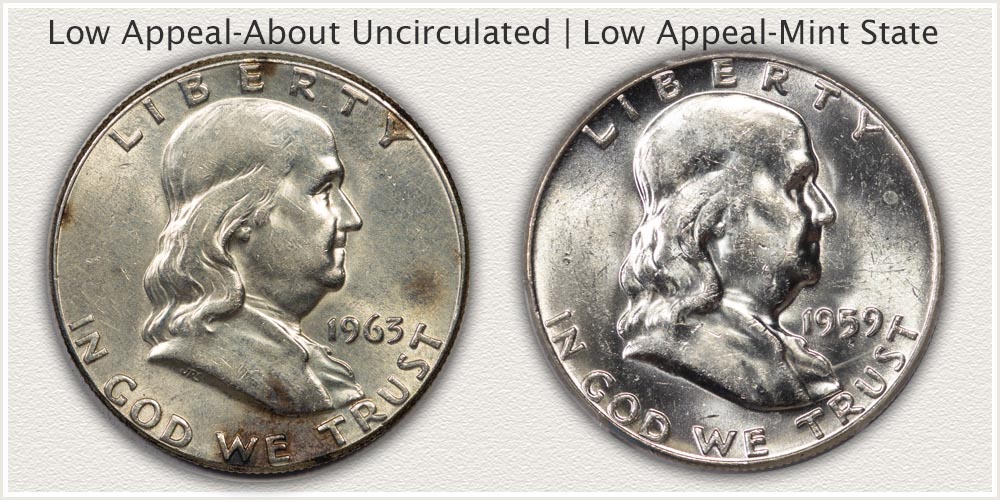 Mint state coins are favored by advanced collectors and the "about uncirculated" condition is popular with new and beginning Franklin half collectors. Both groups of collectors develop personal preference defining a pleasing coin. Both types of collectors quickly develop the skills to recognize suitable coins.
Flaws in the luster of the about uncirculated coin caused by spotted toning lowers its appeal to a new collector. Examples without the noticeable dark areas are easily available.
The mint state Franklin is a lower quality because of the number and density of nicks found on his portrait. A collector notices these imperfections and continues their search for the less marred coin.
Inspect and judge the subtle qualities of Franklin halves with light to no wear. Potential of reaching the top collector quality is improved by displaying the subtle factors of original, vibrant luster and surfaces free of noticeable damage.
References
U.S. Mint. 1960 U.S. Mint Annual Report. https://nnp.wustl.edu/library/book/514147
Coin Values | CoinStudy Articles
Date by Date
In Depth Franklin Half Dollar Value
1948 to 1963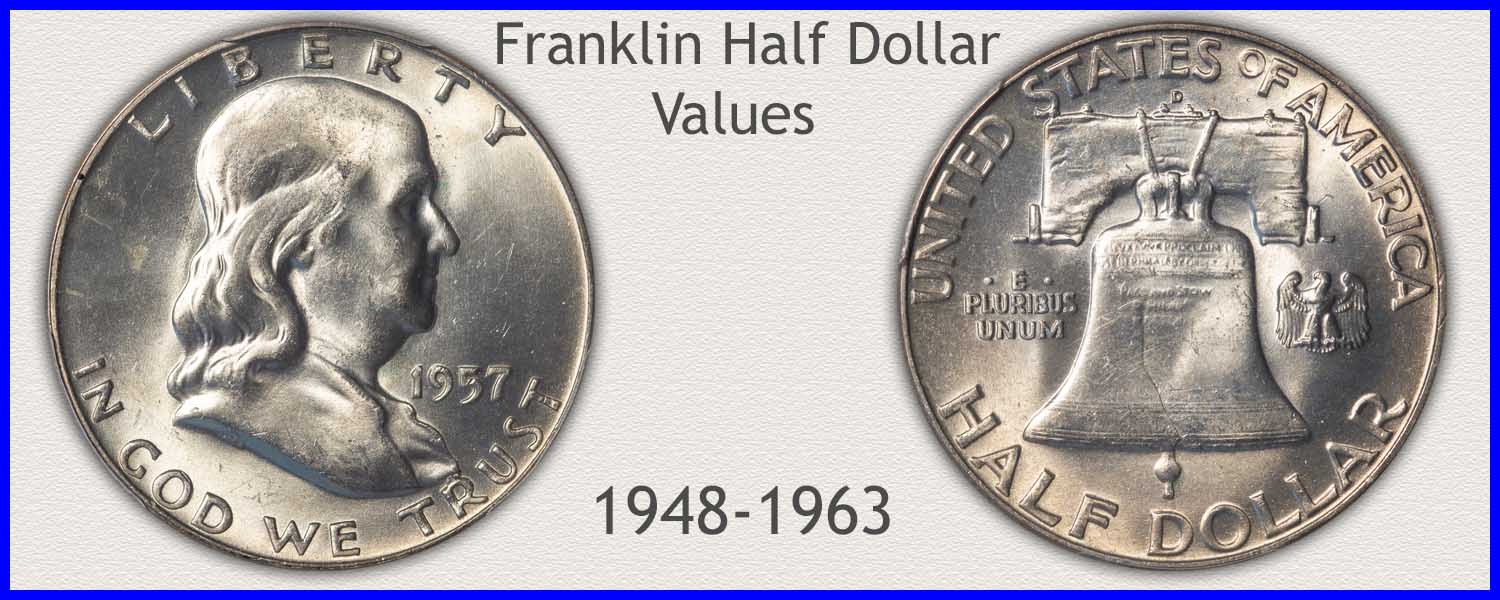 Details to Franklin Half Dollar Value
Traditionally Franklin half dollar value moves in line with the price of silver. However, a few scarce dates and mint marks stand out, if found in high condition. Compare you coins to the grading images and separate then by condition. Follow your coin's value on the silver charts, and check for important dates and mint marks.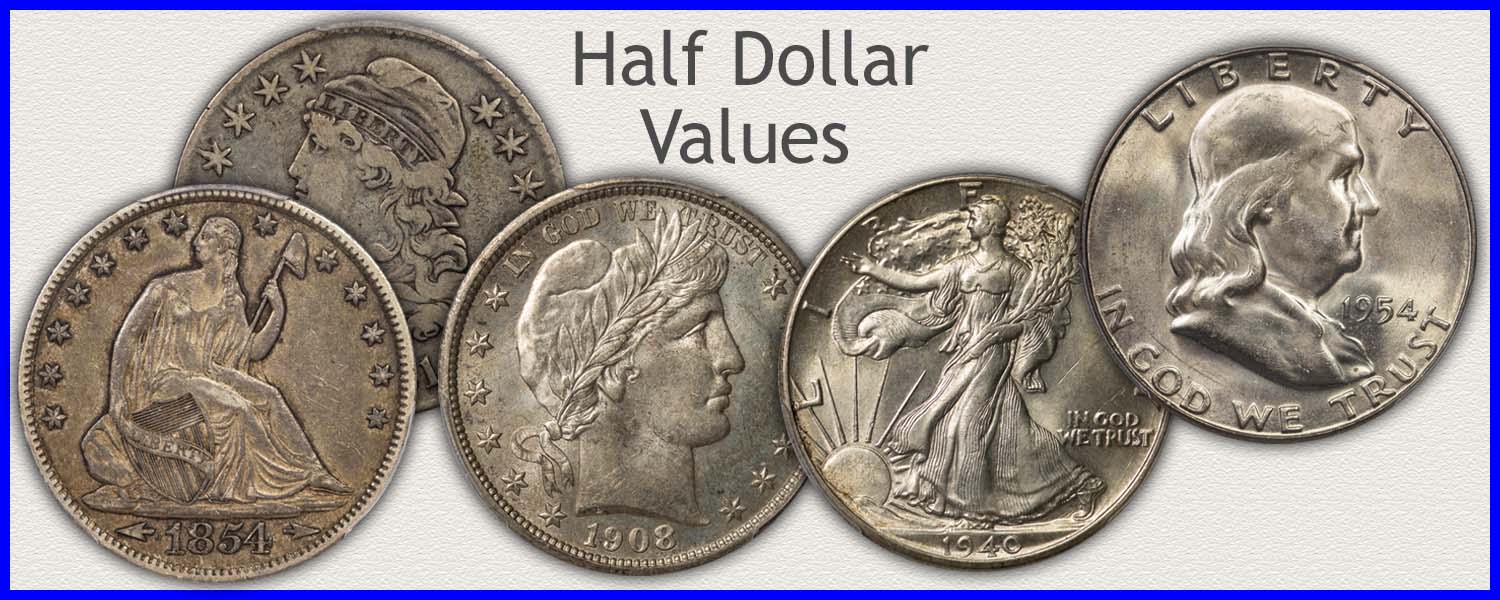 Complete Half Dollar Value Charts
Half dollars are widely collected, spanning several series, hundreds of years and a huge range in values. Charts listing the Bust, Seated design, the Barber series show all are highly valued. Continue with Walking Liberty and Franklin half dollars. Of special importance is the condition of your coins, see grading images for each series and value your coins in detail.
Popular Coin Series | Franklin Half Dollars
An insight into what is collected today, what is popular, and numbers of collectors involved shows Franklin Halves are in demand among half dollar collectors.
Safe Coin Storage | Recommendations
An important part to value is safe handling and storage of all coins. Franklin halves are silver and safe storage supplies provide lasting preservation.
Value charts and images combine to recognize your coin and determine its minimum value. From the early cent designs to Franklin Half Dollars to the rare Gold U.S. coinage. Each series is linked to expanded coverage of date and mint varieties, plus grading the different series to narrow a value range.
Silver Coin Values | Minimum Values of U.S. Silver Coins
Calculate current silver value of U.S. coinage. Silver dimes, quarters, halves, and dollars all move with the changing price of silver. All Franklin half dollars are 90% silver alloy and worth far above face value, changing daily.
★Coin Values Discovery finds 1959 Franklin Half Dollar Value and...
Finding all U.S. coin values of each series begins here. Your old classic U.S. coins are experiencing a renewed interest and higher value. Rising metal prices over the years have changed dramatically the minimum values of most coins.