Coin Values Moving with Precious Metals: Up-Dated 11/27/2023: Gold $2010 | Silver $24.66
1957 Franklin Half Dollar Value
High silver content is the base for today's 1957 Franklin half dollar value. Currently, 11/27/2023 each is worth $8.31 .
Collectors make a complete judgement of a coin's Date | Mint Variety | Condition using a step-by-step method comparing to images, descriptions, and value charts. Follow the steps below.
Steps Leading to Value:
Step 1: Date and Mintmark Variety - When evaluating vintage Franklin halves, first consideration is an accurate date and mint identity. Collected and listed by dates, confirm variety.
Step 2: Grading Condition - A strong break in value is between a coin in circulated, worn condition and a mint state coin. Compare to images to judge the condition of these half dollars.
Step 3: Special Qualities - Subtle qualities alert to placing a coin in the base bullion silver category or finding a collector quality piece.
1957 Franklin Half Dollar Value
Condition of Coin
Date
Average
Circulated
Extremely
Fine
About
Uncirculated
Mint
State
1957 Franklin Half Dollar Value Updated
11/27/2023
1957
$8.31
$8.31
$8.31
$11.41
1957 D
$8.31
$8.31
$8.31
$11.41
Listed in the chart are wholesale values, a range to consider when selling these Franklin half dollars.
An accurate assessment of the coin is made using the method outlined below. Important is condition. Coins set aside long ago are often of high grade.
Step 1: | Confirm Date and Mintmark Variety
Mintmarks Identify Variety of 1957 Half Dollar
Half dollars were minted at two separate mints in 1957. Philadelphia and Denver mints combined to produce over 25 million of these halves. Identifying the Denver mint is a mintmark placed on the reverse of its coinage.
Today's collectors have two varieties of 1957 halves to consider when building sets of these coins. Date and mint variety is needed for an accurate description of the coin.
1957-D Franklin Half Dollar
"D" Mintmark on Reverse: Denver Mint Struck the Coin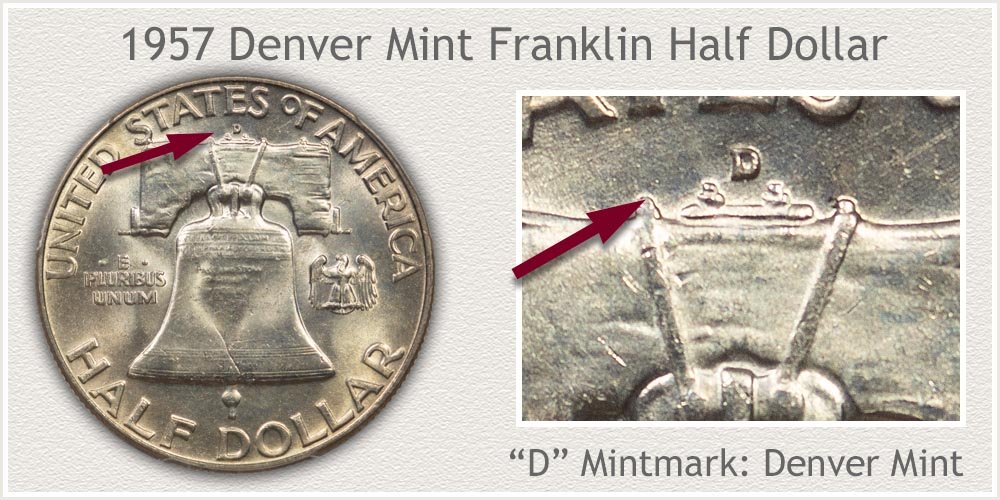 Continuing the trend of producing the greatest number of half dollars per year, the Denver mint struck 19.9 million in 1957. These are abundant today. Circulated examples, those with wear to the surface are valued and traded based on silver price.
A mint state (no wear to the surface) 1957 half is the condition sought by collectors. Premiums are beginning to expand for eye appealing, bright and lustrous pieces.
Date and mint combination is needed to define the coin accurately. Denver placed a "D" mintmark on all half dollars it struck of the Franklin series. Look on the reverse, above the Liberty Bell, the small "D" is Denver's mark.
1957 Franklin Half Dollar
No Mintmark on Reverse: Philadelphia Mint Struck the Coin
Philadelphia, the second mint striking halves in 1957 provided 5.1 million to the yearly total. An ample supply was saved and remains available today.
With many examples to choose from, collectors focus on the top condition pieces. Worn coins are valued based on silver price. Values begin to expand above the minimum when the condition is within the mint state - no wear to the surface - grade. Condition is defined in Step 2 below.
Philadelphia is identified as striking the coin by the absence of a mintmark on the reverse. The area is empty below the E in STATES on all Philadelphia Franklin halves.
Step 2: | Judging Condition Determines Grade | Narrows Value
Grading and 1957 Franklin Half Dollar Value
A process used by collectors to judge the surface preservation of coins is comparing to images and descriptions of example standard grades.
One of the challenges facing you when determining condition is the low relief - shallow design of these coins. Subtle differences become the dividing lines to different grades. A close look at key elements helps highlight the differences in condition.
Mint State Grade
Mint State: A strict definition is used to define the "mint state" grade - no wear to the surface. Unbroken luster on the high points confirms the coin never circulated and received wear. Franklin's chin, cheek and the top of his head are the areas to judge.
A close look at the hair on the top of Franklin's head shows no dulling of the metal. The area remains bright with silver luster. Examine his cheek, note the high and low areas are the same in texture. When tilting the coin; the soft shine is equal on top of contours and within the low areas. Different textures appear on worn metal and a color change to dull grey is a subtle indication of wear.
About Uncirculated Grade
About Uncirculated: Slight wear with minor removal of metal is a coin in "about uncirculated" condition. Look for a dimming of mint luster from the high points of the design to detect any wear.
The majority of luster remains to qualify at the About Uncirculated grade. Any color change and dulling of the shine are clear indications the coin saw use.
Marked on the image are the areas prone to wear, portions of Franklin's face and hair. Light wear is acceptable in these areas and notice some luster does remain.
About uncirculated is the important break between 1957 Franklin half dollar value tied to silver and its premium collector worth.
Extremely Fine Grade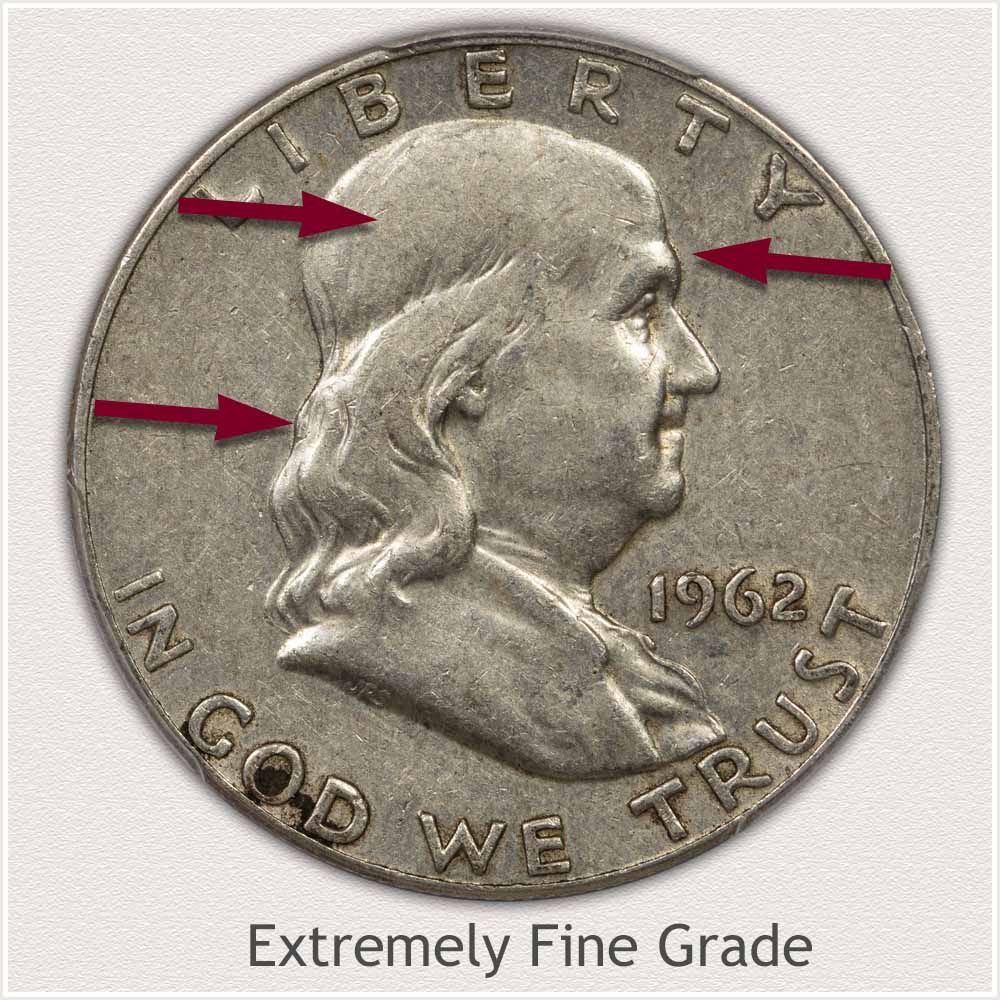 Extremely Fine Grade: Wear is obvious and the majority of luster is missing on an Extremely Fine grade half dollar. Light wear is the key factor, fine details are worn but not merging with surrounding metal.
Waves of hair are behind Franklin's ear. To remain in the extremely fine grade these waves are separated with finer detail found within. Slight wear is noted on his cheek and the eyebrow. Flatness to cheek and brow is slight. Overall, a nice crisp appearance is presented by the coin.
Average Circulated Condition
Average Circulated Condition: Noticeable wear covers the majority of the coin's key high point details helping define the "average circulated" condition.
All hair detail is missing at the top of Franklin's head. Tilting the coin under a light and a focus on his face, flat areas are seen covering this once highly contoured area.
Of note: waves of hair behind the ear are flattened across the tops with many of the waves merged into a large smooth area. Moving to near the shoulder; once the lower hair strands blend with the shoulder the coin is worn to the point of average circulated condition.
How to Video: Grading Franklin Half Dollars
Circulated 1957 half dollars, those with obvious wear move with silver prices. Collector quality pieces are recognized by close grading of the coin surface. Video and images help in determining an accurate grade.
Video, Images and Descriptions | Grading Franklin Half Dollars
Step 3: | Special Qualities | Aesthetics Enhancing Value
Eye Appeal of Natural Toning on Franklin Half Dollars
A subtle feature to value of Franklin halves is the quality of toning. Mint state half dollar coins, those without wear to the surface, are originally bright silver-white. One consideration of collectors is deciding to assemble a set of Franklin halves in brilliant mint state or toned mint state appearance.
Silver naturally changes color to tans, blues, and violet tones. Pleasing toning enhances eye appeal to many collectors and colorfully toned coins are a popular choice to collect.
As minted, the silver half dollar on the left, remains brilliant and lustrous. Brilliant mint state pieces are very popular and form stunning sets when assembled.
In the center is a colorfully toned Franklin half. Natural colors of toned silver enhance the design and cover the surface evenly. Colors blend smoothly from the edge towards the center. A collection of these become an eye appealing display.
On the right, is a coin that toned in an uneven manner. Shades of brown are the majority of color and unfortunately formed in a mottled pattern. Toning on the coin is not enhancing eye appeal.
Natural aging of silver is found on all Franklin halves. Degrees of aesthetics, positive or negative, are part of the value equation. Pleasing coins standout both visually and value potential.
References
U.S. Mint. 1958 U.S. Mint Annual Report https://hdl.handle.net/2027/pst.000068053482
Coin Values | CoinStudy Articles
Date by Date
In Depth Franklin Half Dollar Value
1948 to 1963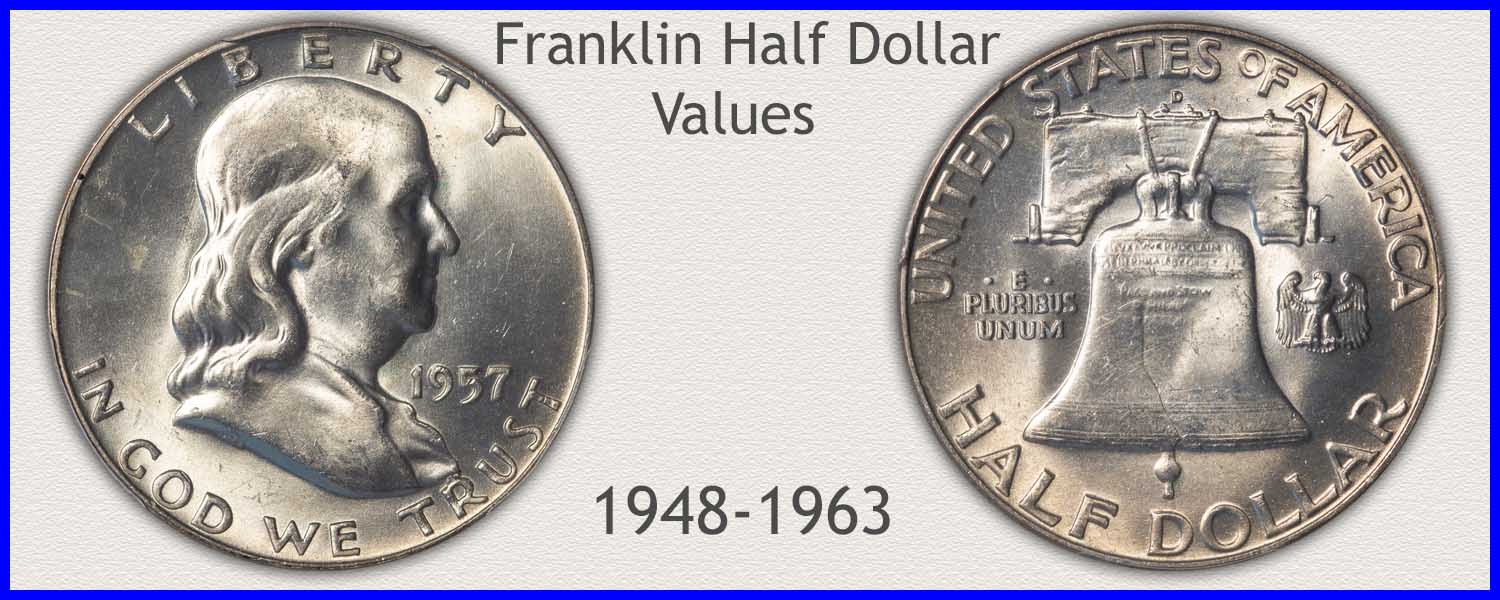 Date by Date Franklin Half Dollar Value Chart|
In today's market understanding the condition of your old 1957 Franklin half dollar is the key to realizing the bullion minimum value from the higher collectible value. Check the date and mintmark on the charts, but importantly compare your coin to the grading images to find its accurate value.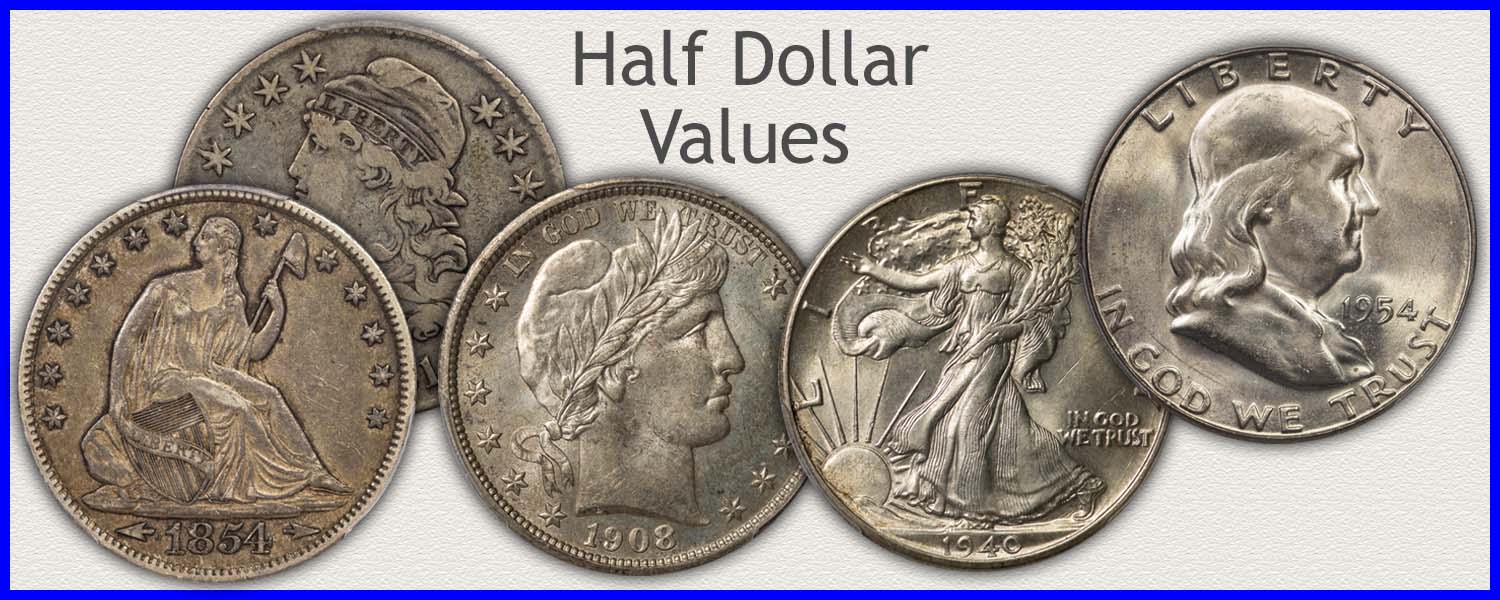 Half Dollar Value | Discover all the Rare Dates
Every classic, obsolete silver half dollar is worth a minimum of $7.00 each. Additionally, the majority dated before 1916 are worth far more. From your 1957 Franklin Half and going back to the Walking Liberty series, Barber, Seated Liberty Halves and the early Bust halves all have their very rare dates. Value charts cover each series.
Popular Coin Series | Franklin Half Dollars
Interest of collectors is the base to coin values. A study of the number of Registry Set collections of the different series shows level of interest. Franklin Half Dollars have a solid ranking and popularity.
Safe Coin Storage | Recommendations
Safe coin storage is important to preserve value, organize your box of old coins, and improve safe handling of your Franklin halves. Recommendations of a few supplies to house all silver, nickel, and copper coins.
A quick reference to U.S. Coin Values. Recognize your coin compared to images. Old coins from cents to gold coins are imaged and charts list minimum values for each type. Each chart links to in-depth coverage of a step-by-step process to coin values.
Silver Coin Values | Minimum Values of U.S. Silver Coins
Price of silver is in constant change, up or down. U.S. silver coinage follows these movements. Franklin half dollars are one of many series heavy with silver. Calculate silver value of the different coin series.
★Coin Values Discovery finds 1957 Franklin Half Dollar Value and...
There is potential with any coin, if it seems a little daunting, begin at the home page to identify your coin values. Match your coin to the images on the home page - each is linked to the U.S. coin series and value charts. All coins are valued individually; important details such as Mintmarks and Grading Condition are covered in depth. All combined discovers the accurate value in your box of old coins.