Daniel A. Harris | Numismatist
numismatist: researcher, historian, student or collector of coins, tokens, and medals.
2007: Founder of CoinStudy
Beginning in 2007, CoinStudy.com was launched to provide insight into the process of recognizing and identifying each old coin and its potential value.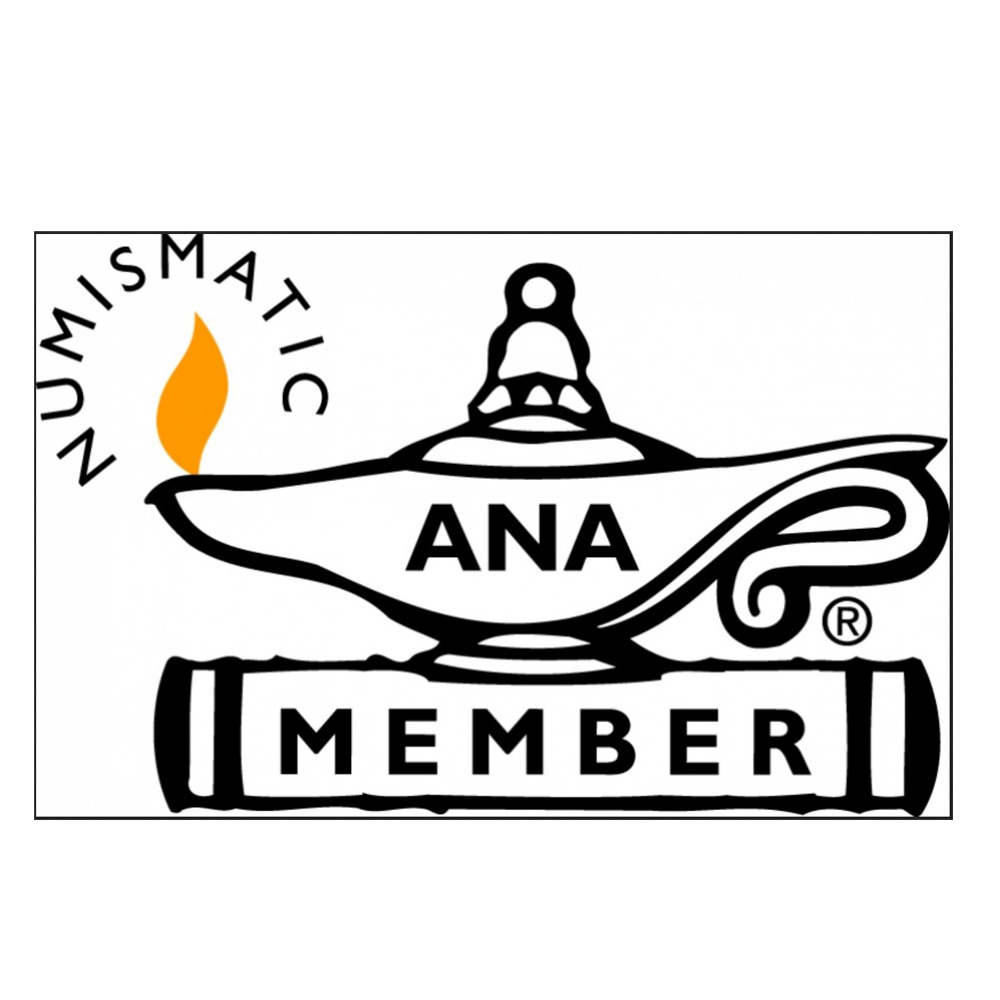 Member of the American Numismatic Association
Historical information and research is needed to fully appreciate the significance of U.S. coinage. As a member of the American Numismatic Association (member #: 3194673) this provides an opportunity to access volumes of subjects and conduct in-depth studies.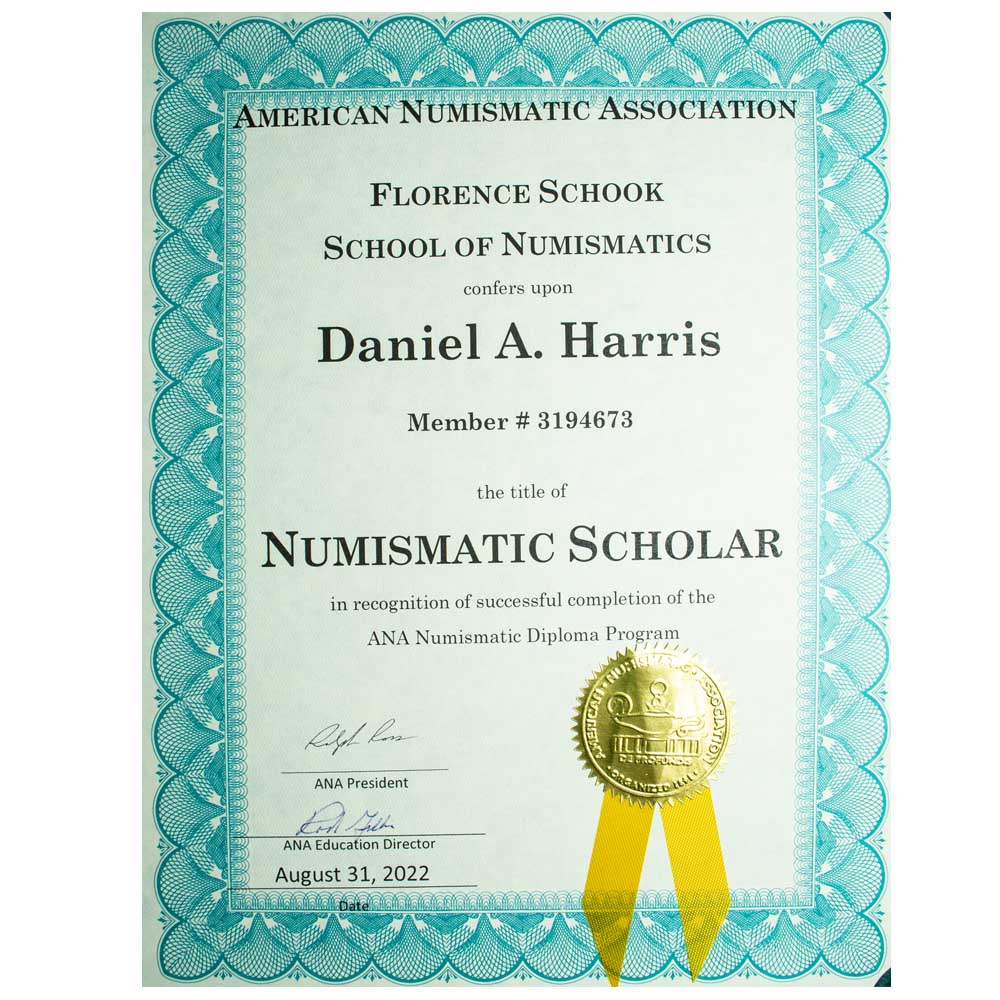 American Numismatic Association Diploma Program | Awarded Numismatic Scholar
The leading educational program in the Florence Schook School of Numismatics. Historical research, knowledge, and skills contribute to a fundamental understanding of the hobby.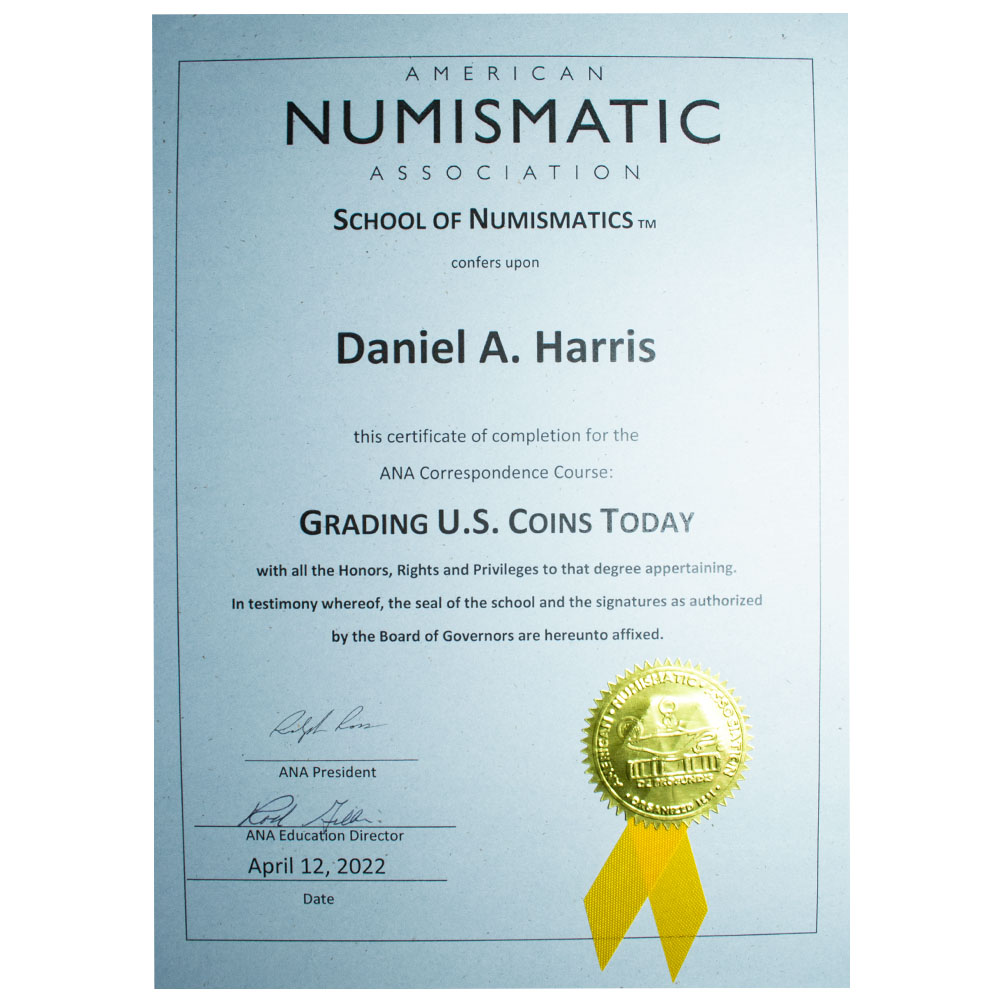 Award Certificate: ANA School of Numismatics | Grading U.S. Coins Today
Grading coins effectively is one of the keys to numismatics. An evaluation of condition is needed as part of the description of any coin.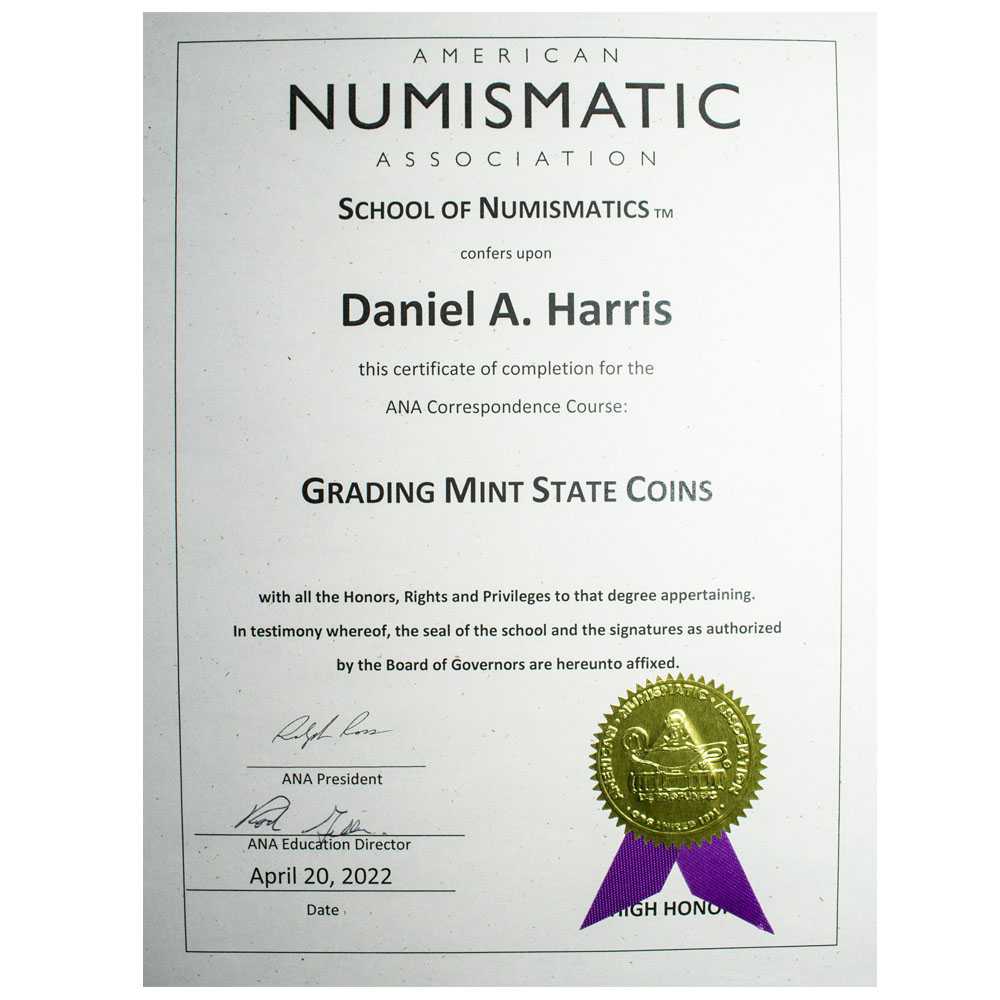 Award Certificate: ANA School of Numismatics | Grading Mint State Coins
Mint State coins, an elite condition, and important state of preservation to the study of coins. Coins with intact surfaces are historically important and represent the finest quality of U.S. mintage.
Early Years: CoinStudy.com became the result of a life-long interest and fascination with U.S. coinage, specifically the classical series: Wheat Cents, Buffalo Nickels, Mercury Dimes, quarters, halves, through dollars and gold.
Imaged is a 1960s edition of the Red Book, a catalog of U.S. coinage. This is the first coin book I received. It is now a special part of CoinStudy's library of reference material.
Although I started collecting... more appropriately, accumulating... coins in the 1960's it wasn't until selling a few of them I began to see how the coin market worked.
It was exciting finding "keepers" by searching through penny rolls of coins straight from the bank. Then selling the "better dates" to the downtown coin dealer for two cents each. Well, it works the other way also. Buying from the local coin dealer a 1921 Mercury Dime for the retail price of $15 to add to my collection. And later, discovering its lower wholesale value when ready to sell the coin. Knowledge of all aspects of coins was becoming important. Becoming a "numismatist" quickly improved my approach, no longer an accumulator, to student and meaningful collector.
CoinStudy.com contains the lessons I have learned along the way. Additionally... I hope you can benefit from my experiences.
Return to: About/Contact CoinStudy Page