Coin Values Moving with Precious Metals: Up-Dated 9/25/2023: Gold $1921 | Silver $23.44
Walking Liberty Half Dollar Value
Movements in silver and collector demand place Walking Liberty half dollar value at $8.46 each. This minimum value is a worn coin and follows changes in silver prices. Using a step by step method judges higher condition and identifies scarce date and mintmark combinations. Recognize collector qualities and narrow how much a Walking Liberty half dollar is worth.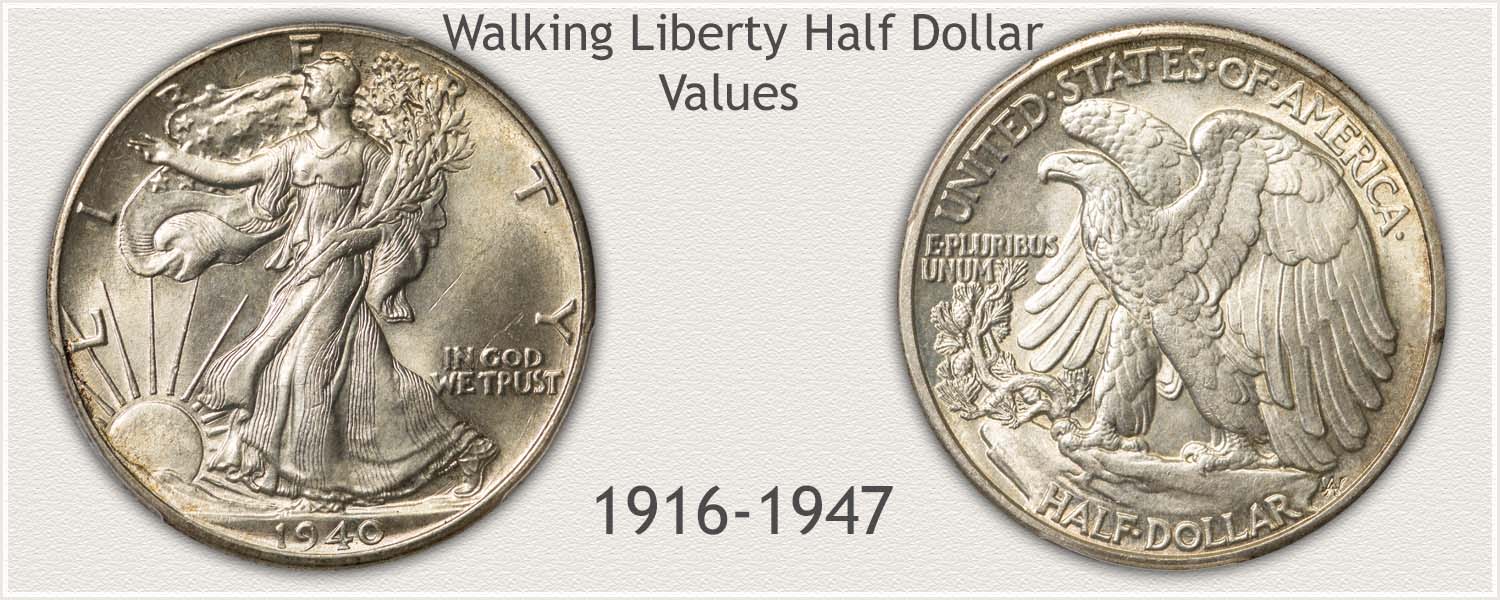 Steps Leading to Value:
Step 1: Date and Mintmark Variety - Many combinations of date and mintmarks are scarce and identified. Early years are especially valuable.
Step 2: Grading Condition - Compare to standards judging condition and grade of Walking Liberty halves.
Step 3: Special Qualities - Collectors support the high valued coins, recognize the aesthetic qualities separating bullion silver coins from those sought by collectors.
The beauty of Walking Liberty halves makes the series one of the most popular and avidly collected. Begin Step 1 just after the value chart.
The above are the wholesale Walking Liberty half dollar value. Computed from dealer's price lists with various mark-up factors figured in. They reflect closely the value you would expect to receive when selling.
Variations in value do occur subject to subtle grading points, collector demands and dealer needs.
Step 1: | Date and Mintmark Combination Identified
Different mints struck Walking Liberty halves during the span of the series, 1916 to 1947. Mintmarks identify these mints. Original mintages, plus the course of time, and usage in circulation affect the surviving numbers and condition. Identity of date and mint combination is a key to value.
Mints and Mintmarks of the Walking Liberty Half Dollar Series
Obtaining an example of a date and mintmark variety of each year is the typical approach to assembling a collection of these half dollars. Due to the popularity of the series and the need for each date and mint in a set, scarce coins are soon recognized by collectors. Values of difficult coins to obtain are strongly supported.
"S" Mintmark: San Francisco Mint Struck the Coin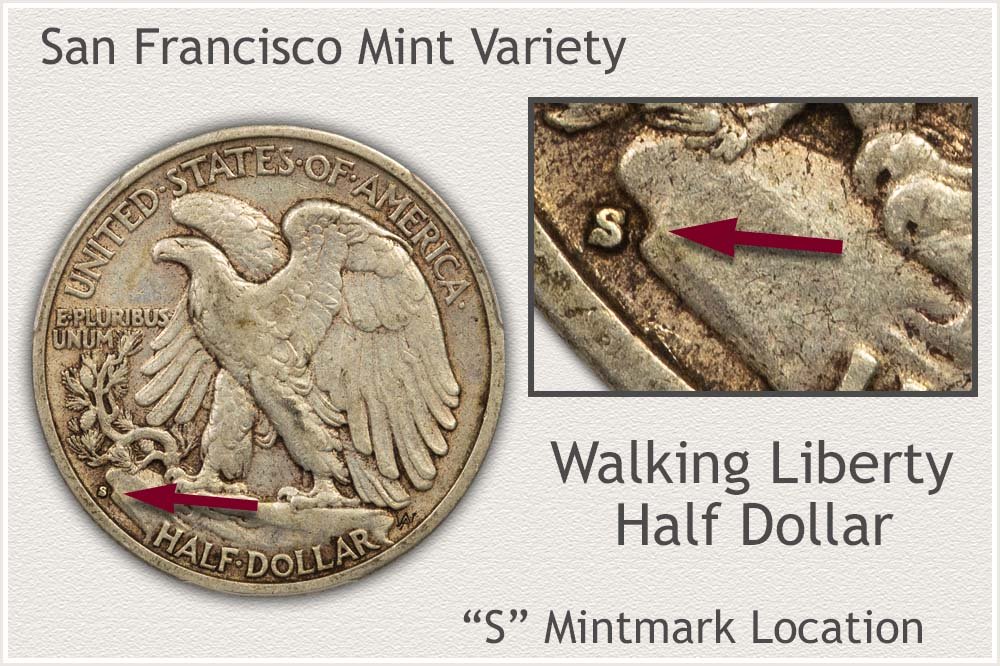 San Francisco mint was important in supplying Walking Liberty half dollars for circulation. Initial mintage of the first year was just over 500,000 pieces. However, most years mintage was in the millions of pieces. Grand total of just over 106 million coins of the series spanning 1916 to 1947. Scarce dates trend with original numbers produced and 1916, 1920, and 1921 are scarce in any grade. The value chart highlights other dates of high value indicating low supplies available today.
Identity of San Francisco mint coinage is a small "S" mintmark on the reverse. Along the rim, on the front side of the eagle, just under the pine branch, a small "S" is the mintmark of San Francisco.
"D" Mintmark: Denver Mint Struck the Coin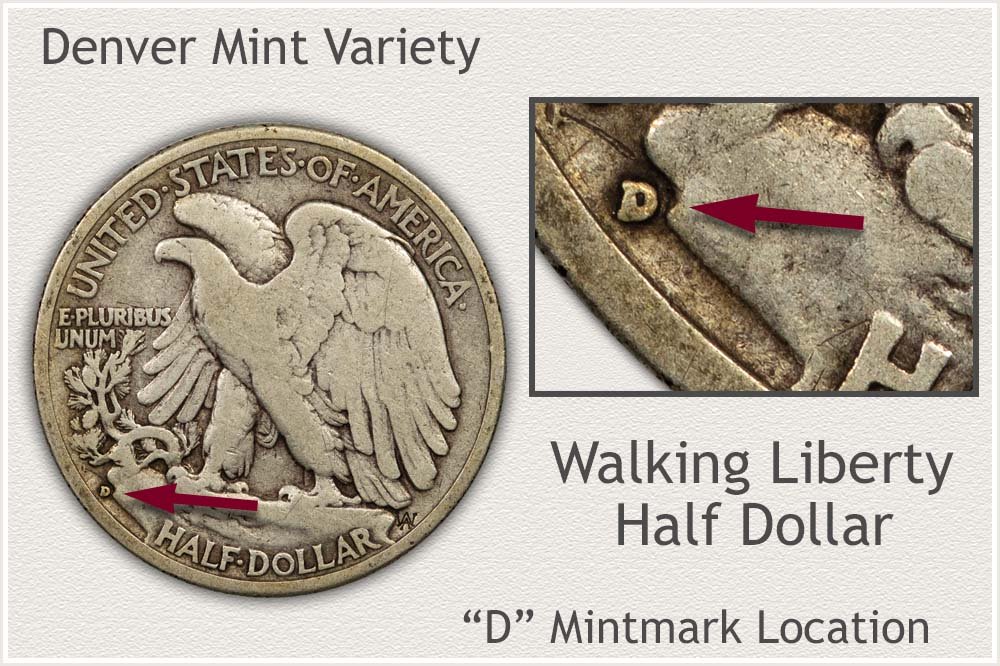 Denver mint is noted as striking the fewest Walking Liberty halves, just over 87 million in total for the series. Minting of the half dollars was not carried out each year with large gaps in production. Notable lowest coinage year and mintmark variety is 1921 Denver, now one of the keys to the series and one of the highest in value.
Denver placed a small "D" mintmark on coinage to indicates its production. Tucked next to the rim on the reverse, look in front of the eagle, under the pine branch. A "D" mintmark confirms the Denver mint half dollar.
No Mintmark: Philadelphia Mint Struck the Coin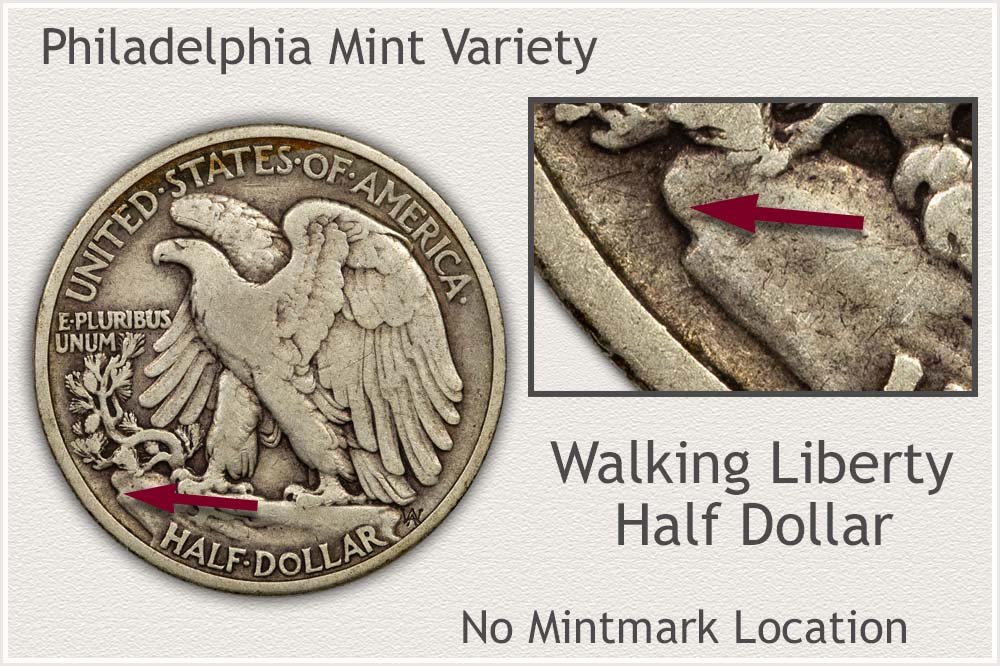 Philadelphia mint was the primary supplier of Walking Liberty half dollars. Releasing into circulation over 264 million halves. Not all years are represented within the series, during the 1920's Philadelphia was utilized to strike popular commemorative half dollars celebrating important events in US history. Demand for circulating coinage was met by the branch mints Denver and San Francisco creating a 12-year span of no Philadelphia variety Walking Liberty halves.
Early era Philadelphia halves are scarce today with the second era coins 1934 to 1947 having large mintages and are available in quantities.
Philadelphia did not place a mintmark on coinage during the series. An empty space along the rim, under the pine branch held by the eagle, indicates Philadelphia struck the coin.
Step 2: | Judging Condition Determines Grade and Value
A quick look at the value chart shows better condition coins are prized by collectors. Carefully examine your coins, separating them by "Grade". The difference in value from the lower conditions to the higher more collectable grades is often very large.
Walking Liberty Half Dollar Value is Conditional
Greater detail in the gown and skirt lines of Liberty separates a coin in "Fine" condition from one in the lower "Good" condition. Sharply detailed, with only the slightest of wear describes a coin in "Extremely Fine" condition.
The highest grade is "Mint State" also called "Uncirculated", a classification reserved for coins that show no signs of wear. Here the Walking Liberty half dollar value climbs to its fullest.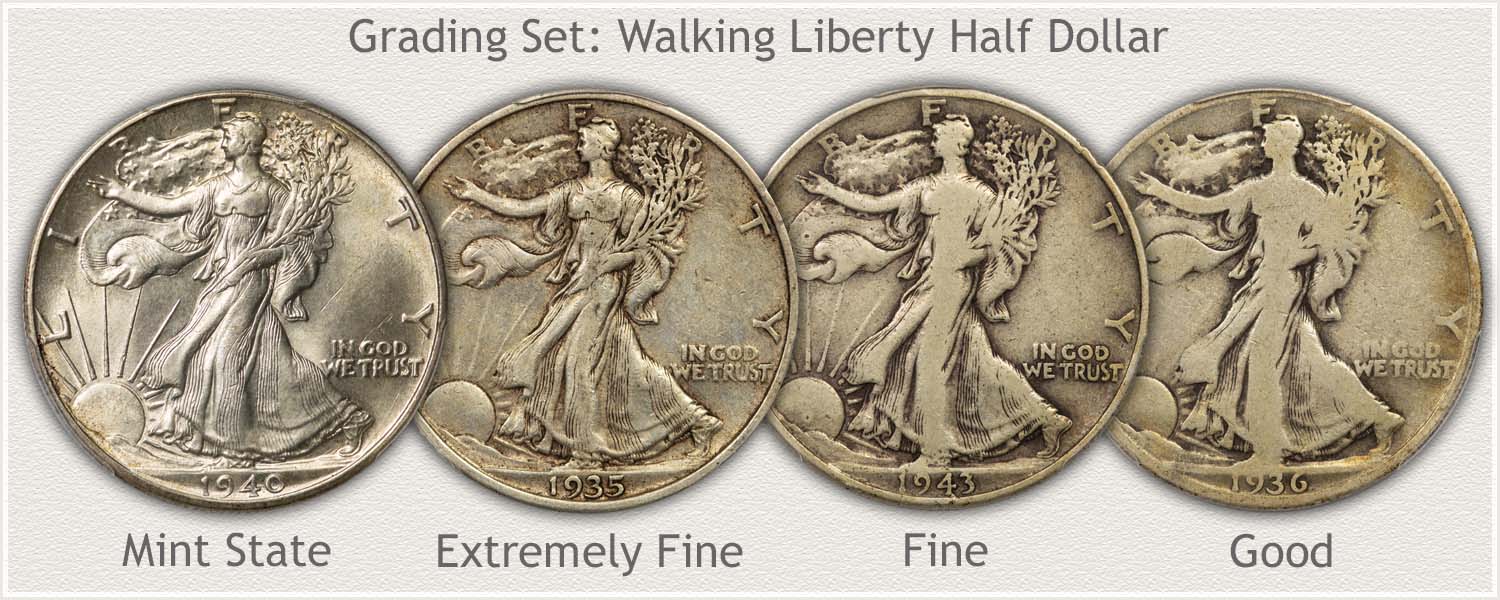 Mint State Grade: Walking Liberty Half Dollar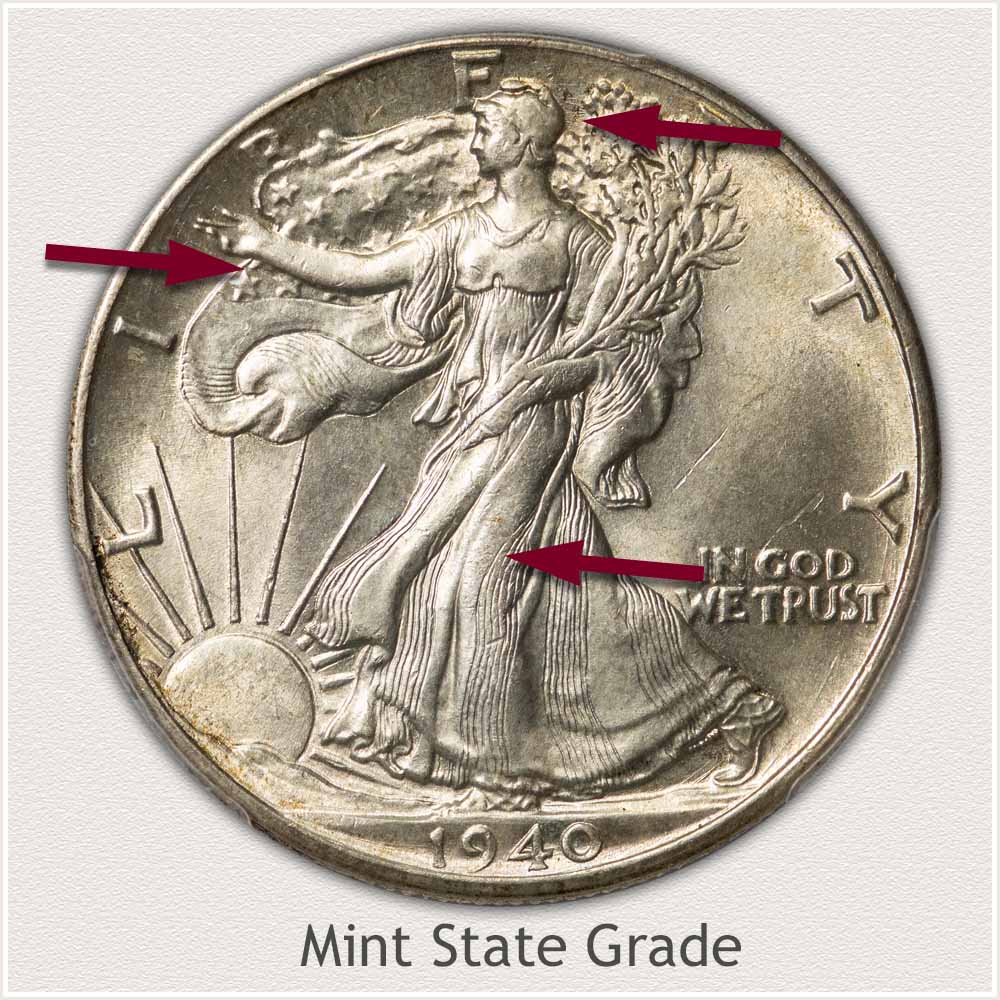 Obverse: Features Identifying Mint State Grade: When a coin enters circulation wear begins to remove the fine texture that produces the "shine" or luster of a new coin. Presence of luster on all surfaces indicates a Mint State Walking Liberty half dollar.
An inspection of high areas, prone to wear, confirms luster remains. Liberty's head and cap show no signs of smoothing from wear, luster remains.
Her right arm would show affects of wear quickly; it remains with the fine original texture of a newly minted coins. Judge along the lower edge of the arm from elbow to wrist.
High areas of the gown are next judged for wear. Smoothing and dulling is absent on a mint state coin.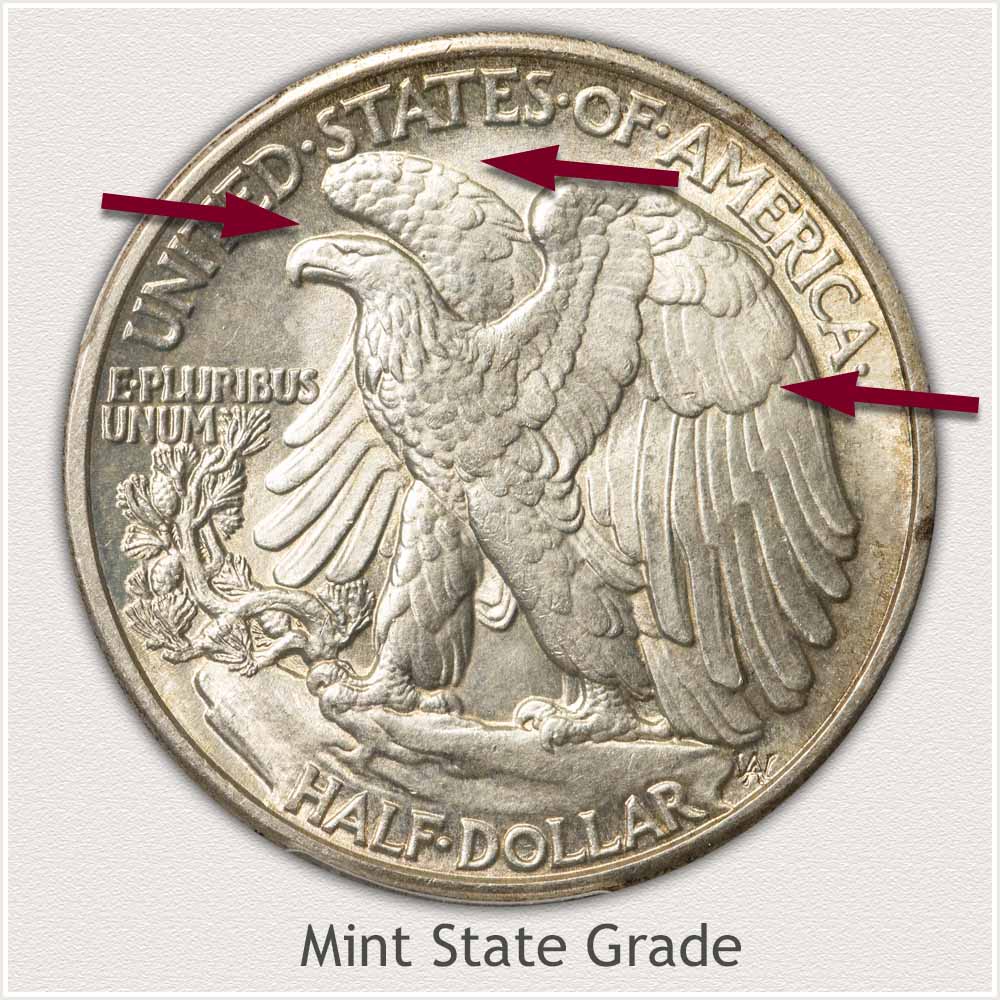 Reverse: Features Identifying Mint State Grade: Highly detailed, the eagle on the reverse is closely examined to confirm the mint state condition. All elements show luster when the coin is tilted and rotated under a light.
Raised edges of the feathers remain without any flat spots, helping identify no wear to the surface.
At the top of the eagle's head above the eye, no flattening has occurred.
Eagle's right wing above the head remains finely detailed, no smooth or flat spots.
Extremely Fine Grade: Walking Liberty Half Dollar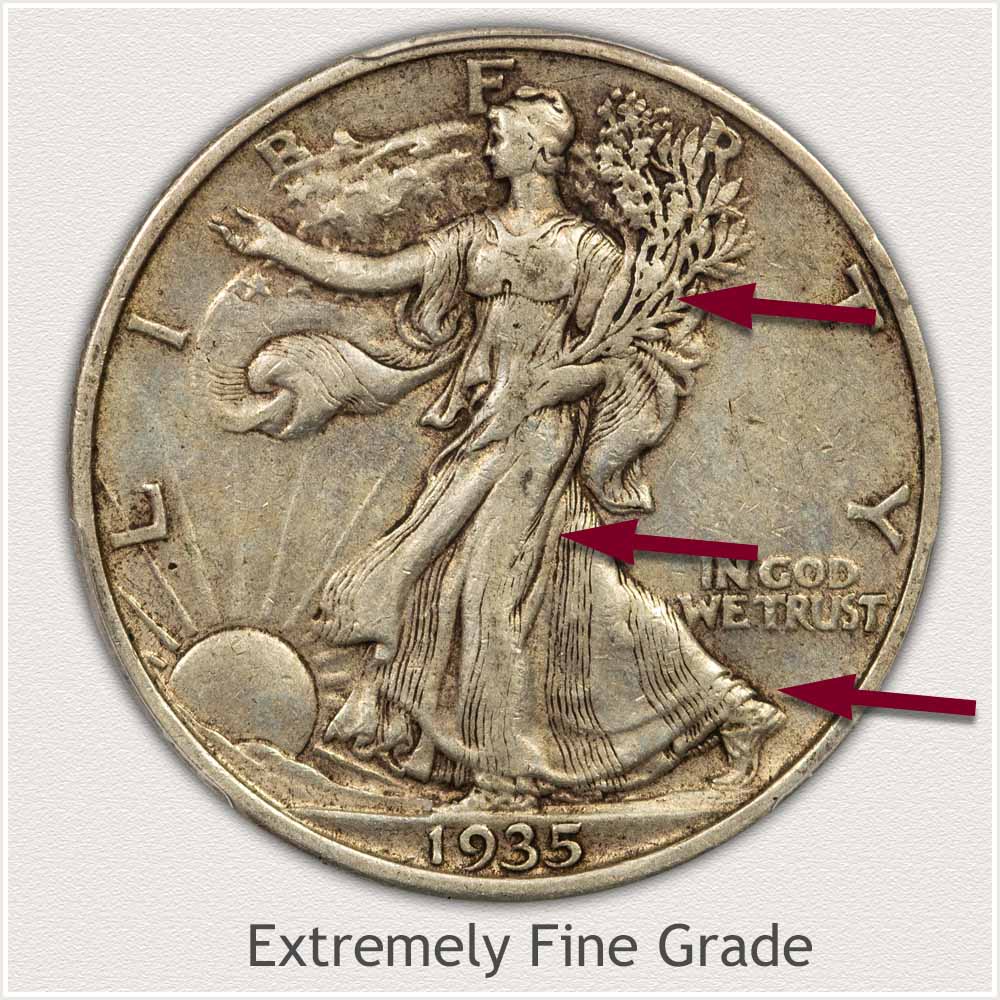 Obverse: Features Identifying Extremely Fine Grade: High areas of the design are now showing small amounts of wear.
Liberty's head is becoming indistinct. Cheek, forehead, and hair details are faded and almost gone. A separation of her jaw line from her neck remains in the Extremely Fine grade.
Wear is causing a flat area extending along a line from Liberty's left hip to end of gown.
At the right foot, the end of the gown is separated from the shoe.
As the olive and oak branches cross her arm; all are well defined with no merging of details. Leaves are with small flat area to tips only.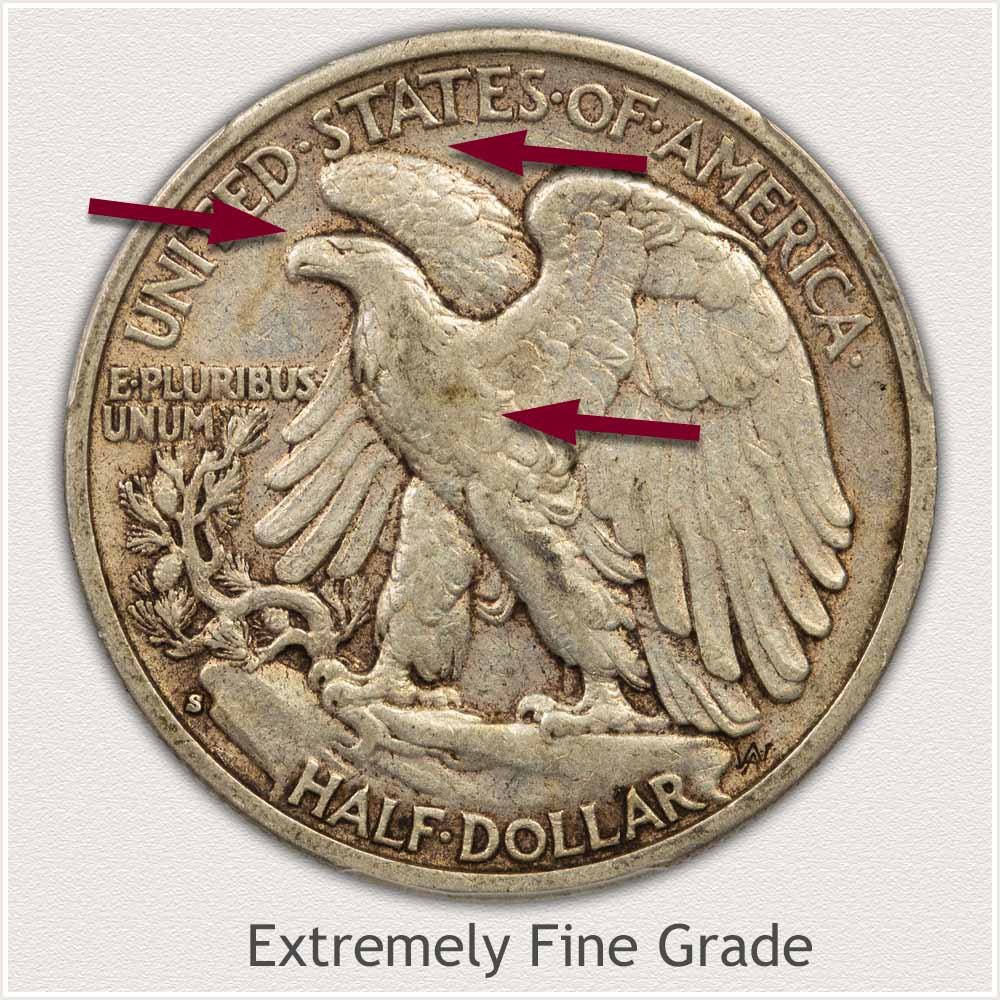 Reverse: Features Identifying Extremely Fine Grade: The eagle retains a large amount of detail. Wear is confined to upper edges of feathers leaving most fully separated.
Head of the eagle is still sharp, an eye brow is visible. Flat areas are only on the upper beak and head.
A smooth area is noted on the Eagle's chest. Neck is also smooth. The left leg is missing feather detail. All areas of neck, chest, and leg remain with a raised profile. Any flatness is disconnected.
Upper right wing is lightly worn on the tops of the feathers leaving all separate and visible.
Fine Grade: Walking Liberty Half Dollar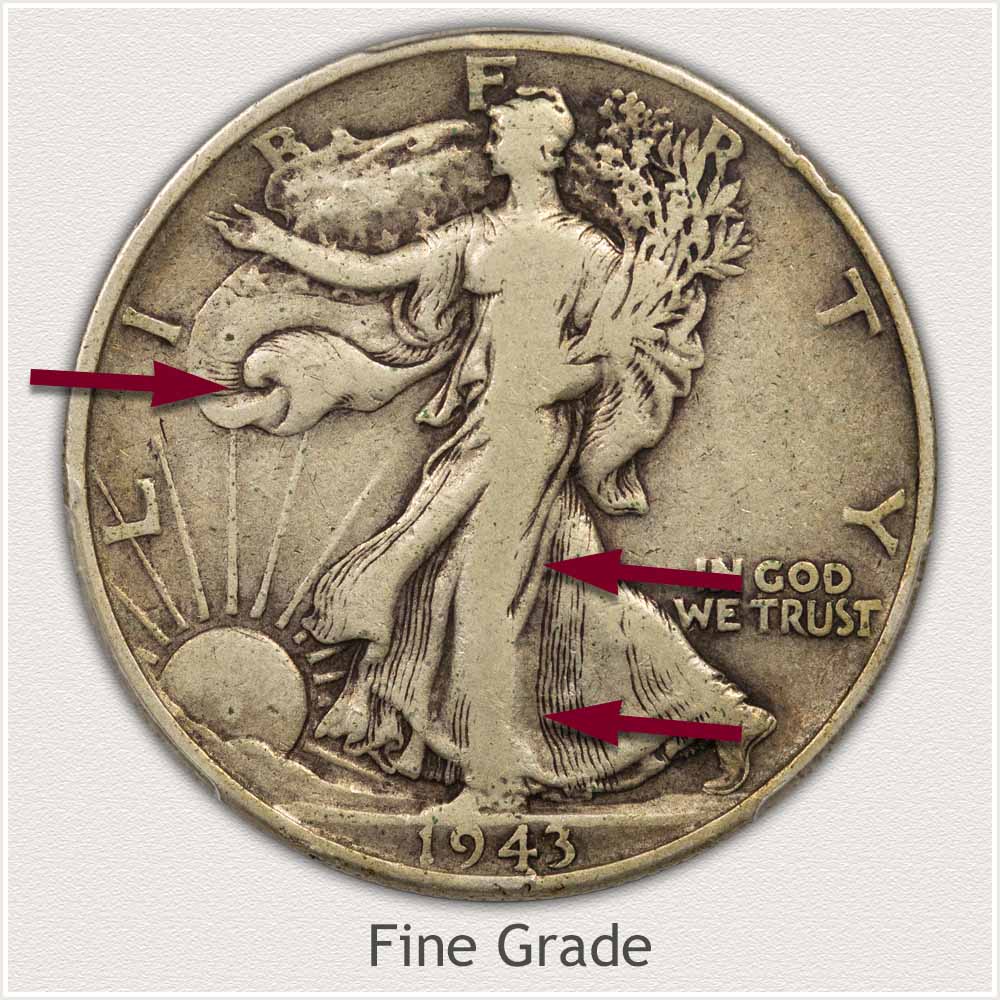 Obverse: Features Identifying the Fine Grade: Liberty has lost most identifying features throughout the middle of the design.
A worn area creating a complete flat surface is from the foot to neck line. Connected are her leg, hip, and upper body.
Lines representing strips are missing over the upper area of Liberty's right leg.
Forward wave of her gown is without any line details, a flat surface connects to her waist.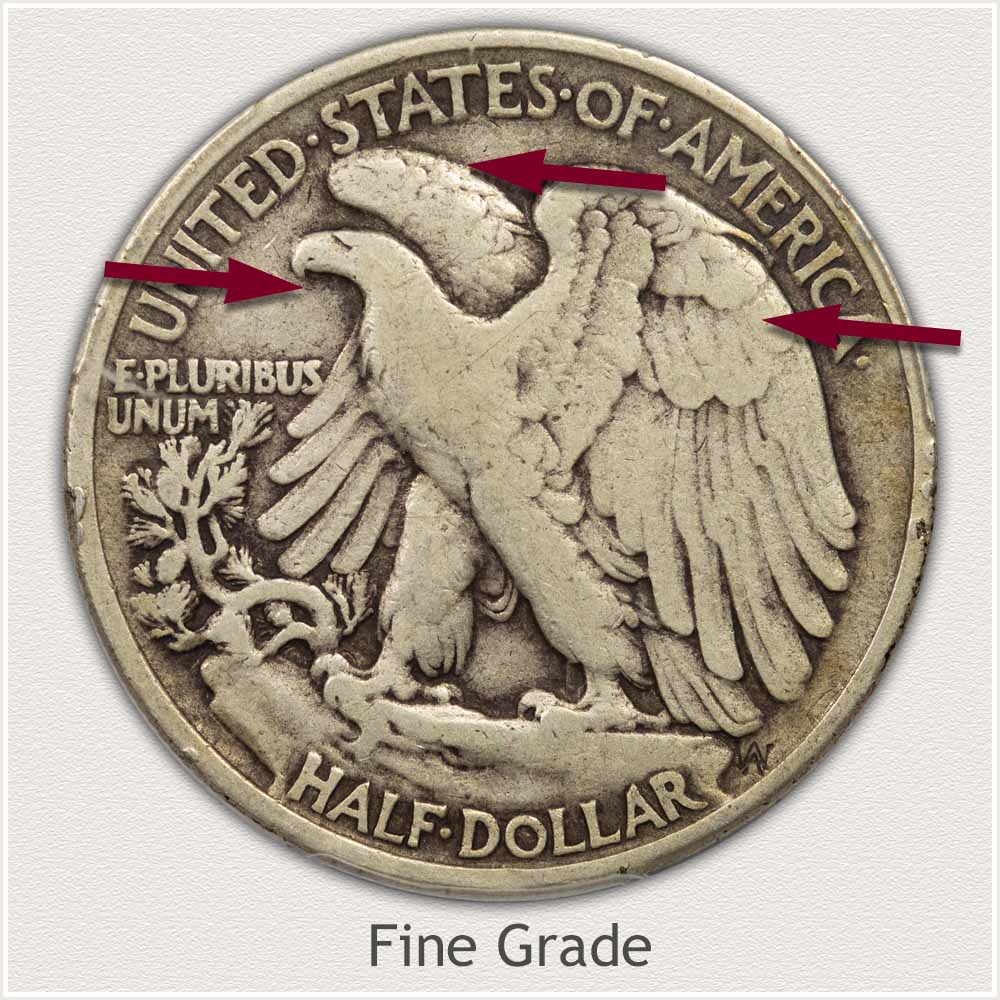 Reverse: Features Identifying the Fine Grade: Wear is moderate on lower protected areas and heavy on high relief portions of the design.
A continuous flat area now extends from the head and neck of the eagle with flatness fully connecting to the chest and leg. No feather details as seen in the central area of the eagle.
Feather lines and details are now beginning to merge on the Eagle's upper right wing. Some lines of separation remain in the protected area along the wing edge.
Faint lines of feathers are visible in the center of the left wing. Strong lines remain showing the major feather layers.
Good Grade: Walking Liberty Half Dollar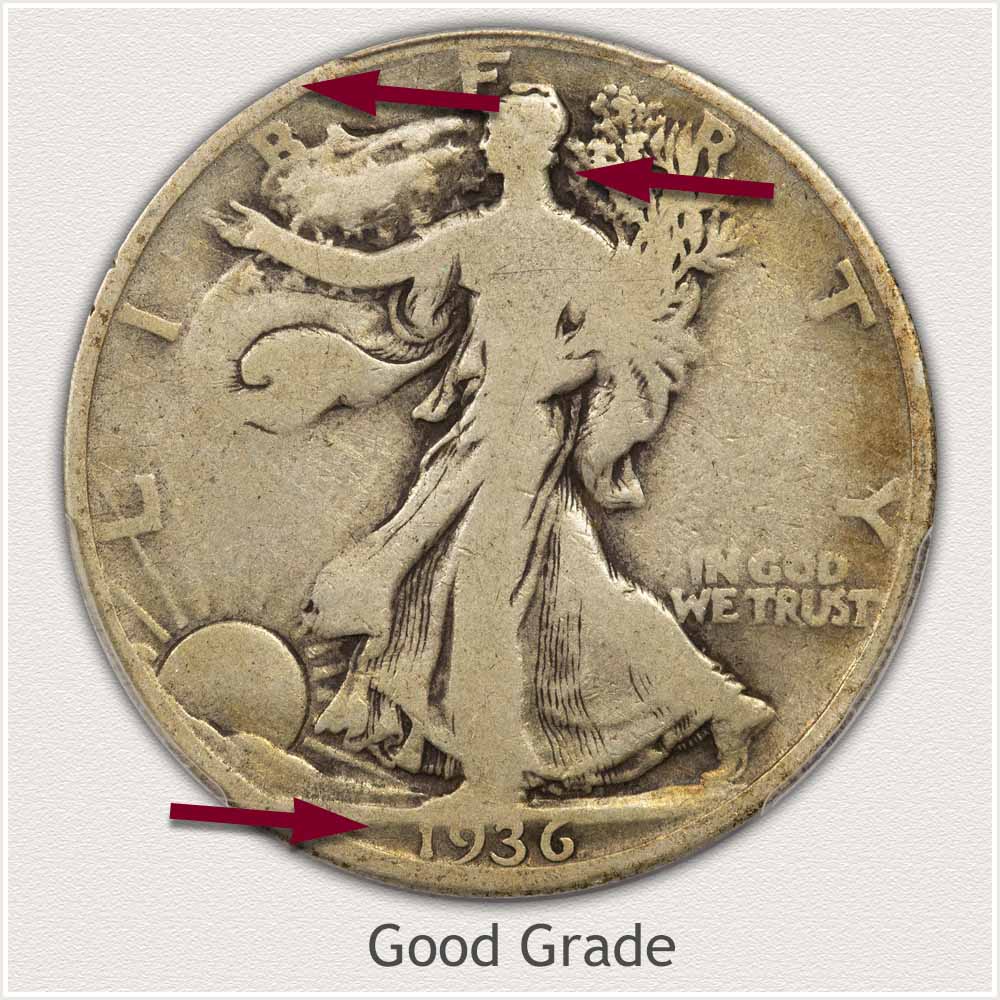 Obverse: Features Identifying the Good Grade: Once the majority of design is worn smooth a coin approaches the Good grade. Condition has an overall look of heavy wear.
Liberty's chin line is now missing. No longer is there a separation of cheek, jaw, and neck. The once raised areas of cheek and neck line are now flattened and connected across her neck.
A faded rim does show and is complete and separate of lettering. Tops of letters are weak but remain visible.
Date is readable with the "19" strong.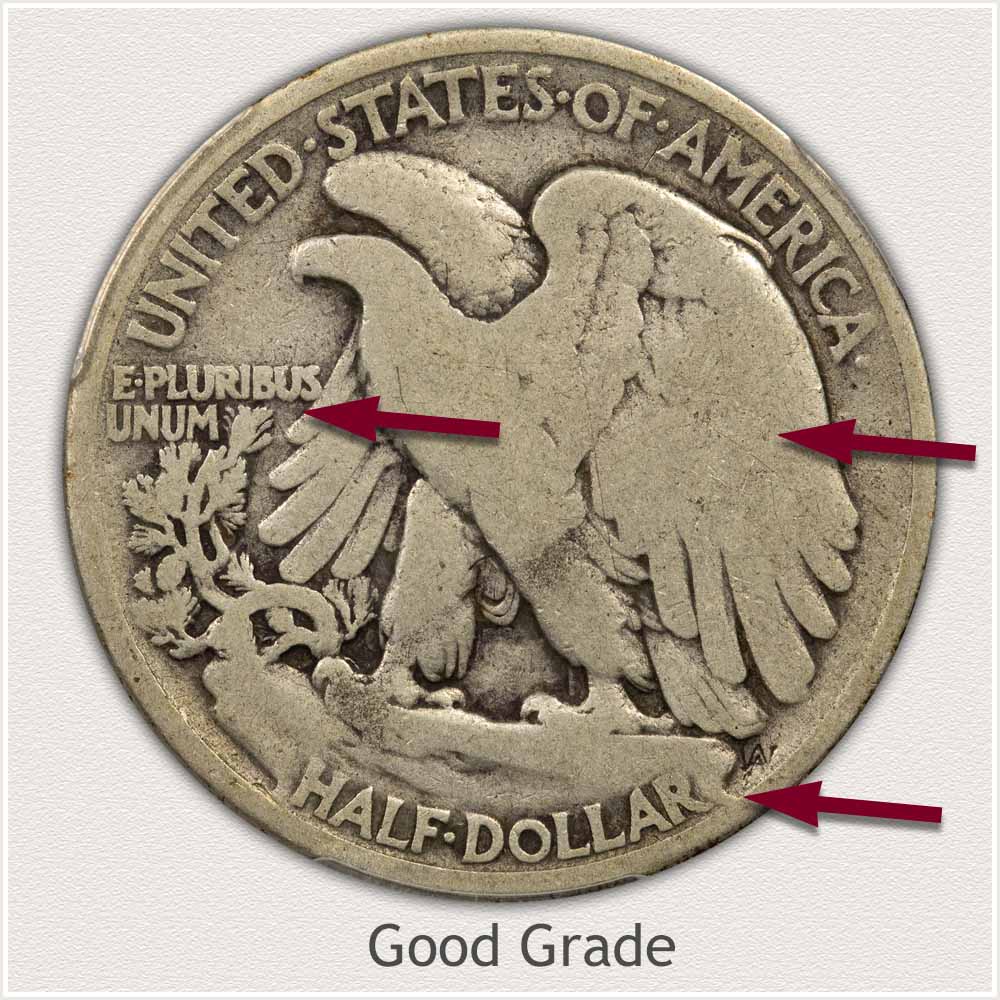 Reverse: Features Identifying the Good Grade: Helping to identify the Good grade is lack of feather detail to wings.
Lines of separation are missing to most feathers on the eagle's left wing. Only three major rows of feathers are visible, although faint.
Rim is now weak in places but remains disconnected from tops of letters. Fading into lettering begins to indicate a lower grade.
Motto - E Pluribus Unum is complete. Letters "E" and "U" are full and disconnected from the rim.
How to Video: Grading Walking Liberty Half Dollars
Often in the Walking Liberty series the value difference from one grade to the next higher is substantial. Early years are especially important to judge condition closely. Follow the video and process of comparing your coins to the close-up images and detailed descriptions. Narrow both the condition and how much these old half dollars are worth.
How to Video | Grading Walking Liberty Half Dollars
Step 3: | Special Qualities and Recognizing Value
Walking Liberty half dollars have three main qualities that need identifying. Each quality represents a distinct separation in value and place in the market.
Scarce to Rare Dates | Collector Quality Condition | Bullion Value Pieces
Scarce to Rare Dates: Many Walking halves are recognized as rare dates and difficult to find, standing out on the value chart. These top end rarities have a long history with collectors. As example: the 1921 issues were quickly noticed as rare early after minting. Collectors were quick to spot the low mintages and rare dates have enjoyed premium values for a long time. Rarities are sought in all grades.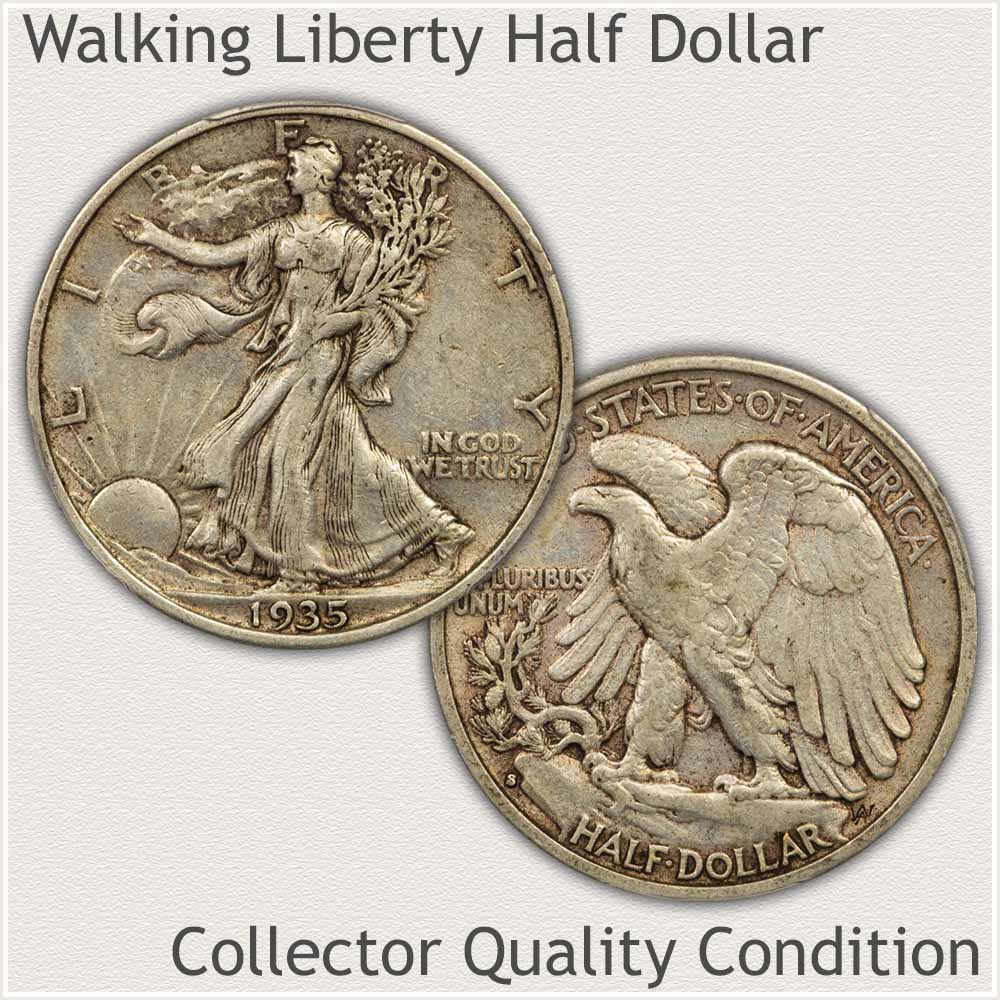 Collector Quality Condition: One area requiring an insight are the subtle differences to condition and the result in desirability. Walking Liberty halves are collected by all levels of collectors. A starting point to a beginning collector is a set of lightly circulated examples. Learning the series and then to advance to high end Mint State grade coins. Any Walking Liberty in Extremely Fine grade are better is a candidate for collector quality statis.
Bullion Value Pieces: A very sharp break in value is found with bullion quality half dollars. A strong market does exist, those seeking quantities of silver. No attention is made to any aspect of collectability towards these coins. Common dates with large quantities available and coins heavily worn are bullion quality and move in value with the price of silver. Dates with mintages in the tens of millions, mostly the 1940's issues are the bulk of bullion coins.
Examine each Walking Liberty half first, with the focus on condition, any in nice condition is inspected closely for grade. Next, heavily worn coins are searched to spot any scarce dates, pre 1934 are all possibilities. Future collectors, as the dates in the series pass the century mark, search for eye pleasing coins. Nice quality Extremely Fine grade and higher examples are eye appealing coins.
References
US Mint. 1918 to 1847 US Mint Annual Reports. https://nnp.wustl.edu/library/publisherdetail/51
US Mint. 1948 US Mint Annual Report. https://nnp.wustl.edu/library/book/339
US Mint. Catalogue of Coins of the United States. https://nnp.wustl.edu/library/book/554591
Coin Values | CoinStudy Articles
Considered one of the best designed US coins, Walking Liberty half dollars are rich in symbolism. Liberty striding towards the sun, suggesting forward progress. Her gown, the US flag, proud to represent the country in the journey. Branches of Laurel and Oak in her arm represent Peace, Strength, and Independence.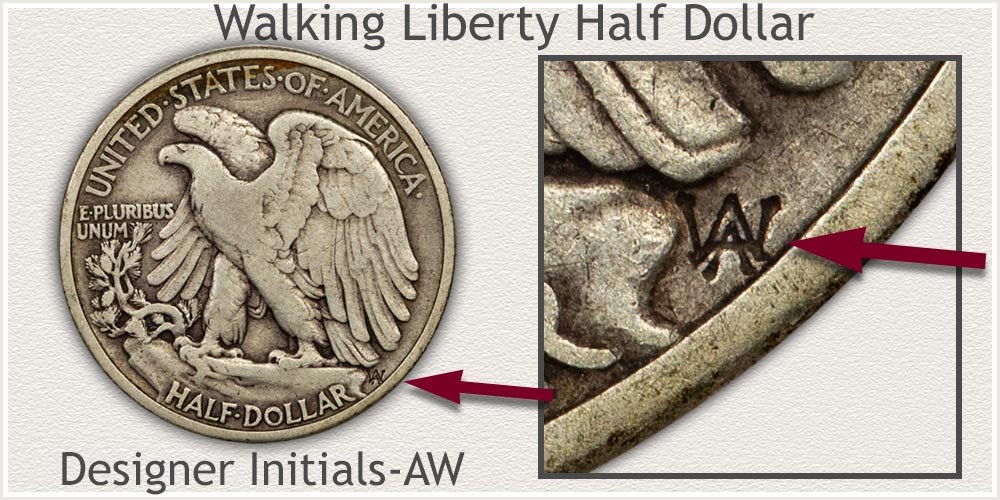 Adolph A. Weinman is the designer of the iconic coin. His initials are on all Walking Liberty half dollars. Somewhat difficult to detect, on the reverse, a stylized monogram AW is close to the rim below the tail feathers of the eagle. Sculptor Weinman is also the designer of the Mercury dime. Both are recognized as high coinage art.
Coin Value Guide | How to Value a Coin Collection
A step by step method combined with the coin value online guide identifies how to value a coin collection. Discover how much your box of old coins is worth.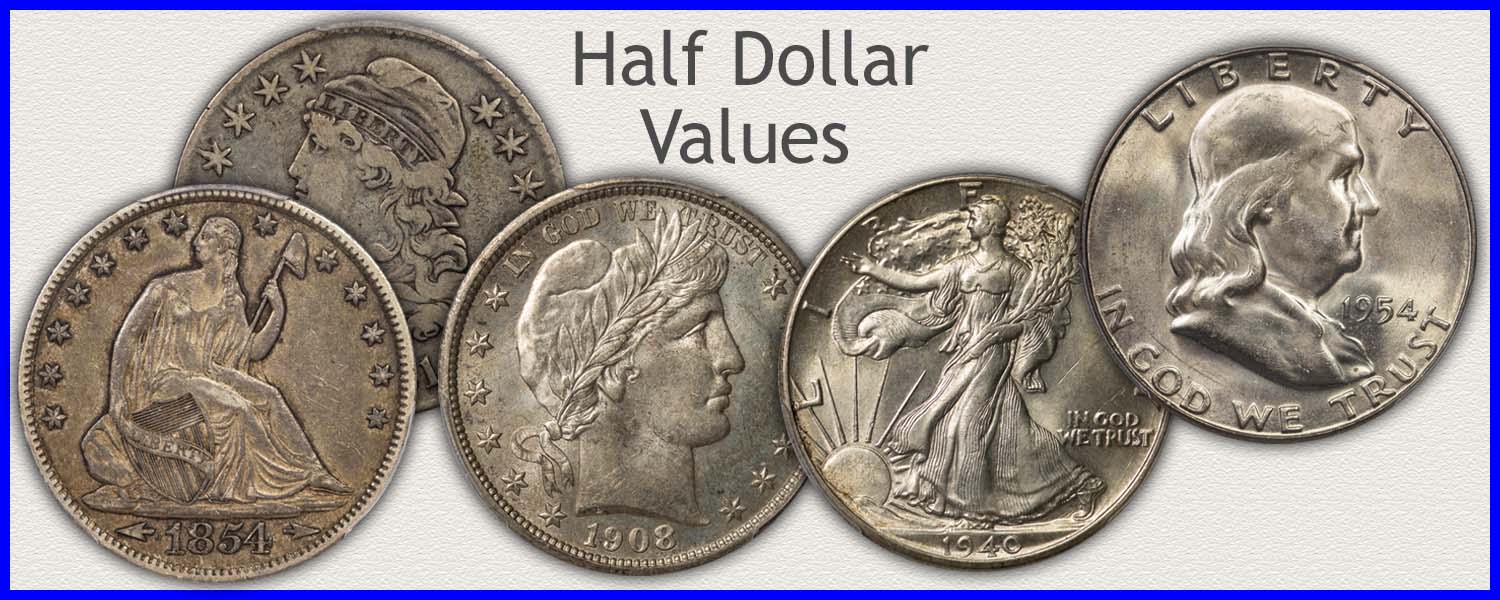 Discover the value of all your old half dollars. From the very first Bust half dollars to Seated Liberty to Barber halves. Continue to the Walking Liberty and Franklin Half dollars. Compare your coins to the "Grading Images" and find their accurate value on the charts.
Rare half dollars are found by recognizing dates, mintmarks and grade of the coin. Early half dollars are all scarce. Any minted before 1892 is becoming a scarce coin. Twentieth century series such as Barber and Walking Liberty halves contain a number of rare dates. Franklin halves because of silver are all premium coins.
Today's Minimum Silver Coin Values
Many of your old US silver coin values are tied closely to the price of silver. Silver dimes, quarters, half dollars, and silver dollars are all heavy with 90% silver and worth many times their face value. With today's high price of silver your old coins are becoming surprisingly valuable.
The Forgotten Silver Kennedy Half Dollars
An in-depth look at these seldom remembered and valuable silver coins. The first year of the Kennedy half series was minted containing silver, all are premium value today.
★ Coin Values Discovery finds Walking Liberty Half Dollar Value and...
All old US coin values. It is an excellent index with images and text links to all coin series, from Cents to Gold. Value charts, grading images and a step by step procedure uncovers how much your box of old coins is worth.
Print the Coin Values Worksheet to list your Walking Liberty half dollars and record their values. Should you decide to sell... use the worksheet as an invoice and packing slip when sending coins through the mail to dealers. It indicates you have done your coin values homework.