Coin Values Moving with Precious Metals: Up-Dated 9/25/2023: Gold $1921 | Silver $23.44
Seated Liberty Half Dollar Value
Seated Liberty half dollar value on the chart indicates both scarcity and popularity. A step by step method is used to identify date and variety plus grading condition. A range of how much these old half dollars are worth is narrowed. A popular series with collectors, find the special qualities setting coins apart in desirability.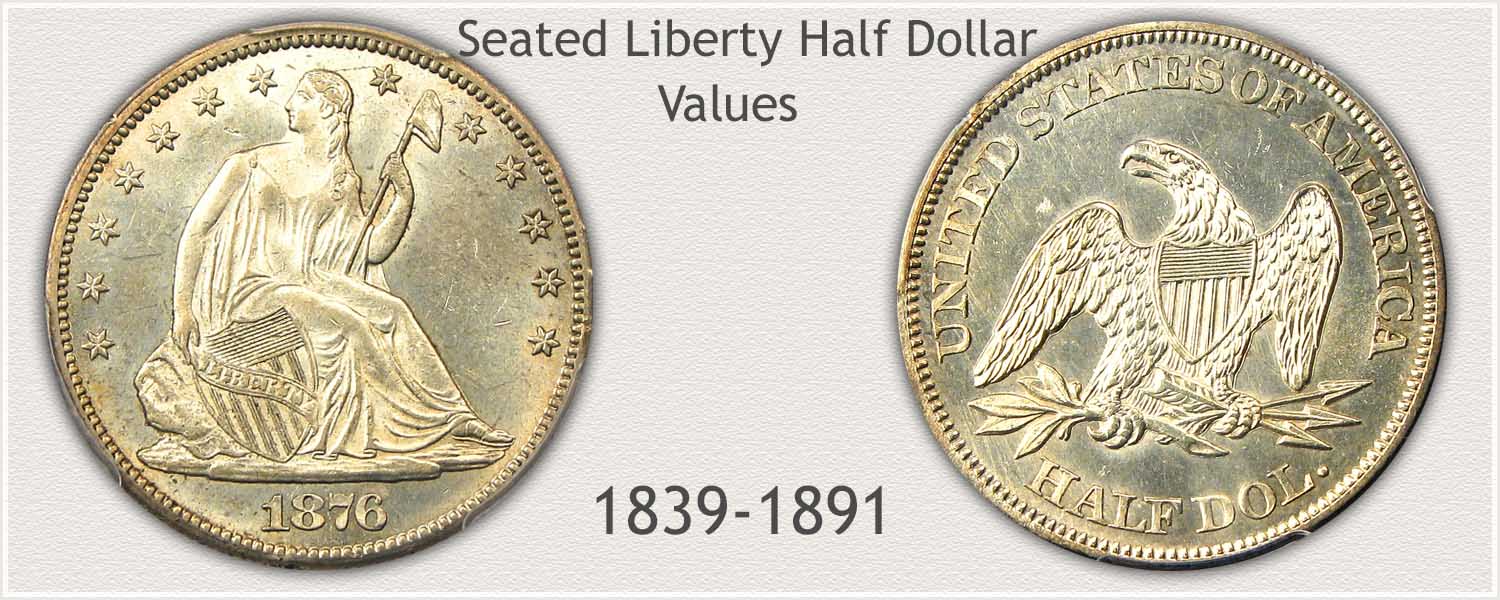 Steps Leading to Value:
Step 1: Date and Mintmark Variety - Determine value by identifying variety, date and mintmark combination.
Step 2: Grading Condition - Judge preservation of your coin comparing to images and descriptions finding its place on the value chart.
Step 3: Special Qualities - Collectors examine all coins closely; recognize the small details adding appeal to coins.
Review the value chart helping identify the special coins needing close examination. Begin the value process after the chart.
The above are the wholesale Seated Liberty half dollar value. Computed from dealer's price lists with various markup factors figured in. They reflect closely the value you would expect to receive when selling. Variations in value do occur subject to subtle grading points, collector demands and dealer needs.
If your coin is not listed above, it is seldom encountered. For additional reference... CDN publishes a retail price guide, covering retail Seated Liberty half dollar value in detail.
Step 1: | Variety Plus Date and Mintmark Identified
Two major varieties of Seated Liberty half dollars are involved in the series. Initial production in 1839 used a reverse design that did not include the motto "In God We Trust". This No Motto reverse continued until 1866 when the motto was added. Collectors are keenly aware of the differences and collections of Seated halves include at least one of each major variety.
Major Varieties of Seated Liberty Half Dollars
A bold seated figure of Liberty fills the obverse design of these now very old half dollars. Looking to the left she is wearing a loose gown. Supporting the US Shield with "Liberty" inscribed. Liberty's left hand holds a pole with a Liberty cap on top.
Reverse I Variety is an eagle within the lettering of the legend. Wings displayed downward and the US Shield on the chest. In the right claw are three arrows - symbol of war and in left claw an olive branch - symbol of peace. The original variety was minted over the years 1839 to 1866.
Reverse II Variety saw the addition of a ribbon with "In God We Trust" above the eagle. 1866 is a design overlap year with both major varieties minted. The Reverse II continued until the ending of the series in 1891.
Mints and Mintmarks of Seated Liberty Half Dollars
Four mints were involved in producing Seated half dollars. Philadelphia, New Orleans, San Francisco, and Carson City. Together striking over 150 million Seated halves. Date and mintmark combination are an important theme collected, with a large range in rarity and values.
New Orleans Mint
New Orleans mint struck its first Seated half dollar in 1840. Production continued until 1861 contributing 49 million of the No Motto variety. The mint did not strike any With Motto halves, however, it is noted as minting the largest number of the early No Motto variety.
New Orleans half dollars are recognized by the "O" mintmark on the reverse just above "Half Dol.".
San Francisco Mint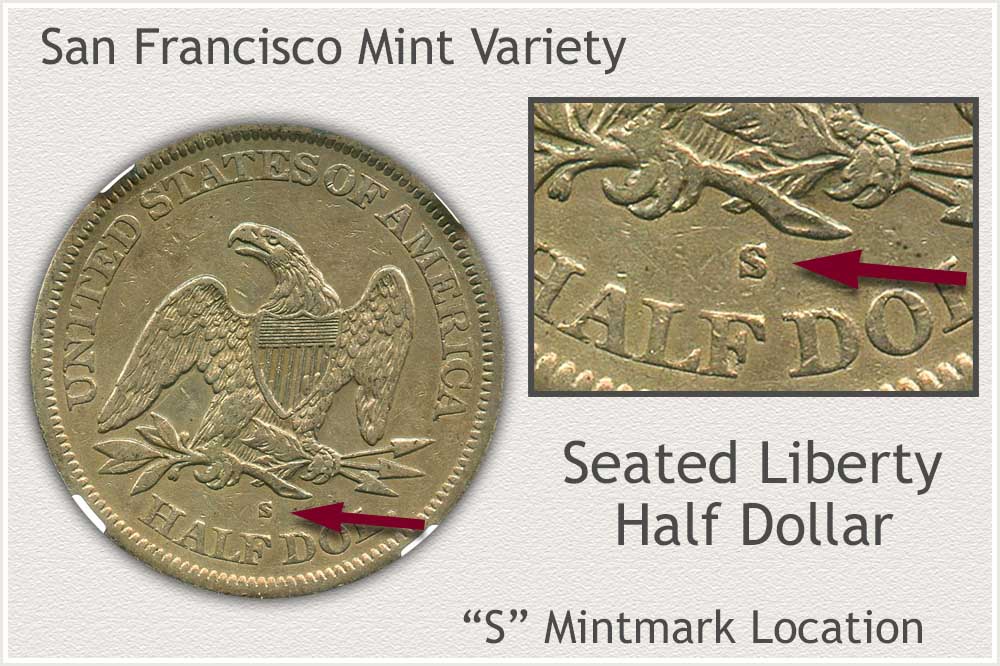 San Francisco mint struck both the No Motto and With Motto variety Seated Liberty half dollar. It was not however split evenly between the two varieties. Production began in 1855 as a new mint starting with low mintage numbers and slowly building capacity. No Motto total just over 6.5 million in comparison to over 21 million With Motto variety. Values trend with mintages, early San Francisco Seated halves are elusive.
San Francisco half dollars feature the "S" mintmark on the reverse just above "Half Dol.".
Carson City Mint
The newly established Carson City mint immediately began production of Seated half dollars in its first year. Focusing on silver and gold coinage the mint struck 54,614 halves in 1870 creating what has become a very scarce coin. Most entered circulation and are in lower grades. Total production amounted to just over 5.5 million in the years 1870 to 1878, lowest of the mints. All Carson City Seated halves are highly sought by collectors. Many sets are specialized in Carson City coinage only.
Carson City half dollars are identified by the small "CC" mintmark on the reverse just above "Half Dol.".
Philadelphia Mint
Mintage totals of these older series, in general, give an insight into scarcity of coins available today. Philadelphia, the first and main US mint, struck over 72 million Seated Liberty halves and is the only mint to represent every year of production. A year collection, by necessity includes many Philadelphia issues. Strong demand supports strong values of these popular coins.
Philadelphia did not use any mintmark during the Seated half series. An empty space just below the stem of the olive branch and above the letters "Half Dol." is a coin issued by the Philadelphia mint.
Step 2: | Judging Condition Determines Grade | Narrows Value
Finding a rare date half dollar is always possible. It does happen, although rarely. You stand a better chance of finding a valuable higher condition, higher "Grade" coin.
Finding High Value Seated Half Dollars is Conditional
Collectors and dealers in order to determine how much these old half dollars are worth, first inspect the condition of the coin and then assign a grade. Compare your coin to the grading images below. Look closely at the shield on the obverse. A complete "LIBERTY" on the shield separates a coin in "Fine" condition from one in the lower "Good" condition.
In better condition, with just slight wear on Liberty's gown and the eagle's feathers the grade is "Extremely Fine". Seated Liberty half dollars are sought and valuable in high grades.
Mint State Grade: Seated Liberty Half Dollar
Obverse: Features Identifying Mint State Grade: No wear to the surface defines the Mint State grade. A half dollar is this condition is covered with the original fine textured surface as minted. High areas, prone to signs of wear are judged to determine the grade.
Small waves of hair are rendered in detail on Liberty's head. Judge the top areas of the hair to confirm no flattening and smoothing is due to wear.
One of the first places metal becomes worn is the thigh area on the right leg. A Mint State coin remains with the thigh rounded in profile.
Liberty's right shoulder is another high point; no smoothing or loss of metal indicates the grade.
Ridges of the gown are judges for signs of wear, loss of detail and flattening.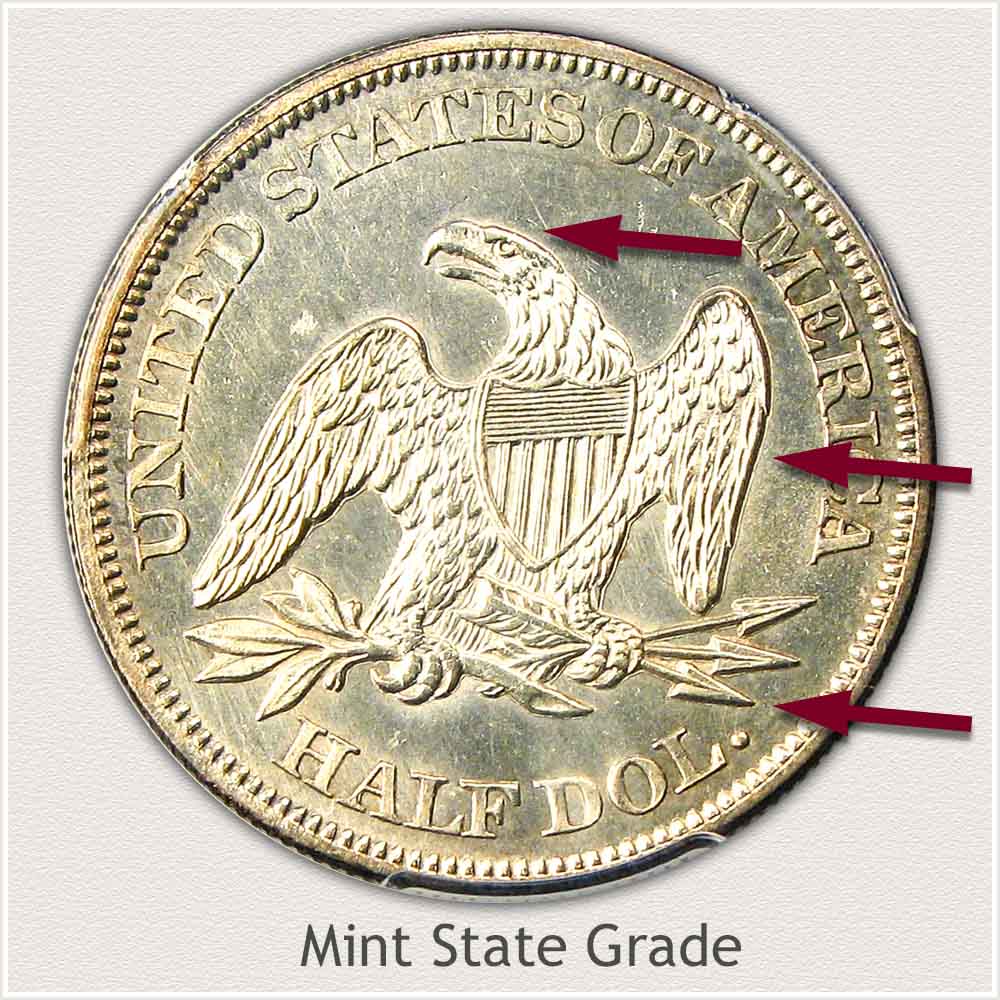 Reverse: Features Identifying Mint State Grade: Many fine details are prone to wear on the eagle; each is judged to confirm a grade.
The eagle's head is high in profile; no smoothing is seen of the example mint state coin.
Feathers down the neck are fully raised and no flat spots are visible.
A fine texture of original mint surface covers the wing feathers. Inspect the upper edges of feathers to compare with deeper areas to match in texture.
Arrow points show no flattening of design with a center ridge visible.
Extremely Fine Grade: Seated Liberty Half Dollar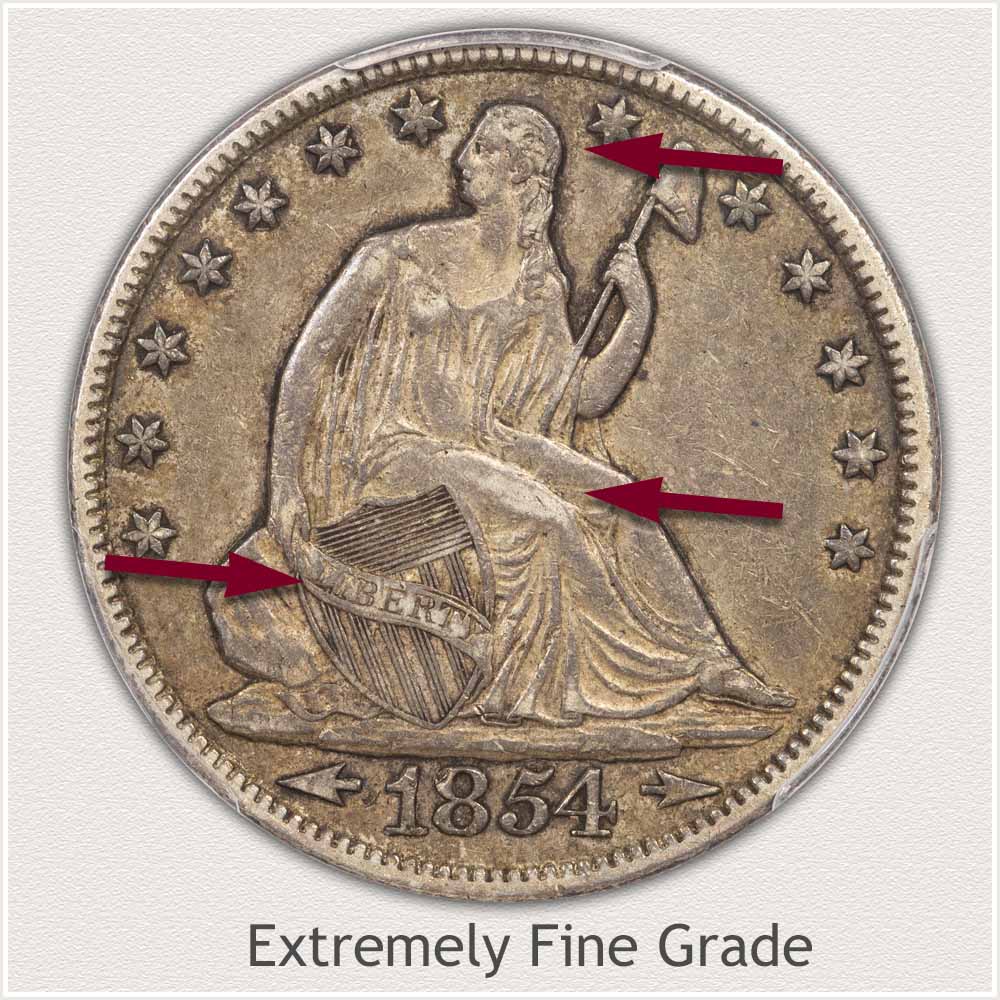 Obverse: Features Identifying Extremely Fine Grade: A small flat area is now part of most major details on an Extremely Fine grade half dollar.
Liberty's hair is separate of the ear, however, the hair is flat lacking inner strands.
A long flat area is visible on the right thigh and extends to the knee.
The left shin area is just showing wear on the upper edge with most the shin rounded in profile.
Lettering to "Liberty" is bold with the top and bottom edges of the scroll raised above the shield.
Reverse: Features Identifying Extremely Fine Grade: Major and most minor details remain bold and distinct on the revers eagle.
Feathers on the eagle's neck are just flattened on the upper edges with all separate of each other.
Wing feathers are all clear with just minor flat spots on the upper edges.
Full arrow points remain, slight flattening at tips. Central area of the points shows a raised rib.
Fine Grade: Seated Liberty Half Dollar
Obverse: Features Identifying the Fine Grade: Many fine details are now a smooth flat surface. Design elements are noticeably merged.
One metric used is all seven letters of "Liberty" are visible across the scroll. Often one or more letters are weak and faded. A full "Liberty" indicated a well struck coin.
A faint trace of the ribbon tying "Liberty's" hair is visible.
Shield lines are visible. Horizontal lines are complete but faded near left side. Many vertical lines are strong near the scroll and weak in the center.
Reverse: Features Identifying the Fine Grade: A few areas of merging and flatness defines the condition of a Fine grade half dollar.
Feather details are now flat in disconnected areas across both wings. Many central details remain.
The shield remains well outline in most areas. A slight merging with feathers is possible near eagle's left leg.
Eagle's head is distinct with a separation from neck feathers.
Good Grade: Seated Liberty Half Dollar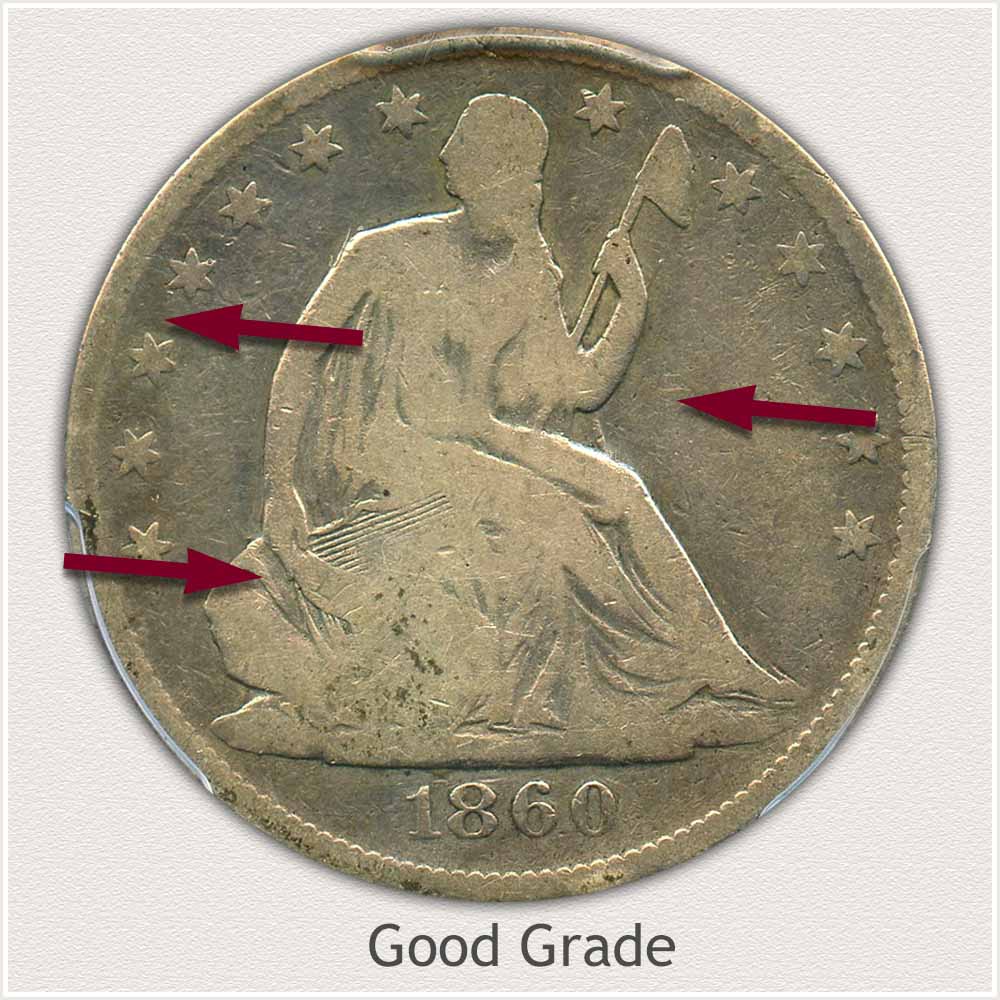 Obverse: Features Identifying the Good Grade: Once wear has reduced the design to blending of major elements a coin is now in the Good grade.
Liberty is well worn with few details remaining. Her outline is complete and raised from the field.
All stars are visible and complete, although a few are weak towards the rim.
Letters of "Liberty" are smooth as well as the scroll.
A rim is visible around the majority of the perimeter. Merging of stars and date to rim is minimal.
Reverse: Features Identifying the Good Grade: Many feathers of the eagle are now a smooth surface. A Good grade reverse does have a certain amount of clarity and separation of elements.
Worn across most wing feathers, the eagle remains completely outlined and not merging with the field.
Arrow points are complete, though faded towards the tips.
Lettering of the legend is clear with fading confined towards the tops.
A strong rim and separation from the lettering helps identify this coin as a solid Good grade example.
Step 3: | Special Qualities - The Sub-Varieties
Collecting Seated Liberty half dollars is given a boost by the interesting sub-varieties introduced during the series. Each half dollar is 90% silver and during the period the series was minted; 1839 to 1890, world price of silver was fluctuating. Today, movement in silver is volatile in comparison to these earlier times. However, back then enough of a change took place to prompt the US to modify the weight of coinage. Now enter the year 1853.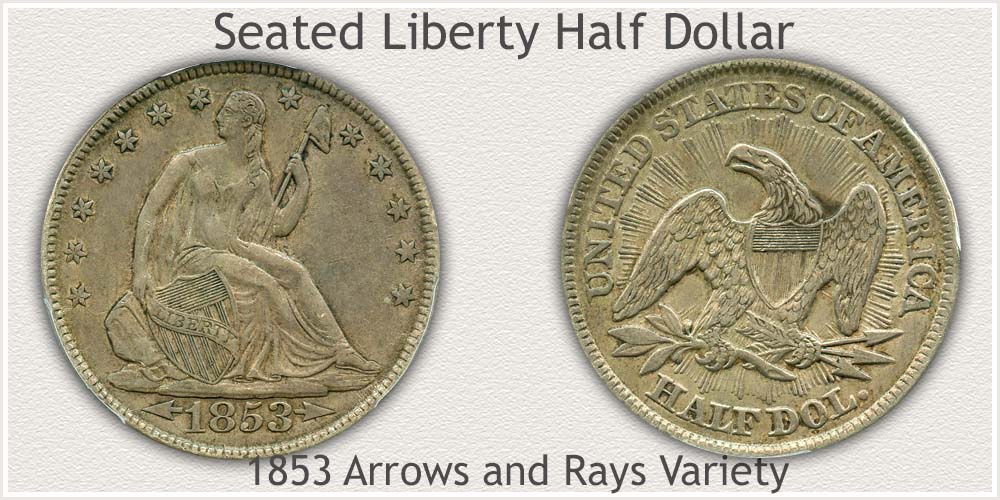 In 1853 a reduction in total weight and amount of silver to a half dollar was indicated by a design addition. Arrows were place either side of the date and rays added behind the eagle on the reverse. This sub-variety and a one-year type is unique to the series creating a very popular design, always on collector want lists. Philadelphia and New Orleans mints struck, in total 4.8 million. Available today in all grade ranges with a steady demand by collectors.
1854 saw a refinement in the design by removing the rays on the reverse. Although the weight and silver content remained the reduced amount, a new sub-variety without the rays is now part of the series. 1855 continued the arrows at date. This new weight became the standard and arrows were removed with 1856 half dollars. The new San Francisco mint in 1855 added a small mintage of 129,000 half dollars to production of the variety along with Philadelphia and New Orleans. 1855 San Francisco Arrows at Date Seated halves are very scarce and high value coins.
Again in 1873 it became necessary to change the weight of the half dollars. This time an increase was needed to bring the coin in line with current silver prices. Arrows were placed either side of the dated for two years 1873 and 1874. Mints involved were the Philadelphia, San Francisco, and Carson City mint. The adjusted weight became the standard and arrows were removed with the 1875 coinage. Again, a new sub-variety with moderate mintages adds variety to the series.
Major varieties combined with the sub-varieties is an interesting theme many collections are formed around. Adding in the different mints to represent involvement in the varieties results in a historically significant collection of Seated Liberty half dollars. Pleasing circulated examples of these varieties are affordable adding to their appeal. However, affordability does not indicate the underlying scarcity of the coin. Seated half dollars are all scarce in pleasing, collector quality, in any grade.
References
US Mint. 1892 US Mint Annual Report. https://nnp.wustl.edu/library/book/316
US Mint. Catalogue of Coins of the United States. https://nnp.wustl.edu/library/book/554591
Coin Values | CoinStudy Articles
Solid value best describes the market for Seated Liberty half dollars. These coins are part of a historical time in US coinage.
They are always in demand
Nice condition coins are treasured by collectors
Dealers are in constant need to fill this demand
Three reasons assure Seated half dollar future value is bright.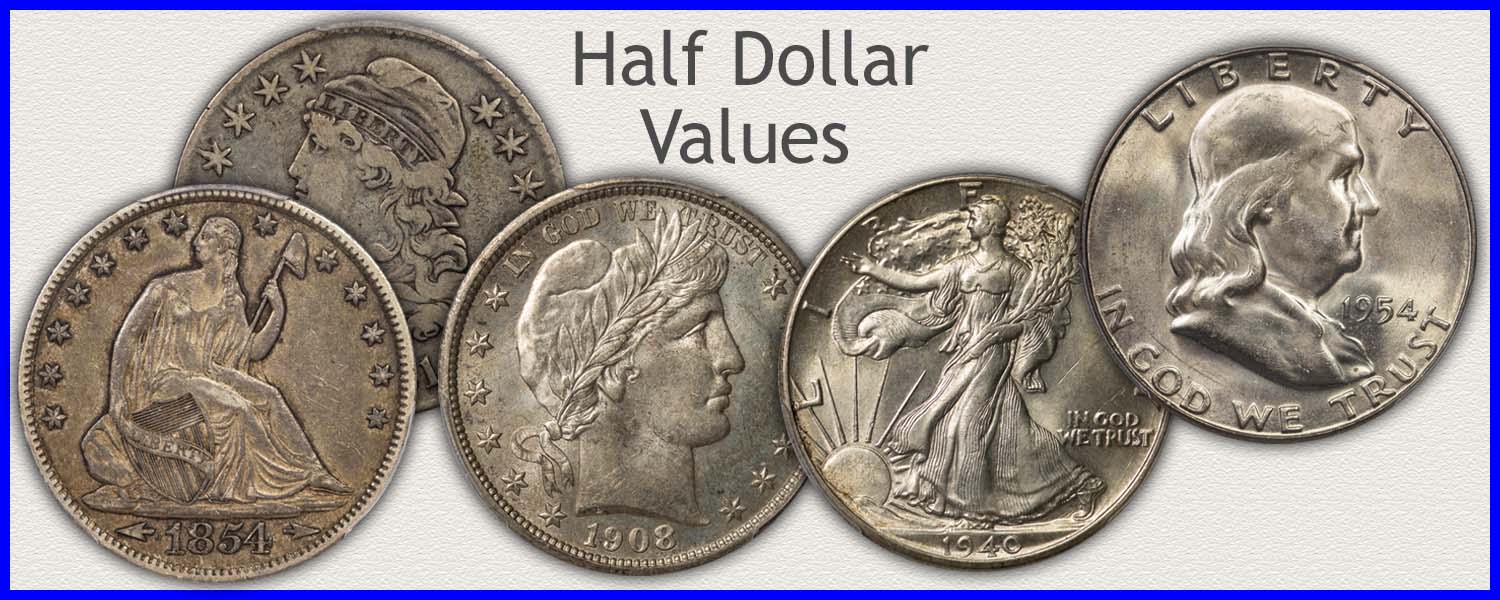 Half Dollar Value Charts Covering Additional Series
Discover the value of all your old half dollars. From the very first Bust half dollars to Seated Liberty to Barber halves. Continue to the Walking Liberty and Franklin Half dollars. Compare your coins to the "Grading Images" and find their accurate value on the charts.
Scarce half dollars occasionally show up in a box of old coins. Any dated before 1965 is a silver coin and premium value. Rare dates are concentrated in the early years, those minted before 1892. Twentieth century half dollars are popular with a few very rare dates.
The Forgotten Silver Kennedy Half Dollars
The opportunity to you is... they are occasionally released back into circulation as most people don't realize, or remember, they contain a large amount of silver. Early year Kennedy half dollars contain silver as part of the alloy.
Introduction into the selling coins process. Preparing, organizing, and planning all combine to improve results.
★ Coin Values Discovery finds Seated Liberty Half Dollar Value and...
All old US coin values. Image and descriptive index leading to value charts. Step by step method to date and variety identification. And grading condition by comparing to images, video and descriptions. Special qualities are also judged. Discovery how much your box of old coins is worth.
Print the Coin Values Worksheet to list your Seated Liberty half dollars and record their values. Should you decide to sell... use the worksheet as an invoice and packing slip when sending coins through the mail to dealers. It indicates you have done your coin values homework.