Coin Values Moving with Precious Metals: Up-Dated 9/25/2023: Gold $1921 | Silver $23.44
Shield Nickel Value
Confirming Shield nickel value follows a process of identifying date, variety, and importantly, condition of your coin. Use the images and descriptions within each step to judge how much a shield nickel is worth.
Steps Leading to Value:
Step 1: Dates and Rarity are Identified - A few key dates stand out as scarce to very rare.
Step 2: Grading Condition - Compare your coin to images helping define condition.
Step 3: Special Qualities - Recognize coins with aesthetic appeal, especially sought by collectors.
The following chart highlights different values depending on many factors. Each step develops an understanding separating the higher from minimum value coin.
The above are wholesale coin values. Computed from dealer's price lists with various mark-up factors figured in. They reflect closely the value you would expect to receive when selling.
Variations in value do occur subject to subtle grading points, collector demands, and dealer needs.
Step 1: | Date and Variety are Identified
A new denomination was introduced to US Coinage in 1866 with the Shield nickel. A Five Cent piece was now minted along-side the silver half dime. Its metal alloy containing nickel was also new to the mint, first used in the 3-Cent nickel coins a year earlier. Popularity and demand are boosted because of these "firsts".
With Rays Variety Shield Nickel 1866 to 1867
US shield within a frame is the main device of the obverse. Olive branches on either side of the shield represent peace. Two arrows are behind the shield. Date below is in small numerals, tightly spaced. Reverse design is the large "5" denomination. Thirteen stars separated by rays surround the numeral "5".
Approximately 15 million of the "Rays Reverse" variety were minted. Popular at the time and saved as a memento, leaving many in all grades available to collectors today.
Without Rays Variety Shield Nickel 1867 to 1883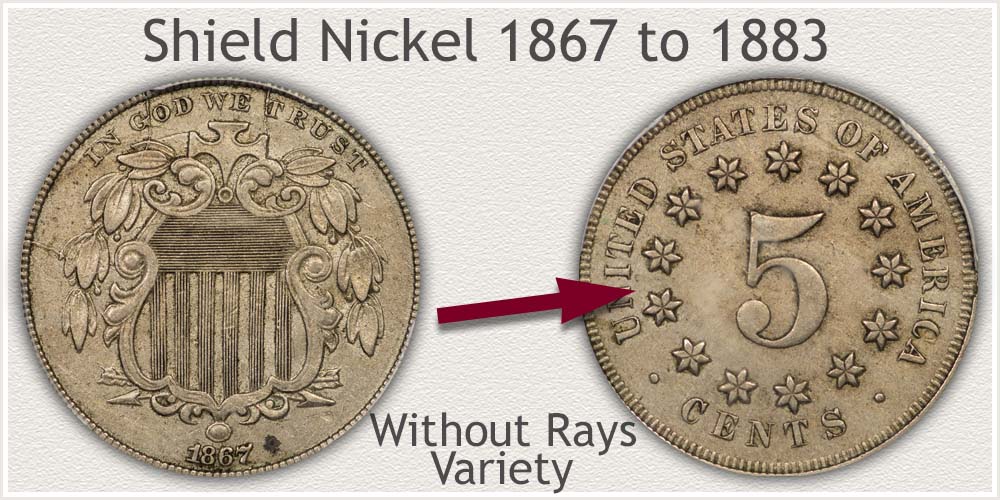 Soon into the second year of production - 1867 - modification was made to the reverse design. All elements remain, except the removal of the 13 rays between the stars. The stars were enlarged and this continued the reverse design to the end of the Shield nickel series.
Obverse elements were left intact including the small numerals of the date. 1867 and 1868 "without rays" design saw mintages each year approaching 29 million pieces. Tapering mintages began in 1869 and continued until 1882 with a rebound. Stand-out year 1880: Business strike examples, intended for circulation, ebbed to a low of 16,000 struck in 1880. Values on the chart closely follow mintages, high to low.
Notable is the quick rise in value beginning with the Extremely Fine grade. Lightly circulated and better examples are elusive in all years. Step 2 identifies higher condition collectible nickels.
Step 2: | Grading Condition Finds Collectible Coins
Because of the elusive nature of low mintage coins, you stand a better chance of finding a higher condition - better grade - Shield Nickel than a rare date. The three rarest dates 1879, 1880 and 1881 have a combined mintage of just 110,700 coins. Not many have survived until today and are rarely found. Find greater value in your coins by accurately determining their "Grade".
Grading Condition of Shield Nickels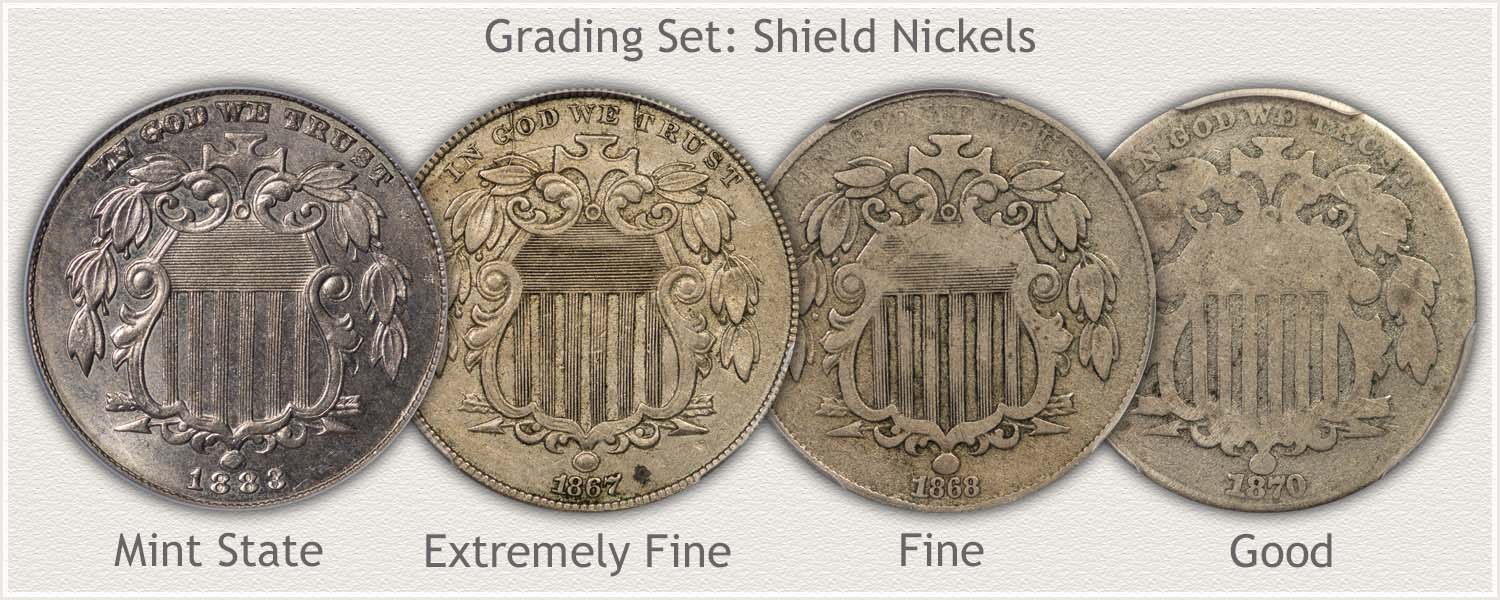 Mint State Grade: Shield Nickel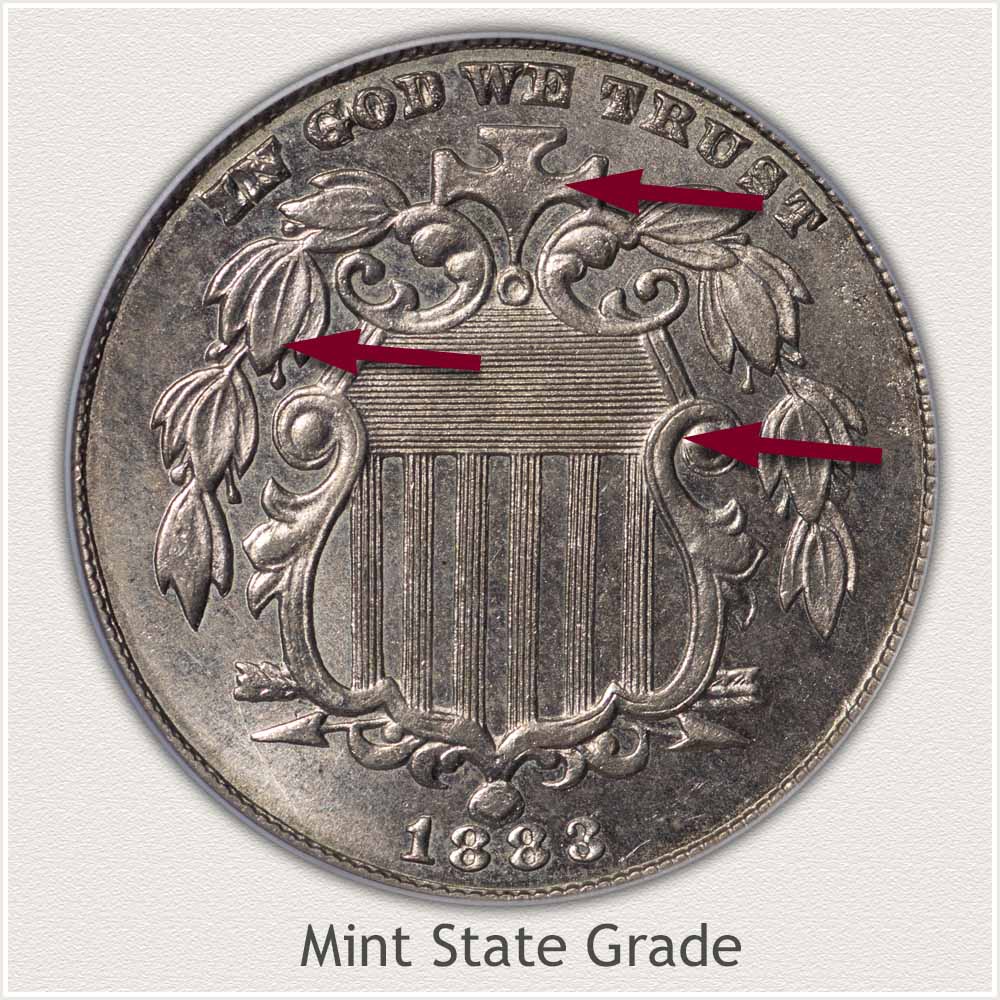 Obverse: Features Identifying Mint State Grade: Identifying there is no wear to any surface is key to judging a Mint State coin.
Within the very center of the cross is a raised area. Original luster must remain. Indications of wear are a smoothness to the metal and a color change.
An ornate frame surrounds the shield; ridges are part of the design as well as higher relief areas. All these raised points are inspected for absence of smoothness and loss of luster.
Olive branches are either side of the shield. Leaf designs are higher towards the edges and vulnerable to early wear. A mint state coin displays leaves without any smoothing to edges.
Reverse: Features Identifying Mint State Grade: Center areas of coins are first to wear. It is naturally where we handle them.
A bold numeral "5" is raised and must remain with a fine texture as minted. Lack of smoothing across the surface of the "5" and remaining a consistent color with the field, indicates a Mint State grade.
13 stars with raised areas forming each point are closely inspected. High centers to the stars quickly wear. Confirm star points are the same texture as lower areas of the star. Pick a few stars with full strikes, well detailed centers, to judge. Softly struck stars - not uncommon with the Shield nickel series - are flattened and harder to judge.
Extremely Fine Grade: Shield Nickel
Obverse: Features Identifying Extremely Fine Grade: A scarce condition in the Shield nickel series is extremely fine grade. Light wear limited to just high points defines this collectible grade.
Cross atop the shield remains bold with only a small degree of wear flattening the central area.
Wear is visible over areas of the frame portion of the shield. Strong detail defining a raised edge to the frame is mostly intact.
Leaves are showing a small amount of wear at tips only. Leaf edges are well detailed and each is defined. Central veins to leaves are visible.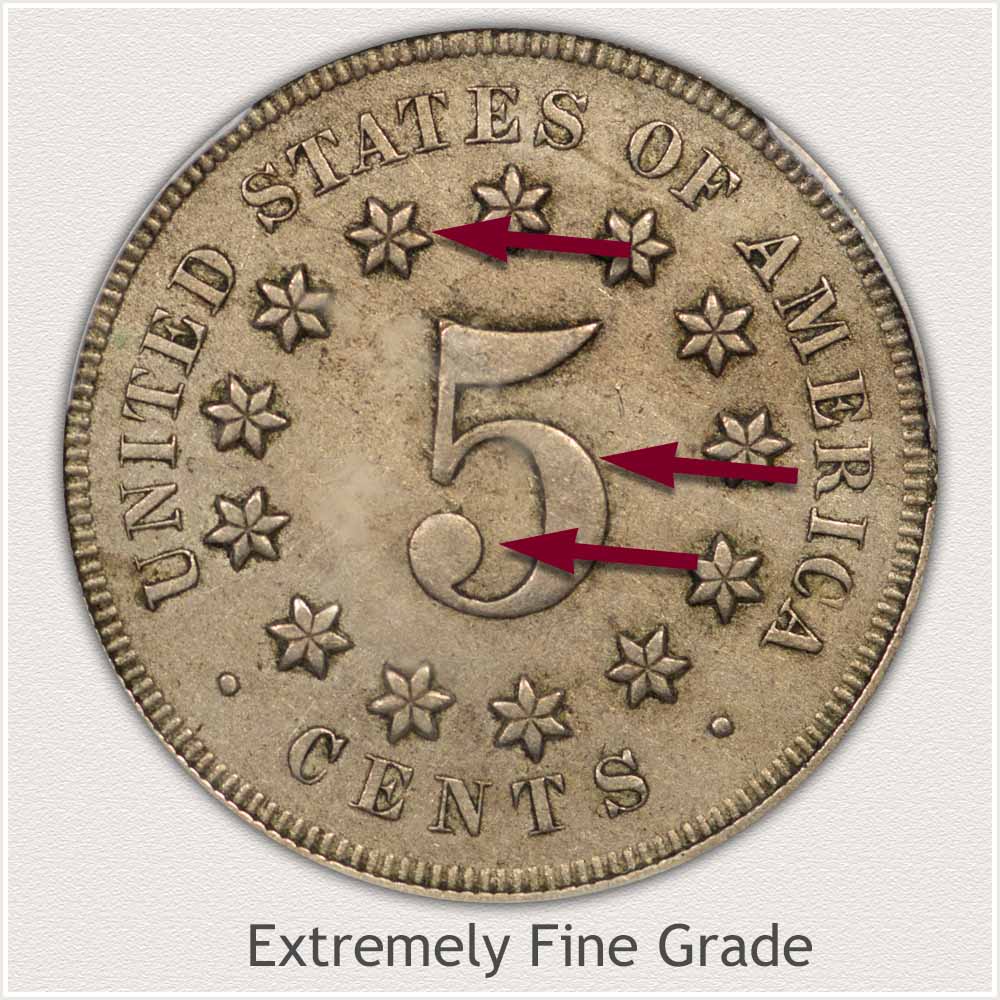 Reverse: Features Identifying Extremely Fine Grade: A small amount of wear is just beginning to show on the upper surfaces of the devices. Most if not all luster is now a soft grey tone covering the coin because of smoothing to the surface.
The numeral "5" remains bold with a small amount of wear. Looking closely, smooth areas are found on the upper surface.
Legend is well raised from the field with minor wear to tops of letters.
Stars and their centers are flattened. Raised areas between the radial lines are visibly flat. Of note, on many examples, some of the stars are softly struck and lack central lines. View all the stars to gage wear on the bolder stars. The example 1867 nickel is very well struck on the reverse and represents bold stars.
Fine Grade: Shield Nickel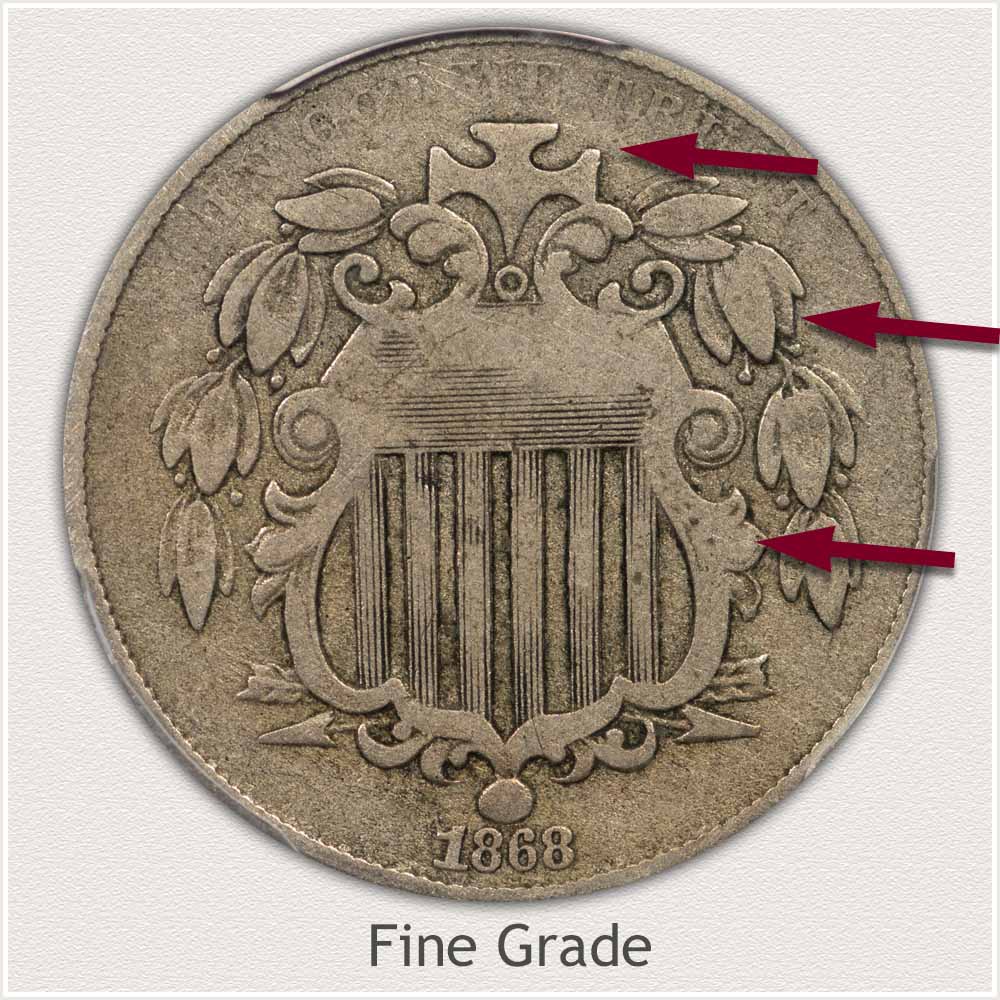 Obverse: Features Identifying the Fine Grade: Noticeable wear and areas of heavy wear catch the eye on a Fine grade example Shield nickel.
A cross once featuring high and low relief is now an outlined flat surface. No inner details are visible.
Leaves of the two olive branches remain outlined, however, flatness of leaves now extends well into the body of the leaf. Top leaf is separated from those below in the majority of leaf clusters.
Frame remains with some defining lines to smaller details. Blending of vertical lines in shield strips is minimal.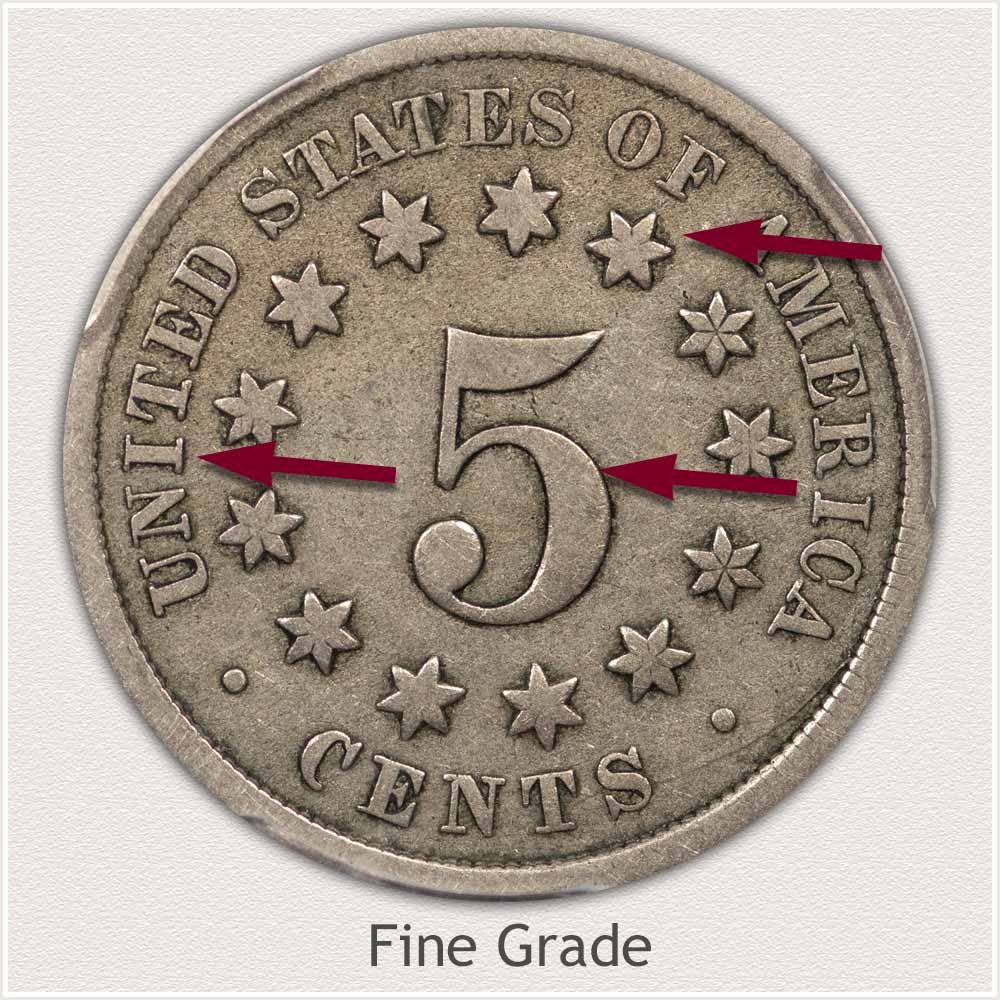 Reverse: Features Identifying the Fine Grade: All elements of design remain despite moderate wear on examples in Fine grade.
A full "5" is bold from the field and distinctly raised.
Stars are well defined with centers of many smooth and depending on strike, some radial lines in others.
Full lettering of legend remains clear and separated from rim.
Good Grade: Shield Nickel
Obverse: Features Identifying the Good Grade: Heavy wear is the impression of the Good grade. Most elements only in outline define the grade.
"In God We Trust" is visible, however often weak. A small amount of fading into the rim indicates a Good grade. Lower areas of lettering are clear.
Horizontal and many inner vertical lines to the strips are missing in areas.
Rim is faded in spots and visible in others. Note: Weakness of strike is common to Shield nickels, leaving some areas weak and opposite areas stronger. A weak motto is often offset by a strong date on the coin.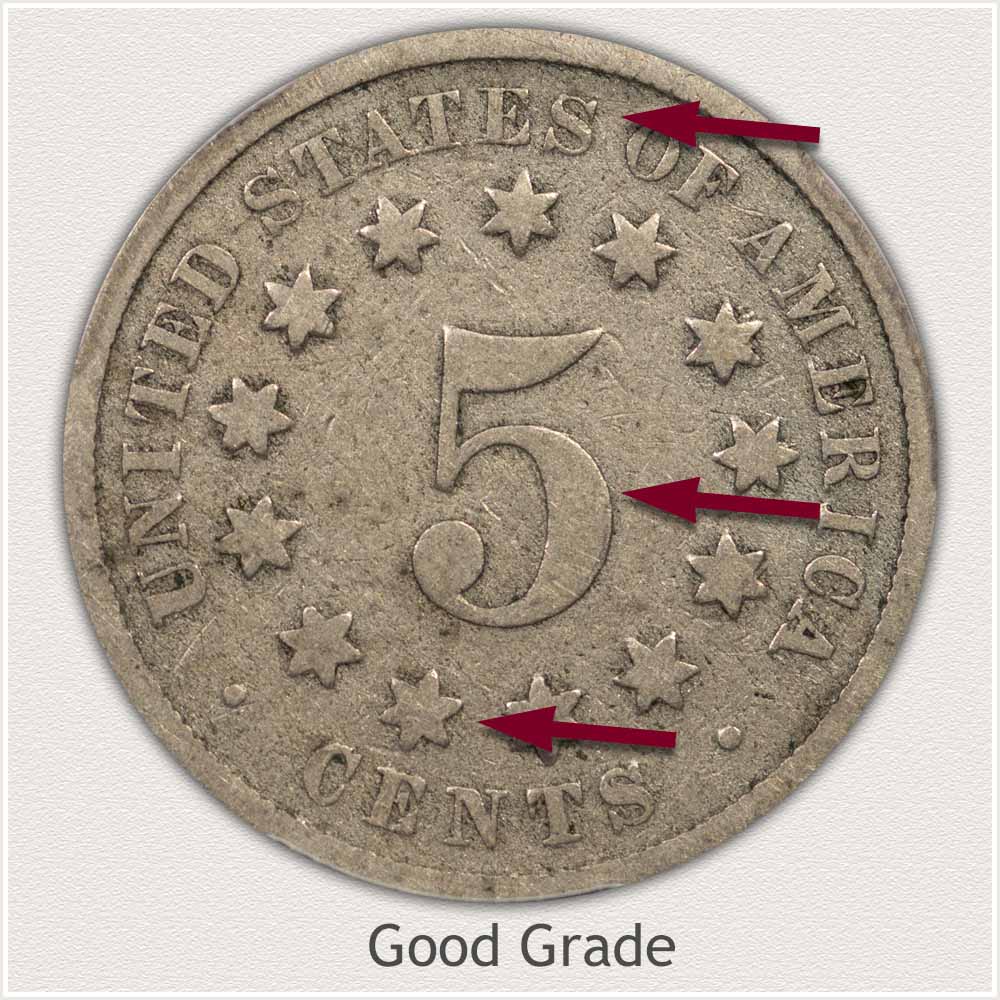 Reverse: Features Identifying the Good Grade: All elements to the design remain to confirm a Good grade reverse.
Numeral "5" is very flat but outlined.
Stars are complete, often raised higher than the numeral.
Lettering is clear and the rim remains. Reverse features of Shield nickels are often bold in original strike depth leaving a nice appearance to many examples.
Grading Shield Nickels Video
Aside from rare dates, the condition of a coin is everything. It determines the desirability and your Shield nickel value.
Video | Grading Shield Nickels
Professional Services to Grade High Value Coins
It takes time and skill to accurately grade a coin and distinguish the finer points that separate each grade. It is not an exact science. Dealers and collectors have their opinions, you have yours, and they can all differ slightly. However, if you have a coin you believe is rare and valuable...
Collectors and dealers consider PCGS and NGC as leaders in coin grading services. They both authenticate and grade your coin. The small fee you pay provides assurance you understand and receive the full value of your coin.
Step 3: | Special Qualities to Identify
Values of these old nickels vary widely beginning with date. Unfortunately, the design of the date is small. It is tucked just under the shield close to the rim. A close look is necessary aided by a magnifying glass. Highlighted are a few numerals similar appearance.
Recognizing Aesthetic Appeal of Shield Nickels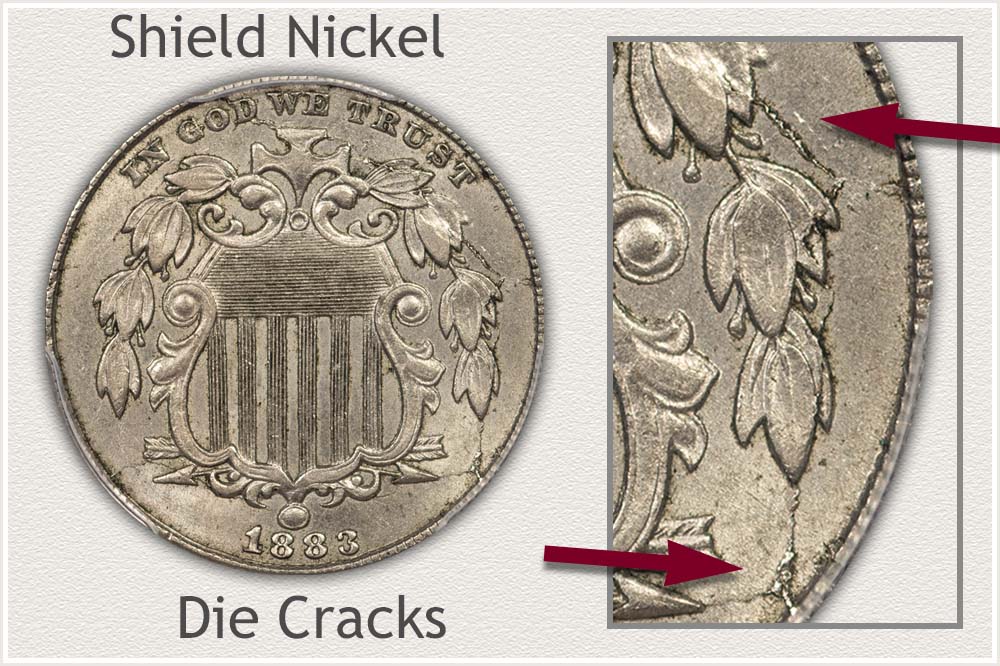 Of importance to collectors is overall look and quality. A nice eye-appealing coin finds its way into a collection faster than a lesser quality piece.
Coining a nickel alloy presented challenges to the mint. Hardness of nickel stressed the dies used to strike coins. Quickly cracks developed within the dies and resulted in raised lines on other wise flat areas of the coin. Comparing the two coins one is clearly of higher striking quality, lacking any raised lines from stress cracks. Both coins are without wear to the surface, qualifying as Mint State grade, however, the lower quality surface lower appeal and value.
Preservation of Shield Nickel Value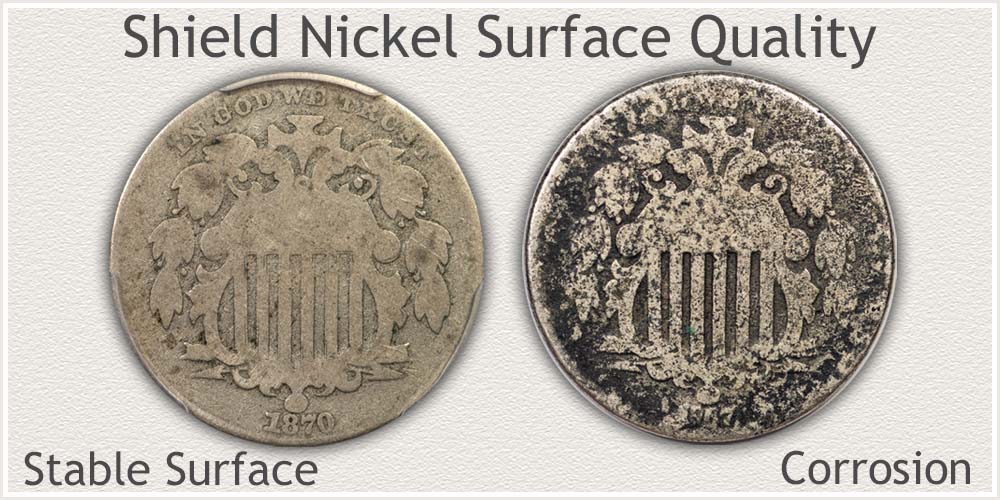 Both nickels are of the same condition and grade, heavily worn. A difference in appearance indicates the dark toned example was stored over the years in a humid area. Corrosion on the surface has eliminated its appeal to collectors, they place minimal value on these coins. Avoiding deterioration is keeping any coin dry. The nicer coin, an 1870 in Good grade, maintains its value listed on the chart.
References
US Mint. Catalogue of Coins of the United States https://nnp.wustl.edu/library/book/554591
US Mint. 1911 US Mint Annual Report https://nnp.wustl.edu/library/publisherdetail/51
Coin Values | CoinStudy Articles
Date by Date
In Depth Shield Nickel Value

Old Nickel Values are Ever Changing
Shield Nickels rise and fall in favor with collectors. However, their values generally rise and hold, waiting for the next wave of excitement. Return here whenever curious and stay current with your Shield nickel value.
Old Coin Values Using a Step by Step Method
A step by step method is used to discover old coin values. Beginning with identifying important dates and mintmarks. Next comparing your coin to images to judge and determine its condition and recognize its "grade". Value charts narrow how much coins are worth.
Shield Nickel Value is Boosted by Current Events
Today's modern nickel design changes are attracting attention to all Nickel coin series. More interest, creates more collectors and the result is higher values. Shield, Liberty and Buffalo Nickels should all benefit. Old nickel values are headed higher.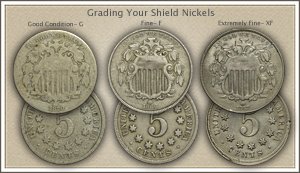 Video | Grading Shield Nickels
In-depth how to grade Shield nickels. Video along with images and descriptions identify key factors to the condition and assigning a grade.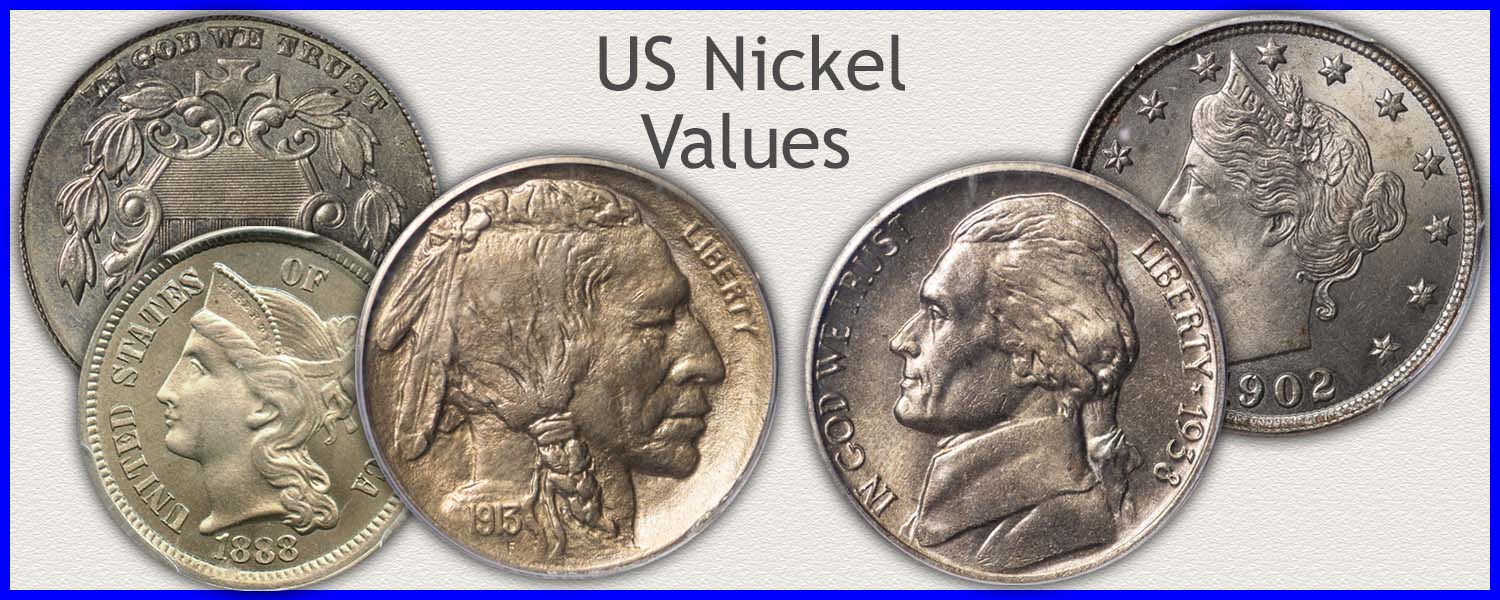 Return to... Old Nickel Values
The index page for Liberty, Buffalo, Jefferson and Three Cent Nickels. Discover your coin values by identifying the coin, matching to the grading images and look them up on the value charts.
Understanding value of your Shield nickels is a great first step to successfully selling these coins. Resources helping find markets is the next step.
Do you have other denominations?
★ Coin Values Discovery finds Shield Nickel Value and...
All old US coin values. It is an excellent index with images and text links to all coin series, from Cents to Gold. Value charts, grading images and a step by step procedure uncovers how much your box of old coins is worth.