Coin Values Moving with Precious Metals: Up-Dated 9/25/2023: Gold $1921 | Silver $23.44
Half Dime Value is Moving Higher Yearly
A very desirable coin, your half dime value rises depending on the date, the mint that produced the coin, and how much wear and abuse it has received. Using a step by step method, identifies the series of coin, and important varieties, plus date and mintmark combinations. Value charts of the series confirms value.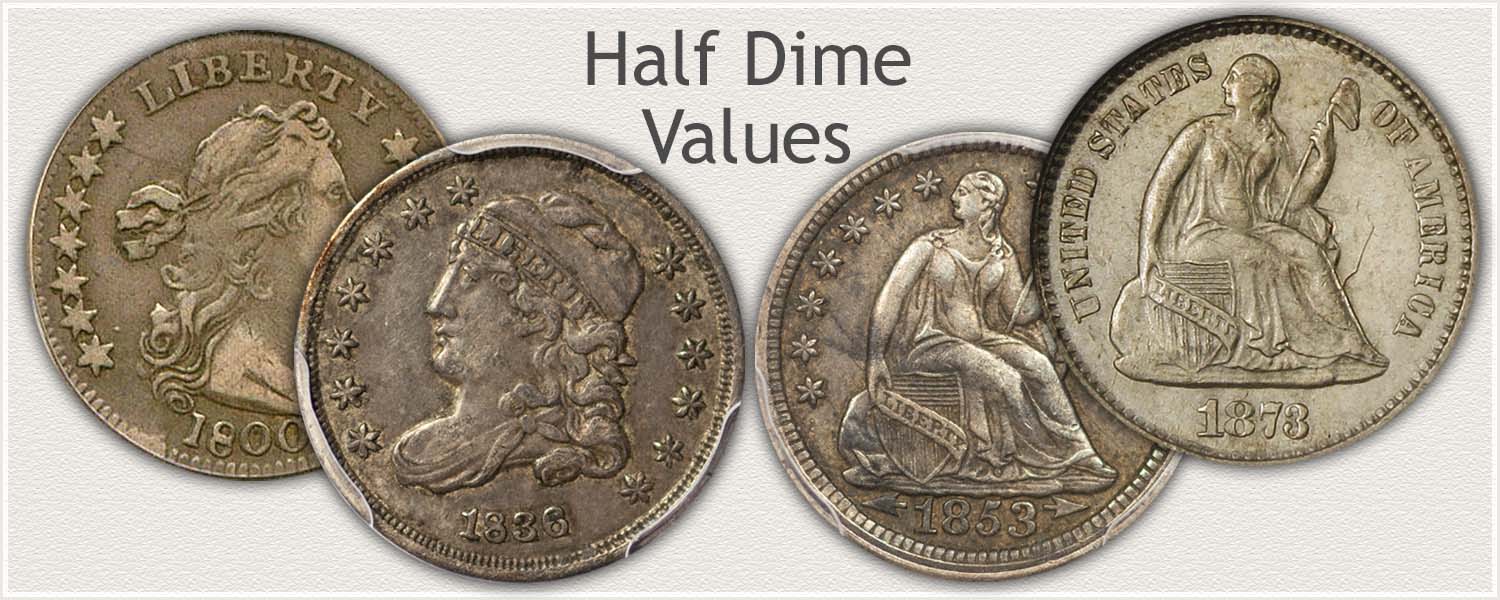 Steps Leading to Value:
Step 1: Recognize the Different Series of Half Dimes - Minted at the beginnings of US coinage, a series of different designs, varieties and sub-varieties are identified.
Step 2: Date and Mintmark Variety - Important and rare half dimes are recognized by date and mintmark - the branch mint varieties.
Step 3: Grading Condition - Judging condition is done with a close inspection of the surface. Each half dime series is compared to standards using images and descriptions.
Step 4: Special Qualities - Collectors are the solid base to half dime value. Qualities are examined to separate highly sought collectible examples.
How to determine half dime value begins with identifying series. And is further refined noting the different varieties within the series. Examine your coin and compare to the following images to find a match.
Note: Images within blue borders are Links to the in-depth coverage of the half dime series.
Step 1: | Recognize the Different Series of Half Dimes
An historic and important US coin, values for the early half dimes have steadily risen over the years. Scarce and in demand, the state of preservation is important to collectors. Judge your coins carefully using the grading images and discover how much they are worth.
Many rare and valuable date and mintmark combinations are found in this classic Seated Liberty half dime series. A slow and deliberate evaluation of dates, mintmarks and condition is necessary to determine an accurate value. Following these steps often has surprising and positive results. Check the grading images combined with value charts of this scarce US coin.
Step 2: | Date Plus Variety and Mintmarks are Identified
Date and mintmark combinations make up the majority of collector sets of old dimes. Each series have the commonly found dates and scarce to rare dates. Usually this is a factor of original mintages.
Dates in the early era Bust coinage is noted with few struck each year and continual use in commerce. Demand from collectors today has identified how truly scarce any half dime minted 1794 to 1837 is. Low production, low number available, and solid value.
Seated design series, 1837 to 1873 were struck in far greater numbers, mintages topping one million in some years. Towards the end of the series many dates saw declining numbers produced, exact date is very important. Older dates are often not as scarce as later dates.
Branch mints added to the number of varieties beginning in the 1840's using a mintmark to identify their coinage. Current collectors seek examples of these mint marked varieties to complete a set. Mintmark identification is needed to accurately attribute a coin.
🔎Step 1 above are image links to identify and match your half dime series. Visit the series page for value charts.
Step 3: | Grading Condition | Half Dime Value is Conditional
Judging the condition of your coin is a process of comparing to images showing different stages of wear. Each stage is identified with a "Grade" notation. Used by collectors; grades noting condition is used in the value process. Highest condition are Mint State grade half dimes and stages of wear are further defined.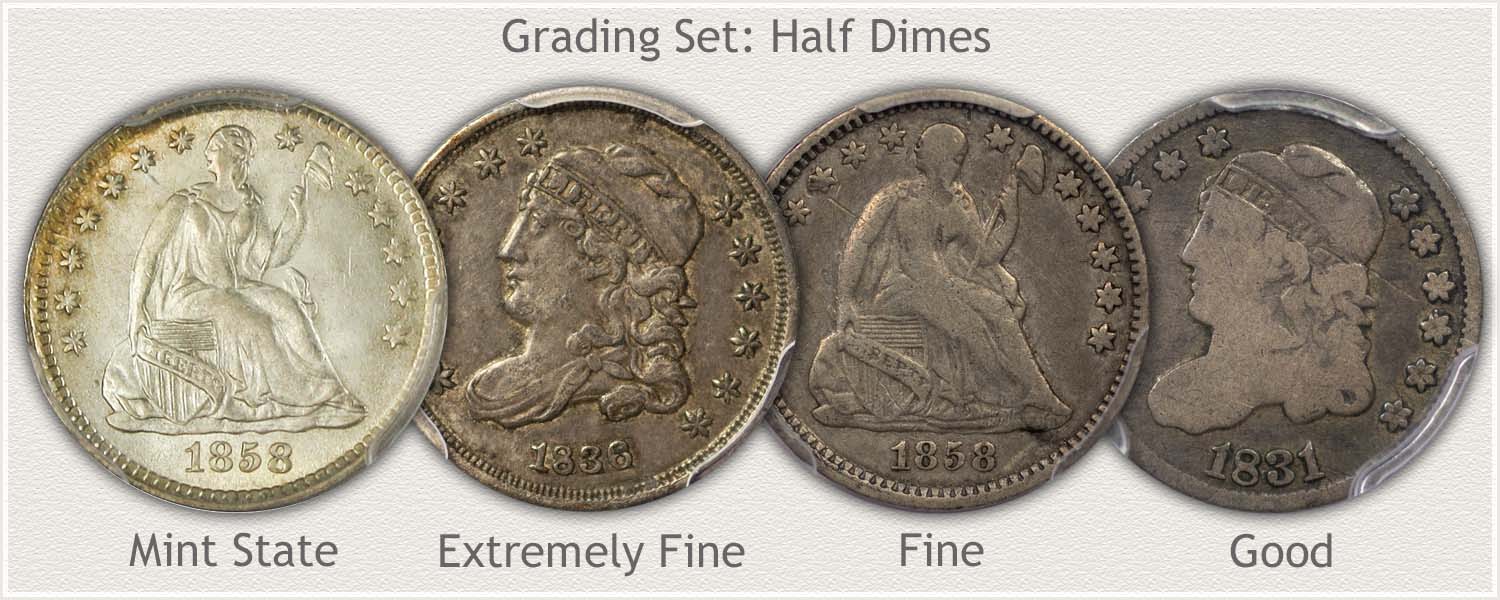 Mint State Grade: If all parts of the design are absent of wear the coin is considered for the Mint State grade. Close inspection of specific fine details is done to detect original surfaces. Wear removes the "grain" of the metal, a term describing luster and texture of the surface. Detailed descriptions and images help judge the mint state grade.
Extremely Fine Grade: When coins are used in commerce, small amounts of wear occur on high points of design. Early Bust half dimes are inspected to identify condition of Liberty's hair and gown, where small high relief details are subject to wear. Depending on condition and remaining detail, a coin is in Extremely Fine grade.
Fine Grade: A typical Fine grade coin is best described as moderate wear on highest points and minor wear on lower relief areas. The seated design series in Fine grade shows flatness across the head and body of Liberty, with flat areas connecting. Wear is lighter in the deep folds of her gown.
Good Grade: A heavily worn coin is given a "Good" grade to denote its condition, lacking most detail. Major design elements are now flattened to just outlines. Few of the smaller details remain visible. These very worn coins must, however, show a readable date and some lettering along the rim.
🔎Step 1 image and text links lead to series pages of in-depth grading coverage. Close-up images and descriptions of grades are used to judge condition.
Step 4: | Special Qualities Enhancing Value
To have market value, old coins must have a certain "eye appeal". Coins with few distractions; mark free surfaces, intact rims, and pleasing toning are appealing.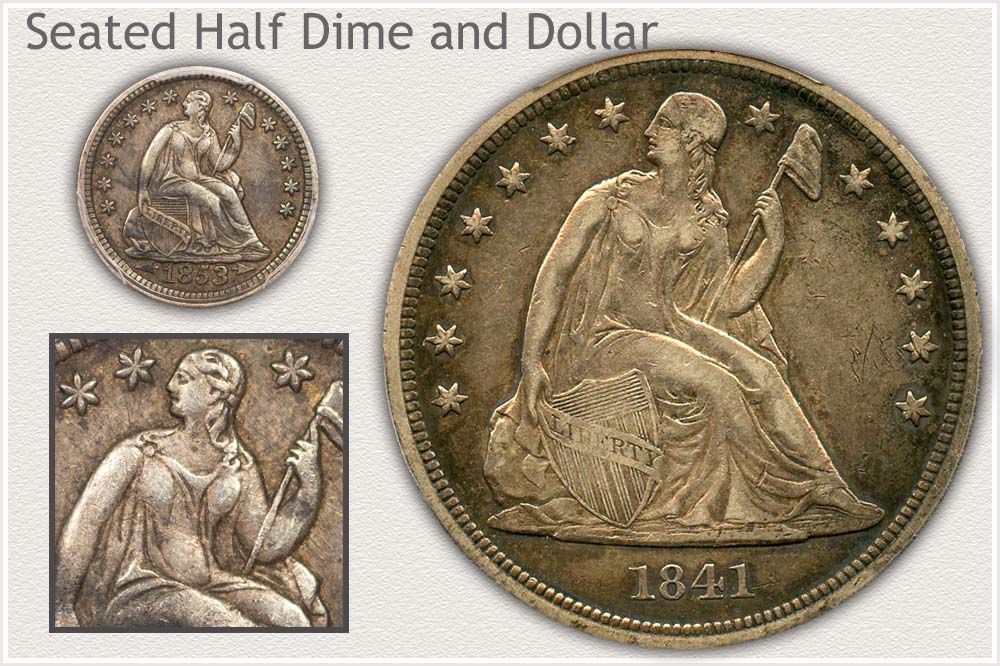 Half dimes when compared to their larger dollar denomination are in need of special qualities to help overcome the size difference. A small size coin; Seated half dimes when lightly circulated, toned a pleasing shade, and free of marks is a quality collectible.
Collectors naturally have a close look at coins. The close-up view of the half dime shows detail as nice as the dollar. Rendering of the design on the half dime is just as intricate as the dollar. Despite its size; half dimes are aesthetically pleasing. Collectors seek coins with the qualities portrayed by both coins. Both coins are also scarce with these qualities, popularity and size is the difference in value.
Despite lower values, because of the lack of popularity, consider any half dime of collector quality as a strong value.
🔎Match your coin to the image links in Step 1 and visit; how to determine in-depth values of your coin.
Coin Values | CoinStudy Articles
A study of Registry Set collection totals begins to identifies popular coin series. US coins are diverse in design and series. Collectors enjoy many themes of interest. Popular denominations and series are listed in order.
Safe Coin Storage | Recommendations
Recommendations on basic supplies that greatly improve coin storage. Providing for safe handling, preserving of value and organizing your box of old coins.
Old Coin Values Using a Step by Step Method
A step by step method is used to discover old coin values. Beginning with identifying important dates and mintmarks. Next comparing your coin to images to judge and determine its condition and recognize its "grade". Value charts narrow how much coins are worth.
Selling Coins | How to Get the Best Value
Selling coins for the highest price is achieved with planning. Research and organize well, value your coins accurately and then finding and selling to the right buyer equals excellent results.
Selling your coins is always a challenge. However, you have taken big steps towards understanding what is involved in determining your half dime value and getting your best deal.
★Coin Values Discovery... Finds Half Dime Value and...
All old US coin values. It is an excellent index with images and text links to all coin series, from Cents to Gold. Use the step by step method to value charts, grading images and descriptions, uncover how much your box of old coins is worth.