Coin Values Moving with Precious Metals: Up-Dated 3/30/2020: Gold $1605 | Silver $13.85
Mercury Dime Values
Mercury dime values start at $1.01 each. With silver at $13.85 an ounce, all silver dimes have this minimum value.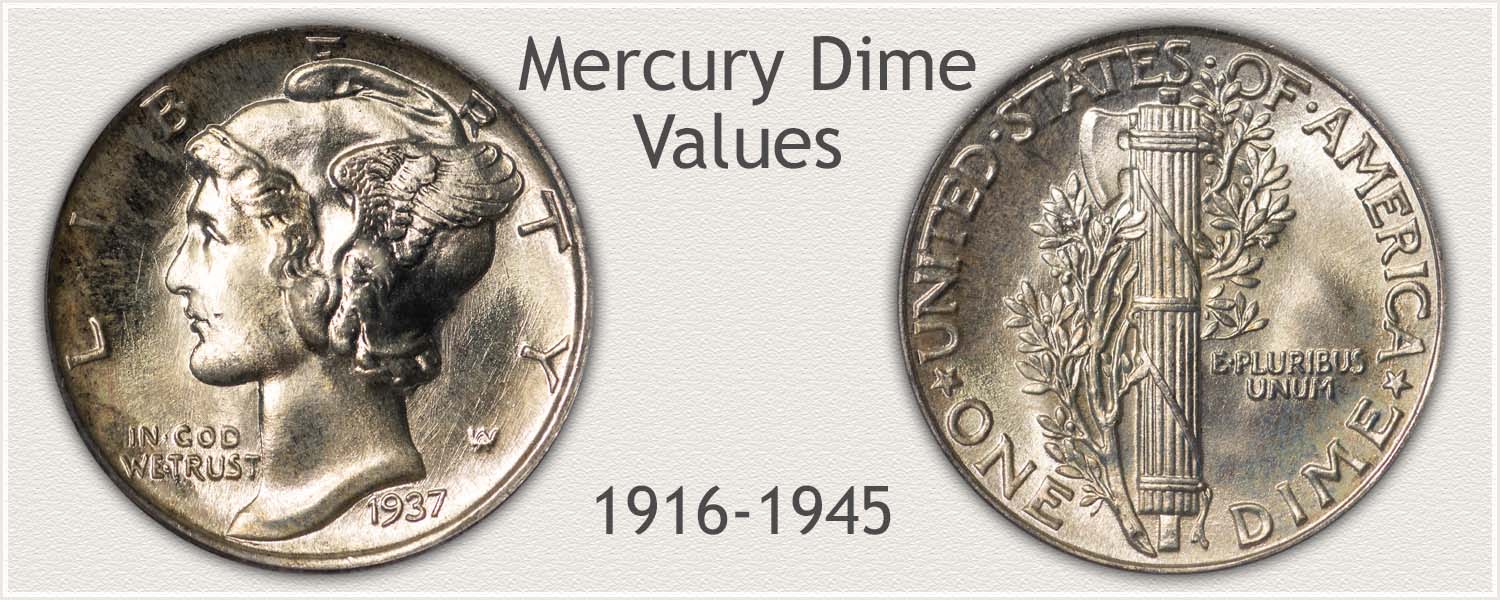 Find one minted in the early years, 1916-1930 and the value often rises to $1.22 each, with many having a value of $9 to $35 or more, in very nice condition.
Discover a rare date in your group, such as the 1926-S, even in heavily worn condition it is worth $9. Hopefully the 1926-S you find is in "Extremely Fine" condition and now a $213 coin.
Rare dates and mint marks are two key factors affecting Mercury dime values. Also, the condition of your coins is important in determining how much your Mercury Dime is worth.
A nice mint state Mercury dime pictured, because of its beautiful condition is worth $20 and perhaps higher.
How to judge the condition of your coins, known as "Grading" is covered in detail below. But first, to see just how high your Mercury dime values have climbed...
Mercury Dime Values - What Dealers Pay
The following chart clearly shows the wide range in values. From $1.01 to hundreds, depending on dates, mint marks and condition.
The above are wholesale Mercury dime values. Computed from dealer's price lists with various mark-up factors figured in. They reflect closely the value you would expect to receive when selling.
Variations in value do occur subject to subtle grading points, collector demands and dealer needs. For more background information, see how value listings in the Coin Value Guide are determined.
Special Note: Mercury dimes dated 1940-1945 are generally collected in Uncirculated grade. The values normally range from $5 to $30 depending on how nice the uncirculated condition. The fewer marks, brightness of luster, beauty of toning, fullness of strike all have a role in determining Mercury dime values.
Mercury Dime Values Rise With Condition
Mercury Dime values are tied directly to their condition. Whether a rare date or a common one, values rise with rising condition. Collectors want the nicest for their collections and are willing to pay a premium for high condition coins.
Compare your coins to the grading images below, find the closest match and assign each of your coins a "Grade".
Grading a coin is straight forward, as a coin circulates, elements of the design wear and disappear. Each stage is assigned a grade.
Examine closely the Fasces on the reverse. All vertical lines showing separate a coin in Fine condition from one in Very Good condition where some lines are worn smooth and not separated. Very nice coins are crisp and sharp in all the details and have a grade of Extremely Fine.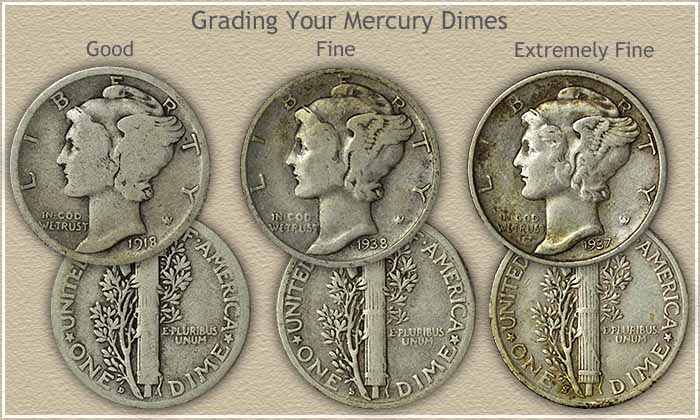 It is important to understand Mercury dime values rise sharply if the coin is Uncirculated. Meaning showing no signs of wear. Sometimes difficult to determine if your coin is toned.
Judging the condition of your old dime is covered in detail. Visit: Grading Mercury Dimes | Video demonstrates a step by step process to judge condition and assign a grade. Video proceeds through grading dimes in various states of wear and conditions. Detailed descriptions and close up images highlight the standards used to confirm each grade.
Help is available to decide the grade. If you discover your coin is worth $100 or more...
Collectors and dealers consider PCGS and NGC as leaders in coin grading services. They both authenticate and grade your coin. The small fee you pay provides assurance you understand and receive the full value of your coin.
It is helpful to know grading a coin is not an exact science. It is your opinion, dealers and collectors have their own opinions... and they can all differ slightly.
Coin dealer and auction listings are very useful. Look for these offering Mercury Dimes for sale, their listings and prices usually include a notation of the NGC and PCGS assigned grade. Additionally... these coin dealers are potential buyers of your coins.
Finding The Valuable Mintmark
Accurately determining your Mercury dime values involves the date, condition, and the mint that produced the coin. A Mintmark was used indicating which branch mint produced the coin.
An "S" for the San Francisco mint, and a "D" used by the Denver Mint. The main mint in Philadelphia also struck Mercury dimes, but at the time did not place a mintmark on coins.
Locate the mintmark on the reverse, along the rim at the bottom, at the left side.
Mercury dimes, once you get to know them are an interesting series to collect. Consider your group of coins as the beginning of a coin collection. If that is not for you and you don't become a collector, one successful approach is to sell all of your coins and use the proceeds to buy one nice rare coin. The one you were hoping to find in the box. Pass the thrill of a "rare" coin on to your children.
Mercury Dime Values Moderate to High
Five dates steal the show. Firstly the 1916-D is considered the key to the series and the one lacking from most collections. This coin has been valuable for decades, $594 in Good condition today.
The 1921 and 1921-D, $42 to $59 in Good condition, rising to over $104 and $161 in Fine condition. Followed by the 1926-S with a minimum value in Good condition of $9.
Lastly the 1942/1. A stunning overdate that has gained in popularity and value, over $249 each. Take a good close look at your Mercury dimes...
The fact these coins were overlooked and circulated long enough for some to show signs of heavy wear indicates you have a chance to find one in your box of old coins.
Always popular, check back and see how your Mercury dime values are doing. To find more coin values for other dime series...
CoinStudy Articles
Date by Date
In Depth Mercury Dime Values
1916 to 1945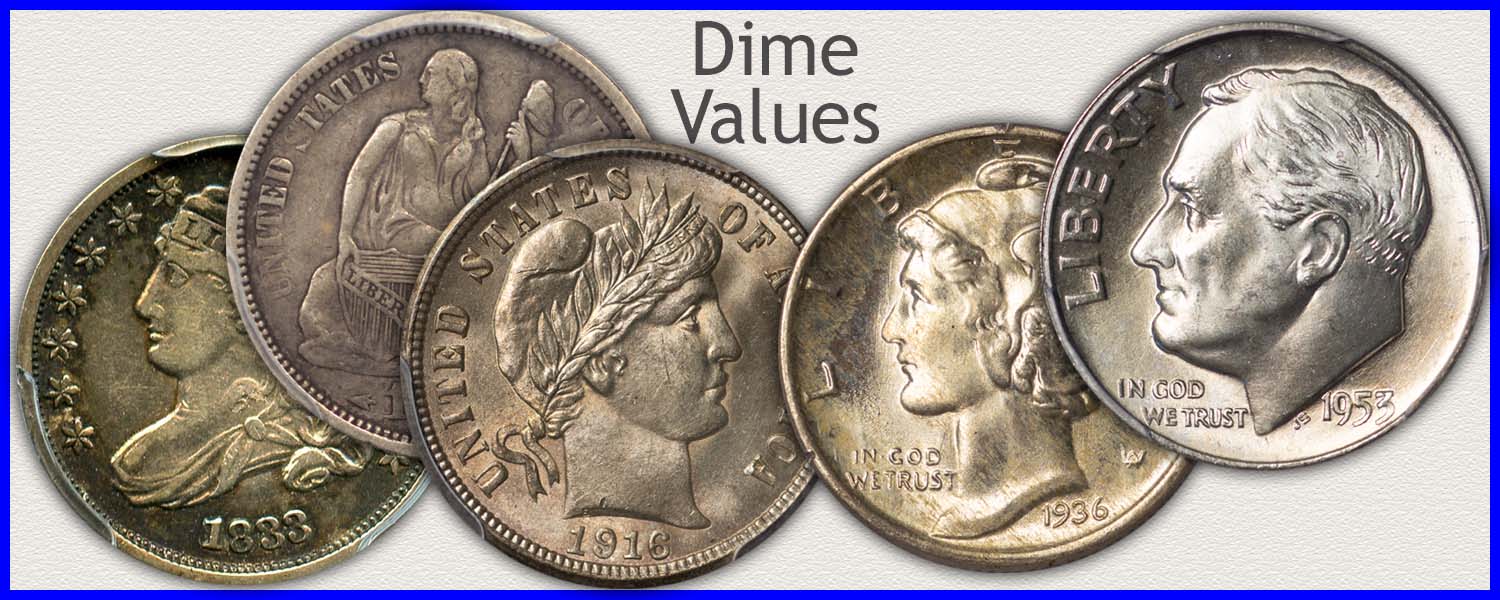 Discover how much your old dimes are worth. Bust, Seated Liberty, to Barber, Mercury, and Roosevelt Dimes. Compare your coins to the Grading Images to judge condition and coin value charts.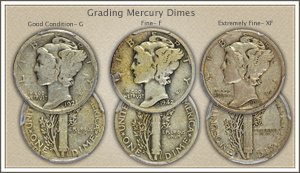 Collectors of Mercury dimes value a coin based on condition. Grading a coin is key. How to video demonstrates the grading process, detailed descriptions of the key elements to grade are highlighted with images. Determine an accurate grade and value of your old dime.
Do you have other coin denominations?
★Coin Values Discovery... finds Mercury Dime Values and...
All old US coin values. It is an excellent index with images and text links to all coin series, from Cents to Gold. Value charts, grading images and descriptions uncover how much your box of old coins is worth.
Print the Coin Values Worksheet to list your Mercury dime values. Should you decide to sell... use the worksheet as an invoice and packing slip when sending coins through the mail to dealers. It indicates you have done your coin values homework.