Coin Values Moving with Precious Metals: Up-Dated 9/25/2023: Gold $1921 | Silver $23.44
Bust Dollar Values
Bust dollar values for this colonial series start in the hundreds of dollars. A majestic coin in size and design, follow a step by step method of identifying date and variety combination. Condition is key to an accurate value; grading images and descriptions narrow the range.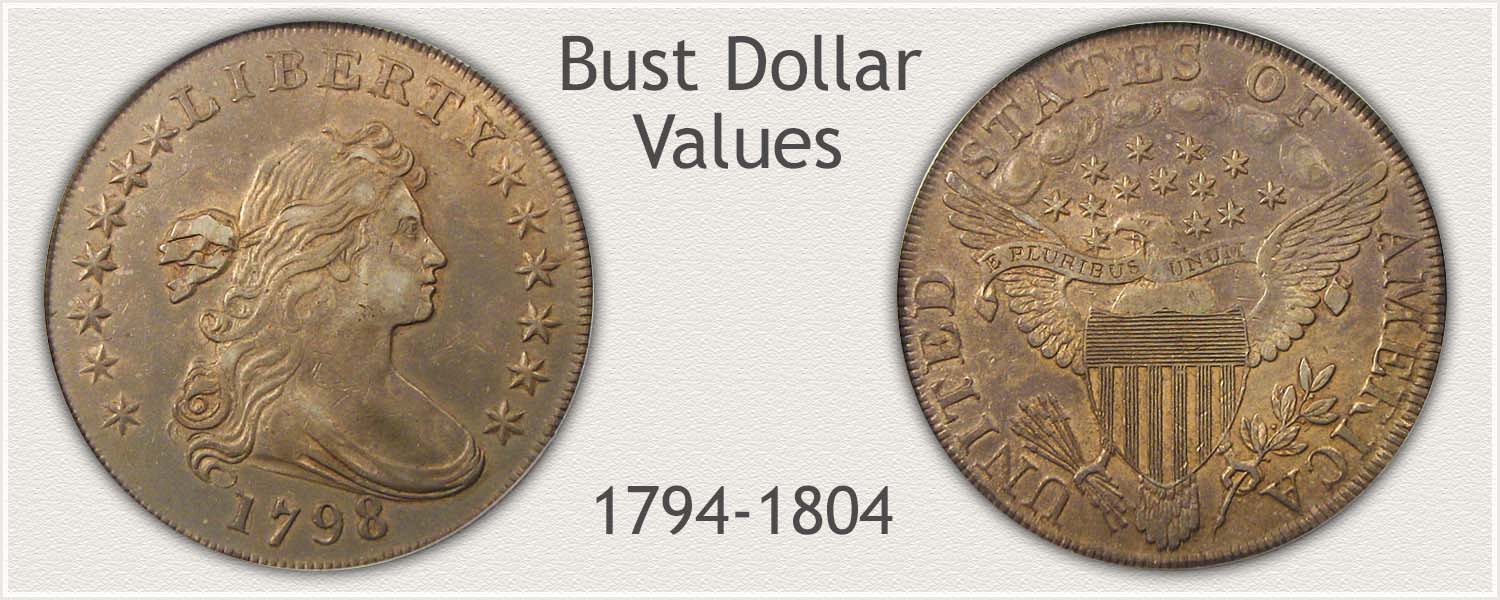 Steps Leading to Value:
Step 1: Date and Mintmark Variety - Different dates and varieties are identified.
Step 2: Grading Condition - Images and descriptions pinpoint the key areas to judge deciding condition.
Step 3: Special Qualities - High initial value requires a close inspection of quality.
Avidly collected and studied, there is a ready market for your coin. Judging the different combinations of date and variety and, adding judging condition is complex. Proceed slowly, review the value chart to understand the potential of Bust silver dollars.
The above are wholesale coin values. Computed from dealer's price lists with various mark-up factors figured in. They reflect closely the value you would expect to receive when selling. Variations in value do occur subject to subtle grading points, collector demands and dealer needs. However, Bust Dollars are very popular and currently in strong demand.
Step 1: | Variety and Date Identified
First US dollar coins were struck in 1794 with a flowing hair design to Liberty. An eagle with wings outstretched pointing downward is within an olive wreath on the reverse. This design carries the dates 1794 and 1795 and is a very scarce coin today. A new design was produced within the first years.
All varieties of Bust dollars were struck at the Philadelphia mint, still new in 1794 and adding capabilities.
Draped Bust Dollar: Small Eagle Variety 1795 to 1798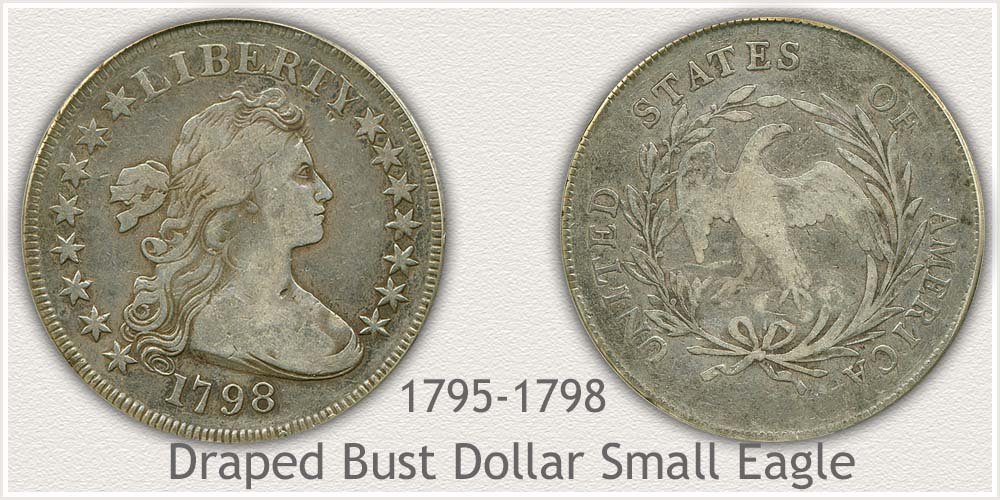 Liberty's portrait was redesigned, locks of her hair are now drawn back and tied with a ribbon. A draped gown was added and stars and legend remain surrounding the rim. An eagle similar as the first is now within a wreath of olive and palm branches. All of the variety with the small eagle reverse are scarce and desirable.
Draped Bust Dollar: Heraldic Eagle Variety 1798 to 1804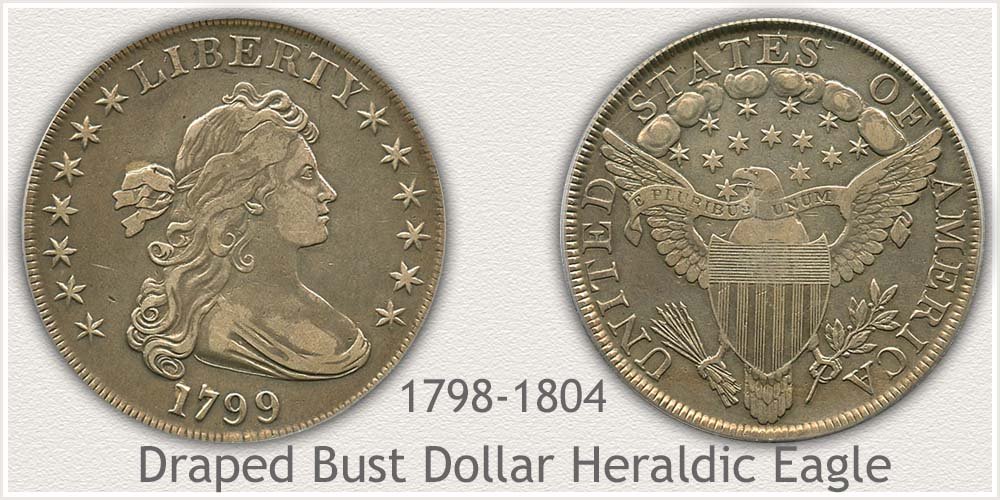 The major change of the variety is the Heraldic eagle reverse. Now the eagle is more formal with the US shield on chest. Thirteen arrows are in the right claw and olive branch in left. Held in the eagle's beak is the scroll inscribed E Pluribus Unum - (of many, one). Completing the design are clouds and stars above the eagle. Production of the Heraldic Eagle variety approached 900,000 pieces. They are an historical coin from the early days of US mintage. Many factors contribute to value. Condition is judged next in Step 2.
Step 2: | Judging Condition Determines Grade | Narrows Value
Values of these majestic coins is dependent on collectors. They are searching for the best condition coins they can afford for their collections. By necessity, each coin is carefully examined and the amount of wear is determined. A "Grade" is assigned and from there an accurate value begins to emerge.
Condition Discovers Bust Dollar Values
Understand a large difference in value is often due to a small difference in wear. Compare your coins to the grading images below. Look closely at the amount of hair detail on Liberty and feather detail on the eagle's wings. Don't clean or rub your coins to get a clear view, use a magnifying glass. These coins are that important.
If your coin is in nicer condition than Fine grade, seek professional services as to grade and authenticity. See Step 3 for help in authenticating a grading.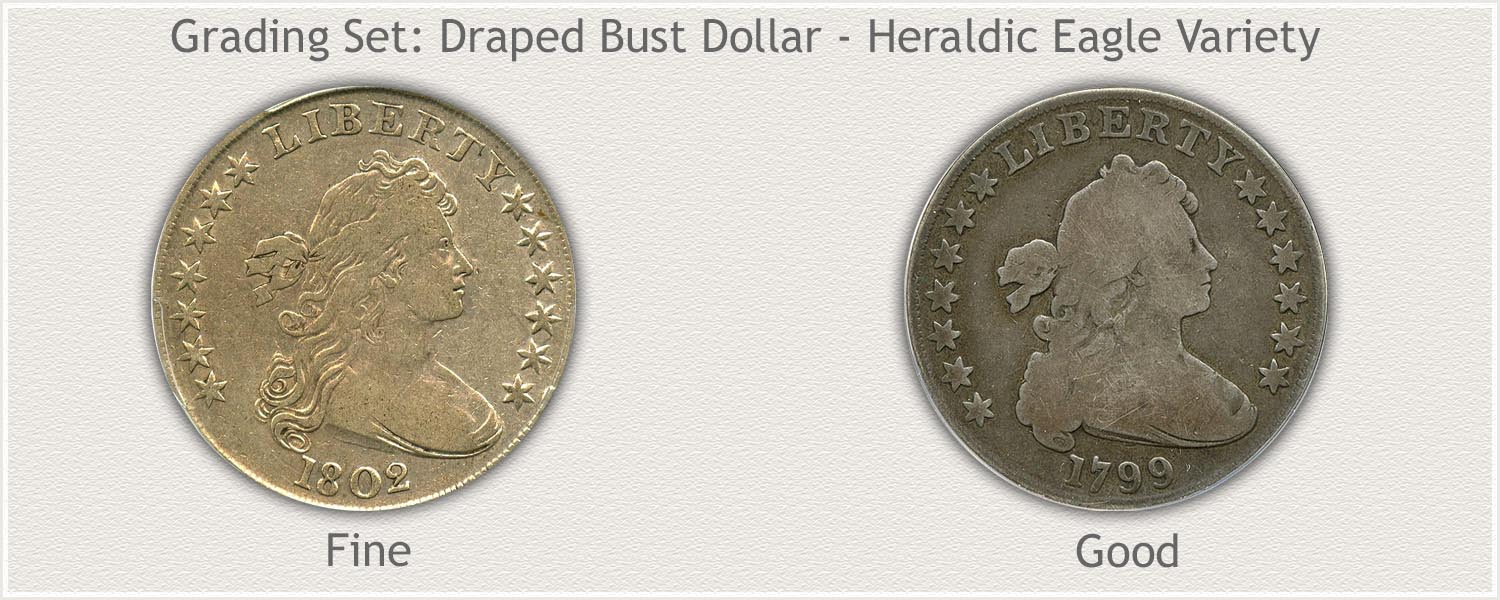 Fine Grade: Draped Bust Silver Dollar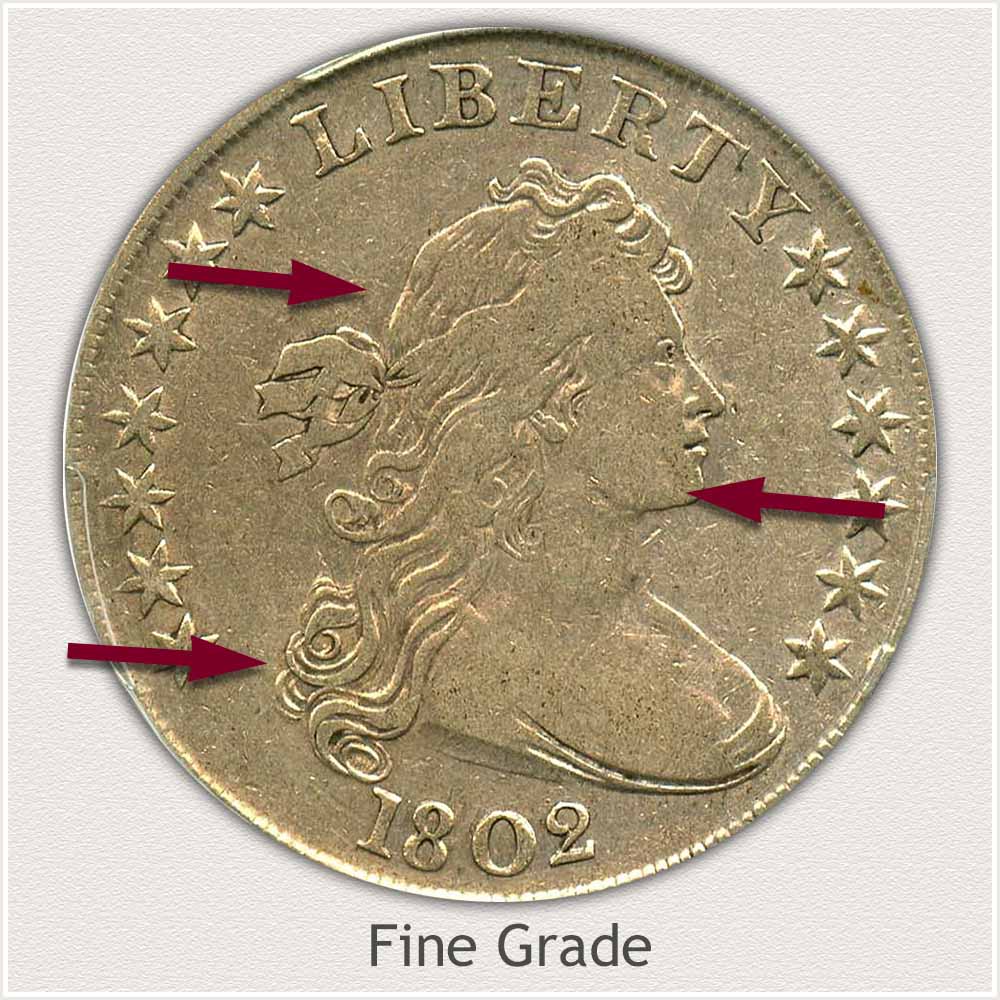 Obverse: Features Identifying the Fine Grade: Wear is moderate over the entire surface. Many bold details remain.
Hair at the back of Liberty's head is visibly separated from the major waves over her ear. Although the major wave is weak and faded.
Liberty's cheek is flattened, her shoulder is flattened, however, a slight contour spans her neck to chest.
Curls of hair at back of neck and shoulder are well detailed. Major lines and strands are free of merging.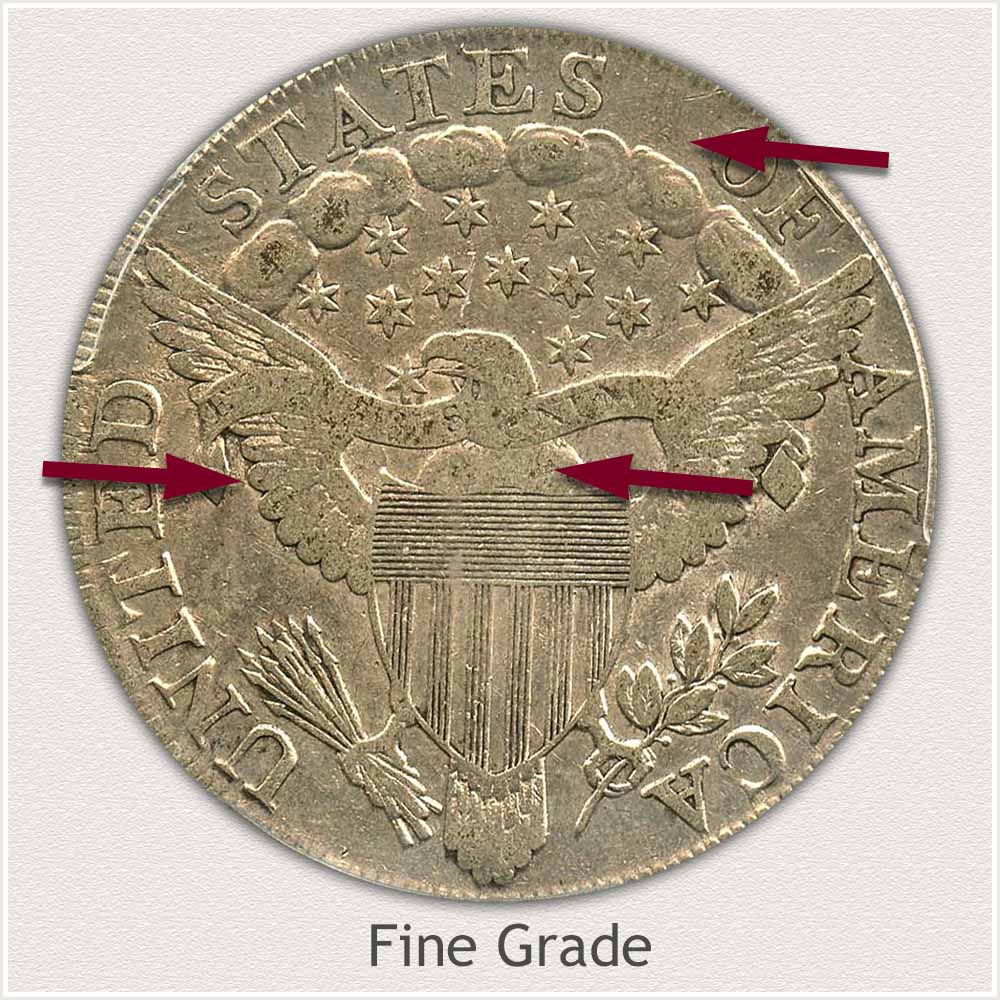 Reverse: Features Identifying the Fine Grade: Many bold details remain on the reverse. Eagle has a few feathers visible and a sharp outline to the claws.
Three clear rows of feathers are visible on the wings. Some blending is towards the top edges with clear detail towards the ends of the feathers.
Top upwards sweep detail of the shield faded but visible.
A moderate amount of the high profile of the cloud detail is flattened. Clouds retain a raised contour and are bold from the field.
Good Grade: Draped Bust Silver Dollar
Obverse: Features Identifying the Good Grade: Liberty is well worn and fully represented and bold. Wear has reduced most details to faint or missing.
A complete outline of Liberty remains raised from the field of the coin.
Hair strands are visible at the back of Liberty's neck. Merging of strands has occurred, however major strands show separation.
A strong rim shows along most of the edge. Note: rim height varies on many coins due to strike, some variance is in definition is expected.
All lettering, date, and stars are visible.
Reverse: Features Identifying the Good Grade: Completeness of major elements are key to achieving the Good grade.
Most small details of the eagle are worn flat. Wing feathers are smooth and head are smooth. A complete outline remains including tips of wings.
Many stars above the eagle are faint but all are visible. Clouds are also visible.
Legend is readable with fading only at the tops of letters. Most letters are separate of the rim.
Step 3: | Special Qualities Enhancing Value
Authenticity is one of the greatest qualities of these old Bust dollars. Minted in limited quantities in comparison today and now scarce, authentic examples are an historic coin. However, over the years because of the high value, Replicas have been produced. A replica of US coinage, if marked as "Copy" is lawful and legal to sell as a novelty. They are sold today, often bearing the extremely rare 1804 date. It can lead to confusion because of the unfamiliarity of original pieces.
Additionally, counterfeits (unlawful examples) are known of bust dollars. Meant to deceive, these try to match as closely to original coins as possible. Levels of quality are found in counterfeit coins, many are low quality, and identified quickly. Others are high levels of sophistication and deceptive. The high values of bust dollars attract counterfeit attempts.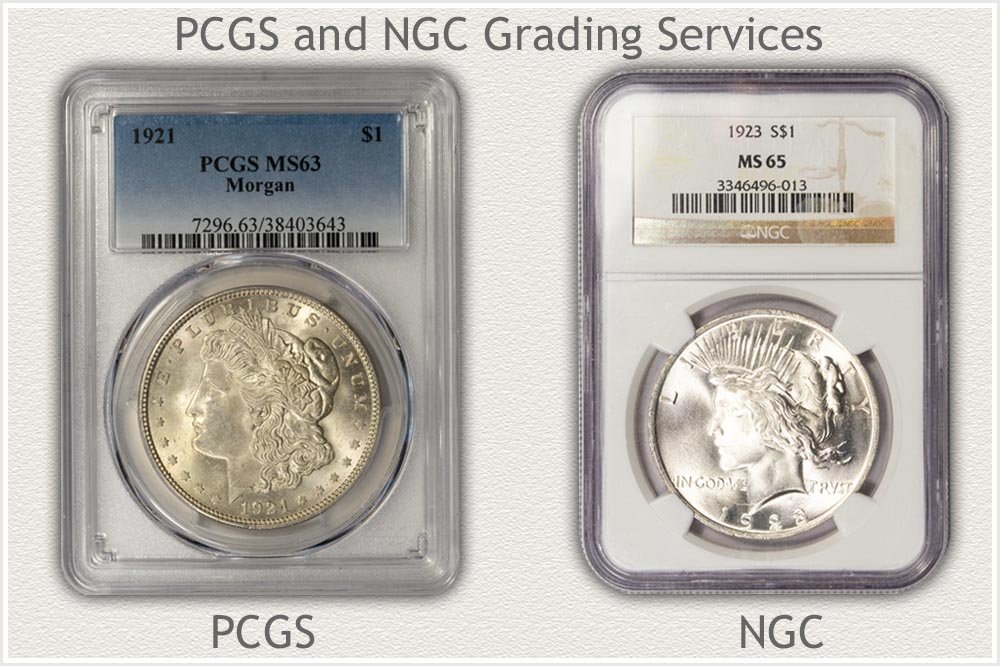 Grading Services both authenticate and grade coins. Submitting coins worth over $100 to a major grading service is routinely done by collectors and dealers. Benefits the marketability of the coin and assurance against counterfeits. All Bust dollars are candidates to send to one of the top two services. Professional Coin Grading Services (PCGS) and Numismatic Guaranty Corporation (NGC) are the industry leaders.
An additional benefit, each coin is housed in special, protective holder. Identity of the coin's grade is marked on holders and attribution of special varieties is often requested for bust dollars, further increasing the value of the coin. PCGS and NGC is an insight to the services. Visit each, both have listing of dealers who help advise and assist in the authentication and grading process.
References
US Mint. 1892 US Mint Annual Report. https://nnp.wustl.edu/library/book/316
US Mint. Catalogue of Coins of the United States. https://nnp.wustl.edu/library/book/554591
Coin Values | CoinStudy Articles
Values in the Future? Bust dollar values are headed Up... sometimes quickly, often steadily year by year. Values are driven by collectors who consider these majestic coins very desirable. They often specialize in only Bust Dollars forming extensive collections.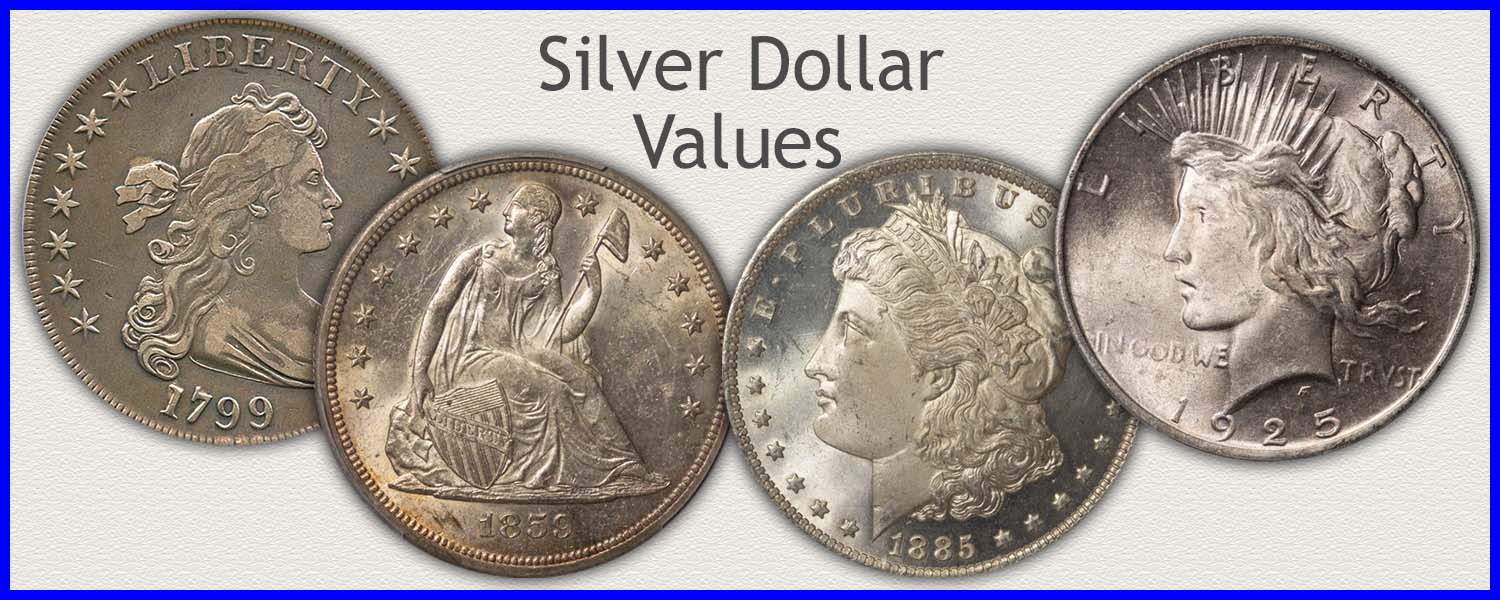 Silver Dollar Values | Remarkable
Coin values spanning 140 years. Discover the many rare dates, mintmarks and varieties. Next, "Grading" Images to evaluate the condition of your coins and find the true value of your silver dollars. From early dollars in 1794 to the Liberty Seated variety 1840-1873. Next the ever popular Morgan Dollar to the Peace Dollars ending in 1935.
More coin value charts and series
Coin Value Guide | How to Value a Coin Collection
A step by step method combined with the coin value online guide identifies how to value a coin collection. Discover how much your box of old coins is worth.
★ Coin Values Discovery finds Bust Dollar Values and...
All old US coin values. It is an excellent index with images and text links to all coin series, from Cents to Gold. Value charts, grading images and a step by step procedure uncovers how much your box of old coins is worth.
Selling Coins describes the different types of markets, and the type of coins to match each market. Extra effort for sure, but finding the best coin buyers yields the best results.
Print the Coin Values Worksheet to list your Bust dollars and record their values. Should you decide to sell... use the worksheet as an invoice and packing slip when sending coins through the mail to dealers. It indicates you have done your coin values homework, very important with today's high values.