Coin Values Moving with Precious Metals: Up-Dated 9/18/2023: Gold $1928 | Silver $23.14
Seated Liberty Quarter Values
Seated Liberty quarter values begin at $19 to $20 each. These values are for the common date coins in heavily worn condition, known as "Good" grade by collectors and dealers.
A step by step method is used to identify the value of your coin. Important varieties are imaged, dates and mintmarks are highlighted, and grading the condition is done by comparing to images and descriptions. A popular series, many of these old quarters are worth well above minimum value.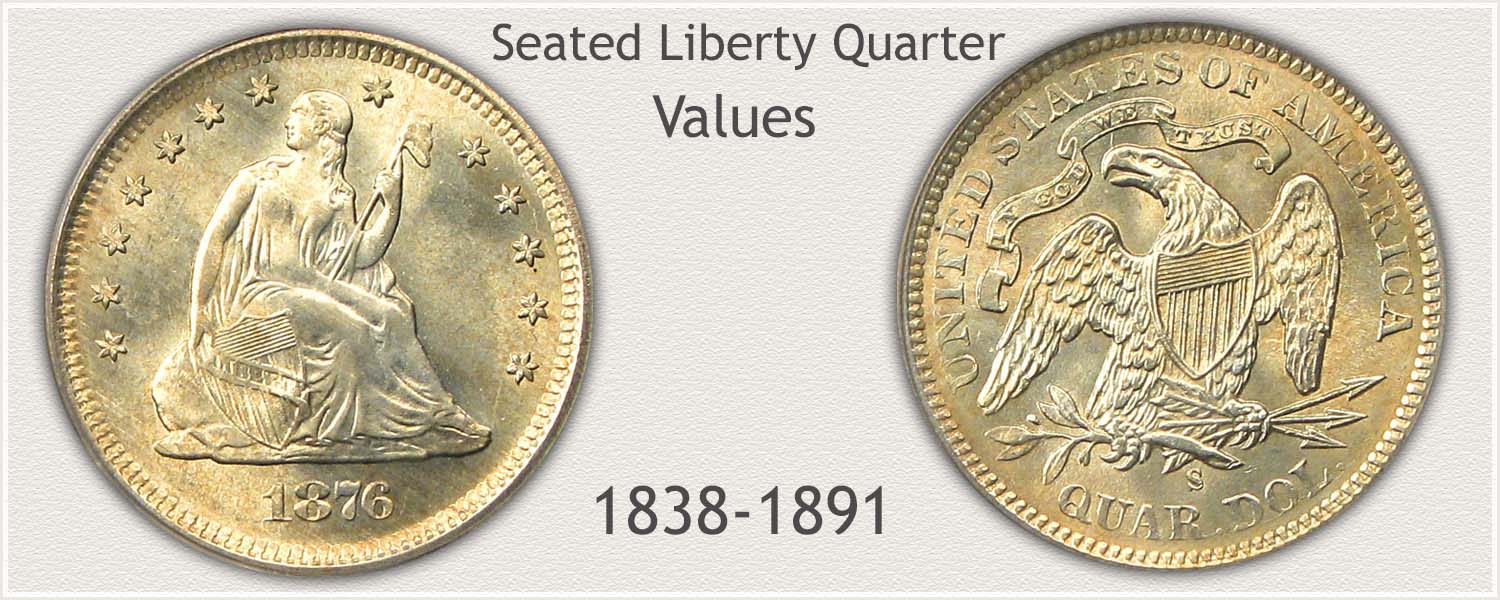 Steps Leading to Value:
Step 1: Date and Mintmark Plus Variety - Correctly Identify the Important Variety Plus Date and Mintmark.
Step 2: Grading Condition - Judging Condition Following Descriptions and Images.
Step 3: Special Qualities - Recognize the Popular Sub-Varieties. High on Collector's List.
The following chart shows clearly the wide range of coin values from one date, mintmark, and grade. By examining coins closely, and taking your time, you determine an accurate value.
The above are wholesale coin values. Computed from dealer's price lists with various mark-up factors figured in. They reflect closely the value you would expect to receive when selling. Variations in value do occur subject to subtle grading points, collector demands and dealer needs.
If your coin is not listed above, it is seldom encountered. For additional reference... CDN publishes an extensive fair market value price guide, covering retail Seated Liberty Quarter Values in detail.
Step 1: | Date and Mintmark Plus Variety are Identified
The Seated Quarters series is collected by two main design varieties. First variety; 1838 to 1865 and second variety; 1866 to 1891 when the motto "In God We Trust" was added to the reverse design. Each major variety has within sub-varieties, adding interest to the series and the need to identify.
Seated Liberty Quarter First Variety 1838 to 1865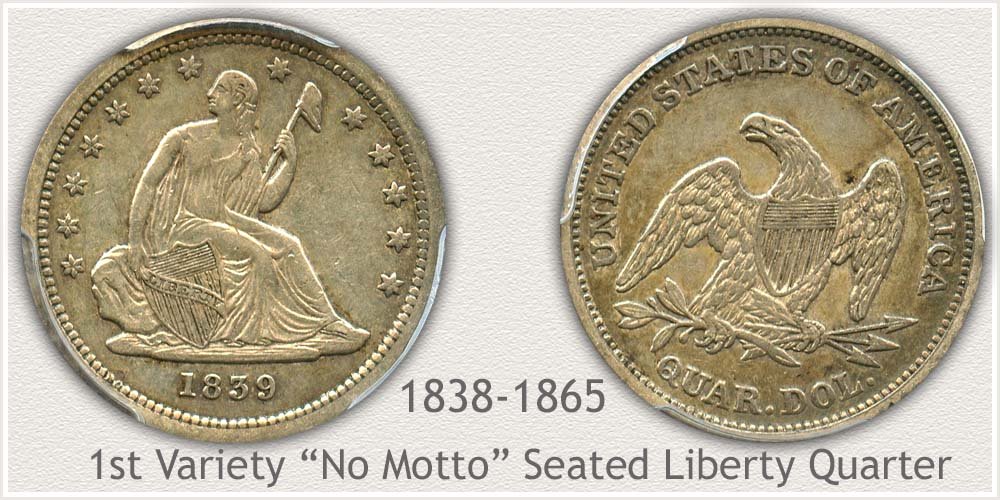 The obverse of the new Seated Liberty quarter is full of symbolic design. First issued in 1838, Liberty is seated supporting a US Shield representing congress. Her left hand is holding a pole with a Liberty Cap on top, referring to Freedom. The thirteen stars are in reference to the original colonies. A bold eagle on the reverse is displayed with the US Shield on the chest. In the eagle's left claw, arrows - war. In the right claw an olive branch - peace.
Until a design change is 1866 the combined total of the first variety was just over 80 million quarters from three different mints. These are collected in all grades with values advancing quickly in better than Fine grade.
Seated Liberty Quarter Second Variety 1866 to 1891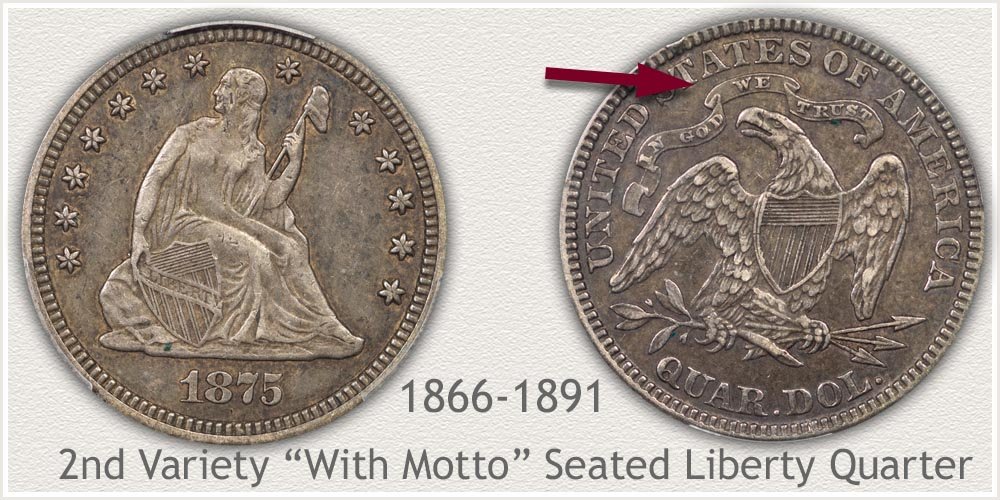 Liberty's design on the obverse of the second variety remains the same as previous years. What sets the variety apart is the reverse design. Above the eagle a scroll with "In God We Trust" was added. This is in context with the ending of the Civil War.
Over the years 1866 to 1891 four mints contributed to the number minted. A total from all mints exceeding 73 million quarters.
Mints of the Seated Liberty Quarter 1838 to 1891
Production of Seated Liberty quarters involved four mints. Each contributing millions of quarters over the years. Collectors place special interest in collecting by date and mintmark combinations. Values are in line with availability and special interest. Original mintages are often an indication of scarcity affecting how much they are worth.
Mintmarks are placed on branch mint coinage. Following are images showing the mintmarks and placement.
Mintmark of the New Orleans Mint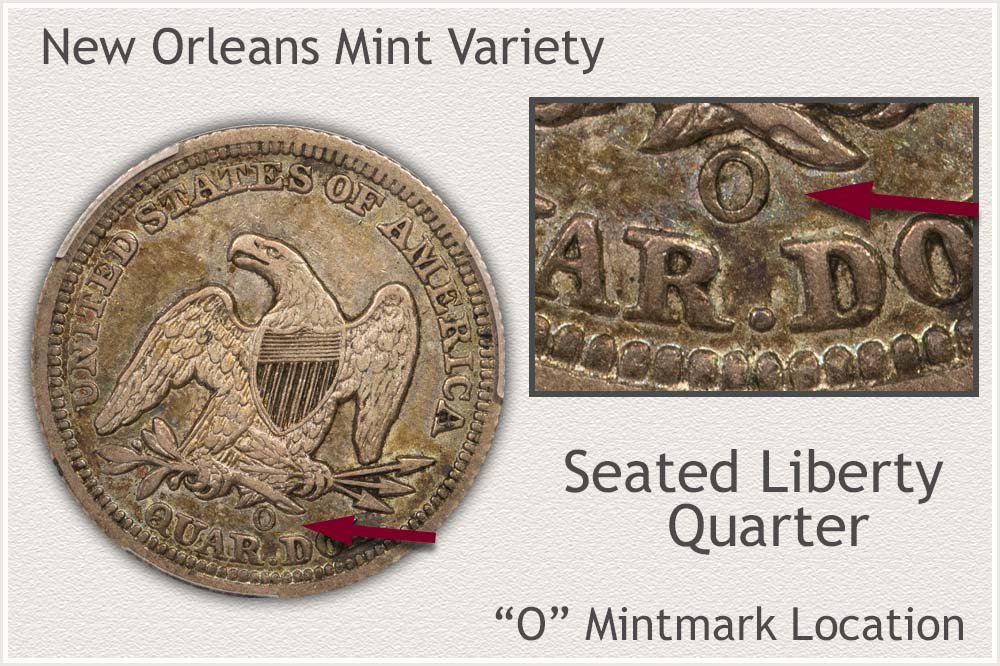 New Orleans was an early mint to issue these quarters. Beginning in 1840 coinage of the series continued until 1860 and then ended, interrupted by the Civil War. Just over 10.5 million New Orleans quarters were struck of the first variety. Very few of the second variety (with motto) were issued, interestingly in 1891 striking 68,000. These variety II coins are highly sought.
Find the "O" mintmark indicating New Orleans mint on the reverse just under the eagle.
Mintmark of the San Francisco Mint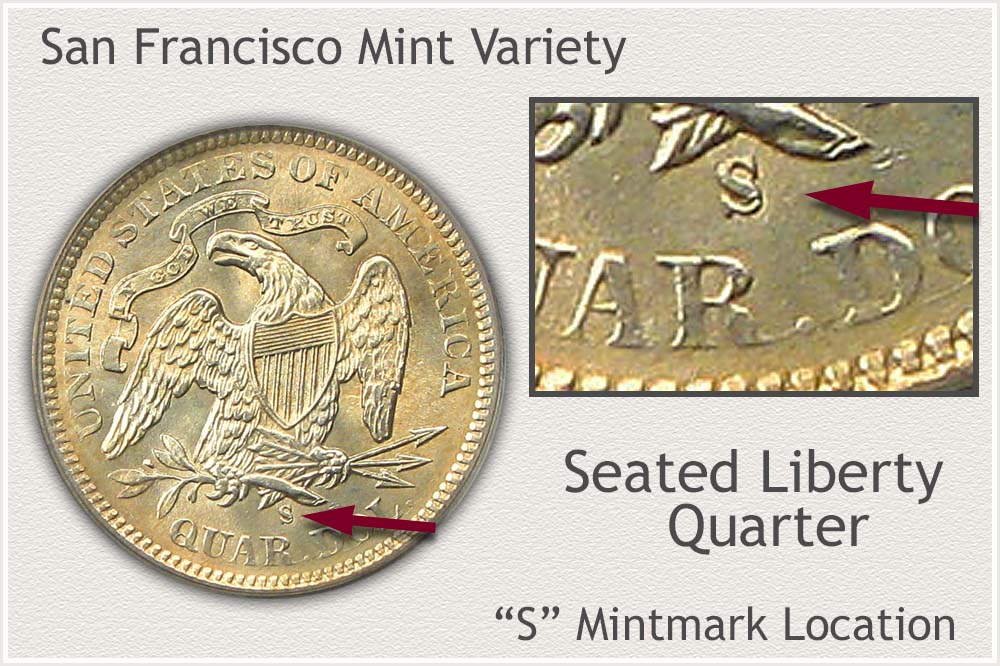 Construction of the San Francisco mint completed in 1854 saw coinage of only gold coins the first year. Minting quarter began in 1855 with just under 400,000 produced, a "first of" and significant to collectors. The mint struck coinage of both major varieties with variety I as the low production variety, 1.2 million total.
An "S" mintmark on the reverse below the eagle represents San Francisco coinage.
Mintmark of the Carson City Mint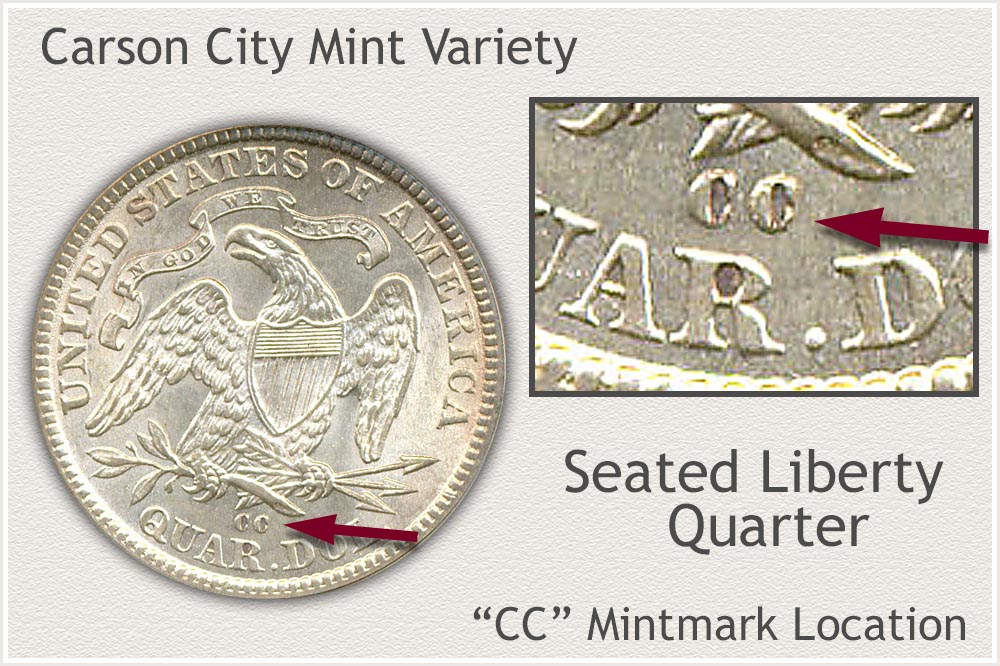 The Carson City branch mint struck Seated Liberty quarter for a short time in the 1870's. Total number of quarters just topped 10 million. All are the second major variety with the motto on the reverse. Carson City coins of any denomination are sought by collectors placing a premium value on each.
A "CC" mintmark on the reverse below the eagle identifies Carson City coinage.
Philadelphia Mint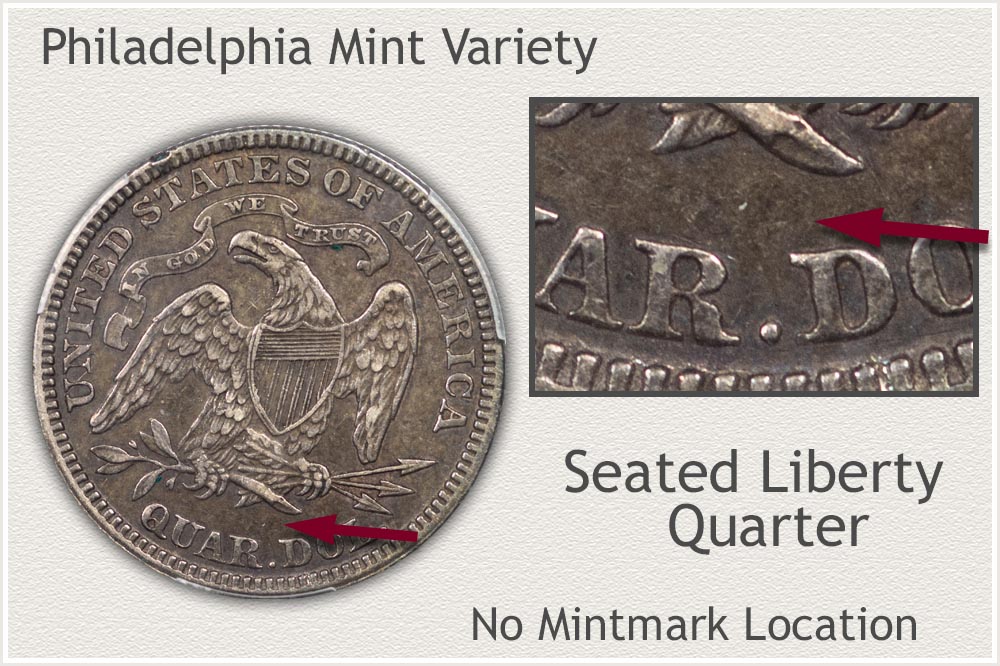 Philadelphia, the main mint issued the first Seated Liberty quarters in 1838 exclusively. The mint continued uninterrupted until 1891 striking over 110 million pieces. Both major varieties are well-represented by Philadelphia coinage, tens of millions of each. Standout lowest year is 1886, just 5,884 total struck - a scarce coin in any grade. On the high mintage side is the 17.8 million 1876 quarters, well received by new and beginning collectors.
The absence of a mintmark in the space below the eagle, confirms the Philadelphia mint struck the coin. Philadelphia did not use a mintmark when striking coins at the time.
Step 2: | Grading Condition Narrows Value Range
Rare dates and scarce mintmarks are only part of Seated Liberty quarter values. Many of these older quarters are available today in worn condition. A slightly better, eye appealing coin becomes a stand-out piece. A great deal of value is tied to a coin's state of preservation.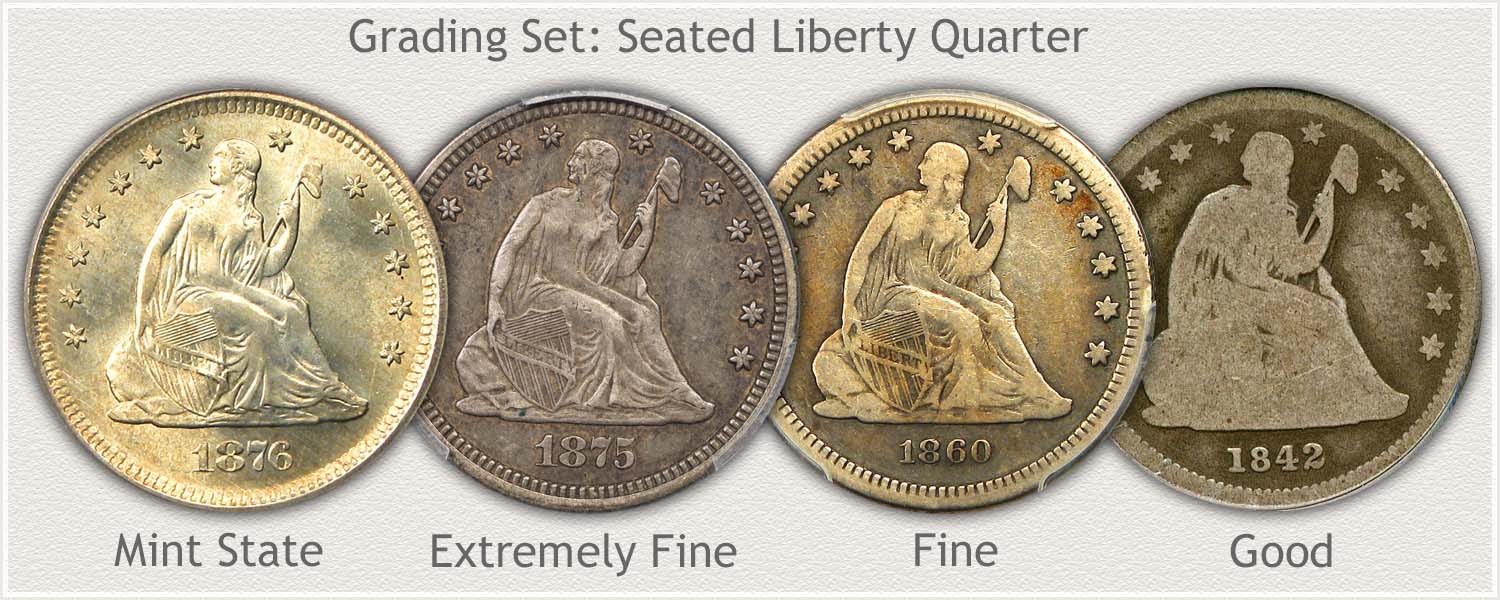 Conservative Grading Leads to Accurate Value of Seated Liberty Quarters
A progression of grades as imaged above and viewing the value chart, highlights a need to judge condition to narrow how much these quarters are accurately worth.
A study of your coins and comparing with grading images helps define their grade. Sharp and crisp details, plus "Liberty" clearly visible across the shield identifies a high-grade coin.
Mint State Grade: Seated Liberty Quarter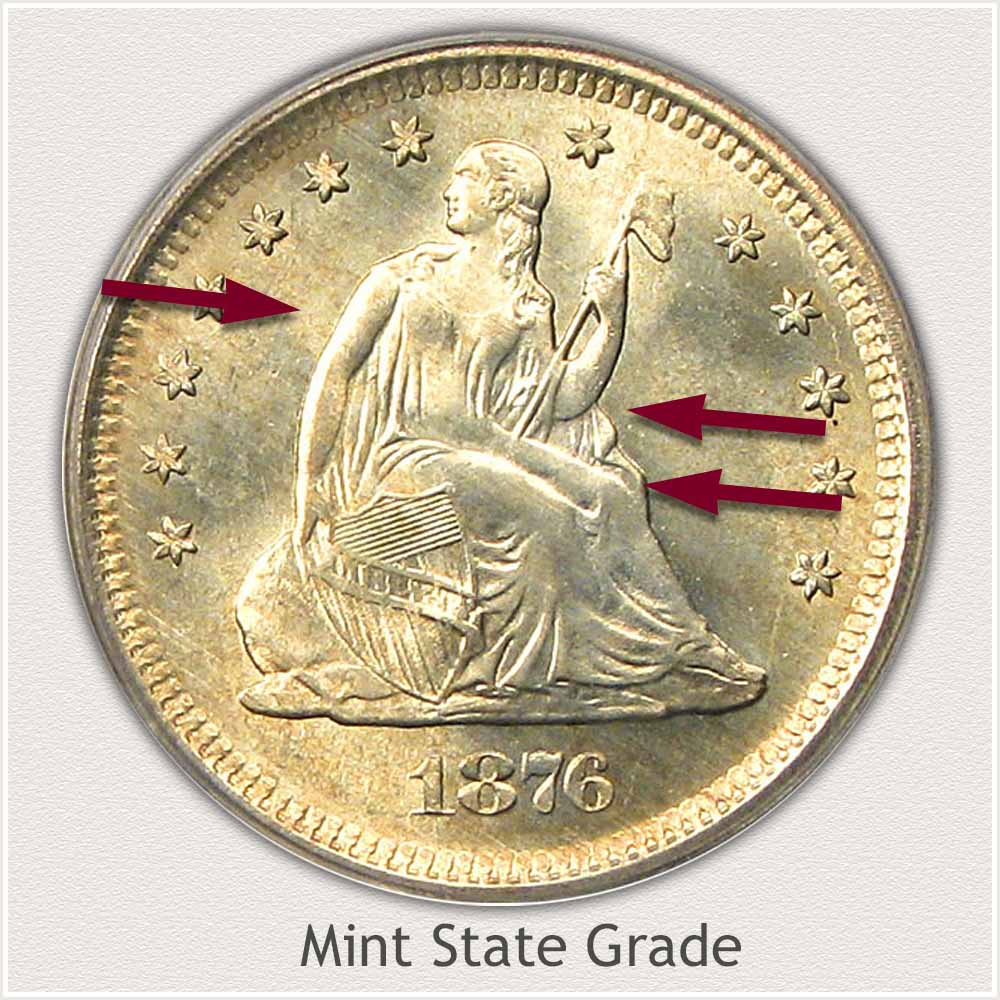 Obverse: Features Identifying Mint State Grade: A soft luster covers the surface of a Mint State quarter. Luster is imparted to the entire surface at the time of striking. Fine grains to the surface give an uncirculated coin its shine. This original surface, still intact indicates no wear, defining the mint state grade.
High profile areas are inspected, identifying lack of wear. Look closely at Liberty's knees and right thigh. Both knees and thigh remain rounded and a similar texture to close by areas.
A second area to judge is Liberty's right arm just above and below her elbow. Any wear shows as a smoothing to the surface, losing the shine of luster.
Her garment from neck line to waist displays details of folds, inspect the upper ridges of these folds. Smoothness is absent, helping judge the condition.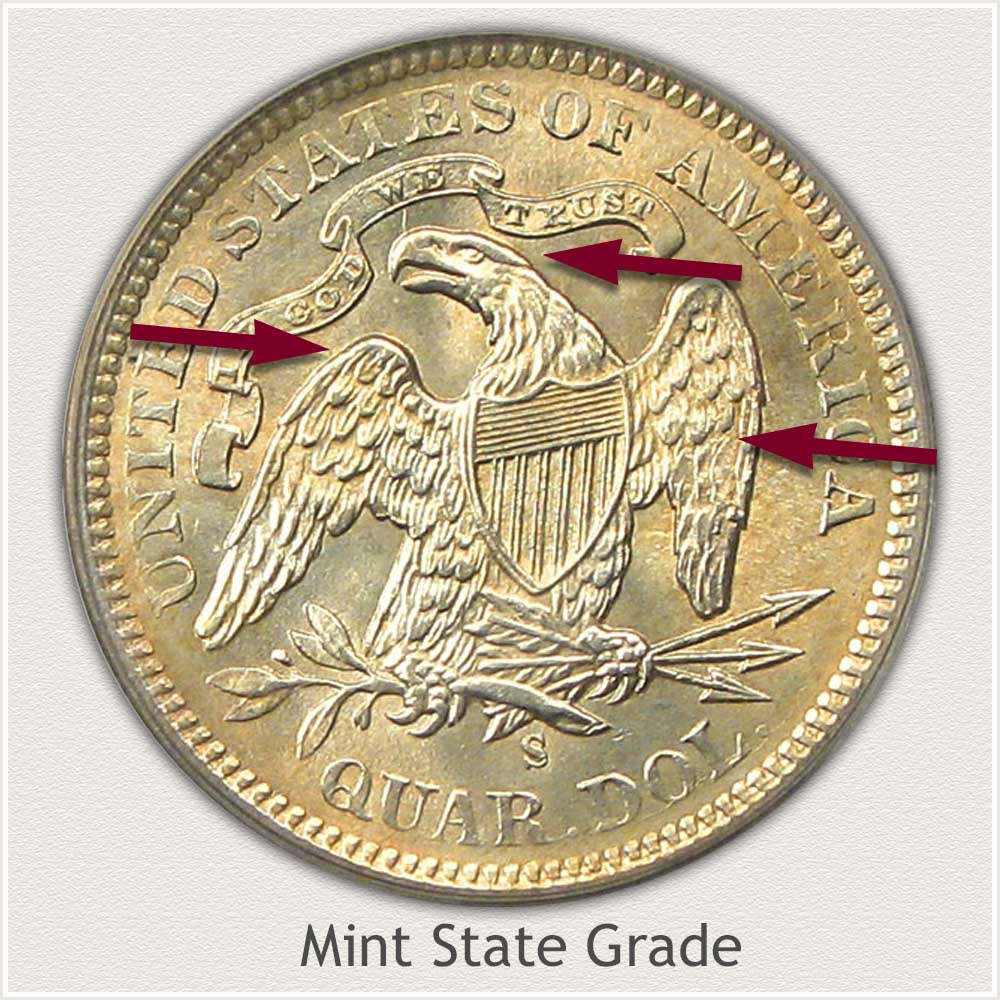 Reverse: Features Identifying Mint State Grade: Many fine details represent the Eagle on the reverse. Feathers, shield, and talons are high in profile suspectable to initial wear.
Beginning with the Eagle's head, just across the top continuing to the beak remains the same texture as minted, no smoothing to the metal is seen.
A close look at edges forming tops of wings shows no flattening to the rounded profile. These delicate surfaces are quick to indicate wear.
All feather details are lacking any smooth spots and flatness as well as the fine details to the talons.
Extremely Fine Grade: Seated Liberty Quarter
Obverse: Features Identifying Extremely Fine Grade: Crisp details remain with only small areas of flatness on high points, identifying an Extremely Fine grade example.
Liberty's cheek is just slightly flattened with a separation from her hair above forehead remaining. No merging of these two features.
Her right arm still retains a raised contour with only slight flat areas above and below the elbow.
Along the right thigh is a flat area extending to her knee but remains confined to the upper edge of thigh.
Small areas of flatness along the neckline of the gown, breasts, and stomach area are just beginning.
A raised scroll clearly displays "Liberty" across the shield.
Reverse: Features Identifying Extremely Fine Grade: Light wear has flattened leading edges of wing and neck feathers. A crisp look remains because no merging of individual feathers has occurred.
Inspecting the eagle's head shows only minor flatness above the eye and beak. Neck feathers are worn but remain separated.
Wing feathers are worn only towards the ends leaving the majority of the feathers high in profile and full.
Talons are bold and raised from both the arrow shafts and olive branch. Tops of the talons have flattened with some merging of detail.
Fine Grade: Seated Liberty Quarter
Obverse: Features Identifying the Fine Grade: Many high-profile design elements are now flattened. Indicators to grade are now found within protected areas of the shield.
Helping identify a Fine grade are all letters of "Liberty" clear within the scroll. The scroll itself is well defined and many vertical and horizontal lines to the shield are visible.
Many parts of Liberty are worn and flattened; however, these flat areas are mostly disconnected.
Liberty's head remains with contours separating her neck from shoulder and parts of her hair are defined.
Major lines to the gown are visible in protected areas; along Liberty's waist and near the shield.
Reverse: Features Identifying the Fine Grade: Merging of feathers is indicating a Fine grade Seated Liberty quarter.
Notably, feathers within the center of the Eagle's left wing and neck are now merged.
Feathers within the Eagle's right wing are flattened but remain defined and partially separated. No widespread flat area is noted.
Talons are recognizable, with remaining details showing three clear claws holding arrows and olive branch.
Good Grade: Seated Liberty Quarter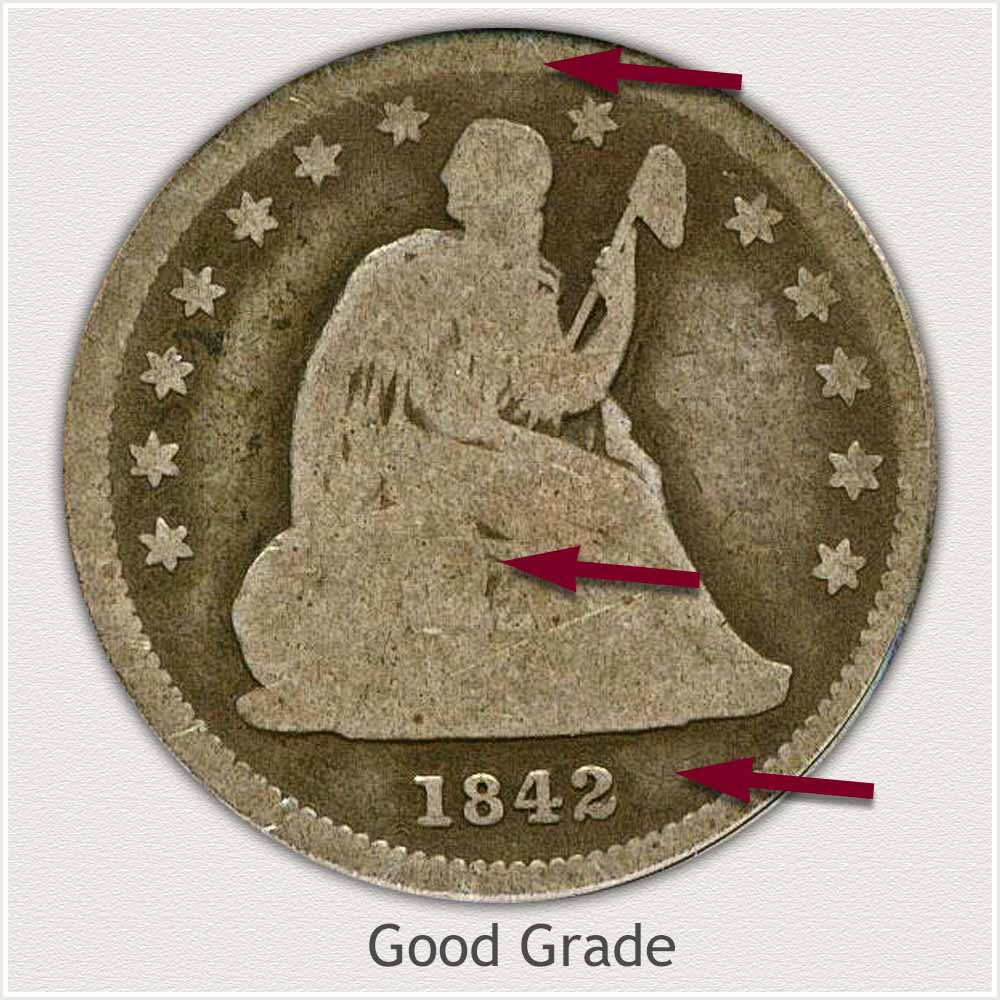 Obverse: Features Identifying the Good Grade: A smooth and flattened Liberty is all that remains, the result of heavy wear. She is complete in outline form with little detail.
A strong and high feature is the rim. A complete rim indicates a solid Good grade.
Remnants of the shield is faintly visible. One or parts of letters to "Liberty" are often seen.
Date and Stars, protected by the rim are clear and somewhat bold.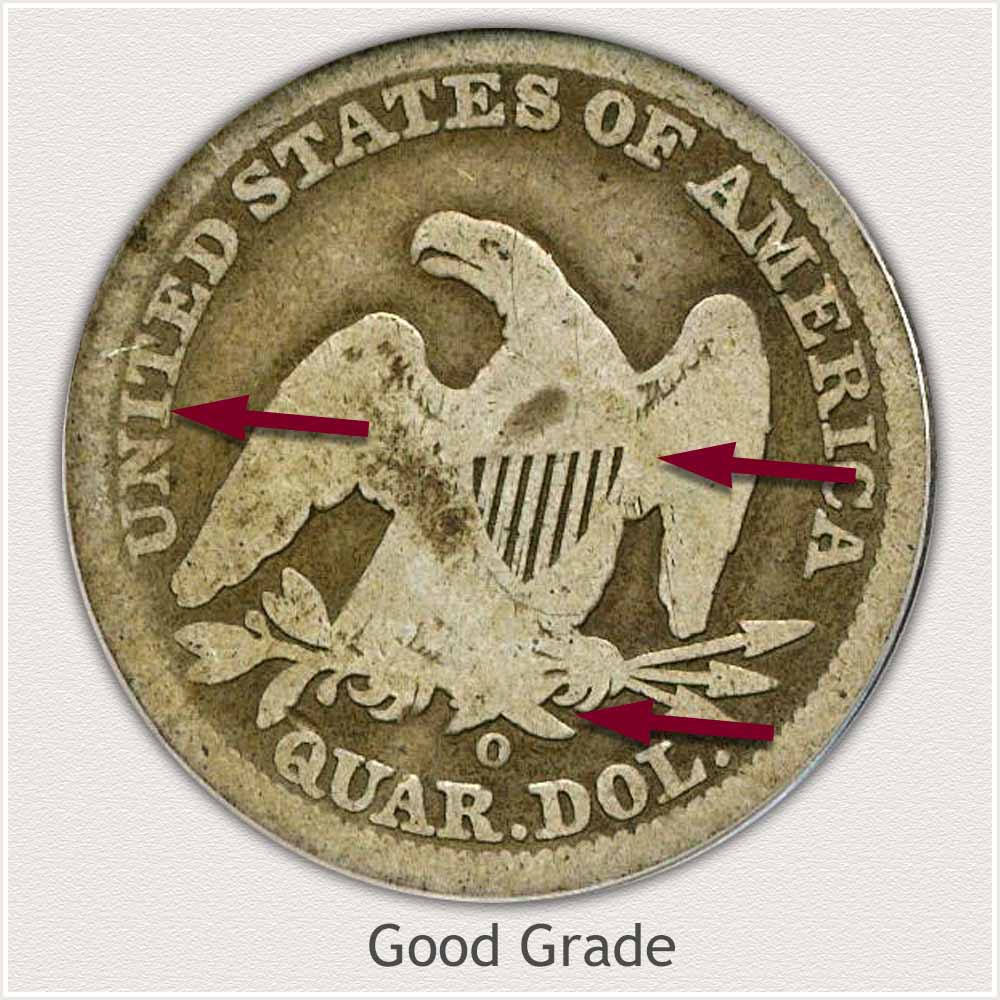 Reverse: Features Identifying the Good Grade: Wear has reduced the eagle to an outline. Few feather details remain.
A once raised outline of the shield is now flattened and merged with the feathers. Traces of vertical lines are often seen giving slight detail to the design.
Letters of the legend are readable with the just the tops fading into the rim. A rim remains bold in areas.
Feathers to the arrows have flattened and worn smooth. Arrow points and leaves to the olive branch are recognizable.
Step 3: | Special Qualities Add to Collector Interest
Collectors find the Seated Liberty quarters an interesting series. Many different approaches to building a set are followed. Collecting the traditional way of a complete date and mint set is a long-time commitment as well as high cost. A type set of one coin representing major and minor varieties is a popular theme and possible across many grade and value levels. Collecting only a branch mint issue is also a popular way of collecting.
Seated quarters lends itself to finding creative ways of collecting, adding to its appeal as a series. Of interest are the sub-varieties found. Due to fluctuating silver costs, changes in weight of the quarter were introduced over the years. These changes were indicated on the coins by adding arrows either side of the date. Small additions to design created sub-varieties.
Popular Sub-Varieties of the Seated Liberty Quarters
First important sub-variety is the "Arrows and Rays" of 1853. Adding arrows to the obverse and rays surrounding the eagle on the reverse. These changes designated a slight reduction in weight.
A noticeable change to the obverse and a stunning change to the reverse, these are very popular with collectors. Happily, Philadelphia minted over 15 million and New Orleans ("O" mintmark) minted over 1.3 million. Demand holds values strong.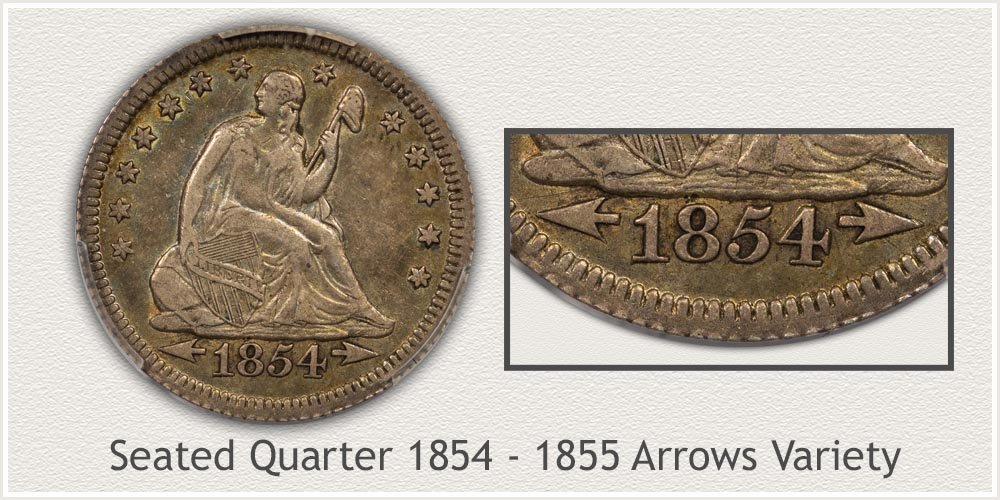 The weight change continued into the 1854 and 1855 production. However, the rays on the reverse were removed, creating a new "arrows at date" sub-variety. In addition to Philadelphia and New Orleans mint, San Francisco contributed close to 400,000 ("S" mintmark) quarters in 1855 of this sub-variety. By 1856 the weight became standard and the arrows were removed.
1866 saw the major design change with the motto "In God We Trust" added to the reverse. During the span of this variety, again the need to adjust the weight of the quarter became necessary.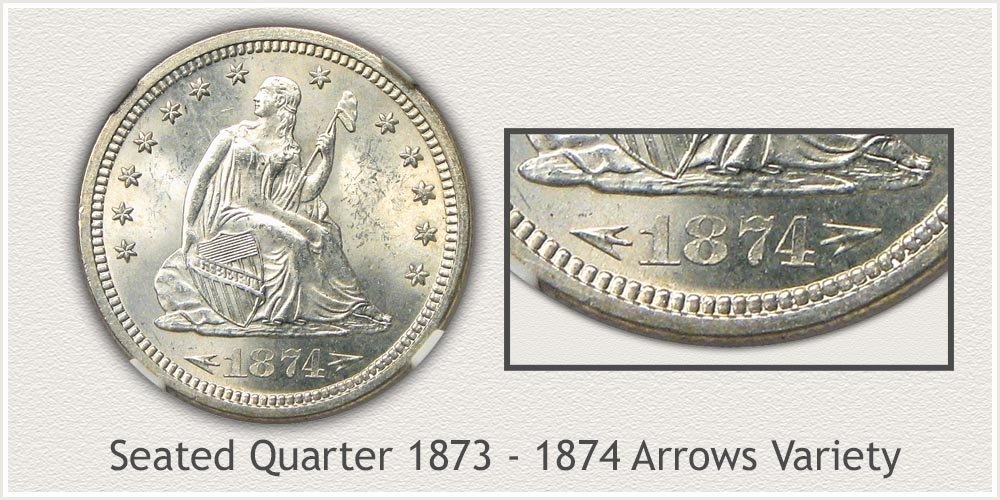 In 1873 silver content was adjusted up-ward just slightly. Arrows were again used to indicate the change in total weight of the quarter. The arrows continued into 1874. The new weight became the standard going forward and the arrows were removed starting in 1875.
Lots of variations in design, silver content, and the different mints involved and the Seated Liberty quarter series has many collecting possibilities. It is the many different approaches and themes to a collection keeping the series an interest as a collectible.
References
US Mint. 1892 US Mint Annual Report. https://nnp.wustl.edu/library/book/316
US Mint. Catalogue of Coins of the United States. https://nnp.wustl.edu/library/book/554591
US Mint. Symbols on Our Coins. https://www.usmint.gov/learn/history/us-circulating-coins
Coin Values | CoinStudy Articles
Minted over a 50-year span, Seated quarters are a complex and fascinating series of US coinage. Many dates are rare, mintmarks such as the Carson City "CC" indicate a very popular coin, and those in nice condition are all premium examples.
With an emphasis on condition as a main factor to value, grading becomes key to narrowing the potential range as to how these are worth. If your coin is approaching $100 or more, any doubts in condition is best left to professional judgment. Among the coin grading services Professional Coin Grading Services (PCGS) and Numismatic Guaranty Corporation (NGC) are the industry leaders. PCGS and NGC is an introduction to these services.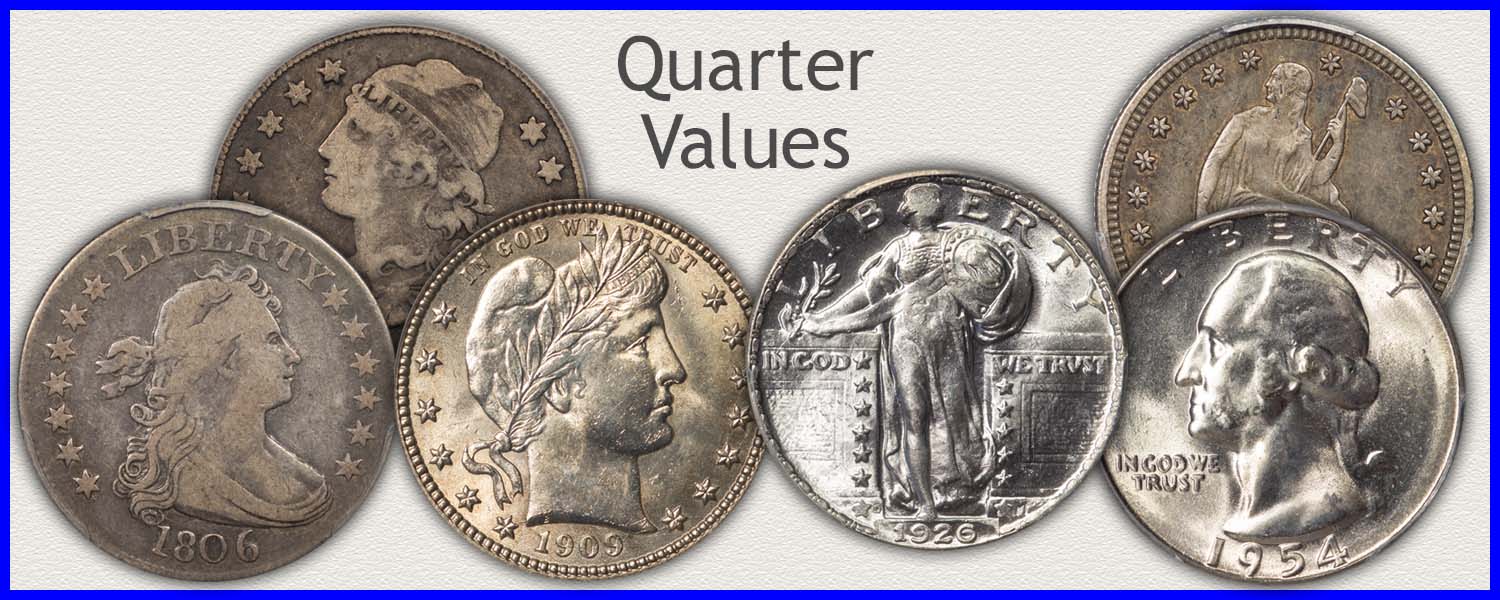 Easily find how much your old coins are worth. From Bust Quarters to Seated Liberty, Barber, Standing Liberty and Washington quarters. All series include Grading Images to judge the condition of your coins and coin value charts.
Searching for rare quarters. Scarce and collectible quarters are found in all of the different series. Key dates, important mintmarks and identifying high condition coins often lead to a find.
A quick reference to US Coin Values. Images to identify each coin and minimum values for each type. Using the step by step method to how much coins are worth. Bookmark the online value charts to phone.
Selling Coins describes the different types of markets, and the type of coins to match each market. Extra effort for sure, but finding the best coin buyers yields the best results.
Do you have other old coins?
★ Coin Values Discovery finds Seated Liberty Quarter Values and...
All old US coin values. It is an excellent index with images and text links to all coin series, from Cents to Gold. Value charts, grading images and a step by step procedure uncovers how much your box of old coins is worth.
Print the Coin Values Worksheet to list your Seated Liberty quarter values. Should you decide to sell... use the worksheet as an invoice and packing slip when sending coins through the mail to dealers. It indicates you have done your coin values homework.