Coin Values Moving with Precious Metals: Up-Dated 9/25/2023: Gold $1921 | Silver $23.44
Three Cent Nickel Values Cover a Wide Range
Three cent nickel values have an extreme range for two main reasons. Firstly, with initial production starting in 1865; within two years, 17 million was placed into circulation, a huge amount. Later years saw tapering production numbers leading to scarce years. 1885 as example is estimated only 1000 were struck. Initial supply has an impact on the rarity of each date surviving today.
Secondly, is condition of your coin. Many of these 3 cent nickels available today are moderate to heavily worn, appealing examples are a challenge to find. Grading condition becomes an important element deciding how much they are worth.
Steps Leading to Value:
Step 1: Date and Rarity - Accurately identify different dates indicating basic rarity.
Step 2: Grading Condition - Important elements are judged and condition is graded.
Step 3: Special Qualities - Identify the qualities needed to set your coin apart and into high collector range.
Three Cent Nickel Values - What Dealers Pay
The value chart shows a large range depending on date of your coin. Notice also the rise in coin values as the condition or "grade" increases.
The above are wholesale coin values. Computed from dealer's price lists with various mark-up factors figured in. They reflect closely the value you would expect to receive when selling. Variations in value do occur subject to subtle grading points, collector demands and dealer needs.
Step 1: | Date and Rarity Recognition
A classic portrait of Liberty is featured on the obverse. Fine details are found within the hair and a coronet - diadem inscribed "Liberty" tops here hair. Bold numeral III surrounded by an olive wreath tied with a ribbon is a clean reverse.
An accurate reading of the date is important to identify. Because of style and similarity in appearance of the digits a close inspection is necessary. Numerals "3" "6" "8" and "9" are close in appearance.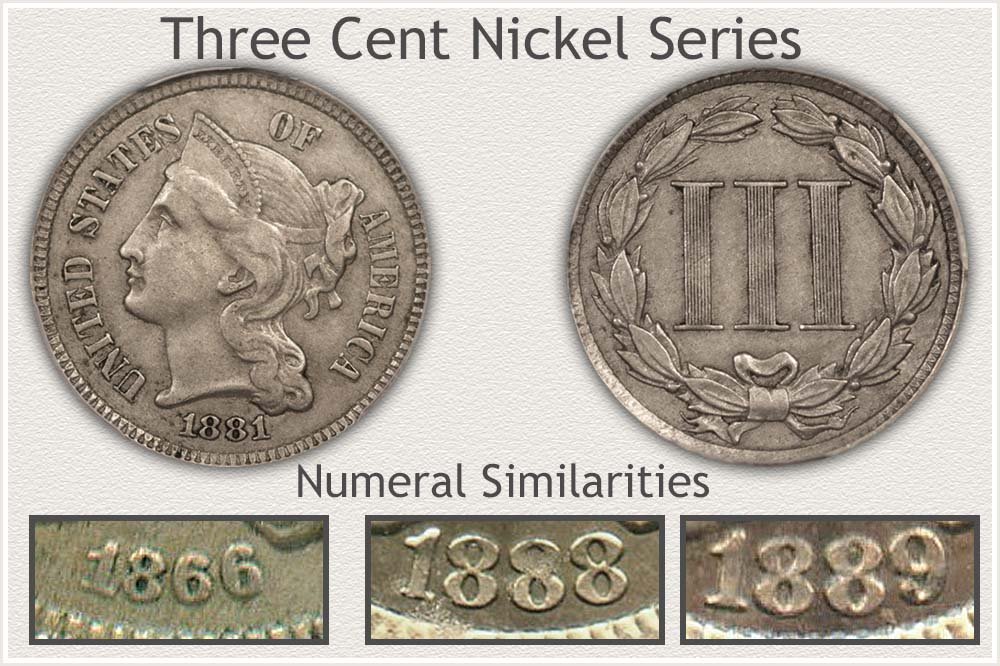 Rarity and value of the series is split between the early years and later years. Original mintages were far higher when the series began. Lack of need for the 3-cent denomination over time resulted in lower production leaving the later era with fewer minted and surviving today. Values within the three cent nickel series trend with original mintages.
Double check the date before continuing to judging condition in Step 2.
Step 2: | Grading Condition Identifies Grade and Narrows Value
Dealers and collectors are very particular about condition of any coin they are considering buying. To help accurately determine your three cent nickel values, compare your coins to the images below and assign each a grade.
Three Cent Nickel Values are Conditional
Here are a couple of points... a distinct rim separates a higher mid-range grade of Fine or better coin from lower grades. Secondly, focus your attention on the hair over the forehead and the wreath on the reverse to identify lightly worn, elite grade examples.
Mint State Grade: Three Cent Nickel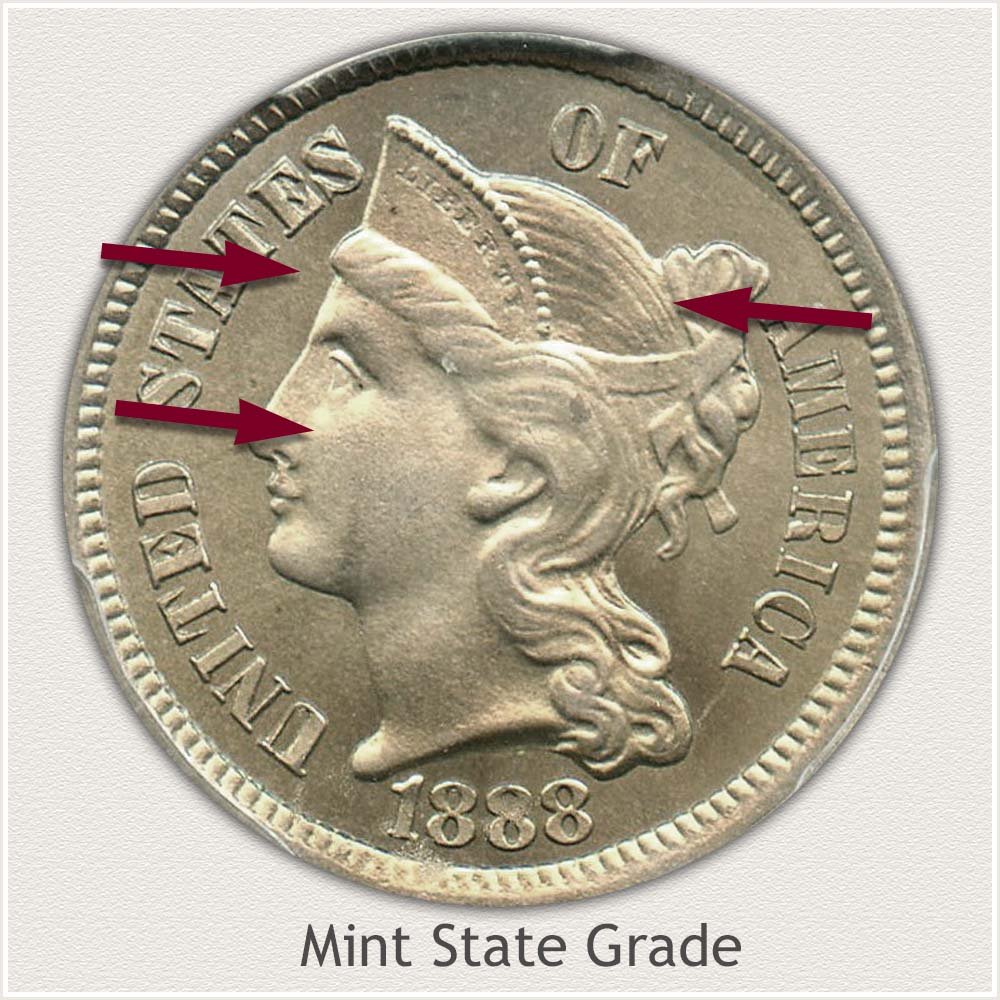 Obverse: Features Identifying Mint State Grade: Lack of wear to the surface is the prime indicator identifying a Mint State - uncirculated grade 3-cent piece. When struck, metal flows into devices and fine luster lines are created. Wear shows as a disruption to these fine lines causing a dulling color change to the area.
Liberty's cheek just next to her mouth is a large area. Judge it is still covered with original minting luster.
Strands of hair above the forehead are prone to wear, confirm upper most parts of hair remain with original texture.
Just in front of the ribbon ties are fine strands of hair. These small strands remain with texture and no signs of smoothing.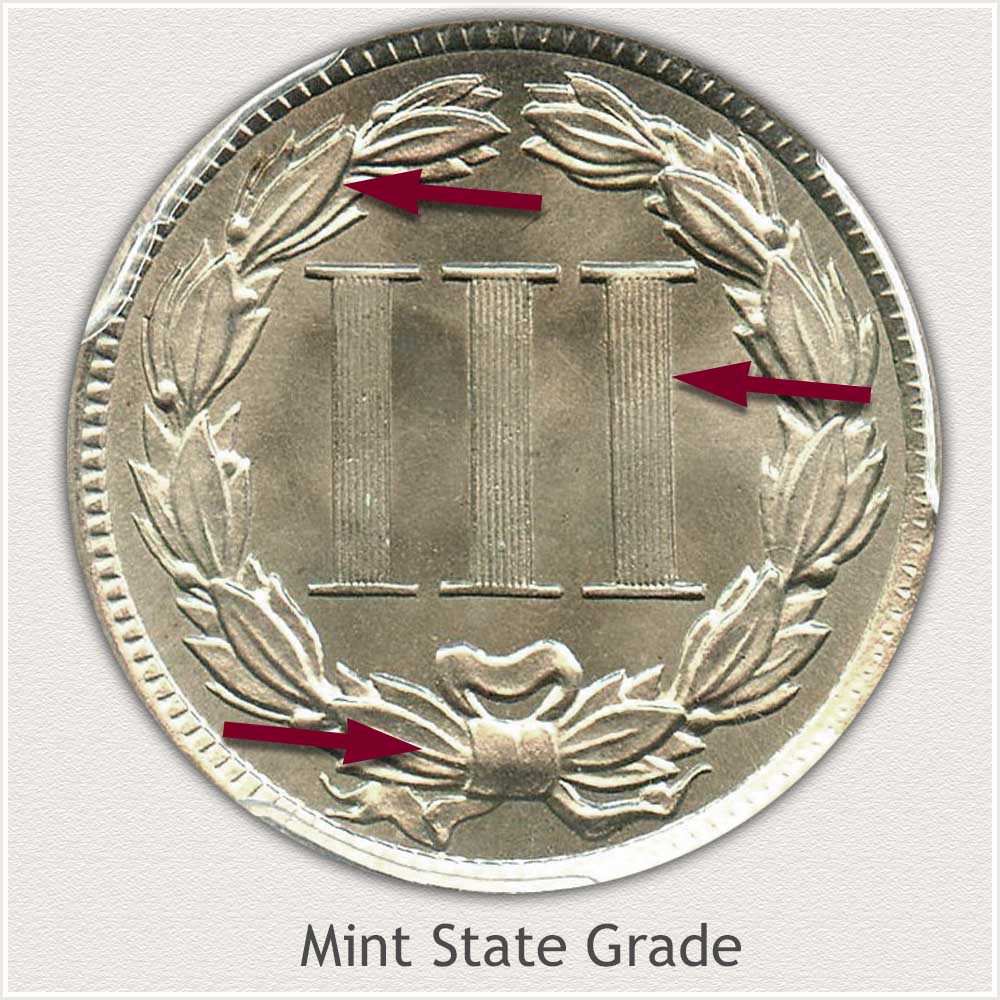 Reverse: Features Identifying Mint State Grade: Confirming lack of wear continues to the reverse.
Edges of leaves are free of wear. Structure of the leaves presents a ridge defining the edges with a shallow depression leading to a raised center vein. Both the central vein and edges remain rounded in profile on each leaf.
Texture of the metal forming the bow at the bottom of the wreath remains without any smoothing. High and low relief areas of the bow match, displaying unbroken original texture.
With close examination of the vertical lines within the Roman numeral, no smoothing is evident along their upper edges. Note: many times, all vertical lines were never impressed into the coin, due to a soft strike. Focus your judgement to the fully formed lines to detect sighs of wear.
Extremely Fine Grade: Three Cent Nickel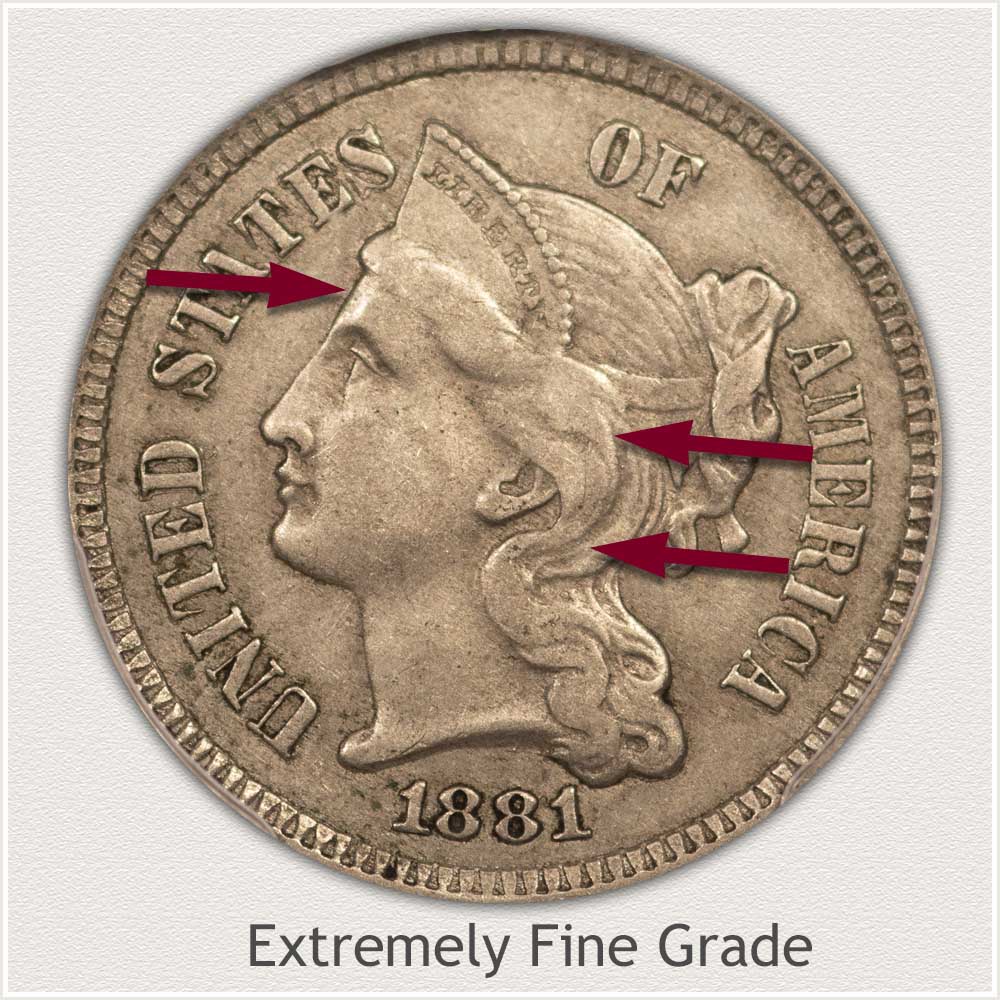 Obverse: Features Identifying Extremely Fine Grade: A coin enters the Extremely Fine grade range when a small amount of wear is visible to its surface. Tops of high relief elements are just slightly flattened.
Liberty's hair just above her eyebrow is beginning to flatten but retains a minor amount of rounded profile.
Wear among hair detail surrounding the ear is limited to small areas with finer strands of hair visible close to the tie at back of head.
A narrow band of wear extends from under Liberty's ear along the tops of waves of hair. Wear is confined to just the highest points of curls and only minor merging of elements has occurred. Overall a bold, crisp appearance helps define a 3-cent nickel in Extremely Fine grade.
Reverse: Features Identifying Extremely Fine Grade: A nicely detailed reverse is the impression of an extremely fine condition coin.
Wear is confined to only the highest areas. Leaves within the clusters are completely separated. Notice, central veins of leaves are all well-defined.
Most edges of the leaves are raised and a distinct contour flows inward to a raised central vein.
The bow at the bottom holding two olive branches is fully defined. All edges are complete with no merging with surrounding elements. A well struck coin exhibits a central line as part of the knot detail.
Fine Grade: Three Cent Nickel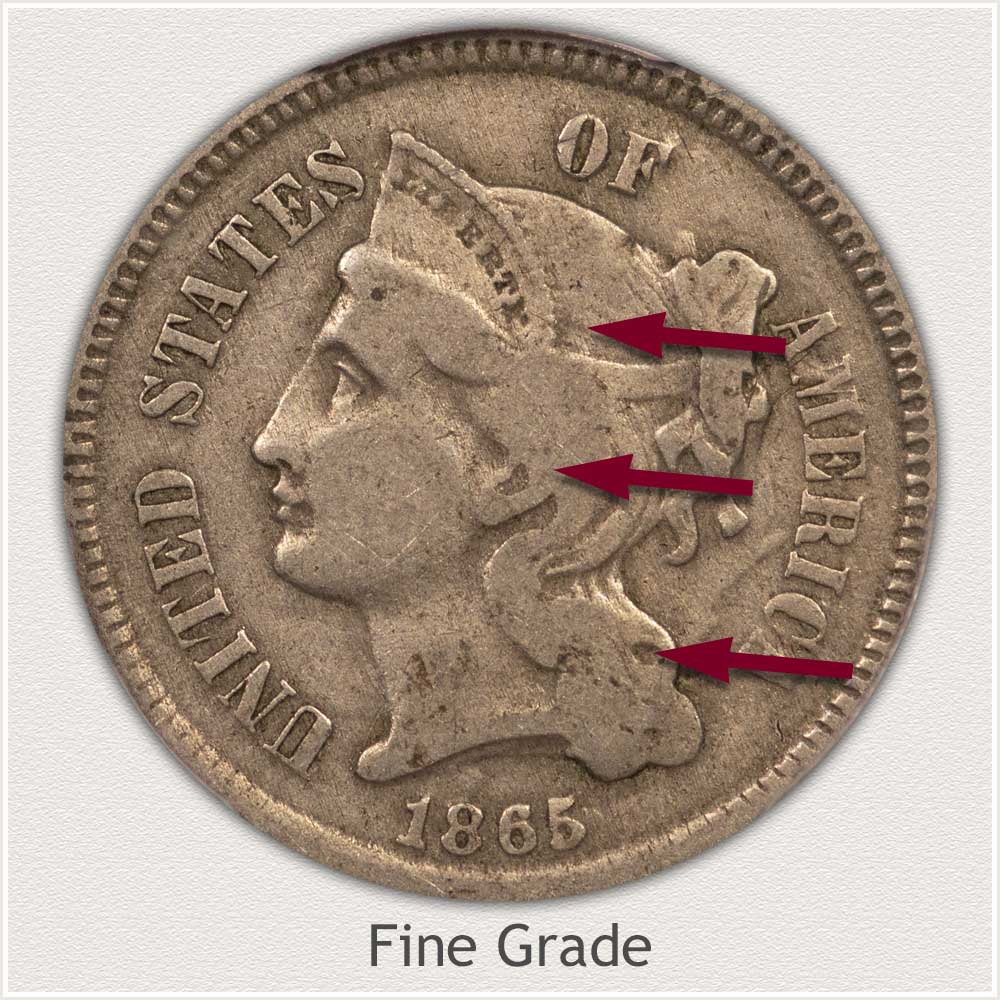 Obverse: Features Identifying the Fine Grade: A Fine grade coin displays a moderate amount of wear. Wear is clearly responsible for flat areas on the coin.
Wear has now flattened the separation of the hair curls at the back of Liberty's neck. Tops of all curls are now connected.
Look closely were the diadem meets hair and ribbon; it is now a flat area. There is no clear line separating the hair detail from the ending of the diadem.
A hair line between Liberty's ear is now a flat plane connecting ear and hair.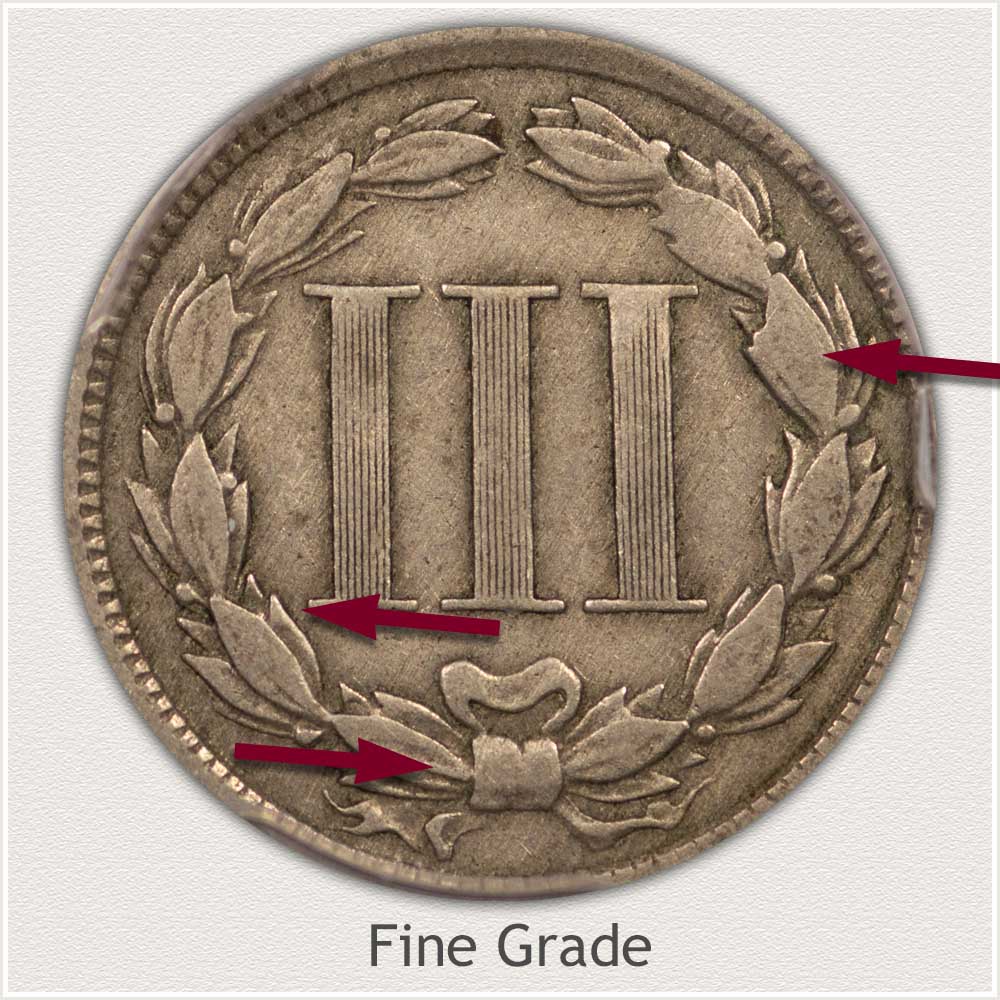 Reverse: Features Identifying the Fine Grade: Defining a Fine grade 3-cent nickel is all leaves of the wreath are fully separated.
Majority of uppermost leaves to each cluster are worn smooth. Leaves to left and right of the numerals are especially prone to wear. Often these are completely flat, however must remain bold from lower leaves.
Overall look of the coin is a well detailed example of wreath, numerals, and bow tying the wreath at the bottom. Wear is moderate with no connecting flat areas.
Good Grade: Three Cent Nickel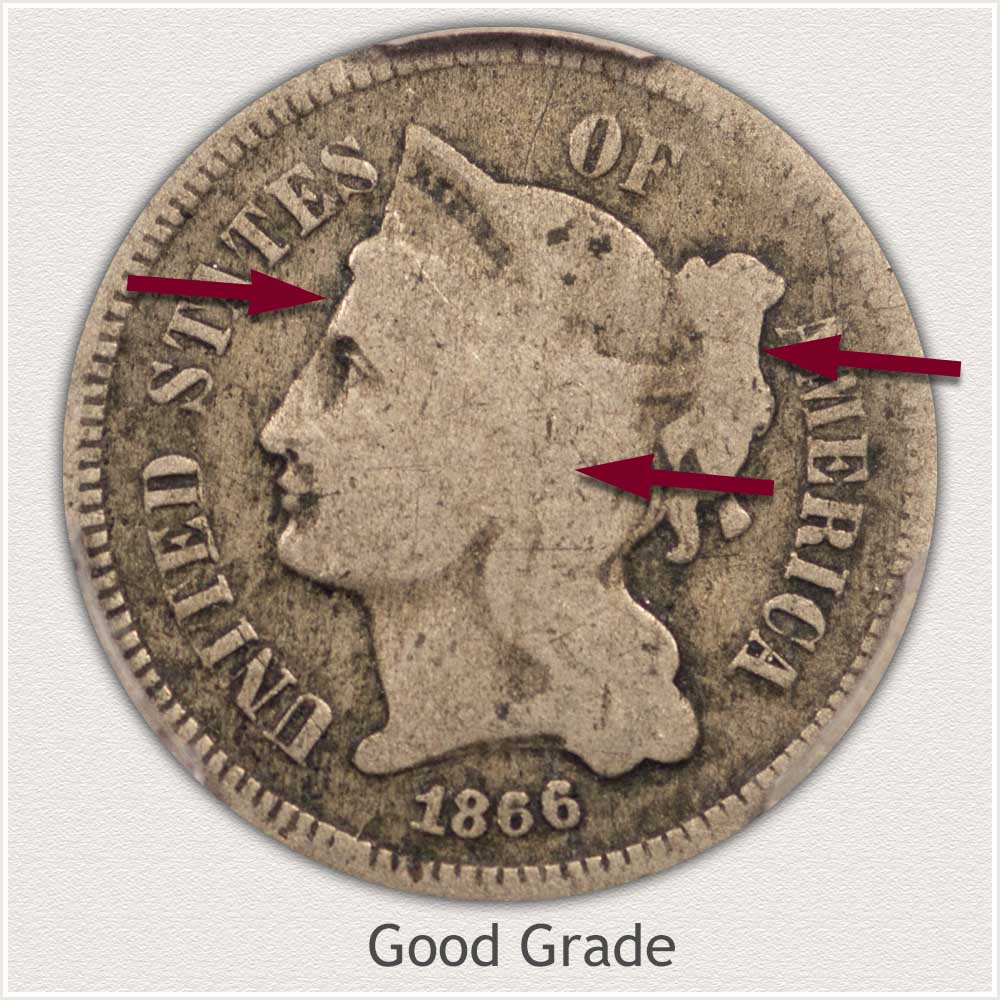 Obverse: Features Identifying the Good Grade: Heavy wear blending major design elements defines the Good grade.
Wear covers Liberty's face and clearly flattens the profile extending from her forehead through her cheek and connects to her neck.
Another major element is the once separation of hair above forehead to ear and down the neckline is now a smooth connecting plane.
The tie of hair at back of head is now mostly one flat area.
Reverse: Features Identifying the Good Grade: A typical reverse in the Good grade shows no central detail to any of the leaves.
A well-defined wreath is bold from the field and completely outlined.
Vertical lines of the numerals are now mostly to completely missing and are smooth. Most major details remain; however, any minor detail is gone.
Smooth devices covering the entire design helps recognize a good condition coin. Additionally, a full separation of elements from rim indicates a coin in at least Good condition.
Professional Services to Grade High Value Coins
Three cent nickel grading is subjective, with everyone having a slightly different opinion of the same coin. Dealers, collectors and sellers, understandably seeing the coin differently.
Fortunately, there are services to help mediate. PCGS and NGC are considered leaders in coin grading services. They both authenticate and grade your coin. Because the value increases dramatically as the condition improves. The small fee you pay provides assurance you understand and receive the full value of your coin.
Step 3: | Special Qualities Enhancing Value
One universal problem involved with these old coins is at one point in time many were cleaned. All series of coins have their share of cleaned examples and all of these have a lower value as the result. Aesthetic qualities and manipulating of the surface causes collectors to avoid adding a cleaned coin to their collection.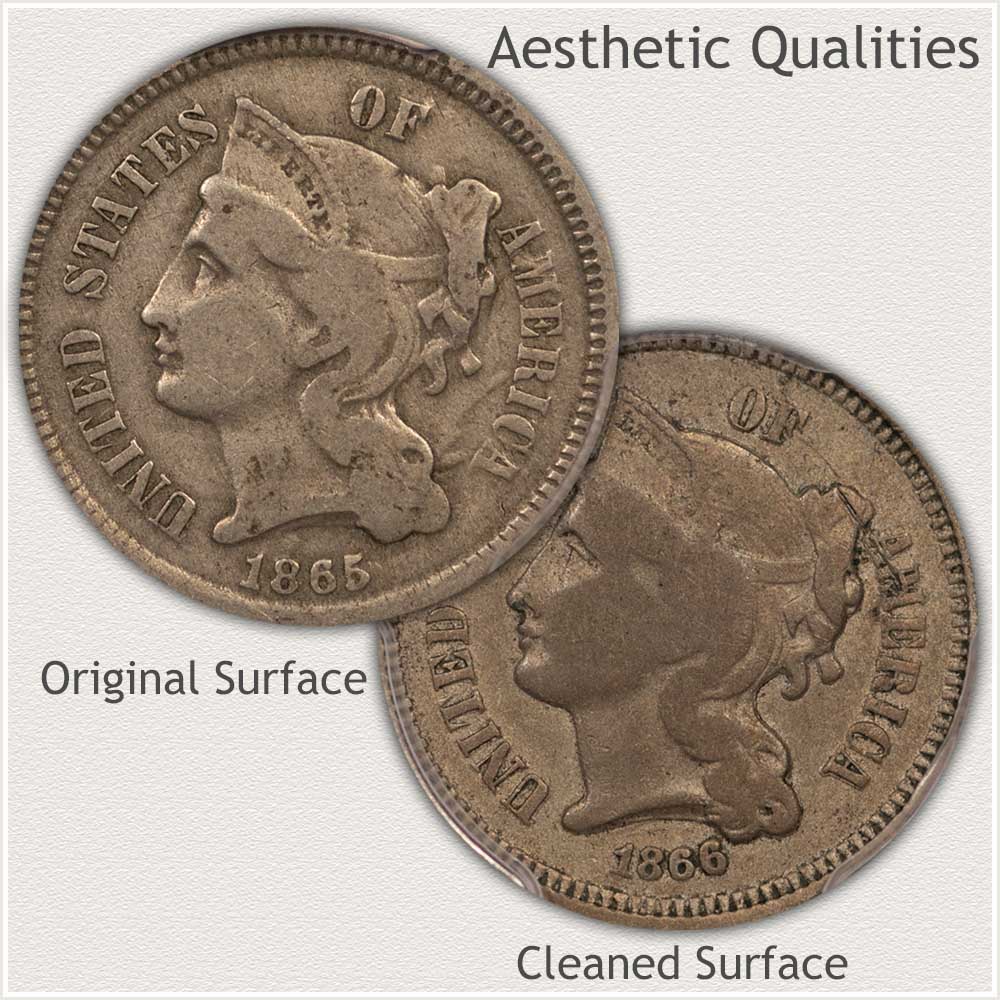 From a Mint State grade piece with "brightened" surfaces to increase its value to circulated coins scrubbed and brushed to "improve" the appearance, cleaning away the original ageing renders a less desirable coin.
Compared side by side, the example with original surfaces has a vibrant look, absent on the cleaned example. Take the side of caution, leaving the coin as is.
Recognizing Aesthetic Strike Quality
Producing high quality and artistic coinage is a primary concern of the US Mint. 3 cent nickels at times portray some of the difficulties working with the new nickel alloy. Lightly struck areas within the design are noted on examples. View the dates on the two coins in the image and the added challenge to correctly identify the coin is evident.
The mint was striving to maintain quality of these nickels. Quote on the use of nickel in coinage: James Pollock, Director of the Mint in the 1863 Annual Report; "It commonly makes a hard mixture, very destructive to dies, and all the contiguous parts of the coining machinery." Less than ideal strike quality in areas is considered as part of the value process, favoring high quality strikes.
References
US Mint. Catalogue of Coins of the United States https://nnp.wustl.edu/library/book/554591
US Mint. 1863 US Mint Annual Report https://nnp.wustl.edu/library/book/516165
US Mint. 1886 US Mint Annual Report https://nnp.wustl.edu/library/book/570337

Coin Values | CoinStudy Articles
Change best describes coin values. And three cent nickel values are no exception. Realistically, they are not as popular as other series and may languish in the background somewhat. As a group they do rise in value with a surge of interest and then hold.
Keep in touch, return whenever curious and update your three cent nickel values.
An excellent picture index of all major US coin series. Compare and identify your coin to the picture, click on the image, and go immediately to your old coin value.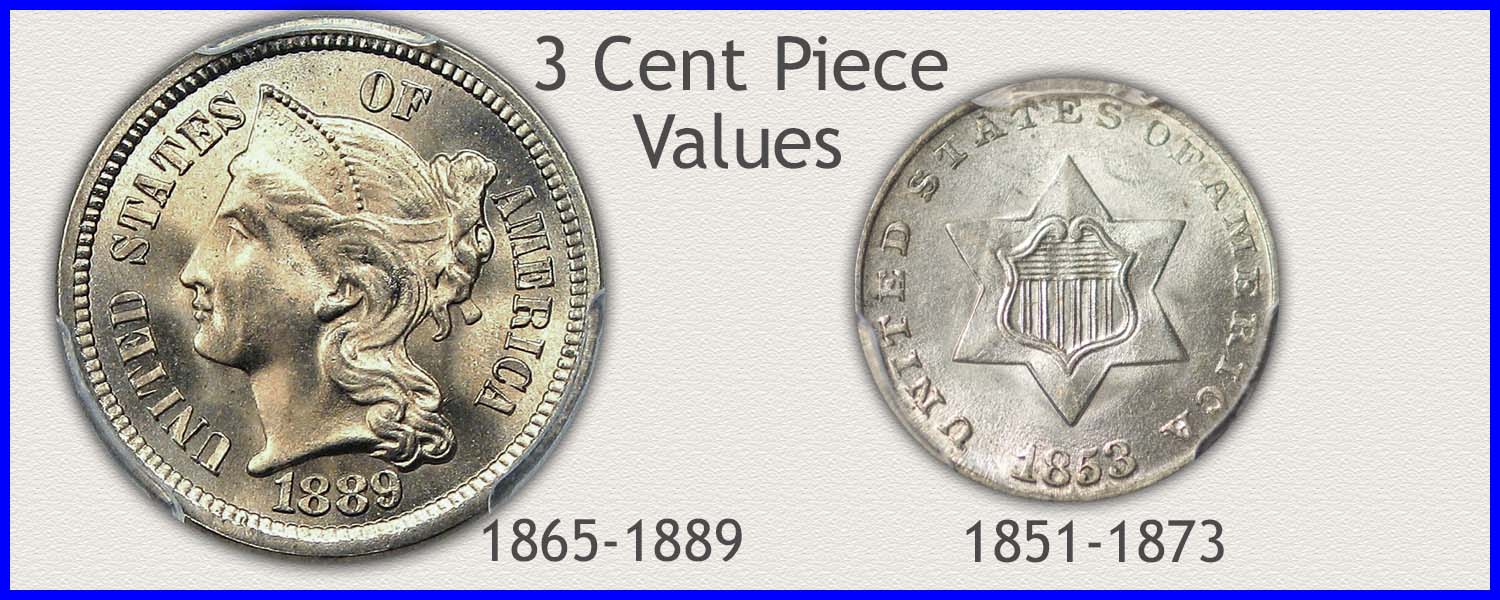 US three cent pieces were minted in two distinct series. Discover values of the other three cent coin series. Using the same step by step method, match your coins to the grading images and value charts.
Selling Coins | How to Get the Best Value
Selling coins for the highest price is achieved with planning. Research and organize well, value your coins accurately, and then finding and selling to the right buyer equals excellent results.
★ Coin Values Discovery finds Three Cent Nickel Values and...
All old US coin values. Follow an image index to identify all US coin series, from Cents to Gold. Value charts, grading images and a step by step procedure uncovers how much your box of old coins is worth.