Coin Values Moving with Precious Metals: Up-Dated 3/30/2020: Gold $1605 | Silver $13.85
The American Large Cent Coin Values
The American large cent is worth at least $17 to $20 today. That is the minimum value of a coin in what dealers call "good" condition.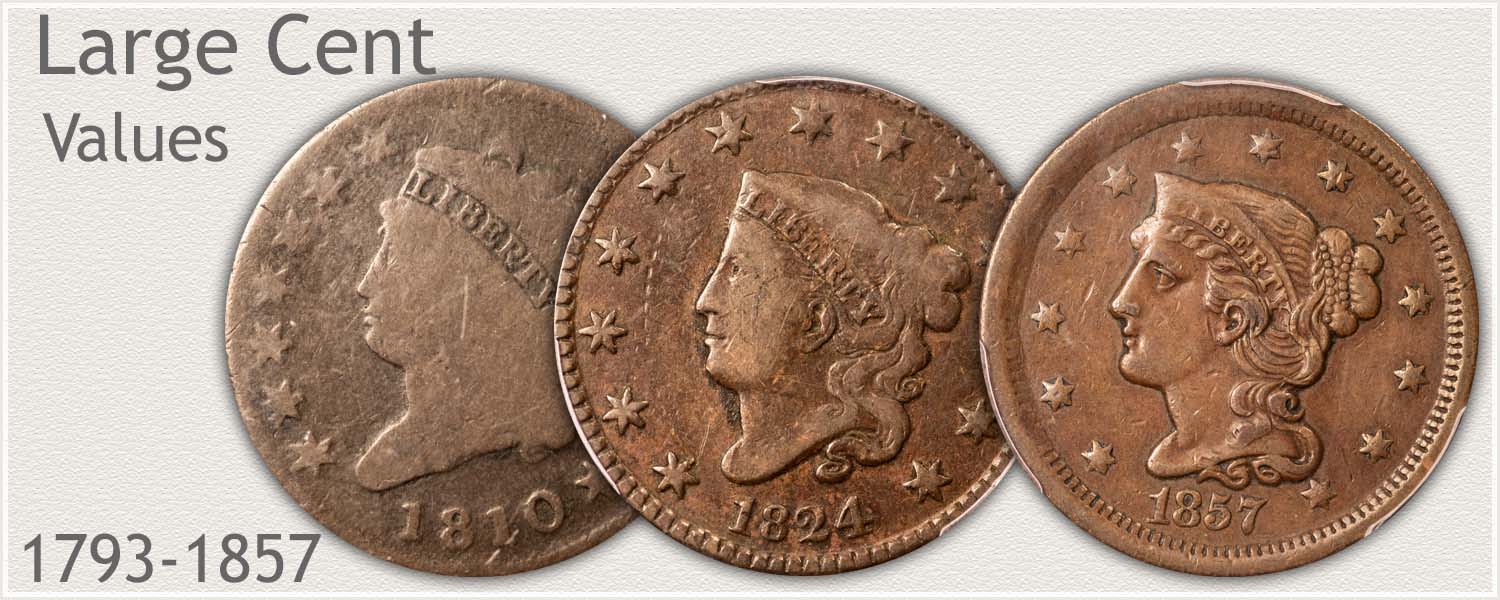 Your are very fortunate to own one, as those who assemble collections of the American large cent are very passionate about them and actively seek additions to their collections.
Should your coin be a rare date or even a well preserved large cent the value increases significantly.
The coin pictured is an example of a high condition coin any collector would desire. Quickly paying $175 to $200 or more. Spirited bidding often erupts at auctions over the rare large cents.
Discovering rare dates, high condition, or rare varieties all contributes to how much your coins are worth.
The American Large Cent Values - What Dealers Pay
The following chart show there is a wide range in the American large cent values. If you determine your Large Cent is valued in the hundreds of dollars or listed as RARE, absolutely have it graded by either NGC or the PCGS grading service. The "Grade Determines Value" section below, covers this important point in more detail.
The above are wholesale coin values. Computed from dealer's price lists with various mark-up factors figured in. They reflect closely the value you would expect to receive when selling.
Variations in value do occur subject to subtle grading points, collector demands and dealer needs. For more background information, see how value listings in the Coin Value Guide are determined.
The American Large Cent "Grade" Determines Value
In order to determine the value of your coin it is necessary to "grade" its condition.
The concept is straight forward... as a coin circulates and wears, all the varying degrees of its condition are each assigned a grade.
Compare your coin to the grading images and find the closest match. The Braided Hair type large cent is pictured. Examine closely the hair around her face and the amount of detail showing in the leaves of the wreath on the reverse. The more detail evident the better the condition and grade. If your coin is slightly better than pictured, use the higher value of the price range.
Amazingly, some examples of the American large cent survive today in uncirculated or mint state grade, meaning no signs of wear. Skill is required to accurately grade a mint state large cent. Beware... small differences in grade often have large differences in value.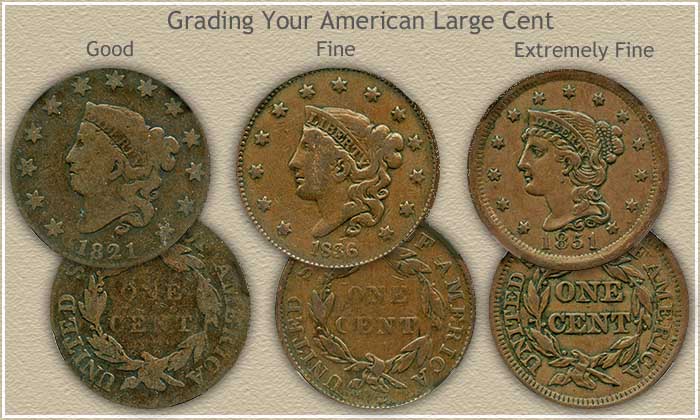 Grading a coin is not an exact science. It is your opinion, dealers and collectors have their own opinions... and they can all differ slightly. There is hope...
Collectors and dealers consider PCGS and NGC as leaders in coin grading services. They both authenticate, grade your coin, and identify any special varieties. Especially important with the earlier years. The small fee you pay provides assurance you understand and receive the full value of your coin.
Investigate dealer's listings, look for those offering the American large cent for sale, their listings and prices usually include a notation of the NGC or PCGS assigned grade. Additionally... these coin dealers are potential buyers of your coins.
Start an American Large Cent Collection
Visit coin dealer web sites. Compare your coins to the ones dealers are selling. Soon you get a feel for the desirability and value of your holdings. Now...
Consider your coins as the beginnings of a coin collection and... hopefully the start of an enjoyable and rewarding hobby. Sorry, I just had to mention collecting coins. Even if you don't become a collector, one approach is to sell all of your coins and use the proceeds to buy one truly nice rare coin. Pass the thrill of a "rare" coin on to your children.
Take a minute and visit Joel Rettew's web site FastCoin.com. They are serious buyers of US coins. Additionally... they have many fascinating rare coins for sale.
The American Large Cent is Undervalued
The American large cent is much rarer than its value indicates. True, there are a number of collectors pursuing them avidly. However, in general large cents are not as popular and have as large a following as other series.
It is hard to imagine a lack if interest with such a diverse variety of large cents to collect. For example... in the first years of mintage alone three distinct designs were struck, all dated 1793...
Flowing Hair with Chain Reverse - 1793
Flowing Hair with Wreath Reverse - 1793
Liberty Cap 1793-1796
Followed by the Draped Bust 1796-1807, Classic Head 1808-1814, Coronet Type 1816-1839 and finally the Braided Hair 1839-1857. A fascinating series of coins. History records...
It was through the efforts of George Washington and Thomas Jefferson the fledgling U.S. mint began to produce large cents for the American economy. The historical significance of this, all but guarantees the future popularity of the series.
Continue Your Coin Values Journey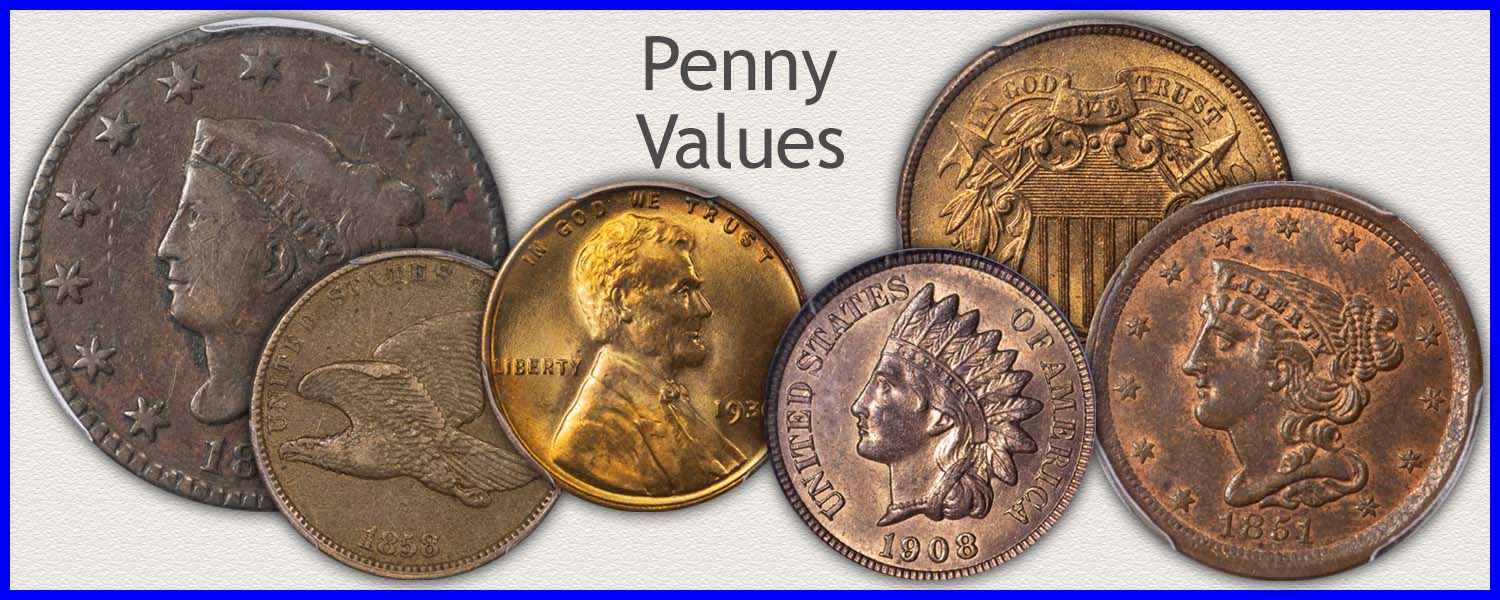 Discover your old penny values. From the rare Half Cents and Large Cents, to the popular Indian and Wheat pennies. Match your coins to the grading images and value charts. The current prices are worth exploring.
★Coin Values Discovery... find American Large Cent values and...
All old US coin values. It is an excellent index, quickly leading to the major coin series. From Cents to Gold. Get the best price if selling and finding coin buyers by knowing accurate values.
Having a good understanding of the value of your large cents is especially important when deciding on selling coins. You are now is a better position to finding the right coin buyers.